If you don't like brussels sprouts, you're cooking them wrong! Love this super healthy veggie when you make one of these delicious brussels sprouts recipes, including salads, roasted brussels sprouts, pizza, and more!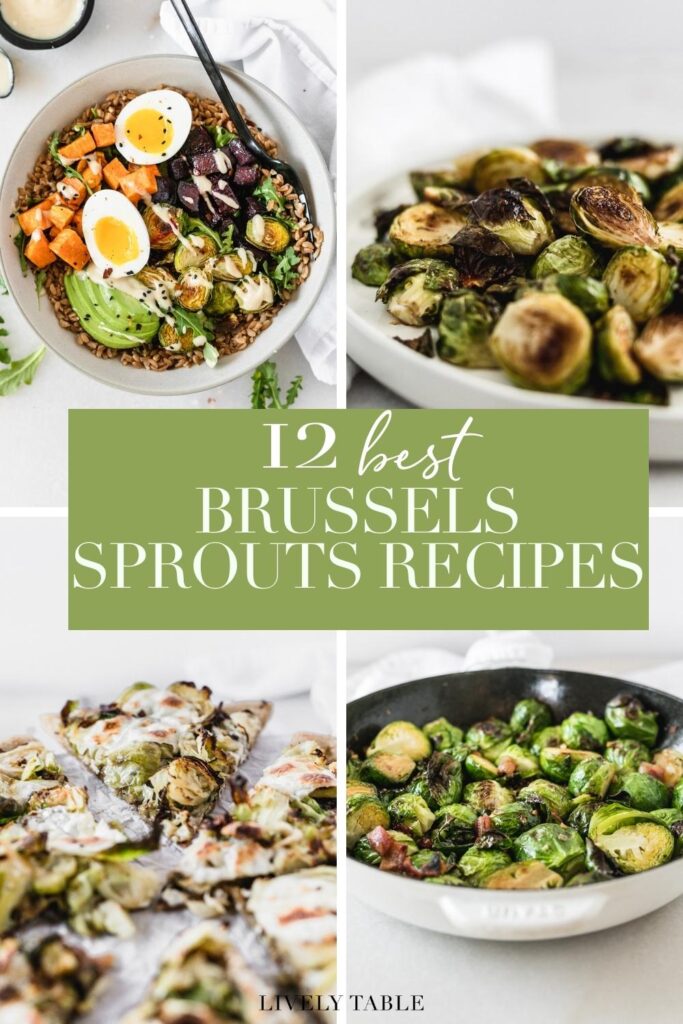 I'm just going to say it. If you don't like brussels sprouts, you're not cooking them right. I know we were all scarred by the stinky boiled mush our parents made us eat when we were kids, but brussels sprouts are still having a moment, and that's because we woke up and learned how to cook them right. So they actually taste delicious and not like a pair of wet socks. If you're wondering how to make brussels sprouts that will leave you wanting more, read on, because I've got so many recipes featuring my favorite vegetable, rounded up for you below!
Health Benefits of Brussels Sprouts
First, why should we even eat brussels sprouts? (Besides the fact that they are actually delicious and look like adorable tiny cabbages?) Because they're so good for you! We all know we should be eating more vegetables in general, but cruciferous vegetables like brussels sprouts are some uber-healthy veggies. Brussels sprouts are high in fiber and vitamins C and K. But where they really shine is their antioxidant content. Brussels sprouts, like other cruciferous vegetables, contain a phytochemical called sulphoraphane that could help reduce the risk of certain cancers (like breast cancer), heart disease, and neurodegenerative diseases. So eat up!
How To Make Brussels Sprouts Taste Good
A few general tips for delicious brussels sprouts:
Buy fresh brussels sprouts that are firm, bright green, on the small side, and have tightly closed leaves for the best taste. Smaller sprouts tend to be sweeter and more tender. Make sure they're all roughly the same size so that they cook more evenly.
Trim the ends and halve them vertically so that the have one flat side. This gives them a chance to caramelize while cooking.
Use high heat. Roasted brussels sprouts are the best kind. But in general, you want to use high heat for the best crispy texture and sweet flavor.
Don't overcrowd your pan. If you're roasting or pan frying halved brussels sprouts, give them plenty of room so that they don't steam. That way they will get crispy and not soggy.
Brussels Sprouts Side Dishes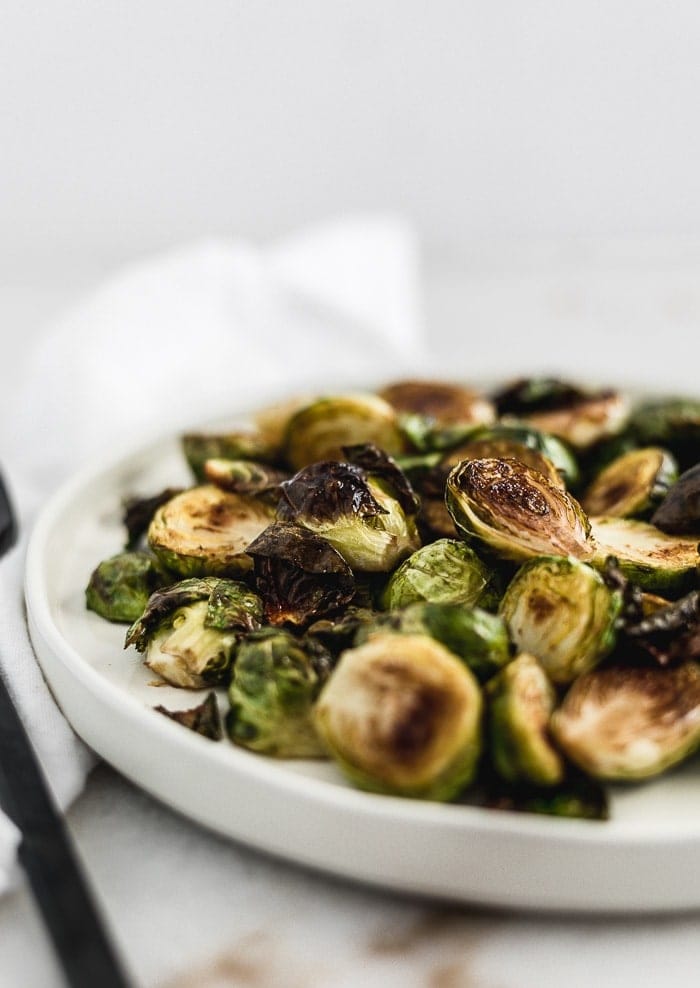 Crispy Balsamic Roasted Brussels Sprouts Simple, crispy balsamic roasted brussels sprouts made with just 3 ingredients are a delicious and healthy veggie side dish to go with all of your favorite weeknight meals!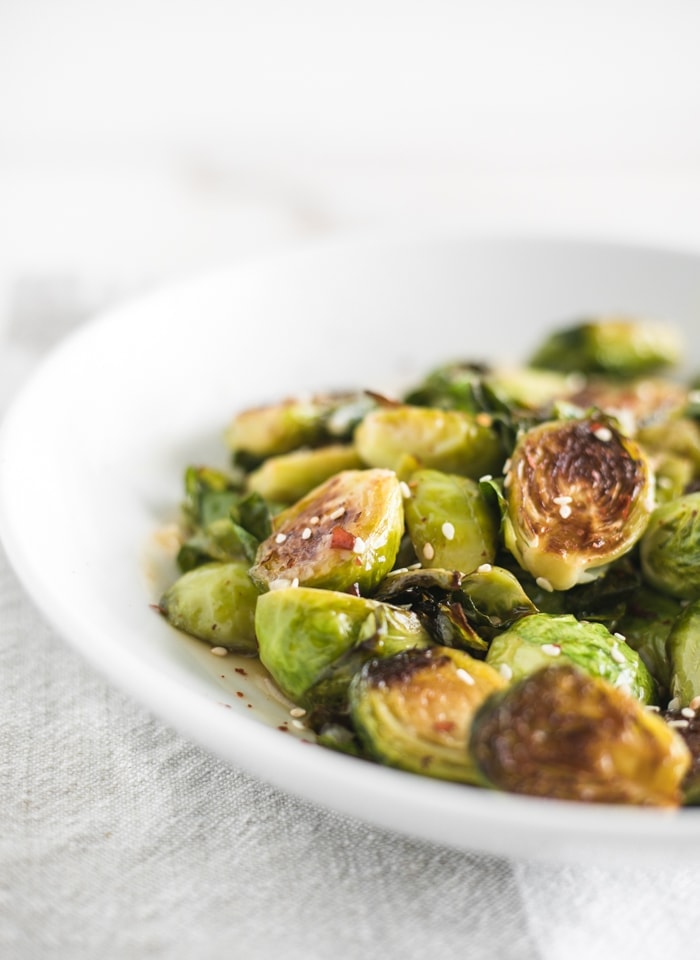 Sweet Chili Brussels Sprouts Crispy roasted sweet chili brussels sprouts with a homemade sweet Thai chili sauce are a fun, delicious way to cook brussels sprouts!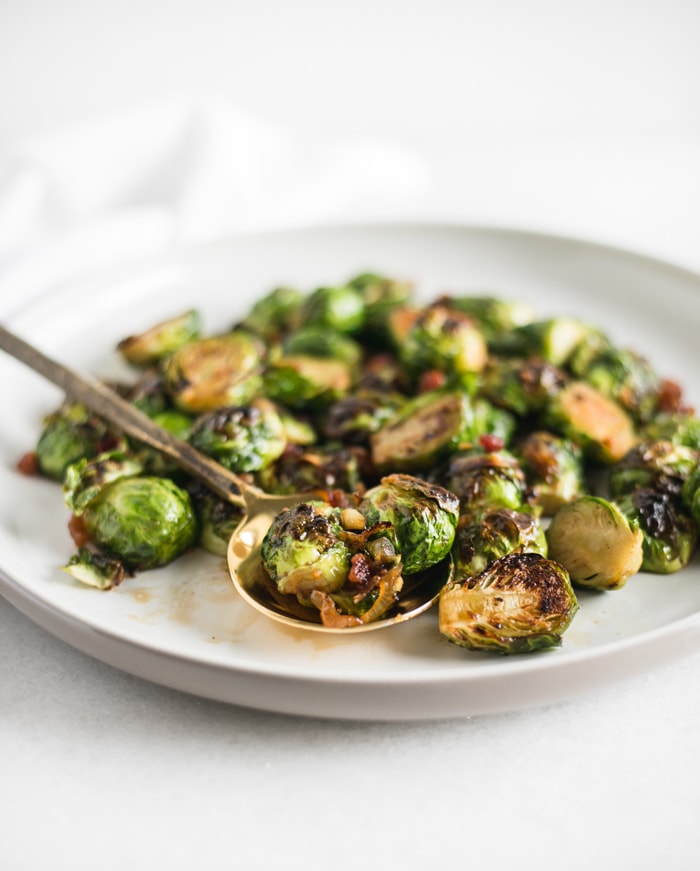 Crispy Bourbon Brown Sugar Roasted Brussels Sprouts with Bacon Step up your side dish game with crispy bourbon brown sugar roasted brussels sprouts with bacon! They're the most delicious brussels sprout recipe, and they turn even the pickiest eater into a brussels sprout fan.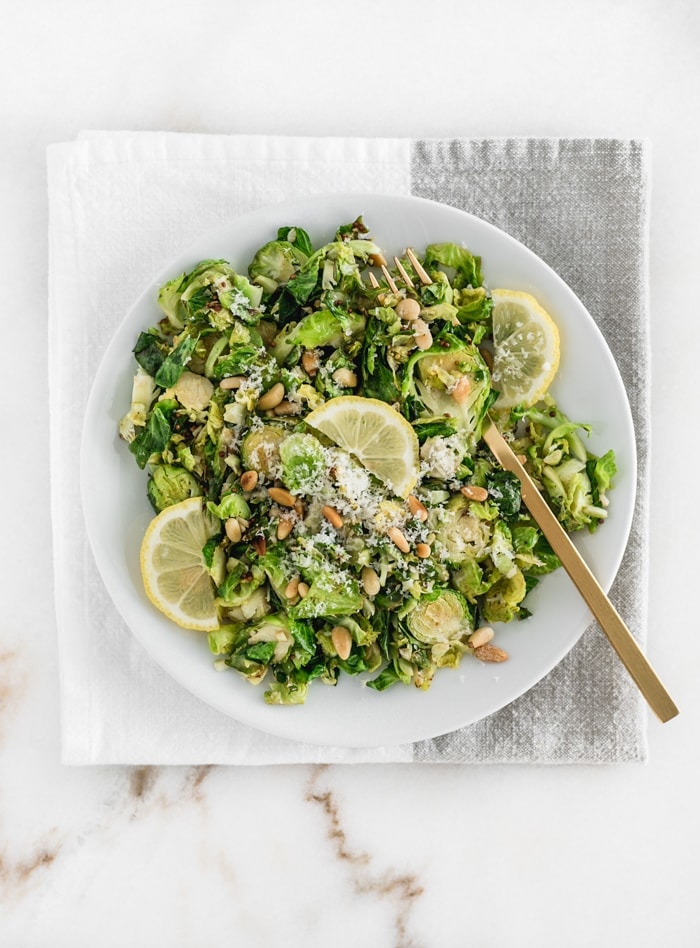 Lemon Parmesan Shaved Brussels Sprouts These warm lemon parmesan shaved brussels sprouts make a bright and flavorful side dish that is perfect for any meal!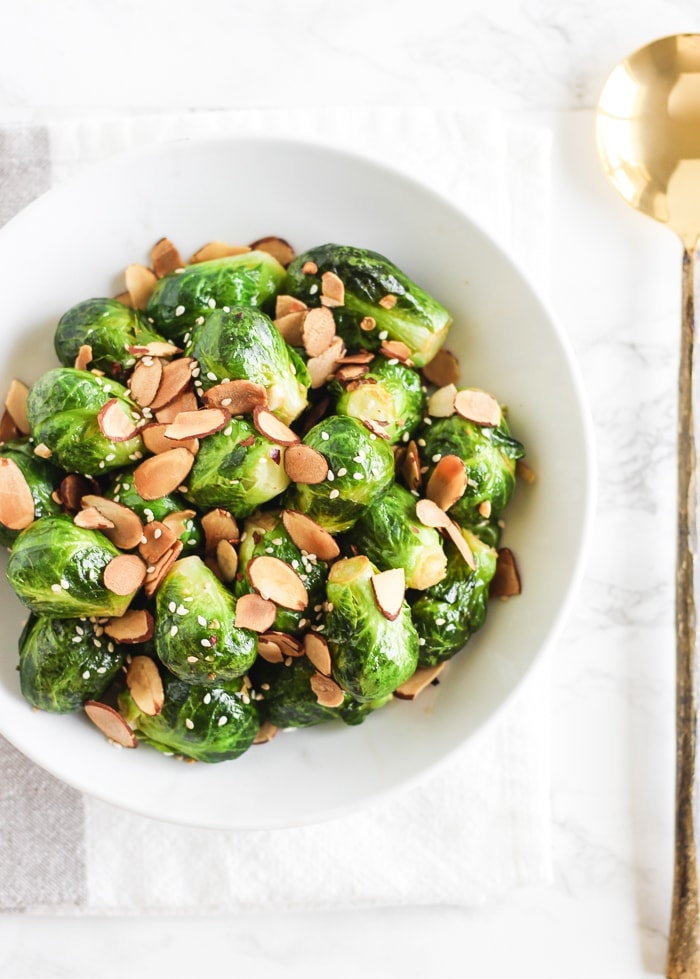 Quick and Easy Sesame Almond Brussels Sprouts For a fun and flavorful side dish, this sesame almond brussels sprouts could not be any easier! You're only 5 minutes and 6 ingredients from a delicious veggie side.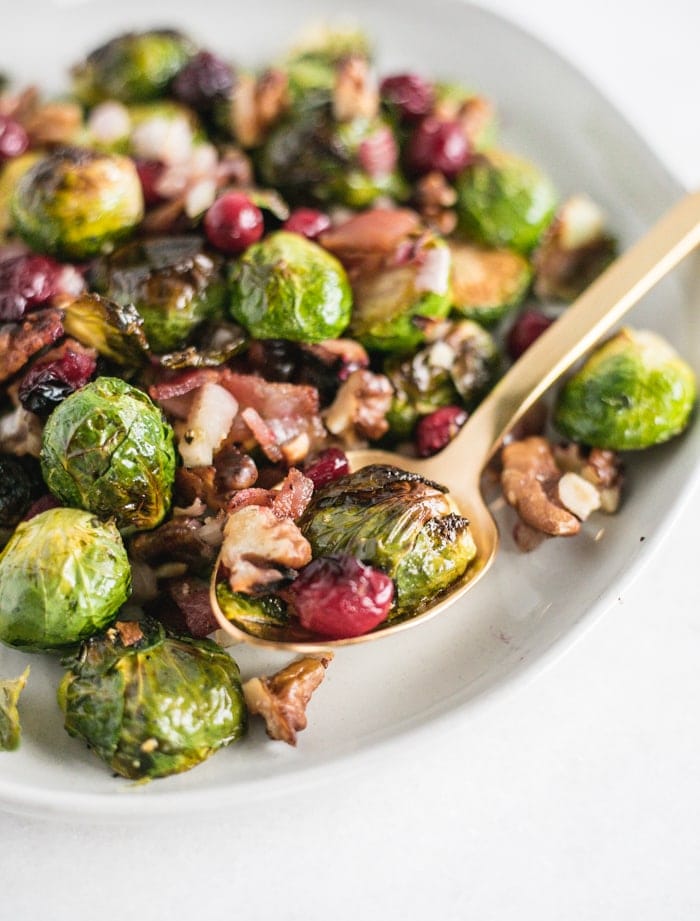 Christmas Roasted Brussels Sprouts with Bacon and Cranberries Christmas roasted brussels sprouts with bacon, cranberries, and walnuts are sure to be a hit as your holiday side dish!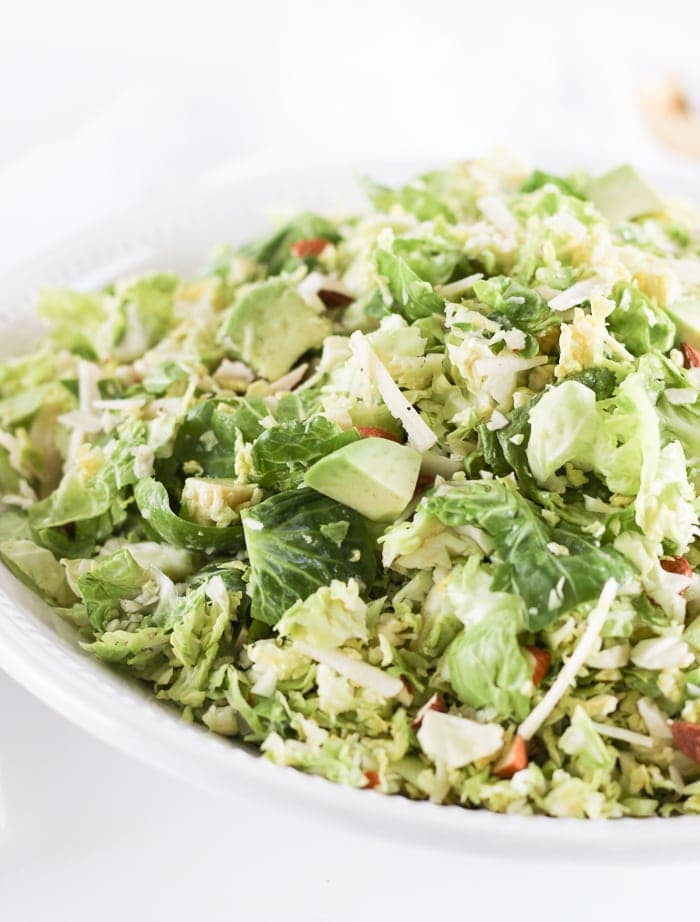 Healthy Shaved Brussels Sprout Salad with Citrus Shallot Vinaigrette This healthy shaved brussels sprout salad with parmesan, almonds, avocado, and a citrus shallot vinaigrette is the perfect hearty winter salad to go with all of your meals!
Meals with Brussels Sprouts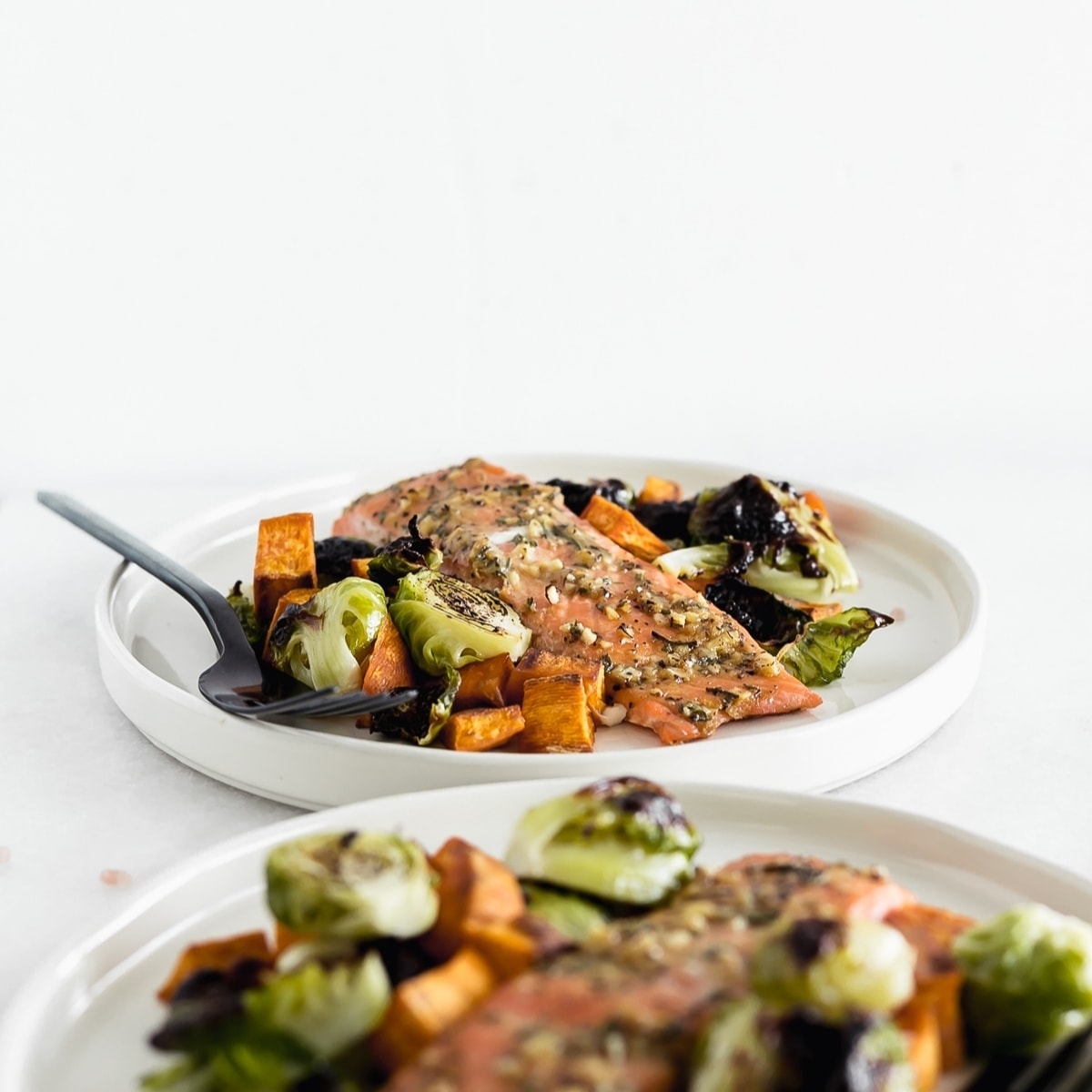 Sheet Pan Maple Dijon Salmon with Brussels Sprouts and Sweet Potatoes For a quick, healthy, and delicious meal with minimal cleanup, you can't beat this maple dijon sheet pan salmon, brussels sprouts, and sweet potatoes. It's the perfect solution for busy weeknights.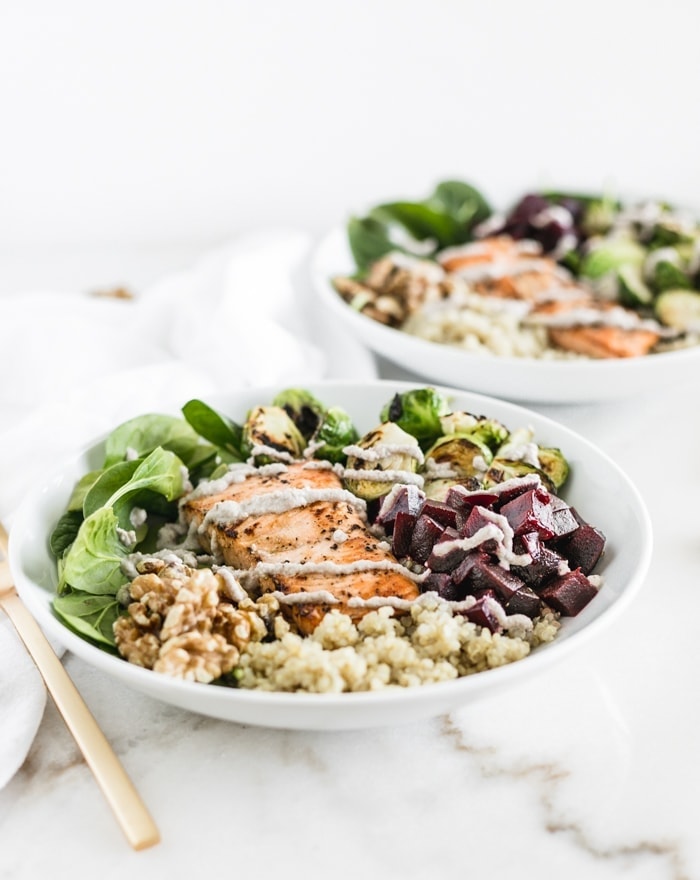 Salmon Walnut Quinoa Bowls These nutritious salmon walnut quinoa bowls with brussels sprouts, beets, and a tangy walnut cream sauce make a delicious and satisfying meal that includes lots of superfoods with cancer-protective nutrients!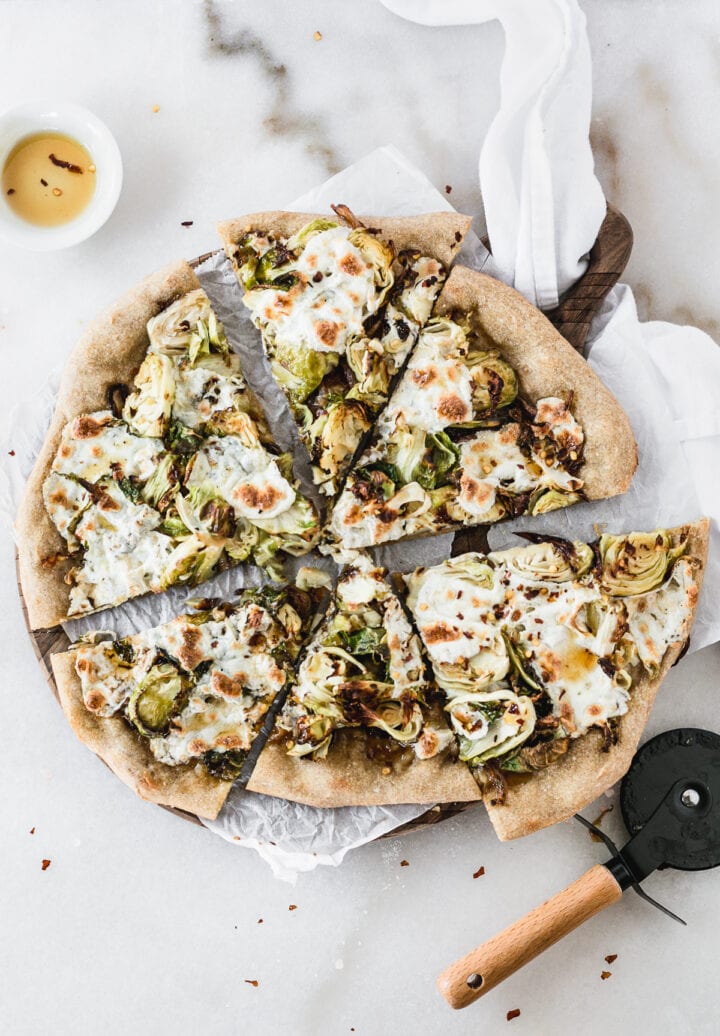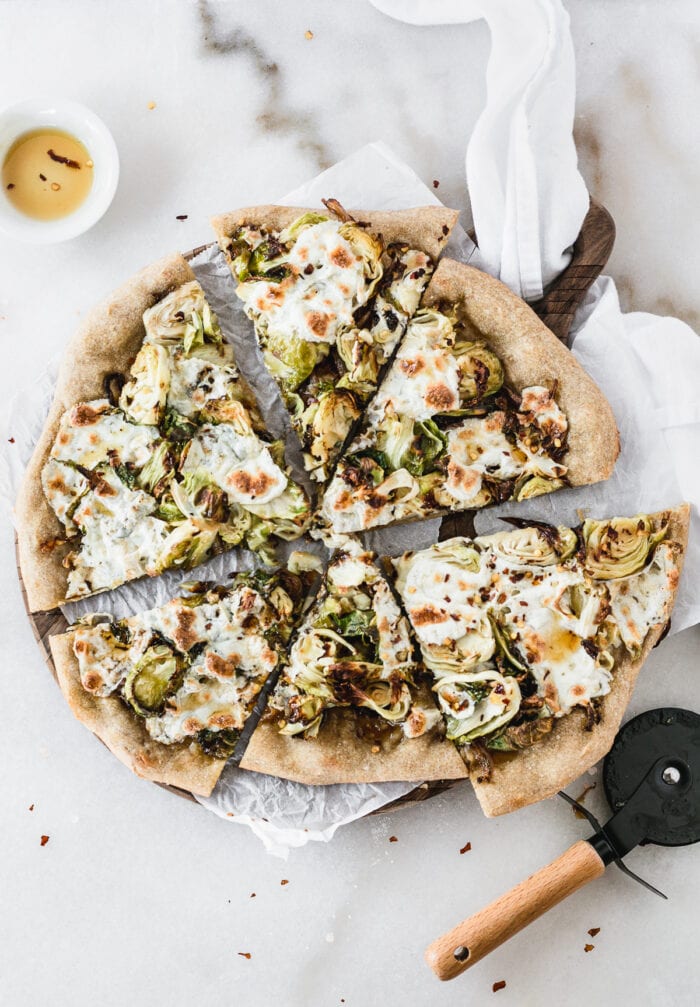 Gluten-Free Caramelized Onion Brussels Sprouts Pizza Enjoy a simple, nutritious meal with this easy gluten-free caramelized onion brussels sprout pizza! It's delicious for breakfast, lunch, or dinner!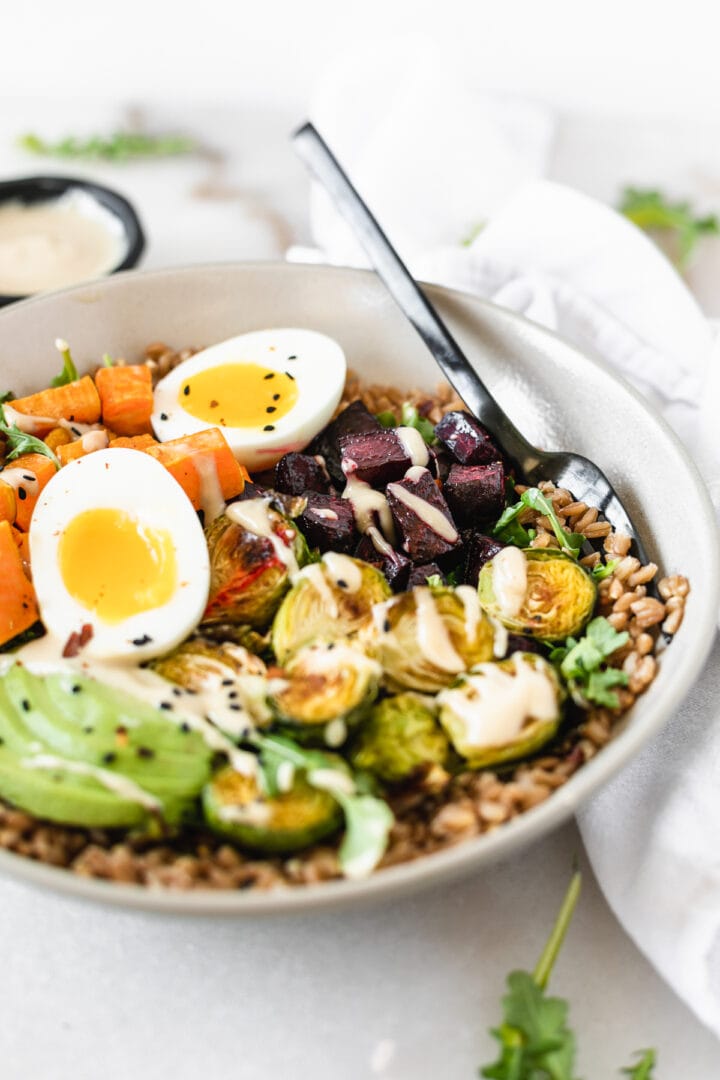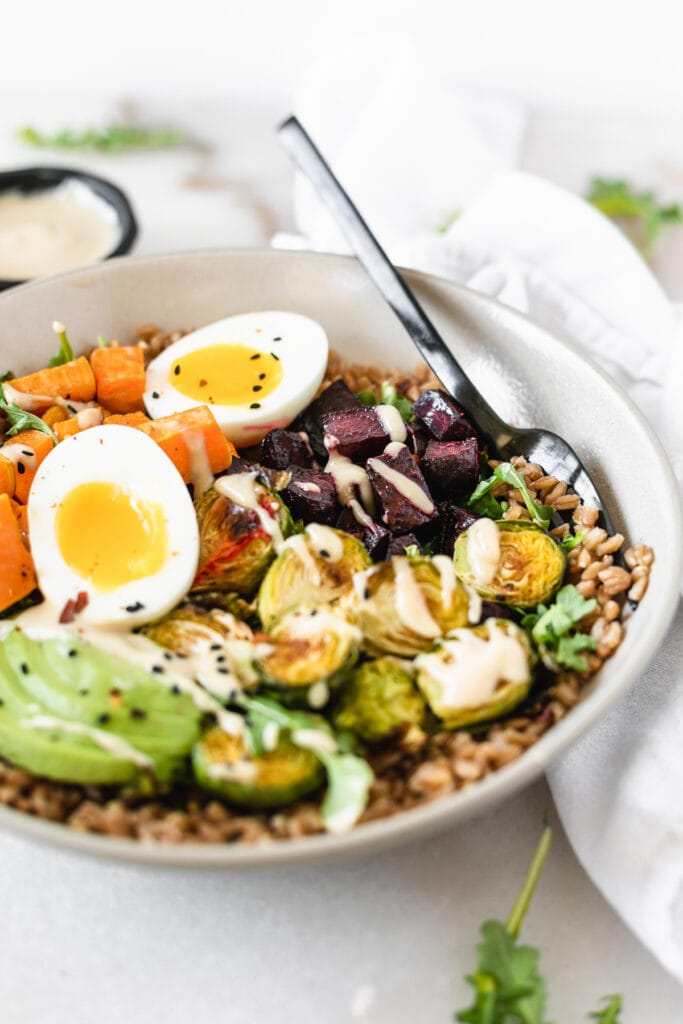 Vegetarian Rainbow Buddha Bowl This vegetarian rainbow buddha bowl with turmeric tahini sauce is a delicious meal full of nourishing ingredients that are healthy, filling, and satisfying! Great for meal prepping healthy lunches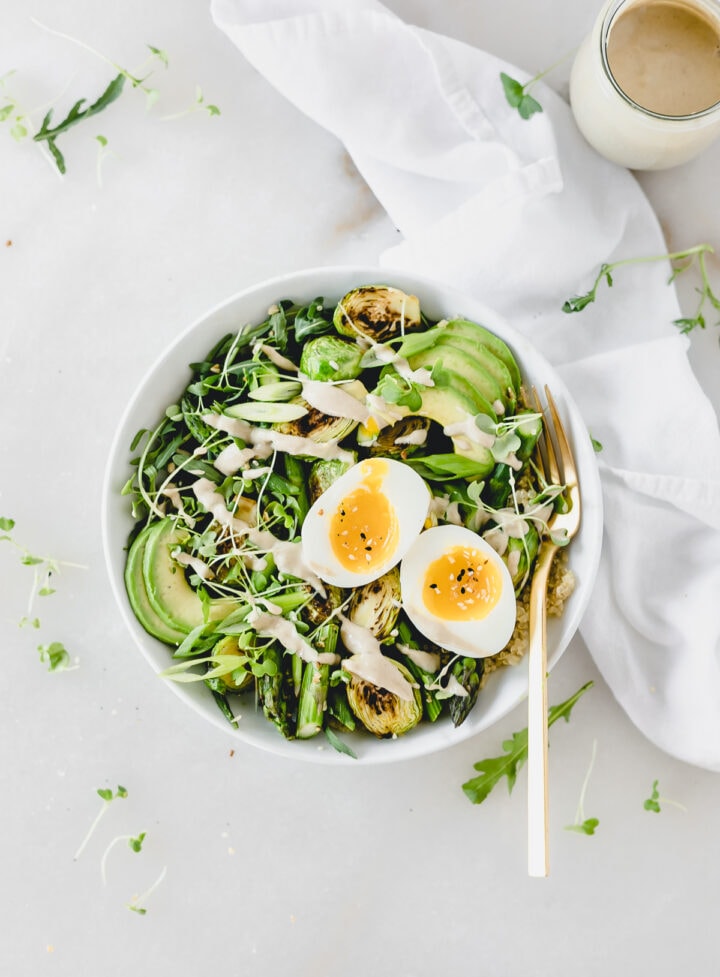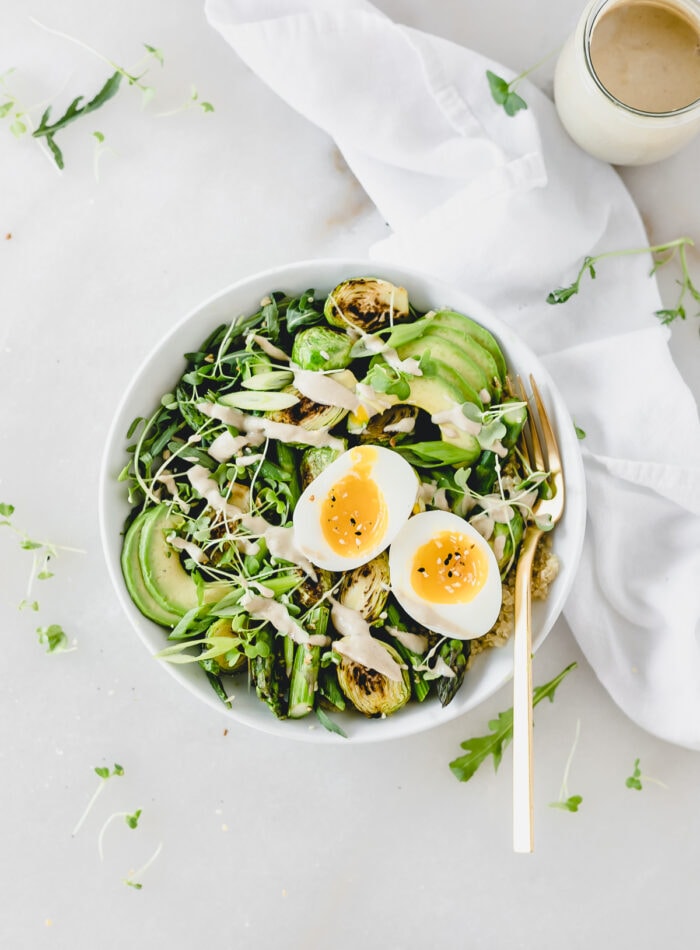 Spring Green Quinoa Bowl Say hello to spring with a healthy spring green quinoa bowl filled with nourishing green vegetables, quinoa, avocado, and an oozing poached egg!