Nothing says summer like cooking on the grill, and grilled chicken recipes are a perennial favorite.

They're versatile and suitable for all tastes and preferences.
But there are some things to know and consider before firing up the outdoor barbecue.
Grilled Chicken Nutrition Information
Chicken is a nutritious food found in most healthy eating plans. According to Good Housekeeping, chicken breasts are high in protein, low in saturated fat, and full of antioxidants and nutrients.
But there are many things to think about when selecting your chicken and deciding how to prepare it. Let's look at the basics first.
A 3-ounce grilled boneless chicken breast has 128 calories and 2.7 grams of fat. It contains only 88 mg of cholesterol but 26 grams of protein.
And it is packed with vitamins, including B6, iron, magnesium, phosphorous, potassium, and zinc.
Grilled Chicken Health Benefits
Grilled chicken comes with some other surprising benefits. According to Web MD, chicken is an excellent source of lean protein that can help build strong bones and muscles.
That protein helps keep you satiated, helping you manage your weight and reducing your risk of heart disease.
Consuming poultry also boosts your immunity, which is the reason we eat chicken soup when we're sick. And it includes tryptophan, a sleep-inducing chemical that helps the body heal and regenerate healthy cells.
Health Risks of Grilled Chicken
It's not all good news, though. Grilling any meat comes with certain risks. Eat This, Not That points out that cooking meat at very high temperatures produces Heterocyclic Amines (HCAs), compounds thought to promote the growth and development of cancer cells.
Fat dripping on the grill produces another cancer-causing compound, called polyaromatic hydrocarbons (PAHs), according to Cedars Sinai. Because chicken is lean meat, the risk is lower.
But wrapping the meat to reduce fat dripping onto the coals will help, as will coating your chicken with rubs, marinades, or olive oil, salt, and pepper.
If neither of those options appeals, you can just flip your meat more frequently. Leaving it long enough to create the grill's characteristic char marks increases the presence of carcinogens.
If you flip the meat more often, you can cook it without the marks or the cancer risk. Gas grills are another fantastic option, but you should light the outer portions of the grill and cook in the center with the lid closed.
Best Way to Grill Chicken
So, what are the best options if you're looking for a healthy way to still enjoy chicken this summer? Many believe brine is the best way to get juicy grilled chicken breasts.
Brine is simply a saltwater solution, but their recipe involves blending it with a marinade and coating the chicken for tasty chicken with fantastic flavor.
How to Grill Chicken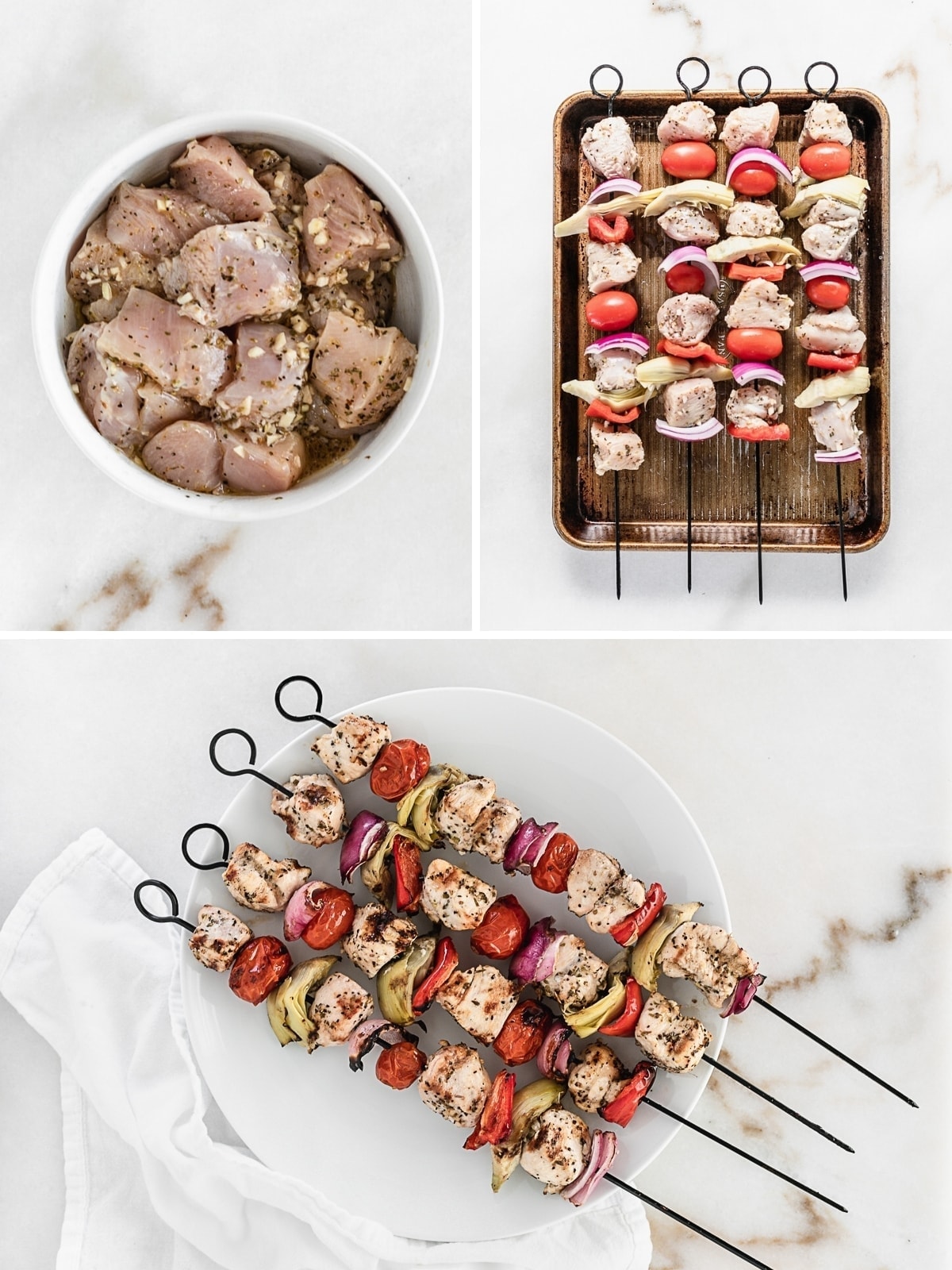 A few simple steps can make your backyard the best place for a summer barbecue.
Step 1: Prepare Your Grill
Ensure you have cleaned any remnants off your grill grates. Once this is done, preheat the grill to 375-400 degrees Fahrenheit.
Step 2: Add Chicken to the Grill
Put your brined and marinated chicken on the grill and close the lid. Keeping the lid closed is essential to regulate your cooking temperature. Cook chicken breasts for 6-8 minutes.
Step 3: Flip the Chicken
Open the lid on the grill and flip the chicken over. Close the lid and grill for another 6-8 minutes. You should only flip your chicken once.
Step 4: Check the Temp
Use a meat thermometer to check the temperature at the thickest part of the chicken. The internal temperature should be 165 degrees. Remove it to a plate or a cutting board.
Step 5: Let it Rest
Cover your cooked chicken with foil to seal in the juices. Let it rest for 5-10 minutes before serving.
How to Keep Chicken Juicy on the Grill
Nothing is worse than dry, rubbery chicken off the grill. But there are a few steps to help keep your grilled chicken juicy.
Make a Marinade for the Chicken
First, make a marinade using honey, apple cider vinegar, Dijon mustard, and red pepper flakes. Next, make brine in a gallon Ziploc bag. Mix half the marinade and save the rest to use as a glaze.
Tenderize and Marinade
Pound your chicken breasts with a meat mallet or rolling pin to an even ¼ -inch thick. Then submerge the chicken in the marinade-brine mixture, and lay the bag flat on a sheet pan.
Let the chicken marinate for at least 30 minutes.
Grill the Chicken Properly
Prepare your grill for both direct and indirect heat. Remove the chicken from the marinade-brine and pat dry.
Cook over direct heat for 3 minutes per side. Do not move, press, or poke the chicken breasts while cooking.
Move the chicken to indirect heat, brush with the remaining marinade and cook until it reaches an internal temperature of 165 degrees. Remove chicken from the grill and allow to sit for 5 minutes before serving.
How Long to Grill Chicken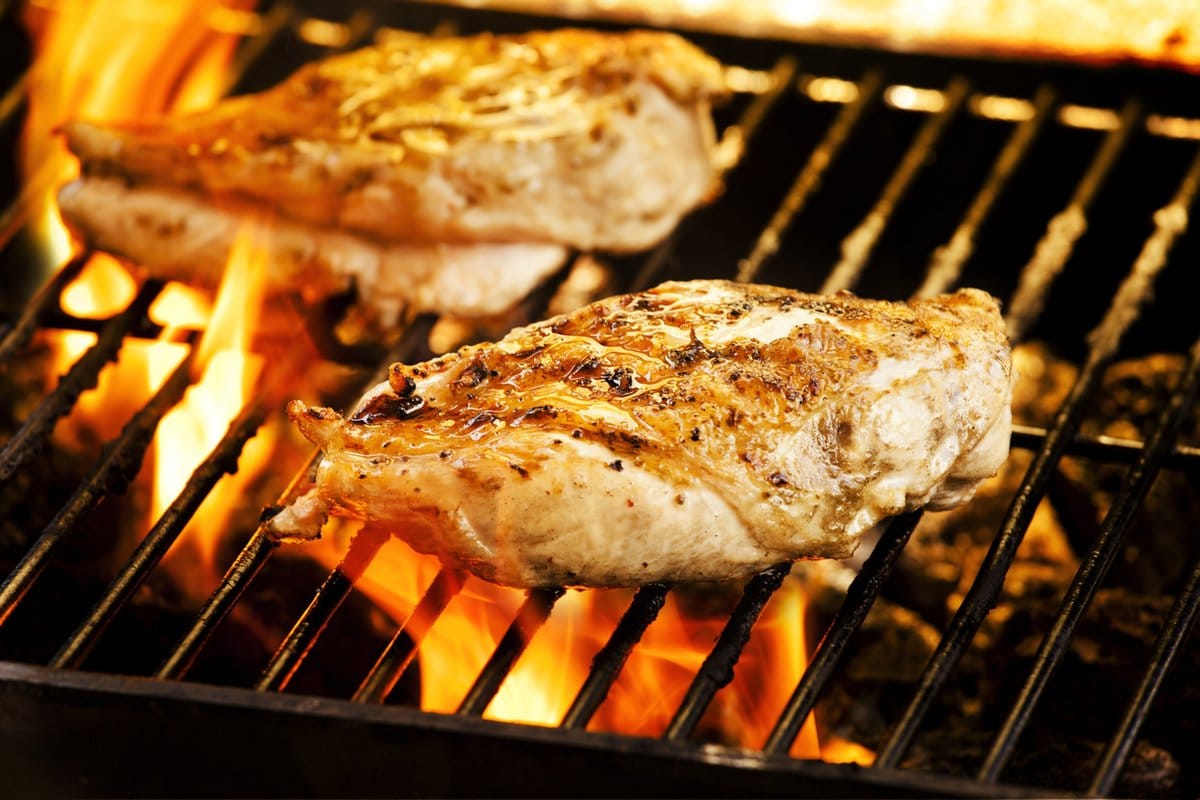 How long you grill chicken depends on the type you're preparing. Generally, a chicken breast should be cooked for 6-8 minutes per side. But those rules change a bit if you're cooking other types.
For chicken drumsticks, you should cook for 8 minutes per side on medium-high heat, then turn a second time, brush with marinade and cook an additional 5 minutes.
For boneless, skinless chicken thighs, cook at medium-high for 6-8 minutes, flipping once and cooking to an internal temperature of 165 degrees.
According to Food Fire Friends, a simple rule is that the more bones the chicken has, the longer it will take to cook.
Common Sides to Serve with Grilled Chicken Recipes
There are literally dozens of sides that you can serve with grilled chicken. Here are some recommendations for common and delicious side options.
Oven-Baked Potato Wedges
Cornbread
Potato Salad
Roasted Vegetables
Sweet Potato Fries
Corn on the Cob
Macaroni Salad
Roasted Brussel Sprouts
Mexican Corn Salad
Broccoli Salad
Coleslaw
Macaroni and Cheese
Cucumber Salad
Zucchini Fritters
15 Tasty Grilled Chicken Recipes
There are dozens of tasty grilled chicken recipes. Below are some of the best.
1. Maple Thyme Grilled Chicken Thighs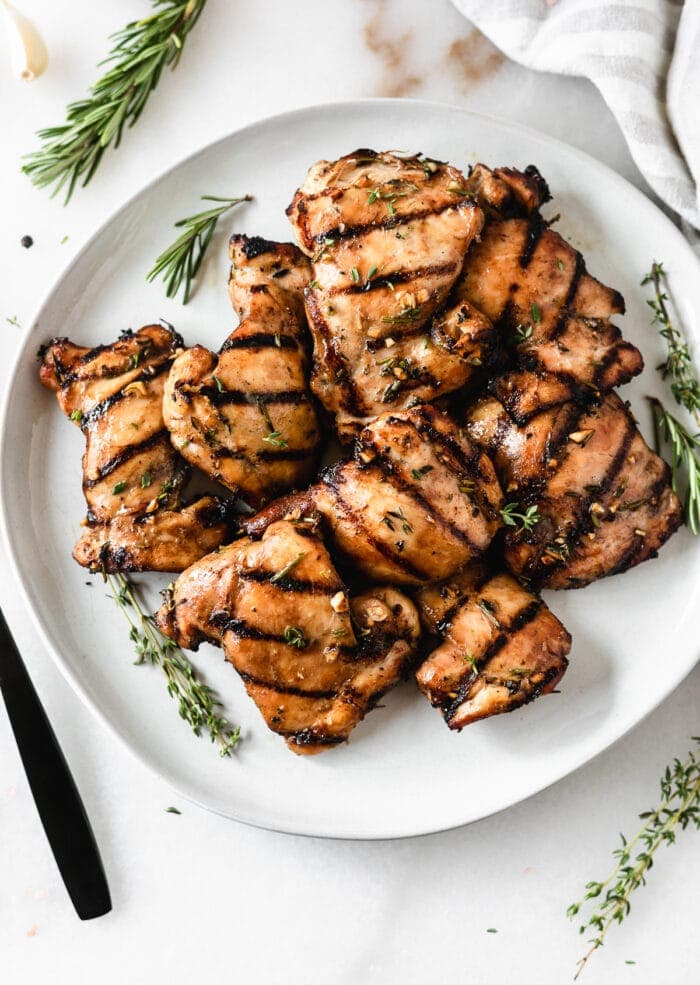 This delicious recipe for Maple Thyme Grilled Chicken Thighs is simple and can even be made gluten-free. And you probably already have all the ingredients you need in your pantry: soy sauce, olive oil, maple syrup, pepper, thyme, rosemary, garlic, and chicken thighs.
2. Spicy Grilled Chicken Drumsticks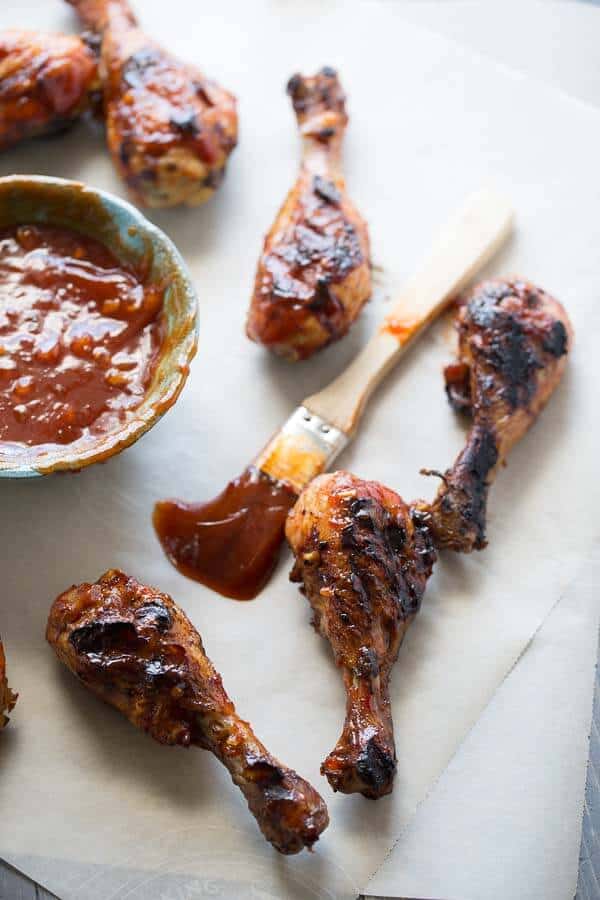 These drumsticks from Lemons for Lulu are an option that is excellent for people who like spicy foods. The recipe calls for ¼ cup of Sambal Oelek, a chili sauce, or a paste that you can buy premade or mix up at home.
You can adjust the amount to suit your tastes if you don't like quite as big a kick in your recipes.
3. Grilled Chicken & Nectarine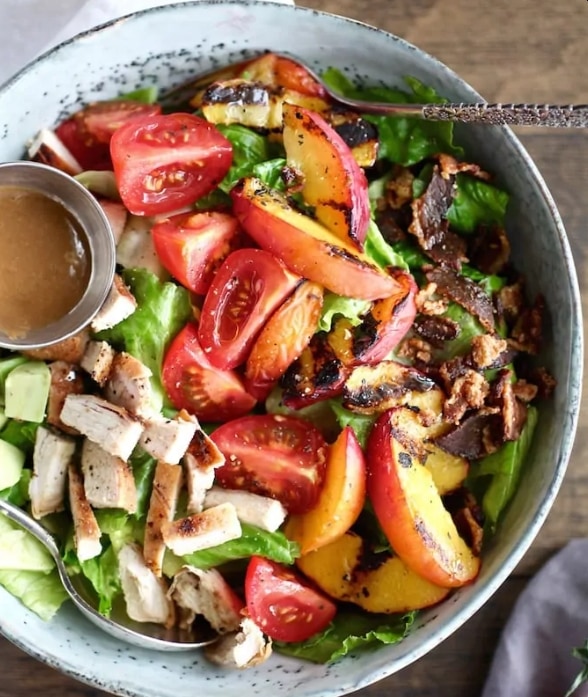 This recipe from Nutrition in the Kitch calls for grilled chicken and grilled nectarines. Cook the bacon and grill the chicken first.
Then combine with romaine lettuce, diced avocado, and tomatoes while the nectarines are on the grill. Once the nectarines are done, add them to the top of the salad and drizzle with sweet balsamic dressing.
4. Thai Coconut Grilled Chicken Tenders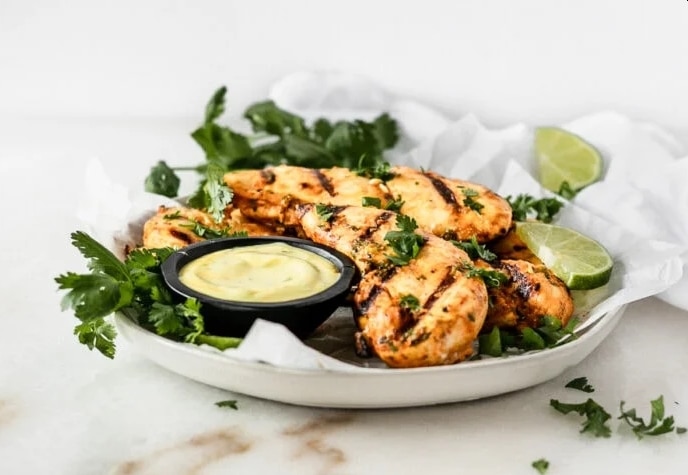 For a sweet and spicy chicken tender recipe to kick things up at this year's barbecue, try these Thai Coconut Grilled Chicken Tenders with a special sauce.
The recipe combines curry paste with coconut milk, ginger, cilantro, lime juice, and sesame oil. The dipping sauce uses Greek yogurt, turmeric, lime juice, cilantro, sea salt, and pepper.
5. Grilled Chicken Wings with Spicy Comeback Sauce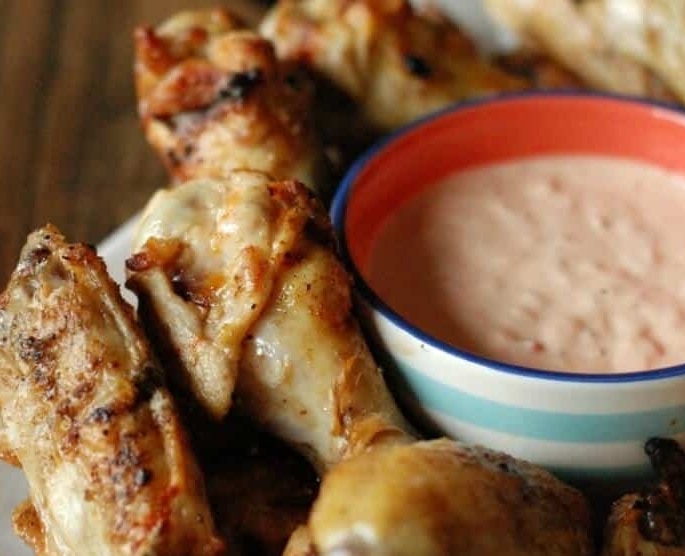 The Thai chili paste is mixed into the sauce this time, blended with mayonnaise, lemon juice, ketchup, Worcestershire sauce, ground mustard, onion powder, garlic, and salt.
6. Southwest Grilled Chicken Green Chile Caesar Salad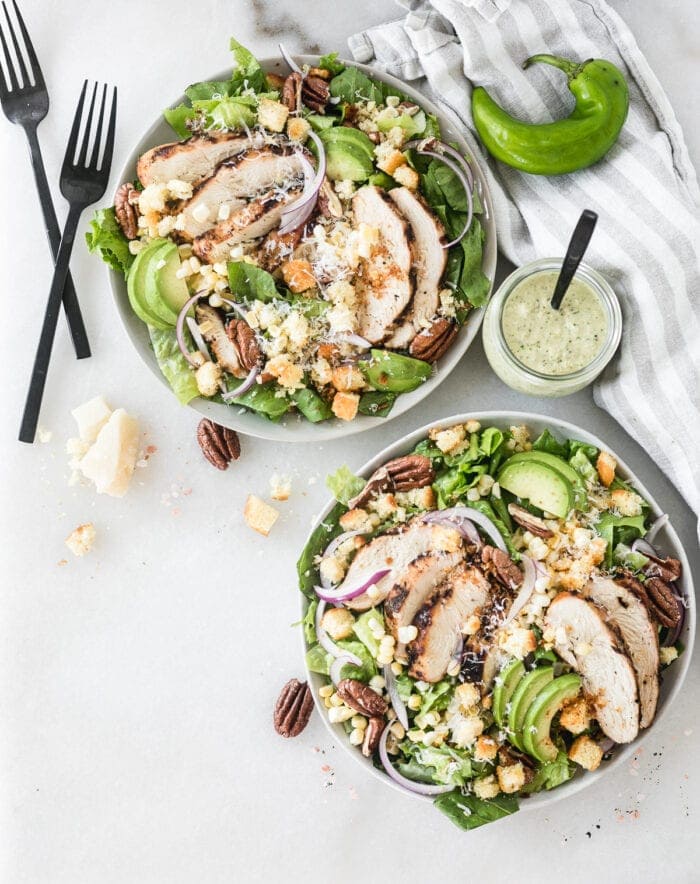 In a new twist on Caesar salad, this chicken is prepared with a rub of salt, pepper, chili powder, and garlic powder then drizzled with olive oil and Worcestershire sauce before grilling.
While the chicken grills, cut cornbread cubes and toast them in the oven at 400 degrees to make croutons. On the other half of the same sheet pan, toast some pecans.
Once the chicken is grilled and sliced, assemble the salads, and top with chicken, cornbread croutons, and toasted pecans.
7. Sauteed Vegetables & Grilled Chicken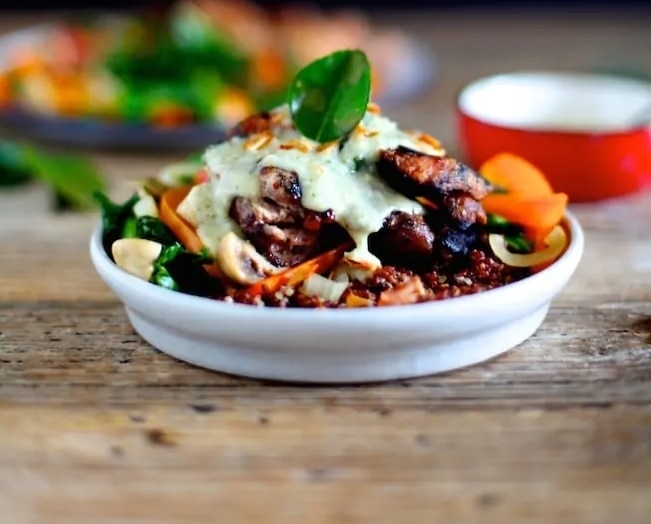 Nutrition in the Kitchen offers us this recipe for sauteed vegetables and grilled chicken thighs which calls for Kefir Lime Leaf and lemongrass paste or crushed lemongrass.
You may not be able to find lemongrass locally. But if you can, you will be rewarded with a delightful dinner. The dish is served over quinoa or rice that you can cook on the cooktop or in an instant pot or slow cooker.
8. BBQ Chicken with Cherry Chipotle BBQ Sauce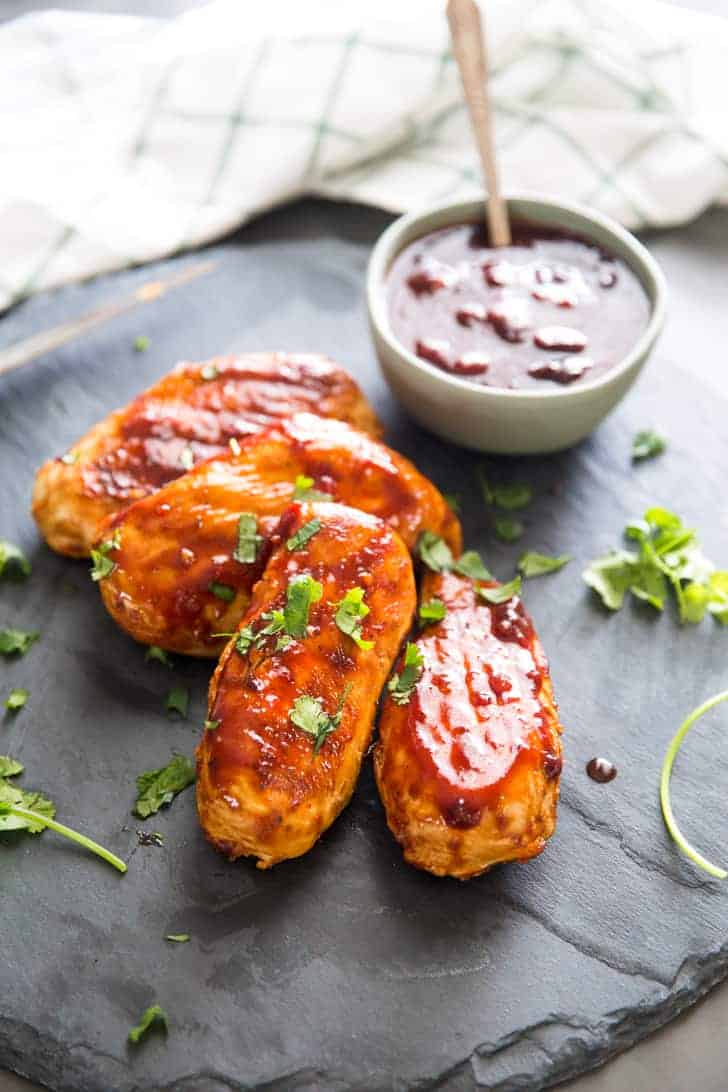 This recipe from Lemons for Lulu is sweet, smoky, and delicious. The tart cherry sauce is brushed on the chicken for the last two minutes of cooking. Any remaining sauce can be used for dipping.
9. Healthy Grilled Chicken and Veggie Wrap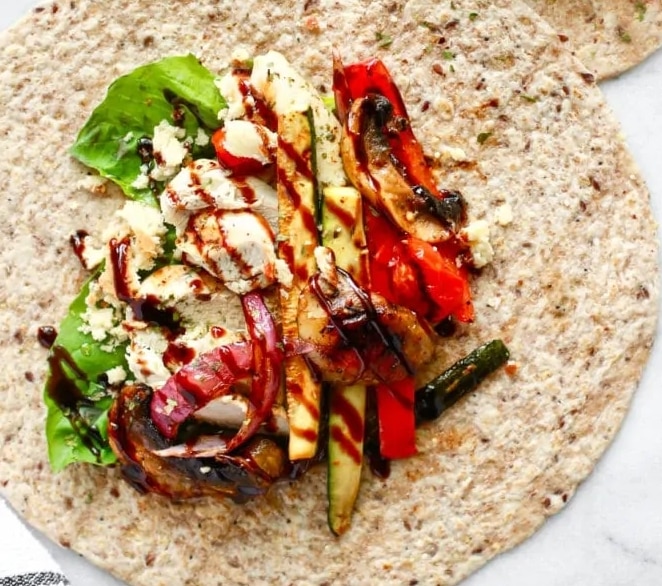 Nutrition in the Kitch designed this recipe to be cooked on an indoor grill. However, you can cook it outside if you prefer. The dish calls for feta, but you can substitute mozzarella if that's more to your tastes.
It's stuffed with onions, zucchini, tomatoes, and peppers. And finally drizzled with a sweet and tangy balsamic glaze.
10. Harissa Grilled Chicken with Lemon Mint Yogurt Sauce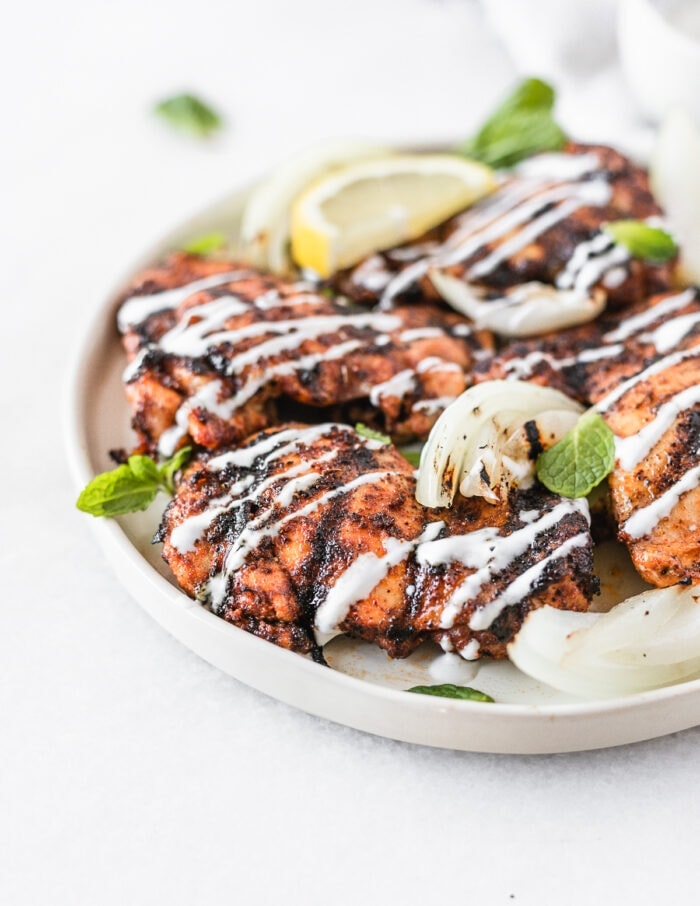 If you are wanting a healthy, flavorful dinner on your table quickly and easily, check out this recipe for Grilled Chicken with Lemon Mint Yogurt Sauce. Both the chicken and the sauce take only four ingredients.
The chicken is coated with oil, onions, and harissa. The sauce is yogurt, lemon, mint, and pepper.
11. Cherry Kahlua BBQ Sauce with Chicken Drumettes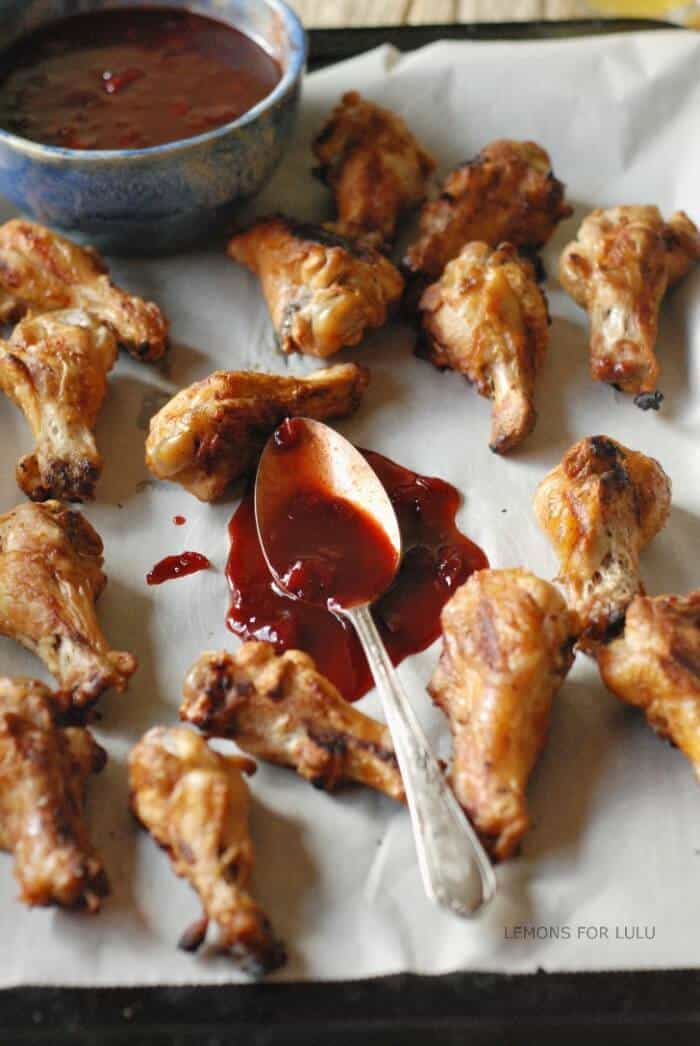 Cherries and Kahlua? Yes, please. This Lemons for Lulu recipe combines unlikely items to create a sauce to dip your grilled drumettes in.
You can use cooled coffee instead if you are looking for a non-alcoholic version.
12. Healthy Greek Chicken with Tzatziki Sauce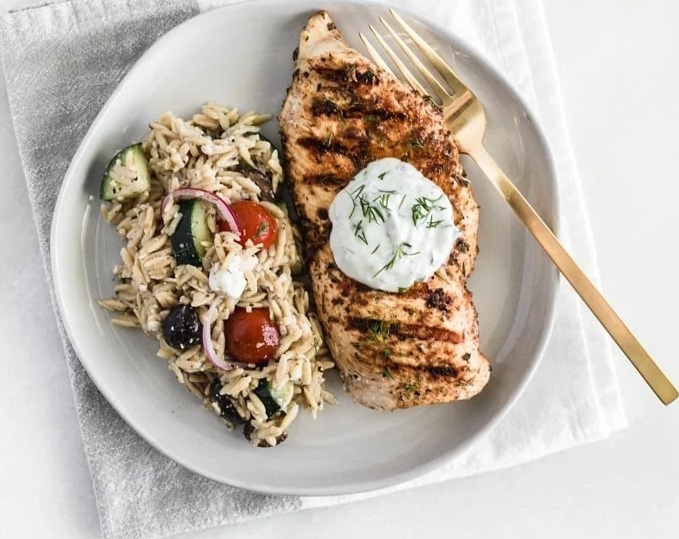 You can make your own Greek seasoning with this recipe. Then coat your chicken before submerging it in lemon juice, olive oil, and red wine vinegar marinade.
After 30 minutes, grill for 8-10 minutes per side. Serve with homemade tzatziki sauce.
13. Easy Rosemary Orange Grilled Chicken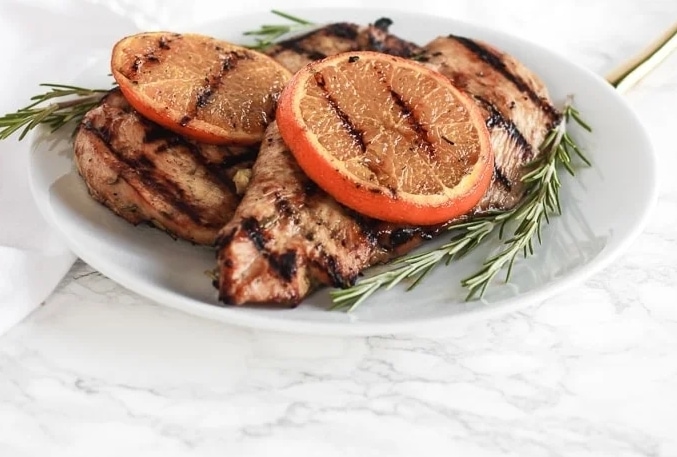 This simple recipe is summer on a plate. Gluten-free, nut-free, and dairy-free, this citrus and herb chicken goes from grill to table in just 25 minutes. And it takes only eight ingredients.
14. Blackberry BBQ Chicken Flatbread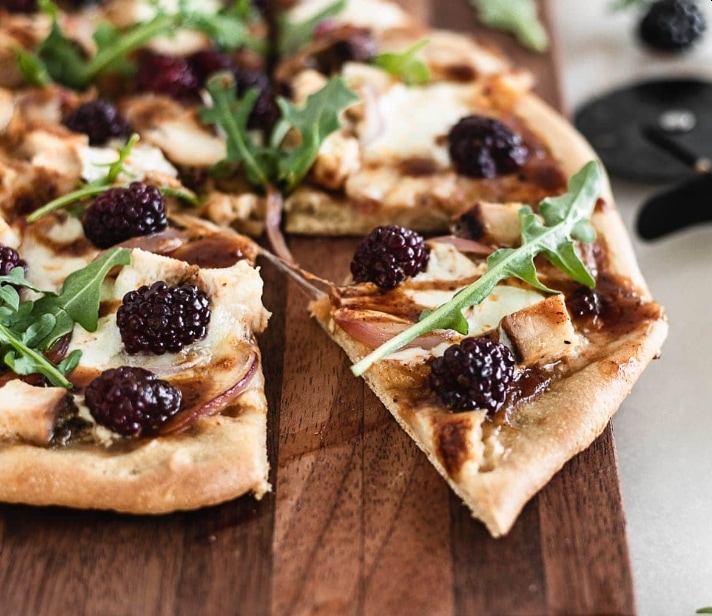 This flatbread starts with grilled chicken. You can make it specifically for this recipe or use leftovers from a previous grilling.
And you can use any barbecue sauce you like, including the options above. Or buy a bottle premade at the store. You can even grill the crust if you choose.
The blackberries give a sweet kick to this otherwise savory flatbread.
15. Mediterranean Grilled Chicken Kabobs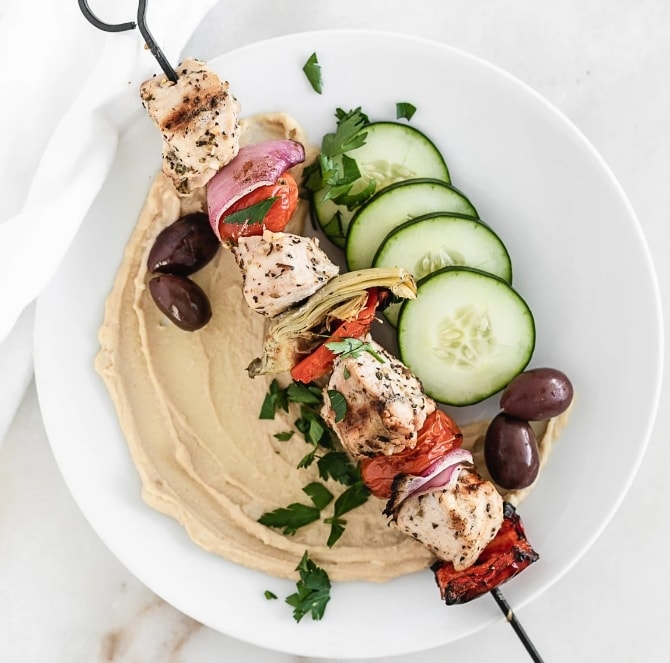 These kabobs from Lively Table combine chicken, artichoke, cherry tomatoes, bell pepper, and onion with oil, lemon juice, red wine vinegar, and some simple herbs for a delicious and easy meal.
Serve them over hummus with a side of cucumbers and black olives.
Common Grilled Chicken Mistakes
Before you embark on any of these recipes, you must learn the most common mistakes. By avoiding these, you can ensure that your chicken will turn out great no matter what recipe you use.
Not Being Choosy Enough with Your Chicken
Antibiotic-free and hormone-free should be your minimum requirements when picking your poultry
At the very least, your chicken should get dressed with salt and pepper before hitting the grill
Medium-low will let the skin on your chicken crisp while the flesh cooks. Cooking too high can lead to a burnt exterior and uncooked interior
This pertains mainly to chicken breasts but must be addressed since they are a common choice. Choose medium heat for charcoal and medium-high for a gas grill. And remove it a minute before it's done cooking. It will finish while it rests
You need to keep an eye on your chicken while it cooks. Keep a cool side of the grill to move it to if it starts cooking too fast.
Forgetting the Meat Thermometer
The ideal temperature for dark meat is 165 degrees. For white meat, it's 160 degrees. Thermometers are the easiest and most efficient way to check if your meat is done.
Sauces are delicious. But if you apply them too soon, they and your chicken will burn. Save them until the final few minutes of cooking.
Ways to Keep Chicken from Sticking to the Grill
The only thing worse than dry chicken is when the bird you've carefully prepared sticks to the grill. Fortunately, there are a few ways to avoid this at your next barbecue.
Here are some tips to keep in mind:
First, coat your chicken with oil that has a high smoke point. Next, keep your chicken in the 425-450 degree range.
Finally, check your chicken after 4 minutes of cooking. If it sticks, give it another 30-60 seconds and try again.
FAQ
Why is my grilled chicken so dry?
The most common reasons your grilled chicken is dry are overcooking or choosing leaner cuts and not preparing them properly. Brining or marinating the chicken will help prevent it from drying out. Cooking chicken breasts with the skins still on will also help. In addition, cooking over indirect heat helps keep chicken juicy.
Should you pound chicken before grilling?
Absolutely. Another top reason your chicken ends up drying out on the grill is that some of your pieces are overcooked. This happens because your chicken pieces aren't uniform size. Use a meat mallet, rolling pin, or skillet to pound your chicken pieces to an even thickness.
How many times should you flip chicken on the grill?
The amount of time you should flip your chicken really depends on who you ask. Most sources advise against flipping often. But some highly recommend it. They believe leaving it too long on one side can cause breakage affecting the flavor. Remember, if your chicken is sticking, it's probably not ready to flip.
Can chicken be slightly pink?
Brace yourselves, people. It turns out color is not the best indicator of doneness in your chicken. Though we've been taught to judge our chicken by its appearance. However, the temperature is a much better indicator. As long as the thickest part of your chicken has an internal temperature of 165 degrees, it is safe to eat.
Conclusion
There are many things to consider when planning your next backyard barbecue. But having the right grilled chicken recipes is a great way to start.
There are many options, using different types of chicken and varying ingredients. Just remember the guidelines for creating the juiciest chicken and avoid the most common mistakes. Your backyard will be the place to be this and every summer.