Looking for some new shrimp recipes you can try? You're definitely in the right place.
Shrimp is a type of seafood known for its mild taste and meaty texture. Shrimp is also versatile, so there are plenty of fresh ways to put a delicious spin on this healthy protein.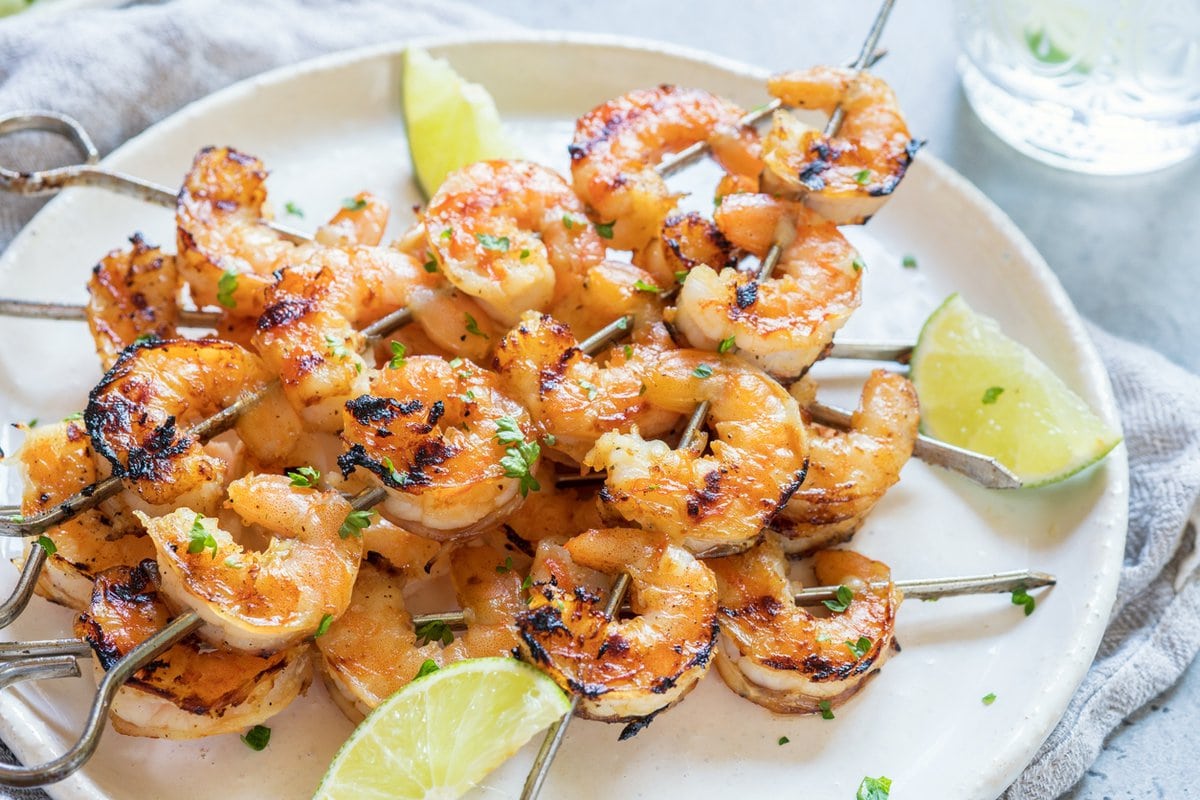 Whether you like fried shrimp, grilled shrimp, or some other spicy variation, you're sure to find shrimp dishes in the recipe list below that your friends and family will love.
Keep reading to check out some of the most classic shrimp recipes from across the Internet.
15 Tasty Shrimp Recipes
1. Grilled Shrimp Tacos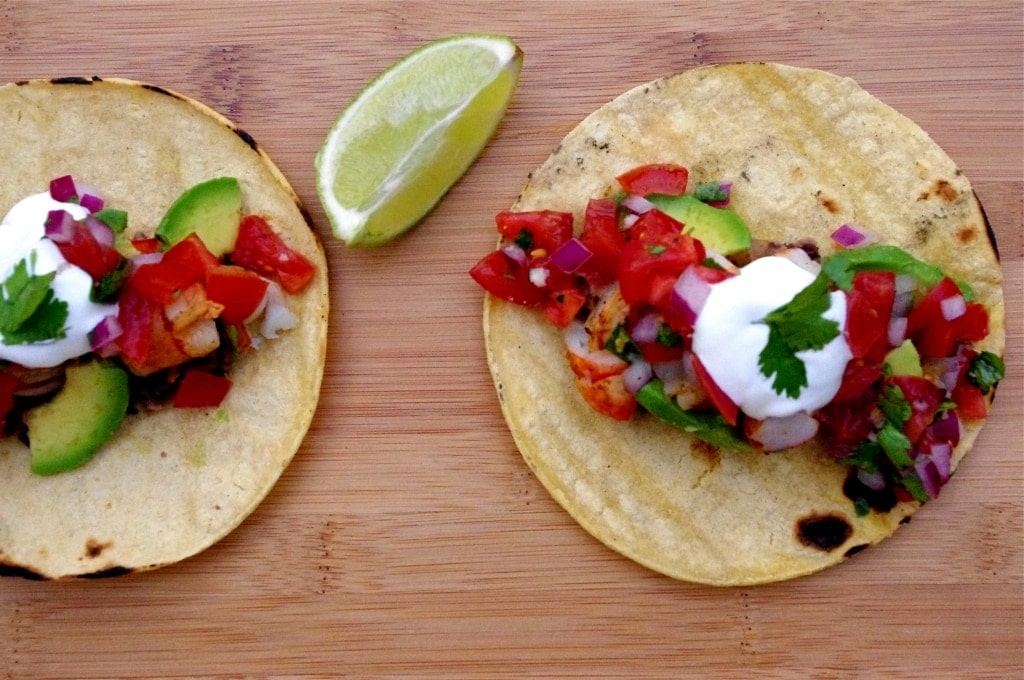 If you want to incorporate shrimp into authentic Mexican food, look no further than this grilled shrimp recipe on Nutrition in the Kitchen. This recipe calls for salsa, shrimp, black bean spread, corn tortillas, and garnish. It is light and nutritious, and a simple dinner recipe.
2. Greek Style Shrimp Scampi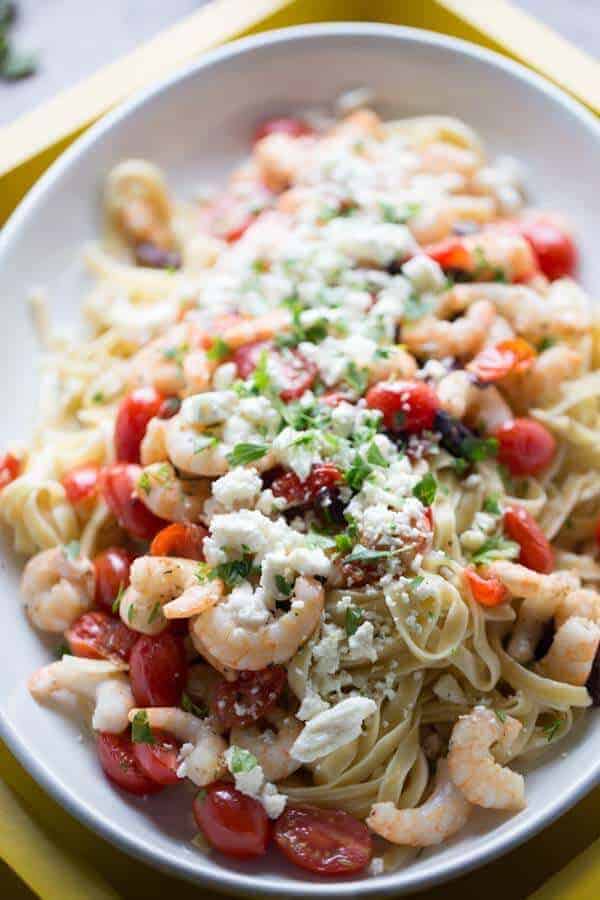 This list would be incomplete without including at least one shrimp pasta recipe. The pasta is tossed with shrimp, garlic, feta cheese, and tomatoes in this shrimp scampi meal.
Follow the steps to this recipe in Lemons for Lulu to make a full dinner in just 23 minutes. You're free to use fresh shrimp, leftover shrimp, or precooked shrimp for this recipe.
3. Shrimp Creole Cobb Salad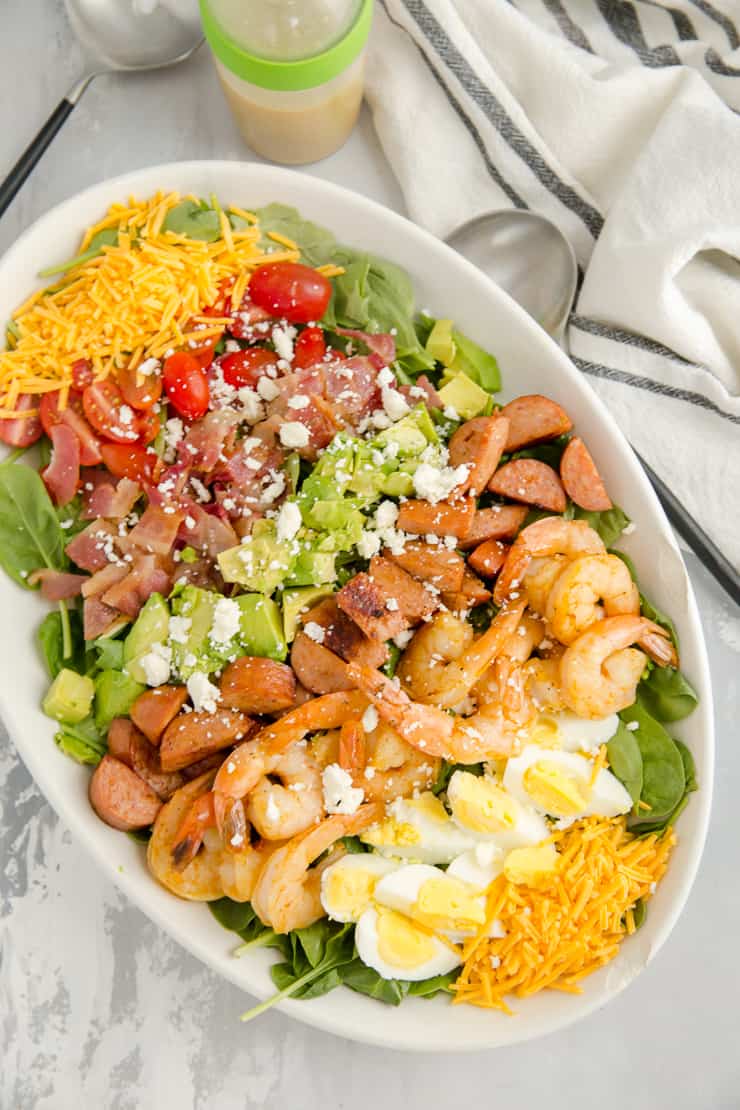 A Cobb salad is a salad that features an array of different ingredients and textures like mixed greens, crispy bacon, chopped tomatoes, hard-boiled eggs, creamy avocado, and a tangy vinaigrette.
This version of Cobb salad from Lemons for Lulu also contains a spray of spicy Creole seasoned shrimp along with other traditional Creole ingredients like andouille sausage.
4. Shrimp Fra Diavolo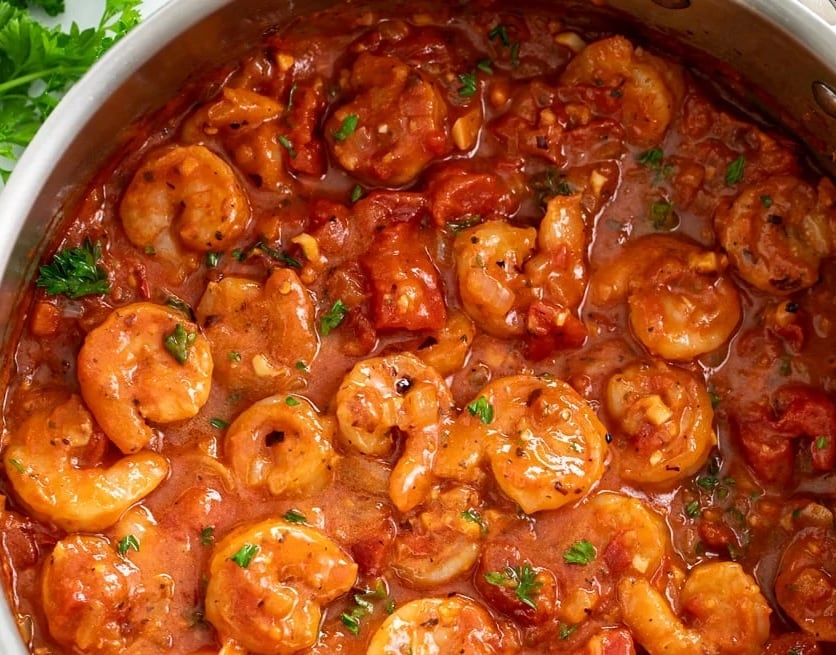 If you like your shrimp recipes spicy, shrimp fra Diavolo like this recipe at The Cozy Cook is the meal for you. Using red pepper flakes, you can adjust the spice levels in this skillet dish to be as mild or as hot as you like.
Use high-quality fire-roasted tomatoes for a noticeable upgrade in flavor. Freshly grated Parmesan cheese helps top everything off.
5. Sweet Chili Garlic Shrimp and Quinoa Grill Packets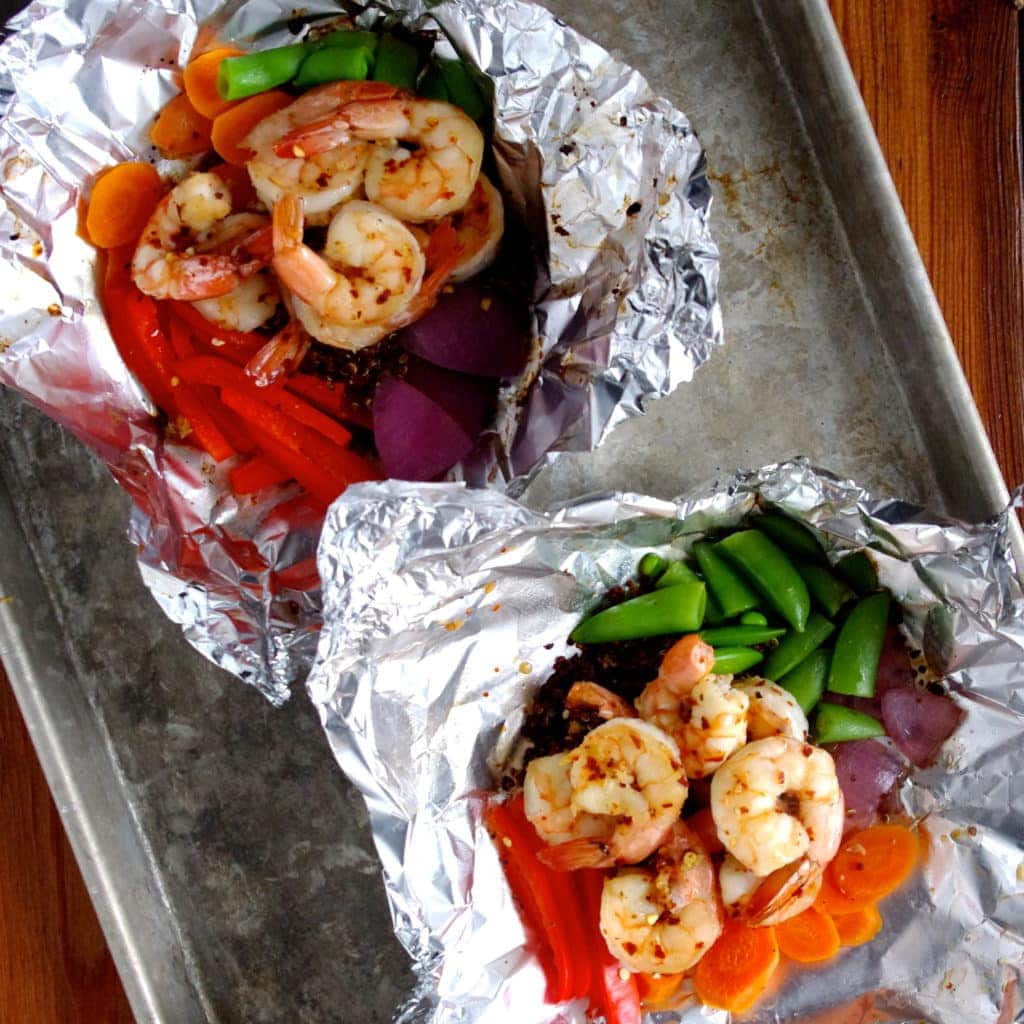 Grilling shrimp is one of the easiest ways to prepare them, and it doesn't get easier than these sweet chili garlic shrimp and quinoa grill packets from Nutrition in the Kitch. The packets combine fresh juicy shrimp with colorful chopped vegetables and cooked red quinoa for a vegan feast that is as healthy as it is delicious.
6. Shrimp and Chive Dumplings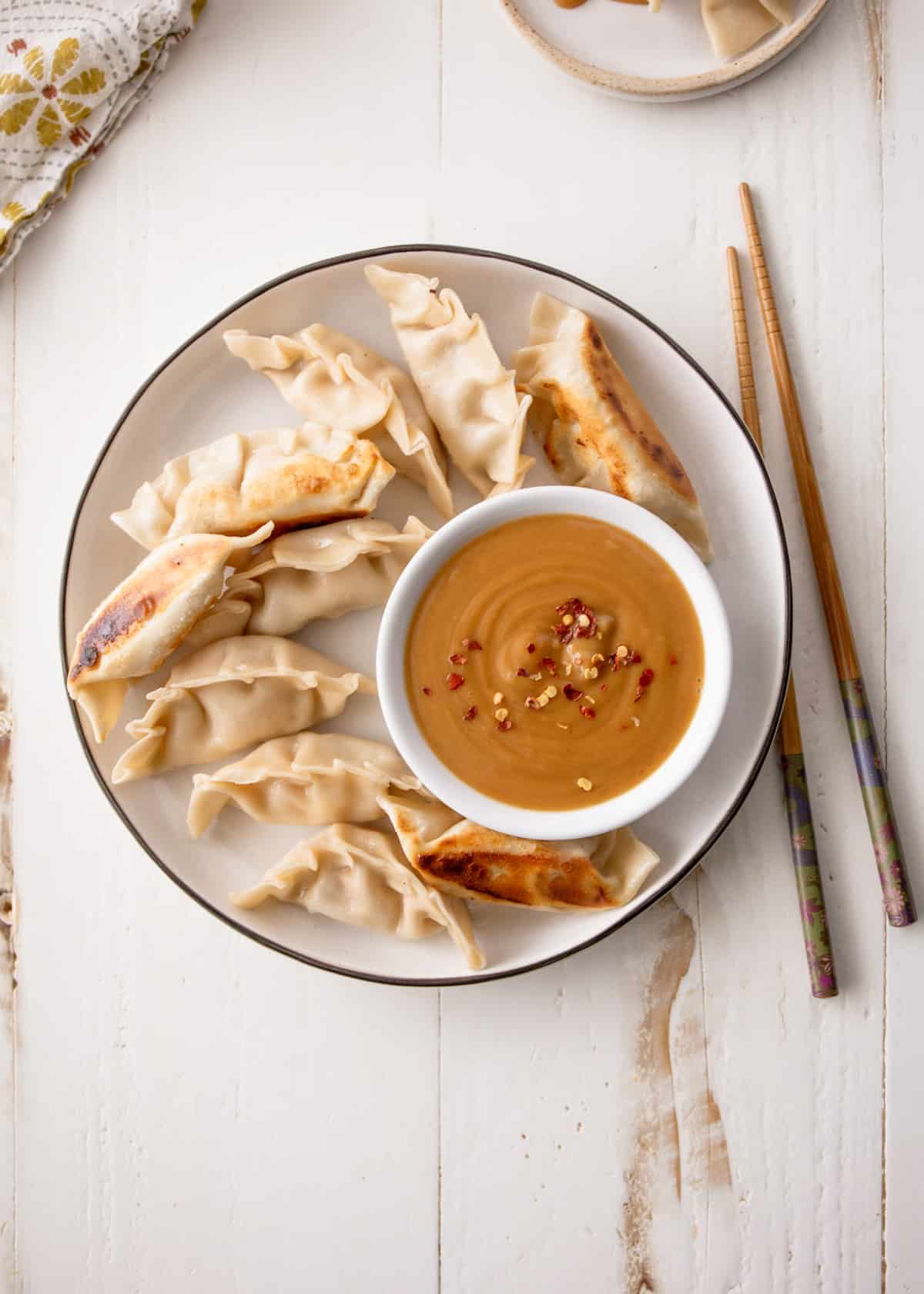 Dumplings are a little bit more complicated than your average shrimp recipe. But these shrimp and chive dumplings at Inquiring Chef are worth the trouble to make them.
Using store-bought wonton or dumpling wrappers can take a lot of the hassle out of whipping up these tasty bundles of shrimp, chives, cabbage, and ginger.
7. Sweet and Sour Shrimp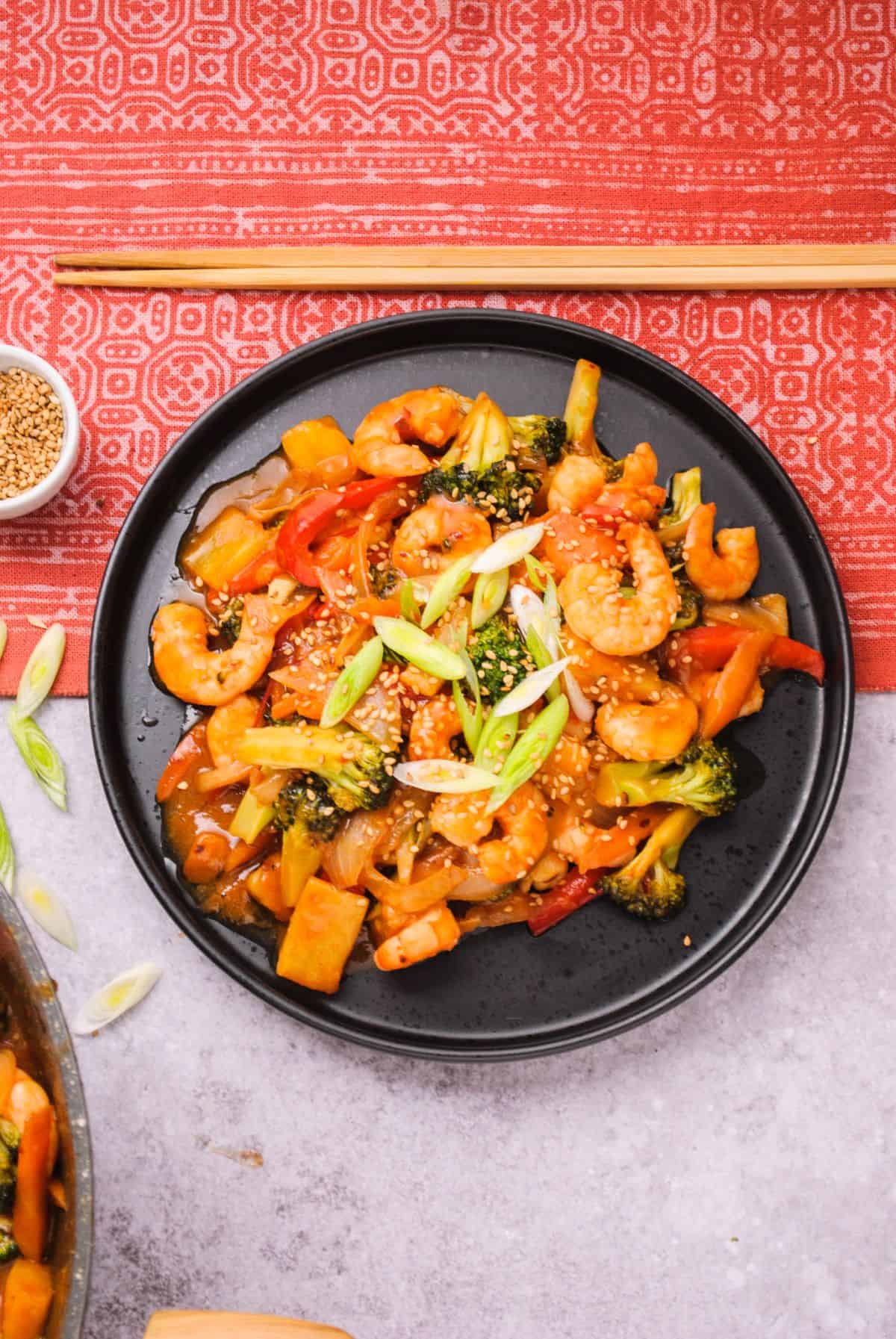 Sweet and sour shrimp is one of the most popular Chinese takeout dishes on the planet and with good reason. Try a homemade take on the classic with this recipe from Lemons for Lulu.
The shrimp stir-fry features tons of fresh vegetables and tangy sauce on a bed of fluffy white rice. Serve this shrimp dish with a bowl of soup or an egg roll appetizer to round everything out.
8. Twenty Minute Jerk Shrimp Spaghetti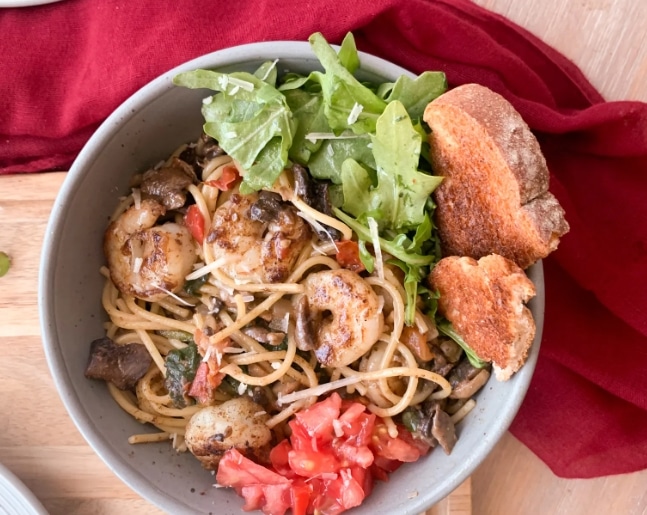 Shrimp are a common ingredient in Caribbean cuisine where they are usually cooked with jerk or blackening seasonings. Try a jerk shrimp recipe tossed over spaghetti in this recipe from Tablespoon for One for a shrimp recipe that can be prepared completely in one pan and in less than half an hour.
9. Shrimp Pasta Primavera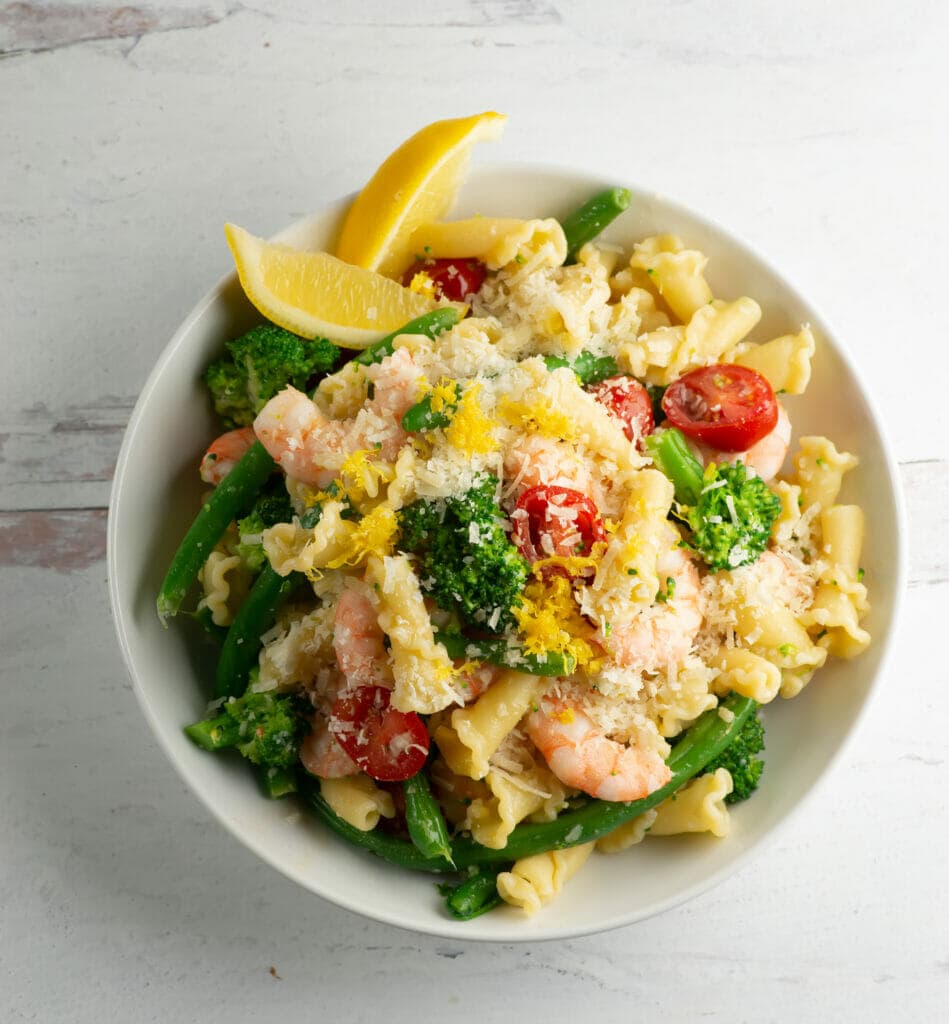 Shrimp and pasta are a classic pairing since the sauces that are served with shrimp are delicious to sop up with pasta and a good loaf of bread. Pasta primavera is a pasta dish that is full of spring vegetables and herbs.
The shrimp-based version at Framed Cooks uses fresh cherry tomatoes and basil to keep things bright and light.
10. New England Style Shrimp Rolls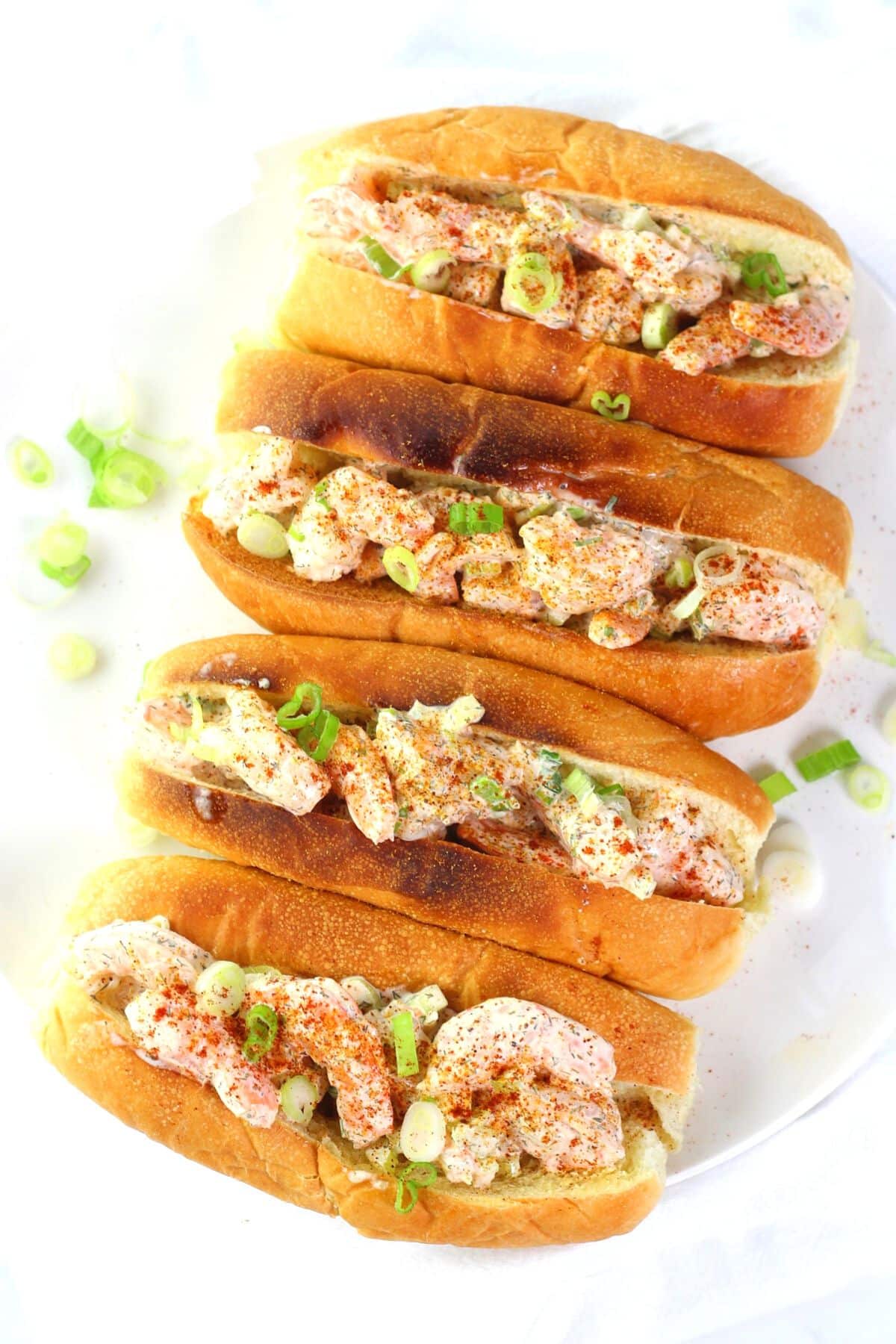 New England-style lobster rolls are one of the most iconic meals out of Maine. These similar rolls from Now Cook This! substitute expensive, hard-to-find lobster for shrimp.
Shrimp is much more affordable and easy to prepare. With a cheaper price tag and a prep time of fewer than thirty minutes, you won't have to save these rolls for a special occasion.
11. Low Country Boil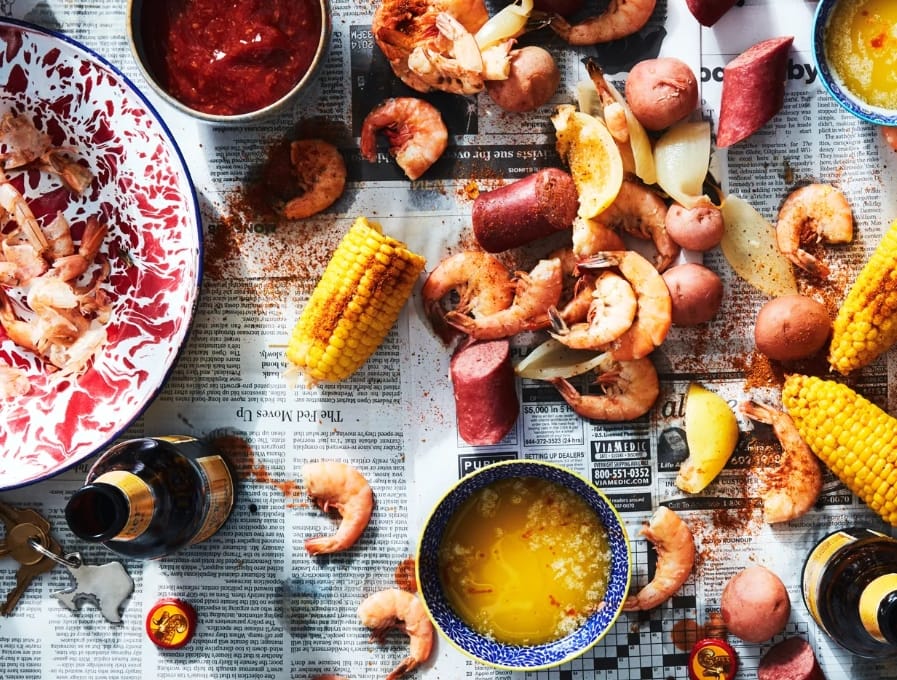 Low country boil is a traditional dish that originates from South Carolina and features shrimp cooked alongside new potatoes, corn on the cob, sausage, spices, and sometimes other seafood like crab legs or crayfish.
The version from Epicurious combines sausage, corn, potatoes, and shrimp with lemons, bay leaf, and Old Bay seasoning.
12. Homemade Popcorn Shrimp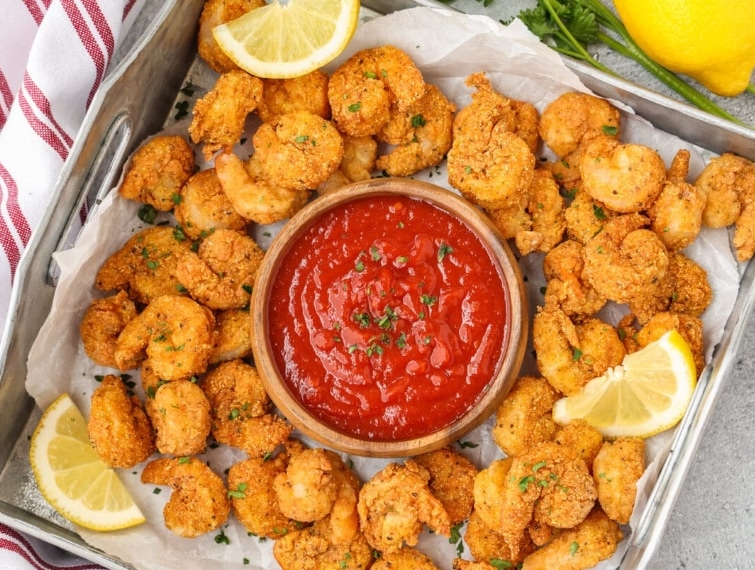 Popcorn shrimp is a popular meal among adults and children alike. For many kids, this might be their first introduction to the world of eating shrimp.
Making sure the oil is hot is key to keeping these shrimp crunchy rather than soggy. Try the homemade popcorn shrimp recipe at Amanda's Cookin' for a cornmeal-battered variation that the whole family is sure to love.
13. Bang Bang Shrimp Bowls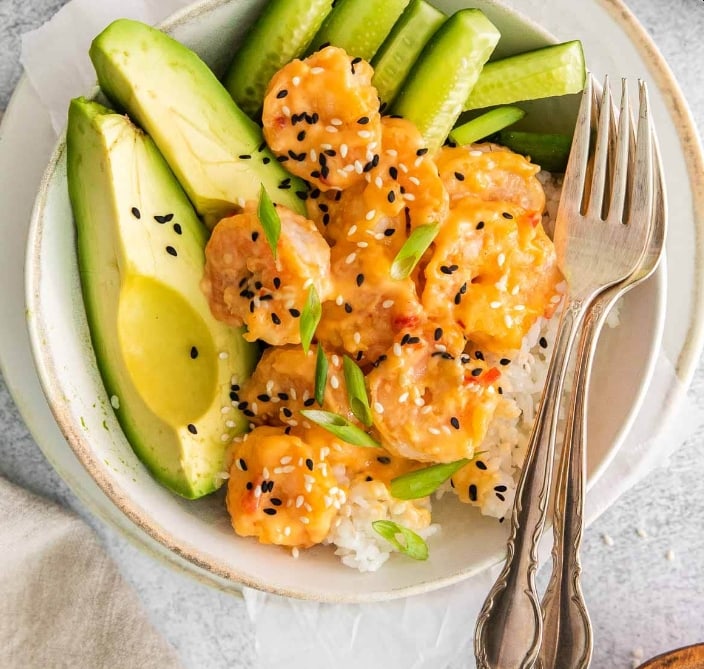 Bang bang sauce is a sweet, spicy, creamy, mayonnaise-based spread that goes well with both shrimp and chicken. These bang bang shrimp bowls from To Be Inspired are served alongside sushi rice, avocado, and fresh cucumbers for a light and healthy meal that still tastes indulgent. Small shrimp are the best size to use for this recipe to increase the number of shrimp per bowl.
14. Brazilian Chicken and Shrimp Soup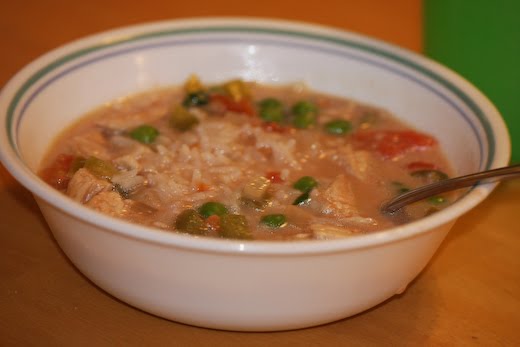 Shrimp is paired with chicken in many cuisines across the world, and Brazil is one of the countries that likes to cook these two ingredients together. The Brazilian chicken and shrimp soup from Food Fun Family combines fresh chicken and shrimp with classic Brazilian flavors like lime juice, coconut milk, hot peppers, tomatoes, and cilantro.
15. Shrimp and Grits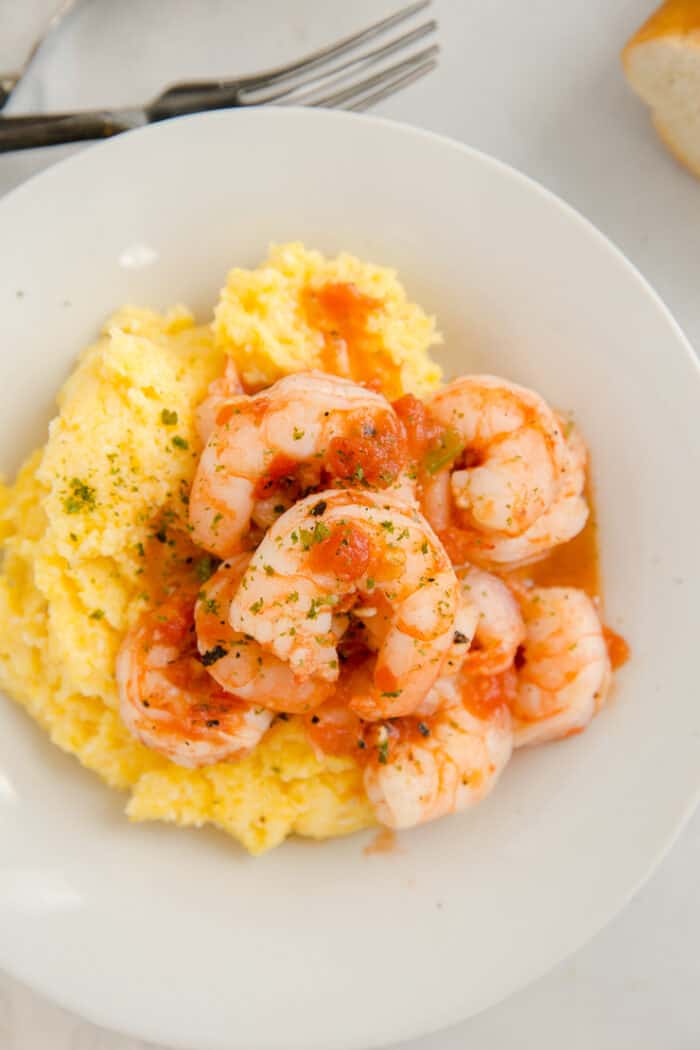 Out of all of the famous recipes from New Orleans, shrimp and grits are easily one of the biggest crowd-pleasers. This traditional recipe from Lemons for Lulu uses white cheddar and heavy cream to take the grits base of this shrimp dish to the next level.
Red pepper flakes can be added to the tomato and shrimp sauce if you want to increase the amount of heat.
Shrimp Nutrition Facts
Like many kinds of seafood, shrimp is nutritious and provides a healthy source of protein, fats, minerals, and vitamins.
Below is the shrimp nutrition information for a 3-ounce (85 gram) serving of shrimps:
Calories - 84.2
Protein - 19.4g
Fat - 1.4g
Cholesterol - 179.4mg
Sodium - 804.9mg
Carbohydrates - 1.3g
Iron - 0.3mg
Calcium - 77.4mg
Potassium - 144.5mg
Phosphorus - 260.1mg
Calories
Shrimp is low in calories. A 3-ounce (75 gram) serving of shrimp has only 84 calories.
Protein
Shrimp is high in protein and contains all the essential amino acids required by the body. Eating shrimp is a healthy way to provide your body with a high dose of protein without consuming saturated fats.
Carbohydrates
Shrimp has a low carbohydrate percentage. It contains no dietary fibre and no sugars.
The carbohydrate percentage in shrimp can increase depending on how you cook your shrimp. For example, if you cook your shrimp with breadcrumbs, it will be higher in carbohydrates.
Fats
Shrimp has a low-fat percentage. Most of the fat in shrimp is from omega-3 fatty acids.
Vitamins and Minerals
For minerals, shrimp provides 804.9mg of sodium or 35% of the daily value (DV). It also provides 260.1mg of phosphorus, or 21% of the DV.
For vitamins, it provides 1.4mcg of vitamin B12 or 59% of the DV.
Other minerals and vitamins in shrimp include the following:
Calcium
Iron, Fe
Potassium, K
Zinc, Zn
Copper, Cu
Selenium, Se
Niacin (B3)
Vitamin B6
Folate (B9)
Choline
Retinol
Cholesterol
A 3-once (83 gram) serving of shrimp contains 161mg of cholesterol.
Foods that are high in cholesterol may increase the risk of heart disease. Shrimp balances this out by containing nutrients like omega-3 fatty acids that have positive health effects.
Health Benefits
Shrimp is highly nutritional and provides the body with key nutrients we need to survive. Below are some of the health benefits shrimp has:
Shrimp Aids Weight Loss and Body Maintenance
Shrimp contains lots of nutrients and has a low-calorie percentage. It is also high in protein. Eating shrimp will aid your weight loss and help you maintain a healthy body weight.
Shrimp Encourages Good Heart Health
The omega-3 fatty acids in shrimp help protect your heart and keep it healthy. Shrimp also reduces the bad cholesterol in our blood and produces good cholesterol. Good cholesterol helps fight against heart diseases.
Shrimp Protects Your Skin
Astaxanthin is an antioxidant found in shrimp. Astaxanthin protects your skin from ultraviolet rays (UV). It also helps retain moisture in the skin and improves skin elasticity.
Shrimp Provides Cancer Prevention
The omega-3 fatty acids and astaxanthin protect your body from forming cancerous cells.
Shrimp contains calcium, phosphorus, and vitamin D. These nutrients are vital for maintaining your bones.
Shrimp Positively Affects Your Brain
Tryptophan is an amino acid in shrimp. It affects our mood hormones and makes us happier.
Shrimp Fosters Female Health
Shrimp contains very little amount of mercury. It is a safe option for pregnant women who want to consume seafood. It also provides key nutrients for pregnancy like iron, calcium, and protein. Women who are going through menopause benefit from the Astaxanthin contained in shrimp. It eases joint pains, moodiness, and hot flashes.
Shrimp Prevents Eye Damage
Astaxanthin protects your retinas from sun rays and excessive exposure to the sun.
Health Risks of Shrimp
Is eating shrimp worth the health risks? Despite being mostly seen as healthy, shrimp does pose health risks to people who consume it.
People with shellfish allergies should avoid eating shrimp as it could trigger an allergic reaction. You need to wash and cook your shrimp properly.
They may have been contaminated in the ocean or poorly refrigerated. Food poisoning related to bad shrimp can be extreme, and often puts people in the hospital.
People with gouts face a potential health risk when eating shrimp. Shrimp raises your body's uric acid, and this can trigger a gout attack.
Be careful about the amount of shrimp you eat. It contains high levels of iodine. Too much iodine increases your risk of contracting various diseases like hypothyroidism. Shrimp shouldn't be avoided altogether, but managing the amount you eat is a smart decision.
Different Ways to Cook Shrimp Recipes
With shrimp, you can never run out of recipe ideas. There are many methods to use in preparing your shrimp recipes. These methods affect the taste and texture of your shrimps.
Here are some different ways to cook shrimp recipes:
For searing, you should add a little oil or butter to your pan. Then add in your shrimp. Seared shrimp is juicy and has a deep flavor.
Season your shrimp and place them in the oven over medium heat. Roasted shrimp is soft and savory.
Coat your shrimp in flour and breadcrumbs, or season it and place it in the hot oil. Fried fish is crispy with strong flavors.
To braise your shrimp, seal them in a pot with oil and a sauce of your choosing. Braised shrimps are rich and flavorful.
For simmering, place your shrimp in a pot filled with sauce. Boil it on low heat for five to ten minutes. Simmered shrimp is soft and tasty.
Place your shrimp and spices in your broiler pot next to the heat. Broiled shrimp is crispy but shrinks while cooking.
To steam your shrimp, place it in a steamer basket. Fill a pot with water and boil it over high heat. Place your steamer basket over the pot and let it cook. Steamed shrimp is moist and rich in flavors.
For boiling, place your shrimp into salted water over high heat. Boiled shrimp is tender and melts in your mouth.
To grill your shrimp, heat the grill to medium heat and place your shrimp on top. Grilled shrimp is tender and has a smoky flavor.
Conclusion
Shrimp recipes are an excellent resource to have available for weeknight meals since shrimp can be prepared and cooked much faster than many other proteins.