Healthy Apple Cinnamon Pancakes full of fresh apples, whole grains and delicious cinnamon make the perfect fall weekend breakfast! (dairy-free, vegetarian)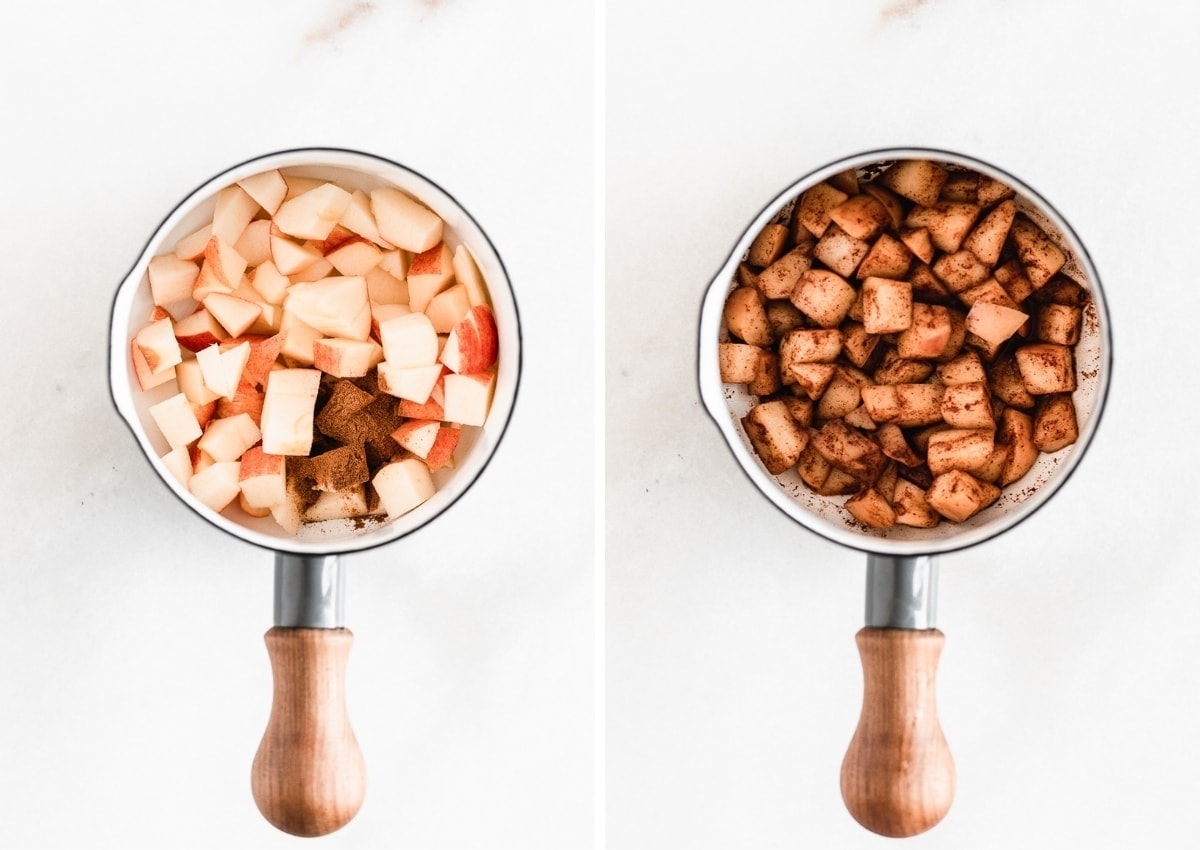 Apple cinnamon pancakes always remind me of my grandpa. When I was a kid, we would go to our family's lake house almost every weekend in the summer. My grandpa was always the first one up in the morning, hours before many of us would even think about getting up. We could always hear him banging around in the kitchen, fixing coffee in the percolator and making himself a fruit cup.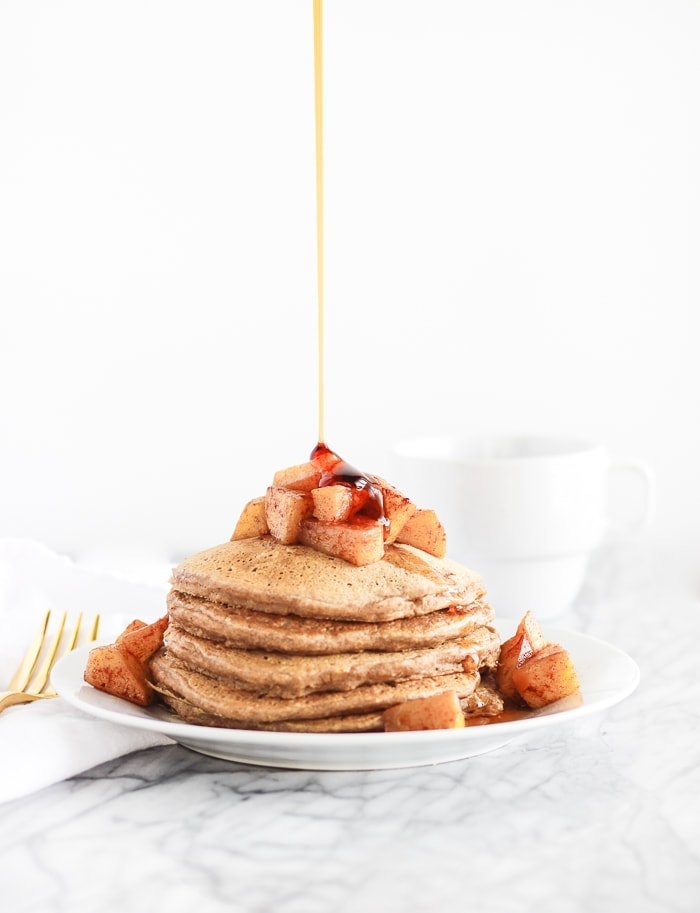 But there were always good things to come, even though we weren't quite ready to wake up. Grandpa liked to make us breakfast, and he was especially good at his famous apple cinnamon pancakes.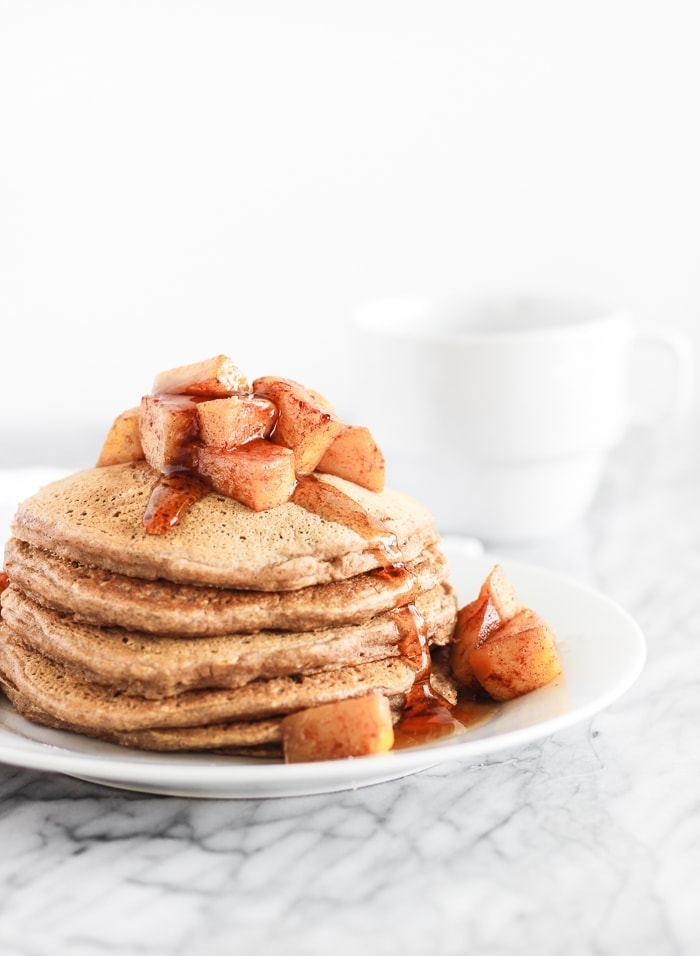 The smell of Grandpa's apple cinnamon pancakes cooking in the morning was the most wonderful and delicious thing to wake up to on a lazy Saturday morning. His giant apple cinnamon pancakes were the best. They were so fluffy and sweet and cinnamon-y and loaded with apple chunks.
I'm drooling just thinking about them now.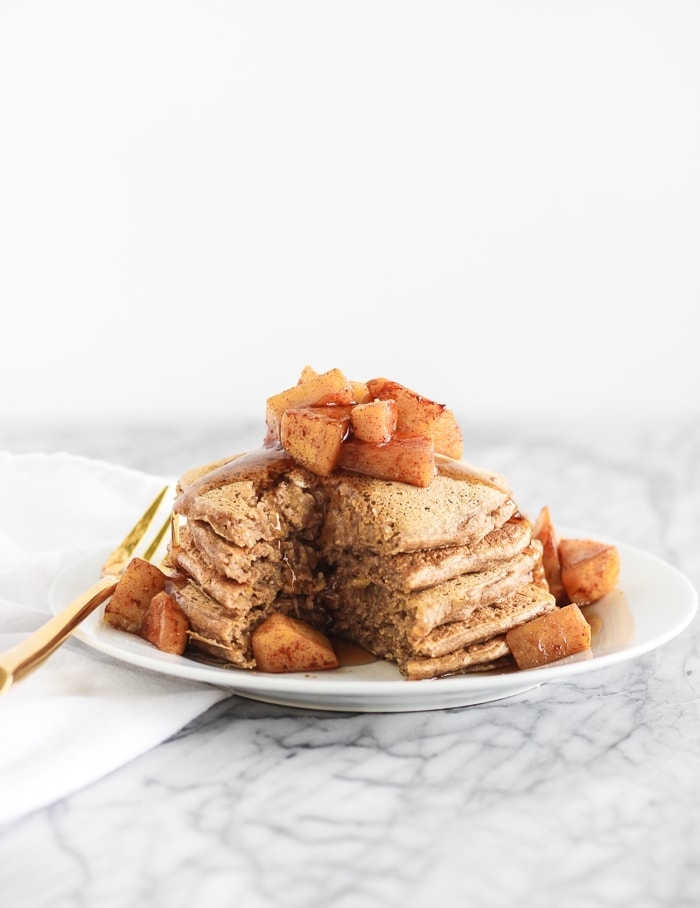 Whenever I make these for my husband and me, I always think of Grandpa's yummy apple cinnamon pancakes. I made mine healthier with whole grain oats, whole wheat flour, and no added sugar. (I'm sure he made his with Bisquik since it was that era where handy mixes ruled.)
But I was still so fond of them and just had to recreate them for my family to enjoy at home. They make such a delicious fall breakfast for cozy weekends in. I hope you find these healthy apple cinnamon pancakes as soul-warming and delicious as I do!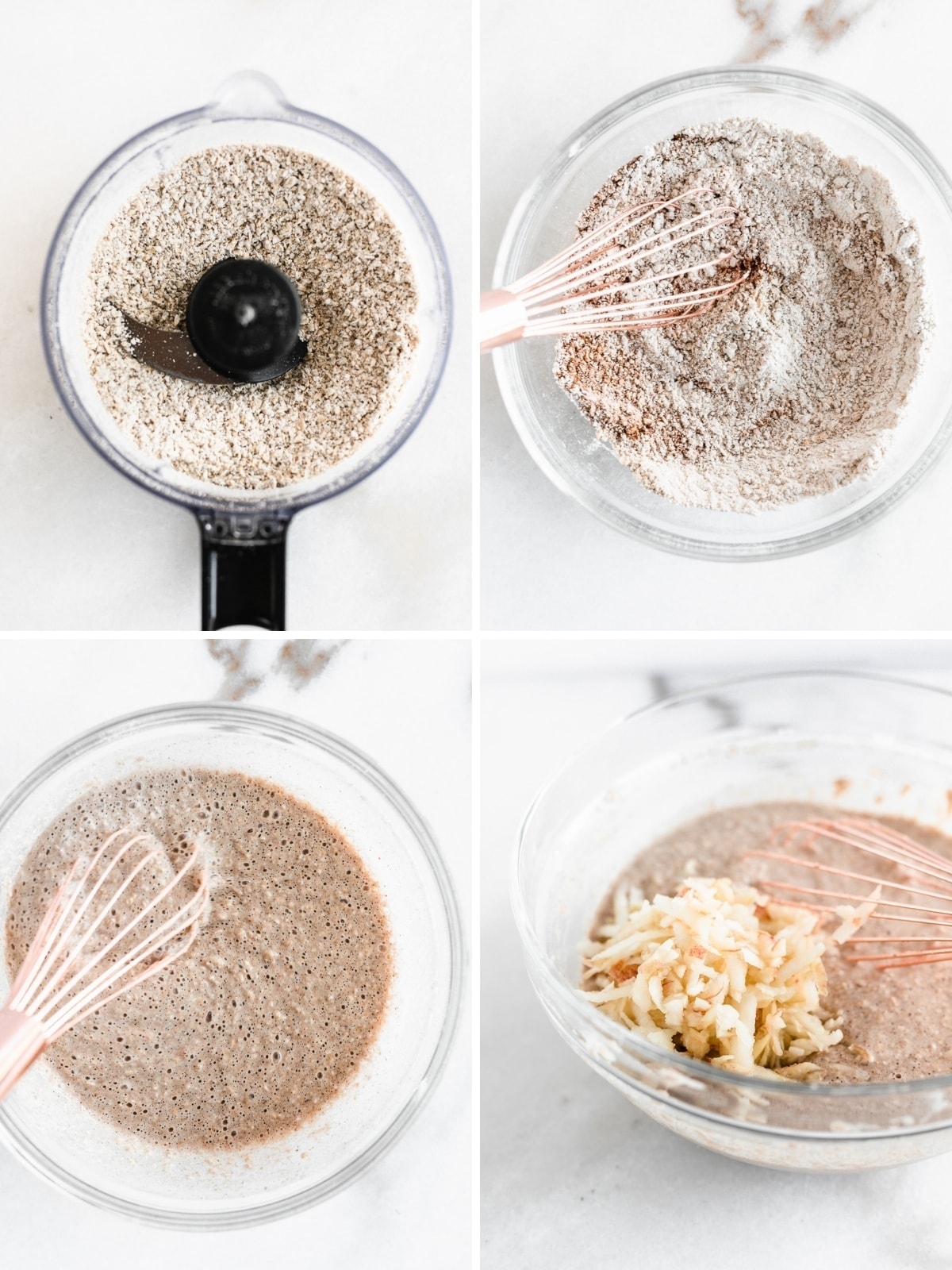 What's your favorite memory food?
Print
Grandpa's Healthy Apple Cinnamon Pancakes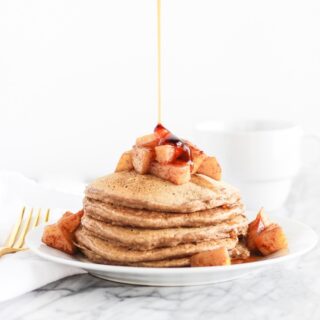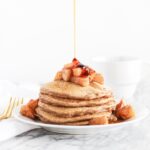 Scale
Ingredients
1 cup

oats, ground

1/2 cup

wheat flour (or almond flour for GF)

1 tsp

baking powder

1/4 tsp

baking soda

1 1/2 tsp

ground cinnamon

1/2 tsp

ground nutmeg

1

pinch salt

1

large egg

1

–

1 1/2

cups club soda or milk of choice

1 tsp

vanilla

1

small-medium apple, grated
For apple topping:
1

apple, diced

1 tsp

ground cinnamon

1 tsp

avocado or coconut oil

1 tbsp

water
Instructions
Heat a large skillet or griddle to 350° F. Lightly grease with coconut oil or cooking spray.
Mix dry ingredients in a large bowl.
Add egg, soda or milk, and vanilla to dry ingredients and mix, but not too much or pancakes will become tough.
Gently stir in apples.
Pour 1/4 c batter for each pancake onto a lightly greased skillet or griddle heated to medium-low heat. Cook until bubbles form in the top and the bottom is slightly browned. Flip and continue to cook until done.
Repeat with remaining batter.
To make apple topping, heat all ingredients in a saucepan over low heat, stirring occasionally, until apples are soft.
Serve pancakes with apple topping and real maple syrup.
Love this recipe? PIN it!