These healthy and delicious blueberry muffin pancakes are so light, fluffy and flavorful, you would never know that they have no added sugar! Your perfect weekend breakfast is just a few minutes away! (gluten-free and dairy-free options)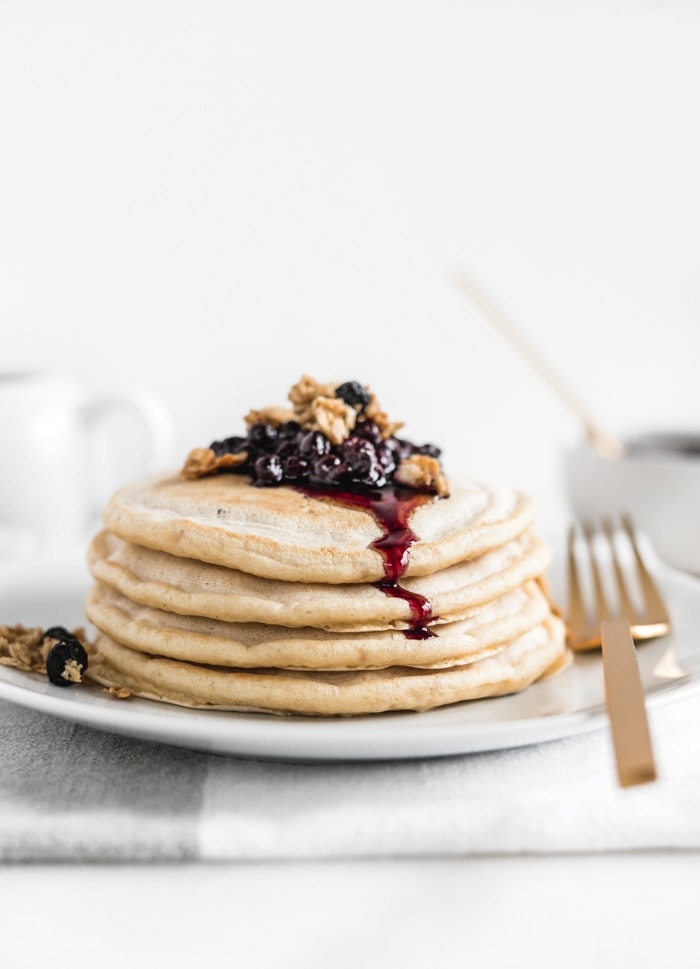 I promise I will get to these amazing blueberry muffin pancakes soon. But first I want to talk about communication.
The other day at church, our sermon was about communication in marriage. And while it was specifically aimed toward married couples, the message resonated with me in a different way as well. It was about how to effectively communicate with your partner, and two of the main takeaways were: 1. We need to realize just how much power our words have (a lot), and 2. Speaking gently to one another is not only more effective but vital.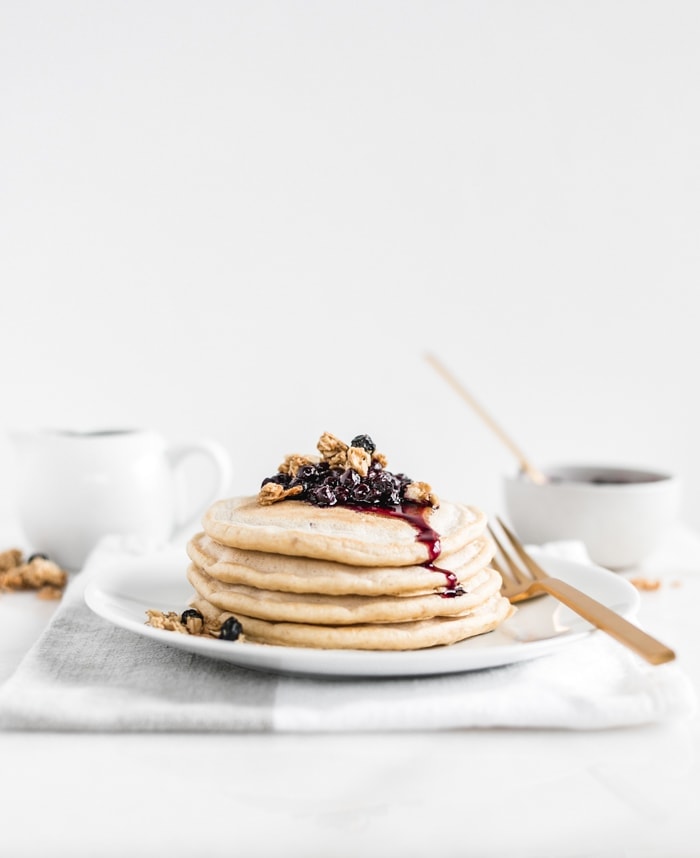 Why am I telling you this? Well, not only is it important to be aware of our methods of communication with our partners, but it's also extremely important to be aware of how we communicate with ourselves. I think the same rules apply whether speaking to somebody you love deeply (your spouse) or to yourself (who ideally you want to love, too).
Many of us are so critical of ourselves, constantly tearing ourselves down. And a lot of us don't realize how powerful our internal messages really are. After so long of using harsh words with ourselves, telling ourselves we're worthless, screw-ups, or a slew of other things, we will eventually start to believe and embody these unkind messages. In the same way that constantly putting down your significant other will drive him or her away, constantly beating yourself up with negative self-talk will eventually damage your relationship with yourself. The things you tell yourself on a daily basis are extremely powerful.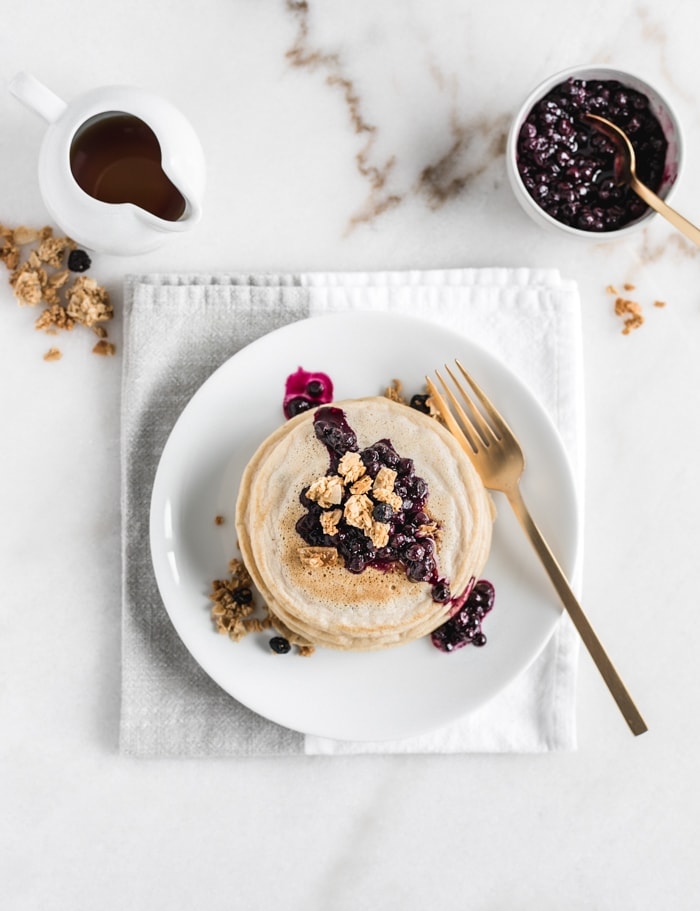 And since I could ramble even more about this, I'll leave you with that and save the second takeaway for another day. But for now know this: the words you say to yourself are important.
Now to the pancakes. These babies are simply delicious. But I can't take all the credit. They were actually Mr. Table's brilliant idea. He wanted pancakes that tasted like blueberry muffins one Saturday. And then he suggested using almond extract. Boom. Genius. These healthy blueberry muffin pancakes were born that morning.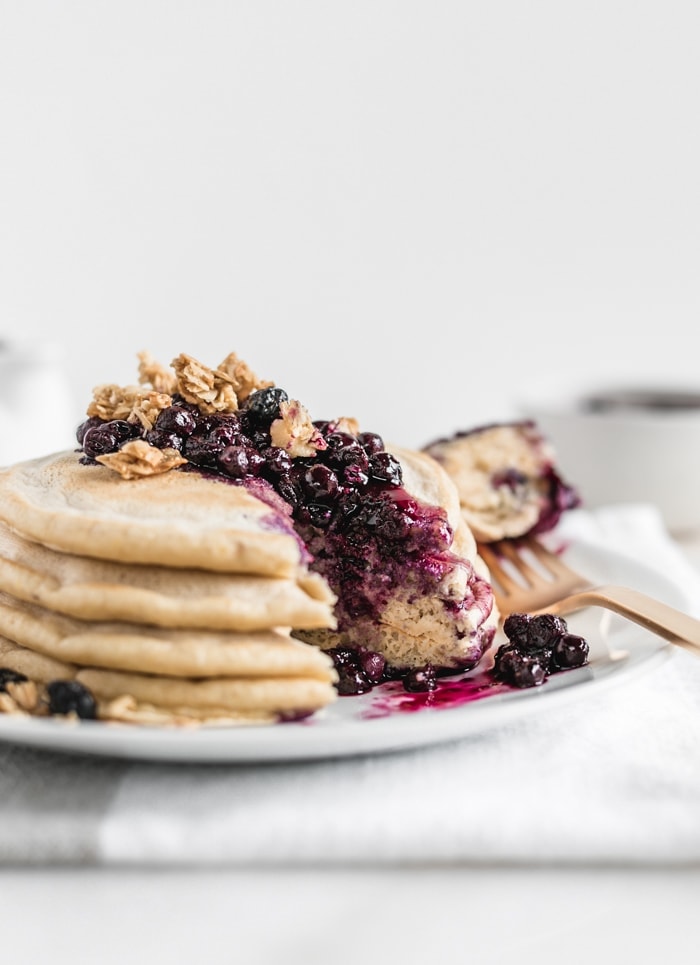 I kid you not when I say these pancakes taste exactly like buttery, delicious blueberry muffins. The kind made with juicy, super flavorful blueberries. The best part? They have no added sugar. That's right! These seemingly sweet, decadent pancakes are actually made with whole-grain flour, no added sugar, and sweet, fragrant wild blueberries for ultimately delicious pancakes that are actually pretty nutritious.
The combination of wild blueberries, almond extract, and lemon juice really gives these fluffy pancakes a ton of flavor so that you don't need any sugar. Topped with a warm wild blueberry compote that's super simple to make, these blueberry muffin pancakes are definitely going to be on our table a lot this season. I hope they grace your family's table, too!
If you made this recipe, please leave a star rating in the comments!
Print
No Added Sugar Blueberry Muffin Pancakes
These healthy and delicious blueberry muffin pancakes are so light, fluffy and flavorful, you would never know that they have no added sugar! Your perfect weekend breakfast is just a few minutes away! (gluten-free and dairy-free options)
Author: Kaleigh
Prep Time:

5 minutes

Cook Time:

10 minutes

Total Time:

15 minutes

Yield:

10

4" pancakes

1

x
Category:

breakfast

Method:

stovetop

Cuisine:

American
1 ½ cups

frozen wild blueberries, divided

1 cup

white whole wheat flour*

1 tablespoon

ground flaxseed (optional)

1 ¼ teaspoon

baking powder

¼ teaspoon

salt

1 cup

buttermilk**

1

large egg, beaten

1 tablespoon

freshly squeezed lemon juice

1 teaspoon

vanilla extract

1 teaspoon

almond extract
Instructions
Thaw and drain ½ cup of the blueberries. Set aside.
Place the remaining 1 cup of blueberries in a small saucepan. Simmer over low heat, covered, until a saucy compote forms.
Whisk together flour, flaxseed, baking powder and salt.
Add buttermilk, egg, lemon juice, vanilla and almond extract. Whisk until batter is just combined and moistened.
Spray a hot (about 350°F) griddle or skillet with oil spray or lightly grease with a pat of butter or bit of oil. Pour batter by ¼ cup onto the surface. Sprinkle batter with thawed wild blueberries. When bubbles start to form on the surface of the batter, flip and cook an additional 1 minute, or until pancakes are done.
Repeat with remaining batter and blueberries.
Serve pancakes with blueberry compote and/or real maple syrup or honey (optional).
Notes
*Use your favorite 1-to-1 gluten-free flour for gluten-free.
**Or use 1 cup milk of choice (dairy or nondairy) soured with 1 tablespoon fresh lemon juice.
Keywords: blueberry pancakes, gluten-free pancakes, no added sugar pancakes