Turn your kale into a healthy, delicious salad with one of these tasty kale salad recipes that don't suck. With a couple key preparation methods, your kale salads will be amazing every time!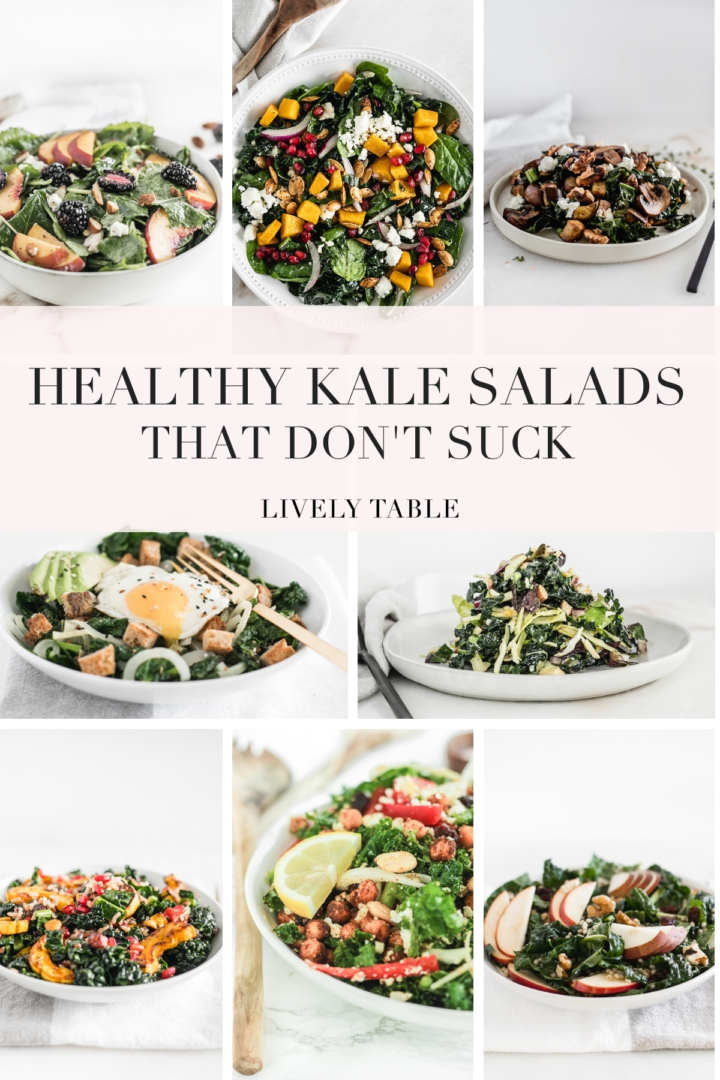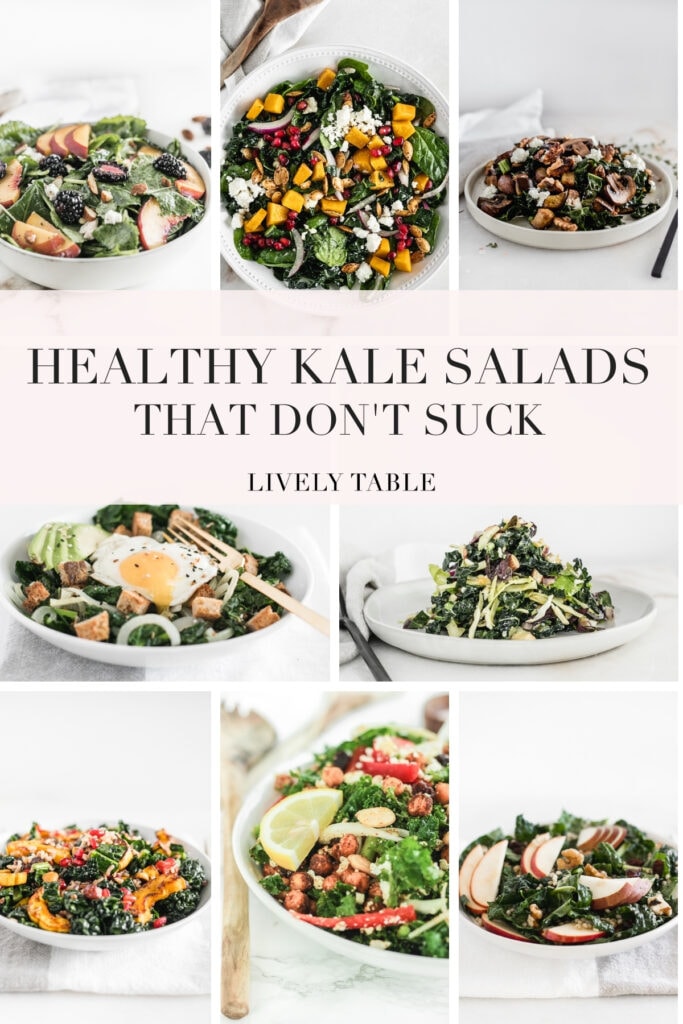 So you heard kale was healthy and you bought a bunch. Now what? Crunchy kale makes some super delicious salads, but you have to do it right. If you've been completely underwhelmed by kale, this roundup of delicious kale salad recipes is for you!
What Makes Kale Healthy?
Kale has been given 'superfood' status by the powers that be in the internet world. I really don't believe in 'superfoods' because lots of different foods are nutrient dense and offer nutrition benefits. And fruits and vegetables are especially rich in antioxidants. That said, kale is full of nutrients. It's loaded with vitamins A, K and C as well as fiber. Kale is also part of the cruciferous vegetable family and contains several phytonutrients that may reduce the risk of certain cancers. So yes, kale is healthy, but you shouldn't force yourself to eat it if you don't like it. There are plenty of other green veggies out there!

Massaging Kale For Salads
Massaging your kale is a must if you want tender kale that's easier to chew and digest. Massaging kale with a bit of olive oil or dressing with your hands helps to break down a little bit of the toughness for a much better kale salad. Simply drizzle olive oil or the dressing you're using over chopped kale in a bowl and gently rub with your hands until it starts to soften. Then continue with the recipe!
That said, several of these kale salad recipes are warm kale salads, so the cooking will help soften the kale without you having to massage it.
The Best Healthy Kale Salad Recipes
Cold Kale Salads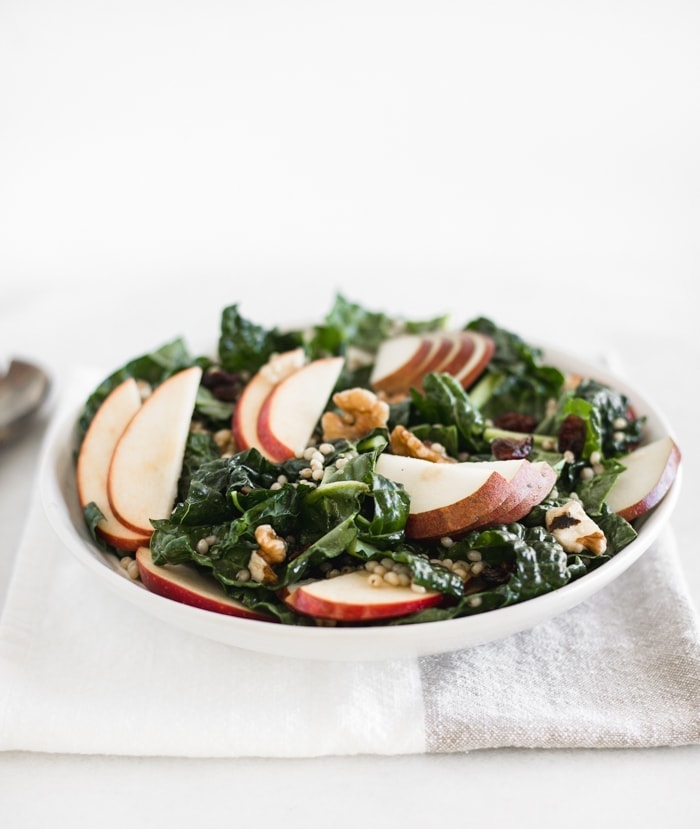 Fall Kale Salad with Apples, Pears, and Sorghum A nutritious and seasonal fall kale salad with whole grain sorghum, apples, pears, and cranberries that is great as a vegan Thanksgiving side dish or a meal-prep friendly fall lunch!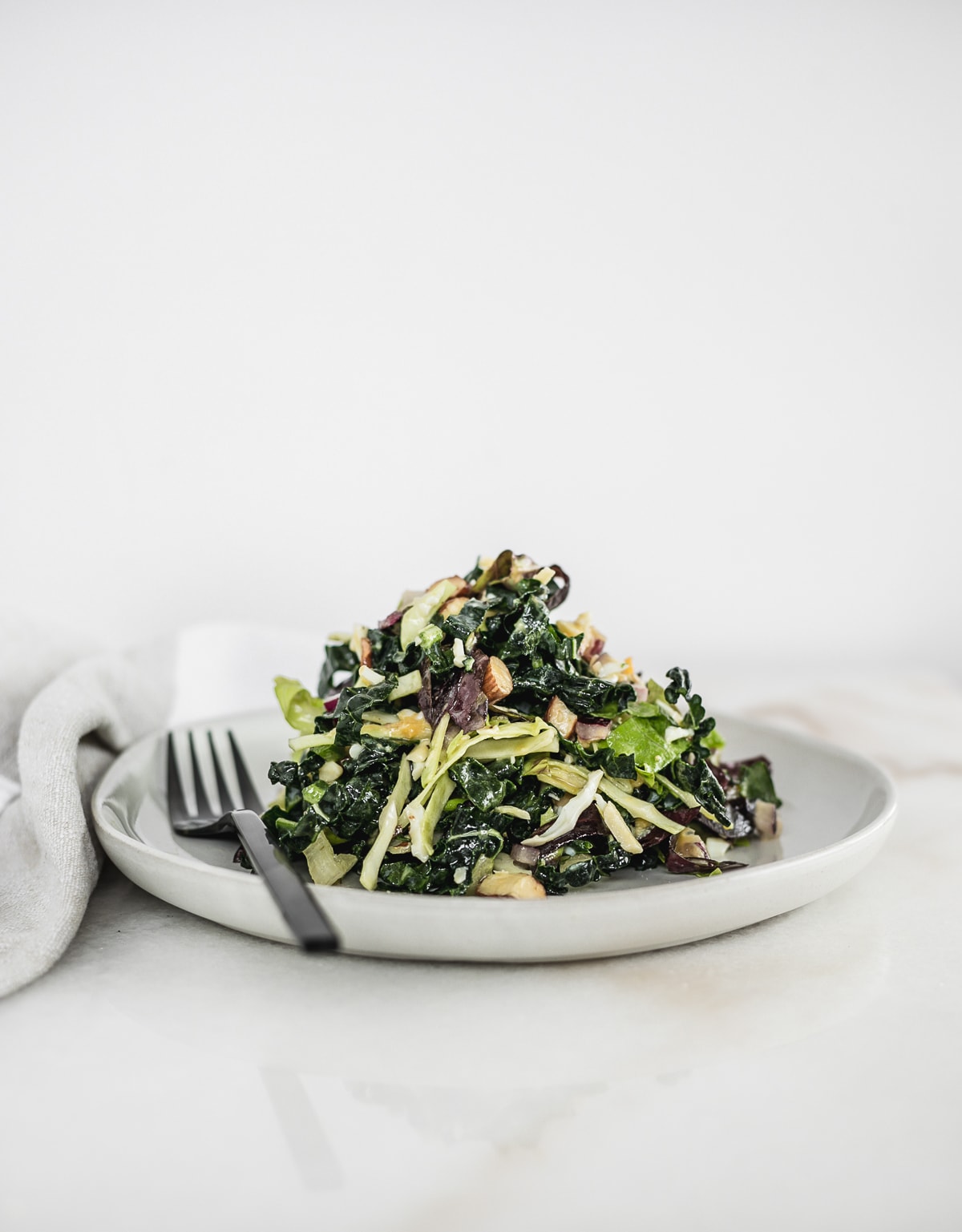 Copycat R&D Pine Room Salad Love the Pine Room Salad from R&D Kitchen? Me too. Here's my closest copycat recipe for the deliciously crunchy chopped kale and lettuce salad with toasted almonds, boiled egg, and a bacony mustard dressing.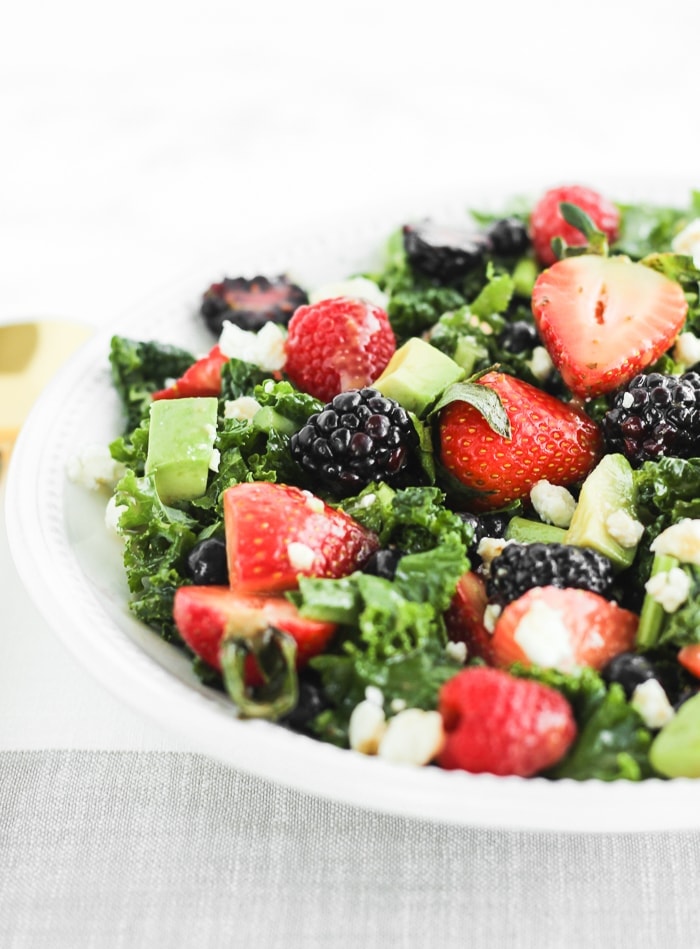 Berry Avocado Kale Salad Bursting with tons of berries and creamy avocado, this fresh Berry Avocado Kale Salad makes a delicious and healthy summer side dish!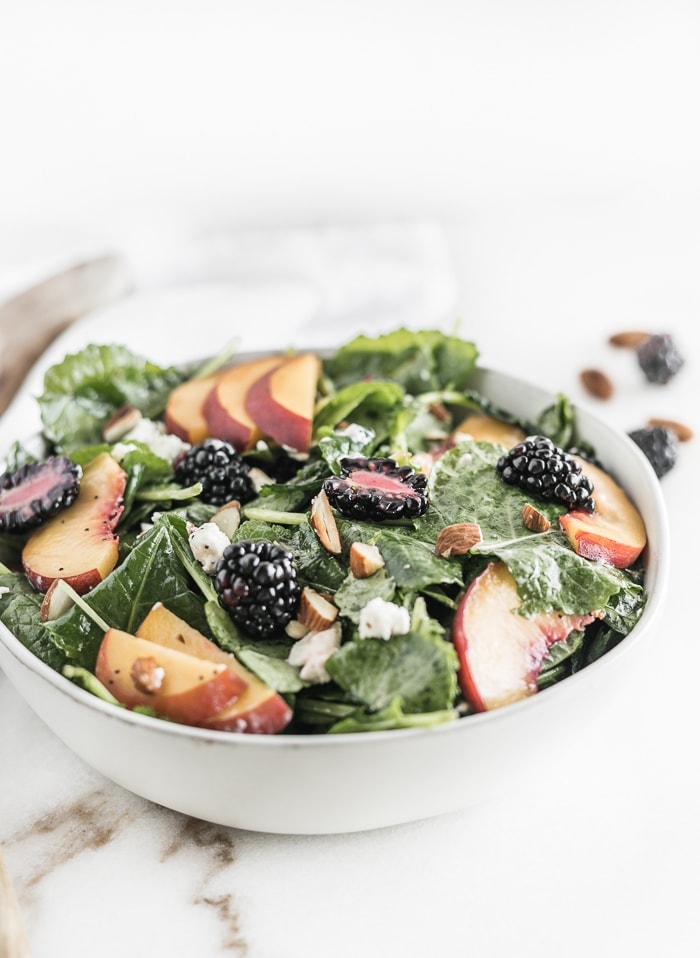 Blackberry Peach Kale Salad Enjoy the best of late summer fruit with this simple but delicious blackberry peach kale salad with goat cheese, toasted almonds, and a simple lemon poppy seed vinaigrette. It's great for a healthy side dish or light vegetarian lunch.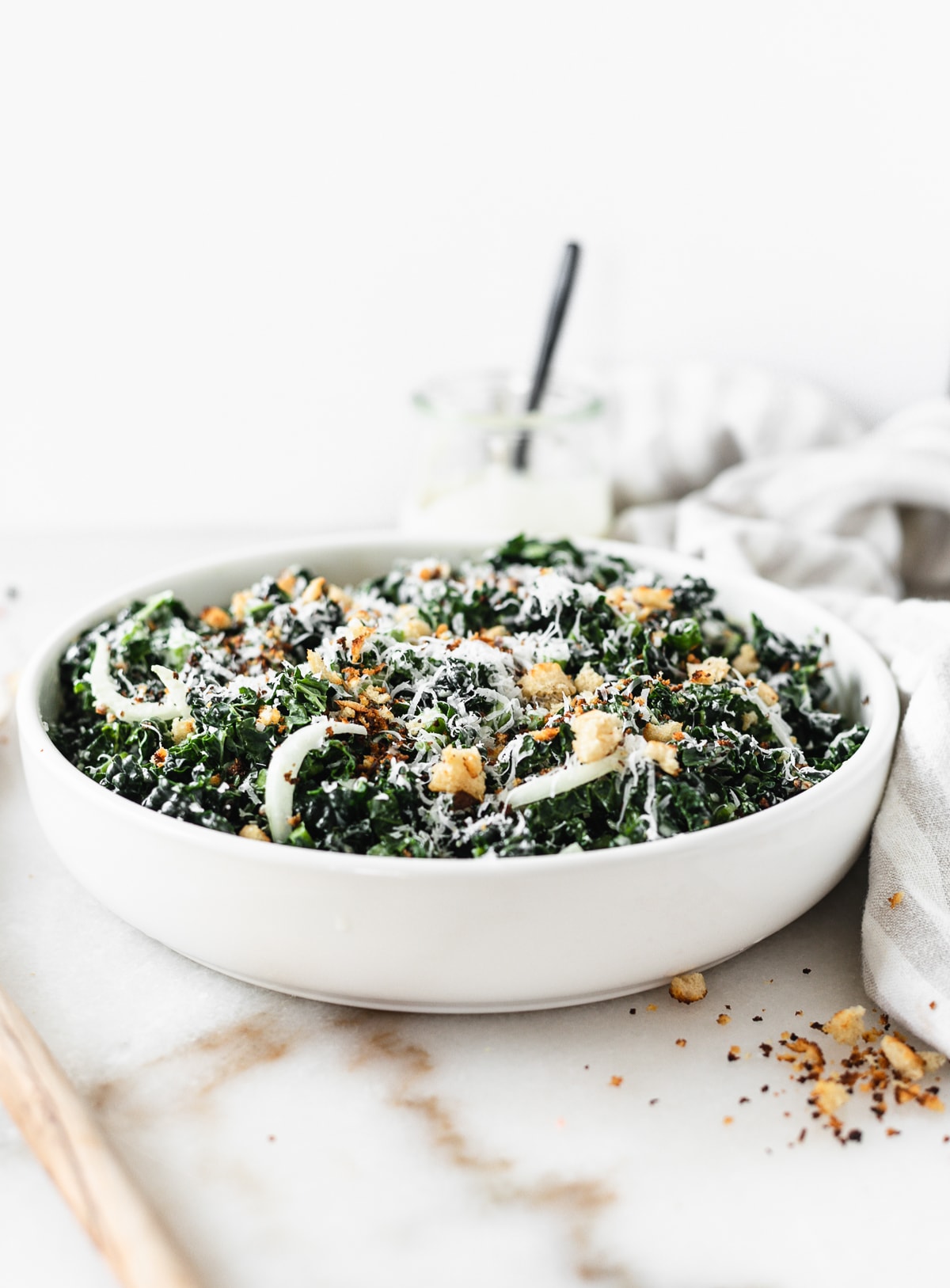 Kale Caesar Salad with Homemade Dressing A healthy, crunchy kale Caesar salad with creamy, homemade Greek yogurt Caesar dressing.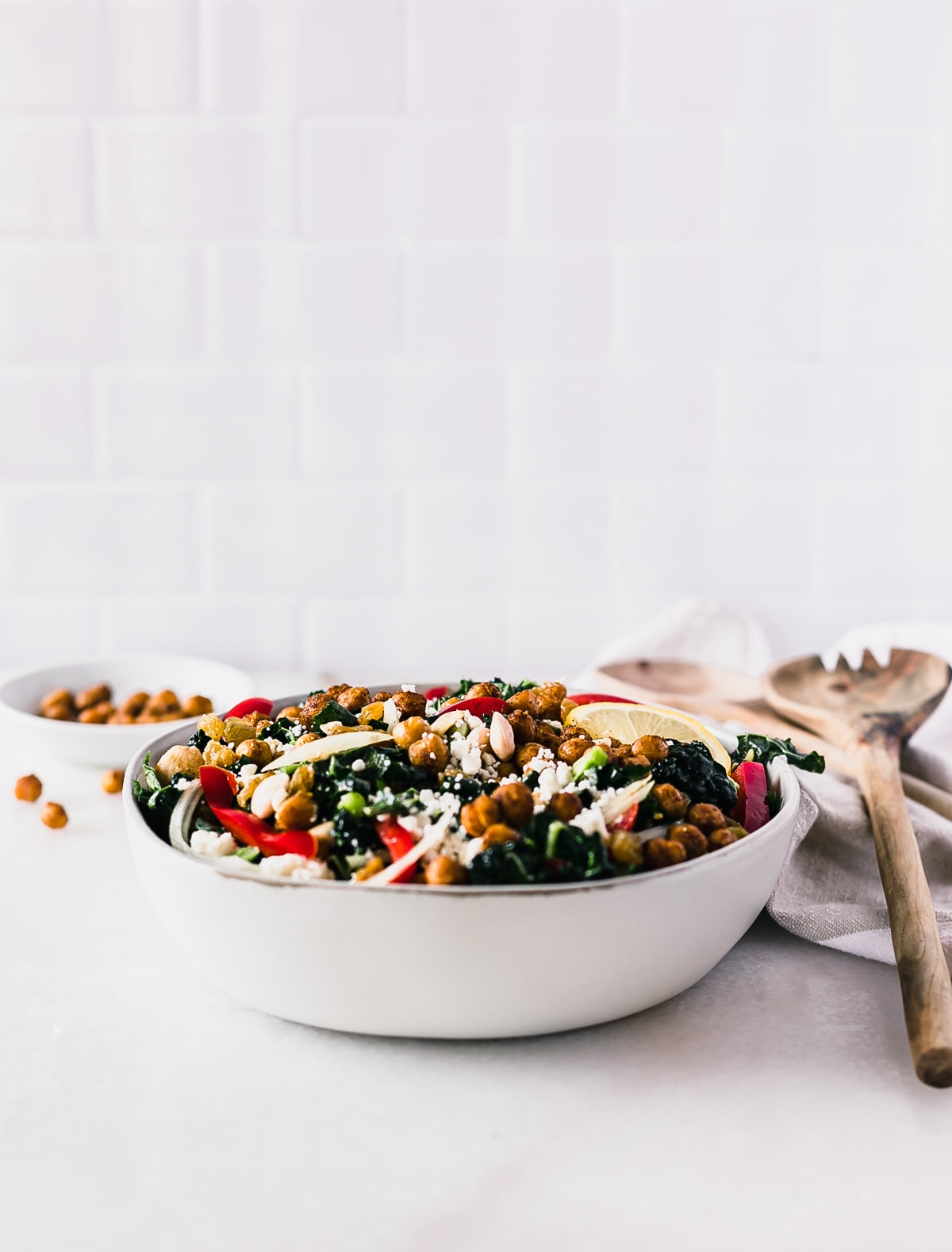 Moroccan Chickpea Kale Salad This flavorful Moroccan chickpea kale salad, with seasoned roasted chickpeas, bell pepper, raisins, almonds, and feta is anything but boring! It's a great make-ahead salad for work lunches or a delicious side dish.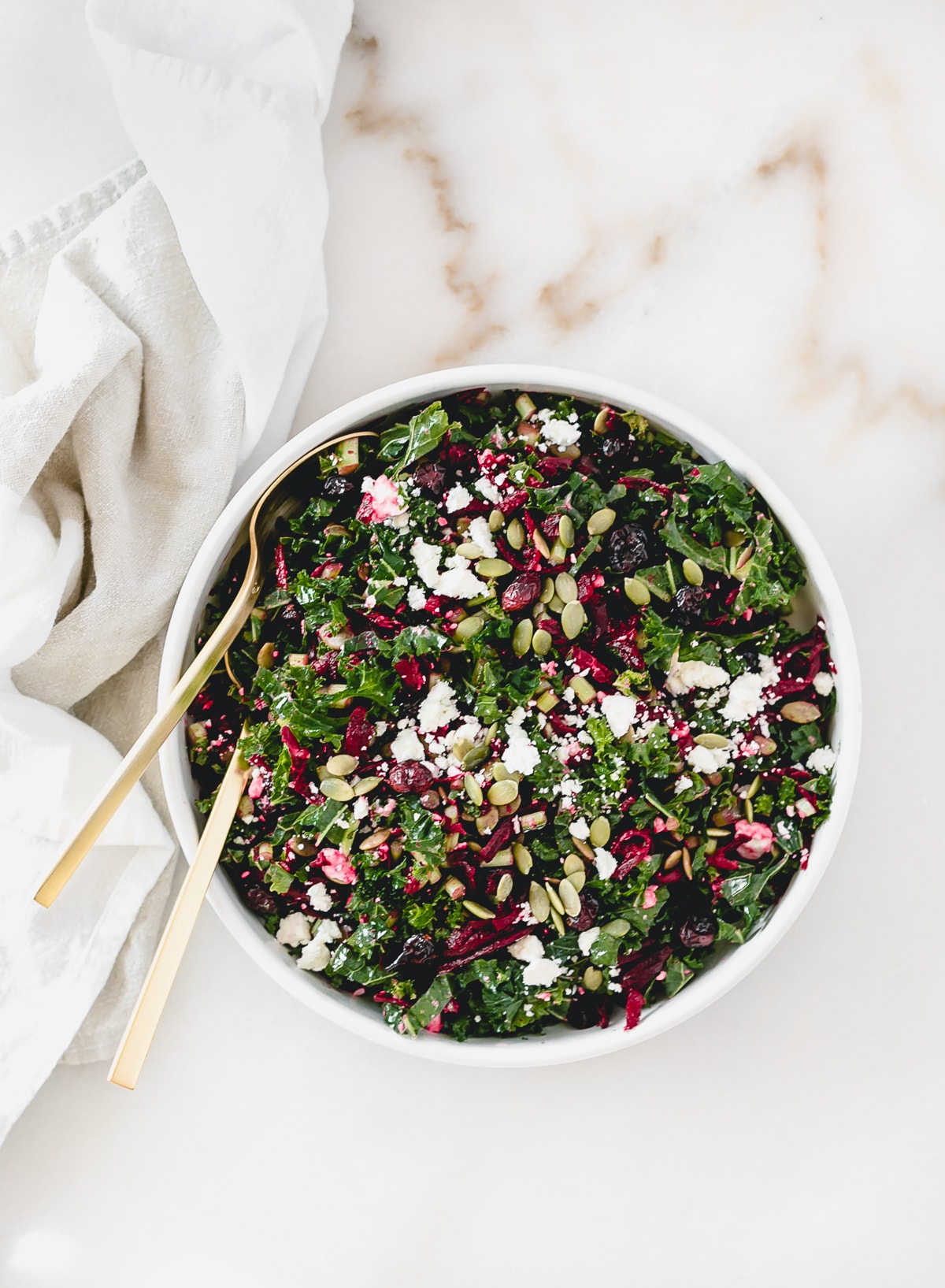 Shredded Beet Kale Salad This delicious shredded beet kale salad is loaded with nutritious powerhouses like kale, roasted beets, pumpkin seeds, and dried cherries. It's the perfect winter salad!
Warm Kale Salad Recipes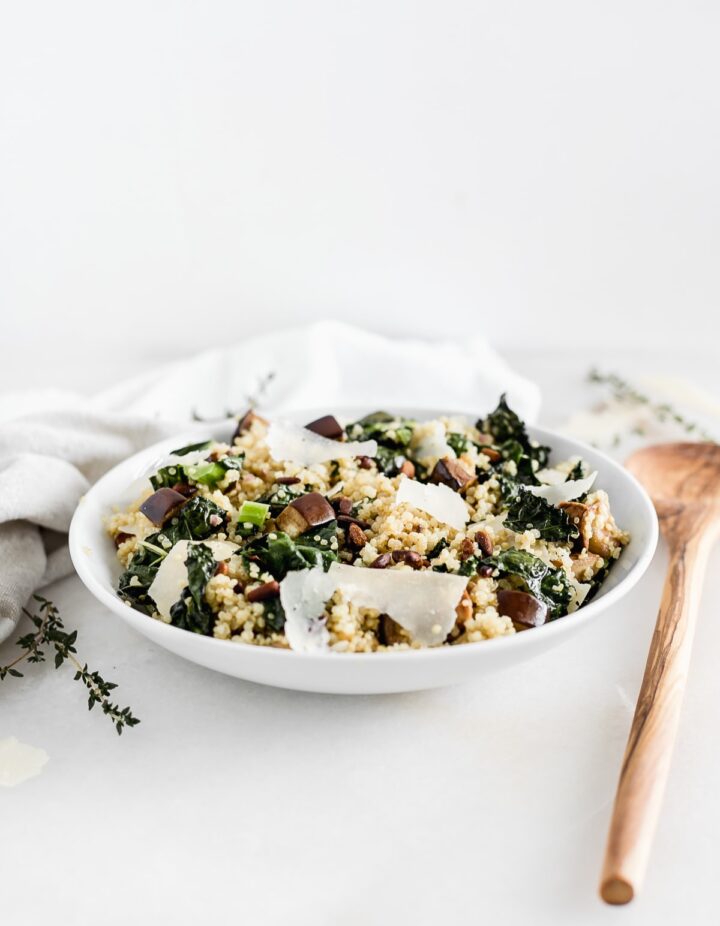 Roasted Eggplant and Kale Quinoa Salad Forget boring salads! Roasted eggplant and kale, fluffy quinoa, toasted pine nuts, and shaved parmesan make this salad cozy, craveable, and perfect as a side dish or plant-based lunch!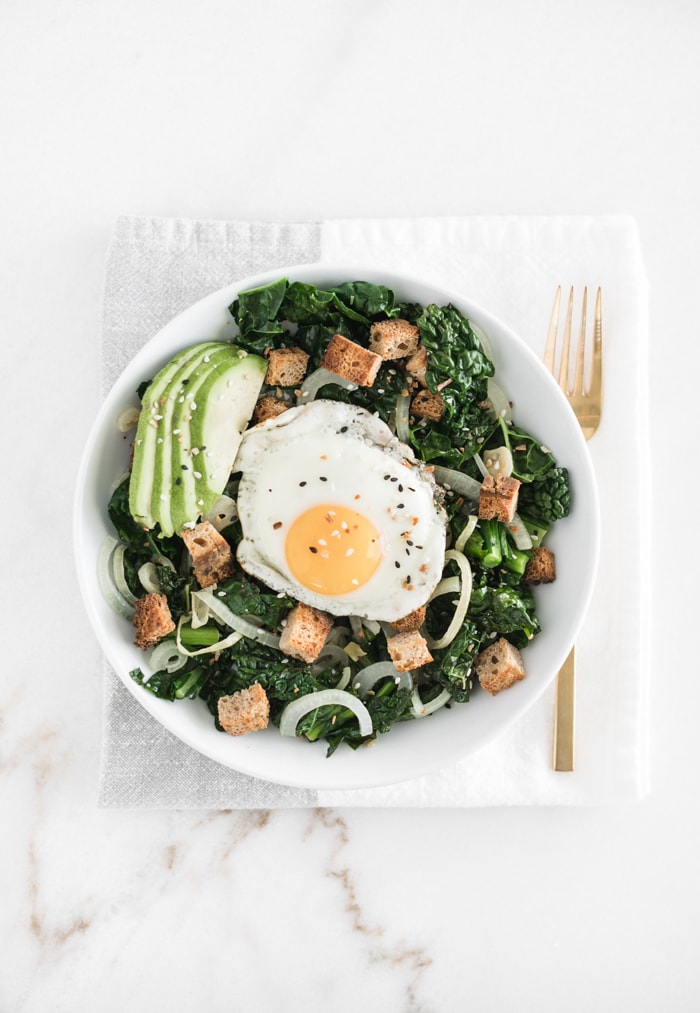 Simple Warm Kale Breakfast Salad This simple warm kale breakfast salad with caramelized onions, sourdough croutons, and everything bagel seasoning is a delicious way to get veggies in at breakfast or any time of day!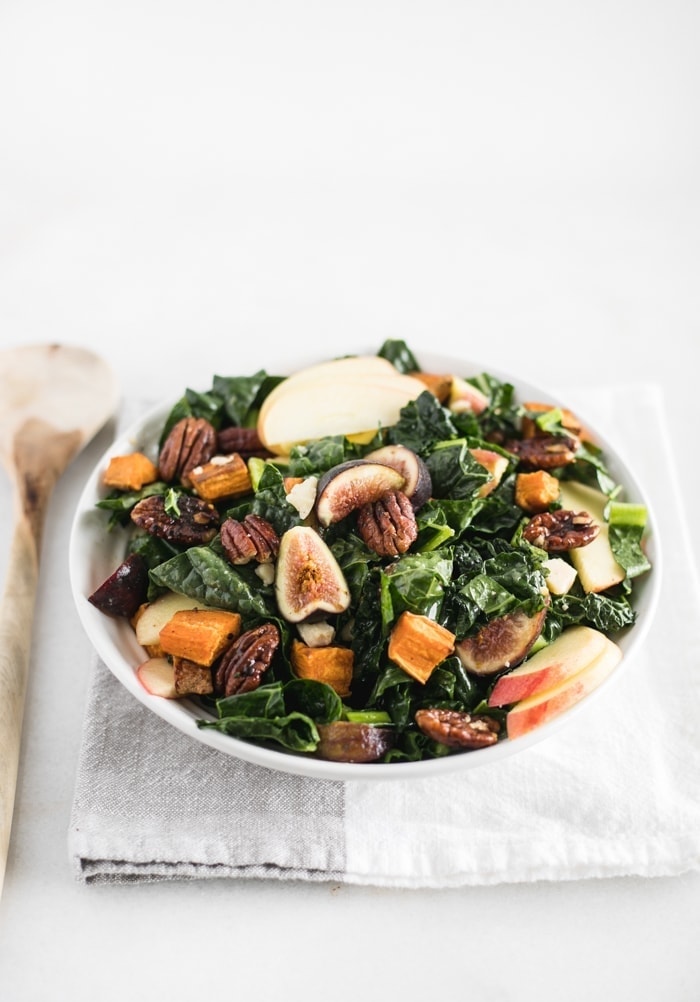 Warm Fall Harvest Kale Salad This Warm Fall Harvest Kale Salad with sweet potatoes, figs, apples, and candied pecans is filled with all of the flavors of fall in a warm, delicious salad that you'll enjoy all season long!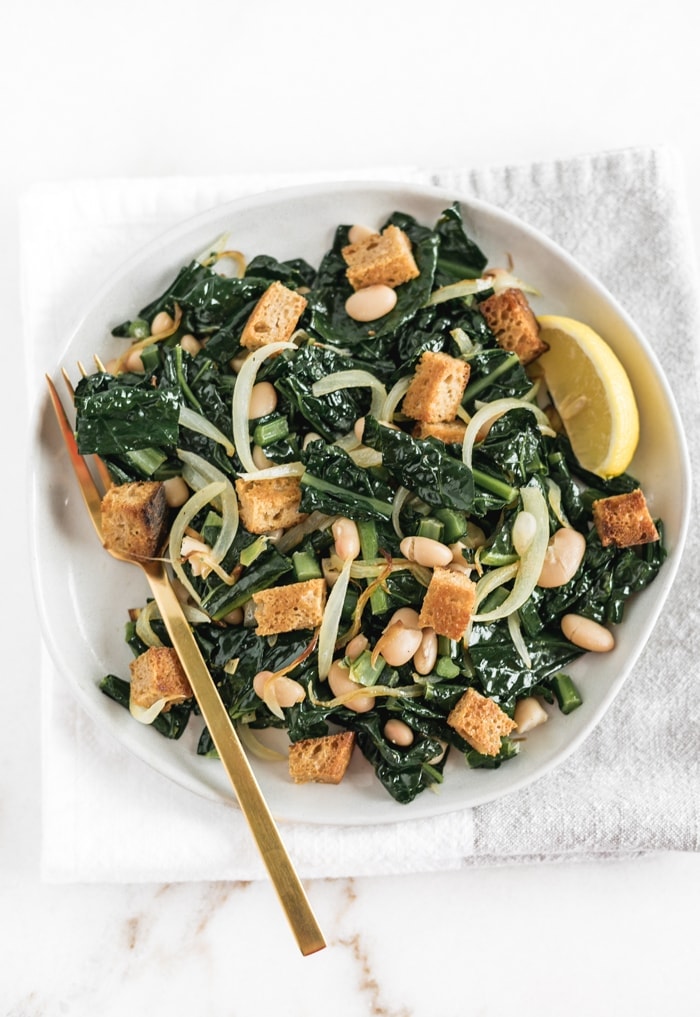 Warm White Bean Kale Salad This delicious warm kale white bean salad is a healthy, easy side dish or vegan lunch that's perfect for winter!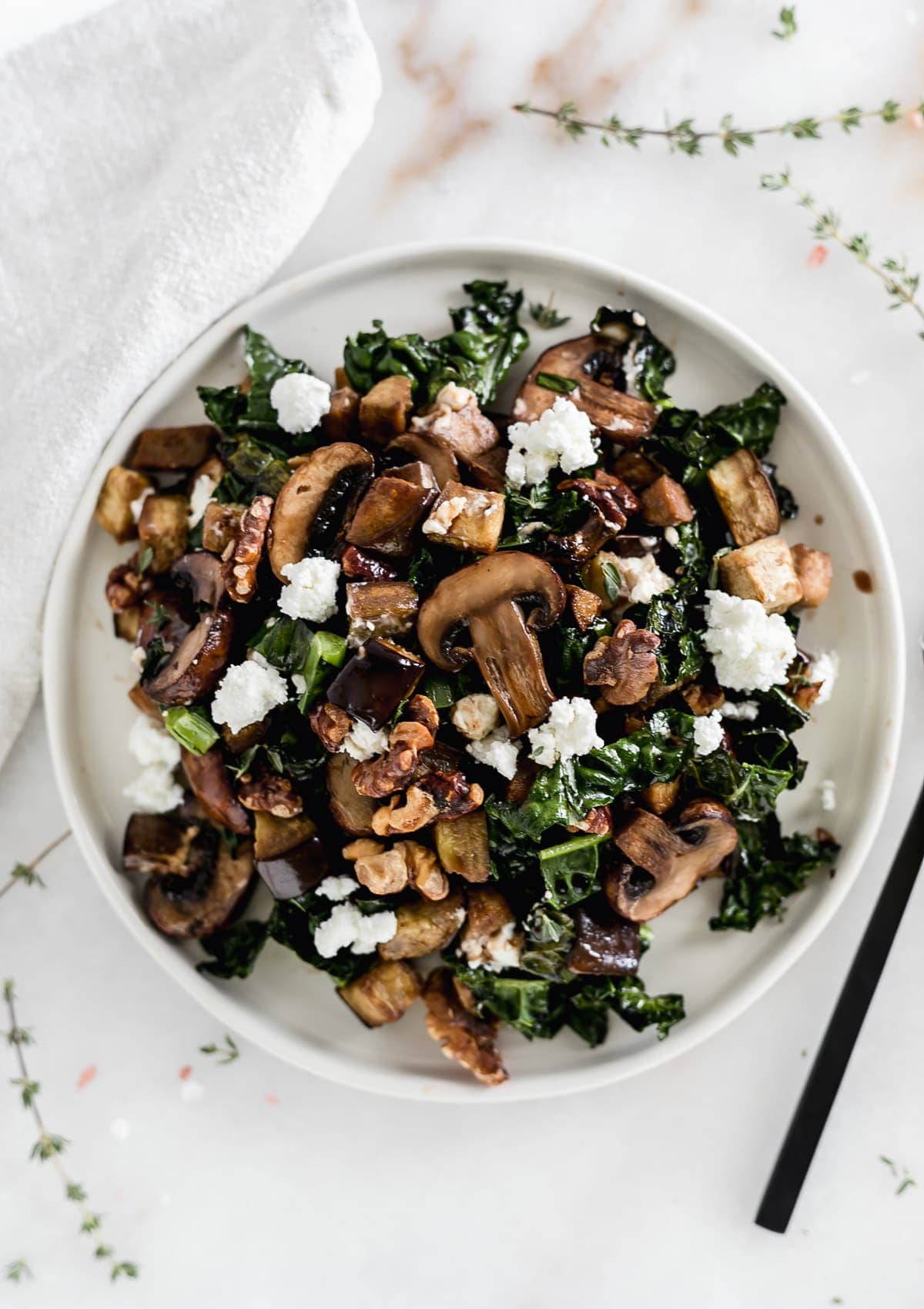 Warm Eggplant, Mushroom, and Kale Salad Salads don't have to be cold or boring! This delicious warm eggplant, mushroom, and kale salad with tangy goat cheese, walnuts, and balsamic vinaigrette is the perfect side dish for cold weather!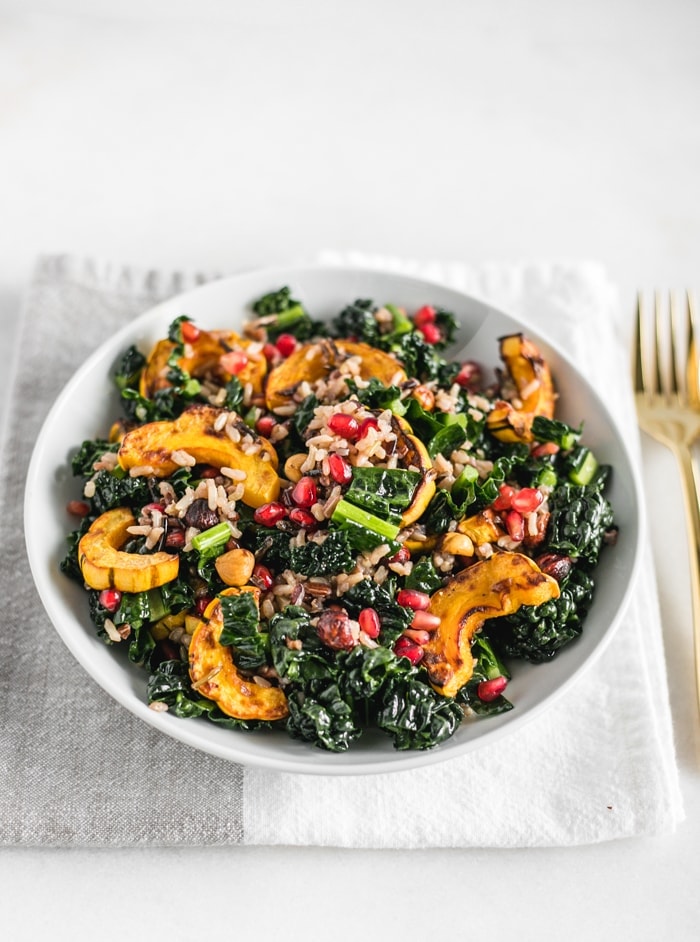 Wild Rice Delicata Squash Kale Salad Celebrate the flavors of fall with this delicious wild rice delicata squash kale salad made with easy maple roasted delicata squash and a simple maple dijon dressing. It's a beautiful, healthy Thanksgiving side dish or holiday salad that can be made ahead or served warm.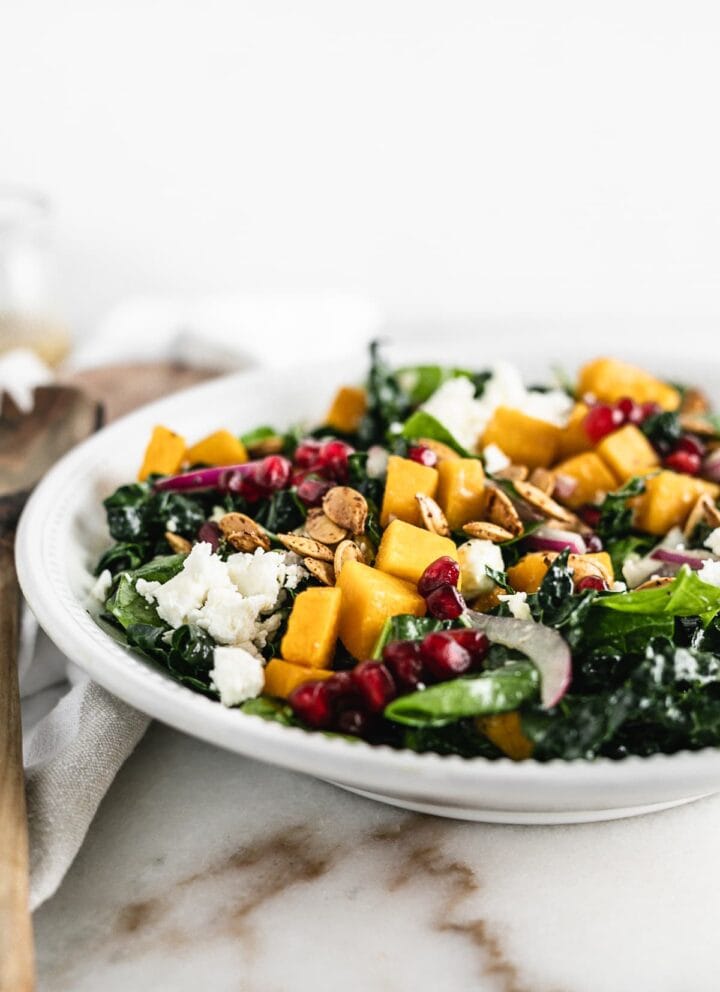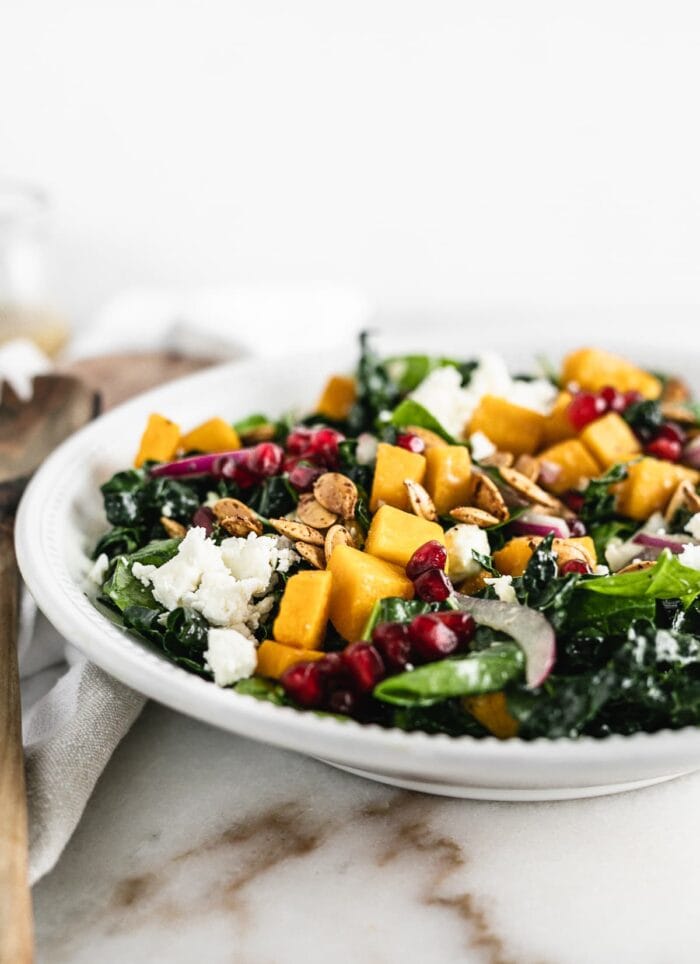 Fall Butternut Squash Kale and Spinach Salad A healthy and delicious fall butternut squash salad that's perfect for something fresh after Thanksgiving!