Pulled Quail Tacos are filled with deliciously tender, slow cooked quail for a flavorful Taco Tuesday meal!
I'm so excited to share this recipe with y'all today. Thanks to the  Recipe ReDux theme this month, it's time for another taco recipe!
I've wanted to share a quail recipe for a while now, but never got around to it until now. We eat quail quite a bit in our house since Mr. Table is an avid quail hunter. He takes our puppy, Ace, out almost every weekend during quail season and always comes back with a big container full of birds. We have fun in the kitchen coming up with new ways to cook them.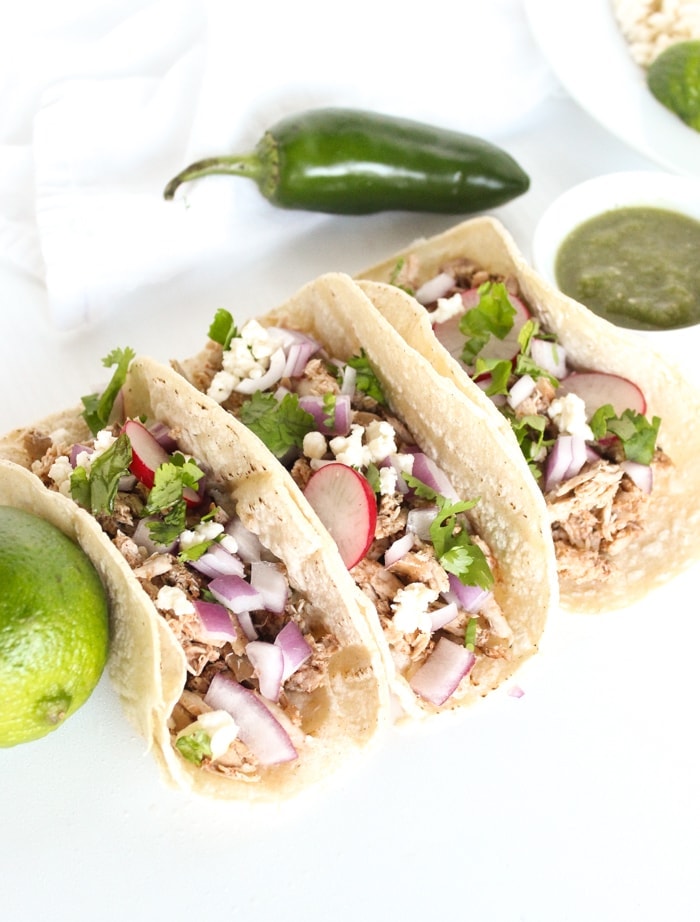 I don't know why I didn't think of these Pulled Quail Tacos sooner. Here in Texas we think everything is better as a taco. So why have I never used quail in tacos?! It's genius. If you've never cooked quail before, they're essentially very tiny chicken, meaning they dry out easily and the meat can be tough to get off of the bones. In this Pulled Quail Taco recipe, the quail cooks down in the slow cooker into lovely, tender shreds of meat that easily come off the tiny bones while it gets infused with delicious spicy flavor. It's the perfect filling to wrap in a warm corn tortilla and devour.
I love to top these tacos like street tacos, with diced onion, fresh cilantro, and cotija cheese. Serve with salsa verde or your favorite salsa for even more delicious flavor, and enjoy!
For all of your hunters and spouses of hunters out there, I hope these pulled Quail Tacos give you a delicious new way to prepare quail besides wrapping it in bacon and throwing it on the grill. And for those of you who don't have a dog designed to sniff out and retrieve quail from fields, you can definitely buy them at the grocery store or just use chicken in their place.
PS: I used the leftover meat and cooking liquid in tortilla soup the day after I made these tacos. Best. Decision. Ever. Don't you just love those cook once, eat twice meals? I sure do.
What is your favorite way to make tacos? For endless RD-approved taco inspiration, visit the Recipe ReDux linkup below!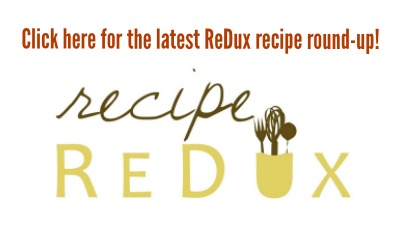 Pulled Quail Tacos are filled with deliciously tender, slow cooked quail for a flavorful Taco Tuesday meal!
Ingredients
8 quail
4 cloves garlic, minced
1/4 cup onion, diced
2 tsp cumin
2 tsp paprika
2 tsp chipotle powder
1/4 tsp ground nutmeg
1/4 tsp ground cloves
1/4 tsp ground cinnamon
1/2 tsp salt
1/2 tsp black pepper
1/2 cup chicken stock
For serving:

8 warmed corn tortillas
Diced red onion
Cilantro
Crumbled cotija cheese
Salsa verde
Instructions
Partially debone quail: Cut at the joint to remove wings and discard them. Remove wishbone and separate meat from rib bones with your fingers and pull the ribs out, leaving the rest intact. Discard bones. (This step is optional but it makes getting the meat off much easier.)
In a slow cooker, place quail, garlic, and onion. Combine all spices and chicken stock and pour over quail. Cook on low heat 4-6 hours.
Remove quail and liquid from slow cooker, reserving liquid, and place quail on a plate. Once they are cool enough to handle, pull meat from the bones, taking caution with the small legs bones so that you don't crumble them in with the meat. Discard bones. Return meat to the slow cooker with just enough liquid to keep it moist. Keep warm until ready to serve.
Serve quail with warm corn tortillas, diced onion, cilantro, cotija, and your favorite salsa.
https://livelytable.com/pulled-quail-tacos/
Recipe copyrighted by Lively Table. Thanks!
Love this recipe? PIN it!