Healthy dill tartar sauce is cool, creamy, and the perfect dip for fried fish and crab cakes. You'll love this easy, delicious recipe with no mayo. (gluten-free, vegetarian)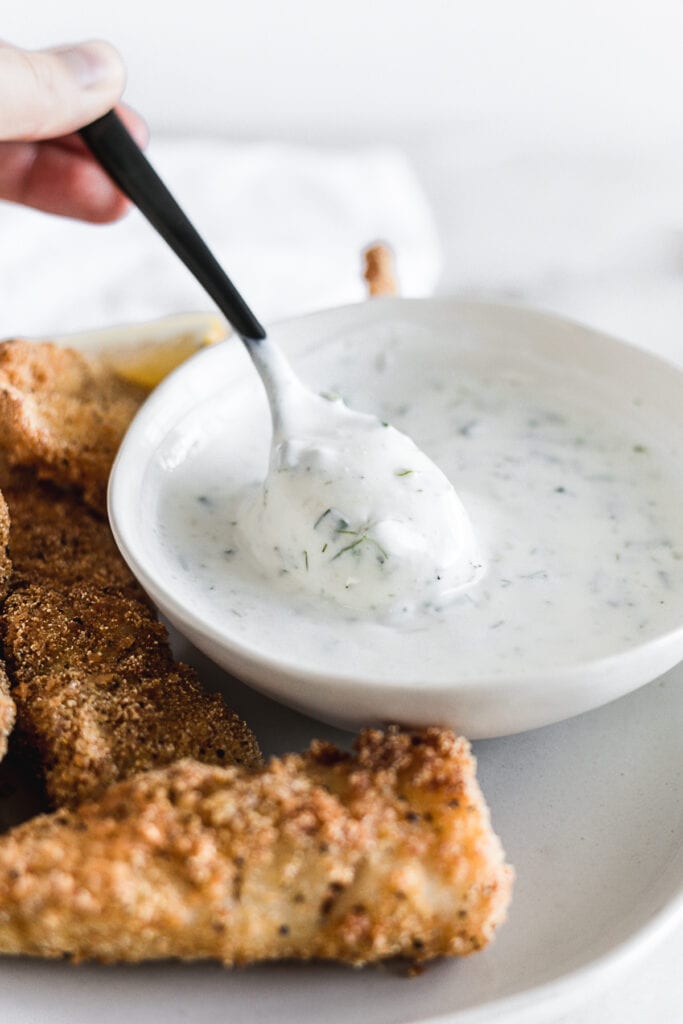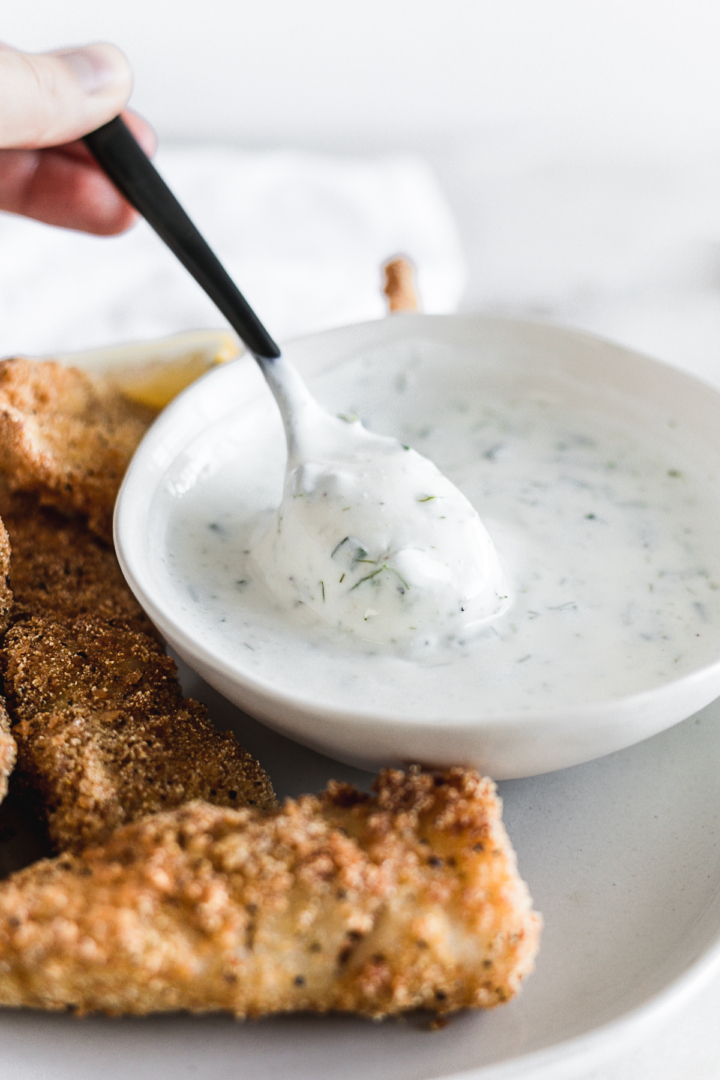 Well here's a post I never thought I'd write. Tartar sauce has never been something I enjoyed, mostly due to my disdain for mayonnaise. But it's also something I never felt the need to make because we rarely made fried fish at home. Yet here I am sharing a recipe for dill tartar sauce with you.
You see, Mr. Table loves fried fish (and seems to have passed this love to the girls). This summer, when our favorite local BBQ restaurant (whose praises I've sung here before) started selling catfish on Fridays, you better believe he was there, going through the makeshift drive-through picking up lunch for us every week. Yes, the catfish is amazing (I had no doubt), but the tartar sauce! The tartar sauce had me, the shunner of tarter sauce, going back for more fish just so I could dunk another piece into that creamy, dill-flecked goodness. And now I am a changed woman. One who apparently now allows her husband to fry things on the back porch on a weekly basis so that I can make this tartar sauce.
Why You'll Love This Dill Tartar Sauce
If you, too, are a hater of the chunky, globby mayo-based junk that is typically served with fish, you will love this lighter, creamy take on tartar sauce. The Greek yogurt base, thinned with buttermilk, lemon juice and pickle juice for a nice subtle tang, is flecked with fresh dill and green onion. There are no capers or chunks of gherkins in sight, and it definitely doesn't taste like it was squeezed from a packet.
What Makes This Tartar Sauce Healthy?
Two words: no mayo. Plain greek yogurt is a higher protein, better for you option that serves as the creamy base for this sauce.

Ingredients For Making No-Mayo Dill Tartar Sauce
Plain Greek yogurt - see above.
Buttermilk - Unexpected in tartar sauce but it adds just the right flavor and richness.
Lemon juice and/or dill pickle juice - Lemon juice is a classic in tartar sauce. Pickle juice, not so much. But I love the love the salty sour flavor without chunks of pickles. You can certainly use just one or the other if that's what you have. Just double up on the amount.
Fresh dill - the ingredient that makes this tartar sauce the best.
Green onion - chop it finely to avoid too much chunkiness.
Garlic and onion powders
Salt and pepper

How To Make Healthy Dill Tartar Sauce
Tartar sauce is one of those things that you don't really need a recipe for. I've always just tasted and made adjustments as needed. But sometimes it's nice to have something to reference. Not that I need to spell it out for you, but to make dill tartar sauce:
In a bowl, stir together yogurt, buttermilk, lemon juice, pickle juice, chopped dill, chopped green onion, garlic powder, onion powder, salt and pepper until smooth. Done.
How To Store Leftovers
If you're making a meal for 2-4 people, it's likely you'll have leftover sauce. Store leftovers in an airtight container in the refrigerator up to a week. I don't recommend freezing leftover tartar sauce.

What To Eat With Dill Tartar Sauce
If you're reading this recipe, it's probably because you need sauce to go with something you already have in mind. But in case you don't, this tartar sauce goes great with:
(Obviously) fried fish or shrimp
Grilled or baked fish
Crab cakes
Did you make this recipe? Please leave a star rating in the comments!
Print
How To Make Healthy Dill Tartar Sauce
Healthy dill tartar sauce is cool, creamy, and the perfect dip for fried fish and crab cakes. You'll love this easy, delicious recipe with no mayo. (gluten-free, vegetarian)
Author: Kaleigh
Prep Time:

10 minutes

Cook Time:

0 minutes

Total Time:

10 minutes

Yield: about

1 cup

1

x
Category:

sauce

Method:

no cook

Cuisine:

American
⅔ cup

plain Greek yogurt

2 tbsp

buttermilk

1 tbsp

lemon juice

1 tbsp

dill pickle juice

1 ½ tbsp

fresh dill, chopped

1 tbsp

green onion, chopped

¼ tsp

salt

⅛ tsp

black pepper

⅛ tsp

garlic powder

⅛ tsp

onion powder
Instructions
Mix all ingredients in a bowl until smooth.
Adjusting the amount of liquid and seasoning as necessary to suit your taste and the thickness level you prefer.
Notes
If you prefer to use mayo instead of yogurt, go for it. I'd probably go half mayo and half yogurt.
For thicker tartar sauce, decrease the amount of buttermilk.
If you don't have both, you can use either lemon juice or pickle juice, just double the amount.
Keywords: healthy tartar sauce recipe, healthy dill tartar sauce, tartar sauce with dill