Grilled chicken chile rellenos are a healthier, easier twist on the Mexican classic. Made entirely on the grill from start to finish with real food ingredients, these grilled rellenos make a delicious and healthy dinner with easy cleanup! (gluten-free)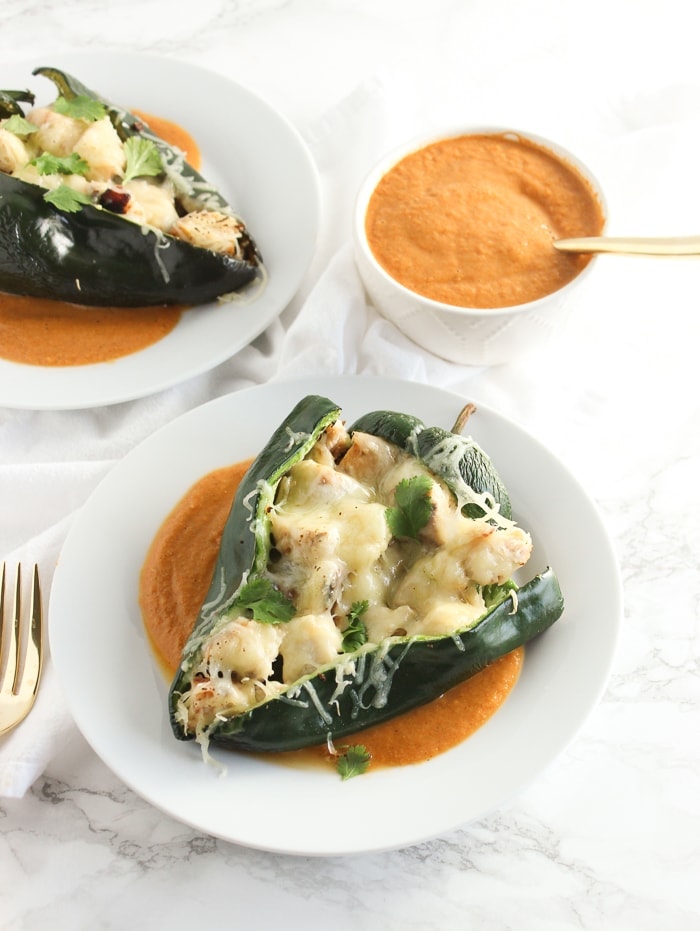 Since moving back to West Texas from Dallas, Mr. Table and I are seriously missing our Mexican food. We used to go on date nights to one of many Tex-Mex restaurants once a week or so and enjoy some delicious fajitas and margaritas. It's one of the things we miss the most being out in Lubbock, which is quickly becoming the land of chain restaurants.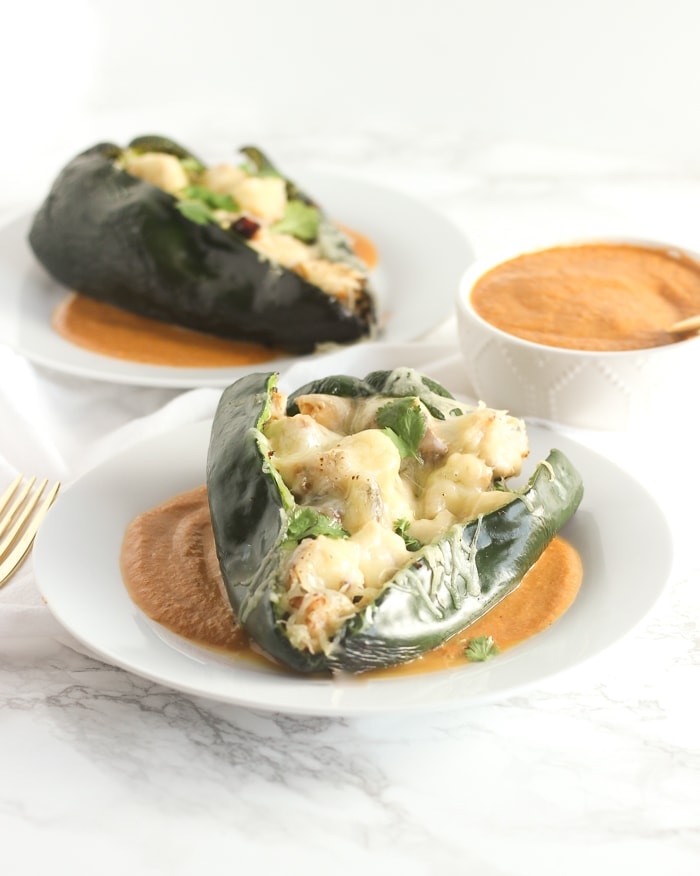 For a city with a fairly large Hispanic population, there is a serious lack of good Mexican food out here. It's a real issue. For the longest time, we were just making our own tacos, enchiladas and 'ritas at home (ok, we still do pretty often) because they just weren't accepted anywhere else we tried. I mean come on, has nobody heard of real lime juice?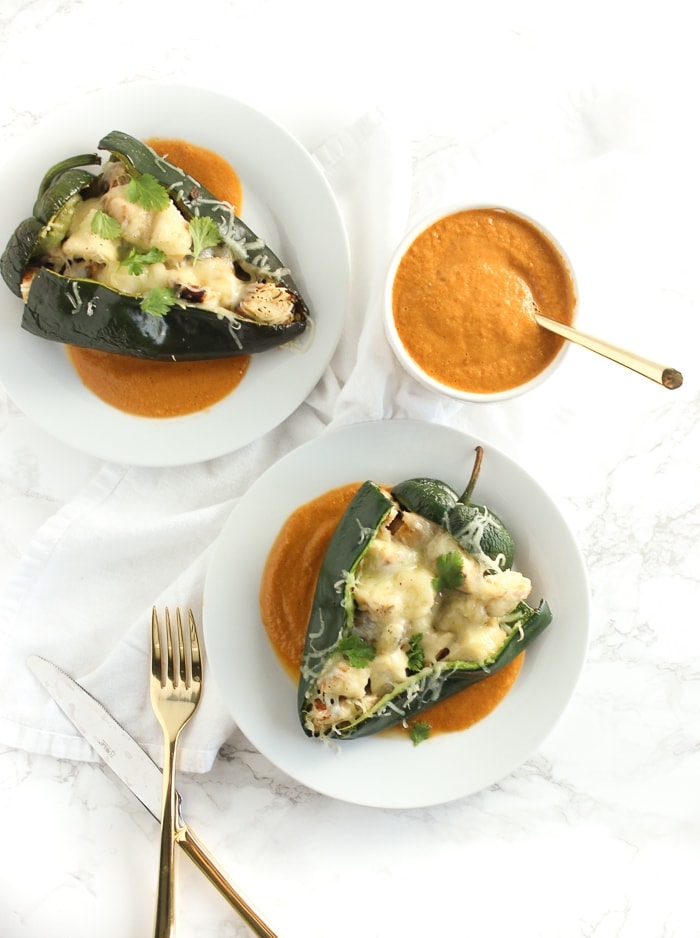 We finally found one Mexican restaurant that has an acceptable margarita and decent fajitas, so that's where hubby and I go when we get a craving for Mexican food. We get the same thing every time - split combination fajitas with a single chile relleno on the side for Mr. Table. While my mark of a good Mexican food restaurant is fajitas, Mr. Table judges by the chile rellenos. He loves them.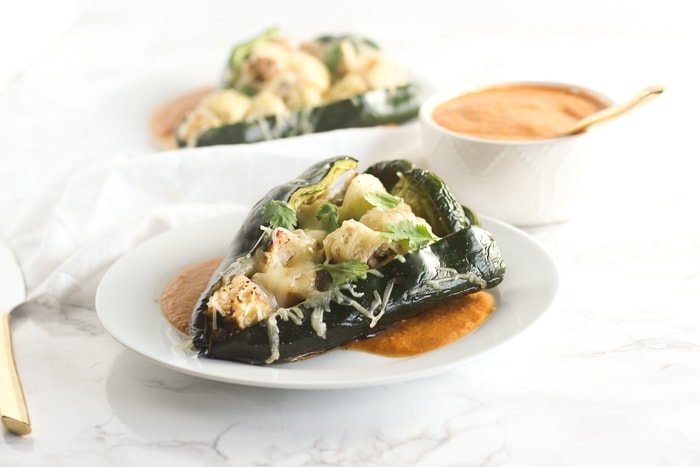 Chile rellenos are quite a chore if you ever want to make them at home. With all of the stuffing and battering and deep-frying, you're guaranteed to end up with a huge mess to clean up. For meals like these, I like to take the mess outside to the grill.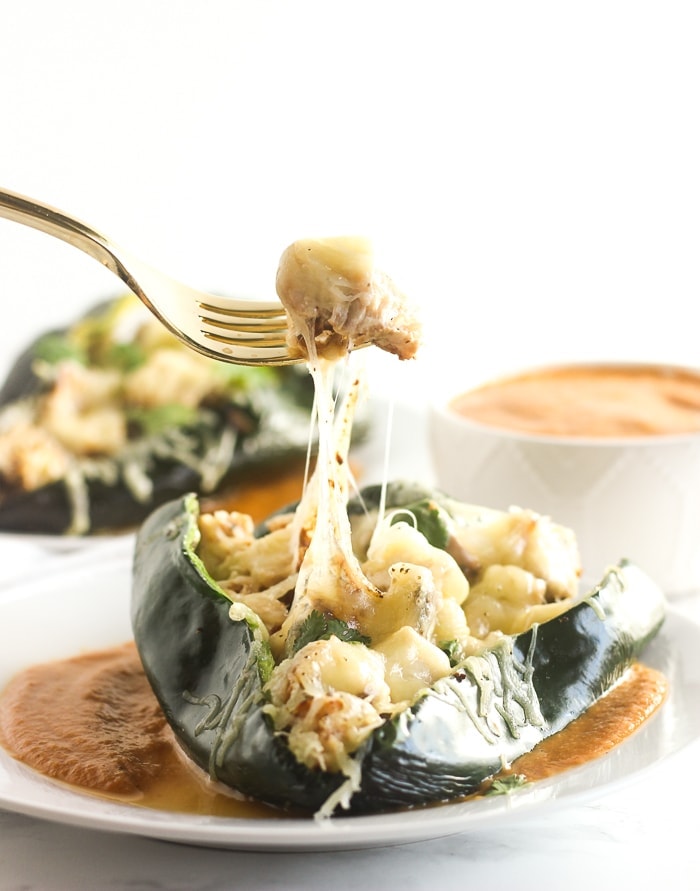 These grilled chicken chile rellenos are made entirely on the grill for super easy cleanup and a fresh, smoky take on the classic chile relleno. I know it's not the real thing, but I happen to think it's even better with a deep, smoky flavor, fresh grilled veggies, juicy chicken breast, and melty jack cheese. It's also hubby-approved and full of good-for-you ingredients. If you are short on time, you can skip the ranchero sauce and the rellenos will be just as good, but if you have the time, I would definitely make it. It adds a ton of flavor to this dish.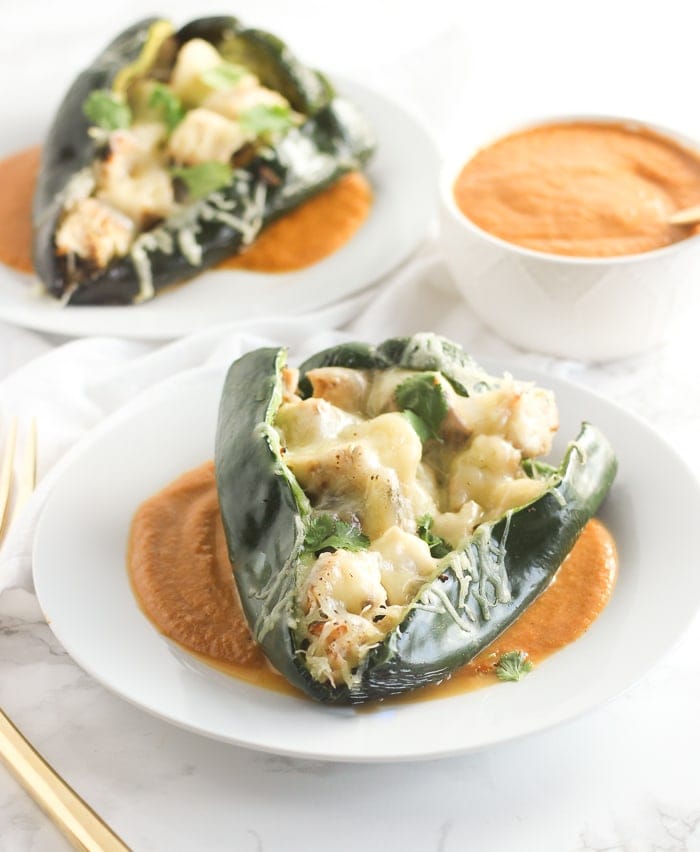 The best part about this delicious dinner is I don't have a big greasy mess in my kitchen. I'll leave the deep-frying to the restaurants who are much better equipped to handle the job. When Mr. Table gets a craving for the real deal, we'll just go on a date!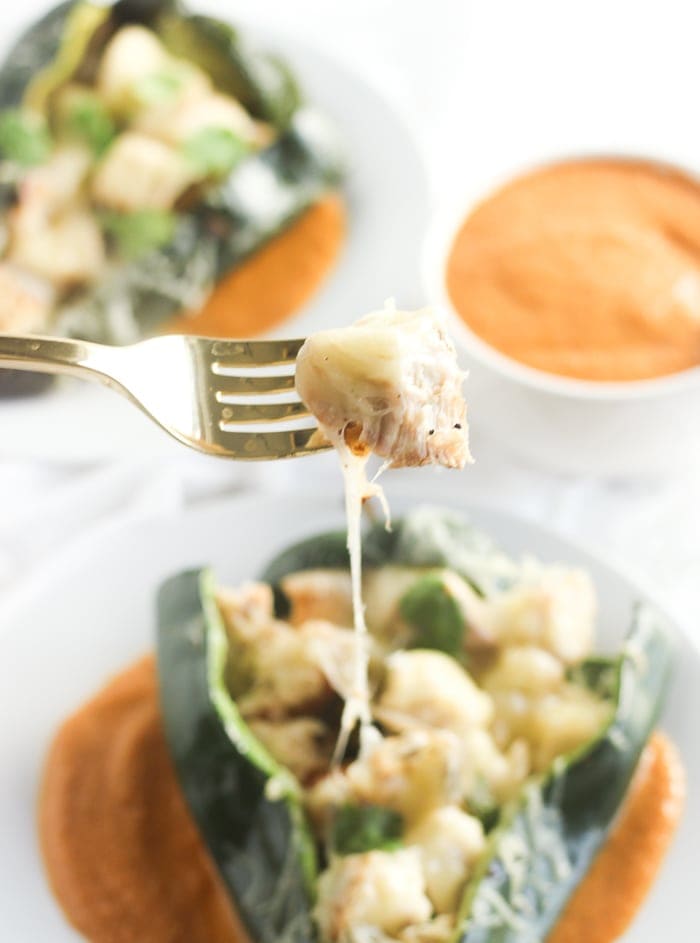 But when we are feeling fresh, easy Tex-Mex and a quiet night on the patio, these grilled chicken chile rellenos are perfect! Serve them with some rice and beans, grilled veggies or chips and guacamole. Yum!
Did you make this recipe? Please leave a star rating in the comments!
Print
Grilled Chicken Chile Rellenos
Grilled chicken chile rellenos are a healthier, easier twist on the Mexican classic. Made entirely on the grill from start to finish with real food ingredients, these grilled rellenos make a delicious and healthy dinner with easy clean up! (gluten-free)
Author: Kaleigh
Prep Time:

10 minutes

Cook Time:

35 minutes

Total Time:

45 minutes

Yield:

4

servings

1

x
Category:

main dish

Method:

grilled

Cuisine:

Tex-mex
For the Ranchero Sauce:
3

tomatoes

3

cloves garlic, unpeeled

½

medium onion

1

serrano pepper
Small handful cilantro, about ¼ cup
Juice of

1

lime

1 tbsp

olive oil

1 tsp

ground cumin

1 tsp

smoked paprika

½ tsp

chipotle powder
For the Rellenos:
4

poblano peppers

2

boneless, skinless chicken breasts

½ tsp

garlic power

¼ tsp

chipotle powder

1 tsp

freshly cracked black pepper

2 tbsp

worcestershire sauce

2 tbsp

olive oil

½ cup

monterey jack cheese
Instructions
Heat grill to medium-high heat.
Make a small foil boat and place garlic and serrano on it. Spray or brush garlic, serrano, onion and tomatoes with oil, and place on the grill. Cook, turning every few minutes, until outside skins are charred and insides are hot, about 15 minutes.
Remove from grill and cover with foil for about 10 minutes to steam. This will make peeling skins easier.
Peel skin off of tomatoes and serrano. Remove serrano seeds and stem. Remove peel from garlic. Place everything in a blender with cilantro, lime juice, olive oil, cumin, paprika and chipotle. Do not close the lid tightly. Crack it slightly and cover with a towel to prevent too much pressure from building up. Blend until smooth.
While vegetables are cooking, cut a 'T' shape in each poblano by cutting horizontally across the top, only halfway deep so that the top remains attached on the underside. Cut vertically all the way down the center on the same side, only halfway through so that the bottom remains intact. Discard seeds.
Season chicken breasts with garlic, chipotle powder and pepper. Drizzle with worcestershire sauce and oil and rub into chicken.
Grill chicken over medium-high heat for 5 minutes on each side, then move to indirect heat until cooked through. Inside should reach 165°F. Remove chicken from grill and cut into ½-inch cubes.
Stuff chicken into prepared poblano peppers. Sprinkle with cheese and place poblanos on direct heat on the grill until cheese has melted.
Reheat ranchero sauce if necessary and serve peppers with sauce.
Notes
*If you're short on time or ingredients, you can make these without the ranchero sauce. They're just as good!
Keywords: grilled chicken Chile rellenos, healthy Chile relleno