In this month's installment of Fridge Foraging, I made a creamy dill pickle dip, quick veggie stir fry, and trail mix!
I have to admit, I slowed way down on my fridge foraging over the past month. Partly because I've been lazy and bad at meal planning, and partly because I didn't go to the store and impulse buy a bunch of produce as often as usual. But I still came up with a few meals and snacks based on the items I had laying around waiting to be used.
Here is what I made this month while Fridge Foraging: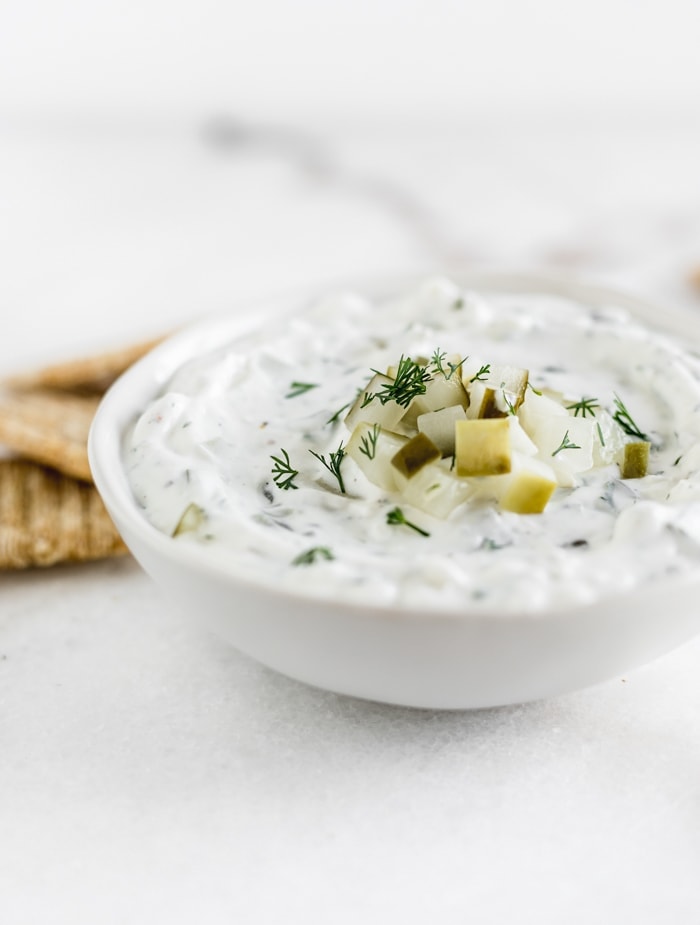 Dill Pickle Dip
I had tons of pickles in my fridge (thanks, Grillo's Pickles!) that I was not realistically going to eat by themselves before they went bad. I also tend to always have an abundance of fresh dill when I buy it to make tzatziki sauce. So I made a creamy, delicious dill pickle dip! It was SO GOOD. Here's what was in it:
3 oz reduced-fat cream cheese
½ cup plain Greek yogurt
2 tbsp pickle brine
½ tsp garlic powder
¼ tsp onion powder
Salt and pepper
¾ cup chopped dill pickles
1 tbsp chopped fresh dill
Just stir everything together and dip your favorite crackers, chips or veggies!
Cashew Veggie Stir Fry
I had quite a few random veggies hanging out in quantities that weren't really usable on their own, so I whipped up a stir fry one day for lunch. This is especially useful for cabbage, which I always have a hard time using up. Feel free to use any veggies you'd like! To make it:
Sauté in avocado oil in a skillet:
Asparagus
Carrots
Onion
Cabbage
Snap peas
Broccolini greens
Frozen shelled edamame
Cashews
Stir together:
1 clove minced garlic
1 tsp grated fresh ginger or ginger paste
1 tsp tamarind (optional, but I have a whole container that needs to be used)
1 tsp honey
1 tbsp soy sauce
Pinch red pepper flakes
Splash broth or water
½ tsp cornstarch
Green onion
Pour the sauce into the skillet with softened veggies and cook until thickened. Serve with brown rice.
Trail Mix
I always have a few nuts hanging around in the pantry that need to be used. I will buy them in the bulk section thinking they sound good, then forget about them (ahem, brazil nuts). I also impulse-bought a bag of dried cranberries on sale at Costco and had a few dried blueberries, so I made a trail mix because that's way more fun! And I actually ate it all in about a week because it was so tasty! Here's what was in my trail mix, but obviously use any combination of nuts, seeds, and dried fruit that you'd like:
Walnuts
Almonds
Pistachios
Brazil nuts
Dried cranberries
Dried Blueberries
And one total fail: I impulse-bought kumquats at Sprouts (because they are just so cute! and I never see them at Sprouts), then they sat in my fridge for a while. I struggled to make some kumquat marmalade, but it was WAY too sour. So I'm not sharing that one with you.
That's it for this month! What can you make from the food hanging out in your fridge/freezer/pantry this month?