These easy, Asian-style pickled carrots are so simple to make in less than an hour with just a few ingredients. They add a tangy pop of flavor to salads, bowls, sandwiches and more! (gluten-free, nut-free, dairy-free)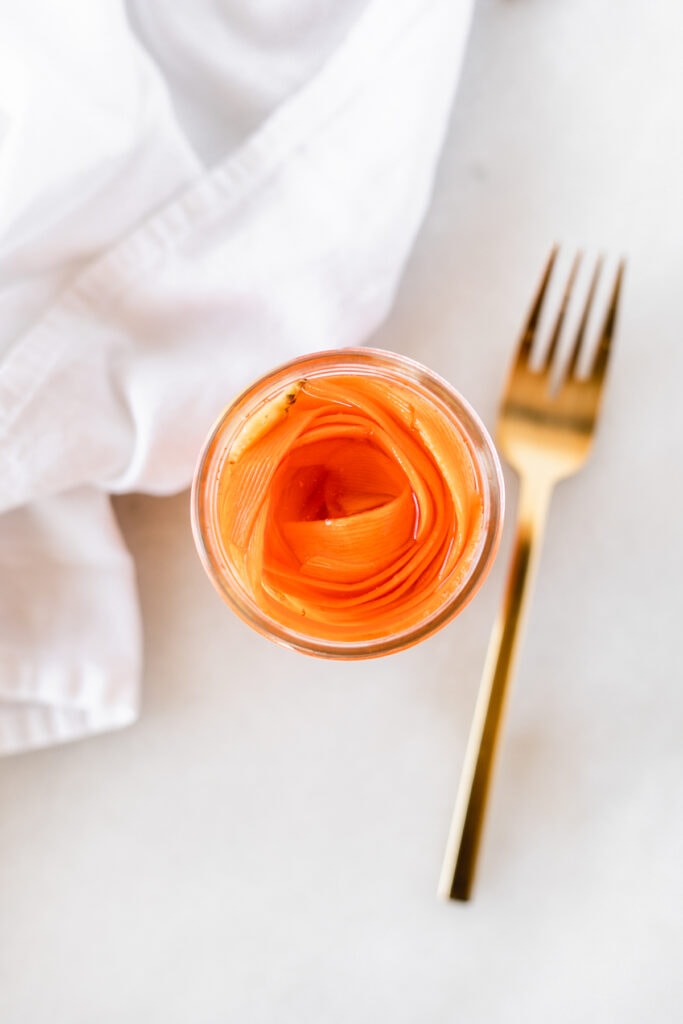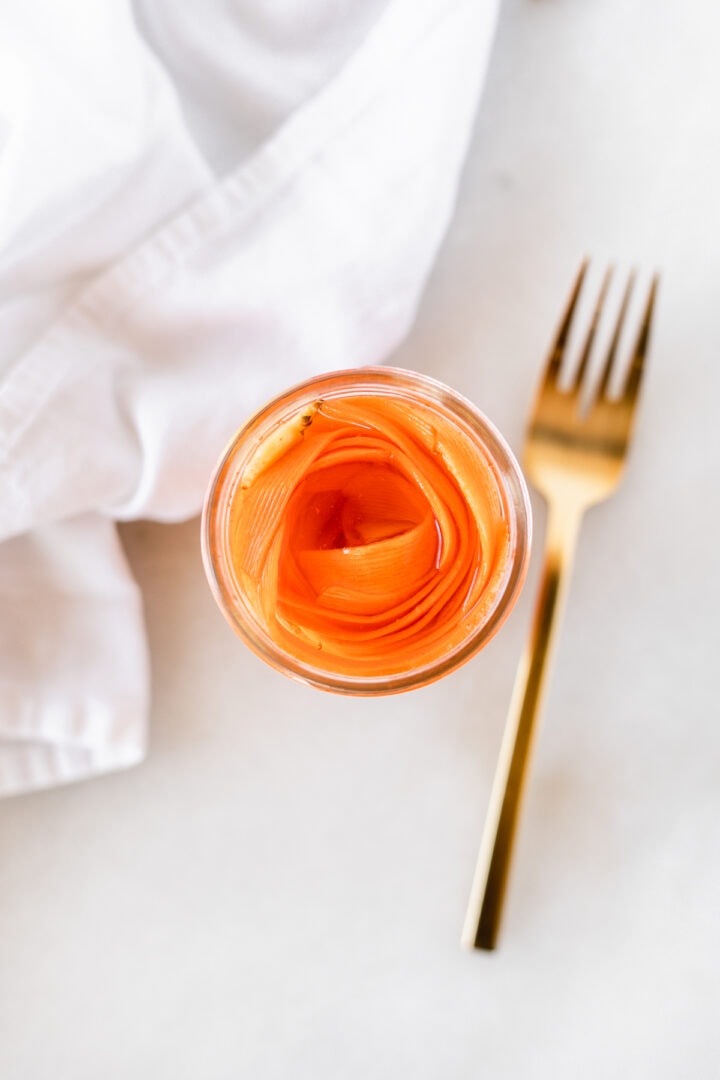 One of the easiest ways to take meals from good to great? With killer toppings, like pickled vegetables! These Asian style quick pickled carrots are easy to make and perfect for topping all kinds of Asian-inspired meals.
Why pickle carrots?
Pickled carrots add a bright, vinegary pop of flavor and pretty color to just about any dish without the tough crunch of raw carrots. If you ever feel like a dish is missing something, you can bet a little spoonful of pickled carrots will almost always do the trick! You'll love this pickled carrot recipe because it's simple, quick, has just a few ingredients, and lasts a long time in the refrigerator, so you're never without a killer condiment!
How to quick pickle carrots
There are two kinds of pickling - fermentation and vinegar pickling. This recipe is the latter method, as it's much less involved and results are almost immediate. For the vinegar pickling method, you essentially heat vinegar and salt and then immerse the carrots in the hot solution. The acid in the vinegar keeps the carrots from spoiling quickly by killing any microorganisms while also giving them that delicious sour flavor. You can read more about the science behind pickling here. To make them extra-quick, the carrots sit at room temperature instead of in the refrigerator.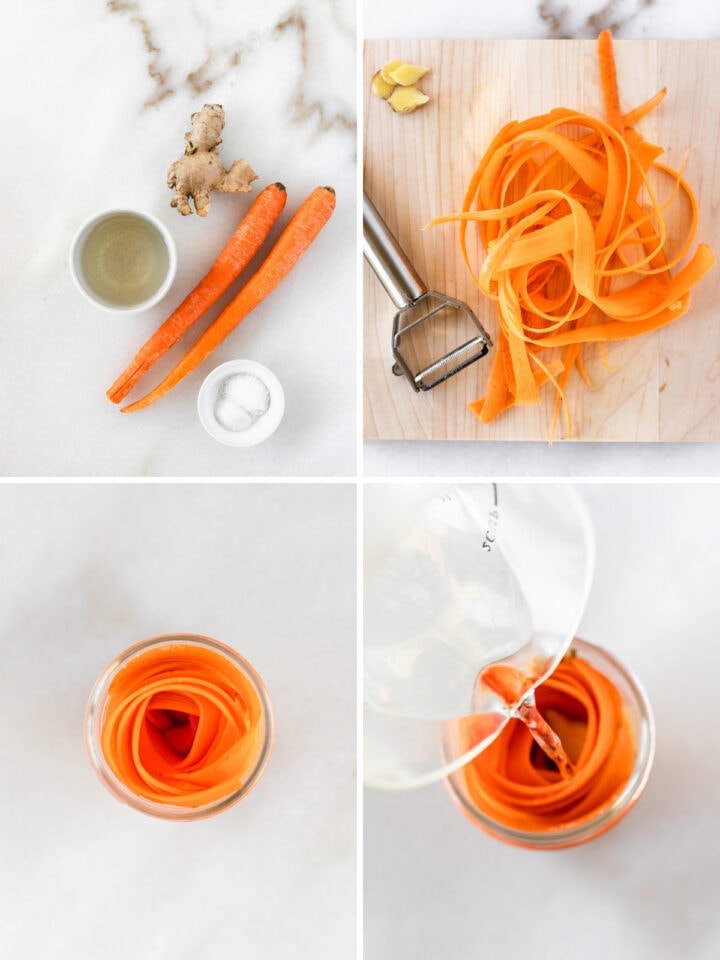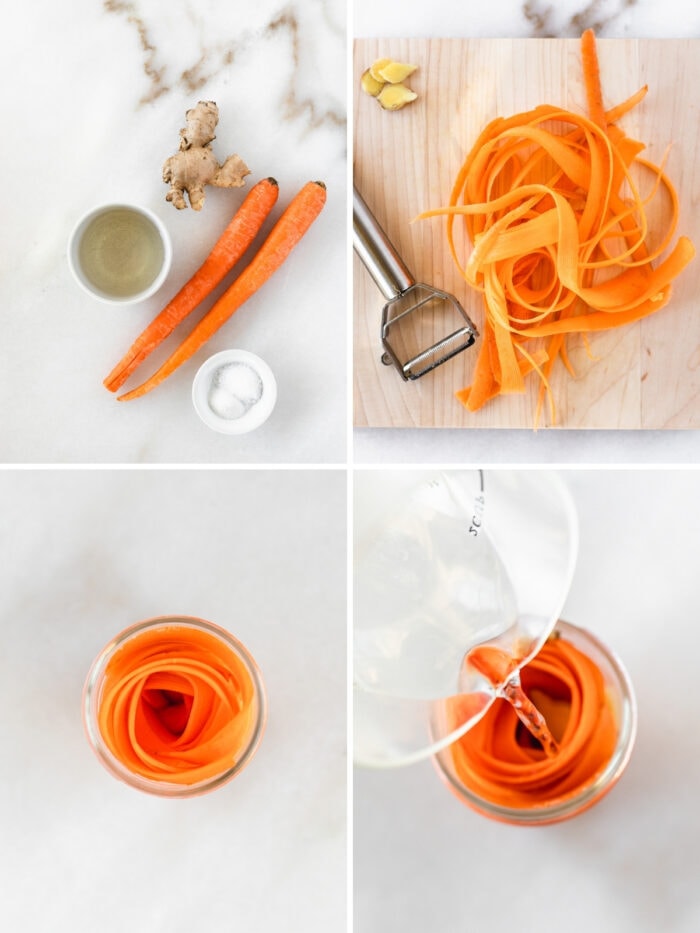 To make these easy pickled onions, you'll need:
A glass jar with a lid
A kettle or saucepan to heat the water
A vegetable peeler to shred the carrots into ribbons
Carrots
Vinegar - I use rice vinegar for an Asian-inspired flavor.
Kosher salt - you can also use pickling salt if you have it, but kosher salt works just fine here.
A pinch of sugar - to tame the bite of the vinegar
Fresh ginger - optional, but it adds an extra dimension of flavor
To make easy pickled carrots:
Peel carrots into ribbons and thinly slice ginger. Pack the carrots and ginger into the jar.
Heat the water to boiling. Mix with the vinegar, salt and sugar. Stir until the salt and sugar are dissolved.
Pour the hot liquid over the carrots covering them completely. Close the lid and give it a little shake.
Let the carrots sit on the counter for 30 minutes or more. Then they'll be ready to use!
For a less quick method, place them in the fridge overnight instead of on the counter.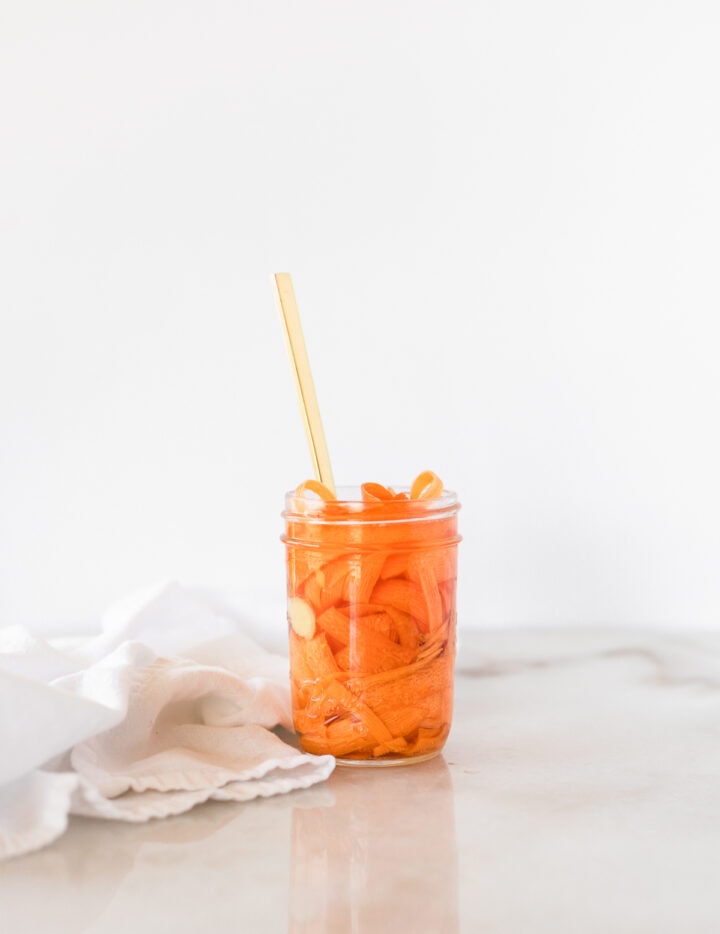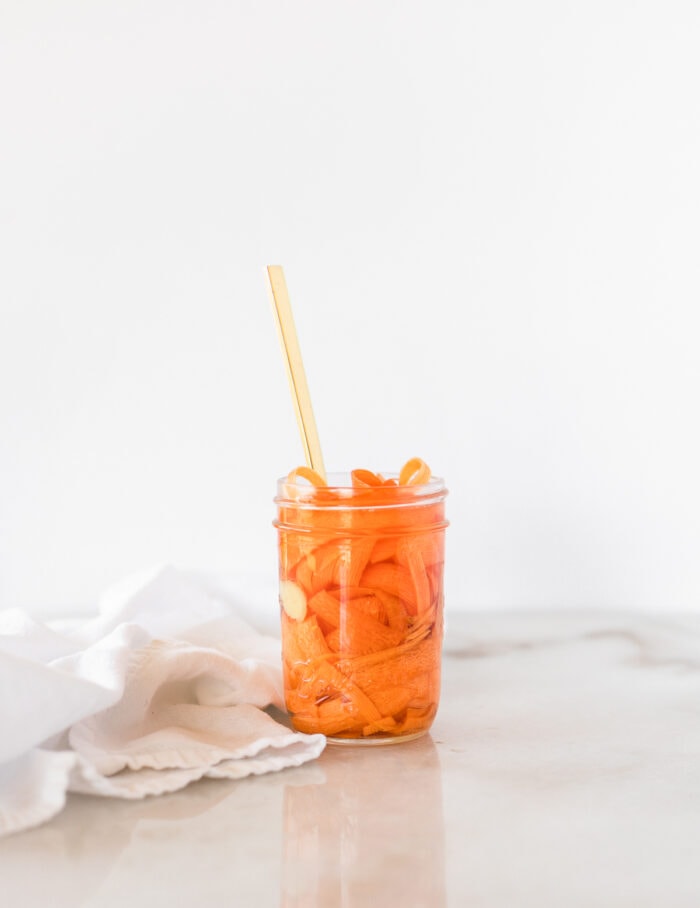 Storing & using pickled carrots
Your pickled carrots should be stored in the refrigerator in a sealed container (like the jar you made them in). They will keep for at least a couple of weeks, in which time you can use them on top of anything that strikes your fancy! A few of my favorite ways to use Asian style pickled carrots include:
On top of tacos or lettuce wraps
On sandwiches or burgers
On eggs or omelets
With charcuterie or cheese plates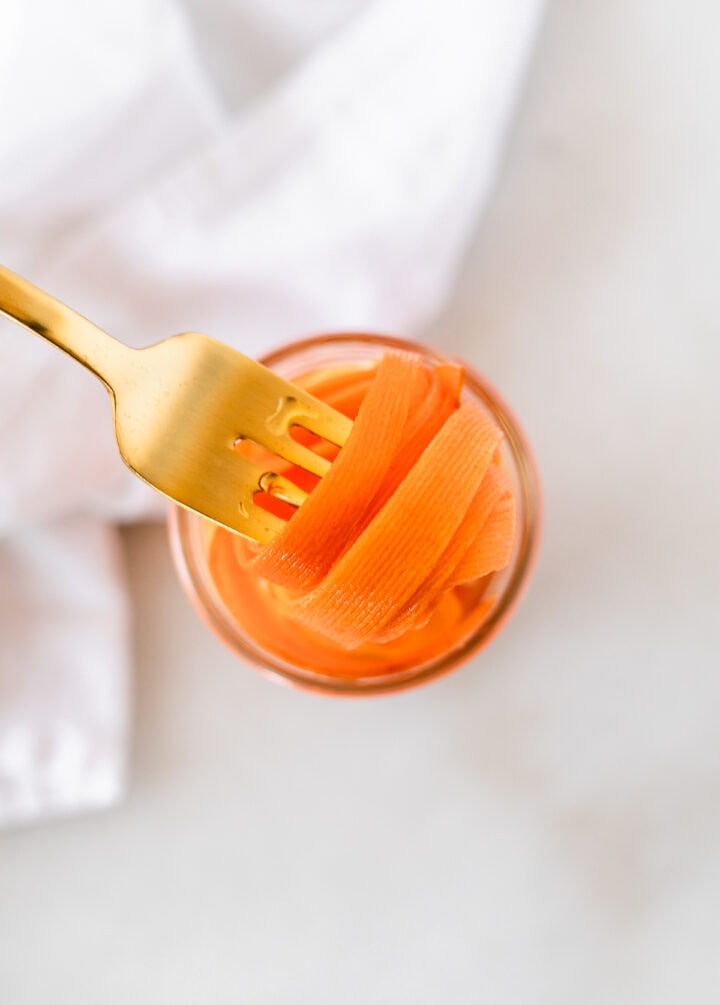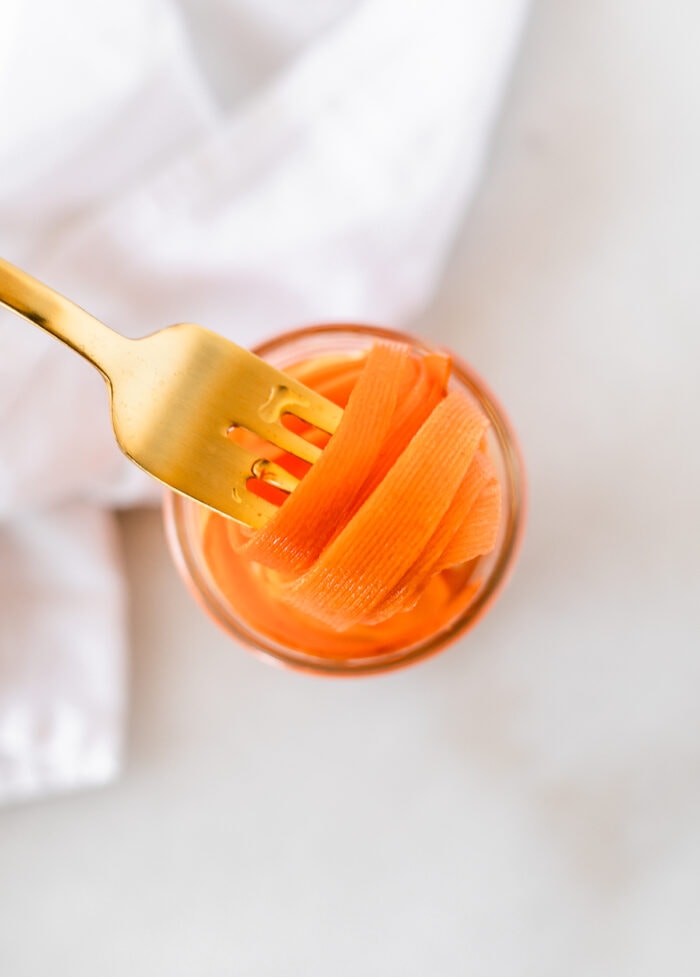 A note about probiotics and easy pickled carrots
You may have heard that pickled vegetables contain probiotics. Those pickled vegetables are the kind using the fermentation method, which produces bacteria that are good for the gut. That is not this quick version using vinegar. Sorry. But these quick pickled carrots are still a delicious way to get more vegetables in your diet, so eat 'em by the spoonful!
If you made this recipe, please leave a star rating in the comments!
Print
Asian Style Quick Pickled Carrots
These easy, Asian-style pickled carrots are so simple to make in less than an hour with just a few ingredients. They add a tangy pop of flavor to salads, bowls, sandwiches and more! (gluten-free, nut-free, dairy-free)
Author: Kaleigh
Prep Time:

10 minutes

Cook Time:

30 minutes

Total Time:

40 minutes

Yield:

1 cup

1

x
Category:

side dish

Method:

pickled

Cuisine:

Asian
1 cup

carrots, shredded or grated into ribbons

¼ cup

rice vinegar

½ cup

hot water

½ tsp

sugar

1 tsp

salt
fresh ginger slices
Instructions
Use a vegetable peeler to peel carrots into ribbons. You can also cut carrots into matchsticks or use pre-shredded carrots. Slice ginger into ¼-inch thick slices.
Pack carrots tightly into a glass jar. Add 3-4 slices of ginger.
In a heat-proof container, mix vinegar, salt and sugar. Add hot water and stir until salt and sugar are dissolved.
Pour mixture over the carrots, making sure to cover the carrots completely.
Close the jar and let sit at room temperature for 30 minutes to an hour before using. If you have more time, you can place them in the refrigerator overnight to pickle.
Notes
Store pickled carrots in the refrigerator for up to 2 weeks.
Keywords: quick pickled carrots, asian pickled carrots, easy pickled carrots