Using less plastic is not only more sustainable, it's also healthier for you and the planet! Reduce the amount of plastic waste from your kitchen without giving up convenience with these easy tips for using less plastic.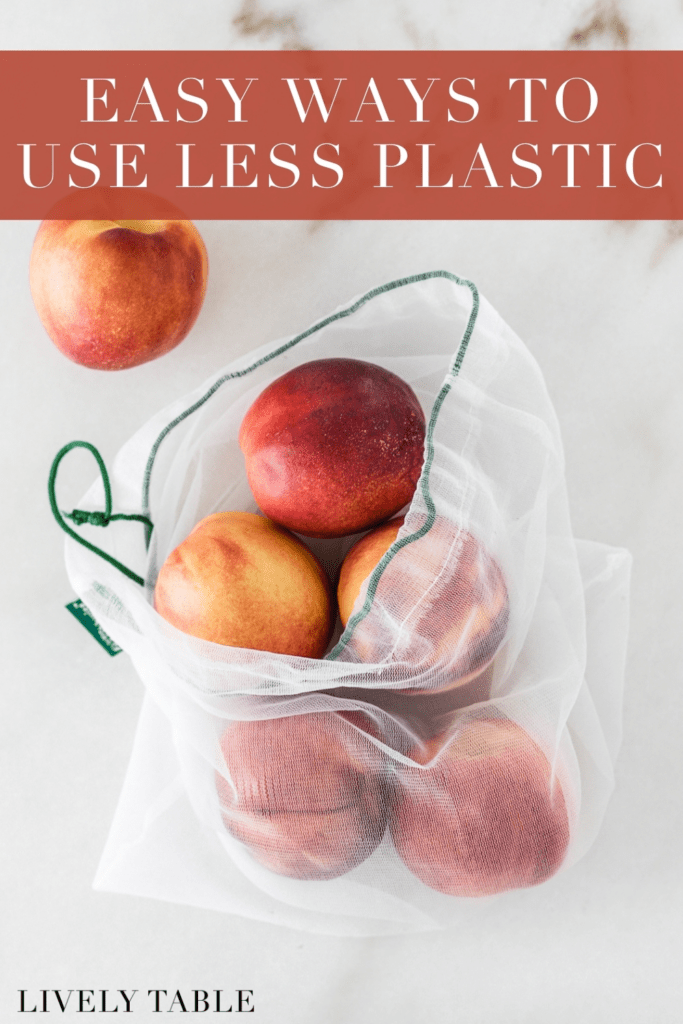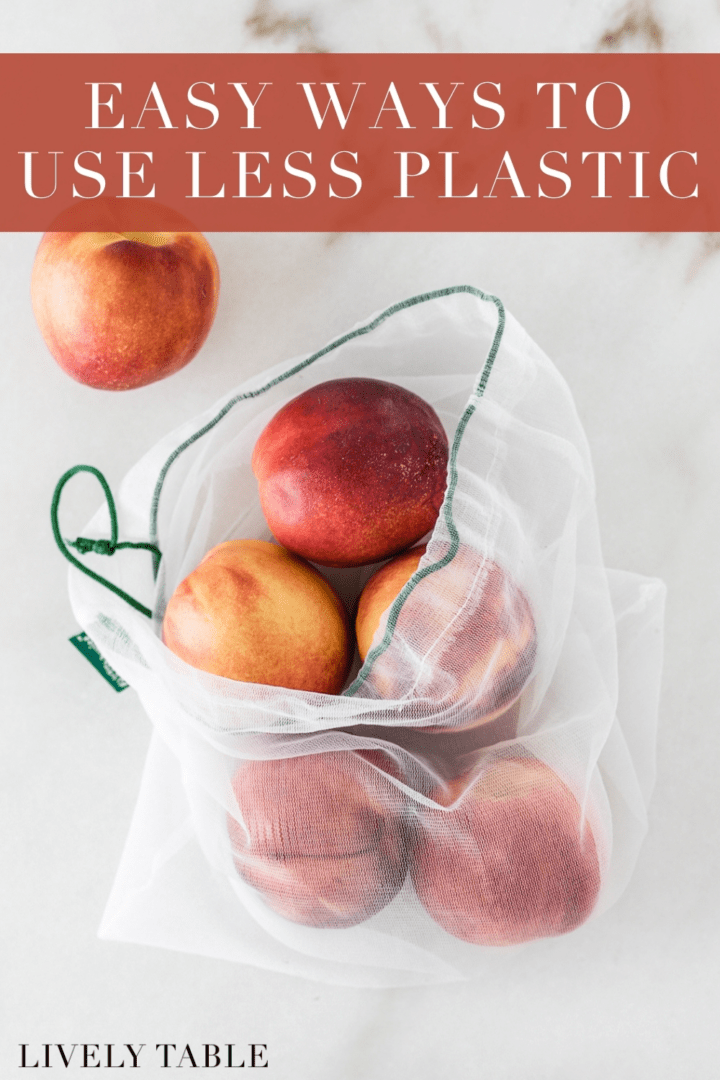 Plastic has become a product of daily convenience. From plastic drink bottles and disposable plastic bags to plastic takeout boxes, we all use disposable plastic items to make our lives easier. Plastic is cheap and durable, which is why it is used so often. But it comes at a price.
Despite being (mostly) recyclable, plastics often end up thrown out. In fact, only 9% of plastics are actually recycled. That means 91% of all plastics end up in a landfill, ocean or as litter on the side of the road. That's problematic. Not only can this kind of litter harm the environment and our food sources, but it's rapidly filling up landfills. It can take up to 400 years for a plastic bottle to decompose. Yikes!
In honor of Earth Day coming up, I've put together some things that you can do at home to help reduce the amount of plastic that gets thrown out. While recycling is one way to reduce plastic waste, not everyone is able to recycle because of where they live. Another option is to simply use less plastic in your home. With these tips, you can help the environment by using less plastic, without giving up convenience.
Easy Ways To Use Less Plastic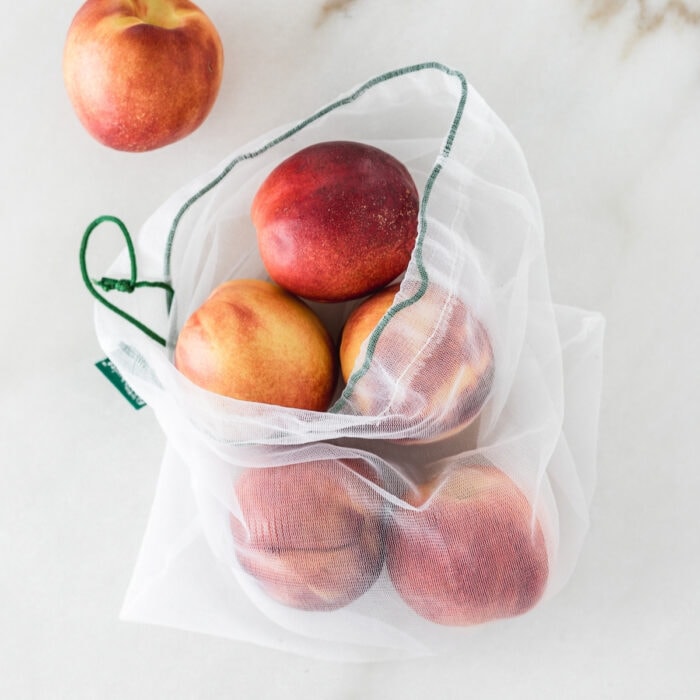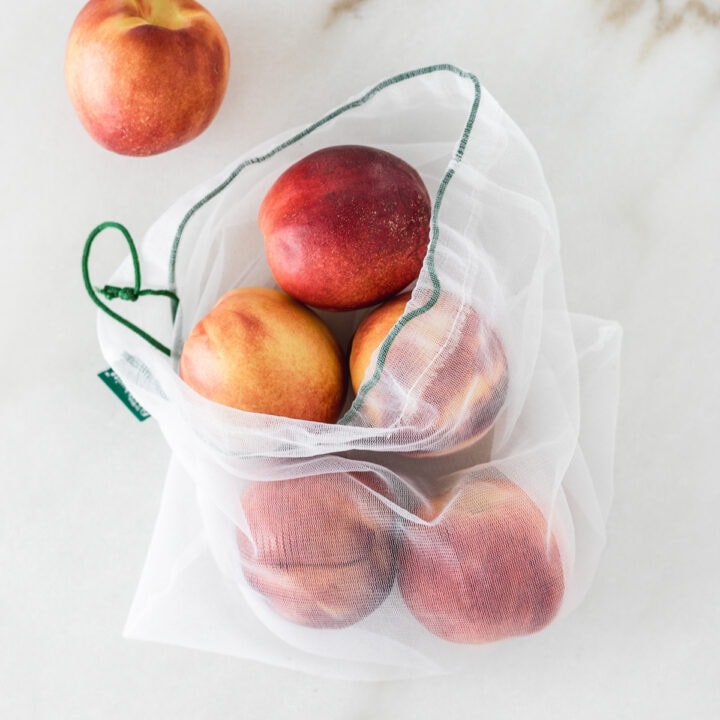 Use canvas grocery bags and reusable produce bags
I can't be the only one that used to have an ever-growing pile of plastic grocery bags. I made the decision to stop that soon after living on my own, mostly because I hated how fast they collected. I keep canvas grocery bags in my car so that I have them handy when I shop (which is often), and place them back in the car after I've unloaded my groceries. If you forget your bags (it happens to all of us!), ask the grocery bagger to use paper bags instead of plastic.
I also love these reusable produce bags. They're super light, breathable, and can be thrown right in the washing machine! While we're on the topic of produce bags, ask yourself if you really need the plastic produce bags you're using. Bananas, a bunch of kale, and a single mango don't need their own plastic bags. (And at the very least, make sure you you bring any plastic bags you collect back to the store to be recycled.)
Ditch plastic baggies
Plastic zip-top bags are convenient, but the amount of them that end up in the garbage adds up fast! Before you reach for one, ask yourself if something re-usable will work instead. My favorite alternatives include: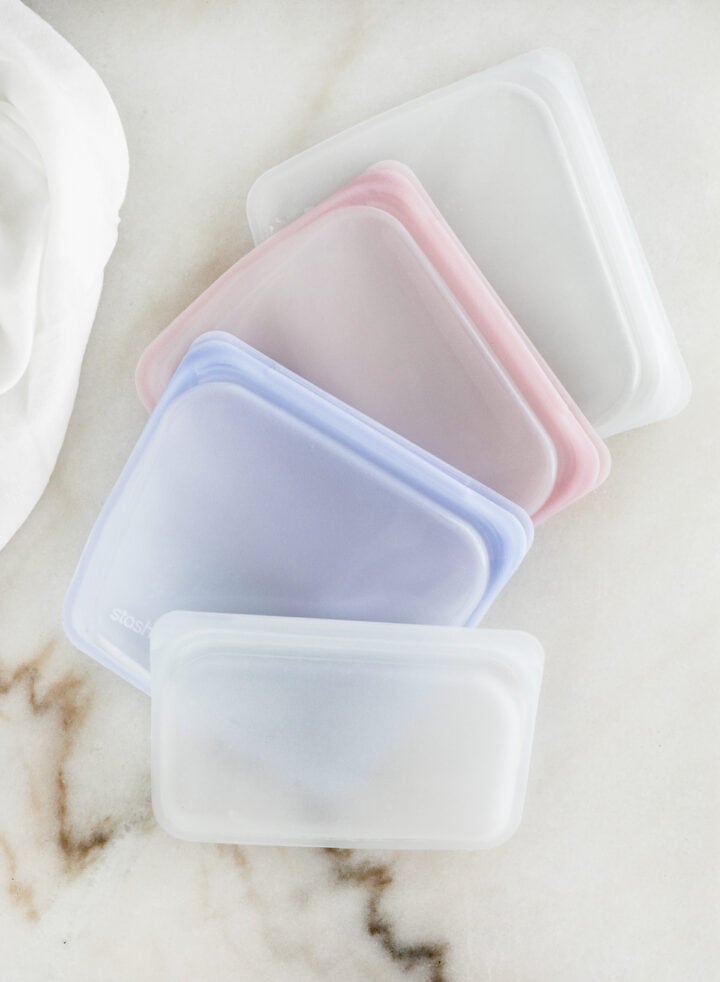 Stasher re-useable food storage bags - take snacks to go, store leftovers in the fridge or freezer, and wash them in the dishwasher!
Glass containers - I use glass Pyrex containers for leftovers, meal prep, and cut up produce. They are dishwasher and microwave safe, and they stack great. They now also have glass lids that last longer than the plastic ones!
Mason jars - I love mason jars for storing sauces, spices, and other things that I store in the refrigerator doors, like flaxseed, yeast, and my sourdough starter. They last FOREVER.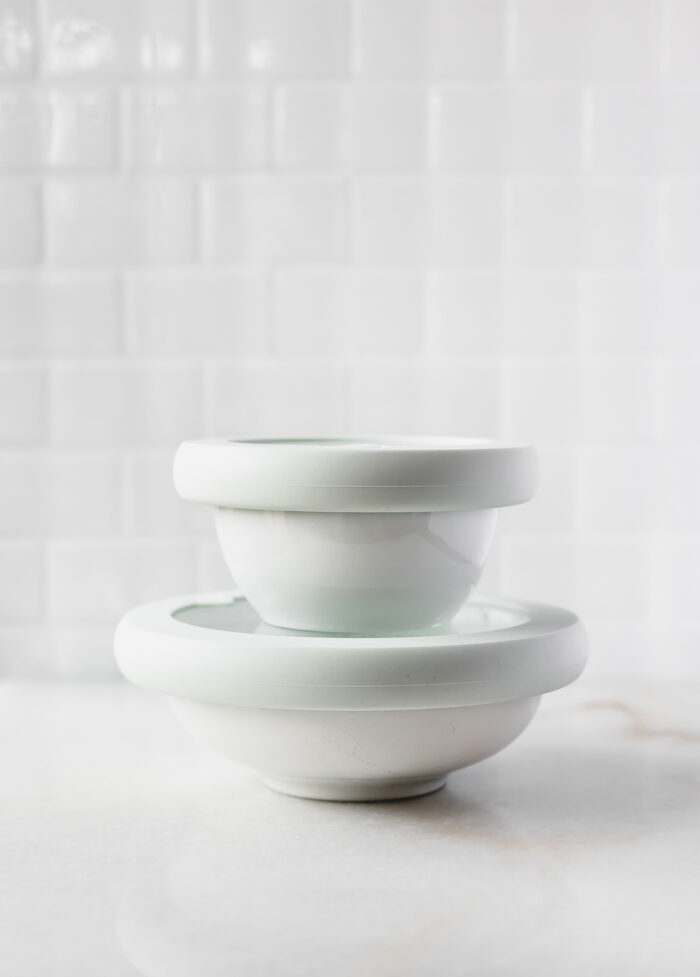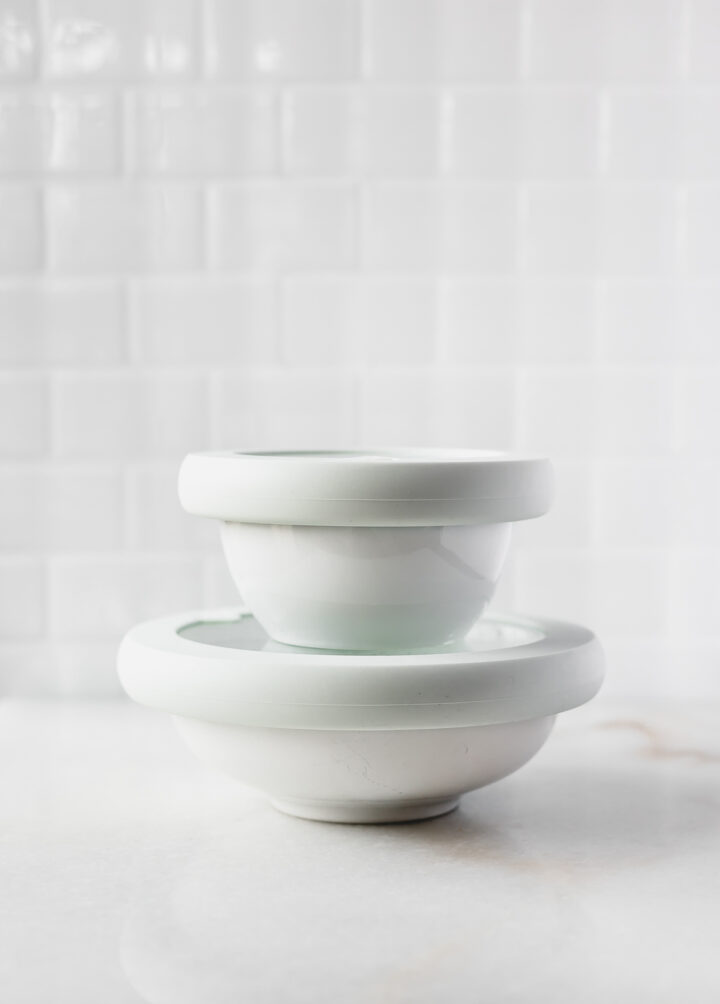 Food Huggers- These silicone circles are the perfect way to store that half onion or put a top on half a can of chickpeas. They come in multiple sizes (there is even one for an avocado!), and they have larger ones that fit on top of bowls (shown here) to store leftovers.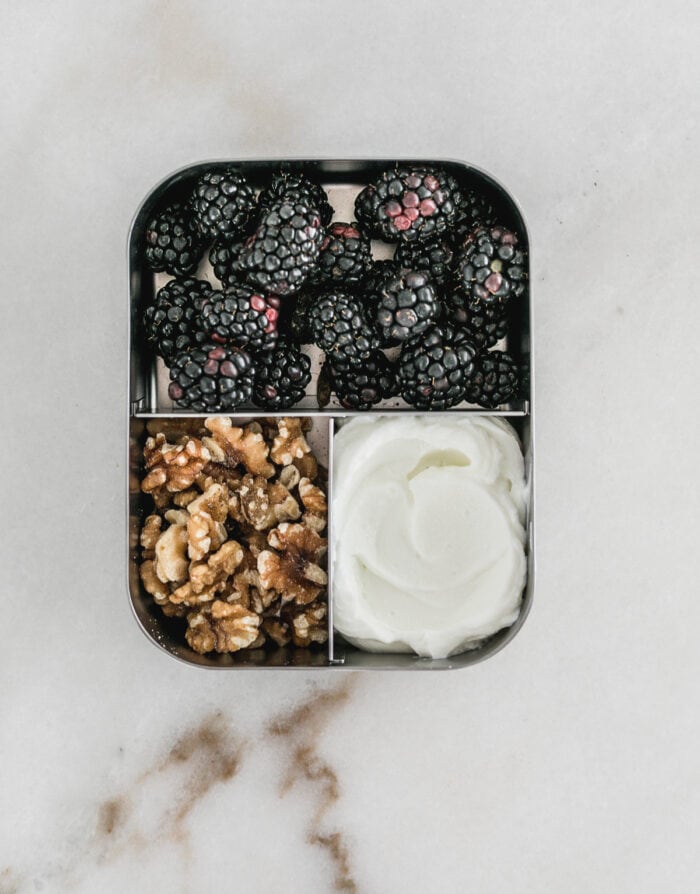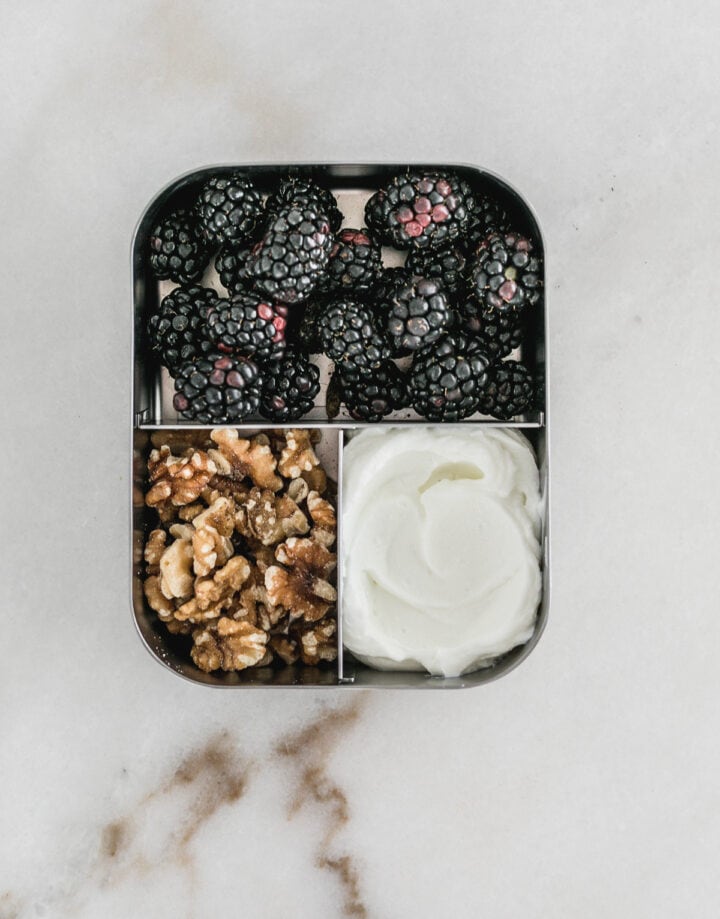 Stainless steel lunch boxes - I love these Lunch Bots stainless steel bento boxes. They make it super easy and convenient to pack a lunch or snack for yourself, your spouse, or your kids with no waste. Plus they are dishwasher safe and come in a variety of sizes.
Get a reusable water bottle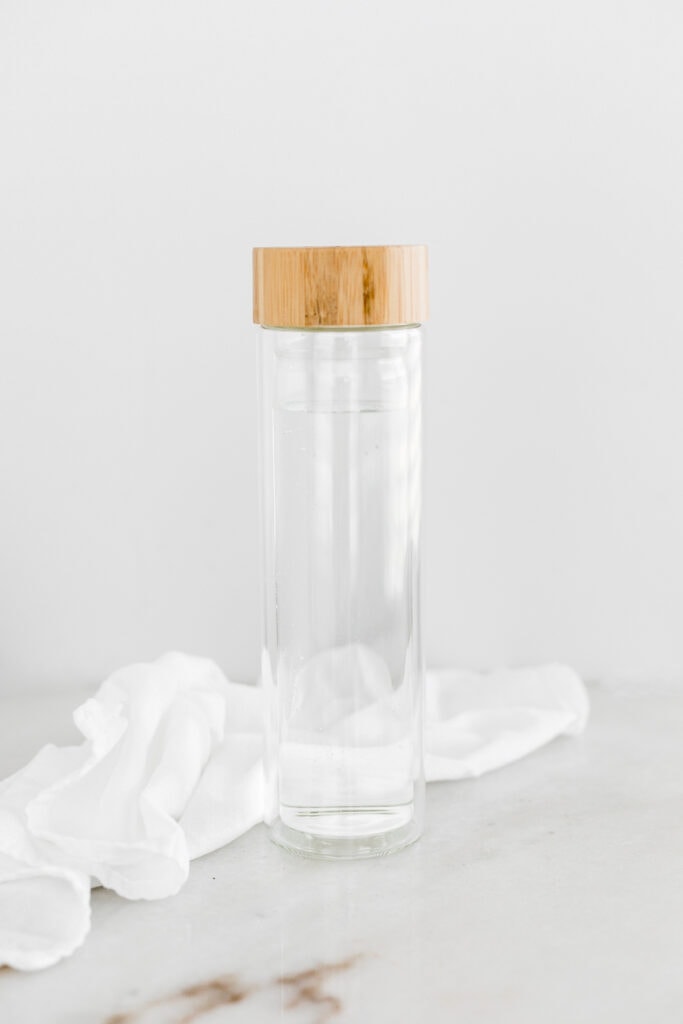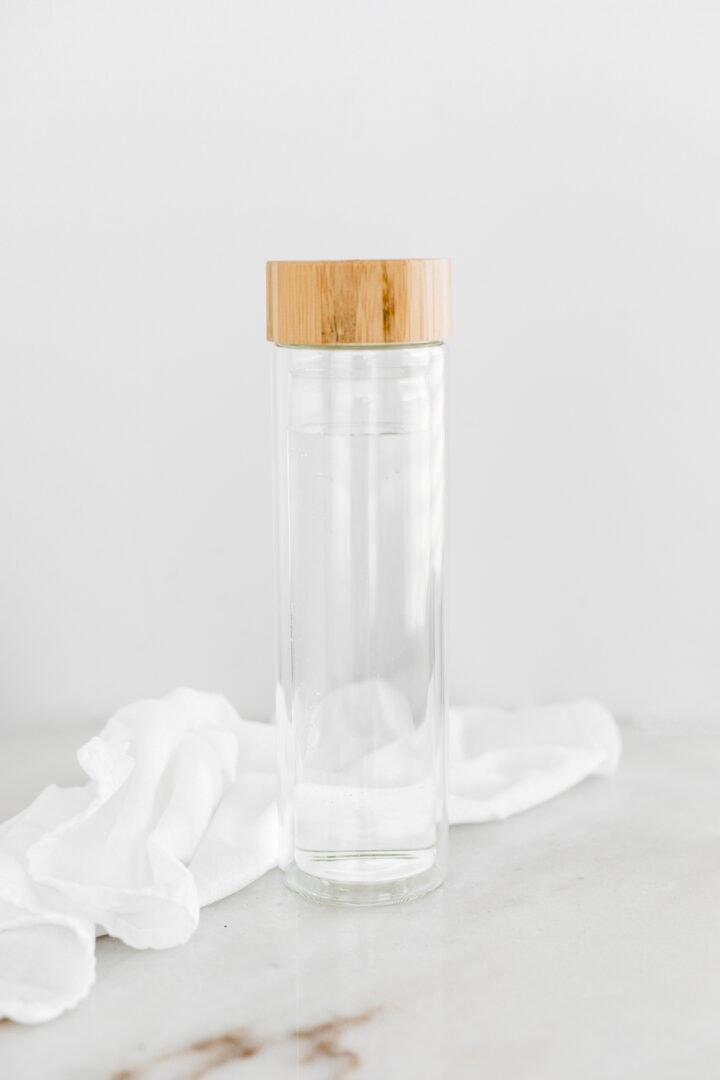 Does anyone NOT walk around with a bottle of water anymore? Make this healthy habit healthy for the environment too by using a glass or stainless steel water bottle that you can refill as needed instead of tossing multiple plastic bottles a day.
Did I miss anything? Let me know your favorite tips on using less plastic in the comments below!