Learn how to make the best easy pinto beans from scratch, or with a stove top, slow cooker, and even with Instant Pot instructions.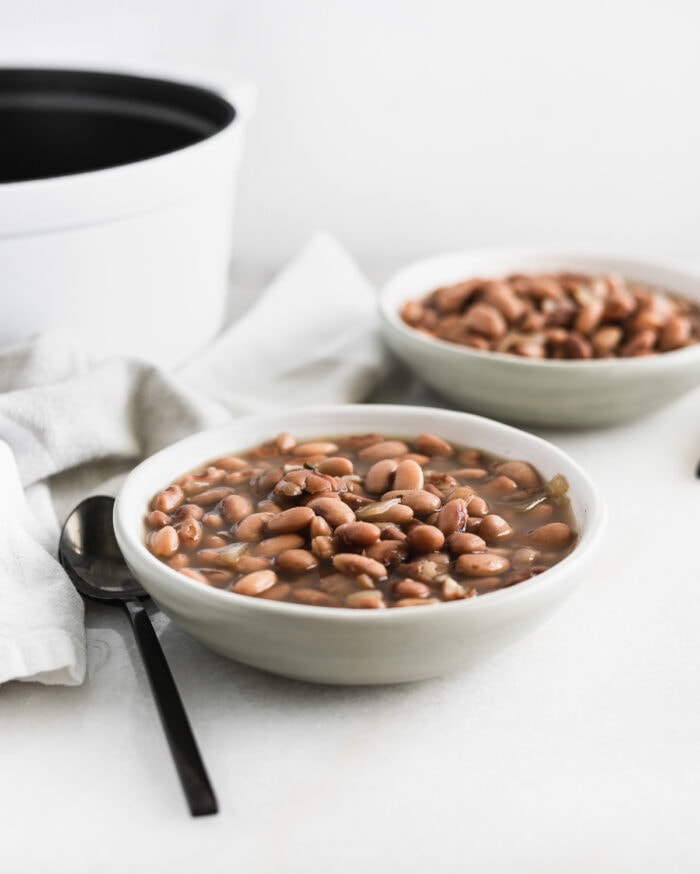 Pinto beans are easy to prepare, flavorful, and healthy. As a side dish, pinto beans compliment BBQ meals, fried chicken, ham, and cornbread and mashed potatoes.
If you're a vegetarian, pinto beans are a source of protein and naturally gluten-free.
What Are The Different Types Of Pinto Beans?
There are many pinto bean varieties. Here are a few of the most popular pinto bean strands available on the market today.
Alava are dark red pinto beans that originated in the town of Anana in northern Spain's Basque region.
Lariat pinto beans were developed by North Dakota State University in 2007. The beans are larger than other varieties and have a high seed yield.
Stampede pinto beans, also developed in 2007, produce a high seed yield.
Maverick pinto beans are from the Northern Great Plains.
Burke pinto beans are the newest addition to the pinto family, according to the US Department of Agriculture. The beans are adept at fending off harmful plant viruses.
Grand Mesa pinto beans were developed by Colorado State University. The pinto seedlings produce high yields, are resistant to rust races, and have a higher field tolerance to white mold.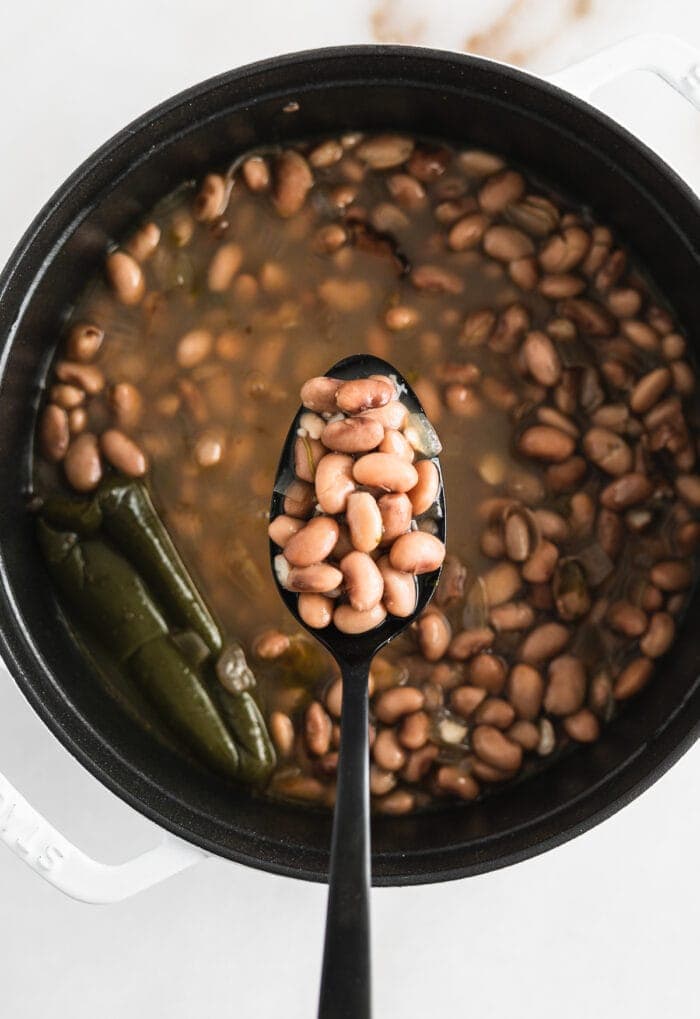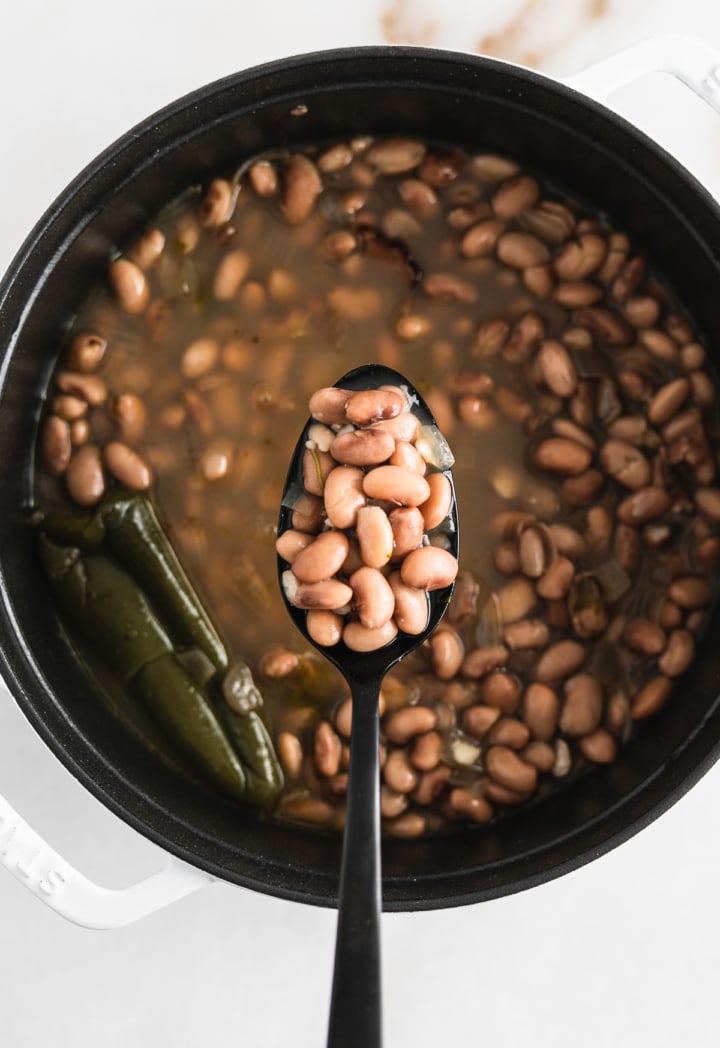 Family Holiday Pinto Bean Recipe
Pinto beans go with almost anything. From BBQ brisket and ribs to a steaming bowl with cornbread, pinto beans are an excellent side-dish for many meals. Sometimes I freeze half of them for later or make baked beans.
This pinto bean recipe is easy to prepare and doesn't cost a fortune to make. First, start with a pound of dried beans. Next, add a flavoring. Now, you'll have a hearty batch of tasty, steamy pinto beans.
How Are Pinto Beans Healthy?
Pinto beans are a source of fiber, iron, vitamin B, and potassium. The beans are grown and harvested like other vegetables, so they're naturally healthy.
How To Cook Pinto Beans From Scratch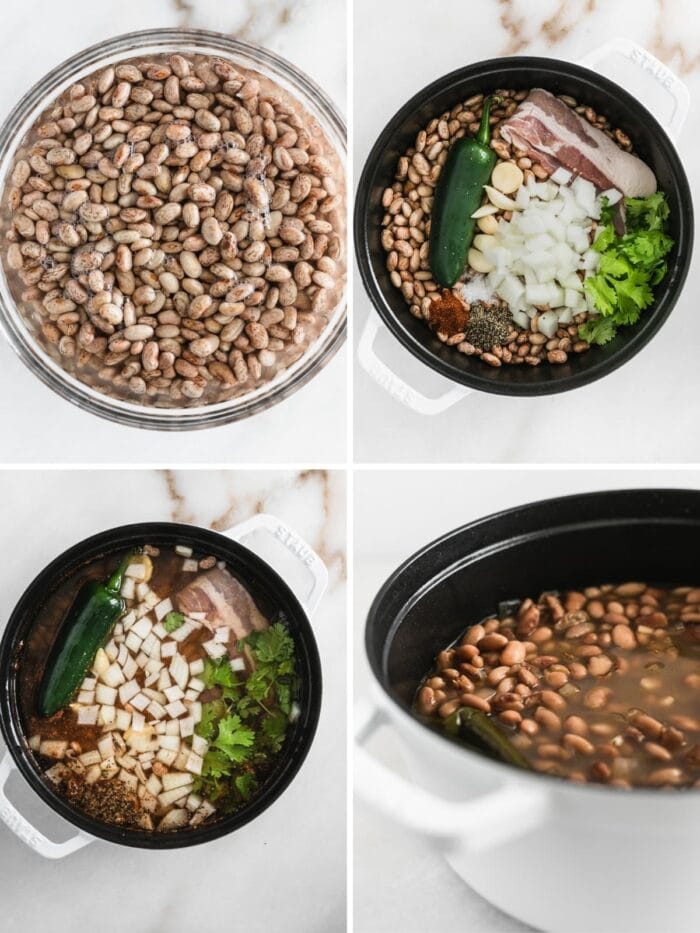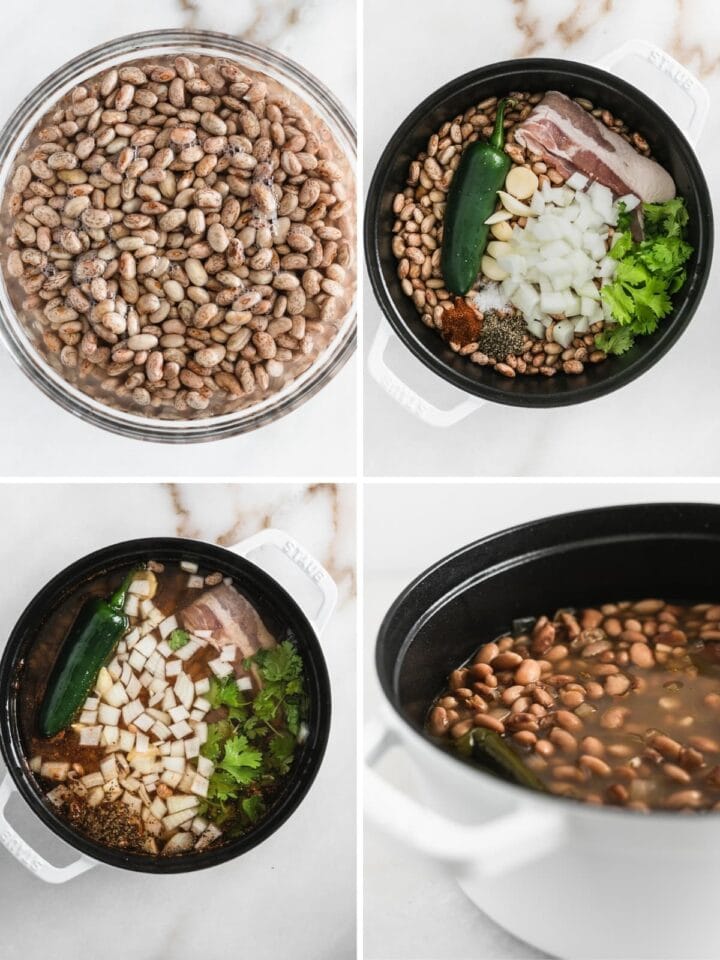 Soak your pinto beans overnight. Put the pinto beans in a large bowl and fill it up with water until the beans are fully submerged. In the morning, drain the water and rinse the beans when you're ready to start cooking them.
Put the pinto beans in a large pot with your other ingredients. Bring the beans to a boil over medium-high heat for one minute.
Lower the heat and allow the pinto beans to simmer. Keep the beans covered between two to four hours or until they are tender.
Mexican Pinto Beans
Mexican-style pinto beans add flavor and variety to your favorite south-of-the-border dishes. Add a can of diced tomatoes, ½ teaspoon chili powder, and 1 teaspoon of ground cumin along with the other ingredients.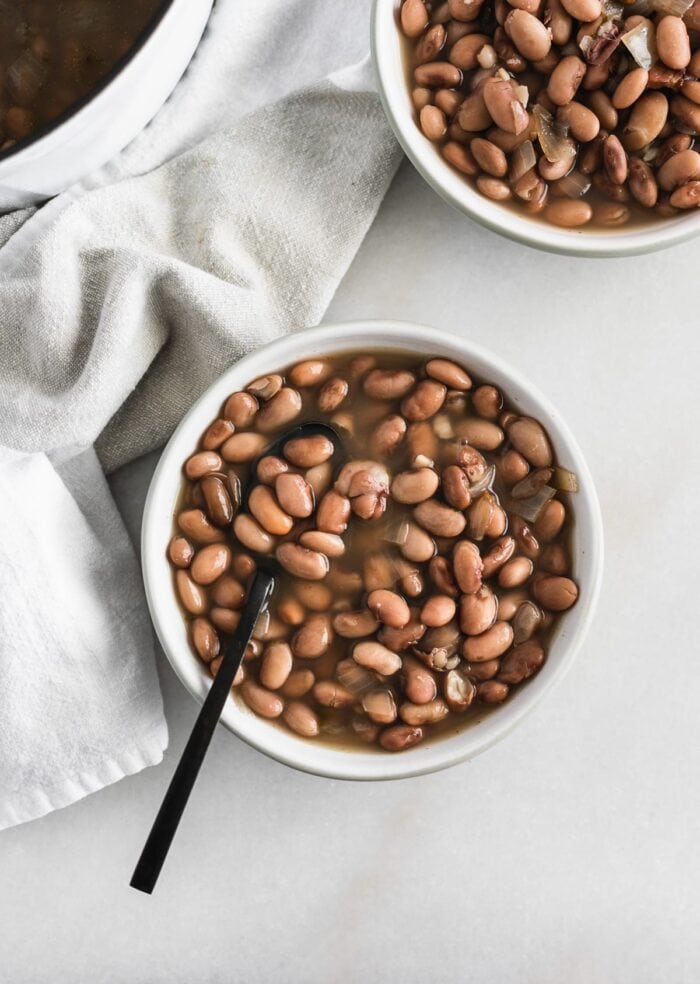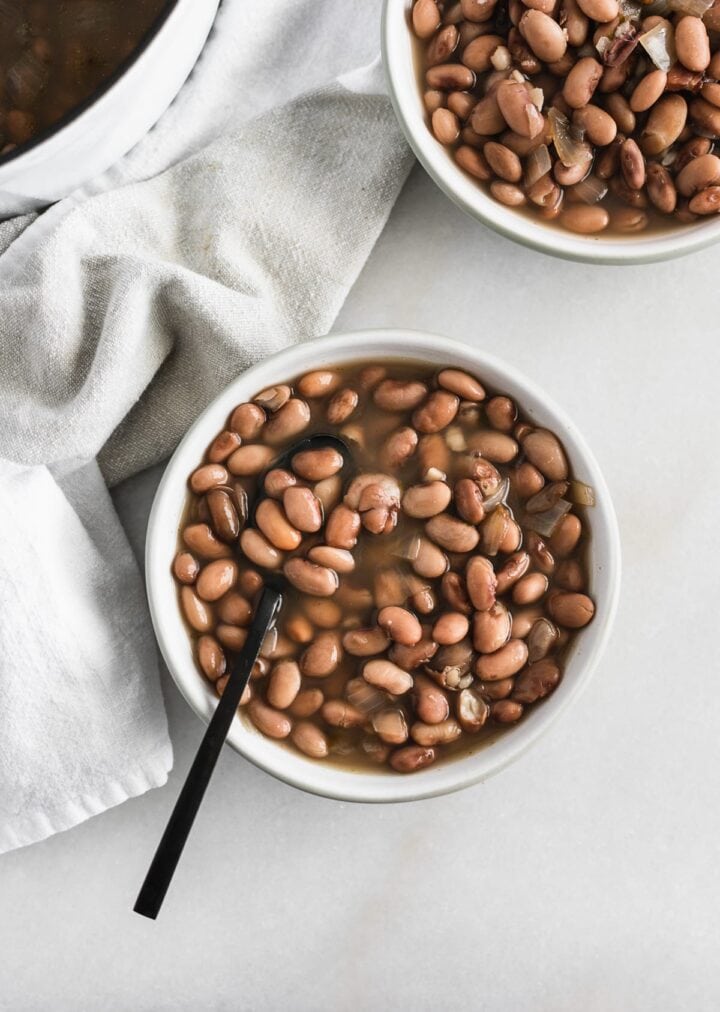 How To Make The Best Pinto Beans
Soak the pinto beans overnight and before you cook them, or you'll have to do a quick soak the day you want to cook them.
Add salt to taste.
The longer the beans cook, the better they will taste.
How To Store Leftover Pinto Beans
Put your leftover pinto beans in an airtight container and store them in a refrigerator for four days. The bean can also be stored in your freezer for three months. When you're ready to eat them, reheat the beans on a stove or in the microwave.
How To Do A Quick Soak
If you forget to soak pinto beans, you can perform a 'quick soak' instead. Add rinsed and drained beans to a pot, cover with three inches of water and bring to a boil. Boil rapidly for 1 minute, then turn off the heat, cover, and let soak for one hour. Drain and proceed with the recipe.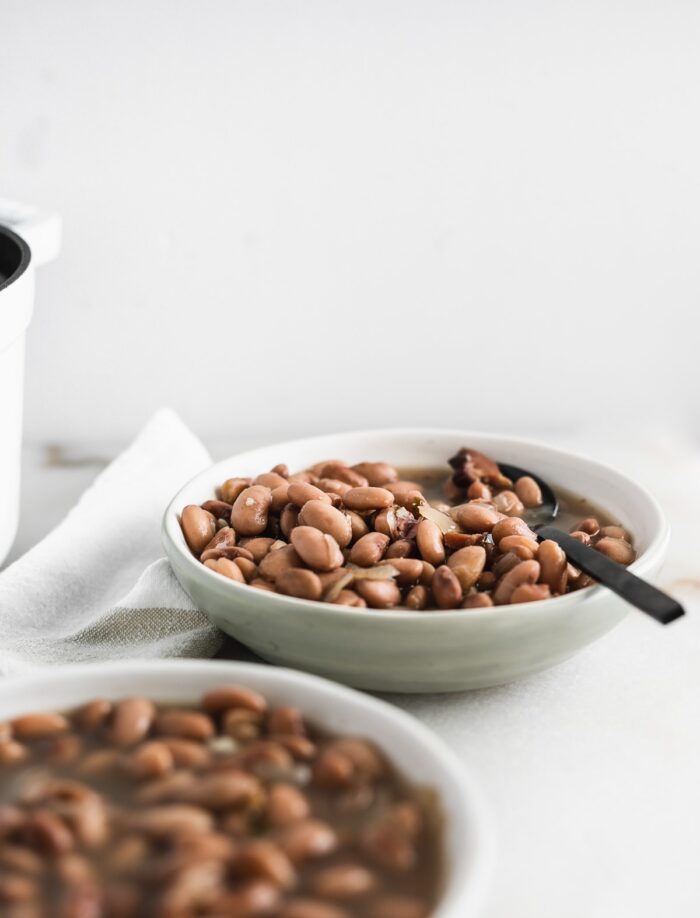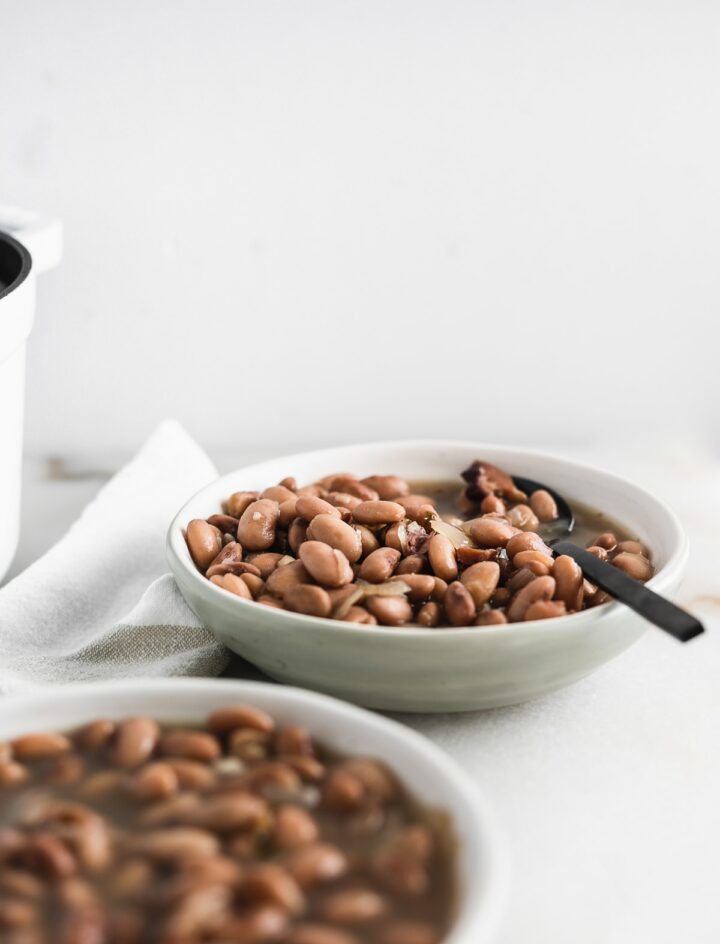 Pinto Beans FAQ
Can I Use A Slow Cooker or Instant Pot?
Both will work just fine. One time, I cooked pinto beans for 24 hours in a slow cooker and they were extra delicious. With a slow cooker, follow the instructions but cook the pinto beans at a high temperature for 3-4 hours. When using an Instant Pot, follow the cooking instructions, but include 8-10 minutes on high pressure (or 25-30 minutes for unsoaked beans) then let the pressure release naturally.
What kind of water should you soak pinto beans in?
Soaking pinto beans is a necessary part of the rehydration process. Until pinto beans are properly soaked, they cannot be consumed. Studies have found that soaking pinto beans in cold water decreases their flavonoids. To maintain their flavor and starch content, pinto beans should be soaked in warm or room temperature water. If you have a pot filler, use that as your water source for soaking pinto beans.
Can you grow pinto beans in your backyard?
Before you start growing pinto beans in your backyard, there are a few necessary steps you should take. First, your soil must be prepared accordingly. Fertile soil with a pH of 7.0 is recommended. Mix compost into the soil. Pinto beans only take about 90 days to cultivate.
Are pinto beans keto-friendly?
As a rule of thumb, anything that is high in carbs is not keto-friendly. Pinto beans are naturally high in carbohydrates, which means they're not keto-friendly.
How many calories are in pinto beans?
One tablespoon of pinto beans contains 42 calories. Meanwhile, one cup of boiled pinto beans with salt has 245 calories. Pinto beans are high in fiber which means they're effective in helping you lose weight.
Did you make this pinto beans recipe? Please leave a star rating in the comments!
Print
The Best Easy Pinto Beans
The best easy pinto beans from scratch, with stovetop, slow cooker and Instant Pot directions. They are an easy, flavorful and healthy side dish to go with all of your Tex-Mex, Mexican, and BBQ meals, or a simple, hearty vegetarian dinner. (gluten-free, dairy-free, vegetarian option)
Author: Kaleigh
Prep Time:

5 minutes

Cook Time:

2 hours

Total Time:

2 hours

Yield: About

6 cups

1

x
Category:

side dish

Method:

stovetop

Cuisine:

Mexican
1

lb dry pinto beans

1

small onion, diced

4

cloves garlic, smashed

1

jalapeno or serrano pepper

¼ cup

cilantro leaves
Small ham hock, slice of bacon, or pork bone

½ tsp

salt

1 tsp

black pepper

1 tsp

paprika

2 cups

chicken or vegetable broth (optional)
Water
For Mexican version:
Add

1

can diced tomatoes, ½ teaspoon chili powder, and 1 teaspoon ground cumin
Instructions
Soak beans overnight: Pour beans into a large bowl or pot. Sift through and pick out any small rocks that may be present. Cover beans with water (at least 3 inches over beans) and let sit on the counter overnight. If you forgot to soak the beans (it happens!), use the quick soak method (see notes).
Drain and rinse beans. Place in a large heavy-bottomed pot with a lid. Add onion, garlic, jalapeno, cilantro, and ham hock, if using. Add spices (this is also the time to add tomatoes and Mexican spices if you are making that version). Add chicken broth if using and fill with enough water to cover beans at least 2 inches with water.
Place lid on the pot and heat over medium-high heat. Boil beans for 1 minute, then turn heat to low.
Simmer 2-4 hours or until beans are tender.
Notes
Omit bacon/ham hock for vegetarian.
For quick soak method, rinse and drain beans. Add to a pot and cover with at least 3 inches of water. Cover, turn heat to high, and bring to a rapid boil for 1 minute. Remove from heat and let soak, covered, for 1 hour. Then drain and proceed with the recipe.
For slow cooker, follow directions as written, but add beans to your slow cooker instead of a pot on the stove. Cook on high about 3-4 hours or until tender.
For Instant Pot, add all ingredients to the pot of the Instant Pot. Close and lock lid and seal vent. Cook on high pressure for 25-30 minutes for unsoaked beans or 8-10 minutes for soaked beans. Let pressure release naturally before removing the lid.
For Mexican version, add the tomatoes, chili powder and cumin along with the other ingredients.
Keywords: the best pinto beans, easy pinto beans, easy crockpot pinto beans