Beans and legumes are foods that serve as excellent and affordable sources of protein, vitamins, and fiber. What differentiates beans and legumes from other sources of fruit and seeds is that it comes from the Fabaceae family of plants.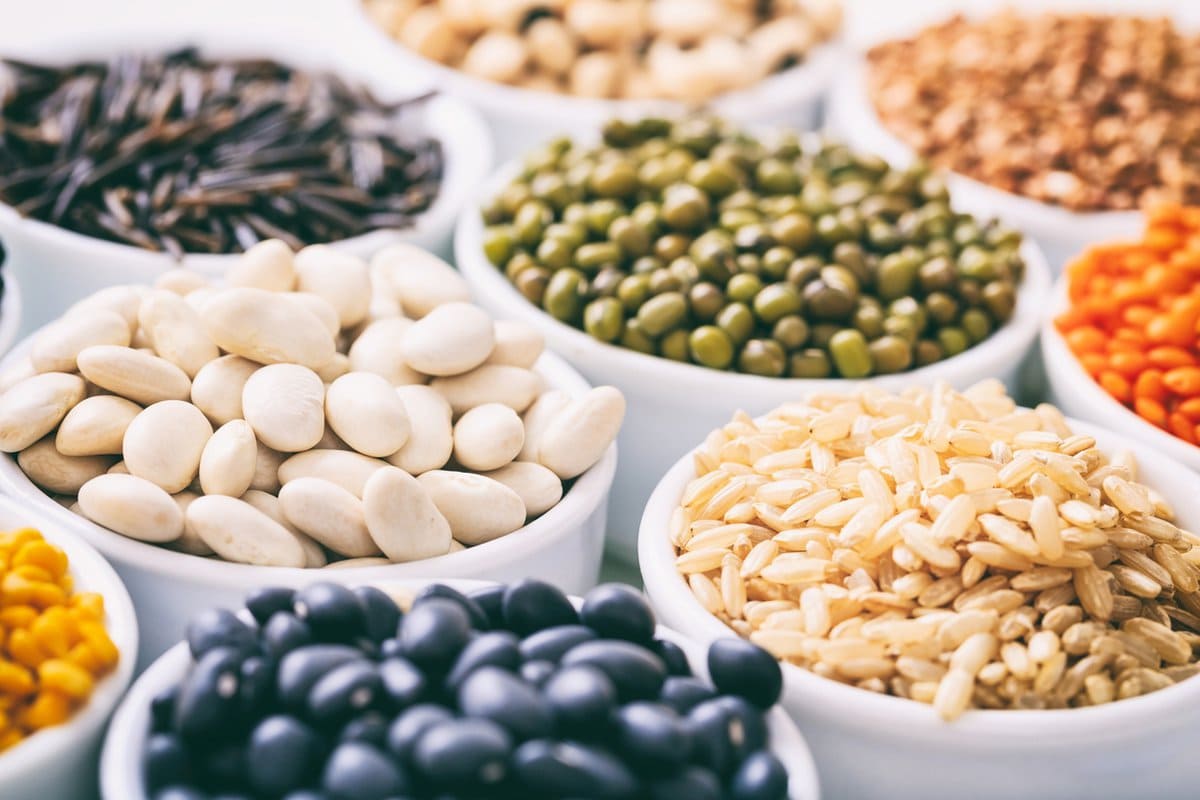 The U.S Dietary Guidelines recommend the consumption of Beans and legumes for at least 3 cups a week. These foods are a necessary part of any diet offering many health benefits such as reducing the risk of stroke, obesity, heart disease, hypertension, etc.
Below are some of the healthiest beans and legumes for your consumption.
---
Lentils
Lentils are tiny round legumes with seeds that grow in a pod. They come in different varieties of colors and sizes. Studies show that consuming lentils helps regulate blood sugar. Lentils are great in soup, salad, or stew and are a good source of vegetarian protein.
A cup of cooked lentils contains;
Calories: 230
Fat: Less than 1g (0.752)
Protein: 18g with zero cholesterol
Carbs: 39.8g
Fiber: 15.6g
Thiamine (vitamin B1): 30% of the DV
Folate (vitamin B9): 90% of the DV
Copper: 55% of the DV
Iron: 37% of the DV
Zinc: 23% of the DV
Dietary fiber: I6g
Vitamin B6: 20%
Lentils come with a good balance of proteins and carbs. They are one of the most iron-rich legumes and contain polyphenols that help fight against cancer and heart disease.
Lentils are also anti-fungal and inflammatory. They are rich in potassium and contain 35 grams of calcium per cup.
Studies conducted with over 3,000 individuals prove that those with the highest consumption of lentils and other legumes had the lowest diabetes rates.
---
Pinto Beans
Pinto beans are naturally healthy because they're grown and harvested like other vegetables. The beans are a source of potassium, vitamin B, iron, and fiber.
For vegetarians, pinto beans are naturally gluten-free and a source of protein. Besides, they're flavorful with an easy-to-prepare recipe. Consuming more pinto beans is a secret to a good healthy life.
A cup of pinto beans (171 grams) contains:
Calories: 245
Protein: 15.4 g
Fat: 1.11g
Carbs: 44.8g
Fiber: 15.4g
Thiamine (vitamin B1): 28% of the DV
Folate (vitamin B9): 74% of the DV
Copper: 42% of the DV
Manganese: 34% of the DV
Iron: 20% RDI
Magnesium: 20% RDI
Potassium: 20% RDI
Consuming pinto beans helps prevent obesity, lowers the risk of death from cardiovascular disease, lowers cholesterol levels, and supports glycemic control. Since pinto beans are a fiber-rich food, they can promote a healthy gut.
Further, pinto beans come with tons of copper, a mineral that plays a role in creating energy, produces skin pigment, and maintains a healthy immune system.
---
Chickpeas
Chickpeas, also known as garbanzo beans, are an excellent source of protein and fiber. Chickpeas are considered to be both vegetables and protein.
According to the U.S. Department of Agriculture's Food Data Central, a cup of chickpeas has:
Calories: 269
Protein: 14.5g
Fat: 4.25g
Potassium: 276 mg
Sodium: 11.5mg
Carbohydrates: 45g
Fiber: 12.5g
Copper: 64% of the DV
Manganese: 73% of the DV
Folate (vitamin B9): 71% of the Daily Value (DV)
Iron: 26% of the DV
80.4 milligrams (mg) of calcium
Scientific research proves that beans and legumes, including chickpeas, could offer several health benefits. Chickpeas are high in fiber and help control blood sugar, prevent constipation, promote cardiovascular health, and promote weight control.
---
Peanuts
Peanuts are an excellent source of protein, fats, and vitamins, with many nutritional benefits. They are rich in vitamin E, B1, B3, and B9. Besides, peanuts also contain biotin, copper, magnesium, manganese, and phosphorus.
A raw cup of half peanut contains:
Calories: 414
Fat: 36g
Protein: 19g
Fiber: 6.2g
Carbs: 12g
Iron: 19% of the DV
Vitamin B1: 39% of the DV
Vitamin B9: 44% of the DV
Vitamin B3: 55% of the DV
Vitamin E: 41% of the DV
Manganese: 61% of the DV
Magnesium: 29% of the DV
Peanuts have high contents of monounsaturated fats. All the nutrients that peanuts contain are essential in maintaining body metabolism and reducing the risk of several ailments.
A few sizeable observational research proves that consuming peanuts is associated with a reduced risk of death from several diverse causes, such as cancer, heart disease, diabetes, and stroke.
---
Navy Beans
Navy beans, also known as haricot beans, are nutritious fiber-rich foods containing vitamin B and other essential minerals.
A cup (182 grams) of cooked navy beans contains:
Calories: 255
Protein: 15g
Fat: 1.13g
Carbs: 47.3g
Fiber: 19.1g
Iron: 24% of the DV
Vitamin B1: 36% of the DV
Vitamin B9: 64% of the DV
Manganese: 42% of the DV
Magnesium: 23% of the DV
A small study on 38 children showed that those who increased their intake of navy beans had improved cholesterol levels. Due to the high fiber content in navy beans, they could help reduce symptoms of metabolic syndrome.
---
Peas
Peas are a good source of vitamins C, E, K, zinc, and other antioxidants that strengthen your immune system. They are also a type of legume and reasonably high in protein.
One cup (160 grams) of cooked green peas contains:
Calories: 134
Fat: 0.35g
Fiber: 8.8g
Protein: 8.58g
Carbs: 25g
Manganese: 37% of the DV
Vitamin K: 35% of the DV
Vitamin B1: 35% of the DV
Vitamin B9: 25% of the DV
The micronutrients, fiber, antioxidant compounds, and high-quality protein in peas help maintain healthy blood sugar levels and nourish good gut bacteria. Taking 50g of pea protein per day may increase your muscular thickness.
---
Kidney Beans
Kidney beans have several benefits, and most people consume them with rice. They are also popular in rice dishes, salads, and chili.
A cup (177 grams) of cooked kidney beans contains:
Calories: 225
Protein: 15.3g
Carbs: 40.4g
Fat: 0.885g
Copper: 48% of the DV
Fiber: 13.1g
Iron: 29% of the DV
Manganese: 37% of the DV
Vitamin B1: 24% of the DV
Vitamin B9: 58% of the DV
Kidney beans help the body's proper functioning because they contain high and sufficient quantities of folic acid, calcium carbohydrates, fiber, and proteins, amongst other essential nutrients.
A sufficient quantity of the folate in kidney beans is essential for pregnant women as its water-soluble vitamins aid neurological development.
---
How to Cook Dry Beans?
Dry beans aren't tricky to cook, as many believe. Planning a time to soak and cook the beans would be best. Soaking and drying are the two steps to cooking dry beans.
Soaking Dry Beans
While soaking, the dry beans absorb water while soaking, and the starches that cause discomfort start dissolving. (Note: You don't need to soak lentils).
Pick through the beans to eliminate shriveled, discolored beans or other unwanted particles.
Rinse the beans thoroughly.
Use the following methods to soak the beans.
Quick soak: Add 3 cups of water to each cup of beans. Boil them for about 2-3 minutes, remove them, cover, and soak for about an hour. This method is the fastest.
Hot soak: Many prefer this method because it reduces cooking time, produces tender beans, and dissolves most of the gas-causing agents in beans. Add 5 cups of water to each cup of dry beans. Allow to heat for 2-3 minutes. After that, remove them, cover, and soak for about 4-5 hours.
Traditional overnight soak: Add 5 cups of cold water to each cup and refrigerate overnight or for eight hours. This is the easiest method.
d) Drain and rinse dry beans you soak using either method with cool, fresh water. You can cook beans
Cooking Dry Beans
Cooking dry beans makes them edible and digestible. You can cook beans using a multi/pressure cooker or a stovetop.
Put beans in a pot, use fresh water to cover them, and boil.
Bring to normal heat, cover, and simmer until they're firm but tender. Depending on the variety, some beans can cook for about 45 minutes to two hours.
Below are the approximate cooking times for dry beans if you're using a stovetop:
Pinto beans: 15-20 minutes
Navy beans: 25-35 minutes
Kidney beans: 20-30 minutes
Below are the approximate cooking times for dry beans if you're using a pressure cooker:
Pinto beans: 15-20 minutes
Navy beans: 90-120 minutes
Kidney beans: 90-120 minutes
Add flavorings anytime. But, adding them towards the end of cooking is better to reduce flavor loss.
Healthiest Beans and Legumes FAQs
Why Are Beans and Legumes Healthy?
Beans and legumes are rich in folate fiber, plant protein, phosphorus, potassium, calcium, and other essential nutrients. This makes them healthy for consumption.
What Are the Best Beans for Weight Loss?
Beans and other legumes can aid weight loss because they're high in fiber and protein, the two ingredients that promote satisfaction. These include kidney beans, lentils, and others.
Are Beans Carb or Protein?
Of course! Beans contain both protein and carbohydrates. Even though beans are high in carbs, they have a fair quantity of fiber.
Are Refried Beans Healthy?
Refried beans are an excellent source of nutrients, such as iron, fiber, zinc, and magnesium. They also have a relatively high sodium content.
How Long Should You Steam Green Beans?
Depending on how crisp or tender you want your green beans to be, boil them over high heat, and steam them for about 5-7 minutes.
Can You Eat Green Beans Raw?
Most recipes include raw green beans, but eating them raw could lead to diarrhea, vomiting, nausea, and bloating because of their lectin content. Thus, it's better to avoid consuming raw green beans. Cooking them neutralizes their lectins and improves antioxidant content, digestibility, and taste.
Conclusion
A meal rich in beans and legumes is perfect for consumption. This is because their nutritional content helps boost your health. Add them to stews, salads, and soups, or consume them on their own for a nutritious vegetarian meal.