Lobster is the perfect luxurious dish to prepare for special occasions such as weddings, anniversaries, graduations, and more, and there are many different lobster recipes to try.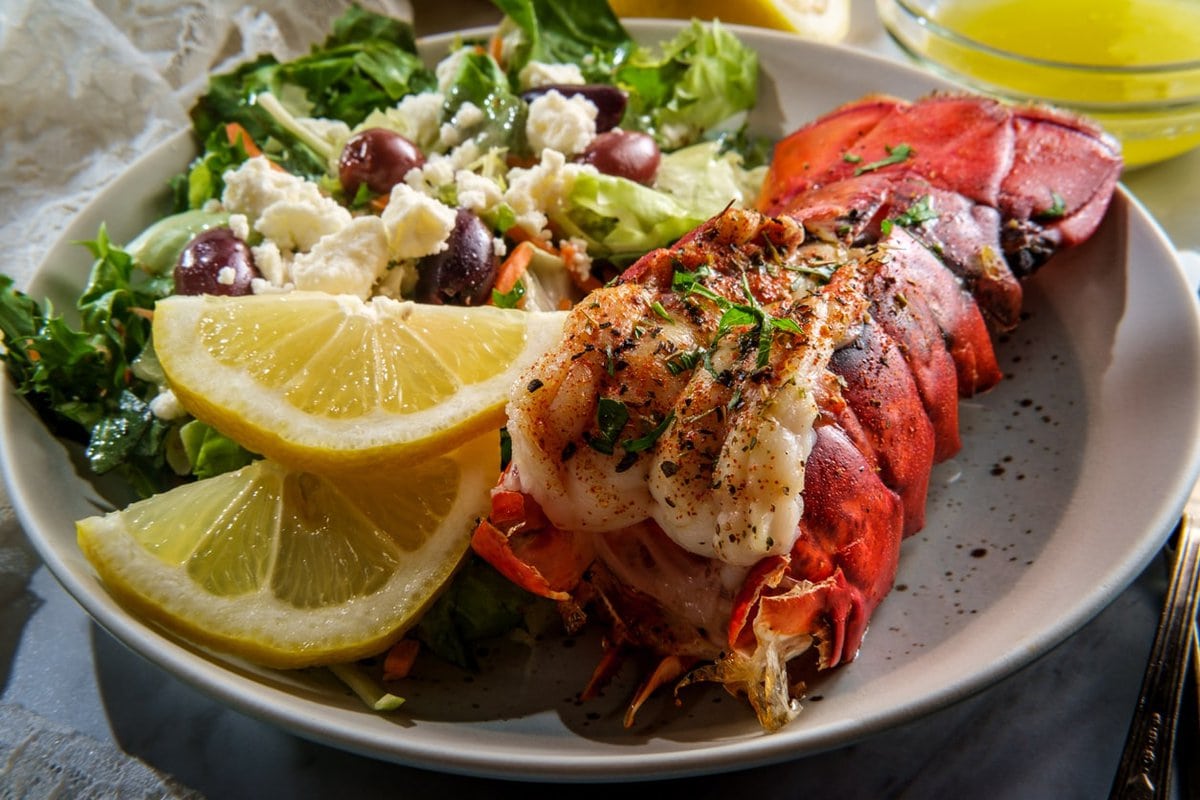 While lobster isn't the cheapest meat to buy, it may be worth the price tag since it comes packed with omega-3 oils, vitamins, and minerals. Plus, it has plenty of protein and is low in fat, making it a relatively healthy option for a meal.
Remember, though, while lobster has plenty of health benefits, it's also rich in sodium and cholesterol, so it's best to eat this meat in moderation.
As nice as lobster is to eat, there are many people who have never even tried this delicacy. If you're one of those people, then you might be wondering if it's really worth the price tag. Or maybe you're wondering how nutritious it really is or how to best prepare healthy lobster recipes, or what pairs best with lobster meals.
Well, you're in luck. In this guide, we'll be going over the basics of lobster's nutrition as well as several ways to prepare lobster and what sides go well with it. So, if you've ever wanted to give lobster a try, or if you're looking for new ways to prepare lobster, then this guide is for you.
Lobster and Nutrition
Similar to dishes like crab, crayfish, and shrimp, lobster is a crustacean. This type of shellfish, while high in cholesterol, also has a pretty high nutritional worth.
As mentioned before, lobster is packed full of healthy sources of omega-3 oils, vitamins, and minerals, and is a low-calorie food that is perfect for those worried about their calorific intake.
In terms of a serving of cooked lobster, you can expect to find in 1-cup:
128 calories
27 grams of protein
1.2 grams of fat
0 grams of carbohydrates
198% of the daily value of copper
190% of the daily value of selenium
53% of the daily value of zinc
51% of the daily value of vitamin B12
70% of the daily value of cholesterol
280 mg of eicosatetraenoic acid and docosahexaenoic acid combined
When compared to other crustaceans, lobster has a similar nutritional value but provides more protein per serving than other types.
All in all, lobster is protein-rich, has brain and mental health benefits, adds protection against heart disease, and has anti-cancer effects.
So, if you're looking to try a new meat that has many health and nutritional benefits, then you should definitely give lobster a try.
Different Ways to Cook Lobster
The world is filled with people who have their favorite styles of cooking; from conventional stoves and ovens to kitchen appliances like Instant pot, crock pots, and more. Plus, there's always the option of cooking on the grill, too, an especially popular way of cooking through the summer months.
There's no right or wrong choice when it comes to cooking and no matter which method you choose, you'll be sure to end up with a delicious home-cooked lobster recipe. Still, let's go over a few of the most popular methods of cooking lobster.
Boiling (stove)
The most preferred method of cooking lobster is to boil it. To do this, turn your stove on high heat and bring some water to a rolling boil. Place your lobster head-first into the pot and be sure to cover it tightly. Quickly return the water to a boil and begin the countdown.
For the first pound, you'll want to steam your lobster for 7 minutes. After that, add 3 additional minutes per pound for each pound afterward.
You'll have a delicious, juicy, and tender lobster once it's finished.
Baking (oven)
If you're craving some tasty lobster tails, you might want to try baking them. To do this is quite simple: you'll want the oven preheated at 450°F or 230°C
Mix up some butter, pepper, salt, paprika, garlic powder, parsley, and lemon juice together in a small bowl, and then brush the mixture onto the lobster tails in even strokes.
Arrange the tails onto a baking sheet and place the sheet into the oven for 12-15 minutes, or until the lobster has become fully cooked. Make sure to not cook it too long to avoid it becoming rubbery.
Grilled
Another great way to prepare lobster is to grill it. You'll end up with a sweet and slightly charred meal. If you want more flavor added to the meat, you could pair it with your favorite dip or sauce.
In any case, to prepare lobster on the grill, you'll want to put the flame on medium-high. You can use either a gas or charcoal grill.
Brush both sides of your lobster with some olive oil and then place it on the cooking grates, bottom side down. Grill the lobster until the shell is bright red and until you see the juices seeping from the shells turn white and thicken. The cooking time will depend on the size of your lobster but for a 1-pound lobster, the cooking time would generally be anywhere from 8 to 10 minutes.
Once your lobster has finished cooking, you can remove it from the grill to cool.
What Sides Pair Well with Lobster?
There are many sides that you can choose to pair with a lobster meal and which one you choose will depend on you and your tastes.
Some of the most popular sides include:
Potato salad
Macaroni salad
Pasta salad
Fresh salad
Coleslaw
Cheesy biscuits
Mac and cheese
Mashed potatoes
Veggie fries
Steamed clams or mussels
Steamed vegetables
Baked potatoes
Corn on the cob
Lobster bisque
Clam chowder
Biscuits
Steamed white rice
Sauces for Lobster
Similar to sides, there are a lot of different sauces that pair well with lobster dishes. These sauces include:
Thermidor-styled sauce
Flavored butter sauces
Lemon butter
Shallot and tarragon butter
Escargot herb butter
Asian-themed sauces (example: rice wine vinegar with soy sauce, a touch of ginger, and a dash of sugar)
If you're eating cold lobster, you can try the following sauces:
Truffled mayonnaise
Garlic and basil mayo
Spicy avocado dip
Sour cream with exotic fruits
And finally, if you're eating just the tails, try these sauces:
Cheese fondue
Wine
Tabasco
Chili
15 Tasty Lobster Recipes
1. Lobster Ravioli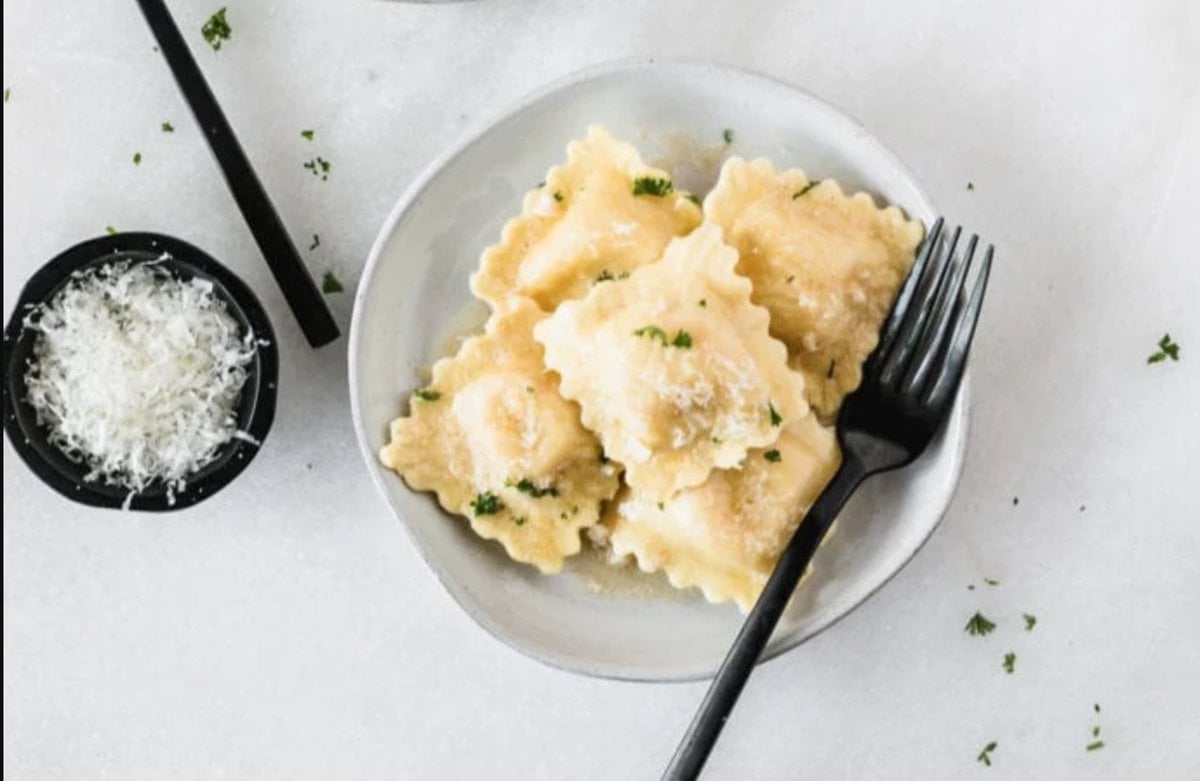 Are you a fan of both lobster and ravioli? Then you've got to try this lobster ravioli recipe. Not only do they offer you a step-by-step guide on how to prepare this delicious meal but they also offer you a great recipe for a brown butter pasta sauce that pairs perfectly with the main course.
2. Lobster Mac and Cheese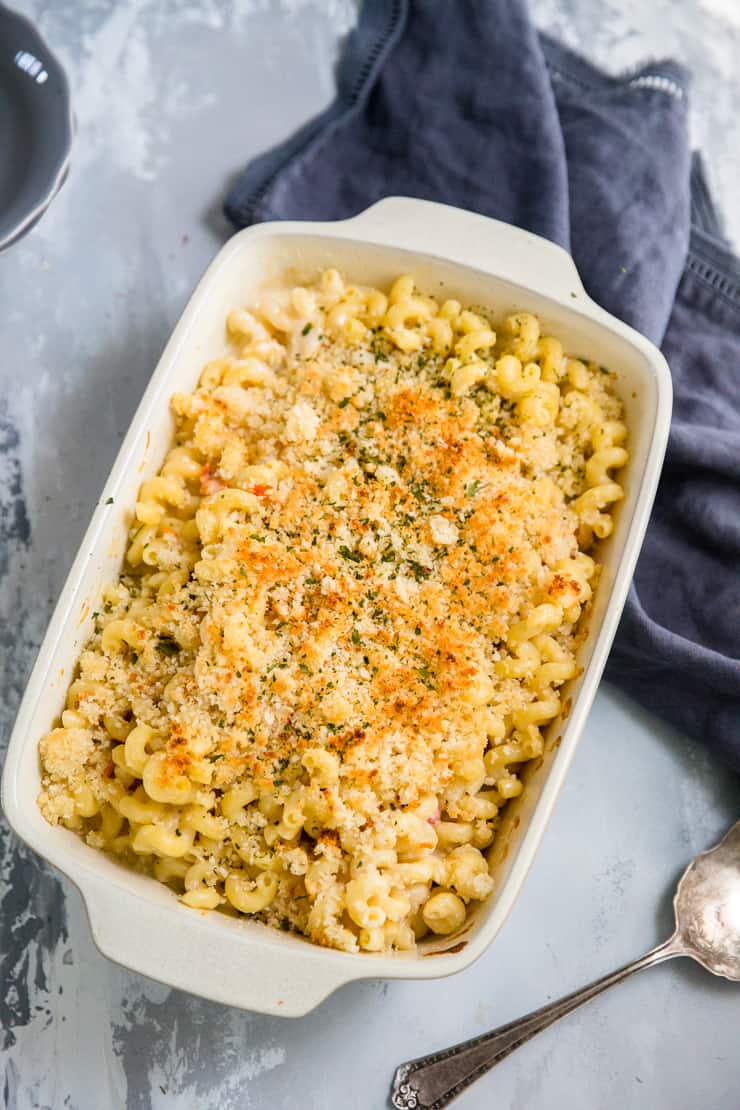 Lemons for Lulu brings a whole new twist to the ultimate comfort food of mac and cheese: adding lobster into the mix. You can even prepare this dish in advance and freeze it for a meal later in the week or up to three months.
3. Lobster Roll Pasta Salad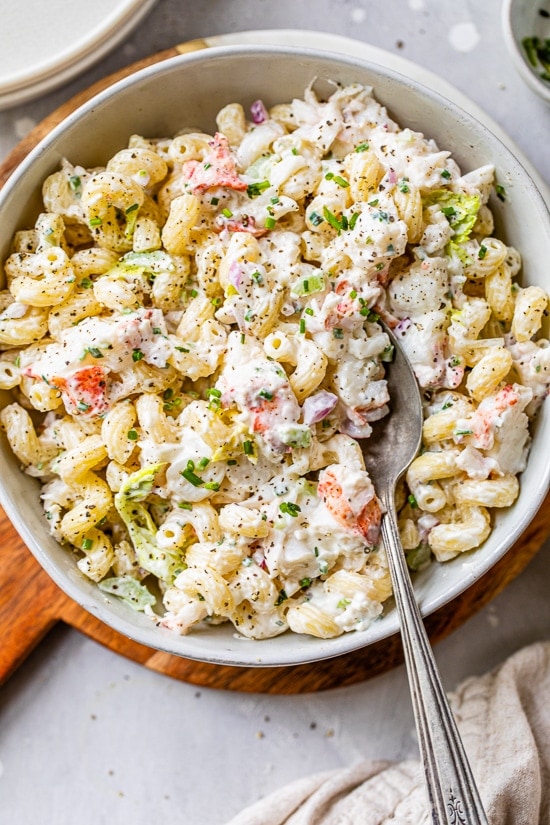 If you're looking for an appetizing dish to serve during a special occasion, look no further than Skinny Taste's lobster roll pasta salad. You can choose between fresh or frozen lobster, whichever is easiest for you, and your pasta of choice. It's a lobster-packed recipe, so it's full of protein.
4. Lobster Tail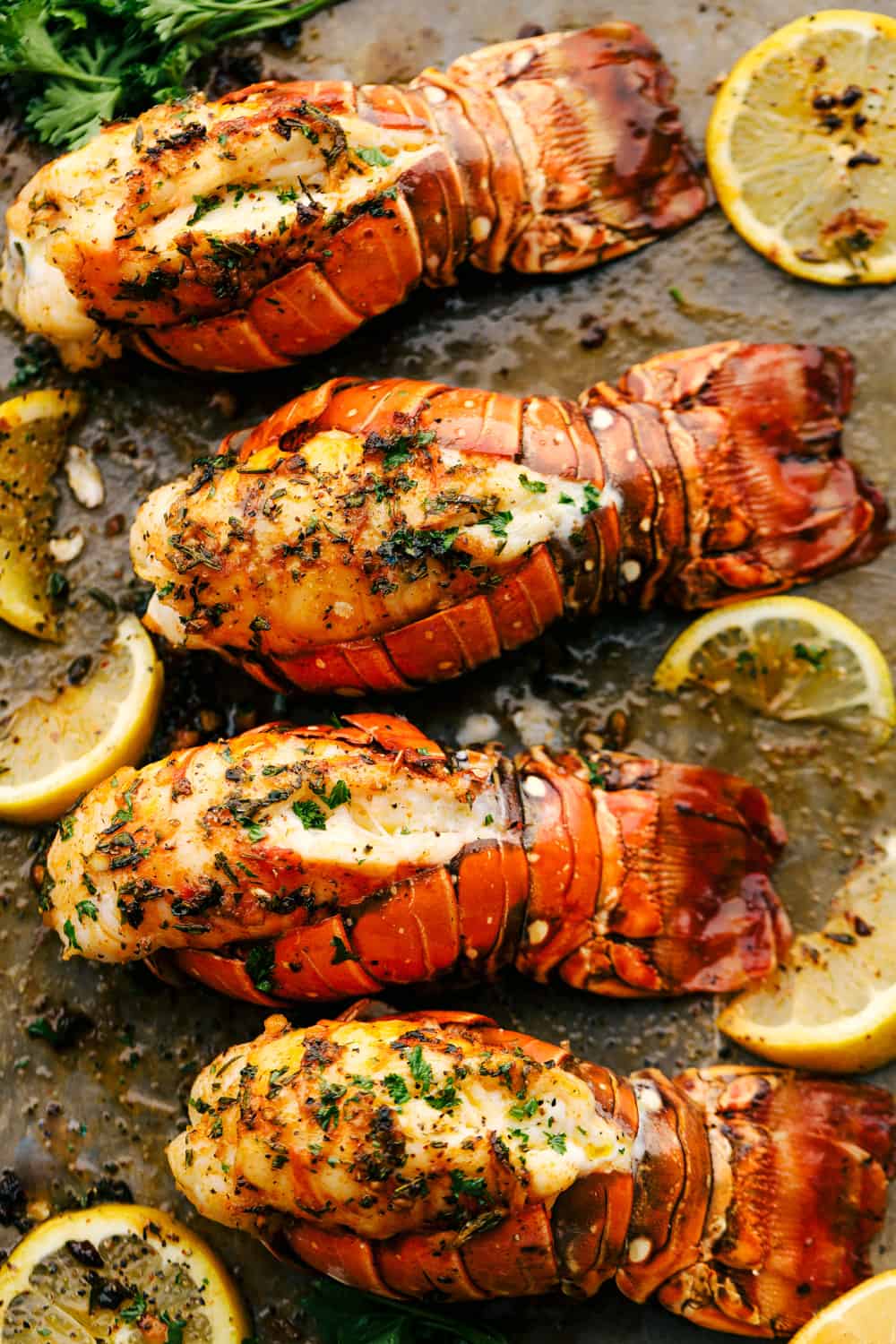 Lobster tail is one of the most popular lobster recipes out there, and there are plenty of variations. Check out The Recipe Critic's lobster tail recipe – one that they boast is the best lobster tail recipe ever. Whether or not it's the best lobster tail recipe ever will be more of a preference but regardless, this recipe is sure to please.
5. Lobster Thermidor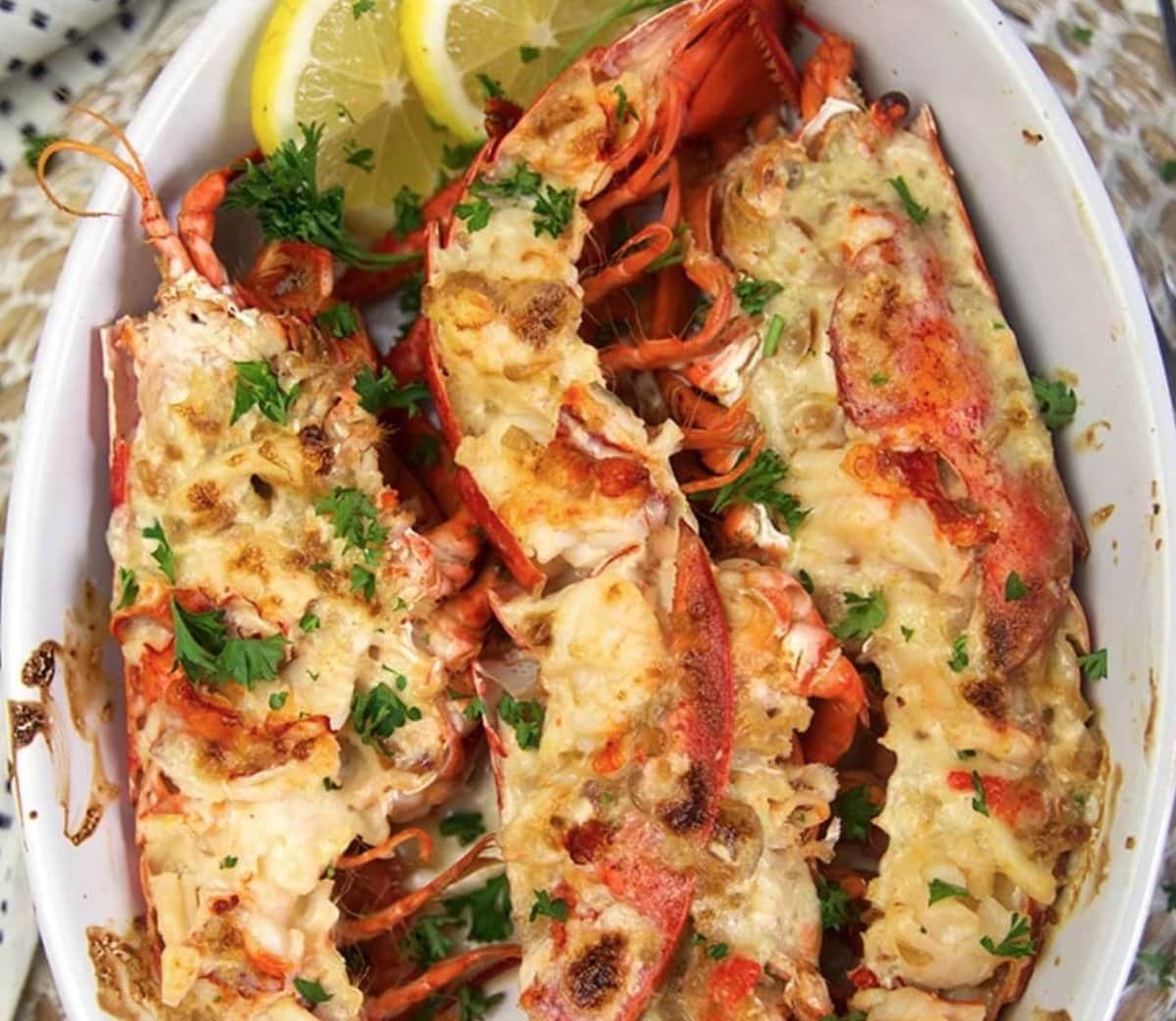 Hungry for a classic lobster thermidor? The Suburban Soapbox has the perfect recipe for you then. You can make this delicious lobster thermidor recipe in under an hour and it's mouth-watering delicious, thanks to the fact that the creamy sauce is baked into the shell of the lobster. This recipe is sure to impress both lobster-lovers and those who are just trying lobster for the first time.
6. Lobster Newberg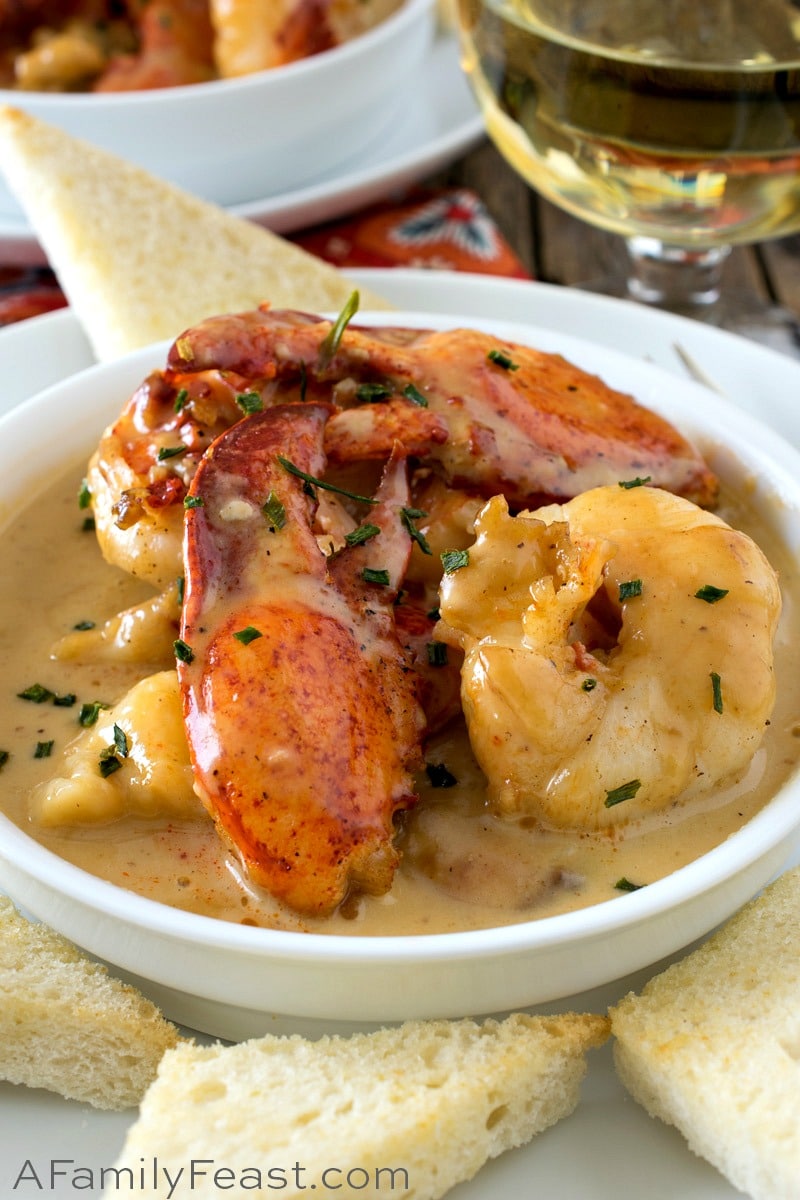 Are you looking for a rich and delicious seafood meal? Then check out A Family Feast's lobster Newberg. This creamy saucy lobster dish is perfect for special occasions. It's easy to prepare and doesn't require too many ingredients, so it's pretty budget-friendly. You can serve it alongside bread or toast and enjoy it whenever you want.
7. Lobster and Bacon Tacos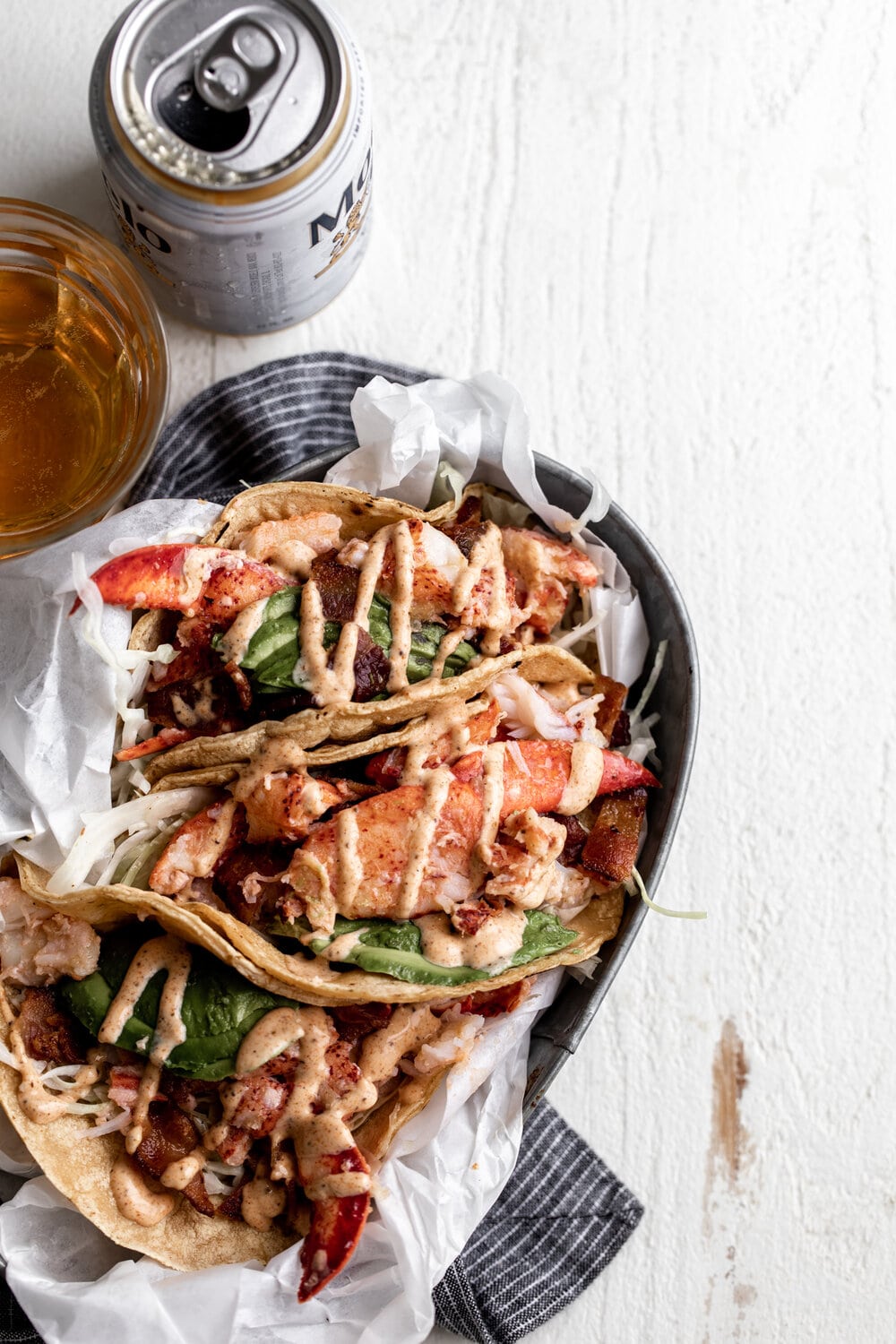 Craving tacos but tired of the same old beef recipe? Then you should try substituting the beef for lobster and bacon instead, much like they have done in this recipe by Cooking with Cocktail Rings. The taco shells are stuffed with lobster meat, bits of bacon, a creamy avocado, and shredded cabbage, making this meal a delectable treat for taco-lovers.
8. Lobster Grilled Cheese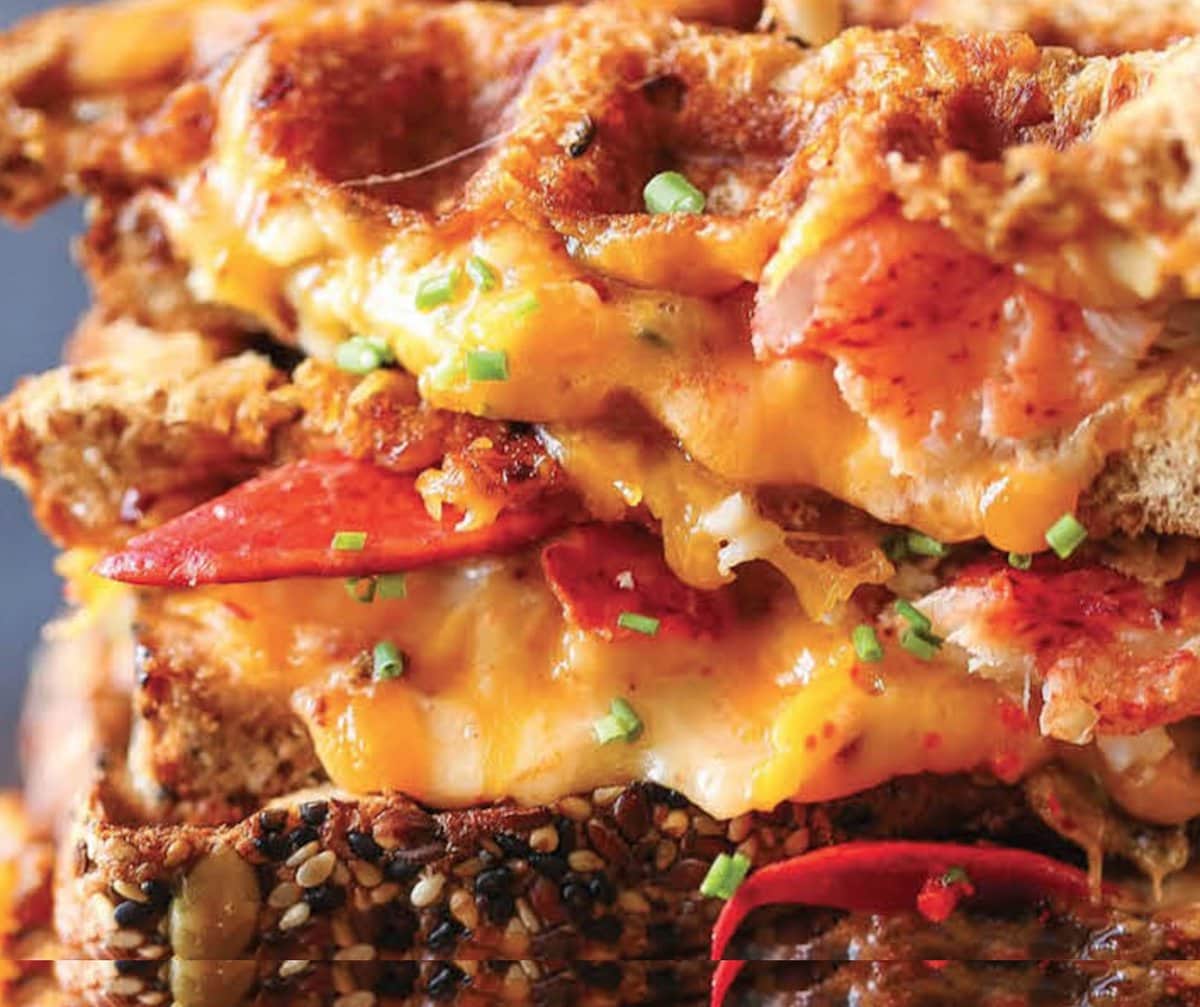 You probably would never guess that lobster can be paired with grilled cheese but it can. Damn Delicious has the perfect lobster grilled cheese to satisfy the cravings of anyone looking to enjoy a grilled cheese sandwich. It's a twist on the classic we all enjoyed as a kid and still enjoy today as an adult, so give it a try. You won't be disappointed.
9. Lobster Sticky Fried Rice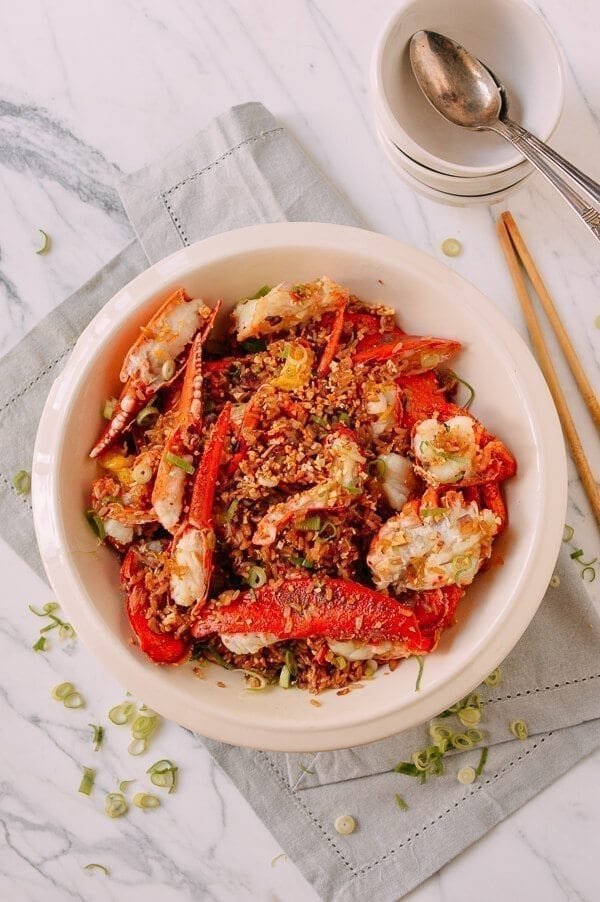 If you're a fan of sticky fried rice, then you've got to try The Works of Life's recipe that adds tender lobster meat into the mix. It takes some time to prepare and serve, so it's probably a meal that is best suited to the weekends, but it's a delicious one nonetheless.
10. Creamy Tomato and Curry Butter Lobster Pasta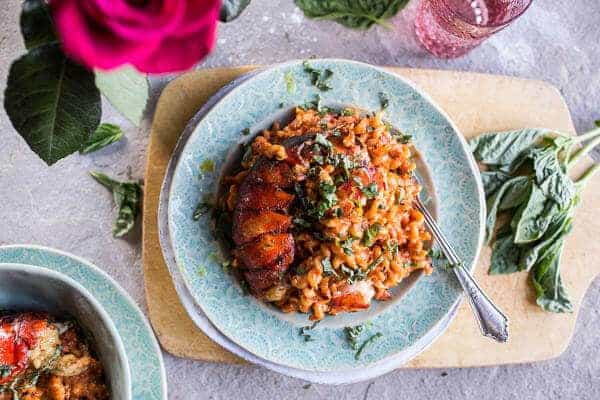 Curry fans need to try Half Baked Harvest's creamy tomato and curry butter lobster pasta. This delicious dish is the perfect meal to plan for your special someone on a special day: valentine's day, an anniversary, or a birthday. No matter when you choose to treat your special person to this wonderful dish, it's sure to impress them and leave them feeling loved.
11. Steamed Lobster with Charmoula Butter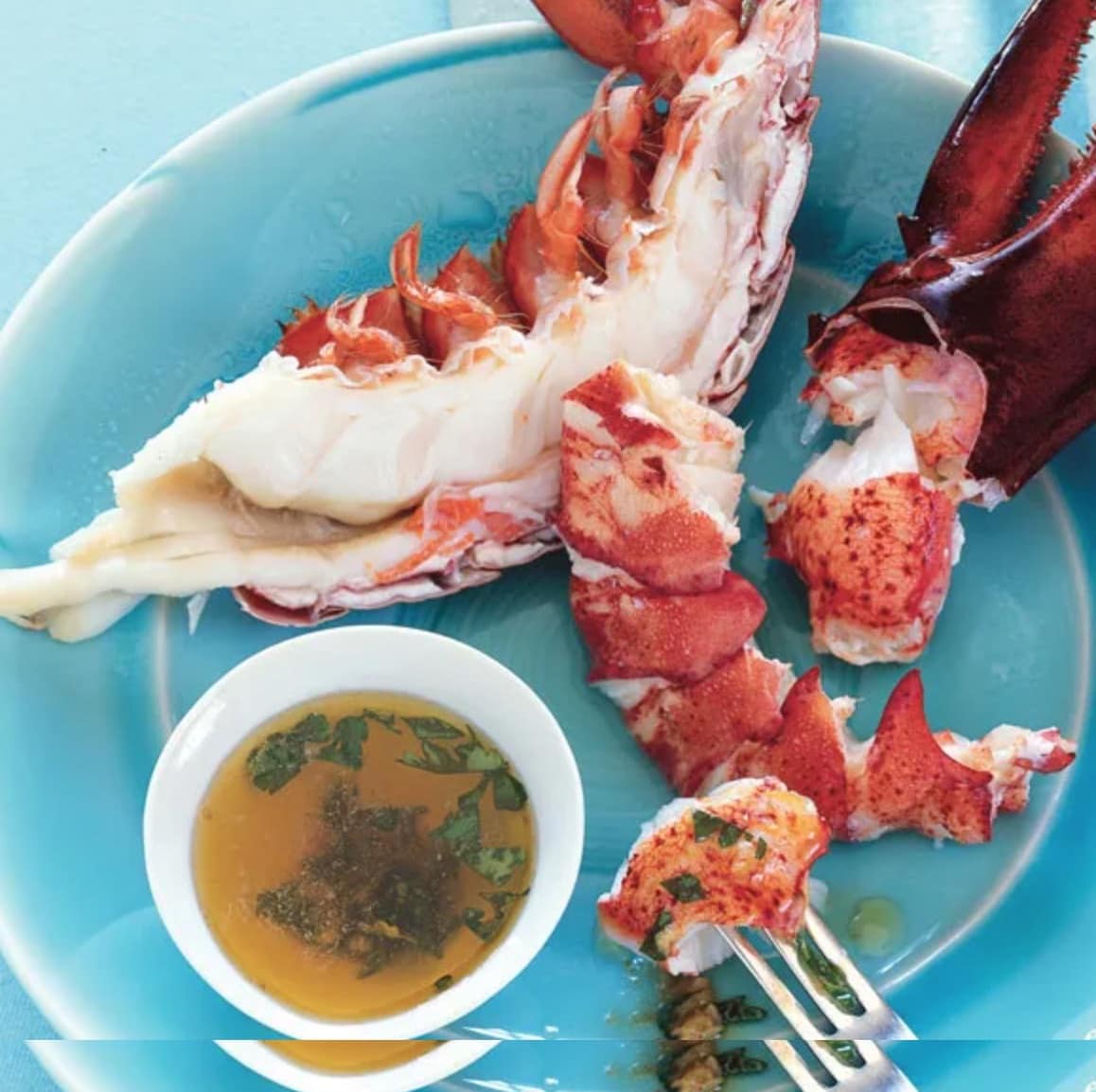 If you want just a simple lobster recipe without all the added extras, then you should try Bon Appetit's steamed lobster with charmoula butter recipe. It's a perfect and easy recipe that you can enjoy anytime of the year and your family is sure to enjoy it, too.
12. Lobster Stew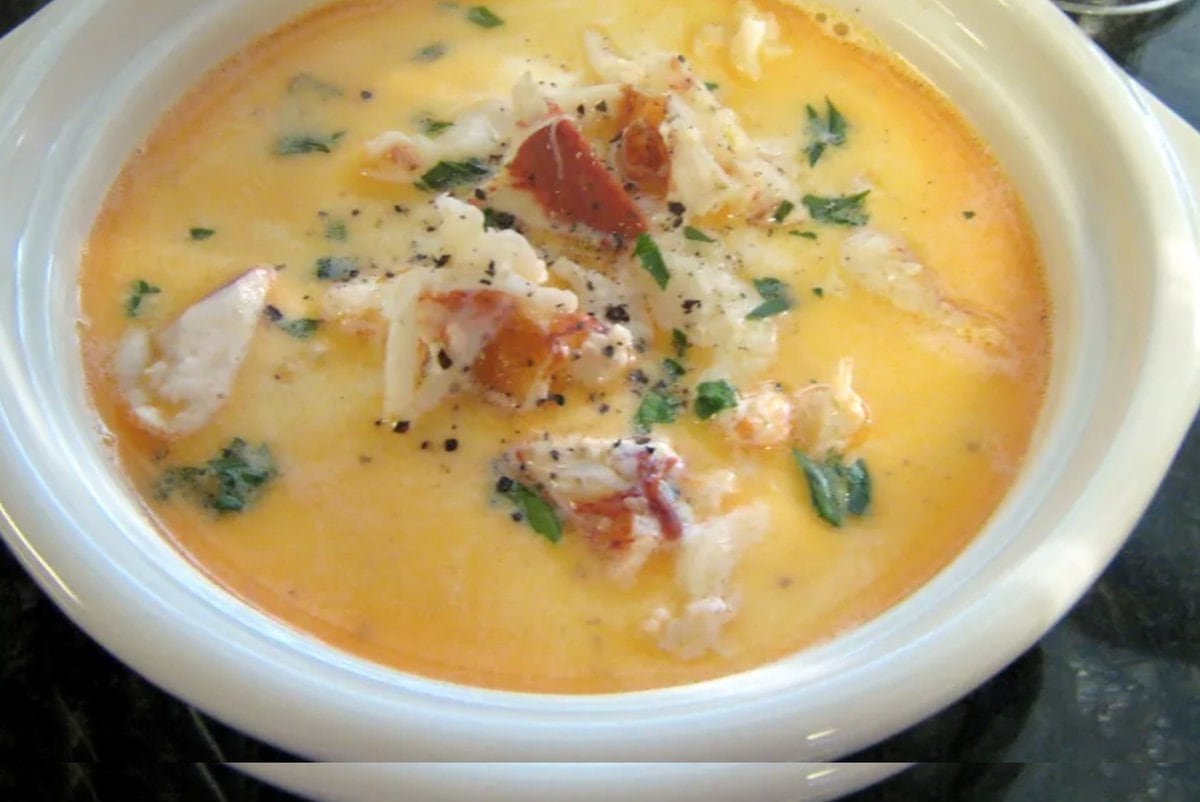 Looking for a good lobster meal to warm you and your family up during the colder months? Then try out The Spruce Eats' lobster stew, sure to satisfy your cravings for something warm when it's cold out. With a handful of ingredients and a total prep and cook time of 38 minutes, you and your family will be sitting down to enjoy this warming stew in no time.
13. Lobster Pie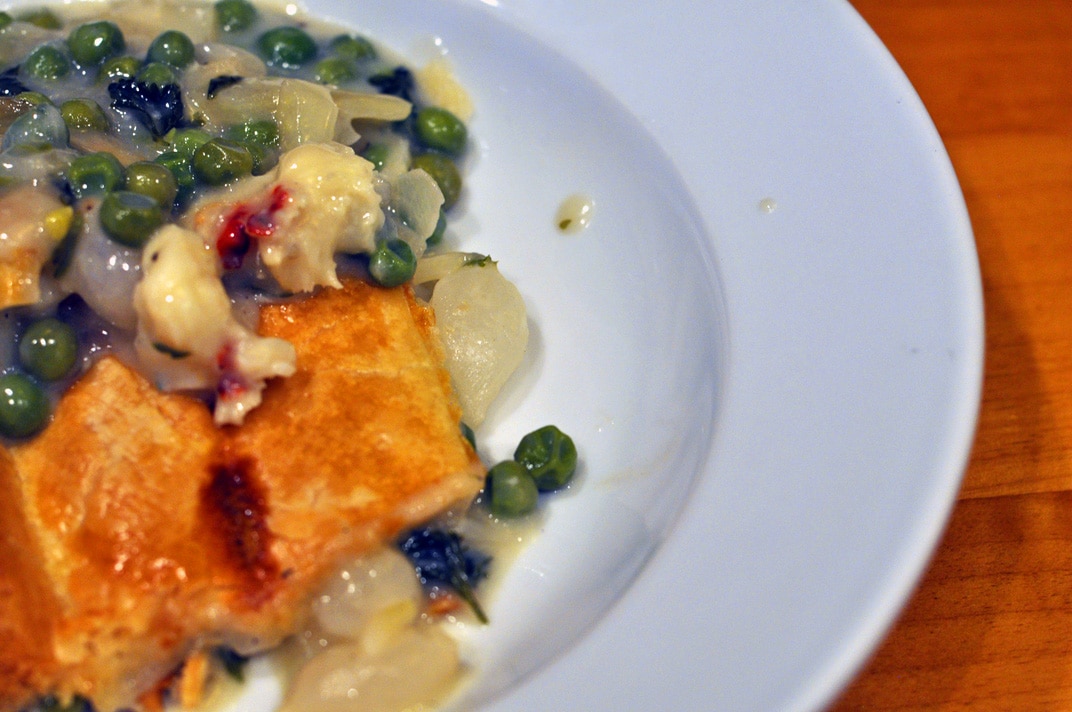 Who would've thought that lobster and pie could go hand in hand? If you're one of the people who never thought it could, Ina's Lobster Pie from The Rocky Mountain Woman is sure to change your mind. So, if you'd rather skip a lobster-infused meal and go straight for the desert, then definitely give this delicious pie a try.
14. Lobster Tail Mala Stir Fry Noodles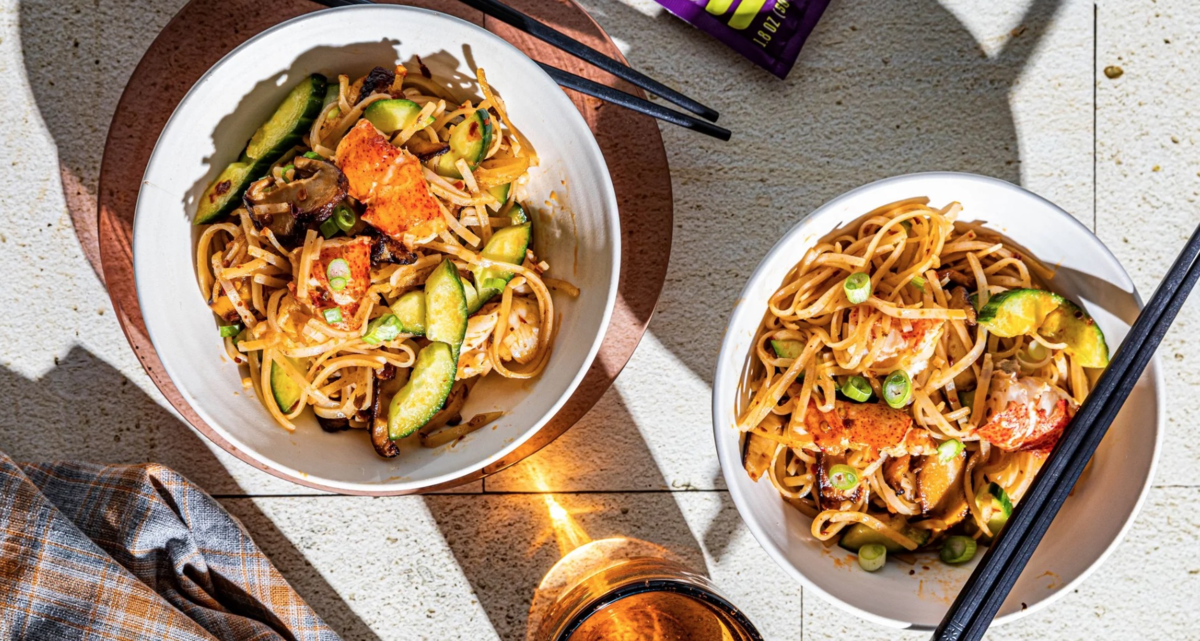 Stir fry is such a delectable meal, but try adding some lobster and make it even more so. Luke's Lobster has the perfect lobster tail mala stir fry noodles recipe, too, that you are sure to enjoy. Plus, it calls for four ingredients besides the lobster, which makes it easy and affordable. And like most stir fry's, it doesn't take long to cook, so it's a great meal option for busy weeknights.
15. Grilled Lobster Tail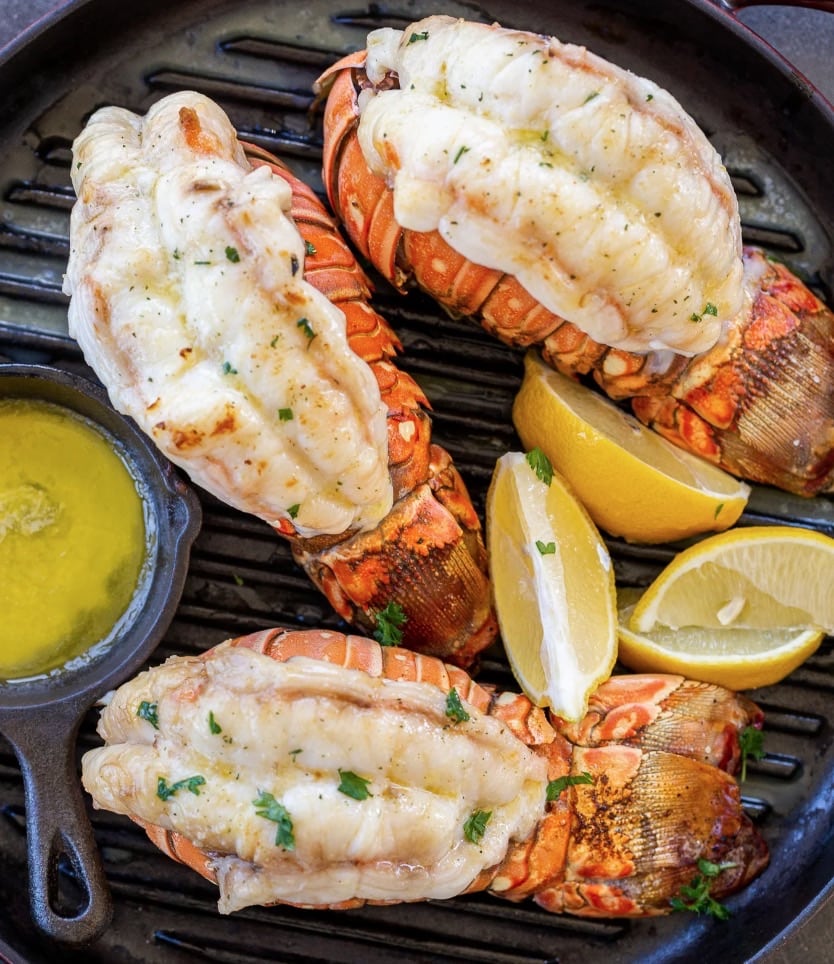 If you're looking for a summer recipe that you can grill out on your patio, check out Momsdish's grilled lobster tail recipe. We all know that summer time is the perfect time to be outdoors, and part of that outdoors activity is being able to grill and cook outside. So, of course, we couldn't leave our list without an option to grill.
This lobster tail recipe is full of seasoning and is paired with a buttery sauce, making it rich in flavor.
Best Ways to Use Leftover Lobster Recipes
If you've got some leftover lobster meat available after making a main course meal, then you might be wondering what to do with the leftover meat. Well, wonder no more! Here is a list of some quick and easy ideas for you to whip up with your leftover lobster.
Lobster artichoke dip
Lobster cobb salad
Lobster nachos
Lobster corn and potato salad
Lobster macaroni salad
There's a variety of other ways to use leftover lobster, too, but these are definitely some of the more popular choices. Just throw some leftover lobster meat into any of these options and it's sure to add some juicy and tender flavor.
How to Make Lobster Bisque Recipe
Lobster bisque is definitely one of the more popular lobster recipes out there, so we had to save a section just for its recipe. If you've tried lobster bisque before, you'll know exactly why this recipe deserves its own section.
Ingredients
Lobster tails, 4 count
Butter, 4 tablespoons
Olive oil, 1 tablespoon
1 finely chopped onion
2 peeled and finely chopped carrots
2 finely chopped stalks of celery
Fresh chopped thyme, 1 teaspoon
Fresh chopped tarragon, 1 teaspoon (plus additional to serve)
Chicken bouillon powder, 1 teaspoon
Salt, ½ teaspoon
Fresh cracked black pepper, ¼ teaspoon
6 cloves of garlic, minced
Tomato paste, 2 tablespoons
All-purpose or plain flour, 3 tablespoons
Dry white wine or sherry, 1 ¼ cup
Lobster stock, 4 cups, or seafood or fish stock
Heavy cream, ¾ to 1 cup
Cayenne to taste
Lobster Stock Instructions
Add 5 cups of water and 1 teaspoon sea salt to a large pot
Allow the water to come to a boil
Put the lobster tails into the boiling water and cover with a lid
Let the tails boil until they're bright red, normally for 5 minutes
Remove the lobster tails and reserve the liquid stock
After the lobsters have cooled down, remove the meat from the shells and reserve the meat and any liquid that comes out
Place the lobster shells back into the water in the pot
Bring the pot to a boil again then reduce the heat to medium-low
Allow water and shells to simmer for 15 minutes
While the stock is simmering, proceed to cut the meat into bite-sized pieces and put them in the refrigerator
Bisque Instructions
Place butter and oil into a large, heavy pot on medium heat and add in the onions, carrots, celery, and fresh herbs
Cook these ingredients until softened, around 5 minutes
Add bouillon powder, salt, and pepper to season
Add 4 cloves of minced garlic and cook for an additional 1 minute
Add in the tomato paste and cook for an additional minute, coating the vegetables
Add over flour and cook an additional 2 minutes, occasionally stirring
Add in wine and allow to summer
Allow mixture to reduce to half
Add in lobster stock, stirring
Reduce the heat and allow to simmer while occasionally stirring until the liquid has slightly thickened and flavors have combined
Remove from heat and place the mixture into a blender, blending until a smooth consistency
Return to medium-low heat and add in heavy cream, stirring
Garlic Butter Lobster Meat Instructions
Add butter to a skillet pan over medium heat and allow to melt
For 30 seconds sauté garlic
Toss in chopped lobster meat and season with salt, pepper, and cayenne to taste
Sauté for an additional 1 minute, occasionally stirring, until lobster meat is warm
Final Instructions
Add ¾ of the lobster meat into the bisque
Divide into serving bowls
Add the remaining lobster meat and extra tarragon to the top of each dish
Serve and enjoy
FAQ
What is the tastiest way to cook lobster?
The tastiest way to cook lobster will depend on preferences, but we've found that many people enjoy broiling their lobster – and we do, too!
What is the best season for lobster?
Lobster is primarily in season around late spring and fall.
Why is lobster so expensive?
There are a few reasons as to why lobster is expensive: the lifecycle of a lobster, over-harvesting, and food-safe technology are just a few of the reasons.
Why are lobsters boiled alive?
Lobsters are boiled alive in order to decrease the chances of food poisoning from the bacteria that clings to their flesh and can multiply on their carcasses. They have also been said to taste better when boiled alive.
Lobster Recipes: Conclusion
There you have it – good lobster recipes, including a lobster bisque, that you can fix during the week, on the weekends, or for a special occasion.
No matter when you decide to try these recipes out, we're sure you'll find one, two, or even a few that you'll love and want to save to make again and again.
Print
General Lobster Recipe
The best way to serve lobster is on the grill with olive oil and pepper. This 7-ingredient dish is easy to make and luxurious enough for date nights.
Author: LivelyTable
Prep Time:

10

Cook Time:

10

Total Time:

20 minutes

Yield:

4

1

x
Category:

main this

Method:

grill

Cuisine:

American
4 8-oz Lobster tails
1 tbsp Olive oil
⅓ tsp Sea salt
¼ tsp Black pepper
¼ Unsalted butter
2 cloves Garlic
2 tsp Lemon juice
Instructions
If lobster is frozen, thaw them overnight in the fridge, or in a bag submerged in cold water on the counter for about 20 minutes. Then Preheat the grill for about 15 minutes, or a grill pan for 5 minutes.
Meanwhile, prepare the lobster.
The rule of thumb for lobster grill time is about 8-10 minutes.