Learn how to quickly and easily segment oranges and other citrus fruit away from the membranes in this step-by-step tutorial for sweet, juicy fruit without any bitter white pith or membranes getting in the way! Orange segments are great for salads, to give to babies, and more.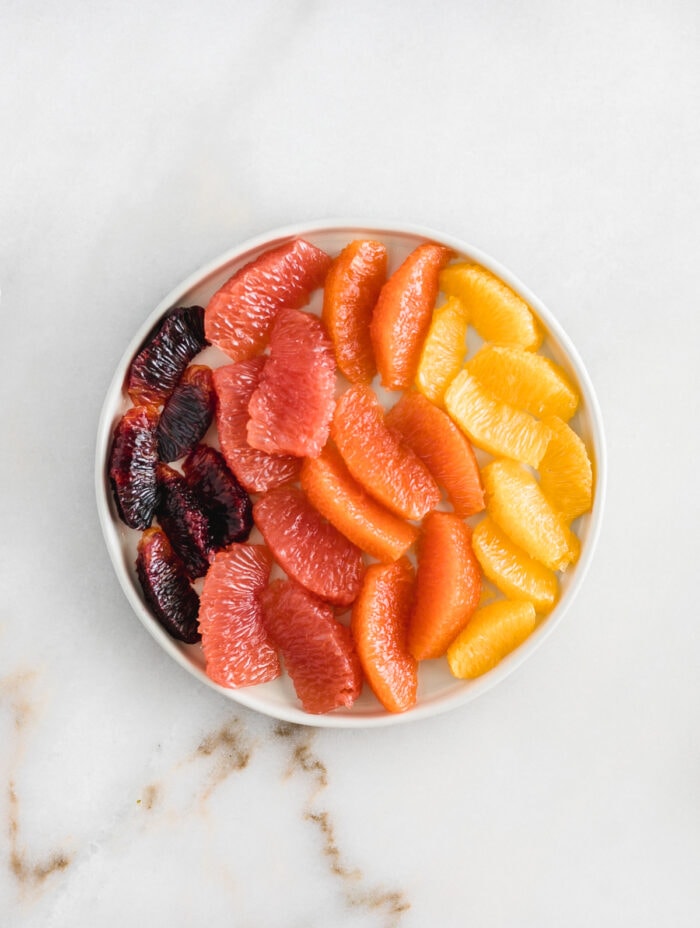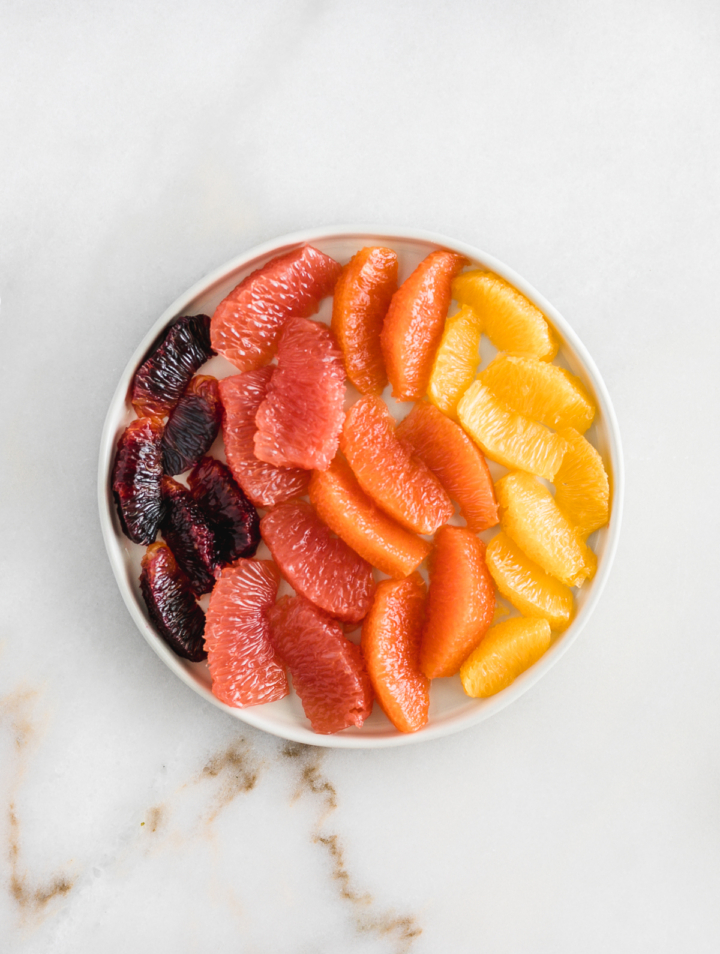 In almost all of my recipes using citrus fruit, I will cut the sections, or segments, away from the membrane. This leaves beautiful, juicy segments of fruit that are easy to eat (and photograph!). Today I'm showing you how to segment your oranges and other citrus fruit yourself. It's not difficult, and once you get the method down, you won't eat oranges or grapefruit any other way! (I'm using a grapefruit because it's bigger and easier to see in detail, but this method works for any citrus.)

Why Segment Citrus Fruits?
I started segmenting citrus fruit to make it prettier in photographs. Then I realized that it tastes SO much better this way! The white membranes and pith on citrus fruit are fibrous and bitter, so when you remove them, the resulting fruit segments are much sweeter, softer and juicier. It's a much more luxurious eating experience. (Ok, that might be a little dramatic, but they are easier and more fun to eat this way, and might help your picky kiddos enjoy oranges more!)
This method is especially useful for grapefruit, whose membrane and pith is especially bitter. Once you segment out grapefruit, it's so much sweeter and more enjoyable. Segmented citrus elevates all of your citrus recipes, especially salads.
Segmenting citrus is also key if you're going to be feeding it to babies (if you're doing a baby led weaning approach). The membranes are too fibrous for them to eat and can pose a choking risk, but the segments alone are the perfect shape and texture for tiny hands and mouths.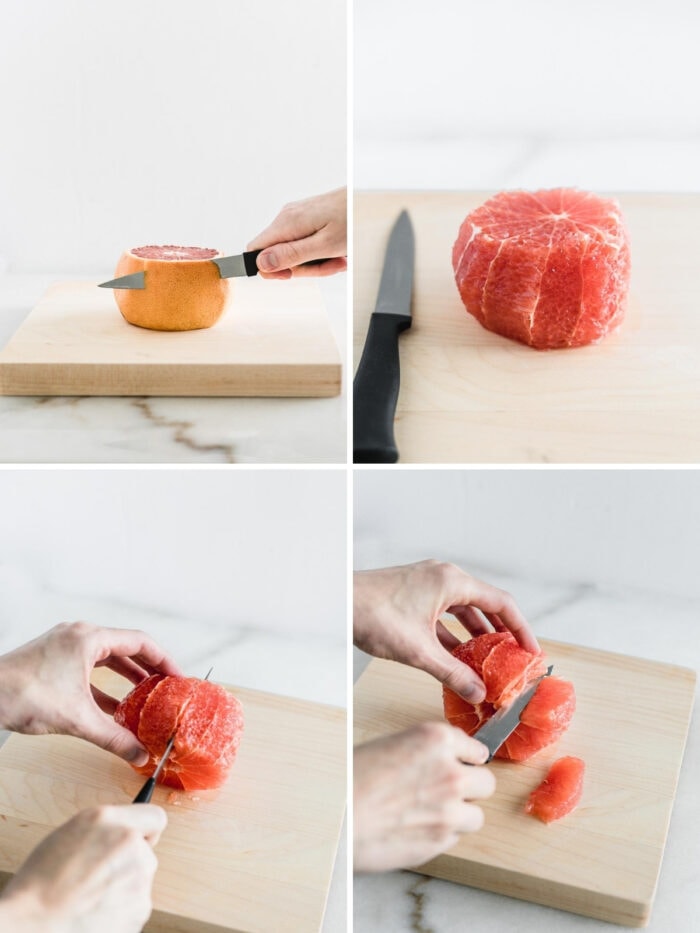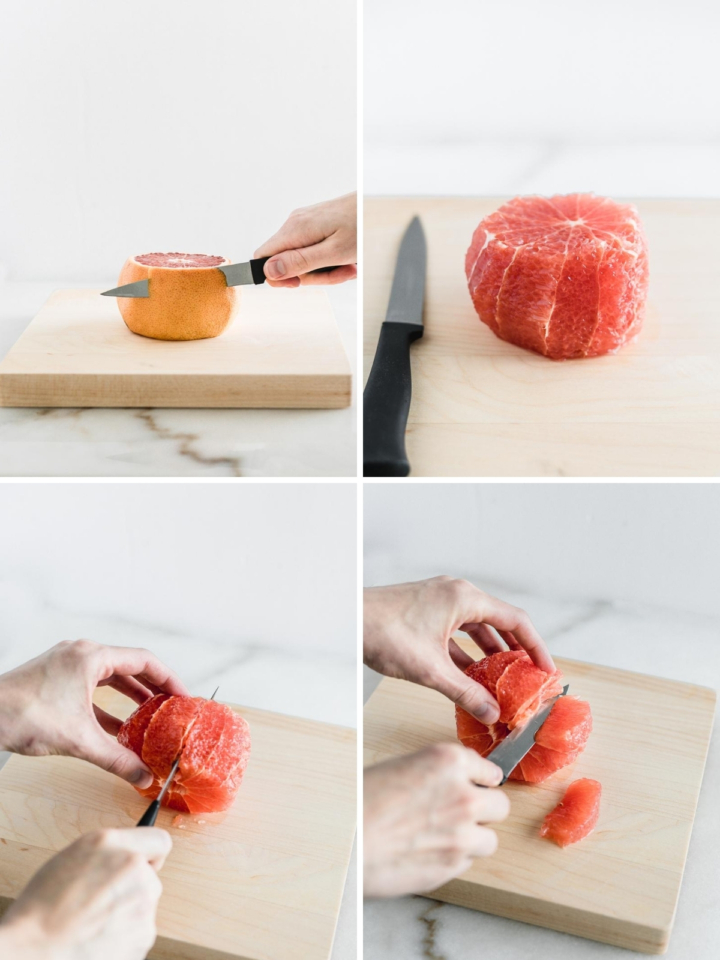 How To Segment Oranges and Other Citrus Fruit
Start by cutting away the top and bottom ends of the fruit. Set the fruit flat on one of the ends on your cutting board.
Cut away the peel, including any outer pith, from top to bottom, working all the way around the fruit.
Hold you knife parallel to one of the white membranes and cut toward the center as close to the membrane as possible to get all of the fruit. Don't cut all the way through, just go to the center. Then repeat on the other side of the segment, and pop it out of the membrane.
After the first piece is removed, it's easier to get the others out. You'll get out the remaining segments by cutting to the center on one side, then flipping the sharp edge of your knife under the pointy edge of the segment to gently push it away from the other membrane. This always gives you the most fruit since it gets peeled away.
Make your way around the fruit until all of the segments are removed.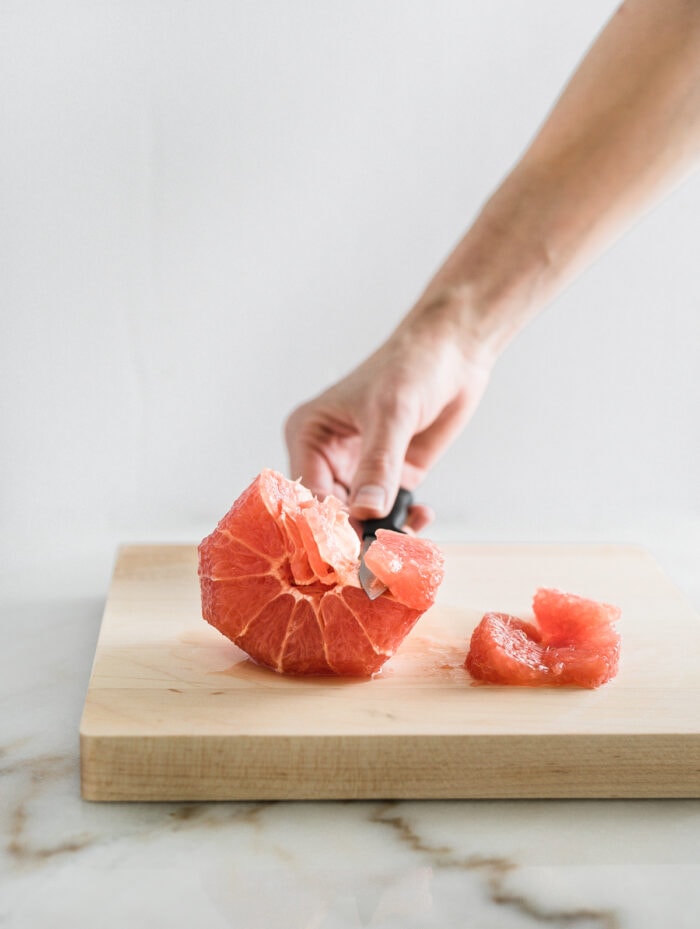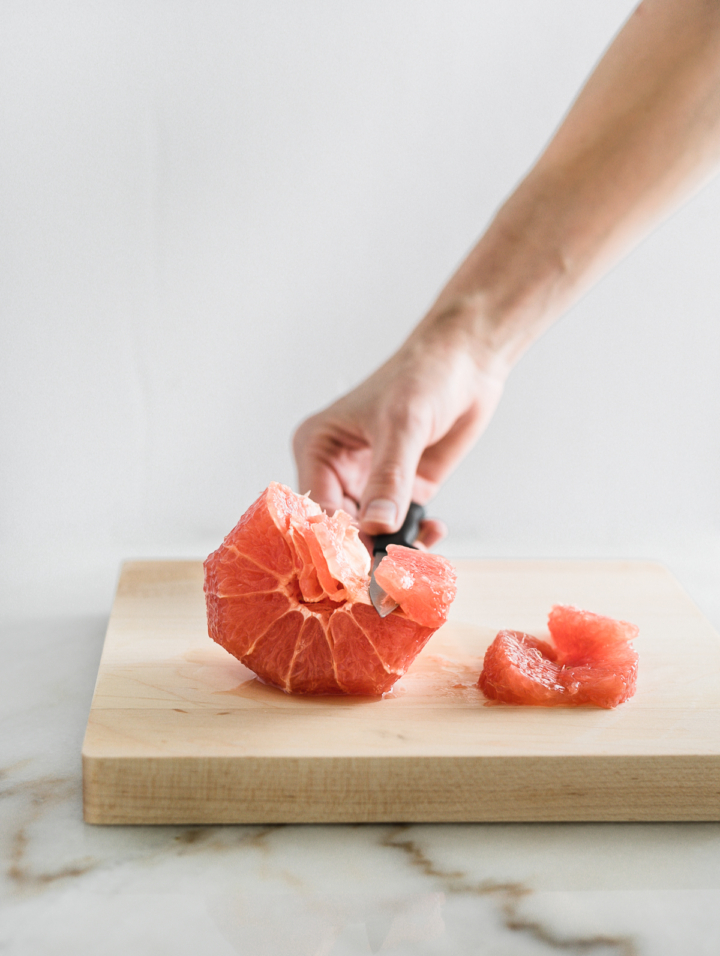 Useful Tips and Tools For Segmenting Citrus
You don't need much for this simple task: just a cutting board (one with a groove around the edge is handy for catching juices), and a sharp knife. I like one with a long, thin blade like this Victorinox boning knife, or this Wusthof utility knife.
Like I mentioned above, if you use your knife to gently peel or push the segment away from the membrane on the second side, you'll get the most fruit out. But feel free to cut it away from both sides instead.
Make sure to remove all of the pith, or it will be harder to separate the segments from the membranes.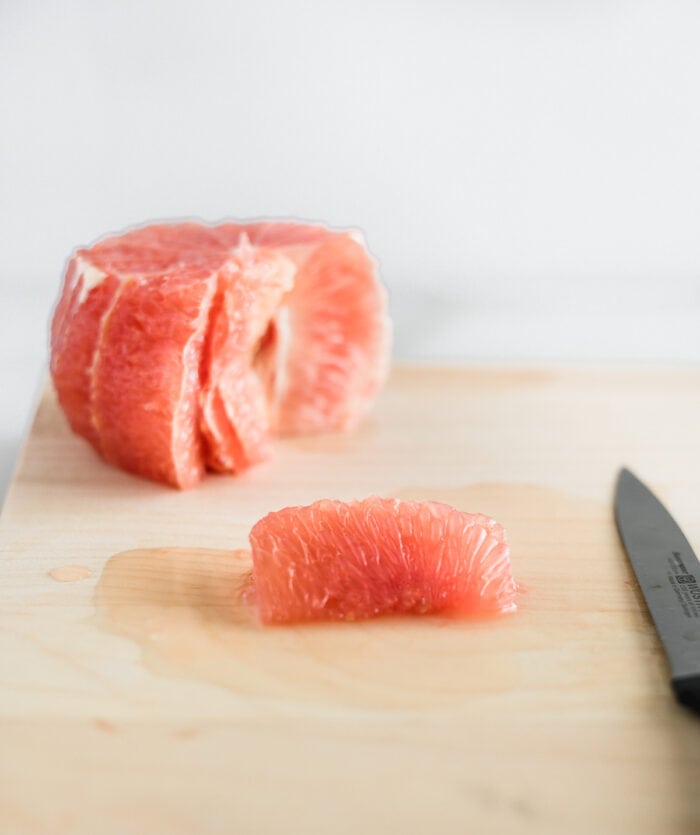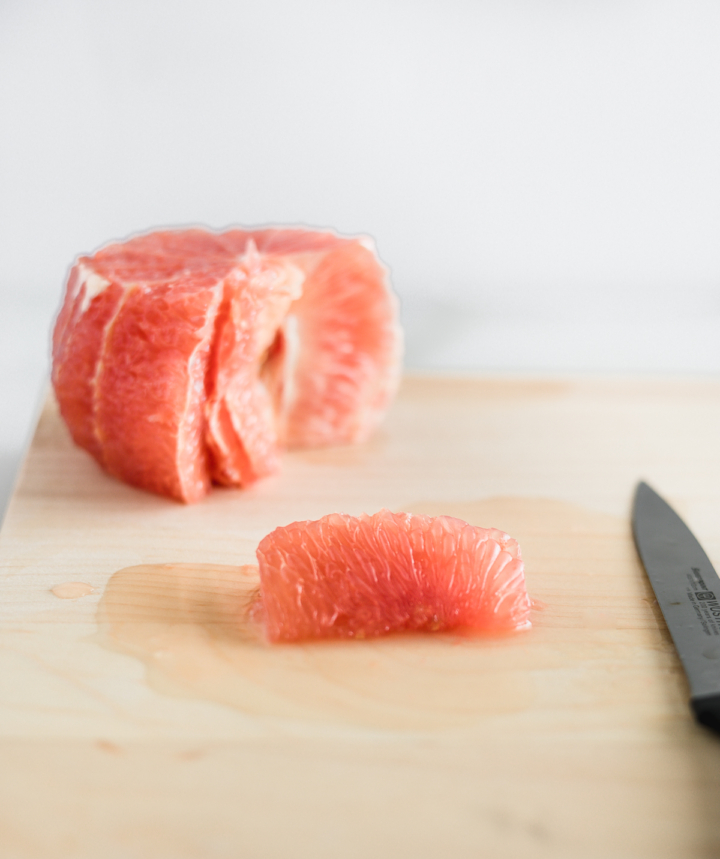 How To Store Citrus Segments
The shelf life will be much shorter once you remove the peel from citrus. If you're not eating them right away, store segments in an airtight container in the refrigerator up to 4 days.
What To Do With The Leftover Membranes
The membranes still have valuable fruit left! You can either juice them (to use in dressings, salsas, etc. or to drink) or throw the whole thing in a smoothie for a hit of flavor and fiber.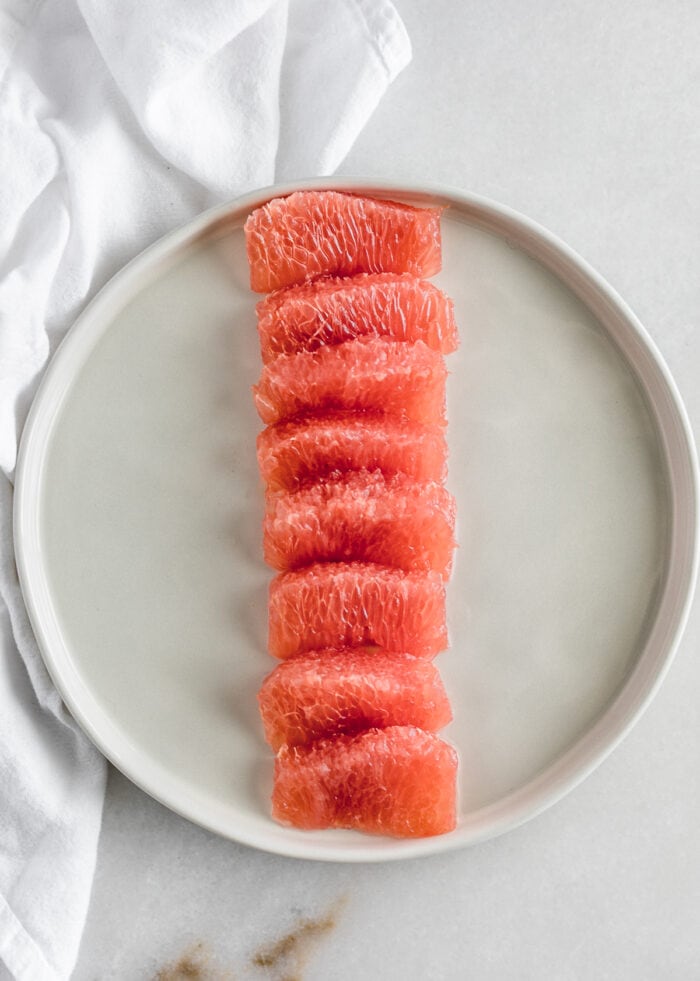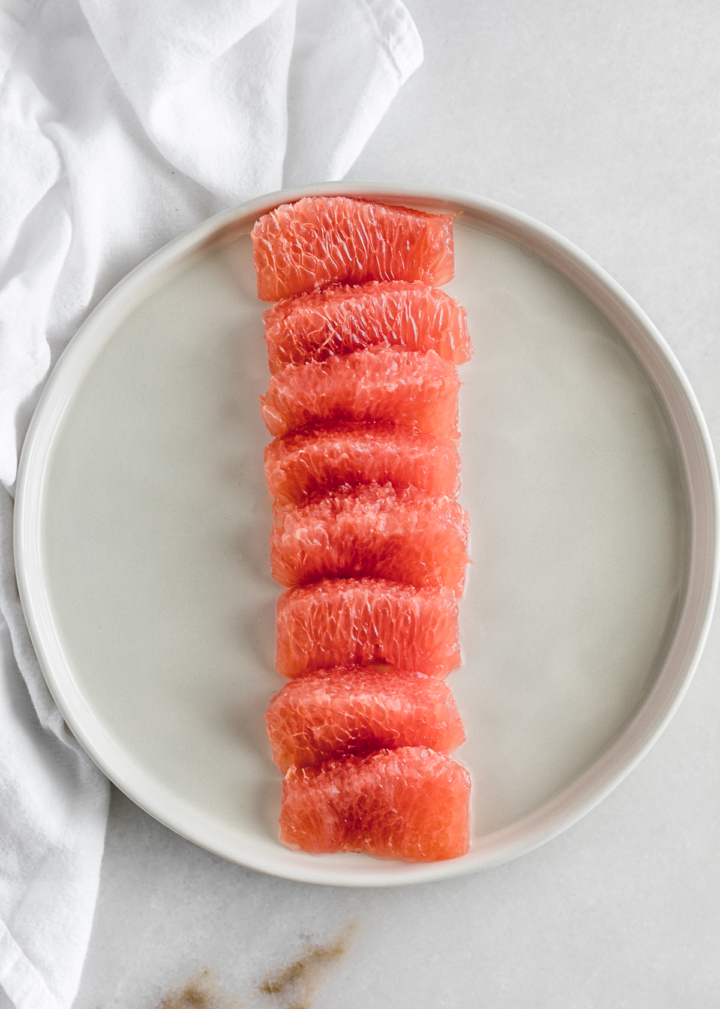 Recipes That Use Segmented Oranges & Grapefruit