Ground turkey is the perfect substitute for ground beef in many recipes and there are several healthy ground turkey recipes out there. It's a versatile and healthy option that provides you with a leaner alternative to its beef counterpart, a fact that makes it especially nice for those on a paleo diet.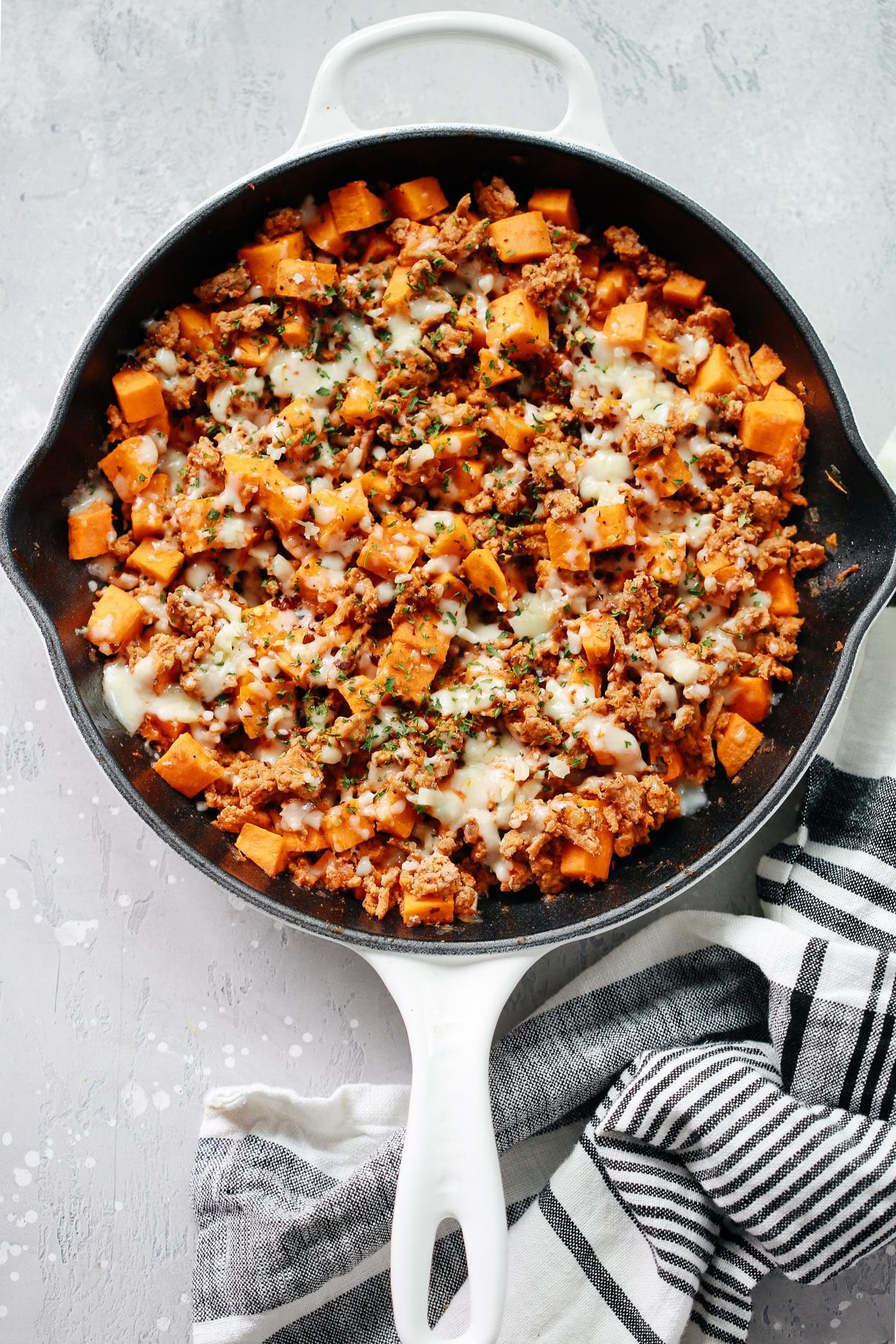 Between the two, it also has less saturated fat, but the stark differences end there. Compared to ground beef, ground turkey has basically the same markup besides being a tad higher in calories. They're both a great source of protein and have around the same grams of fat, cholesterol, and sodium.
When it comes to choosing between the two, it primarily comes down to flavor and diet. For those who prefer the flavor of ground turkey or for those who eat it for diet-specific reasons, you may be looking for the perfect ground turkey recipes to get you through the week.
Well, look no further as we've compiled the perfect list of healthy ground turkey recipes just for you as well as tips on adding flavor to your ground turkey dish and tips on cooking healthy ground turkey recipes.
Tips for Adding Flavor to Ground Turkey
Since ground turkey is low on its fat contents, adding flavor to your ground turkey recipes is essential for creating the perfect dish. There are a few good ingredients you can add to your ground turkey in order to add flavor to your meal.
These ingredients include:
Onions
Scallions
Red bell peppers
Garlic
Chili powder
Salt
Cumin
Paprika
Basil
Oregano
Sage
Thyme
Of course, you can also experiment with other spices as well. Spices are guaranteed to add the perfect flavor to your ground turkey recipes.
Different Ways to Cook Healthy Ground Turkey Recipes
There are many ways that you can prepare and cook ground turkey. It will mostly depend on what you're making as well as your preferences. The most popular method, of course, is to use a stovetop and skillet, but there are other ways to go about cooking this meat up, too.
Stovetop
As mentioned above, the stovetop is the most common method of cooking ground turkey. It's easy, efficient, and the ground turkey you cook here can be used in an assortment of recipes such as tacos, pasta, sloppy joes, and patties.
With the stovetop method, you'll want to have a large skillet on hand and a spatula for your tools. Then, to cook your ground turkey, you'll want to make sure you include some cooking oil, preferably olive oil, to help the ground turkey stay moist. Plus, your choice of ingredients to add flavor such as chopped veggies and seasonings.
Now, when it comes to cooking ground turkey on the stove, the time varies anywhere from 13 minutes to 18 minutes. Keep an eye on the color of the meat. Once the meat is no longer pink, you'll know it's done. Make sure you stir the meat occasionally so that all sides brown evenly, while adding in your other ingredients.
Oven
The oven is a less common method of cooking ground turkey, but it can still be effective, especially if what you're cooking has a beef alternative. That said, whatever you can cook in the oven with ground beef, you can do the same with ground turkey.
For example, a ground turkey meatloaf is the perfect recipe for an oven-baked ground turkey dish. With this example in mind, you'll want to cook the mixture (onions, garlic, bell peppers, etc.) on the oven in some olive oil. Once it's been sautéed, you can add it to your ground turkey, breadcrumbs, and eggs, forming it into a loaf-shape with your hands.
Spray an oven dish with vegetable-oil spray and then add your loaf to it. Set the oven to 350 Fahrenheit and pop the dish in, baking it for around 40 minutes. After 40 minutes, insert a meat thermometer into the middle of the meatloaf to ensure that the temperature has reached 140 degrees Fahrenheit.
Grill
Your grill will be your best friend when wanting to fry up some grilled turkey burgers. Essentially, you can fry these up the same as you would beef patties. Preheat the grill to 350 or 450 degrees Fahrenheit, combine all of your ingredients (ground turkey, spices, etc) into a bowl and shape the meat into patties.
You can then grill these patties for around 12 minutes, remembering to flip them around the 6-minute mark. You can also add your favorite cheese at the end and add toppings such as lettuce, tomato, pickles, ketchup, and mustard once they've finished cooking.
Serve and enjoy!
Slow Cooker
Slow cooking is the best and probably easiest method when it comes to preparing turkey dishes. You can essentially put it on in the morning and leave it to cook throughout the day while you're at work or running errands. This method can be done in a variety of ways depending on the recipe you're cooking but, essentially, to cook just ground turkey, you can throw your ground turkey into the slow cooker, sprinkle with salt and pepper, add in some other spices like parsley, garlic powder, oregano, and thyme, and then proceed to cook it for the next three to four hours on low.
After it's cooked for this amount of time, you can break it up into smaller pieces by stirring it around then cook for an additional three to four hours.
Your ground turkey should be ready after this.
15 Healthy Ground Turkey Recipes
1. Chipotle Apple Turkey Chili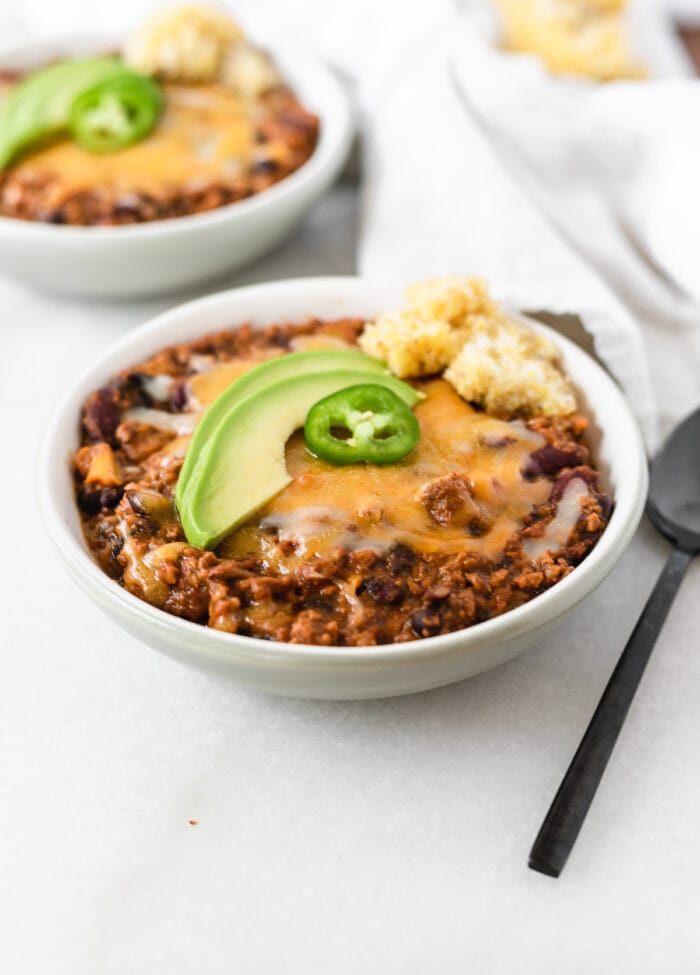 Chili is a great dish and comfort food option, especially for the fall and winter months when temperatures start to decline and you need a pick-me-up. You may think chili needs beef to make it complete but not necessarily. You can also use ground turkey, too, like they did in this recipe from Lively Table.
Their turkey chili recipe looks absolutely scrumptious and is sure to be a huge hit for the whole family. It's a healthier alternative to the classic beef chili and includes apples and chipotle. It's also both gluten-free and dairy-free.
This ground turkey recipe is one for the books and will be the perfect dinner meal for busy weeknights. Plus, you can always make a big batch and have leftovers for the next night, or freeze it in an airtight container for later in the week.
2. Aloha Turkey Burger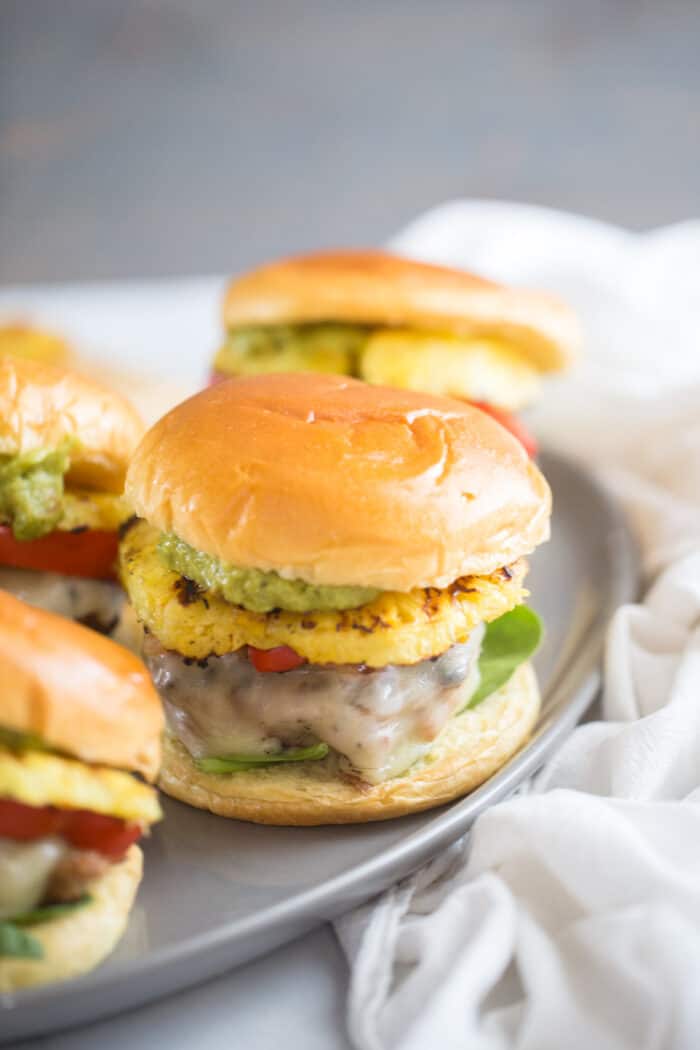 If you're going to be eating ground turkey, then you have to try ground turkey burgers. They're a staple of ground turkey recipes, plus they're easy and quick, too and who doesn't love that kind of recipe?
Lemons for Lulu has a great turkey burger recipe for the perfect turkey burger.
These burgers are done on the grill, but they can be baked as well, which Lemons for Lulu goes over in their recipe guide. Also, if you want to make plenty of these burgers, you can freeze them for the future, too. In fact, they can be frozen for 3 months and are a great meal prep option.
3. Turkey and Pesto Lasagna Rolls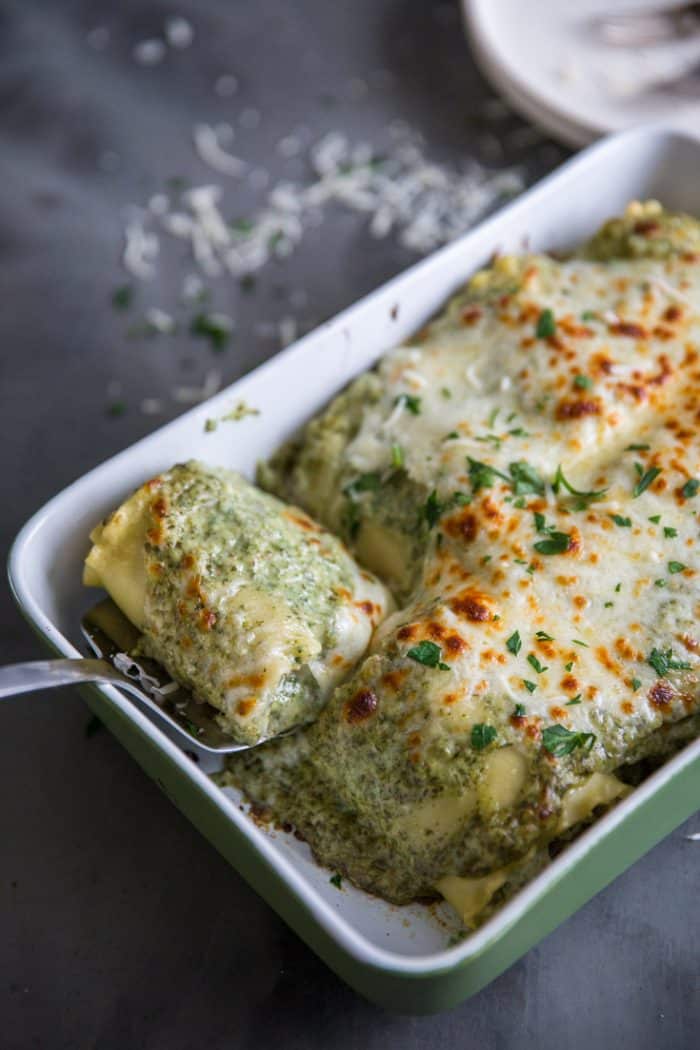 Lemons for Lulu has another great ground turkey recipe option: turkey and pesto lasagna rolls. If that doesn't sound mouth-watering, I don't know what does!
The prep and cook time aren't too bad; 30 minutes for prepping and 20 for cooking, equaling 50 in total. This quick recipe would be perfect for a busy night since it doesn't require too much elbow grease.
4. Ground Turkey Sweet Potato Skillet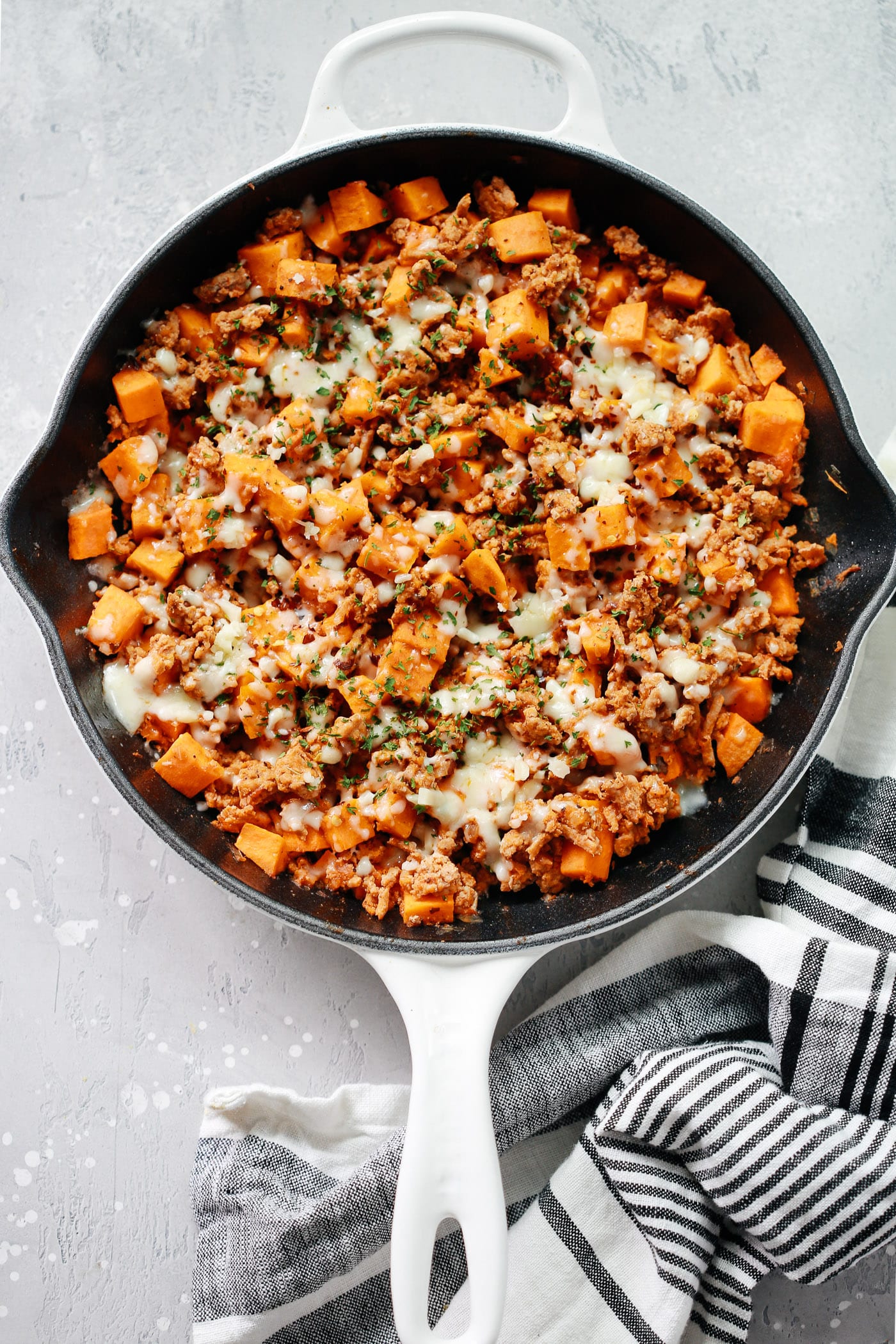 Ground turkey and sweet potatoes make up this recipe from Primavera Kitchen and if you want comfort food then you should definitely give this recipe a try. They use a cast iron skillet for this recipe because they are well-seasoned and provide a non-stick cooking experience.
5. Ground Turkey Pasta Bake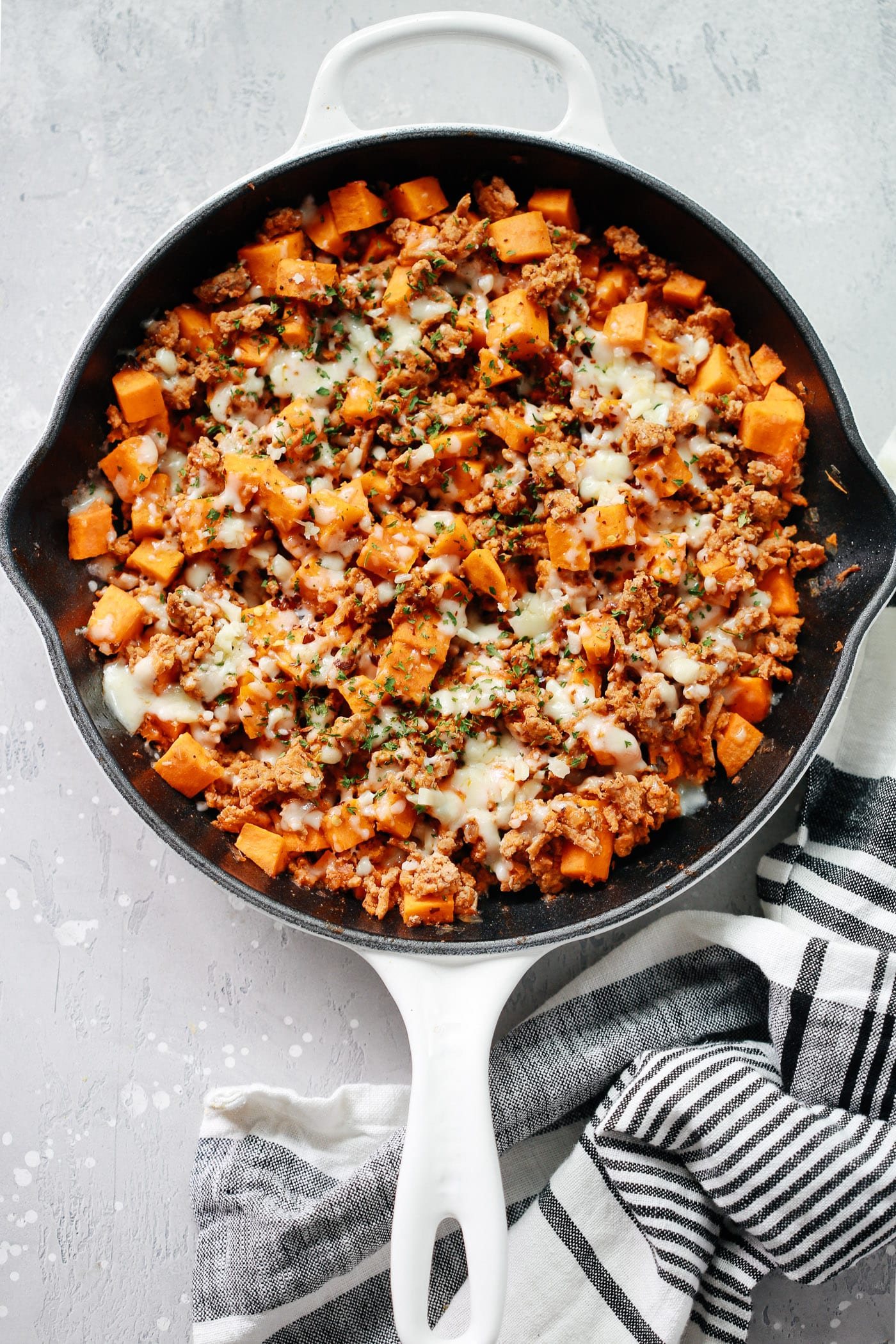 We probably all grew up with our mom's and grandma's cooking casseroles, right? And you probably cook them, too, because it's not only nostalgic but also pretty easy to make a casserole up and pop it in the oven.
If you want an easy ground turkey recipe that is healthy, appetizing, and easy to make, look no further than iFoodReal's ground turkey pasta bake. It's a quick weeknight dinner option, is freezer-friendly, and is inexpensive to make. What more could you want out of a recipe?
6. Healthy Ground Turkey Teriyaki Rice Bowl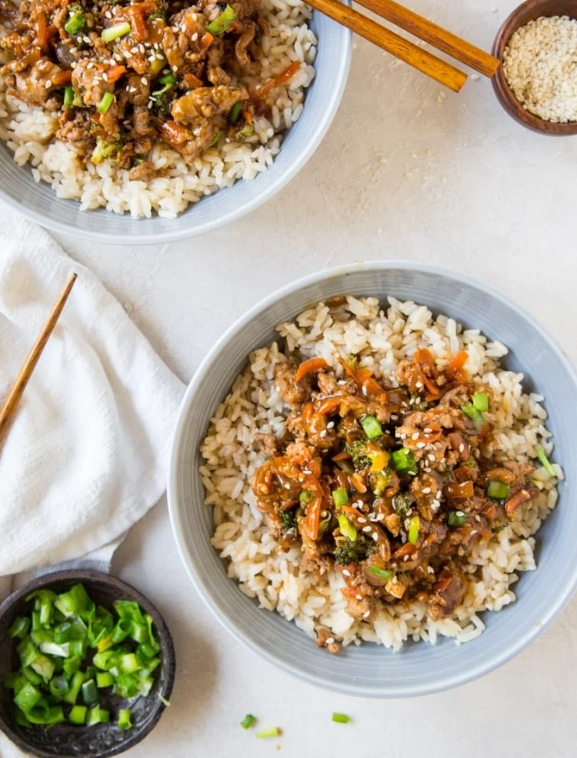 Yellow Bliss Road promises that you and your entire family will love this ground turkey recipe from their website. It's a ground turkey teriyaki rice bowl. It's another quick and easy recipe, taking around 35 minutes total to get on your table for your family to enjoy.
This recipe will surely be a family favorite!
7. Asian Lettuce Wraps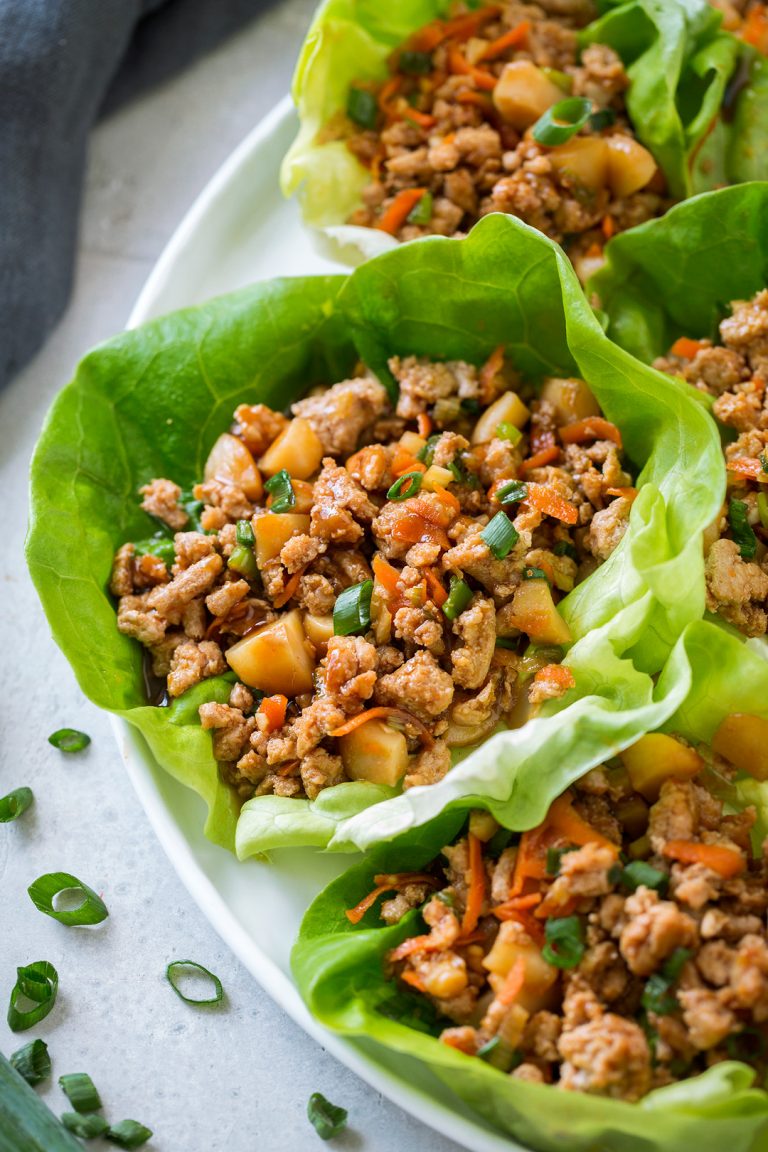 If you've been to an Asian restaurant before, chances are you've had one of their wraps. If you have, you know how delicious they are and you might be wanting to try to make one yourself. Well, look no further than Cooking Classy's lettuce wraps, featuring ground turkey! It's a healthy and quick recipe with a 10-minute prep time and a 10-minute cook time.
It's not a complicated recipe and will be the perfect dinner meal to serve for your family.
8. Turkey Chili Mac & Cheese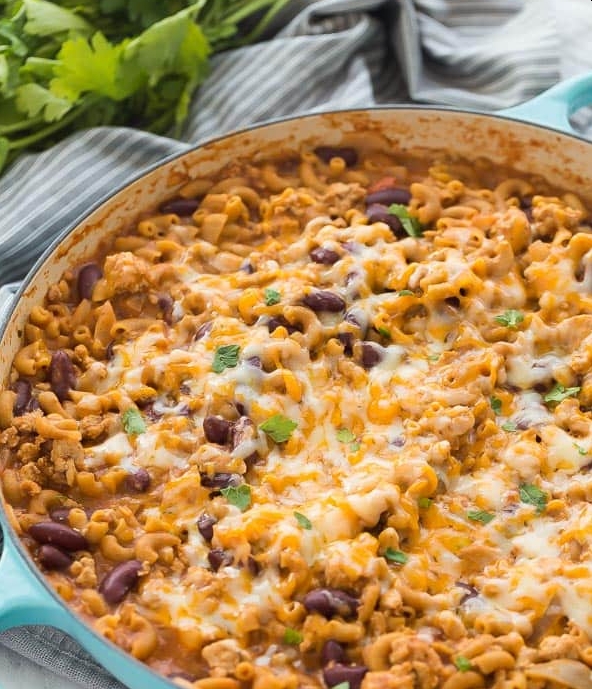 If you have 30 minutes to spare on a weeknight, then this recipe from The Recipe Rebel is sure to satisfy any chili or mac & cheese cravings you may be having. It takes a total of 30 minutes to prep and cook and doesn't require too many ingredients.
If you're a fan of chili and mac and cheese, you'll definitely want to give this dish a try.
9. Ground Turkey Vegetable Soup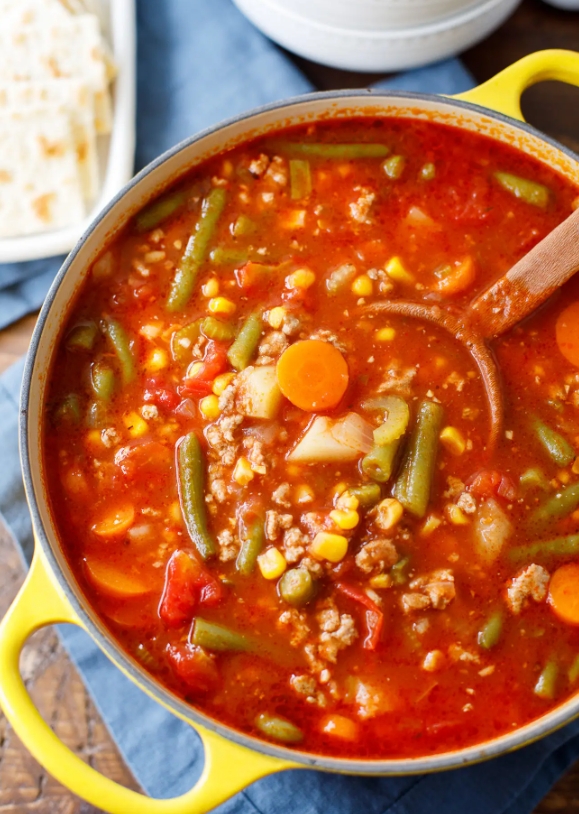 Soup is a comforting food that can be enjoyed throughout the year but makes a good dinner meal plan for colder nights in the fall and winter months. Vegetable soup is one of the best soups out there and can be made with ground turkey instead of ground beef, as noted by Dear Crissy's ground turkey vegetable soup recipe.
It's easy, it's healthy, and it looks absolutely mouth-watering delicious.
10. Thai Sweet Chili Turkey Meatballs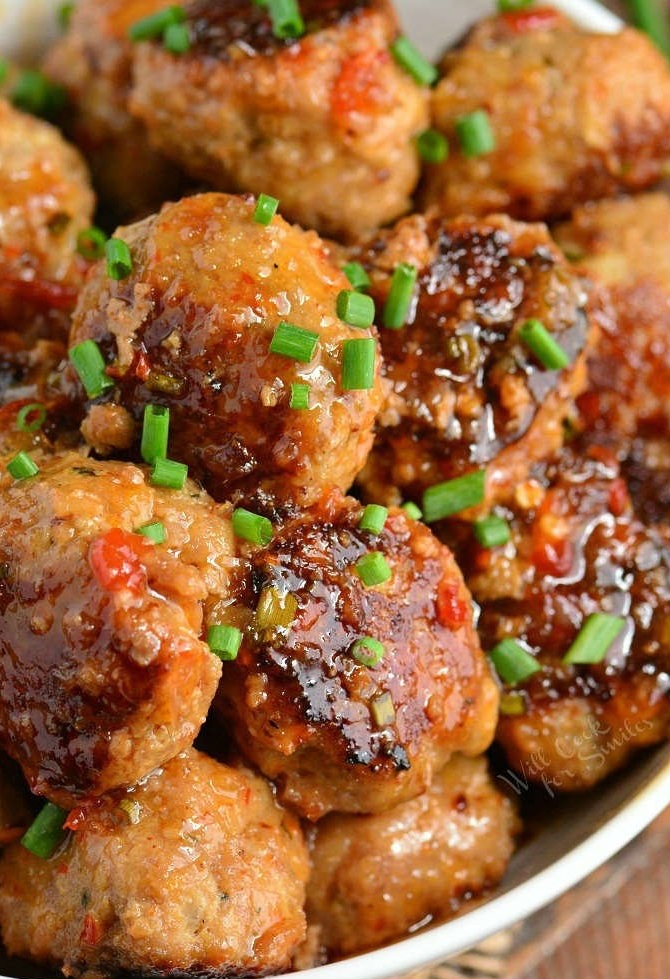 This meatball recipe from Will Cook for Smiles provides you with tender and That-flavored meat baked in sweet chili sauce. These meatballs can be frozen, too, for a quick meal for the future. The total cook time for this dish is around 40 minutes and can serve around 10. If your family isn't that big, feel free to pop the leftovers into the refrigerator for the next night's dinner.
11. Stuffed Pepper Casserole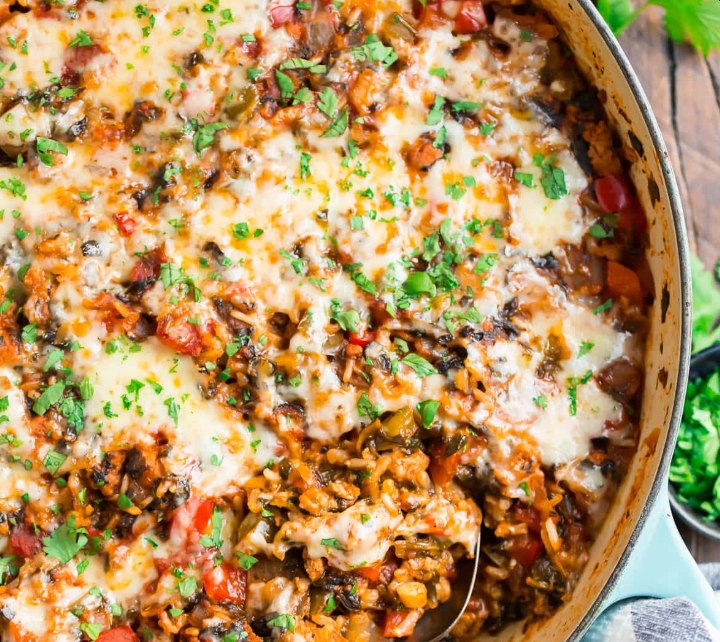 Another casserole, this one from Well Plated looks just as delicious as the other one. It's an easy and healthy stuffed pepper casserole that plays on the classic stuffed peppers you may have grown up on.
If you didn't grow up on stuffed peppers and have never tried them, now would be a good time as these ones definitely look appetizing.
12. Turkey Breakfast Patties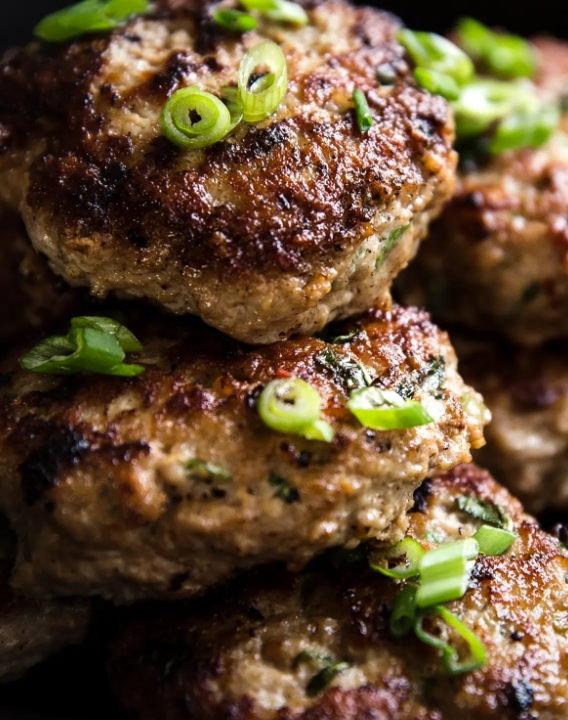 The Modern Proper's turkey breakfast patties will be the perfect breakfast meal for you and your family to enjoy. You can pair them with eggs and slices of fruit or mixed greens.
You can also have these as a quick afternoon snack, too, and they don't require too much time to make; around 25 minutes total.
13. Turkey Tacos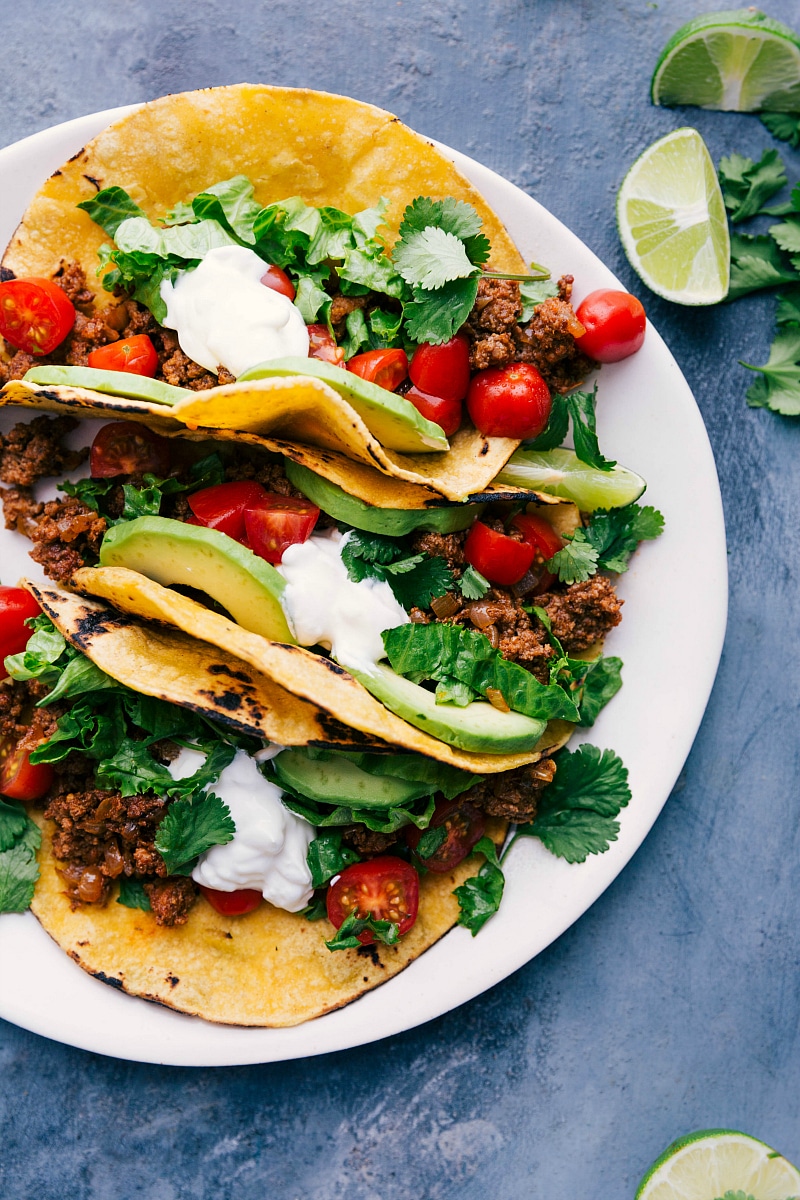 A ground turkey recipe list would not be complete without turkey tacos and Chelsea's Messy Apron has the perfect recipe for this dish! They not only provide you with the recipe but they also provide you with making the ground turkey moist and the best toppings to use.
It's a simple recipe that you can also freeze for up to 3 months and takes only 25 minutes to prep and cook.
14. American Turkey Goulash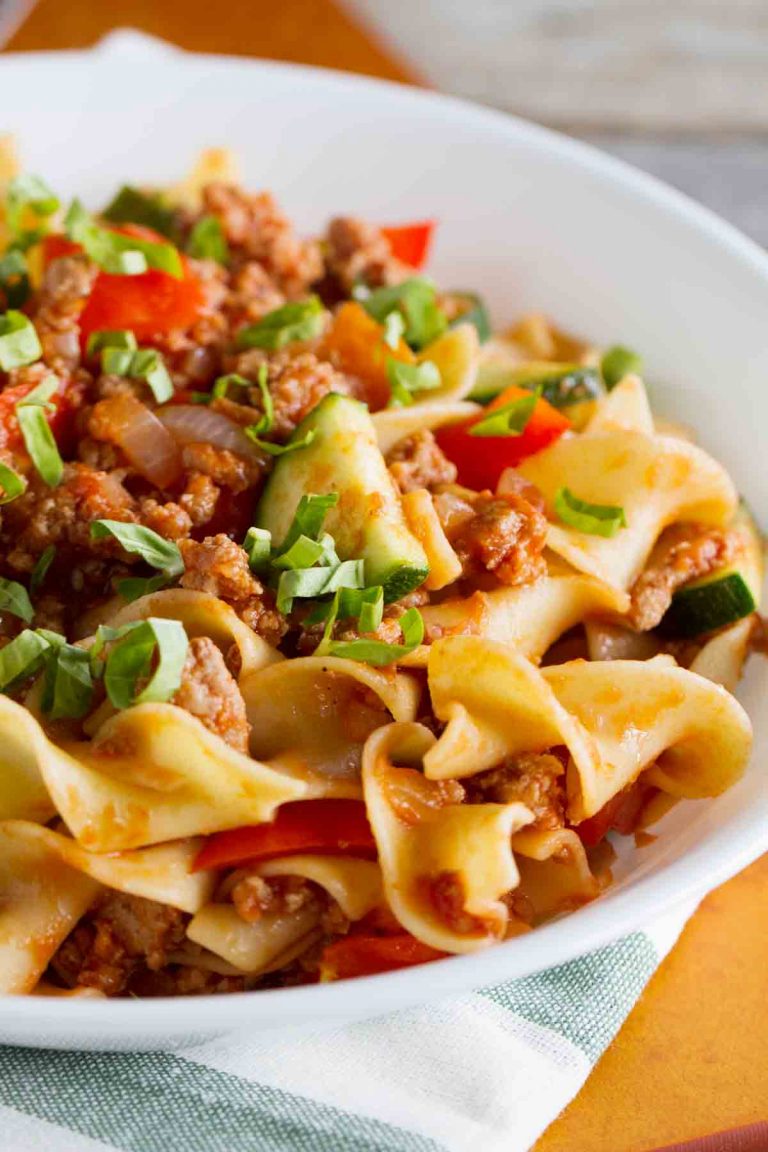 Growing up, American-styled Goulash was one of my favorite dishes. It was a comfort food for me and I ate a big helping whenever mom would make it. Of course, one of the staples of the dish was ground beef, but in Taste and Tell's recipe, you swap out the ground beef for ground turkey instead, making an American turkey goulash dish that the whole family is sure to enjoy.
Another quick and easy recipe, it requires around 25 minutes for prep and cook before you and your family can sit down and enjoy.
15. Turkey Sloppy Joes
And our list wouldn't be complete without a sloppy joe recipe and this one comes from Chelsea's Messy Apron once again. It's a healthy meal, packed with veggies and lean meat. It takes around 30 minutes to prep and cook but once it's finished, you and your family will adore this recipe.
How to Make a Juicy Ground Turkey Burger
Considering turkey burgers are a popular alternative to beef patties, and a staple recipe when it comes to ground turkey recipes, let's go over some basic steps for making a juicy ground turkey burger.
Ingredients
The ingredients for a basic juicy ground turkey burger are as followed:
Ground turkey, the leaner the better
Worcestershire sauce
Garlic powder
Minced onion
Kosher salt
Black pepper
Cheddar cheese (or a cheese of your choice)
Toppings of your choice
Butter
Steps
Step one: Use a large bowl to create a mixture with the ground turkey, Worcestershire sauce, garlic powder, onion powder, salt, and pepper. Mix well.
Step two: Patty the mixture up, making 6-8 patties. Create an indent and place butter inside. Top 3-4 of the patties with your favorite cheese. Use the last 3-4 patties to place on top of the other 3-4, pinching around the edges to seal them.
Step three: Preheat your grill to a medium heat and cook the burgers until brown, remembering to flip them halfway through.
Step four: Add your favorite toppings and place them and your patties on hamburger buns.
Step five: Serve and enjoy
The butter, believe it or not, will help the patties to stay moist whilst cooking, preventing them from drying out.
FAQ
How do you make ground turkey taste better?
With lots of spices, of course! Don't be afraid to experiment. Spices will save your ground turkey recipes. So will vegetables.
Is ground turkey good for weight loss?
Yes! Ground turkey is low in fat and high in protein, making it a great food option for losing weight.
What is the healthiest brand of ground turkey?
Butterball, Jennie-O, and Honeysuckle are all great and healthy brands.
Is ground turkey better for you than ground beef?
Generally, since ground turkey contains less saturated fat, it is a healthier option than ground beef.
Conclusion
Alrighty, folks. There you have it; some great healthy ground turkey recipes for easy weeknight meals, sure to please the whole family.
Ground turkey is a great alternative to ground beef and is good for people who are on paleo diets or who just want to watch their red meat intake.
Just be sure to add lots of spices and veggies to give your ground turkey plenty of flavor and you'll be good to go.