Lentils belong to the family of legumes. They grow in pods, resemble tiny beans, and come in different varieties.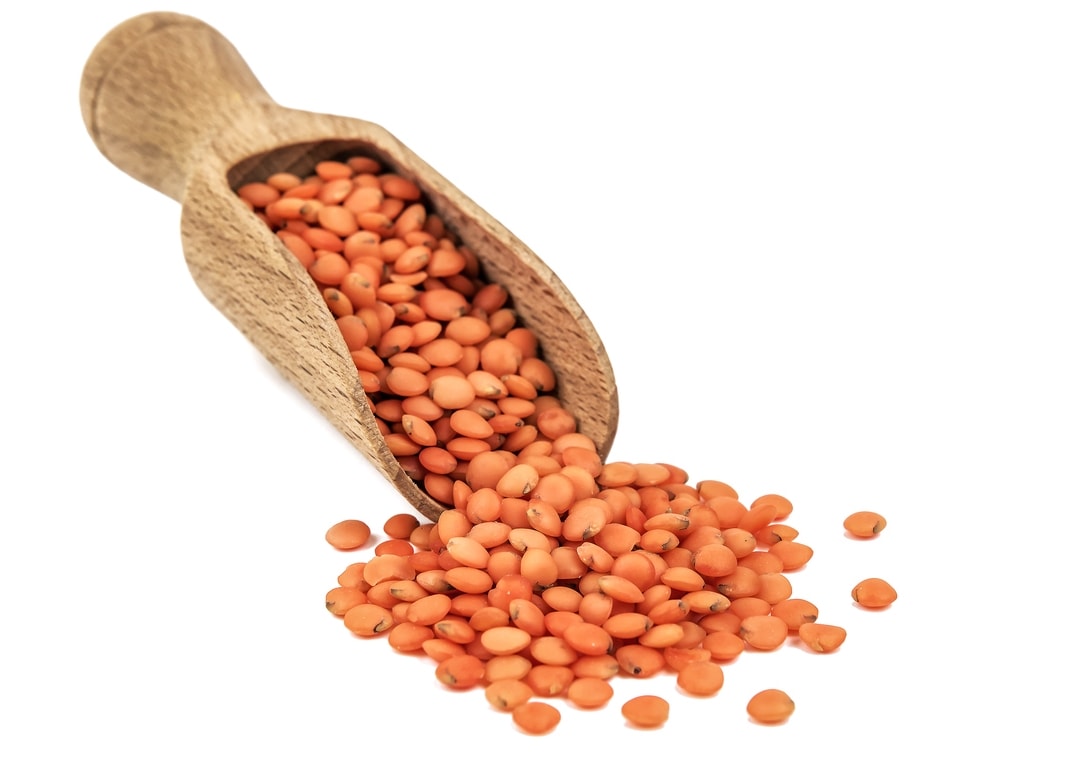 Lentils are a versatile, affordable, and accessible source of healthy carbohydrates. They're famous for their lens shape and make a nutritious base for salads, soups, and several other dishes.
Even though lentils are a typical staple food in Morocco, Turkey, Jordan, Tunisia, and Syria, the highest production is in Canada. Their impressive nutrition facts and easy cooking make them a good and healthy addition to meals.
Let's look at lentils' nutritional content, types, benefits, and how to cook them.
Lentils Nutrition Facts
Lentils are nutritious food rich in protein, fiber, and minerals. They have high fiber content and are low in calories and fat. Their high protein content makes them the ideal option for people who want to boost their protein intake.
There are different types of lentils, each with specific nutrient content. A cup of cooked lentils contains:
Calories: 230
Fiber: 15.6g
Fat: Less than 1g (0.752)
Protein: 18g with zero cholesterol
Carbs: 39.8g
Folate (vitamin B9): 90% of the DV
Thiamine (vitamin B1): 30% of the DV
Iron: 37% of the DV
Zinc: 23% of the DV
Copper: 55% of the DV
Dietary fiber: 16g
Vitamin B6: 20%
Lentils are gluten-free, making them a delicious staple food in a gluten-free kitchen. They come with a good balance of carbs and proteins. Their low resistant starch content and glycemic index values make them ideal for a diabetic diet.
Types Of Lentils
Lentils are a type of legume and are often classified by color, ranging from black and yellow to green, red, or brown.
Here are the most common types of lentils:
Green: Unlike other lentils, green lentils have the best texture and a peppery and nutty flavor. They can differ in size and are often a cost-effective replacement in recipes that need Puy lentils.
Brown: These are one of the most common and affordable varieties. They have an earthy yet mild flavor and tend to maintain texture when cooked. Brown lentils are great in soups and stews but become mushy when overcooked.
Yellow and red: These two lentil types are perfect for making dal and have a nutty and sweet flavor. Yellow and red lentils split and cook fast.
Beluga (Black): Black lentils are 100% vegan and resemble caviar. These lentils blend well with marinated proteins and meaty veggies thanks to their earthy and robust flavor. Black lentils are the most nutritious type, with high iron, potassium, and calcium levels. They also contain the highest amount of protein.
Puy: The Puy lentils come from the French Region Le Puy. They have a peppery taste and a superior texture.
Health Benefits Of Lentils
Consuming different plant-based foods reduces the risk of several lifestyle-related health issues. Increasing your intake of lentils provides many health benefits.
Packed With Nutrients
Lentils are an affordable way of getting different nutrients, yet they're often overlooked. They're packed with zinc, potassium, magnesium, and B vitamins. Lentils contain over 25% protein, making them a great meat alternative.
These versatile staple foods are also an excellent source of iron, a mineral most vegetarian diet lacks.
Lentils also contain a wide array of beneficial plant compounds (phytochemicals). These compounds protect against chronic conditions like type 2 diabetes and heart disease.
Rich In Polyphenols
Polyphenols, a class of health-promoting phytochemicals, could provide powerful health benefits.
Lentils are rich in polyphenols such as flavanols and procyanidin. These compounds have potent anti-inflammatory, antioxidant, and neuroprotective effects.
The polyphenols in lentils could stop cancer cells' growth on cancerous skin cells when conducting a lab test. Note that the polyphenols in lentils still retain their health-promoting properties after cooking.
Promotes Healthy Heart
Lentils are a rich source of potassium, fiber, and folic acid; these nutrients support heart health. Consuming lentils lowers the risk of heart disease since it has positive effects on many risk factors. Increased fiber intake may reduce bad cholesterol or low-density lipoprotein (LDL).
The proteins in lentils could obstruct the angiotensin I-converting enzyme, which activates blood vessel constriction, increasing blood pressure. Since lentils are an excellent source of folate, they could help the accumulation of excess homocysteine. Eating lentils could help lower your food intake, which may contribute to weight maintenance or loss.
Rich In Antinutrients
Lentils contain antinutrients, compounds that could impair nutrient absorption.
Lectins: Lectins could have antibacterial and anticancer properties. They can resist digestion, thereby preventing their absorption and binding to other nutrients. To reduce the number of lectins in your diet, soak your lentils overnight and discard the water before cooking them.
Trypsin inhibitors: The trypsin inhibitors in lentils could help stop the production of the enzyme that helps break down protein from your diet.
Phytic acid: Phytic acid can bind minerals, such as calcium, zinc, and iron, reducing their absorption. Reports also state that phytic acid has strong anticancer and antioxidant properties.
Tannins: There are concerns that tannins could impair iron absorption, but studies show that dietary tannin intake doesn't impact iron levels. Yet, tannins contain high health-promoting antioxidants.
How To Cook Lentils
Lentils are fiber and protein powerhouses. They're nutritious, tasty, and easy to make since they don't require prior soaking. You can cook your lentils in 30 minutes using two basic steps:
STEP 1: RINSE
Most times, your dried lentils can mix with debris and small rocks. So, it's better to rinse them in a mesh sieve to remove any impurities.
STEP 2: SIMMER
Place them in a large pot, add water and salt, and allow them to boil. Simmer until tender for about 20-30 minutes. Drain and rinse them in cold water once they're boiled.
The specific cooking time depends on the type of lentils you're cooking. Cooking reduces the antinutrient content in lentils. So, you can soak your lentils overnight to reduce the levels more.
LENTILS NUTRITION FAQS
What Are Lentils?
Lentils are edible nutrient-packed legumes perfect for consumption. The lentil plant is well known for its tiny lens-shaped seeds.
Are Lentils A Superfood?
Lentils are a nutritional powerhouse and a cost-effective superfood. A diet high in lentils could lower the risk of cancer, heart disease, and diabetes.
What Are The Benefits Of Eating Lentils?
Lentils add vital minerals, fiber, and minerals to the diet. Eating them can increase your stool weight, protect against diabetes, and lower cholesterol. The folate, iron, and potassium in lentils provide many benefits.
Which Color Lentils Are The Healthiest?
Black lentils are the most nutritious type of lentils. They boast the highest amount of protein and contain high iron, calcium, and potassium levels.
Can You Eat Raw Lentils?
No. Eating raw lentils is unhealthy. Raw lentils contain lectin, a protein that binds to your digestive tract, causing diarrhea and vomiting.
Are Lentils Good For Weight Loss?
Consuming lentils could help you lose or maintain a healthy weight. Replacing high-calorie foods with lentils could help manage or prevent obesity.
Conclusion
All lentils, whether green, black, red, yellow, or brown, are low in calories. Lentils are also an excellent source of protein and rich in folate and iron.
Brown lentils soften the most when cooked and are inexpensive. Add lentils to any stew or soup recipe for extra fiber and nutrients.