Chickpeas, also known as garbanzo beans, belong to the plant family of legumes (Fabaceae). Middle Eastern countries have been growing and consuming them for thousands of years.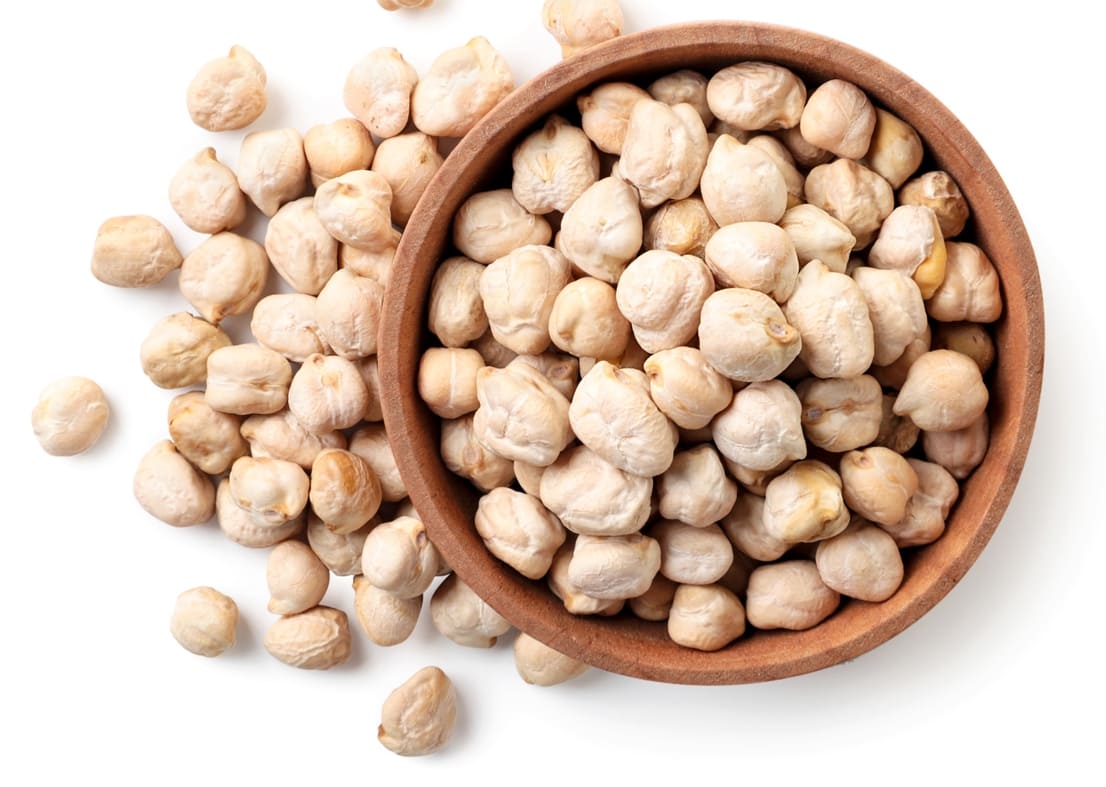 Researchers think chickpeas might have originated in ancient Egypt. Chickpeas' grainy texture and nutty taste blend with several other ingredients and foods. Like other legumes, they're excellent sources of protein and fiber and contain many vital vitamins and minerals. Chickpeas are also considered to be both protein and vegetable.
Let's explore chickpea nutrition and some of its benefits below.
Chickpeas Nutrition Facts
Chickpeas boast an excellent and astounding nutritional profile. According to the U.S. Department of Agriculture's Food Data Central, a cup of chickpeas has:
Calories: 269
Potassium: 276 mg
Protein: 14.5g
Carbohydrates: 45g
Fat: 4.25g
Sodium: 11.5mg
Fiber: 12.5g
Iron: 26% of the DV
Manganese: 73% of the DV
Copper: 64% of the DV
Folate (vitamin B9): 71% of the Daily Value (DV)
80.4 milligrams (mg) of calcium
Chickpeas contain loads of essential vitamins, minerals, and antioxidants. Published research proves that people who eat chickpeas often have a higher intake of fiber and vitamins A, C, and E. Adding chickpeas to your diet may provide selenium, protein, iron, and B vitamins for those who follow a vegetarian diet or are vegans.
Health Benefits Of Chickpeas
Studies prove that legumes, such as chickpeas, could provide many health benefits.
Chickpeas contain a range of nutrients, including protein, which is necessary for muscle, bone, and skin health. For those who are cutting down on meat consumption or don't eat meat, a plate of chickpeas and rice can contribute a significant amount of protein to the meal.
One cup of chickpeas offers about one-third of an adult's everyday protein needs. Here are the several health benefits of chickpeas.
Promotes Weight Management
Chickpeas have high fiber content and may promote weight management due to their filling effects. The protein and fiber in chickpeas could reduce your appetite, lowering your calorie intake.
Controls Appetite
The fiber and protein in chickpeas may help regulate your appetite. Fiber and protein work together to slow digestion, thereby helping aid fullness. Also, protein could boost levels of appetite-reducing hormones in the body.
A cup serving of chickpeas represents almost half the recommended daily fiber intake for adults. This promotes satiety by helping you stay full for long without overeating.
Supports Blood Sugar Regulation
Chickpeas could help regulate blood sugar levels in many ways. Like other legumes, chickpeas contain resistant starch that slows down the digestion of carbohydrates.
The protein and fiber in chickpeas may help manage blood sugar levels. Fiber slows carb absorption to aid a steady increase in blood sugar levels instead of a spike. Consuming protein-rich foods could help maintain healthy blood sugar levels.
Benefits Digestion
Chickpeas are fiber-packed, which provides benefits for digestive health.
Most of the fiber in chickpeas is soluble, which may help increase healthy bacteria in the gut and prevent the regrowth of harmful bacteria. This could reduce the risk of digestive problems like colon cancer and irritable bowel movement (IBS).
Protects Against Certain Chronic Illnesses
Chickpeas could help reduce the risk of some chronic diseases, including type 2 diabetes, heart disease, and cancer.
Chickpeas are fiber-rich, containing about 16% of your everyday needs in a half-cup serving. Almost one-third of the fiber is soluble, making it suitable for the heart.
Studies prove that soluble fiber in chickpeas could help reduce LDL (bad) cholesterol and triglycerides, high levels of which could increase the risk of heart disease.
Eating chickpeas often could help reduce the risk of colon, breast, and lung cancers. Since chickpeas have blood sugar regulating effects, they could help prevent and manage diabetes.
How To Prepare Chickpeas
There are several methods of cooking chickpeas, and each depends on the equipment you use. These include an oven, stovetop, slow cooker, or electric pressure cooker. Follow the steps below if you're cooking dried chickpeas.
Step 1: Sort And Wash
Your dried chickpeas may contain some small rocks, debris, or dust, depending on where you buy them. So, it's better to sort and wash them well.
Step 2: Soak
Soaking dried legumes helps save cooking time, eliminates harmful particles in raw legumes, and helps break down ingredients that may cause gastrointestinal discomfort.
Soak overnight: Allow the chickpeas to remain inside water overnight or until they can separate when you split them between your fingers.
Quick soak: Pour the chickpeas into a large pot, put water to cover them, and allow to boil for one hour. Bring the pot down from the heat and leave the chickpeas inside the water for an hour.
Step 3: Cook
Wash and drain the chickpeas before placing them in a pan containing plenty of water. Cook until tender. Don't forget to add little water from time to time.
You can use a slow cooker for cooking for eight hours on low heat or four hours on high heat. Using a pressure cooker will take about one hour.
FAQ
What Are Chickpeas?
Chickpeas are a type of legume and are also known as garbanzo beans. They're one of the earliest cultivated vegetables in history and offer several health benefits. Most people even consider chickpeas a superfood.
Are Chickpeas Healthy?
Chickpeas is nutrient-packed and is what's called a complete protein as they contain all nine essential amino acids, the building blocks that help your body function well. Chickpeas are also rich sources of non-animal protein and high in vitamins A, E, and C. Thus, they offer several benefits to the body.
Do Chickpeas Have Plant Protein?
Chickpeas are an excellent source of plant-based protein. Thus they're great for people who don't consume animal products or eat meat. A cup serving offers about 14.5g of protein compared to the protein content of similar foods such as lentils and black beans.
Chickpeas' protein could help control your appetite and aid fullness. Protein also plays a role in weight control, muscle strength, and bone health.
Are Chickpeas Protein or Carb?
Most of the calories in chickpeas are from carbohydrates, containing fiber, starch, and a small amount of sugar. Chickpeas contain about 67% of calories from carbs, while the remaining comes from fat and protein.
How Much Chickpeas Can I Consume in A Day?
Consuming at least 28g of chickpeas per day is good. But don't exceed 70g a day to avoid adverse side effects like nausea, gas, and bloating.
Are Canned Chickpeas Healthy?
Canned chickpeas are healthy because they allow your body to get a wide range of excellent, balanced nutrition from a plant-based source of protein.
Conclusion
Chickpeas offer some health benefits because of their impressive nutritional profile. These include improving digestion, promoting weight management, and reducing the risk of certain diseases.
Chickpeas contain high protein and are a good substitute for meat in some vegetarian and vegan dishes. Add them to your soups, salad, stew, green dishes, casseroles, or chili. Chickpeas in the form of noodles, hummus, or falafel provide nutritional value.