The easiest tomato basil soup recipe made from simple ingredients you already have in your pantry. You're just 7 ingredients away from a delicious bowl of thick, creamy tomato soup!  (gluten-free, vegan option)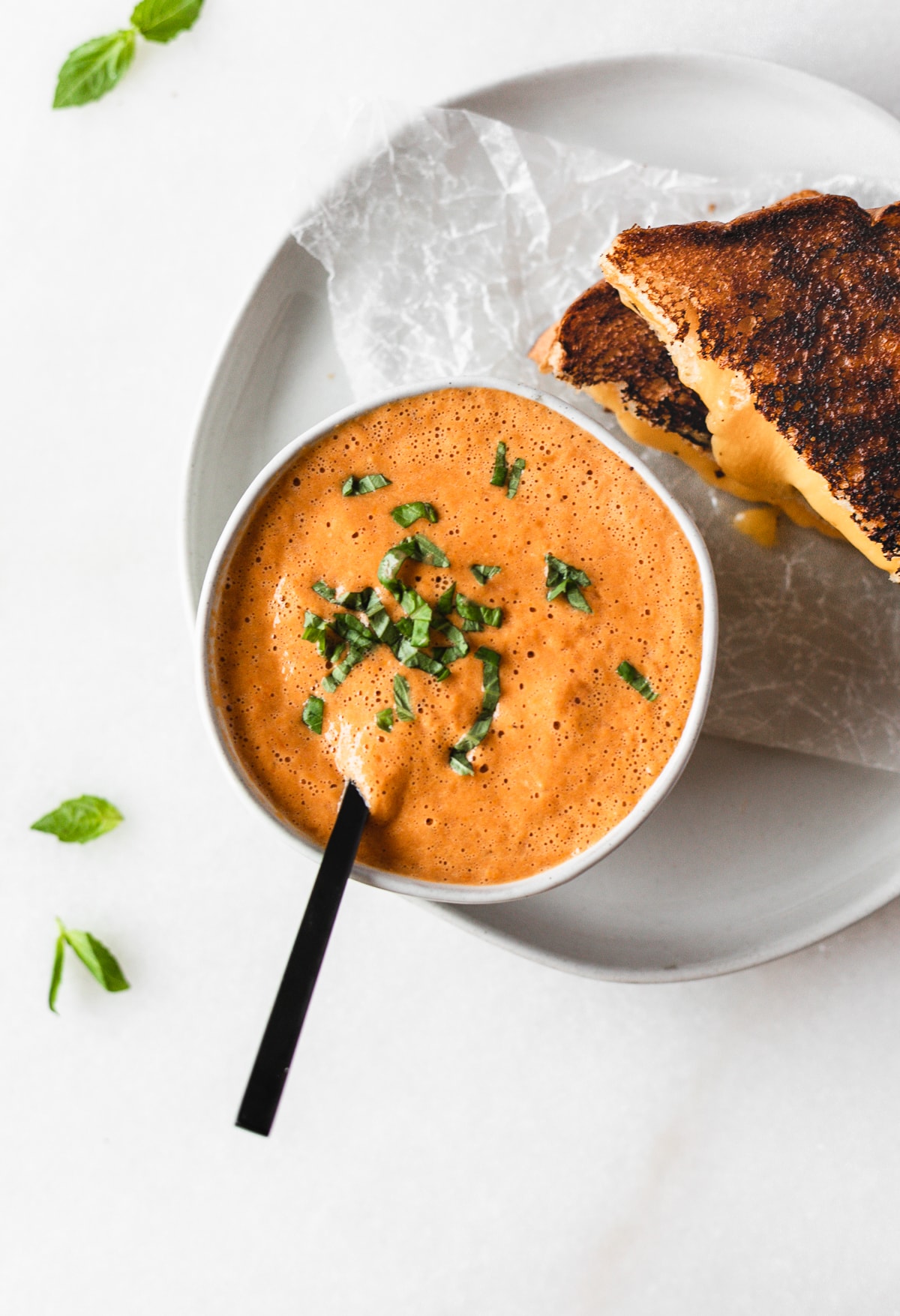 Do you ever have those nights when all you want is a hot, steaming bowl of tomato soup and a gooey grilled cheese to dunk in it?  Mr. Table and I do.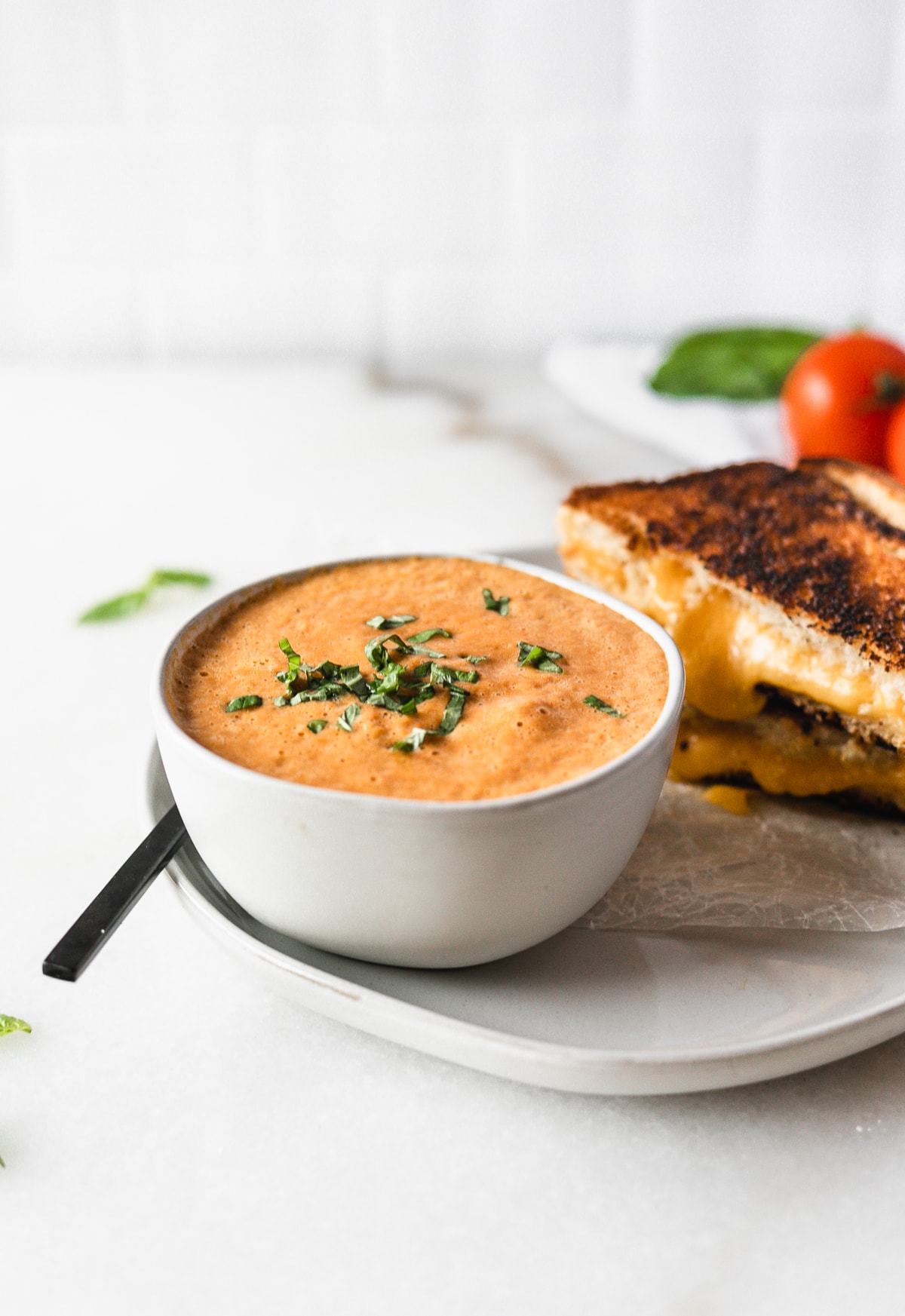 That's how this recipe came about. It was a really cold, rainy night and we had made no dinner plans, for once! Mr. Table was craving a grilled cheese sandwich, but of course, you have to have tomato soup when you eat a grilled cheese sandwich. You just do.
Well, we had no tomato soup. And we certainly weren't going to leave our tiny condo and brave the Dallas traffic to 'grab' a can of soup. I say 'grab' because a trip to the store inevitably takes an hour around there.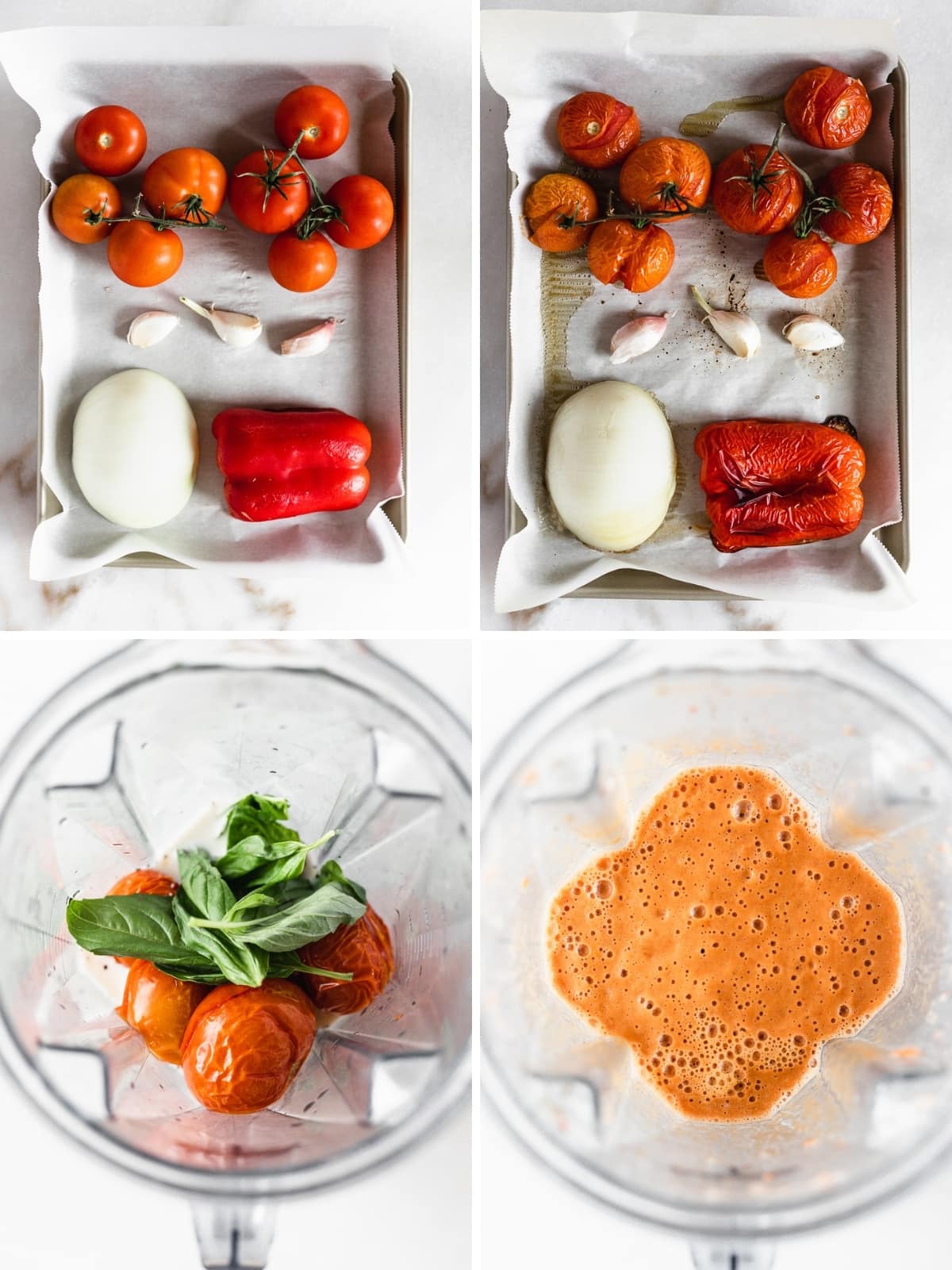 Not one to shatter my hubby's dinner dreams, I dug around the pantry and found a few cans of tomatoes and was determined to make them into tomato basil soup.
It proved to be extremely easy, actually. I sautéed some onion, bell pepper and garlic, (staples I always keep on hand because they are guaranteed to make every dish better) added the tomatoes and a couple of spices, and blended. Boom! The easiest tomato basil soup ever.
I stirred in a little Greek yogurt at the end to make this super easy soup extra creamy, but it's just as delicious (and vegan) without it.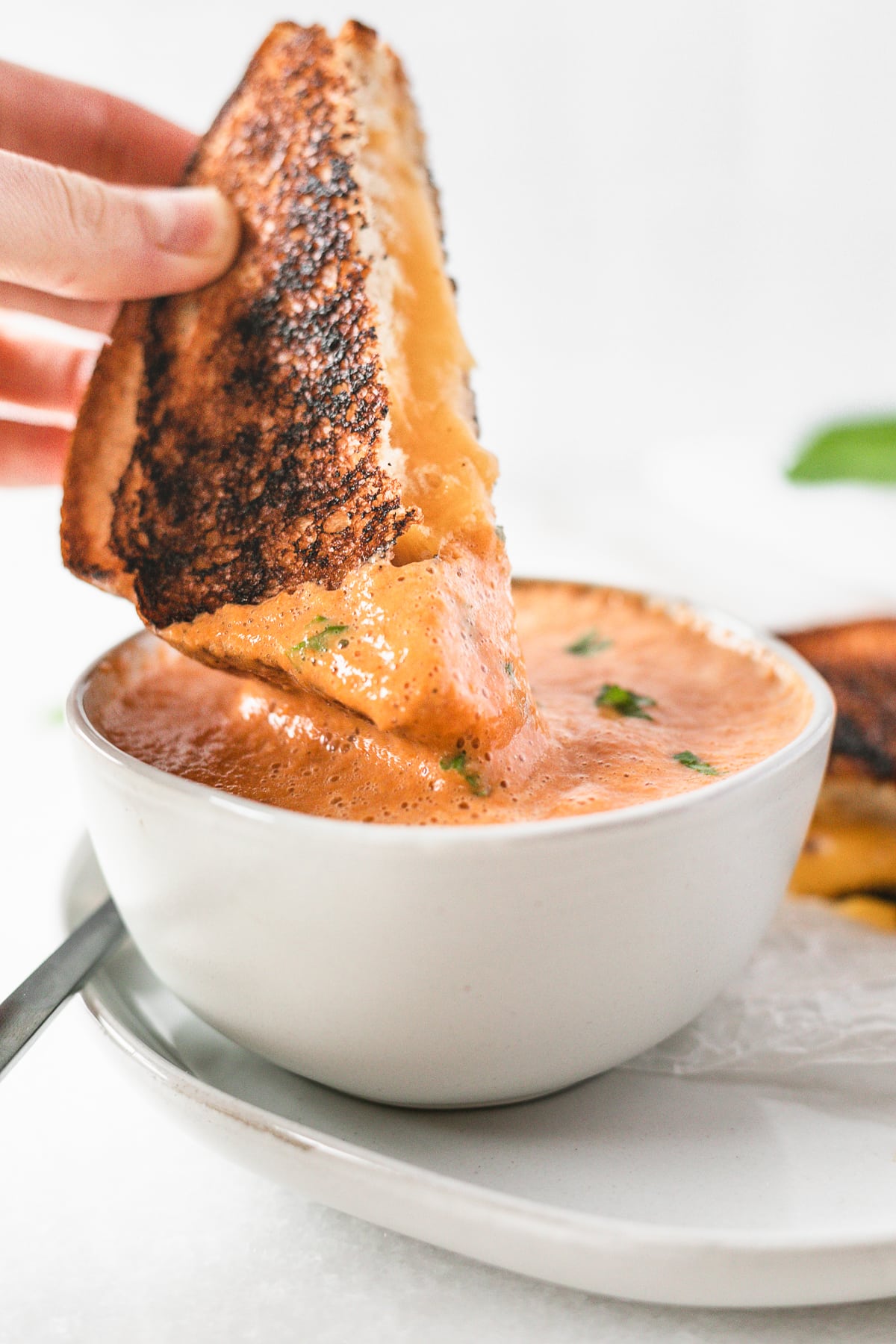 Sprinkle a little basil on top, and you have the best, easiest tomato basil soup you'll ever make that's just perfect for satisfying those cold day grilled cheese and tomato soup cravings. You may not ever buy tomato soup again – I haven't!
The easiest tomato basil soup recipe made from simple ingredients you already have in your pantry!
Ingredients
1 tsp olive oil
3 cloves garlic, roughly chopped
1/2 yellow onion, roughly chopped
1/2 red bell pepper, roughly chopped
1 (14oz) can low sodium tomatoes, including the liquid*
1/2 cup low sodium chicken or vegetable stock
Generous pinch salt
Freshly cracked black pepper
6-8 fresh basil leaves (or 1/2 tbsp dried)
1/2 cup nonfat plain greek yogurt (optional)
Croutons (optional)
Instructions
In a medium saucepan, heat oil over low heat. Add garlic, onion and bell pepper and cook until softened, about 5 minutes. Add stock and tomatoes and let simmer a few minutes.
Remove from heat and blend with an immersion blender or regular blender. If using a regular blender, do not seal lid all the way and cover with a kitchen towel to prevent hot liquid from exploding everywhere!
Return soup to the pan if you removed it, and season with basil, salt and pepper to taste. If you want a creamier soup, stir in 1/2 cup nonfat plain greek yogurt.
Ladle into bowls and top with basil or croutons, if desired.
Notes
*To make this soup with fresh tomatoes, skip the first step and roast garlic, onion, peppers, and 4 large tomatoes on a baking sheet lined with parchment for 20 minutes at 400° F, removing garlic halfway through. Peel skins off, let vegetables cool to room temperature, and blend with remaining ingredients in a blender. (Omit oil).
https://livelytable.com/easiest-tomato-soup/
Recipe copyrighted by Lively Table. Thanks!
Love this recipe? PIN it!