Feeling stuck on dinner inspiration? Ground Beef is much more versatile than you may think. Make something new and delicious tonight with one of these 3 easy ground beef recipes (that aren't tacos or spaghetti)!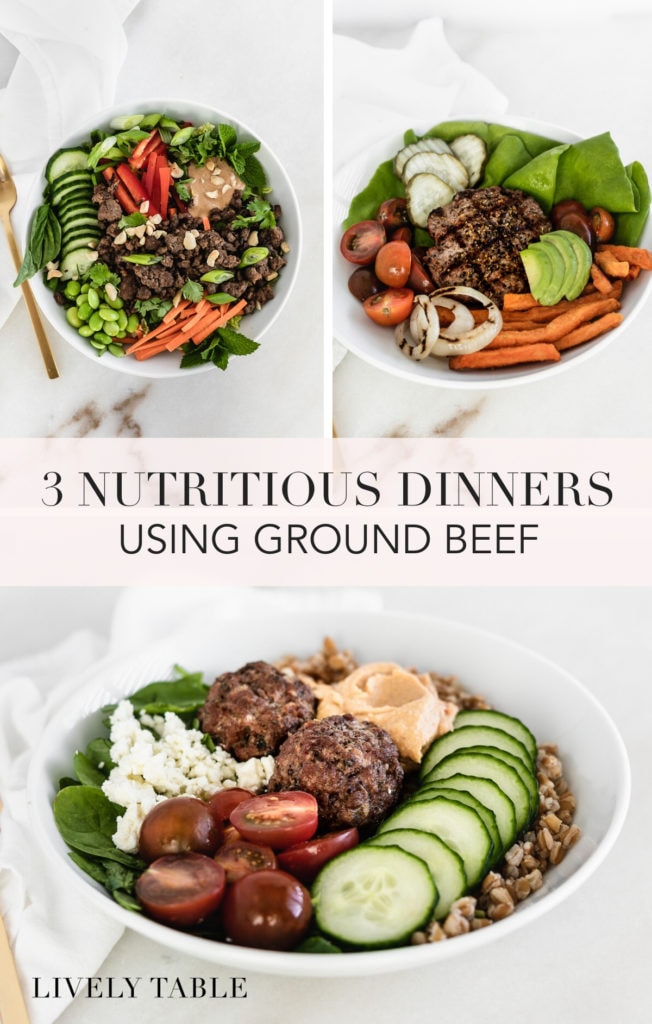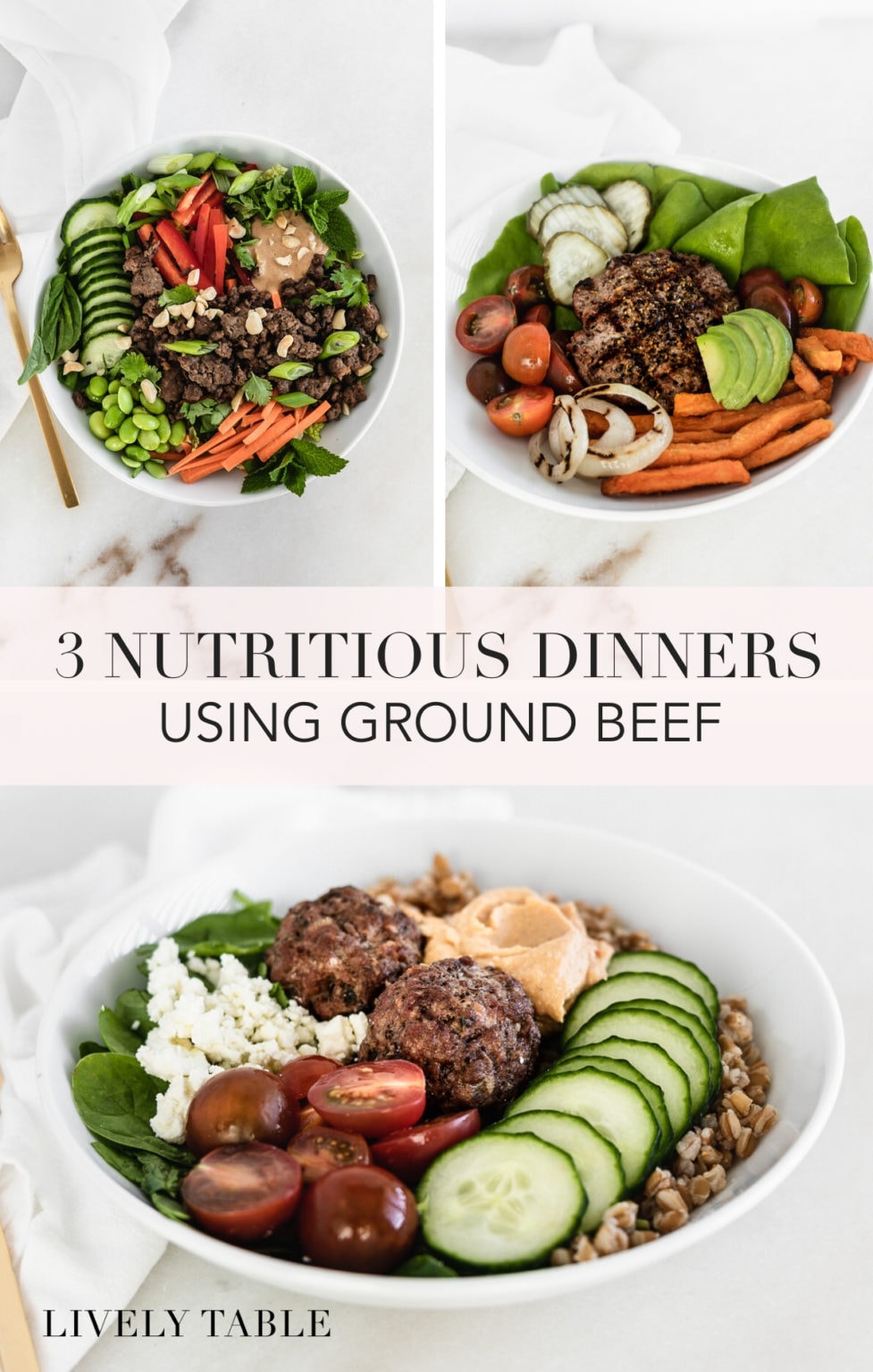 This post is sponsored by Beef. It's What's for Dinner. on behalf of the Beef Checkoff. As always, all opinions are my own. Thank you for supporting the brands that keep Lively Table running!
With so many of us cooking at home every night lately, our dinner routine can start to feel a little monotonous. While it's great to have some 'go-to' recipes that you know your family will eat and that you can whip up without thinking about it, eating the same thing week after week gets a little old, especially when you can't go out to mix things up!
If you're anything like me, you probably have at least one package of ground beef sitting in your freezer, ready to be made into something delicious. If the only thing that comes to mind when you look at that package is tacos or spaghetti sauce, this post is for you! Ground beef is so versatile - there are so many easy, nutritious dinners you can make out of that package of ground beef. To help inspire you beyond the same old dinners, I've created 3 nutritious dinners, each using a pound of ground beef, that will help you mix things up when it comes to making dinner.
3 Nutritious Dinners Using Ground Beef
Mediterranean Beef Meatball Bowls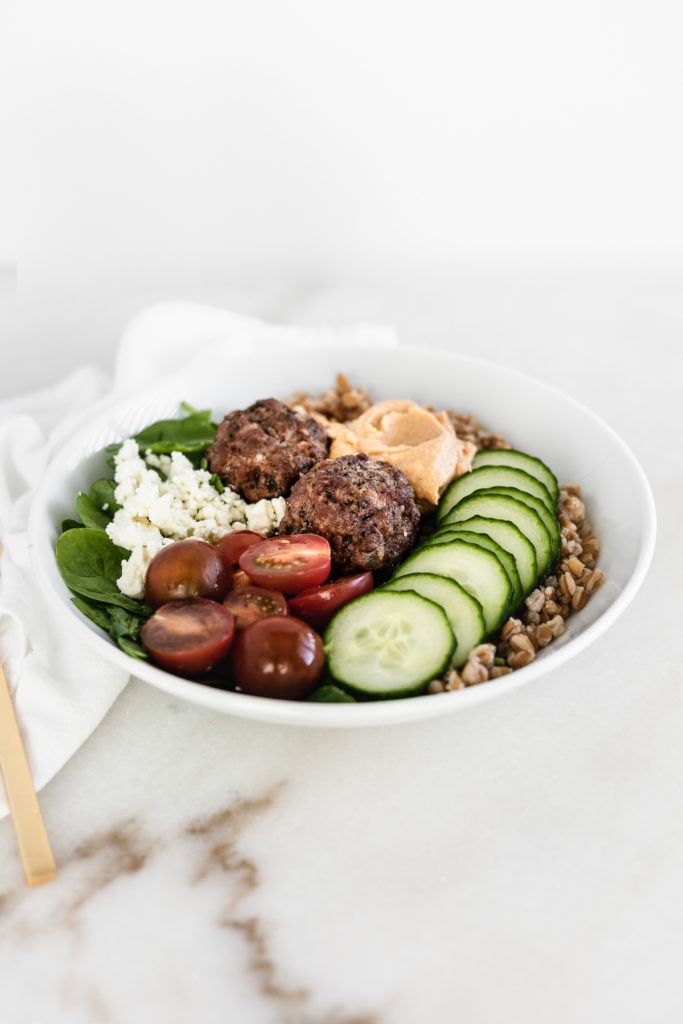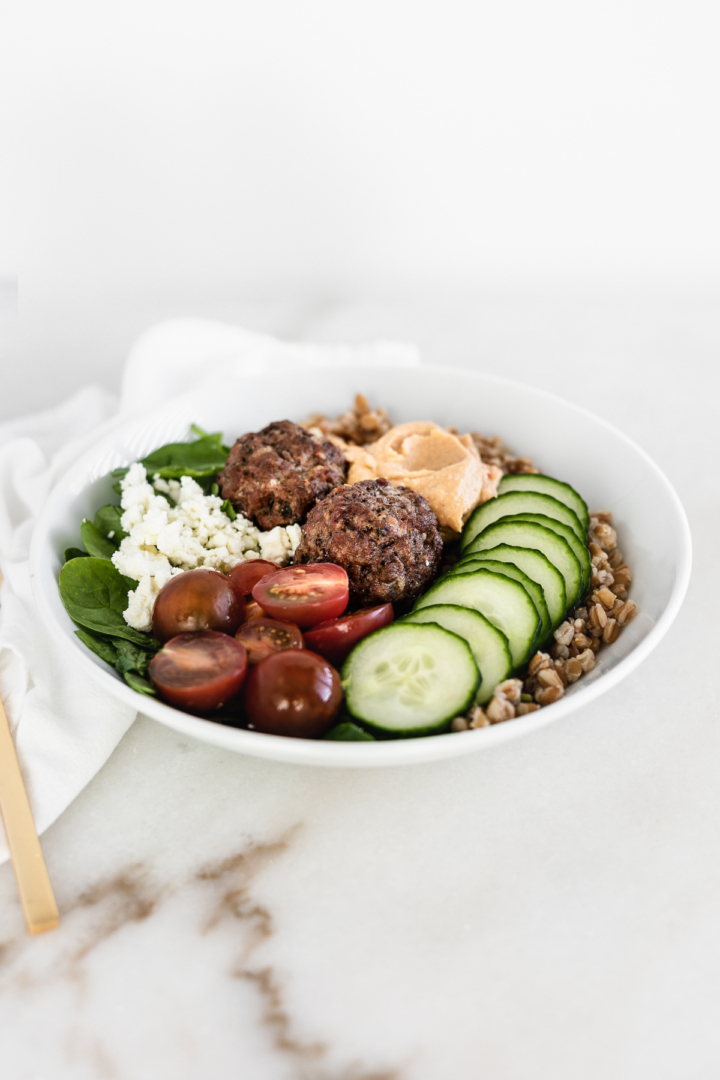 Grain bowls are so great for dinner because everyone can choose the toppings they add. I love making Mediterranean-style grain bowls with a cooked whole grain, plenty of fresh veggies, and hummus or tzatziki sauce (or both!). Topped with baked Greek-inspired beef meatballs, these bowls are flavorful and nutritious. They're also perfect for meal prep.
Ingredients:
1 lb Ground Beef (I like 90/10 for meatballs)

2 cloves garlic, grated or finely minced

⅓ cup onion, grated or finely minced

1 tablespoon fresh oregano, chopped (or 2 teaspoon dried)

2 teaspoon fresh dill, chopped (or 1 teaspoon dried)

1 tablespoon red wine vinegar (or lemon juice)

1 teaspoon smoked paprika (optional)

Pinch salt and black pepper

2 cups cooked farro or other whole grain

4 cups baby spinach or other leafy green

1 large cucumber, sliced

1 cup cherry tomatoes, halved

½ cup hummus, any flavor (I like garlic or red pepper)

¼ cup crumbled feta cheese
To Make Mediterranean Meatball Bowls:
Heat oven to 425°F.

Make the meatballs by mixing together all the ingredients in a bowl. Roll them into 1 ½-inch balls and place on a baking sheet lined with parchment or in a cast iron skillet. Bake them for 15-20 minutes.

Ground beef should be cooked to an internal temperature of 160°F. Color is not a reliable indicator of ground beef doneness.

While the meatballs are baking, chop the veggies and cook your favorite whole grain. I like farro or quinoa, but you can really use any whole grain that you love. These bowls are also great for using leftover grains if you like to batch cook.

Once the grains and meatballs are done, assemble the bowls. Start with a bed of grains and leafy greens in each of 4 bowls, then add the meatballs, veggies, hummus, and feta.
Recipe Variations:
I made these bowls super easy with fresh veggies only, but they're also delicious with sautéed kale or roasted red peppers and red onions.

I used hummus in this bowl, but tzatziki is also delicious.

If you're dairy-free, simply leave off the feta cheese.

Top with any other toppings you like, such as fresh parsley or dill, olives, or canned chickpeas.
Asian Chopped Salad With Ginger Ground Beef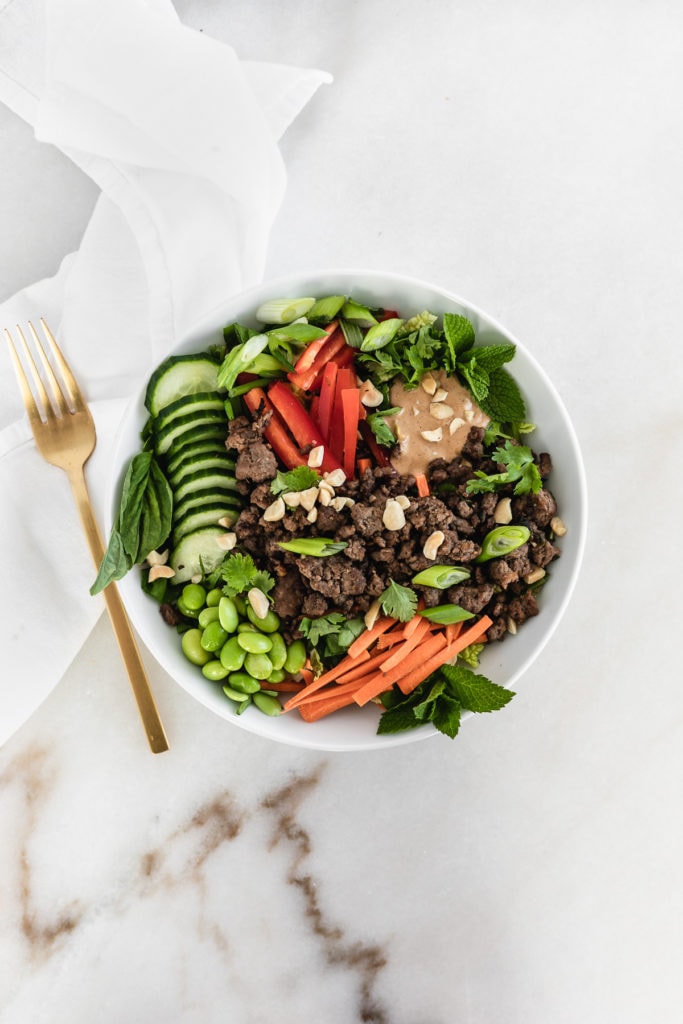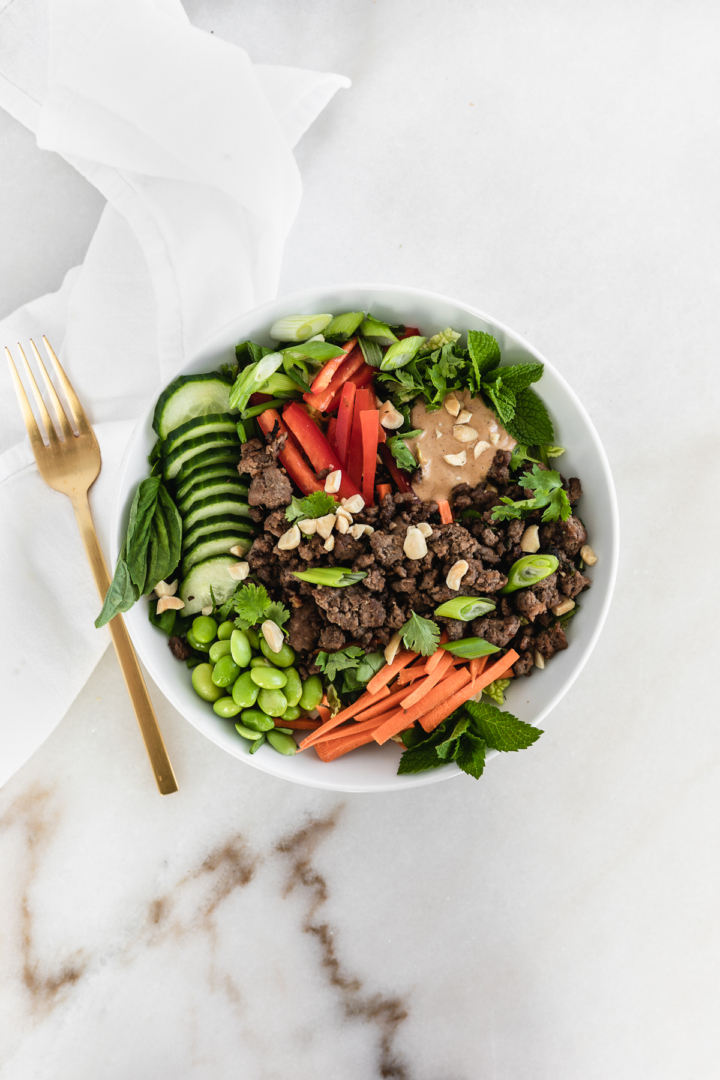 I love making this salad for dinner, especially during the summer months, because it's so fresh and full of veggies. It's topped with ginger ground beef that takes 10 minutes to make, and a Thai-inspired peanut sauce that takes it over the top! This salad is great for using up whatever veggies you have, and leftovers are delicious the next day for lunch.
Ingredients:
For the Beef:
1 lb. Lean Ground Beef (such as 93% lean)

1 teaspoon sesame oil

2 cloves garlic, minced

2 green onions, chopped

1 teaspoon fresh ginger, grated (or ½ teaspoon ground ginger)

2 tablespoon low sodium soy sauce

1 teaspoon honey

½ teaspoon red pepper flakes (or more to taste)
For the Salad:
4 cups chopped Napa cabbage

4 cups chopped baby spinach

2 green onions, chopped

½ red bell pepper, cut into matchsticks

1 large carrot, cut into matchsticks

½ cucumber, thinly sliced

½ cup frozen shelled edamame, thawed

1 cup fresh herbs, roughly chopped (I use mint, cilantro, and basil)

¼ cup chopped peanuts

¼ cup

Thai peanut sauce

, to taste
To Make Asian Chopped Salad With Ginger Ground Beef
Chop all of the veggies for the salad and place them in a large bowl, along with the edamame, herbs, and peanuts.

Make the peanut sauce.

Chop garlic and onion for the beef.

Heat a skillet over medium heat and add the oil and ground beef, stirring to break up the meat.

Add remaining ingredients for the beef and continue cooking until the beef is cooked through and crispy.

Ground beef should be cooked to an internal temperature of 160°F. Color is not a reliable indicator of ground beef doneness.

Toss the salad with peanut sauce and divide among 4 plates. Top with cooked ginger beef.
Recipe Variations:
Use any cabbage (such as purple) or greens (like butter lettuce or romaine) that you like.

You can throw in any fresh veggies that need to be used, such as celery, red onion, or tomatoes.

I love fresh mint, cilantro, and basil in this salad, but if you don't have one (or more) of them, leave them out!

I use my homemade Thai peanut sauce for the dressing in this recipe, but you can use store-bought peanut sauce or any soy sauce-based dressing.
Beef Burger Bowls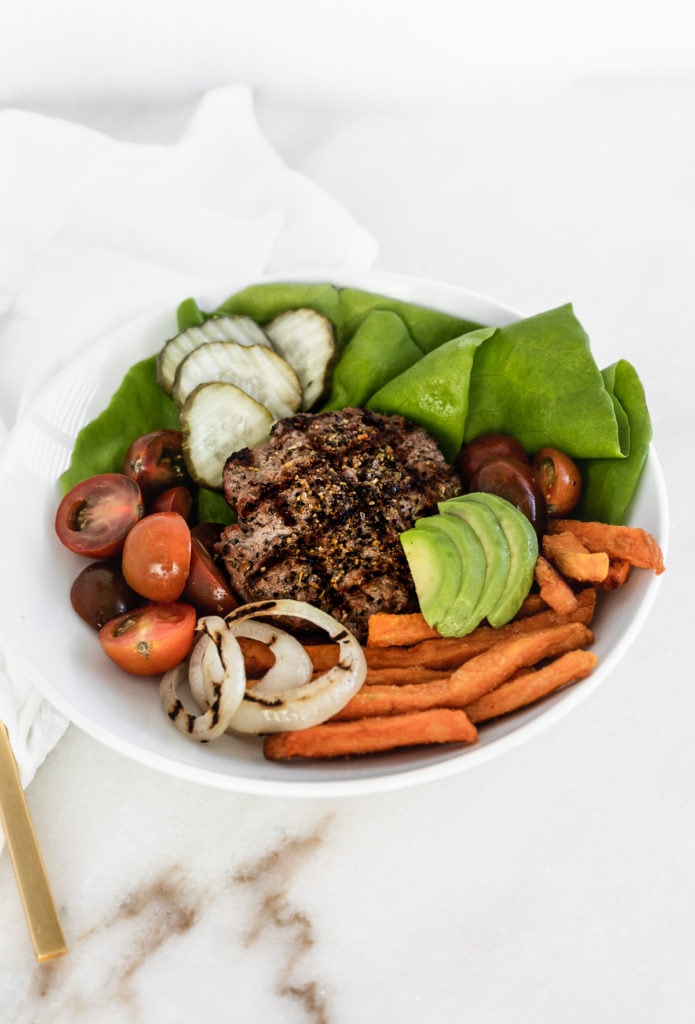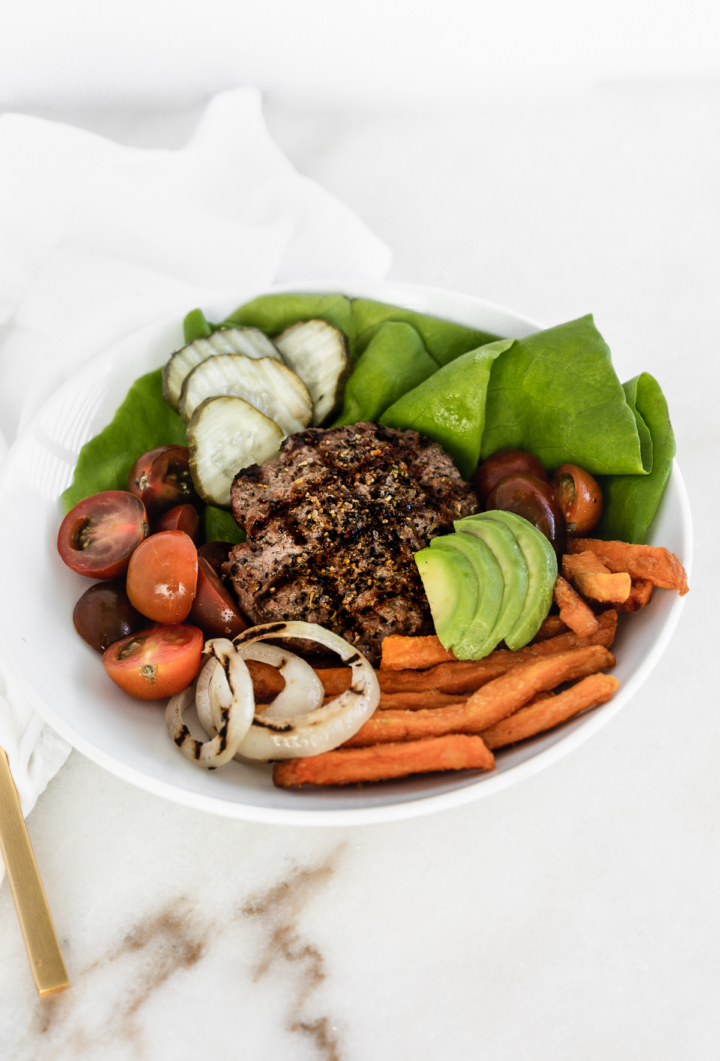 We rarely buy hamburger buns because they will go bad before we can eat them all. Instead, we put our grilled beef burger patties in a bowl with lots of fresh veggies and baked sweet potato fries! Everyone gets to add the toppings they like, and you get more veggies than a traditional burger this way.
Ingredients:
1 lb. Ground Beef (I like 80/20 or 85/15 for burgers)

Kosher salt

Black pepper

Steak seasoning

1 med onion, sliced ¼ inch thick
For the bowls:
Lettuce of choice (I like butter lettuce or romaine)

Cherry tomatoes or sliced tomato

Dill pickles

Avocado, sliced

1 (15 oz) package baked frozen sweet potato fries (or try my

grilled sweet potato wedges

!)
To Make Beef Burger Bowls:
Divide Ground Beef into 4 portions and shape each into a 1-inch thick patty. Handle the meat as little as possible for the juiciest burgers. Season each patty with salt, pepper, and steak seasoning on both sides.

Heat grill to medium heat. Place onion slices on the grill over indirect heat, flipping once. Grill burgers 8-10 minutes, flipping once halfway through. They are done when the internal temperature reaches 160°F.

While burgers cook, cook the sweet potato fries or wedges according to directions and cut veggies for the bowls.

Once burgers are done, assemble bowls. Start with a bed of lettuce in each of 4 bowls, then add a beef burger patty to each. Top each bowl as desired with tomatoes, pickles, grilled onions, avocado, and sweet potato fries.
Recipe Variations:
No grill? You can cook the beef burgers in a skillet on the stove over medium heat.

You can use frozen tots or grilled potato wedges in place of sweet potato fries. For a low-carb version, you can leave the sweet potato fries off.

Add cheese to the burgers in the last 1-2 minutes of grilling if you'd like cheese.

Switch up the greens to suit your taste. Try spinach, kale or arugula in place of lettuce!

Get as creative as you want with toppings! Try grilled mushrooms or peppers, guacamole, or your favorite dressing.
Armed with these recipe ideas, you're now free to make that package of ground beef in your freezer into a new, exciting dinner for your family! For even more recipe ideas, visit www.BeefItsWhatsForDinner.com.
Now tell me, what's your favorite way to use ground beef?