In this installment of Fridge Foraging, I made pulled pork stuffed poblano peppers, asparagus goat cheese grilled cheese, strawberry cheesecake overnight oats, an Asian-inspired meatball salad, and sourdough English muffins.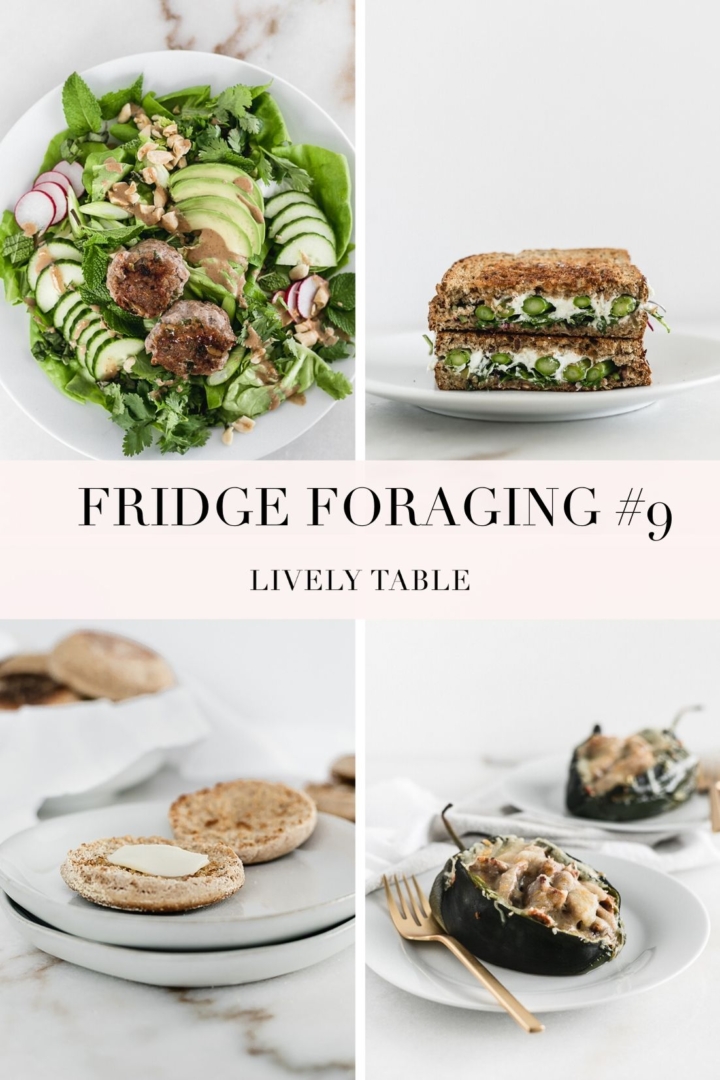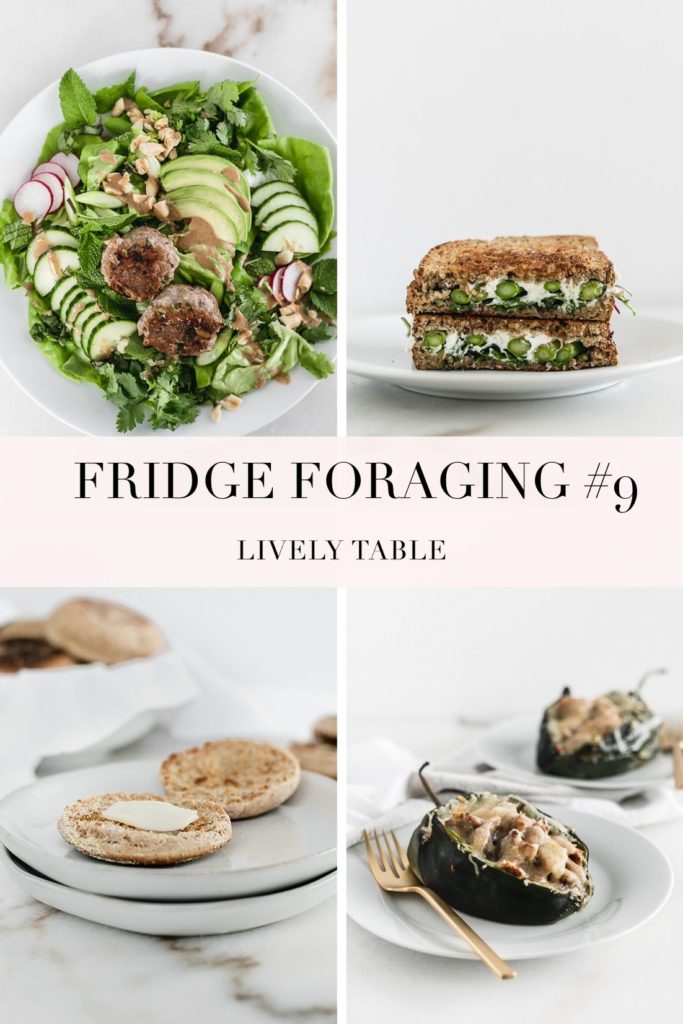 I think it's safe to say we've all been doing plenty of fridge foraging over the past couple of months. Being stuck at home with limited runs to the grocery store, we've probably all been forced to look a little deeper into our pantries, refrigerators and freezers to dig up something to make for dinner... and lunch, and breakfast.
With the added difficulty of having kids around all day every day, it's been difficult to capture all of the meals I've made out of what we had on hand, but I managed to snap a picture of a few.
Here's What I Made This Month While Fridge Foraging

Pulled Pork Stuffed Poblano Peppers
A super easy formula for any leftovers use have? Put them in a pepper and cover it with cheese. Super easy, super delicious. I had some of my cranberry chipotle pulled pork in the freezer, so this dinner could not have been easier. We served them with canned black beans and called it a day. To make them:
Cut a 'T' shape in the peppers by making a horizontal cut near the stem, then a vertical cut down the center of one side. Remove the seeds place them on a baking sheet. Roast them for 10-15 minutes, then remove them from the oven.
Stuff the peppers with leftover pulled pork, then place them back in the oven for about 10 minutes.
Sprinkle the top of each pepper with Monterey Jack cheese and continue roasting until the cheese is melted and bubbly.

Strawberry Cheesecake Overnight Oats
I really like cottage cheese. But I always forget about it when I buy it. Then I'm left scrambling to eat it before it goes bad. To give my cottage cheese a little something extra, I made it into overnight oats with some strawberries I had in the freezer. To make them:
Combine ½ cup cottage cheese, ½ cup milk, juice from ½ lemon, and 1 teaspoon maple syrup in a food processor (I love this one). Pour it in a jar.
Add ½ cup oats and 1 teaspoon chia seeds. Stir to combine.
Add ½ cup frozen strawberries, close the lid, and refrigerate overnight. In the morning, the strawberries will be thawed and jammy!

Asparagus Goat Cheese Grilled Cheese
Asparagus goes bad fast. So I usually end up finding some that looks a little sad in my veggie drawer and blanch it to buy me a couple of days. (To blanch them, just place them in boiling water for a couple of minutes until they turn bright green, then place them in an ice water bath to stop the cooking.) To use some of my blanched asparagus to make a killer grilled cheese with some goat cheese and arugula. Tip: You can put almost anything in a grilled cheese and it will be amazing. To make this green grilled cheese, here's what I did:
Heat some olive oil in a cast iron skillet. Place one piece of grainy bread in the skillet, then layer some goat cheese, blanched asparagus spears, arugula, and microgreens.
Add a little more goat cheese and top with a second slice of bread.
Cook on low until the bottom is toasted, then flip and cook until the other piece of bread is toasted and the cheese is melty.

Asian Pork Meatball Salad
I bought a bunch of lettuce and cabbage for a recipe development project, and ended up with a ton of it left over. So I made a version of Spices In My DNA's Vietnamese Salad With Pork Meatballs with some leftover Thai Peanut Sauce I had in the fridge. I added some avocado and chopped peanuts, and it was delicious! I bake my meatballs at 425°F for about 15 minutes instead of frying them on the stove for less mess.

Sourdough English Muffins
I've been making a lot of sourdough, so I have a lot of starter discard. I hate to waste that much flour, especially when it can be used to make all kinds of delicious things. So I made sourdough English muffins using the King Arthur Flour recipe. I used honey instead of sugar and white whole wheat pastry flour for some whole grain goodness. They came out amazing, so I'll be tweaking the recipe a little bit more and sharing with you all soon!
To see some more of the meals I've been making during quarantine, you can go the 'Quarantine Meals' highlight on my Instagram. Tell me some of the things you've been making for the ingredients you have on hand!