What does a dietitian keep in her pantry at all times? Here's how I stock a healthy pantry with nutritious ingredients at all times to make healthy eating easier and more affordable, and for some peace of mind in case of an emergency.
I'm a dietitian (read: type A). My husband has Boy Scout prepper tendencies. So we like to be prepared. And part of being prepared is keep a pantry stocked with healthy goods. It's amazing to me how many people don't actually keep food in the house, and honestly, that's just silly.
Why To Keep A Stocked Pantry
It's Practical. When it comes to eating a nutritious, balanced diet, it's SO much easier when you're prepared. And by that, I don't mean meal prepping every Sunday or even planning your next week's meals (although those things can certainly help). I mean having the basics on hand to make meals and snacks. It's nearly impossible to consistently eat a healthy, balanced diet if you don't have any food in your kitchen. But you also don't want to run to the store every time you're hungry. Having a variety of nutritious staples on hand at all times gives you the ability to whip up something to eat any time you want. Pair pantry essentials with the refrigerated and frozen items you have on hand to always have something delicious and nutritious at your fingertips! (For lots of fun ways to use up food and to see how I put my pantry essentials to work without a plan, see my Fridge Foraging series!)
It's Important In Case Of Emergency. Think about this. What would happen if you were stuck in your house for 3 days? How about 3 weeks? 3 months? What would you eat? (There's no Uber Eats in this scenario.) While you probably don't need enough food for 3 months on hand, especially if you live alone, it's important to be able to nourish your body in the event of an emergency. Keeping a stocked pantry could quite literally save your life.
How Much Food Do I Need?
That's entirely up to you. Think about how much space you have, what's practical for you, and what makes you feel most comfortable. Our family probably keeps at least 3-4 months worth of food in the house, although part of that is because I'm a food blogger and it's much more convenient for me to have a ton of ingredients on hand. And also because we have a Costco membership. But you should have at the very bare minimum, 3 days worth of food and water on hand, and probably more to make your life easier so that you don't have to run out and grab lentils or rice every time you want to make a dish. What do you use most often? Buy a lot of that.
Healthy Foods To Stock Your Pantry:

Whole Grains and Beans
These are essential for healthy, filling breakfasts, lunches and dinners in my house. They keep well for a long time, can be bought in bulk, are affordable and so versatile. I keep a large variety of grains and dried beans on hand, but I make sure to stock these ones as soon as I'm running low.
Old fashioned oatmeal
Quinoa
Brown rice
Whole wheat pasta (or chickpea pasta for gluten-free friends)
Dried black beans
Dried lentils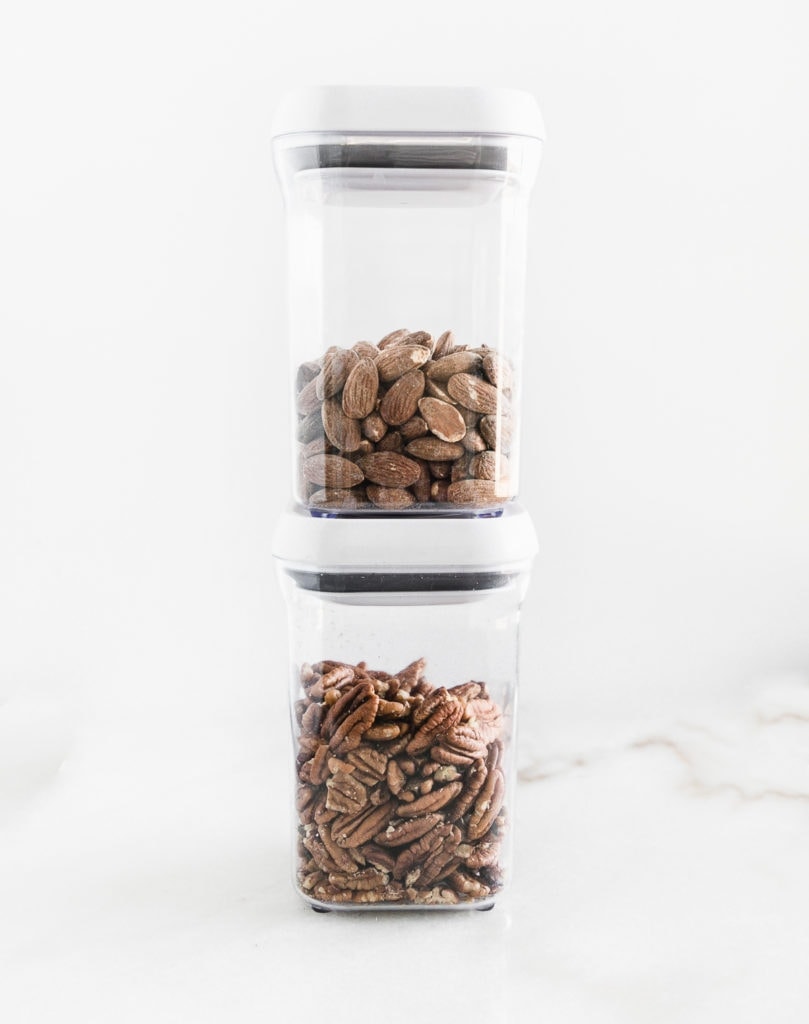 Nuts and Nut Butters
I keep pretty much every kind of nut and nut butter for snacking or for tossing on salads or oatmeal. Nuts, seeds and nut butters provide a powerful mix of plant protein, healthy fat, and fiber, and they also bring a satisfying crunch or delicious creamy flavor to food. These are the ones I use the most. If you don't use nuts and seeds very often, store them in the refrigerator or freezer to keep them from going rancid.
Almonds
Walnuts
Pecans
Natural peanut butter
Natural almond butter
Flaxseed

Canned Goods
Canned goods are essential for convenience and for shelf life. Whether it's throwing some beans on a salad for protein, adding tomatoes to soup or salsa, or whipping up tuna salad when you have nothing to eat for lunch, these canned goods are must-haves for me. Look for low sodium versions if you can.
Tuna packed in water
Chickpeas
Black beans
Diced tomatoes
Corn
Oils
Heart-healthy oils should be in everyone's pantry. They're essential for healthy cooking, baking, and making dressings and marinades. Store them in a dark, cool place to keep them fresh longer.
Other Items
These are a few other pantry items I keep on hand to make my life in the kitchen easier and tastier.
White whole wheat flour for baking
Dried fruit
Honey or maple syrup
Low sodium chicken/vegetable stock
Heat and eat whole grain rice packets (like Uncle Ben's)
I like buy most dry goods in bulk to save money and packaging, and store them in clear containers where I can see them. I love the OXO pop containers for the easiest organization and keeping containers sealed tightly.
While all of these items are essentials that I personally use frequently, they are just suggestions. Remember that wasted food is wasting money, so don't buy products you won't ever use, and don't feel like you have to buy or eat something just because I do! Do what works best for you and your family.
Do you have any pantry essentials that make everyday healthy eating easier for you? Let me know in the comments below!