Eat better at home, save time and money, and feel more organized by making meal planning a habit. Start meal planning now with this beginner's guide to meal planning!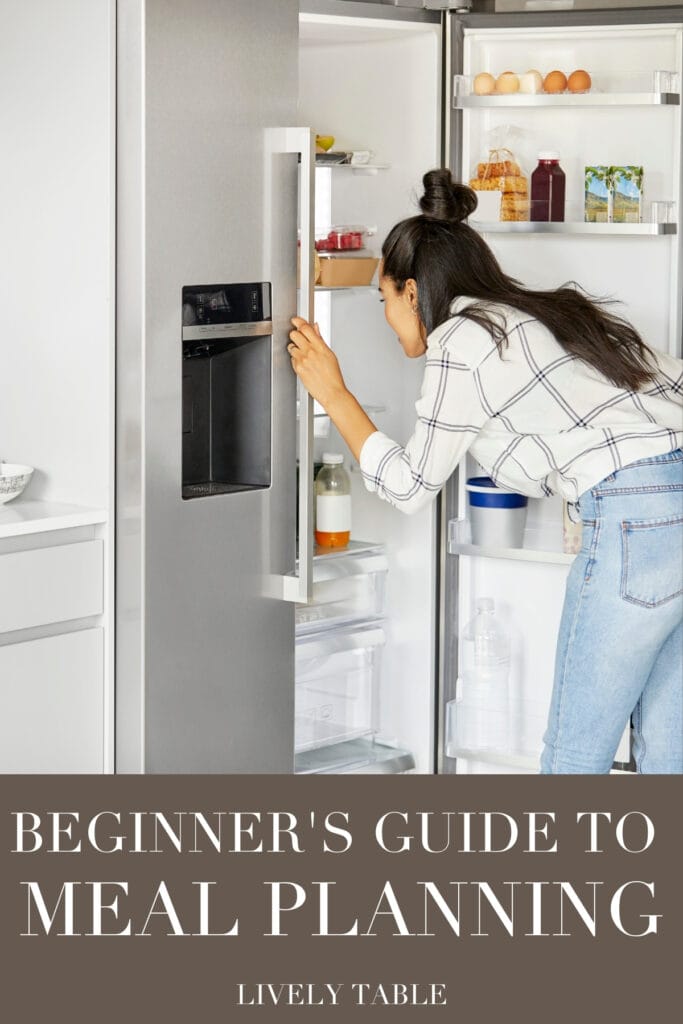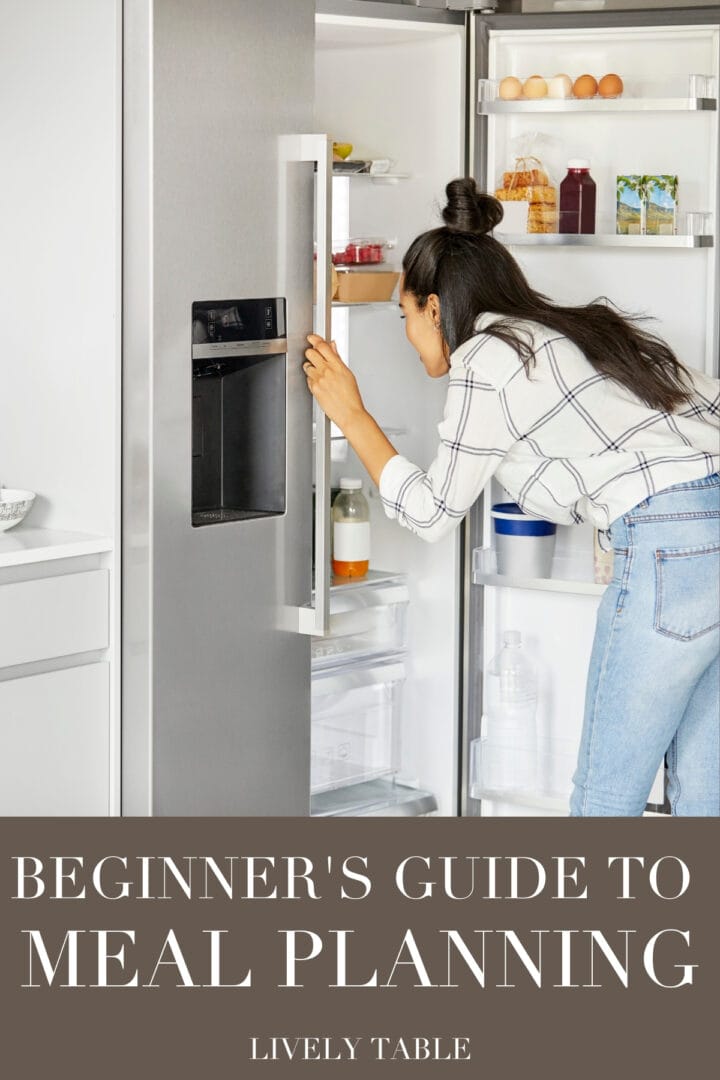 I'm a huge fan of meal planning. I try to write out our family meal plan every Sunday so I know exactly what we are eating all week and what we need (and don't need) at the store. Then come dinner time, we aren't left playing the "what do you want?" game, rushing to the grocery store, or going out to eat. It saves my sanity and saves us time and money as a family.
Beginners Guide to Meal Planning: Why Meal Plan?
I told you a little bit about why I meal plan, but there are so many benefits from taking just a little bit of time each week to write out your plan. Meal planning saves money (less eating out and more shopping based on seasonal produce and sales), saves time (no playing the guessing game or making multiple trips to the grocery store), and reduces food waste (you can plan to use up leftovers instead of throwing them out). Nutritionally, meal planning also helps your family eat better. You can think about balanced meals with protein, carbohydrates, and fruits and vegetables at all of your meals, and you're also less likely to fall into a rut of your same few go-to meals, meaning you and your family get more variety.
How To Meal Plan: 8 Meal Planning Tips for Beginners
1.Start Small
If you're new to meal planning, start by planning just a couple of meals for the week so you don't get overwhelmed. Then you can add in meals and work your way up to a whole week. I only plan dinners because I'm a creature of habit and eat the same few breakfasts and eat leftovers for lunch.
5.Know What You Have
Always shop your own pantry, refrigerator, and freezer before making your meal plan. Planning meals based on the food you already have is the best way to avoid food waste. It's also a fun way to get creative and come up with new meals.
2.Write Out Your Menu
It seems like a no-brainer, but writing down your plan will help you remember and stick to it. You can use your smartphone, a pen, and paper, or a specially designed meal planner. I like to use a dry erase board on my fridge.
Grab inspiration from anywhere to plan a variety of meals. From Instagram, Pinterest and blogs to food magazines and cookbooks, recipe inspiration is everywhere to keep you from eating the same meal every week.
3.Make A Grocery List
Once you have your meal plan written out, make a grocery list of the items you don't already have. Making a list will ensure you have all of the ingredients you need for the week, and help you avoid impulse buys, which can lead to spoilage if you don't have a plan to eat them. You can organize your list based on the sections of the grocery store to make it easier when you're there.
6.Cook in Bulk
Meal planning lets you cook enough for more than one meal and ensure that you still eat the leftovers instead of letting them go to waste. By cooking for more than one meal, you can freeze extra for later or pack leftovers for lunch. Or you can just eat the same thing more than one night in the week (perfect for bigger meals like chili). You can also make meals specifically for the freezer. Then you can plan on having them on busy weeks ahead!
4.Meal Prep
Making time to meal prep for the meals you've planned can make your cooking easier. Since you know what you're making ahead of time, you can move meat from the freezer to the fridge to thaw a day ahead of time or go ahead and make a batch of quinoa for sides or meatballs. You can chop any veggies you know you'll need ahead of time, too.
7.Plan For A Night Off
Whether it's a dinner out, leftovers, or your spouse cooking dinner, plan to take a night off to save your sanity. As much as I love being in the kitchen, even I need a night off from cooking dinner. Your night off is also a great night for breakfast for dinner or using those meals from the freezer.
8.Plan Theme Nights
If you're having trouble coming up with ideas, plan weekly theme nights, like Meatless Monday, Taco Tuesday, Friday Night Pizza, etc. Then you can put a spin on each based on what you have in the fridge that week.