Learn how to can your own food and preserve your garden's harvest at home with this beginner's guide to canning - including terminology, the canning process, safety tips, and recipes!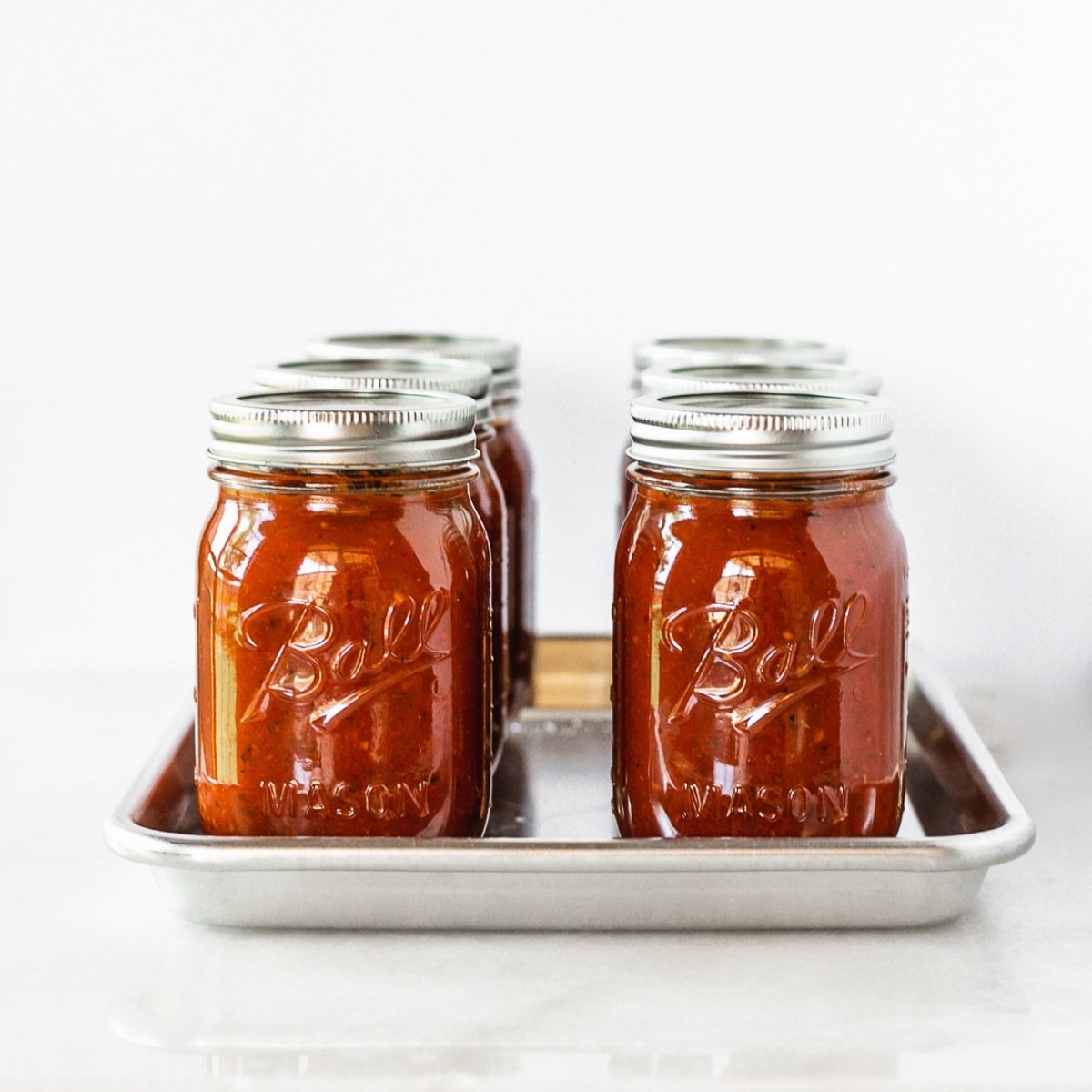 Canning is one of those things that seems intimidating at first, especially with all the warnings about spoiled food and the unfamiliar terminology used with many canning recipes. But I promise, it gets easier the more you do it! And the payoff is so worth it! I seem to get a lot of questions about canning, so I've put together a little guide to help you get started.
Why Home Can Food?
I love canning. Not only is it fun and rewarding, it's really very practical. Canning my own healthy sauces, like enchilada sauce and spaghetti sauce, saves me time when I go to make dinner on busy nights. It's also much more convenient to store homemade jams and jellies, and things like roasted hatch chiles or prepared artichoke hearts, in the pantry than to have them take up precious freezer space. Finally, canning is a great way to prevent food waste, as you can preserve so many different fruits and vegetables, sauces and spreads to enjoy all year long!
Beginner's Guide to Canning
Terms to Know
Lid - The flat circle part of the top that goes on top of the jar first.
Band - The round part that screws on after the lid is placed.
Headspace - The amount of empty space you leave from the top of the filling to the top of the jar.
Water Bath - Method of canning for high acid or high sugar foods like pickles, tomato sauce or jams. Filled cans are boiled in a large stock pot filled with water for a set amount of time.
Pressure Canning - Method of canning for low acid foods, like meat and vegetables. A pressure cooker reaches a higher temperature needed to safely preserve low acid foods.
Finger-Tight - Tightness of screwing on the band reached by just using your hands.
Processing time - The amount of time you need to boil or pressurize jars of food to ensure bacteria is killed and food can safely be stored.
Tools you'll need:
Glass preserving jars with bands and new lids
Large saucepot with a lid and rack that fits inside for waterbath canning, or a pressure canner for pressure canning
Headspace tool, wide mouth canning funnel, and jar lifter (usually sold as a kit)
Common kitchen tools for preparing your recipe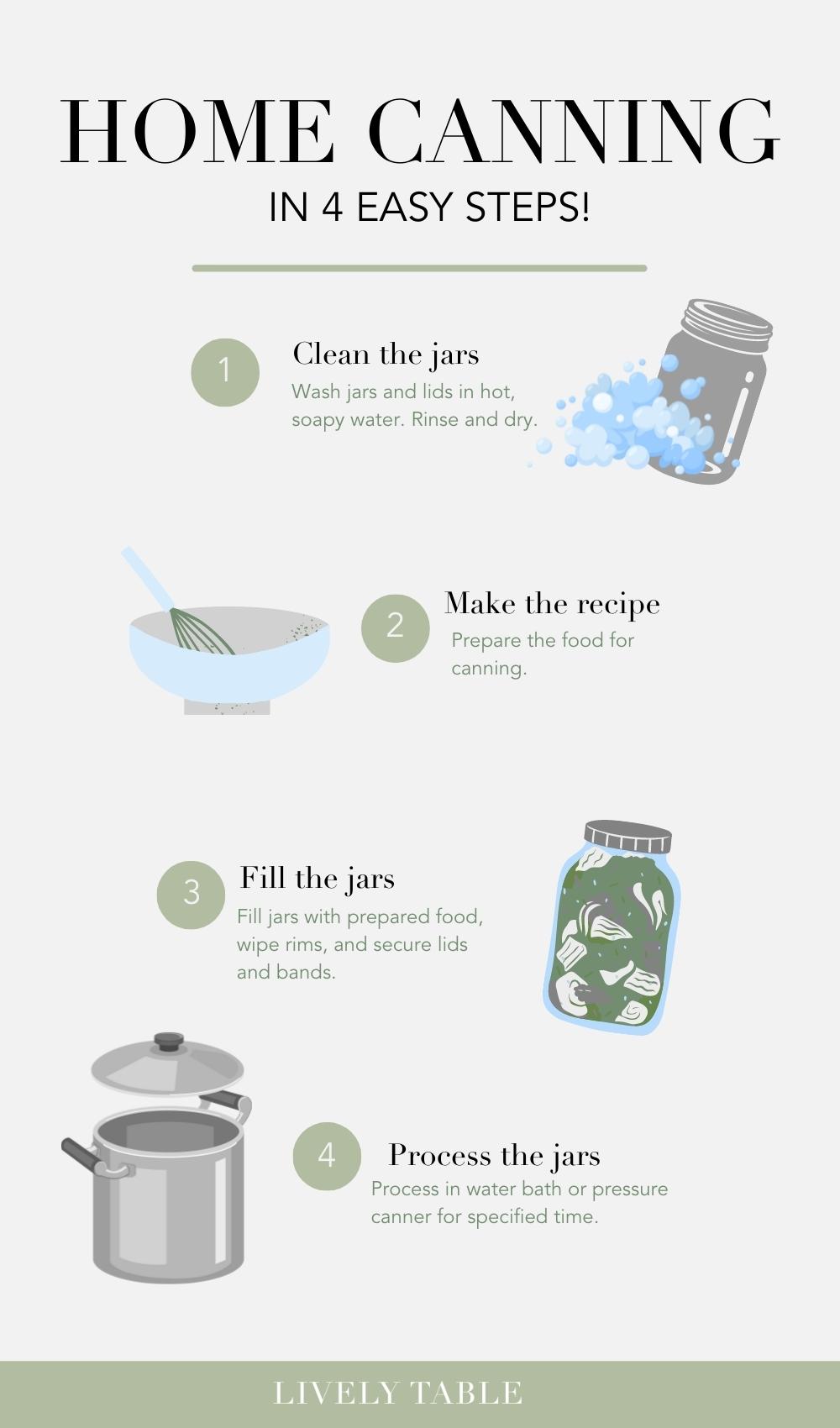 Canning Steps
Determine the method of canning you'll need to use. The recipe you're using should state which method you'll be using (water bath or pressure canning), or you can read this article to help you determine the best method.
Prepare your jars.

Discard any jars with cracks or nicks.
Wash jars and new lids in hot, soapy water and dry. According to the USDA's newest Complete Guide To Canning, it is no longer necessary to sterilize jars prior to filling them if the jars will be processed in a water bath or pressure canned for longer than 10 minutes. It is also no longer necessary to boil the lids, as this may prevent them from sealing properly.
Keep jars hot until you're ready to fill them if the recipe calls for hot packing (or using hot food). This will keep the jars from shattering when you fill them.

Prepare your canning method.

For a water bath, set the rack on the bottom of the pot. Fill it about halfway with water and keep it at a simmer, covered, until you place the jars inside.
For a pressure canner, place the rack inside and fill with 2-3 inches of water.

Prepare the food to be canned according to the recipe.
Fill jars with prepared food.

Use the funnel to pour food (or boiling liquid) into jars to prevent splashing, leaving the amount of headspace called for in the recipe.
Use a long, skinny tool, such as a wooden skewer, or a rubber spatula to remove any air bubbles by sliding the tool between the jar and the food.
Wipe the rims of the jars clean with a clean damp cloth (I like to use a little vinegar on the cloth).
Center the lid on the jar, then screw the band on over the lid until it is finger-tight.

Process your jars.

Place jars into water bath or pressure canner using the jar lifter.
For a water bath, the water level should be 1-2 inches above the tops of the jars. Bring the water to a rolling boil. Once boiling start the timer and process for the time called for in the recipe. Once processing time is done, turn off the heat and let the cans sit for 5 minutes before removing to a towel on the counter.
For a pressure canner, place jars on a rack in the pressure canner. Ensure water level is 2-3 inches high. Place cans on the rack. Lock the lid in place, turn heat to medium-high and allow steam to escape through the open vent for 10 minutes before closing the vent or placing the weight gauge on the vent. Allow the cooker to come to recommended pressure and start the timer for the recommended processing time, maintaining recommended pressure the entire time. Once processing time is done, turn off heat and let pressure return to zero naturally. Once depressurized, unlock or lift gauge from vent and open lid away from your face. Let cans rest for 10 minutes before removing to a towel on the counter.
For recommended processing times of different foods, refer to the USDA Complete Guide to Home Canning.

Let cans rest on the counter and test for proper sealing.

Leave jars out on the counter for 12-24 hours. Do not retighten bands, as this may interfere with the sealing process. You will hear 'pops' as the lids seal completely.
After 12-24 hours, check for proper sealing. When you press the lid down, there should be no flex (it should not move down or pop up). Remove bands and lift lids with your fingers. If lid remains attached, it is sealed properly.
Store properly sealed jars in a cool, dark place up to 18 months or as described in the recipe. Leave the bands off, as any water stuck under the band will cause rusting.
Immediately refrigerate any unsealed jars and consume promptly.
Like I said, the process will get easier the more you practice!
Canning Recipe Ideas