Create the ultimate snacking experience for entertaining with this sweet and salty berry cheese board.
This post has been sponsored by TRISCUIT. All thoughts and opinions are my own.
What gathering is complete without a gorgeous cheese board? Building a pretty cheese plate filled with a variety of delicious cheeses and toppings is an entertaining must for me. Nobody can resist good cheese with a glass of wine, and if you build it right, there are options for every guest's taste!
My favorite pairing is cheese and fruit, so I built the ultimate berry and cheese board for a sweet and savory snack combo that's perfect for entertaining. With fresh and dried fruit, nuts, simple spreads like honey and fig preserves, chocolate, and TRISCUIT Crackers, this board is not only beautiful but so tasty!
Here's how to build this sweet and savory berry cheese board:
Start With Quality Cheese
An impressive cheese board always starts with the best quality cheese. One of the things I miss most about living in Dallas is the access to amazing cheeses from all over the world. The selection here in west Texas just isn't the same. While we had some great cheese shops in Dallas, I usually picked up a variety of delicious cheeses at Kroger when I wanted to make a cheeseboard. Not only does Kroger have a really great selection of high-quality cheeses that are perfect for entertaining in many stores, but I can also pick up everything else I need for a fruit and cheese board. As a general rule of thumb, you want at least 3 different cheeses:
A very soft, creamy cheese, such as brie.

A semi-soft cheese (I always choose a blue cheese).

A hard cheese ( I like manchego and a merlot bellavitano.)
Get as adventurous as you want. I like to mix up the types of cheese by milk, too. Some cow's milk, some sheeps, some goat. And if you or a guest is expecting (like me), make sure all of the cheeses are made with pasteurized milk. Kroger made it easy for me to tell by looking right at the information signs.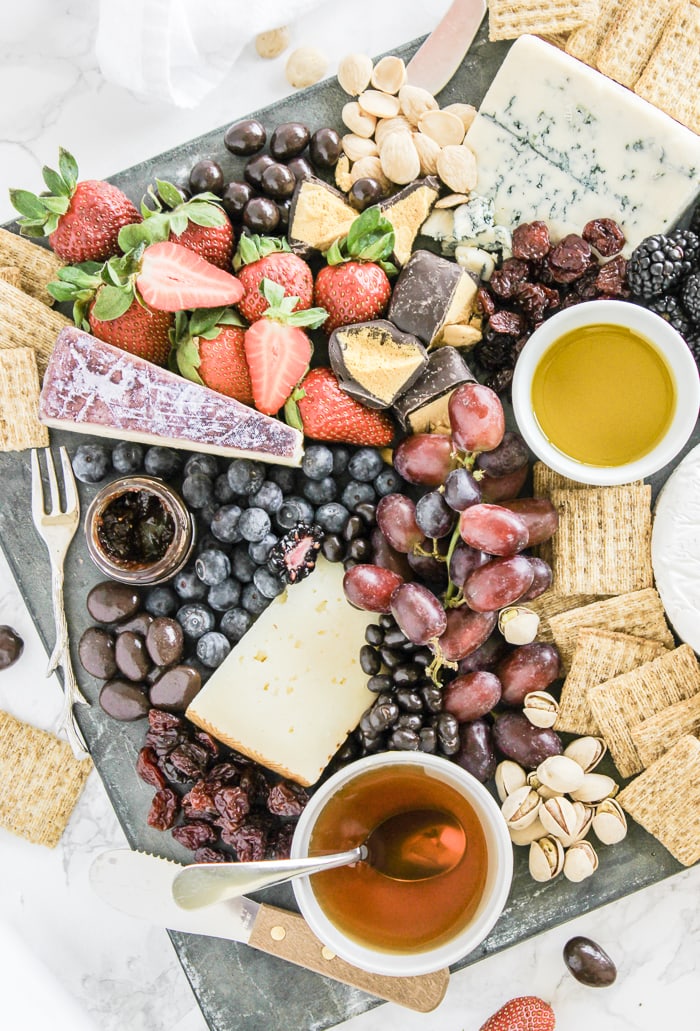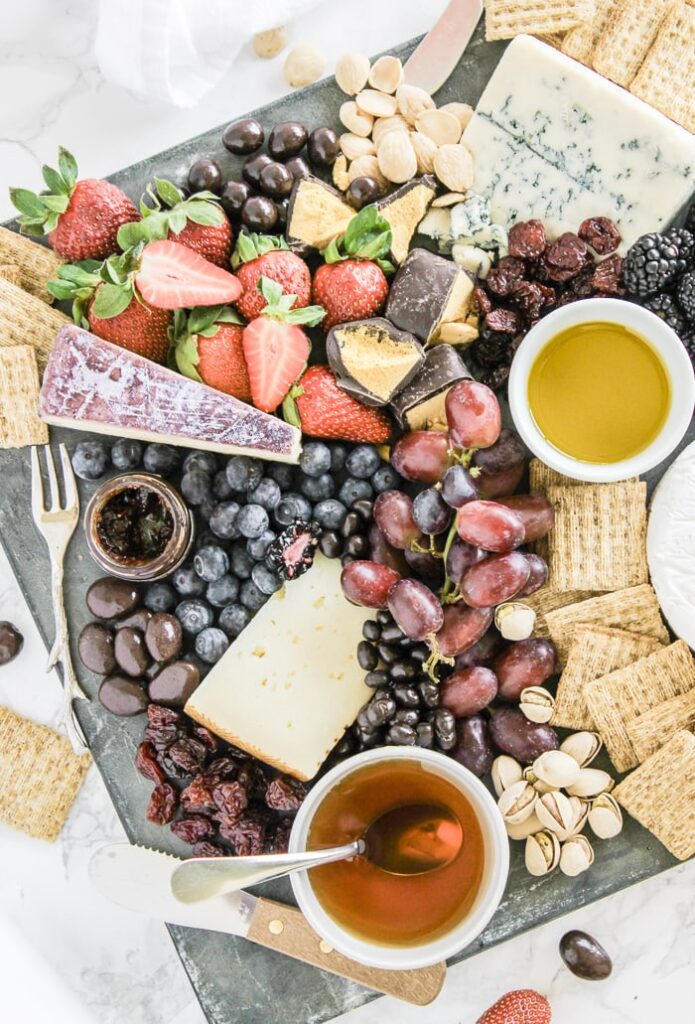 Add Fresh Berries
Grab a variety of fresh berries to add to your board. I picked strawberries, blueberries, and blackberries for this board, plus some fresh grapes because they looked good that day. Touches of other seasonal fruits are also pretty on a cheeseboard.
Get Saucy
Add some delicious flavor potential with sauces. You can choose sweet or savory, but I like to use at least honey and olive oil. I also like to add fun fruit spreads, such as fig preserves, or even chocolate sauce. Some of my top picks:
Manuka honey

A good quality extra virgin olive oil

Fig preserves

Dark chocolate sauce

Olive spread
Add Nuts And Dried Fruit
Add more texture and color to your fruit and cheese board with nuts and dried fruit. Some of my favorites:
Pistachios

Marcona almonds

Walnuts

Dried tart cherries

Dried figs

Dried apricots
Throw In Fun Extras
I always like to add some fun, unexpected extras. On this berry and cheese board, I chose to go the chocolate route! If you're leaning more toward savory, you can add some olives or peppers. Here, I kept it sweet with:
Chocolate covered almonds

Chocolate covered espresso beans

Chocolate covered honeycomb

Chocolate covered pomegranate arils
I love dark chocolate, so that's what I used in all of the varieties above, but you can mix up the chocolates, or even just buy a few high-quality chocolate bars and chop them up for your board.
Don't Forget The Crackers!
You need something to put all those goodies on, so don't forget the crackers! I love the Original TRISCUIT Crackers because they stand up to just about any topping, and they're made with only 3 simple ingredients: whole grain wheat, oil, and salt. All TRISCUIT Crackers are also non-GMO and taste delicious. They are great to have on hand for last-minute cheeseboard building! I also found a Fig & Honey flavor of TRISCUIT Crackers while at Kroger, so I thought they would go perfectly with this pretty berry and cheese board.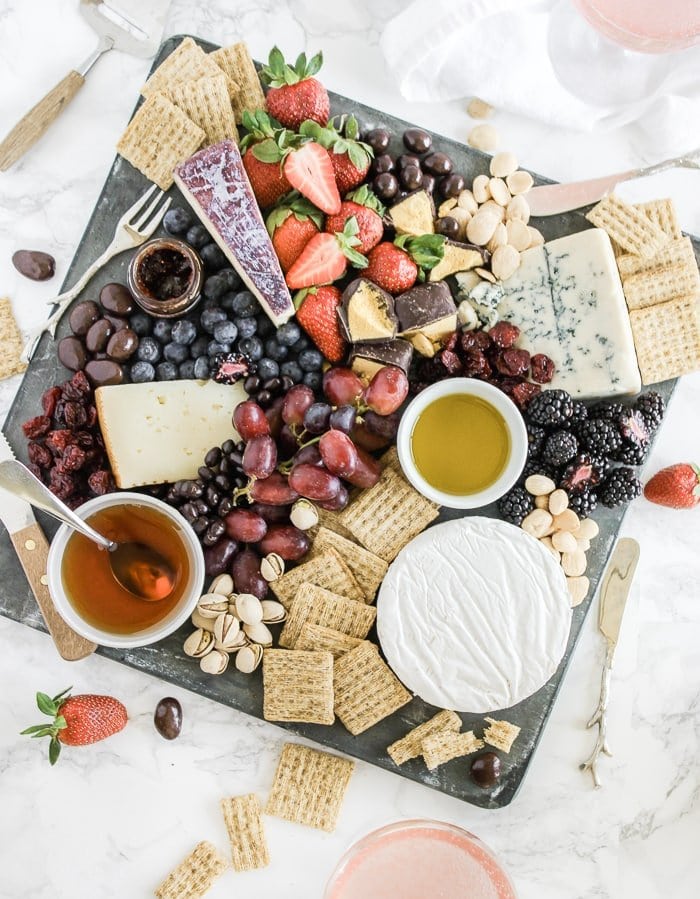 You can't go wrong entertaining with this gorgeous, sweet and savory fruit and cheese board! So grab your friends and a bottle of wine (or sparkling water!) for the most impressive snacking experience that pairs perfectly with quality time with your loved ones.
If you made this cheese board, please leave a star rating in the comments!