Create the ultimate snacking experience for spring and summer entertaining with a beautiful sweet and savory berry charcuterie board.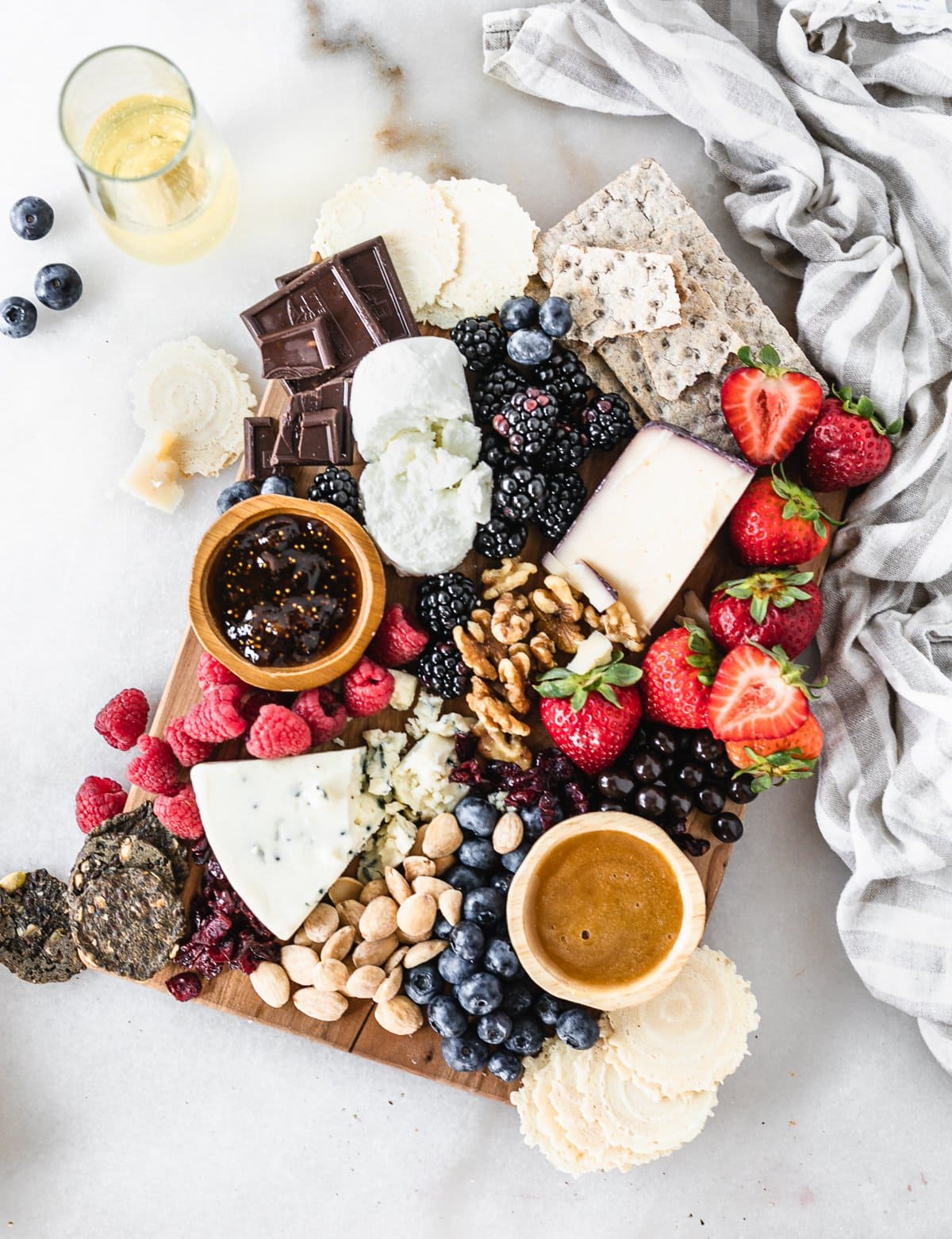 When it comes to entertaining, a beautiful cheese board is always my go-to. Nobody can resist good cheese with a glass of wine, and if you build it right, there are options for every guest's taste! If you've never built one before, a charcuterie board can be slightly intimidating, but I promise it's easy-breezy and is such a great presentation. I'll show you exactly how to build this pretty berry charcuterie board!
Why You'll Love This Charcuterie Board
Cheese and fruit is a classic pairing, and one of my favorites for snacking and entertaining! This vegetarian-friendly cheese board shows off fresh summer berries with delicious cheese and lots of fun extras like nuts, dried fruit and chocolate. A cheese board requires little work ahead of time and offers a little something to satisfy everyone. Because this board is a little more sweet-leaning, you can serve it for either a pre-dinner snack or dessert!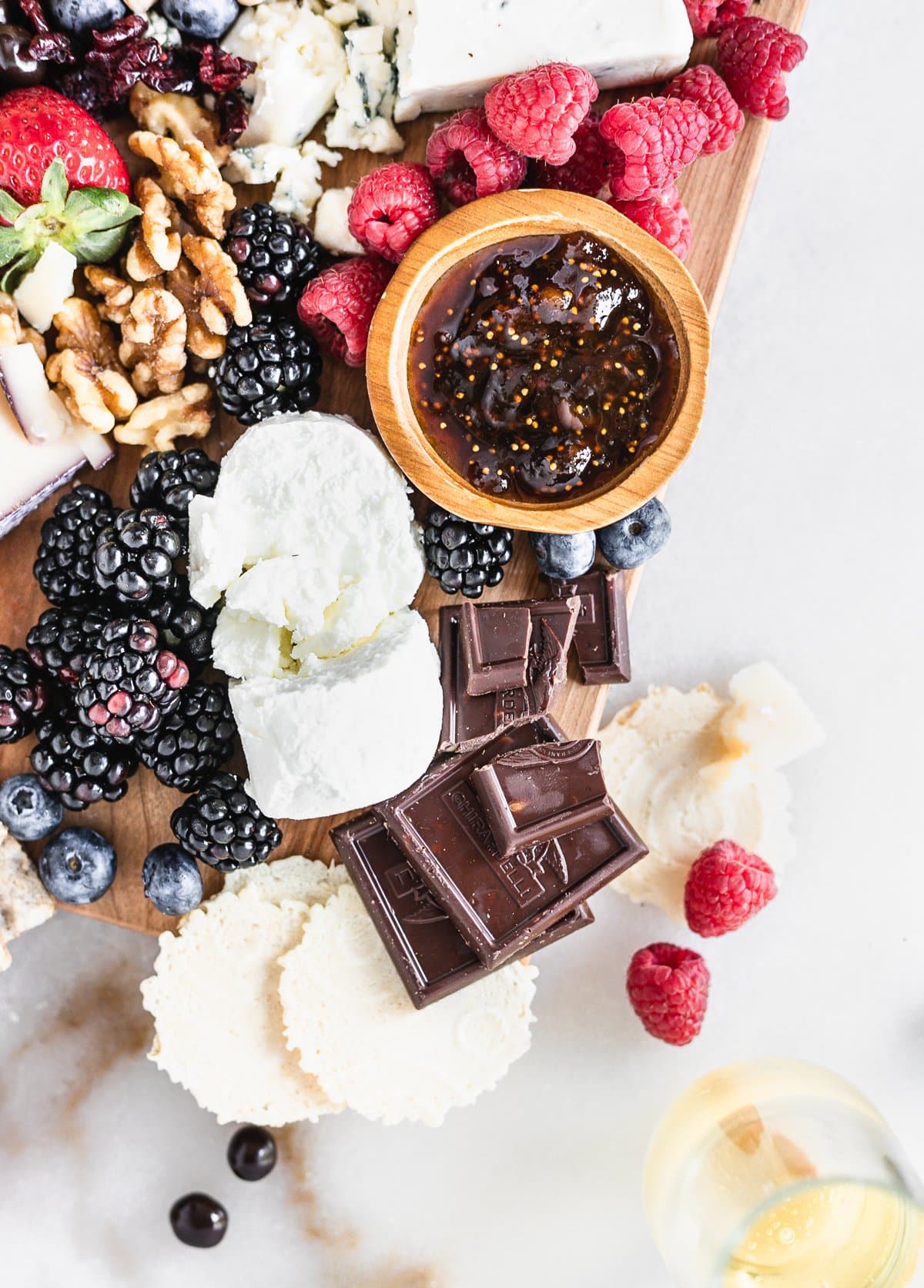 Where To Buy The Best Ingredients For Charcuterie
No need to go to a fancy cheese shop (unless you really want to - they are fun!). Most bigger grocery stores have great hand-cut cheese selections, as well as a variety of ingredients for charcuterie boards, such as spreads and crackers, in the deli section. Stores with a bulk section are also great for buying all the fun extras like chocolate covered nuts, dried fruit, and nuts. If you're serving a lot of people, you can even find a good variety at Costco!
How to Build the Ultimate Sweet and Savory Berry Charcuterie Board: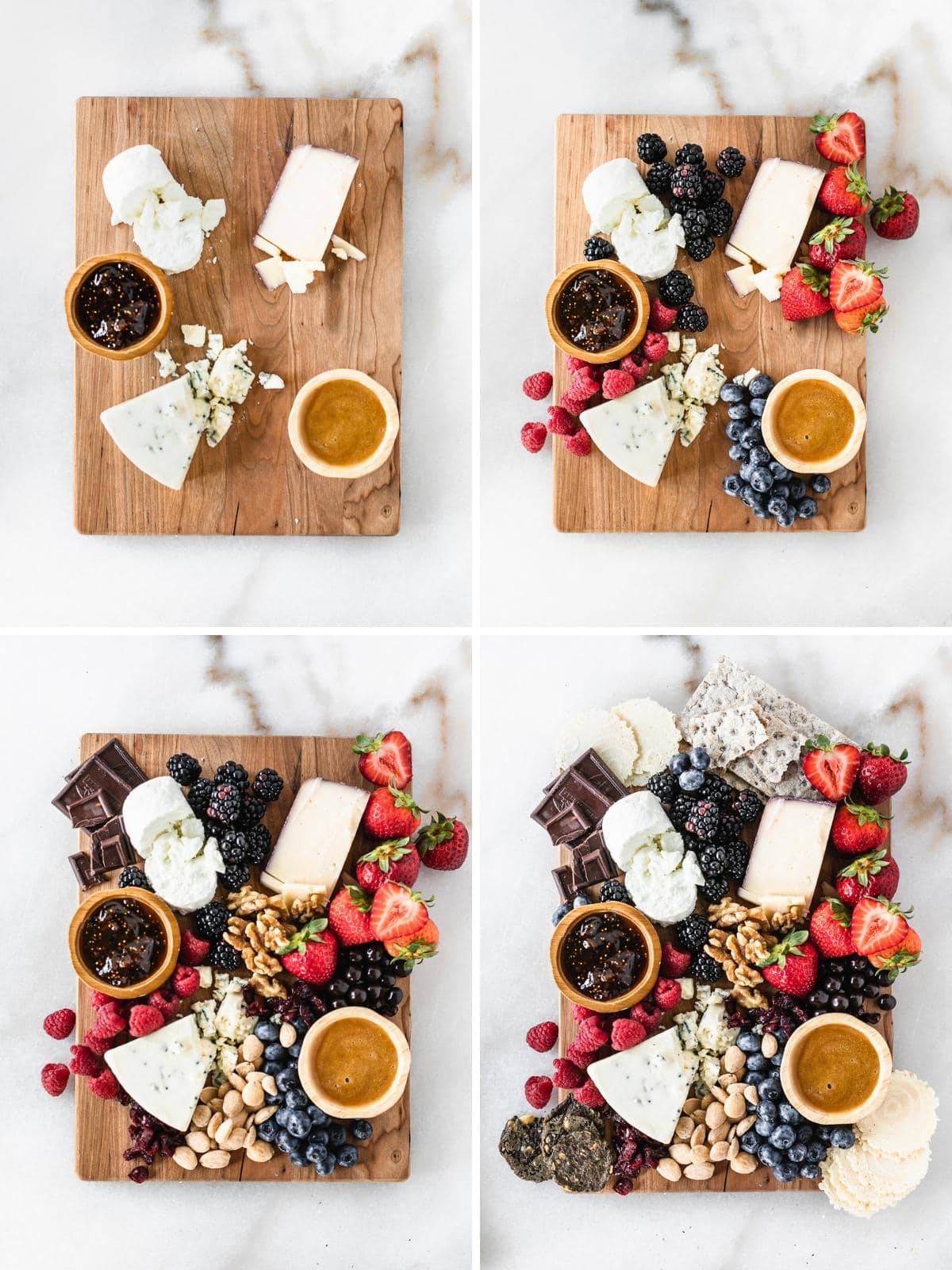 1. Start With Quality Cheese
As a general rule of thumb, you want at least 3 different cheeses: soft, semi-soft and hard. To pair with berries some good options are:
A very soft, creamy cheese - I like brie or creamy goat cheese.
A semi-soft cheese - I always go for blue cheese, but some other good options include fontina and havarti.
A hard cheese - My favorite is the Merlot Bellavitano by Sartori. Some other great options are manchego, aged cheddar, aged gouda, and Parmigiano-Reggiano.
Get as adventurous as you want. I like to mix up the types of cheese by milk, too. Some cow's milk, some sheep's milk, some goat. For pairing with berries, I saty away from anything too smoky or herby.
2. Get Saucy
Add some delicious flavor potential with sauces. I chose two sweet options for this sweet-leaning board (Manuka honey and fig preserves). Some of my top sauce picks:
Manuka honey

or honeycomb

A good quality extra virgin olive oil

Fig preserves

or other fruit spread

Dark chocolate sauce

Savory jam, such as bacon or onion jam
3. Add Fresh Berries
Grab a variety of fresh berries to add to your board. If they're bigger, you may choose to cut them. Arrange them around the cheese and sauces on the board.
4. Add Nuts And Dried Fruit
Add more texture and color to your fruit and cheese board with nuts and dried fruit. Some of my favorites:
Pistachios

Marcona almonds

Walnuts

Dried tart cherries

Dried figs

Dried apricots
5. Throw In Fun Extras
I always like to add some fun, unexpected extras. Use them to fill in any gaps on your board. On this berry and cheese board, I chose to go the chocolate route to play into the sweeter theme! If you're leaning more toward savory, you can add some olives or peppers. Some of my favorites:
Chocolate covered almonds

Chocolate covered espresso beans

Good quality dark chocolate squares, or a bar roughly chopped

Salted caramel or chocolate covered caramels
6. Don't Forget The Crackers!
You need something to hold all that cheese, so don't forget crackers or bread! I like to include a variety of crackers and maybe even toast crostini or breadsticks for people to choose from.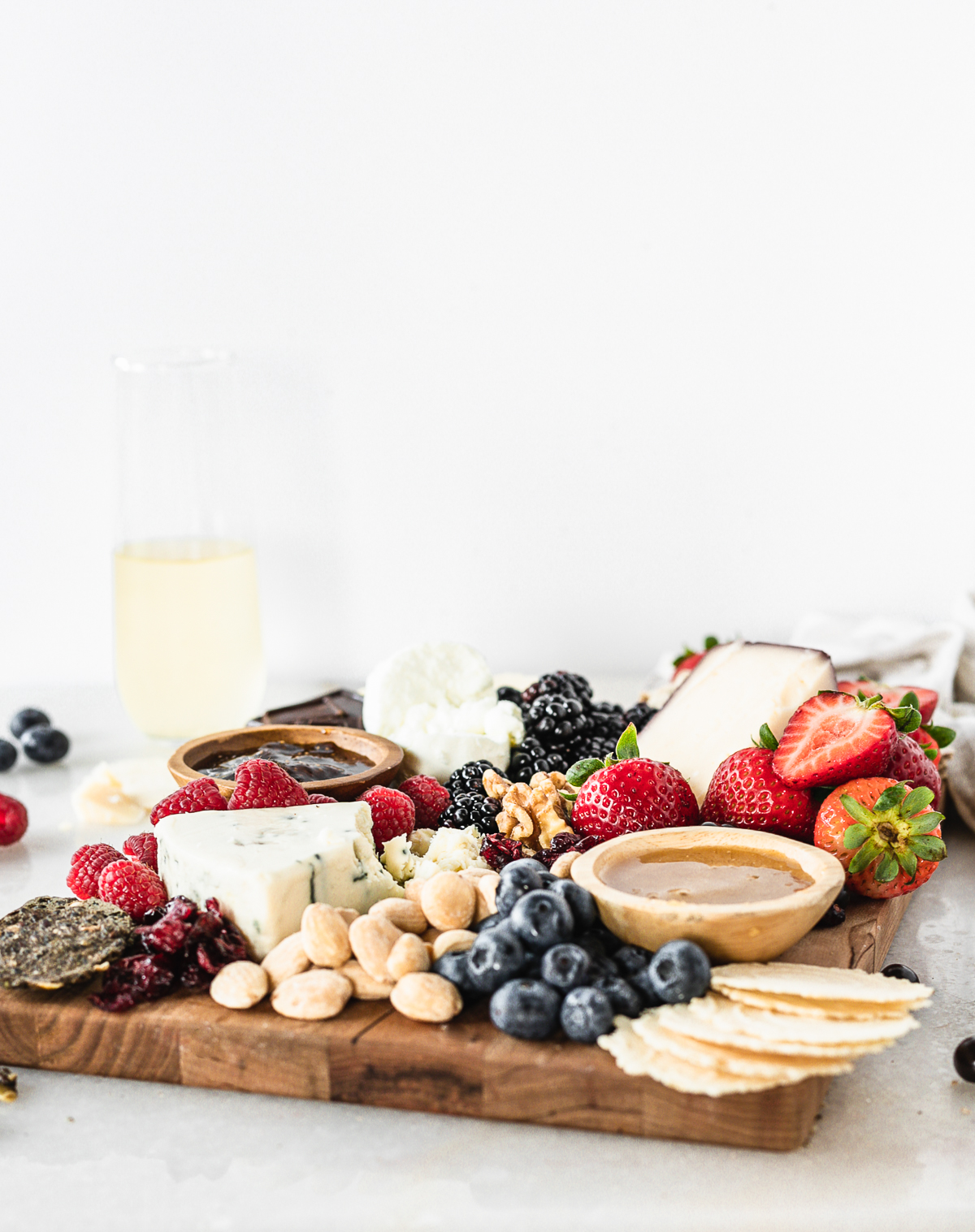 Charcuterie and Food Safety
For food safety, cheese shouldn't be left at room temperature for more than two hours. If you make your board in advance, be sure to refrigerate it until you're ready to serve. After entertaining, discard any cheese that's been left out over two hours. Any other food is safe to save for later.
Did you make this recipe? Please leave a star rating in the comments!
Print
Sweet and Savory Berry Charcuterie Board
Create the ultimate snacking experience for spring and summer entertaining with a beautiful sweet and savory berry charcuterie board.
Author: Kaleigh
Prep Time:

20 minutes

Cook Time:

0 minutes

Total Time:

20 minutes

Yield:

varies

Category:

appetizer

Method:

no cook

Cuisine:

American
Cheese (pick 3 or so):
Soft: Brie or goat cheese
Semi soft: Blue cheese, fontina, or havarti
Hard: Manchego, Bellavitano, aged cheddar or gouda, Parmigiano-Reggiano
Berries: strawberries, blueberries, raspberries and/or blackberries
Nuts (pick 2+): walnuts, pistachios, Marcona almonds, pecans
Dried fruit: cranberries, figs, cherries and/or raisins
Spreads: honey, olive oil, fruit spread (such as fig jam)
Extras: Chocolate covered nuts or fruit, dark chocolate squares, caramels
Crackers and/or bread sticks
Instructions
Grab a big board. It can be a wooden cutting board or any serving platter.
Arrange the cheese on the board.
Add the sauces in little bowls.
Arrange the berries in groups around the cheeses.
Fill in any gaps with nuts, dried fruit, and extras.
Add crackers or bread. Serve!
Notes
Cheese shouldn't be left out at room temperature for more than 2 hours. If you're making your board ahead of time, refrigerate it until you're ready to serve it. Discard any uneaten cheese that has been out for longer than 2 hours. The rest is okay to save for later.
Keywords: berry charcuterie board, sweet and savory cheese board, berry cheese board, sweet cheese board
This post was originally published April 2018 and has been updated.