Fight stress naturally with food! Here are 4 easy, delicious, and naturally sweet mood-boosting snacks to reach for when you're stressed, featuring Northwest sweet cherries.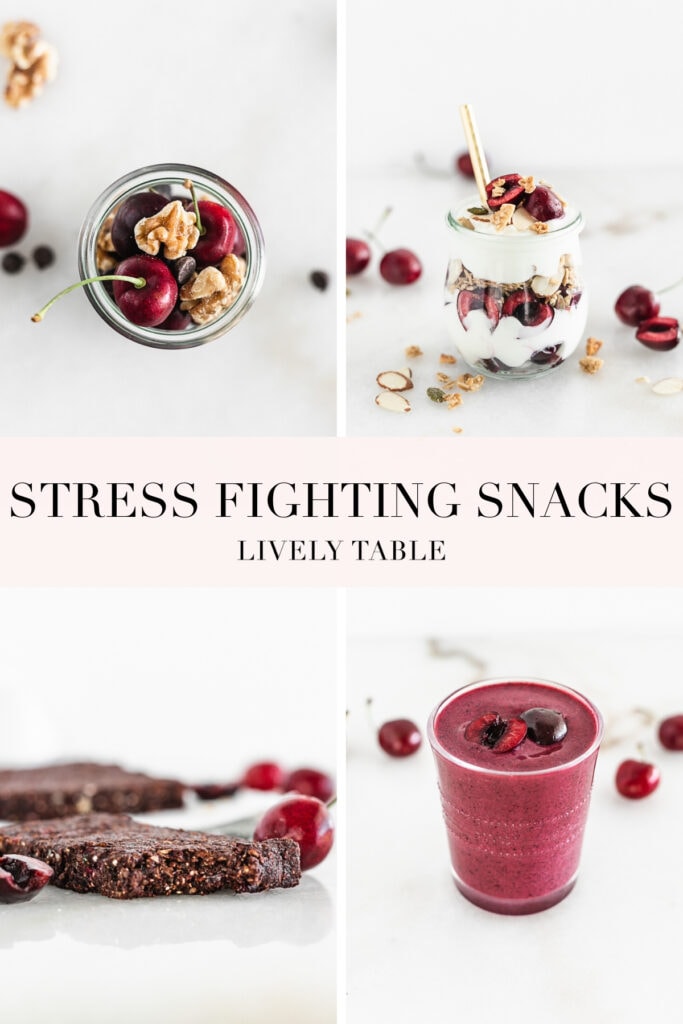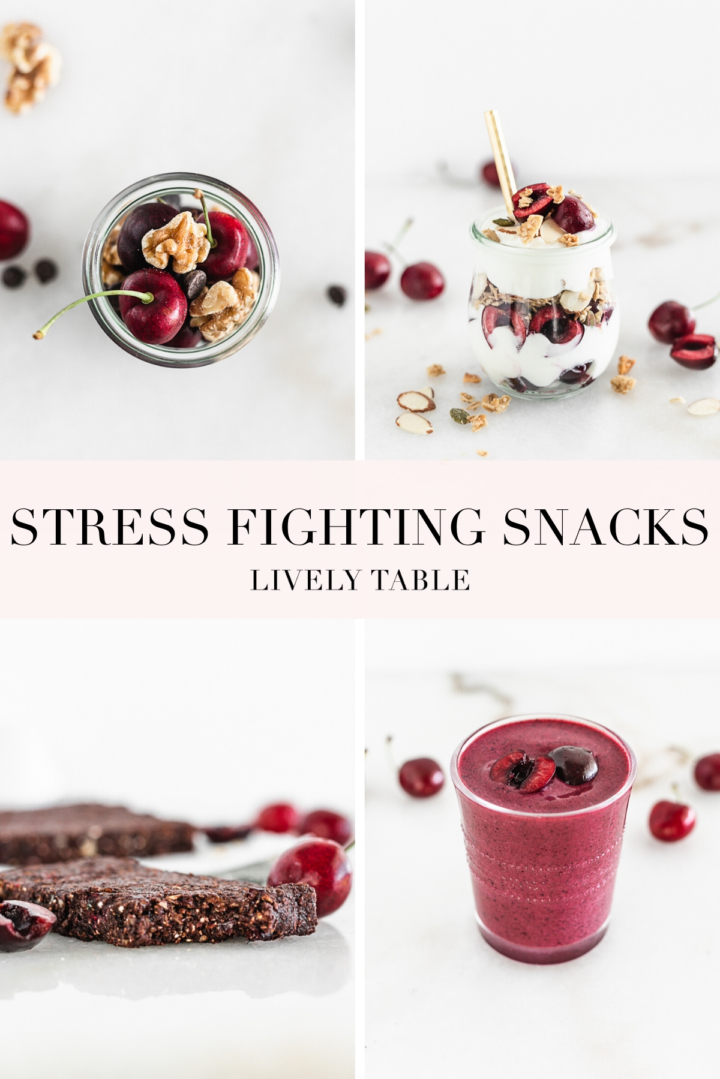 This post is sponsored by Northwest Cherry Growers. As always, all opinions are my own. Thank you for supporting the brands that keep Lively Table running!
To state the obvious, we're all a little stressed right now. Even under normal circumstances, many of us regularly feel stressed, but we're all running on a whole new level of anxiety, leading many to seek out natural ways to relieve stress. Hopefully, you've been able to find some helpful ways to cope, but just in case you're looking for an easy one to work into your daily routine, here it is: eat stress-fighting foods!
We've all got to eat, so why not tap the power of food to help lower your stress levels? Several foods have natural stress-fighting abilities, making them a great choice for times when you need a little extra help. So, I'm sharing 4 healthy, easy and delicious snacks that you can reach for when you're stressed to help take the edge off.
How To Lower Stress With Food
First, make sure you're eating at regular intervals to keep your blood sugar from dipping too low, which keeps your mood in check. Have you ever noticed that you get more irritable and frazzled (in other words, HANGRY) when you haven't eaten in hours? Eating a balanced snack in between meals can help regulate your mood just by avoiding that blood sugar dip. I like to aim for a carbohydrate (preferably with fiber, like Northwest sweet cherries) + a source of protein or healthy fat, or both.
Stress Lowering Foods
Sweet Cherries - Cherries naturally contain the neurotransmitters tryptophan, melatonin, and serotonin, which can help regulate sleep cycles and decrease stress. They also contain several polyphenols which act as antioxidants, protecting the body from oxidative stress and inflammation and lowering blood pressure. Cherries also have a low glycemic index (22) and about 2.5g of fiber in each cup, so glucose is released more slowly, helping to stabilize sugar levels.
Cocoa - Dark chocolate is full of antioxidants and has been shown to lower stress hormones in the body. It's also tied to emotional comfort for many people.
Flaxseed - Flaxseed is high in omega-3 fatty acids and a phytoestrogen precursor that help lower the body's response to mental stress by reducing stress hormones in the body and lowering the effects on blood pressure.
Yogurt - Probiotic rich foods like yogurt and kefir help to improve gut health, which has been linked to a higher production in neurotransmitters (like serotonin), an improved stress response by the body, and lowering of stress-induced inflammation.
Oats - A great source of fiber-rich carbohydrates, oats (and other whole grains) help regulate blood sugar and temporarily increase serotonin levels for long lasting energy and a more stable mood.
Nuts - Nuts and seeds have been shown to help the body's stress response by lowering inflammation, oxidative stress, and blood pressure. They're also a good source of magnesium, which is linked to better anxiety management.
4 Snacks to Reach For When You're Stressed
Northwest Sweet Cherries are the perfect choice for a snack when you're stressed. Grab a few to snack on alone or make one of these super easy snacks that combines the natural sweetness of cherries with other mood-boosting foods to keep your hunger and stress levels in check.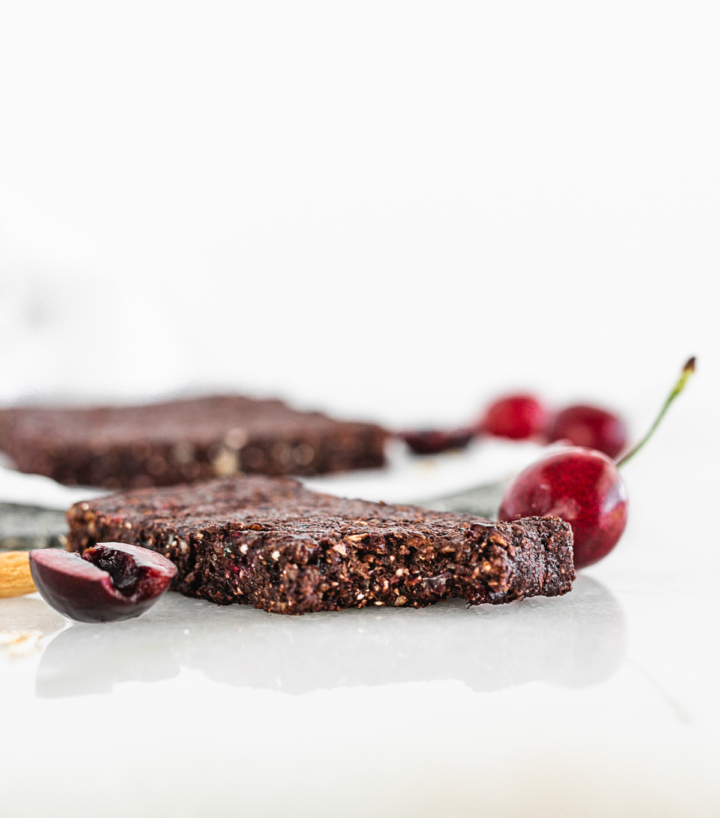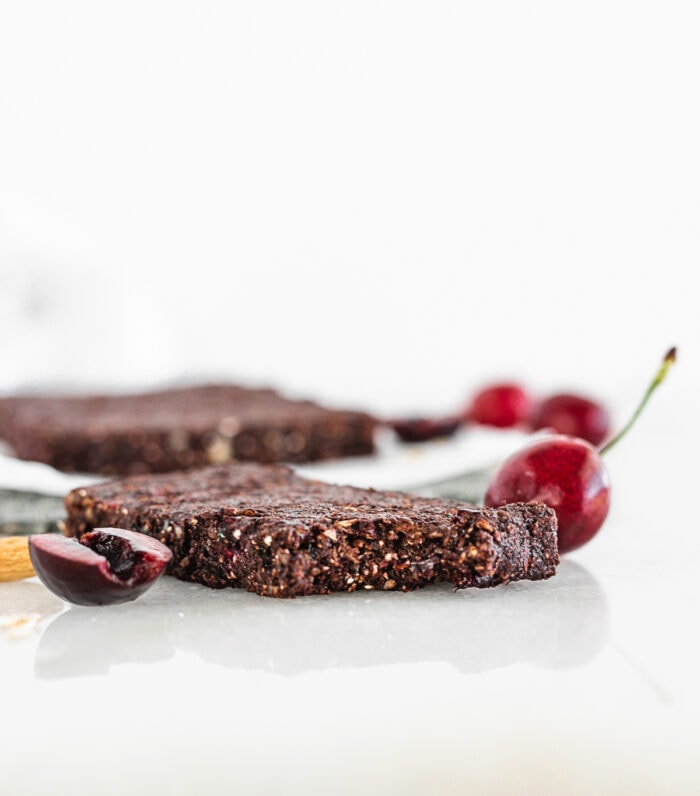 No Bake Dark Chocolate Sweet Cherry Bars
These bars are loaded with stress-fighting ingredients, and are perfect for making ahead so that you have healthy, delicious, snacks ready all week long. To make them, simply combine the following in a food processor until smooth, stopping to scrape down the sides, as necessary. Then press into an 8-inch baking dish lined with parchment and refrigerate until firm before cutting into 8 bars:
1 cup rolled oats
½ cup dates
¾ cup raw almonds
1 cup pitted sweet Northwest Cherries
1 ½ tablespoon cocoa powder
2 tablespoon ground flaxseed
¼ teaspoon fine sea salt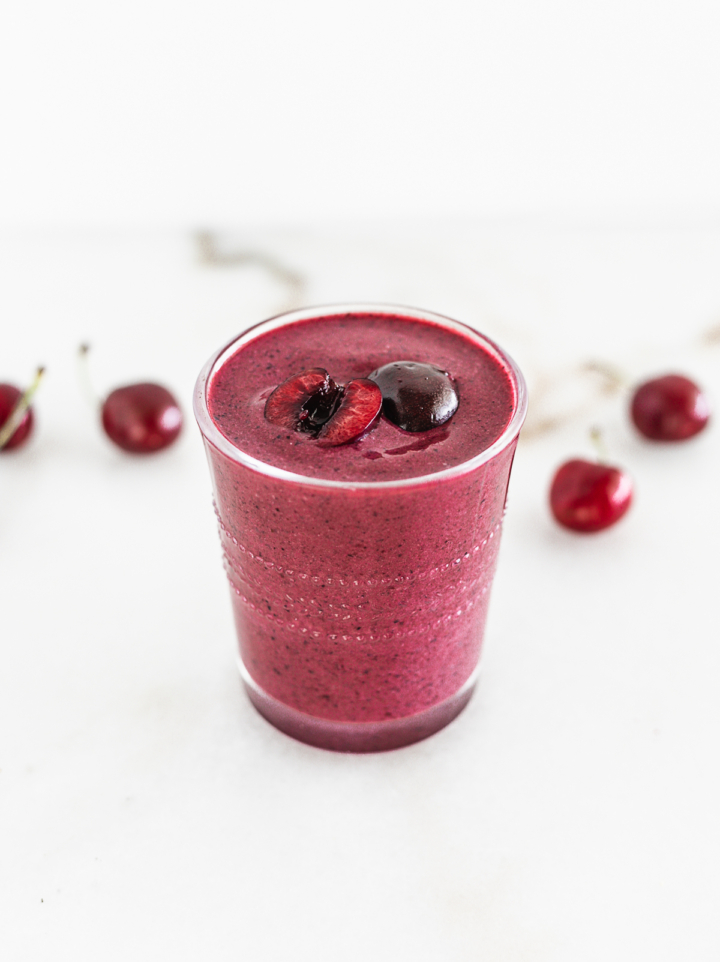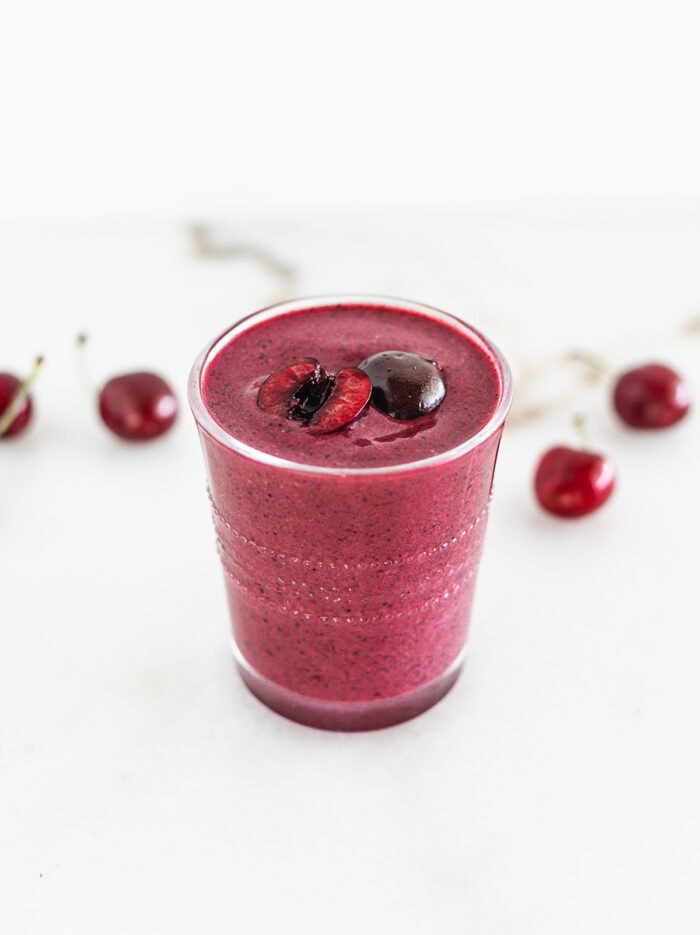 Cherry Berry Probiotic Smoothie
This super simple smoothie is delicious and full of fiber, antioxidants, probiotics, and protein. It takes just a couple minutes to whip up in the blender with the following:
½ cup plain kefir
½ cup pitted sweet Northwest Cherries
1 cup frozen mixed berries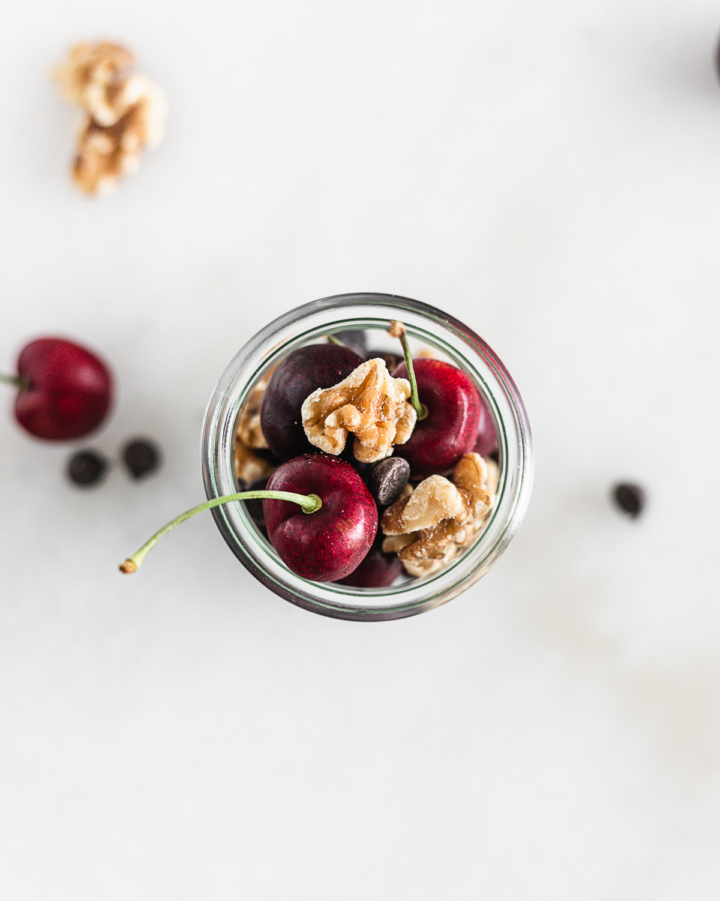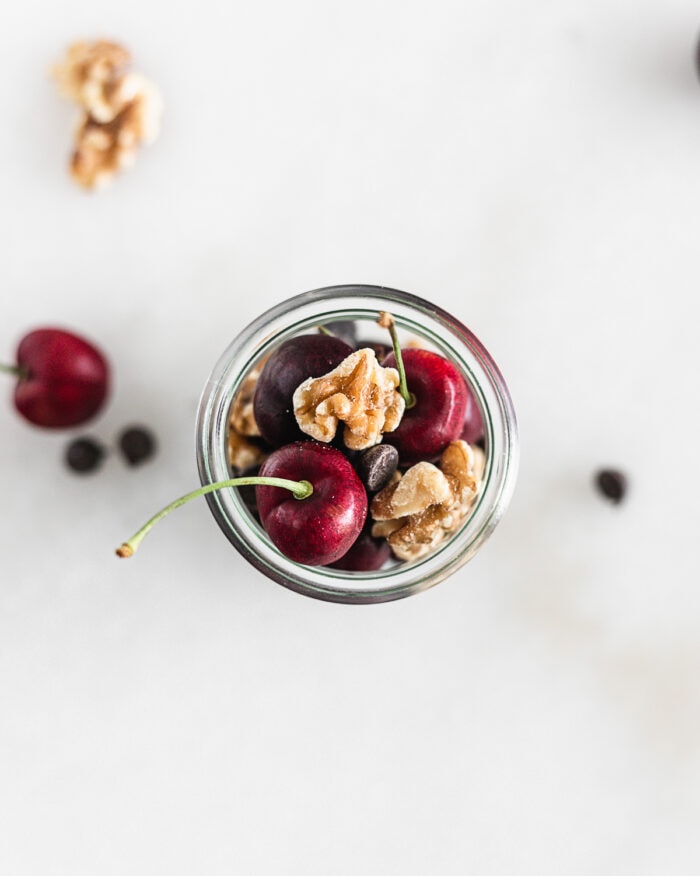 Cherries + Dark Chocolate Chips + Walnuts
I love reaching for this sweet snack at bedtime or after lunch. Naturally sweet cherries, rich dark chocolate, and crunchy walnuts is the perfect combination for satisfying sweet cravings and keeping hunger at bay.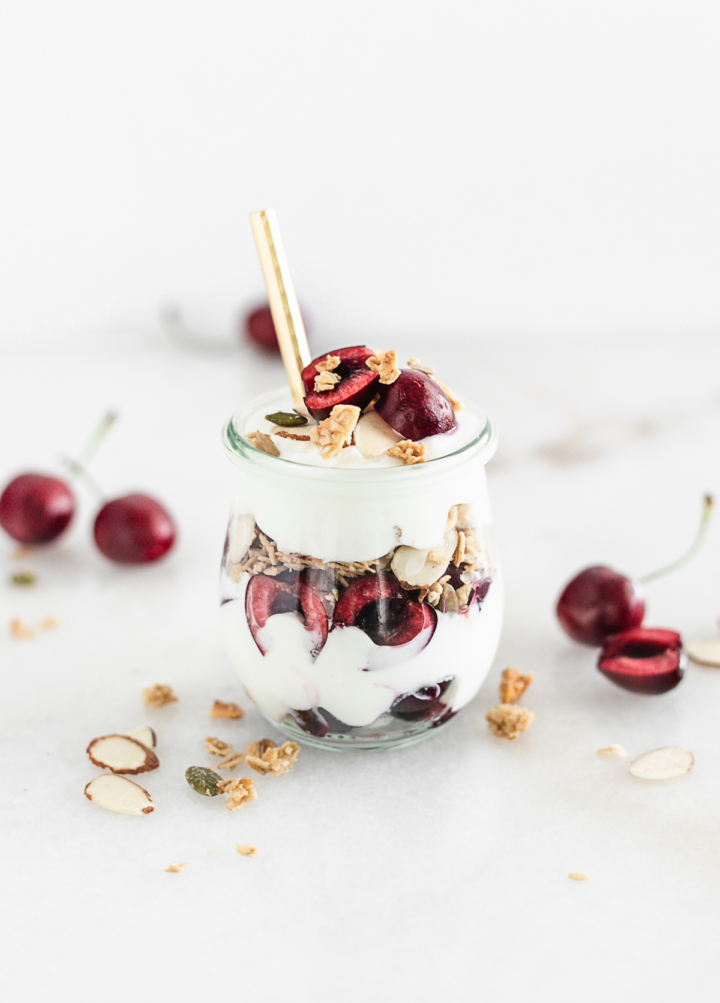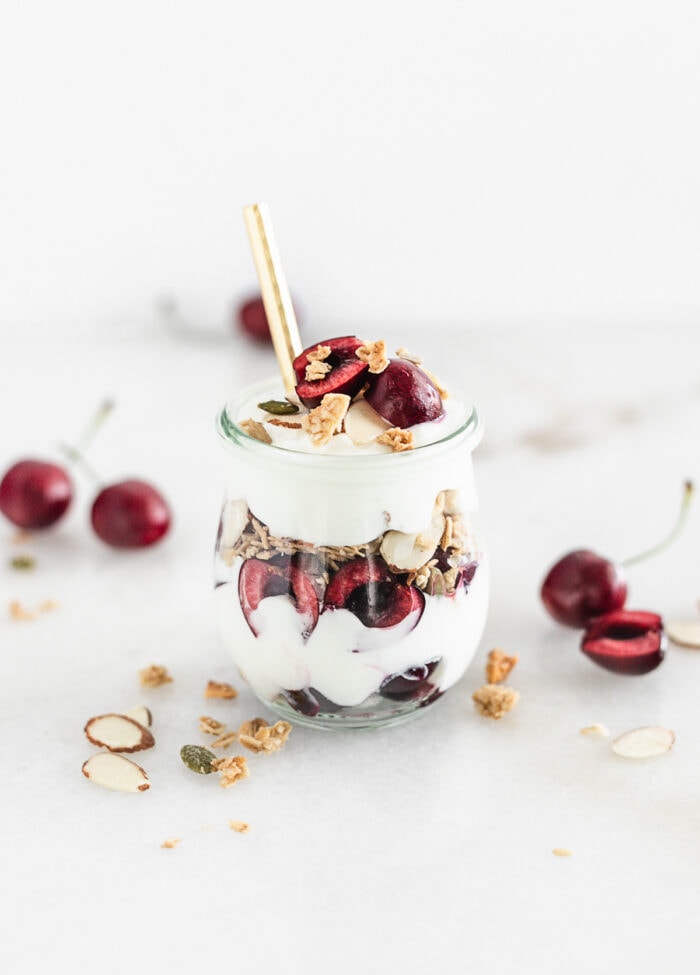 Cherry Almond Yogurt Parfait
This simple parfait goes way beyond your typical snack of just yogurt. It's full of different flavors, textures, and mood-boosting foods. Simply layer the following for a delicious morning or afternoon snack:
1 (5.3 oz) container plain Greek yogurt
Northwest Sweet Cherries, pitted and halved
Sliced almonds
Your favorite granola
Next time you're feeling stressed, check in with yourself. Have you eaten recently? If not, grab one of these mood-boosting snacks to help take the edge off. Fresh sweet cherry season typically only goes through August, so hurry and grab some next time you're at the store. Try freezing or drying sweet cherries now – while they're arguably at their freshest and tastiest – to enjoy the health benefits all year long.
Resources:
https://universityhealthnews.com/daily/depression/best-probiotics-for-mood-enhancing-the-gut-brain-connection-with-psychobiotics/

https://www.mdpi.com/2072-6643/9/5/429