In the third installment of fridge foraging, I make Greek orzo salad, tamale soup, shrimp curry, raspberry jam, and a 'throw everything in the blender' smoothie.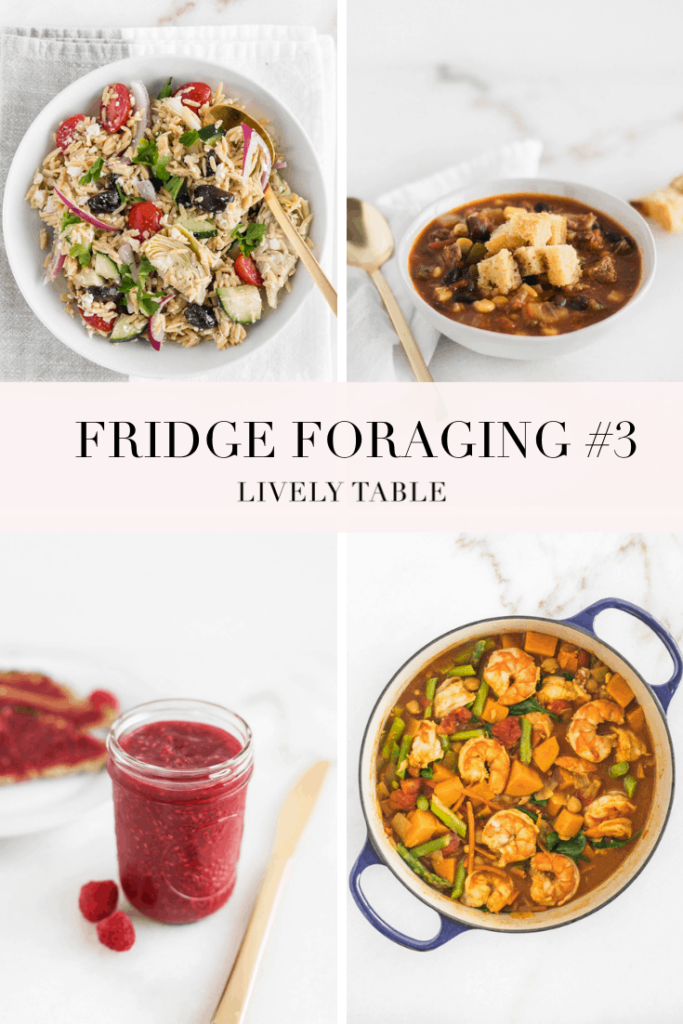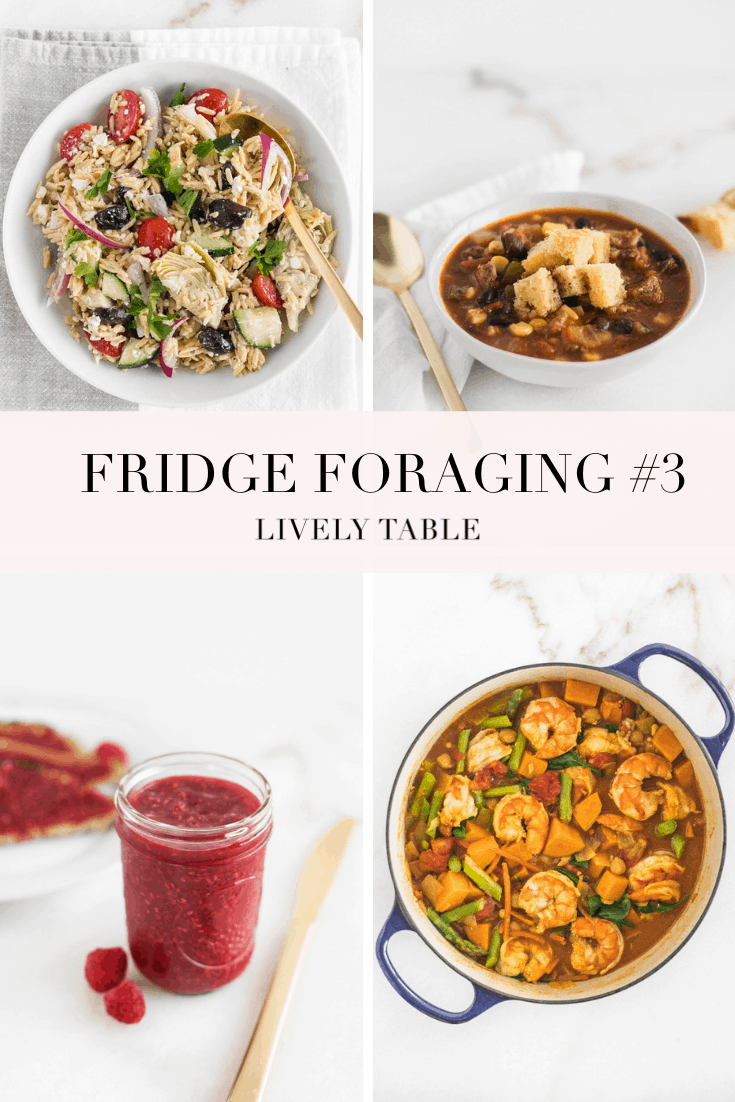 It's month 3 of my Fridge Foraging series, where I make meals out of the ingredients I already have on hand that need to be used. I have to admit, I slacked quite a bit of meal planning this month, which means I impulse-bought a lot of produce without a plan for it.
Here's what I made this month while fridge foraging: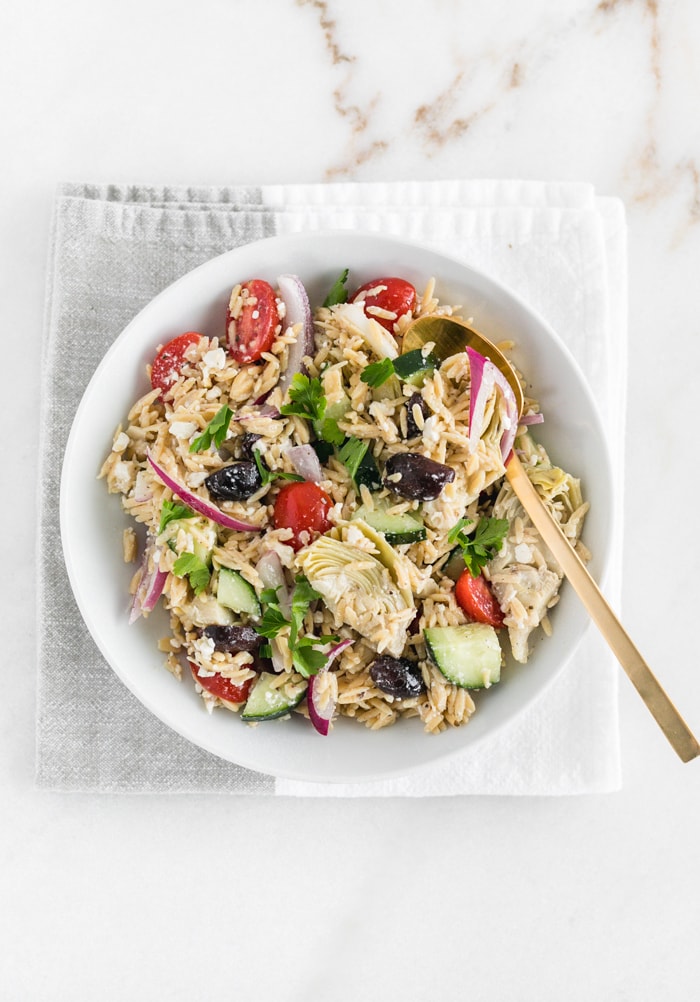 Greek orzo salad
I had some leftover kalamata olives (which I'm admittedly not a big fan of), artichokes, and cherry tomatoes leftover from recipe testing, so I combined them with a bag of Banza's new chickpea rice, which actually tastes more like orzo to me, some feta, red onion, cucumber, and Greek dressing that I've had sitting unopened in the pantry for a few months. It turned out delicious! You really don't need a recipe for this one. Just cook the orzo (or whatever pasta or whole-grain you want), drain it, and toss with olives, cherry tomatoes, cucumbers, artichokes, sliced red onion, feta, and your favorite Greek dressing (I used Primal Kitchen) to taste. Stir and refrigerate until you're ready to serve.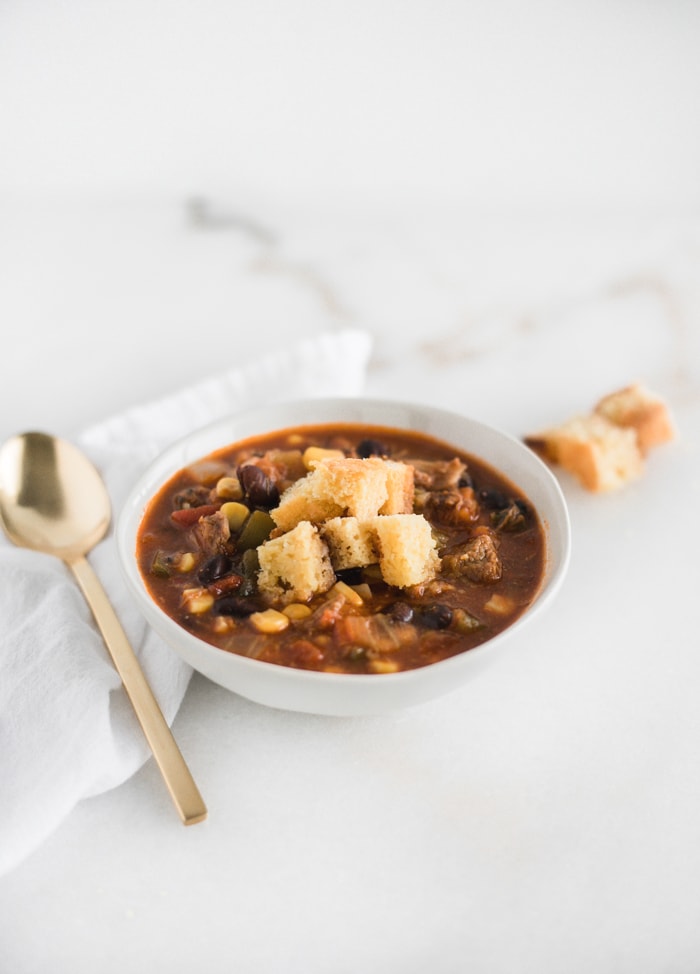 Tamale soup
Soup is one of the best things to make out of random ingredients. That's why you'll pretty much always find one kind of soup each month in this series. This tamale soup was born from some leftover cornbread and red chile sauce that had been thawed once, so I didn't want to stick it back in the freezer. I made some shredded beef in the Instant Pot with stew meat from the freezer and created this lovely soup. Here's a quick breakdown:
In a large pot, heat about 1 tablespoon olive oil, then add:

1 diced onion
Minced garlic
Diced carrots
Diced celery
Diced bell pepper

Cook, stirring until vegetables are softened, about 10 minutes or so. Add:

Cooked shredded meat
Beef broth (enough to just cover the vegetables)
Chile sauce (I had about 1 ½ cups)
1 can fire-roasted tomatoes
1 can corn, drained
1 can black beans, drained

Stir and simmer, covered, about 20 minutes. Ladle into bowls and top with 'croutons' made from cornbread cut into small cubes. Garnish with cheese, sour cream, cilantro, or any other toppings you'd like!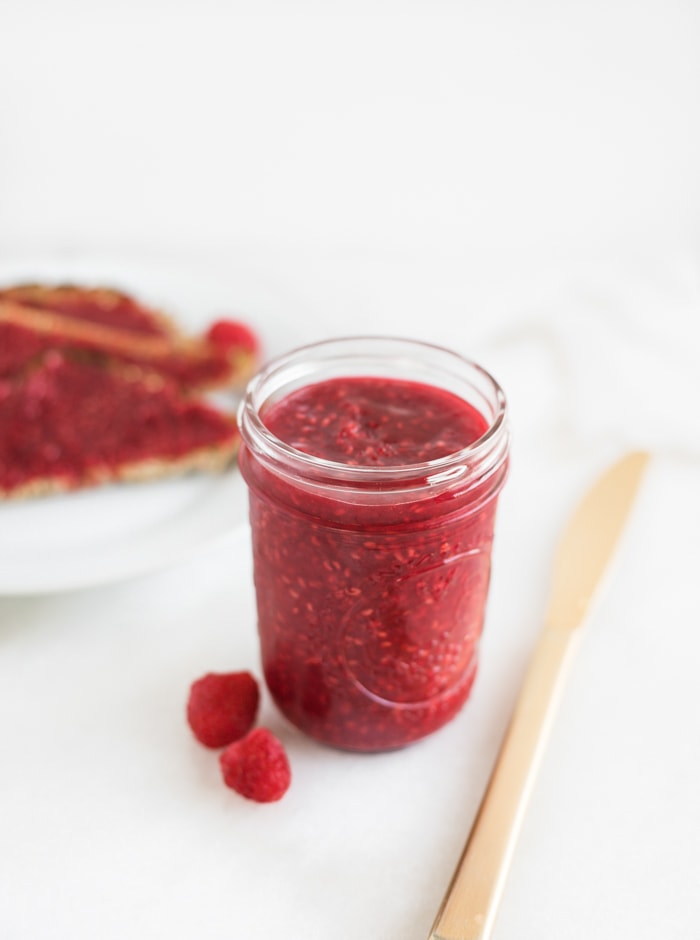 Lower Sugar Raspberry Jam
Raspberries were on sale for 98 cents a container, so I got a little overzealous and bought 5. Then it became a race to eat them all before they became moldy. I proudly finished 3 of the containers without any mold with the help of Queen C (she's a berry machine), and turned the other 2 into jam. I didn't can it this time since the recipe only made about 1 ½ cups.
I followed the instructions on the label of the Ball Real Fruit Low or No-Sugar Needed Pectin with these measurements:
2 (6 oz) containers raspberries (made 1 ⅓ cup mashed)
⅓ cup water
1 ½ tablespoon pectin
⅓ cup sugar
To make the jam, you just combine the mashed fruit, water, and pectin in a saucepan and bring to a boil that cannot be stirred down. Then you add the sugar and return to a boil for 1 minute. Turn off of the heat and let it cool a little bit before adding to jars. Store in the fridge or freezer.
It was a little thick for my liking, so next time I'll reduce the pectin a little bit.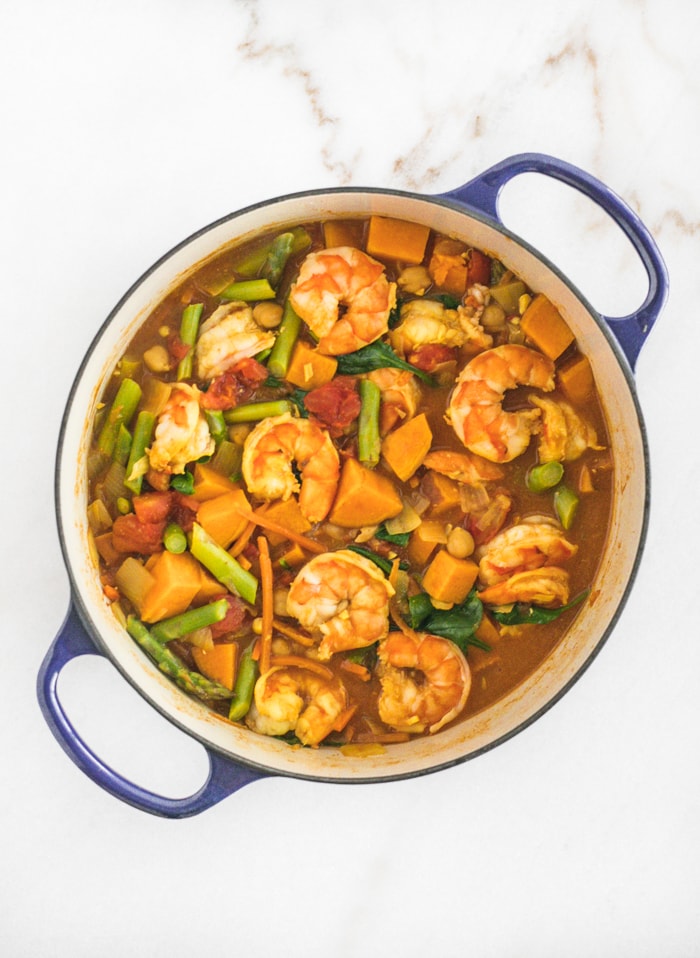 Shrimp Sweet Potato Curry
Curry is another great use for anything you might have floating around in your pantry. Here's How I made this shrimp and sweet potato curry.
Heat 1 tablespoon oil in a large pot. Add:

½ onion, diced
Handful shredded carrots
1 med sweet potato, cubed
3 cloves garlic, minced

Cook until soft, about 7-10 minutes. Stir in:

2 teaspoon ginger paste (or use grated ginger)
2 teaspoon curry powder
½ teaspoon turmeric
½ teaspoon salt
½ teaspoon coriander
½ cup broth
1can (14 oz) diced tomatoes, including liquid
½ can (14 oz) coconut milk
½ can (14 oz) chickpeas, drained

Simmer for 10-15 min, then add:

1 pound of shrimp, peeled and deveined
Handful 2-inch pieces of asparagus
handful of baby spinach

Cover and let cook until shrimp are cooked through.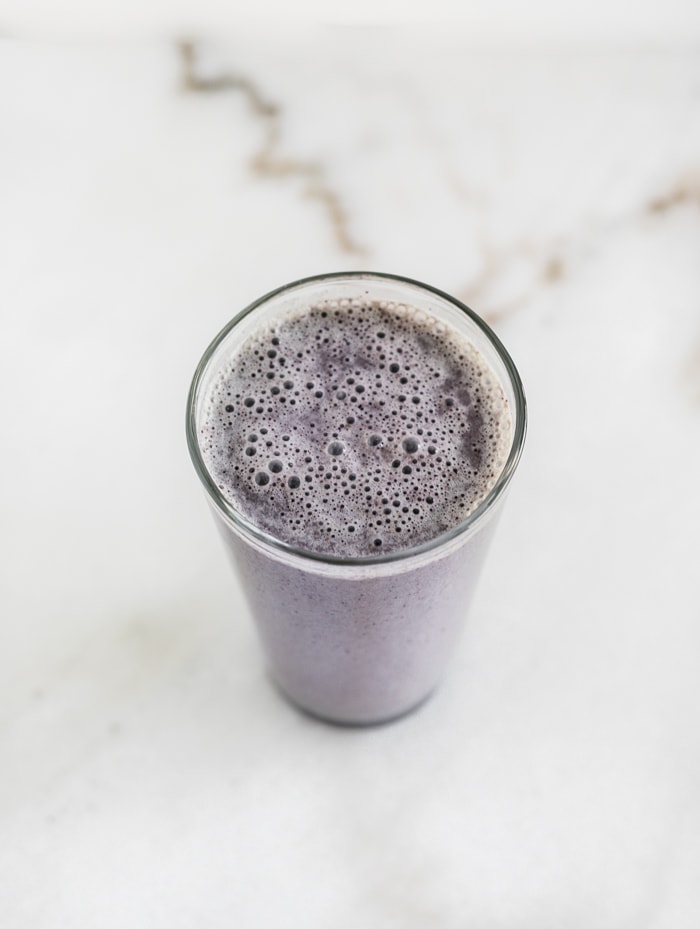 Throw Everything in the Blender Smoothie
Another great way to use up almost anything and get in some good nutrients? Smoothies! This one wasn't the prettiest because of the mix of colors, but it was tasty! Here's what I threw in the blender for this smoothie:
Frozen Blueberries
Frozen fruit scraps (from apples, strawberries, etc)
Radish greens
Plain Greek Yogurt
Almond milk
A scoop of collagen
A sprinkle of wheat germ