Grilled Pears with Honey Whipped Ricotta make the perfect springtime snack or dessert. It's healthy and so easy to make! (gluten-free, vegetarian)
This post is an entry to a contest sponsored by Real California Milk, but as always,  all opinions are my own.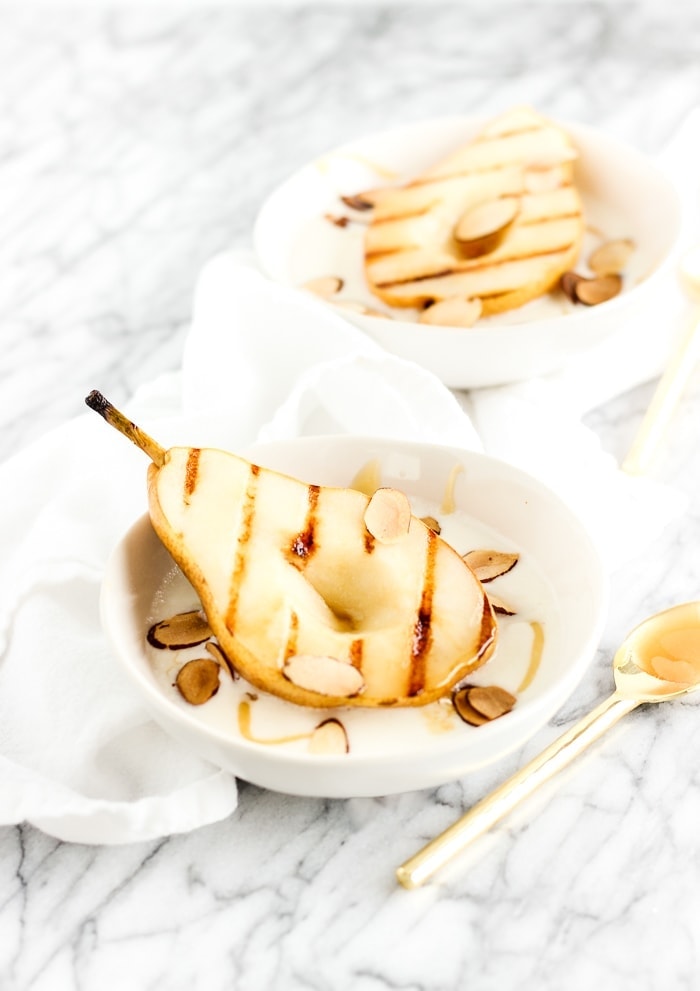 You guys. It's almost grilling season. Although in Texas, in never really leaves. (Unless it's raining. Stupid rain.) I absolutely love grilling season! Grilling is such a wonderful way to bring out delicious flavor in meats, veggies and more without adding a bunch of extra fat and calories. Plus, it's just a fun way to get outside and enjoy the nice weather! And one of my favorite things to grill is fruit. The way the grill caramelizes the natural sugar in the fruit elevates it to a whole new level.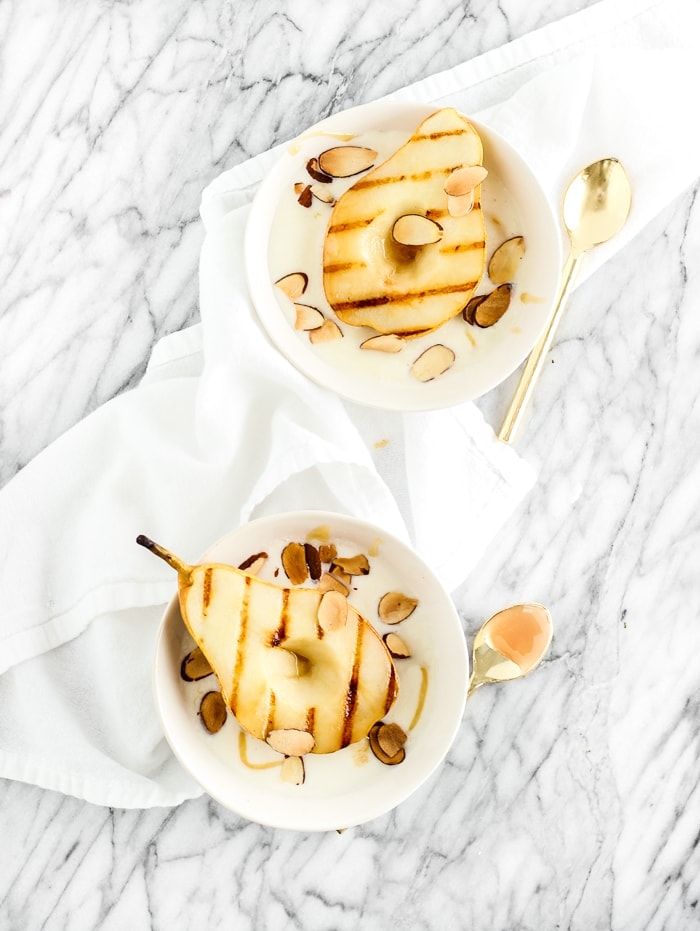 Pears aren't a traditional summer fruit, but they are a fantastic fruit to grill, and they taste amazing with ricotta that's been whipped with a touch of honey. Fruit and cheese together are one of my favorite pairings, if you can't tell by now! And it's made even better with the real dairy in Real California Cheese. One of the great things about Real California Cheese is that you know you are always getting cheese made with 100% dairy from California family farms. (Did you know that California is the second largest producer of cheese and yogurt – some of the foods I eat the most!- and that 99% of California dairies are family owned? It's definitely a surprise for this Texas girl.)
What I love is the smooth and creamy texture of Real California Cheese with just a few simple ingredients. Just like this recipe for Grilled Pears with Honey Whipped Ricotta.  Just a few simple ingredients to a healthy, delicious snack! And Real California Cheese is a great source of protein and calcium. Perfect for snacking on. Real California Cheese is easy to find. Just look for the symbol when shopping.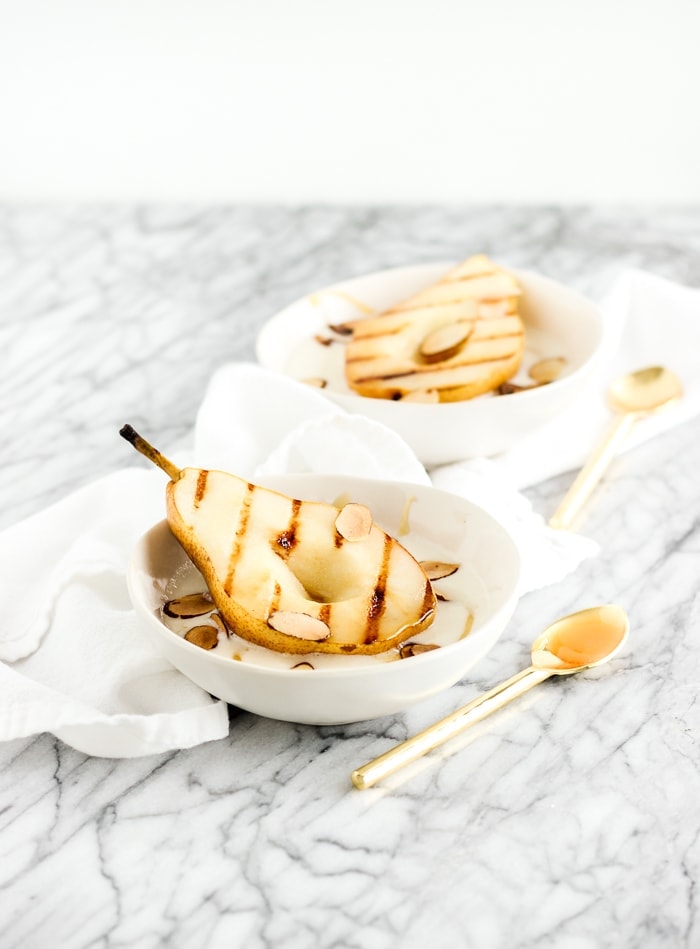 Now that you know how to find Real California Cheese, you have no excuse not to make a super easy snack of Grilled Pears with Honey Whipped Ricotta! I promise that once you start grilling fruit, you will never look back!
Do you ever grill fruits? What are your favorite foods to grill? Let me know in the comments below!
Print
Grilled Pears with Honey Whipped Ricotta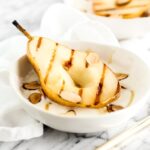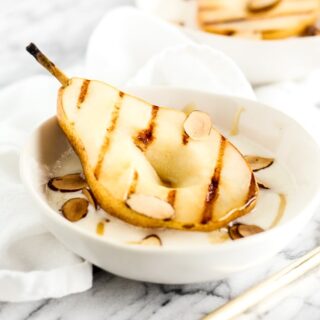 Grilled Pears with Honey Whipped Ricotta | Creamy whipped ricotta and juicy grilled pears make the perfect springtime snack or dessert. It's healthy and so easy to make! (gluten-free, vegetarian)
Prep Time:

5 minutes

Cook Time:

10 minutes

Total Time:

15 minutes

Yield:

2 servings

Category:

dessert
Ingredients
1 pear, cut into halves
Olive oil
1/2 cup Real California Ricotta Cheese
1 tbsp honey
1/4 tsp almond extract (optional)
1 tbsp sliced almonds, toasted
Instructions
To make whipped ricotta, add ricotta cheese, honey, and almond extract to the bowl of a stand mixer (or use a bowl with a hand mixer). Beat until the ricotta is smooth, about 1 minute. Refrigerate mixture until ready to use.
Make sure grill is clean and free of debris. Heat grill or grill pan to medium heat.
Core pear and cut into halves. Lightly coat the fleshy side with olive oil. Place flesh side down and grill, covered, for 5-10 minutes or until heated through. Remove from grill.
Divide ricotta into two dishes. Place half of a pear into each dish and top with toasted almonds and drizzle with additional honey (optional). Serve immediately.
Loading InLinkz ...
Love this recipe? PIN it!