In this installment of Fridge Foraging, I'm transitioning out of summer with chimichurri grilled chicken, peach BBQ chicken pizza, Spanish meatballs with romesco sauce, and carrot top tabbouleh.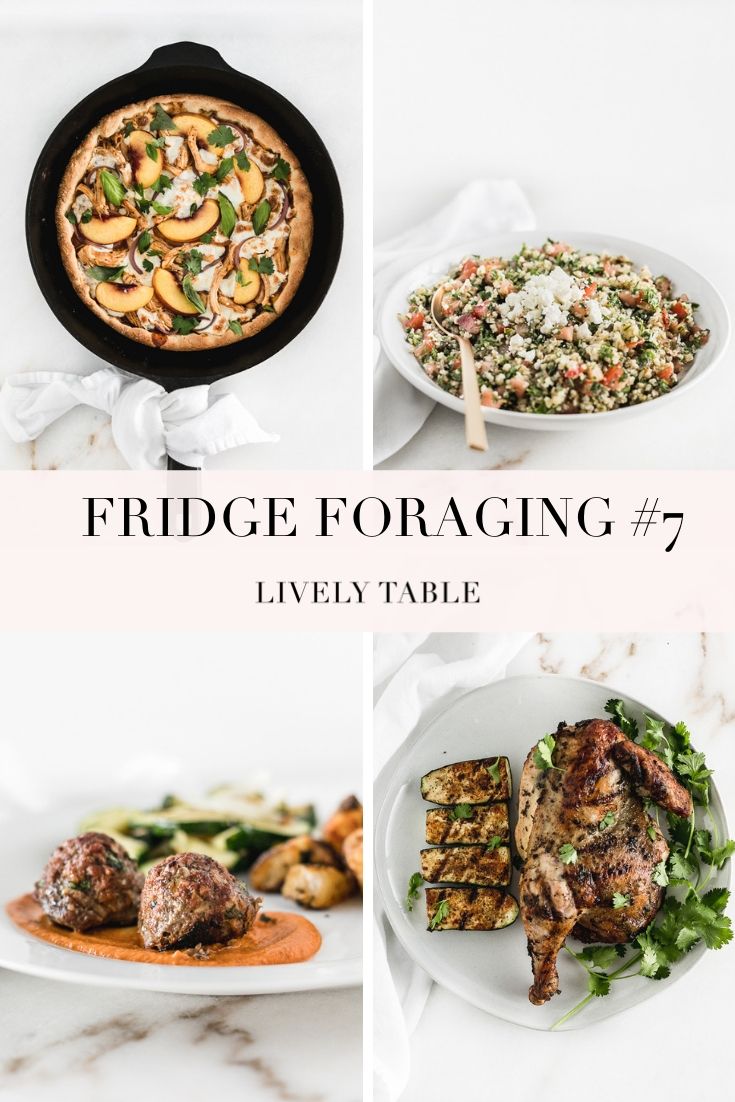 September is such a weird month for food bloggers, especially those of us in the South. It's still hot and we've got this gorgeous abundance of summer produce that's begging to be used, yet readers are already demanding pumpkin spice everything and we're working on fall (and possibly even holiday) recipes.
I prefer to hold on to summer as long as I can, so I continue to buy summer peaches, tomatoes, and corn as long as I can until I have to say goodbye for a few months. This month's fridge foraging was a reflection of that kind of eating in our house.
Here's what I made this month while Fridge Foraging

Chimichurri Chicken
When I have extra parsley and cilantro, I almost always make chimichurri. I had put away a jar in the freezer, which honestly is not the best idea, because the herbs get a little brown and the sauce isn't as good as fresh. But I figured it would make a great marinade and seasoning for a whole grilled chicken, and it absolutely was! Here's how to make it:
Brine a whole chicken in a solution of water plus a few tablespoons each of salt and sugar for at least 4 hours. Drain the chicken and spatchcock it by cutting on either side of the backbone with sharp kitchen shears to remove it. Flip the chicken over so the breast side is up, then gently push down with on the breastbone so that your chicken flattens.
Pat the chicken dry and rub all over with chimichurri, both under and over skin. (I used a very generous ¾ cup or so). Sprinkle with salt and pepper.
Grill over medium-high direct heat for about 10 minutes per side, then move to indirect low heat until done (about 30 minutes to 1 hour, depending on the size of the chicken). Rotate the chicken every once in a while to change the side closest to the heat source. When it's done the internal temperature should be 165°F.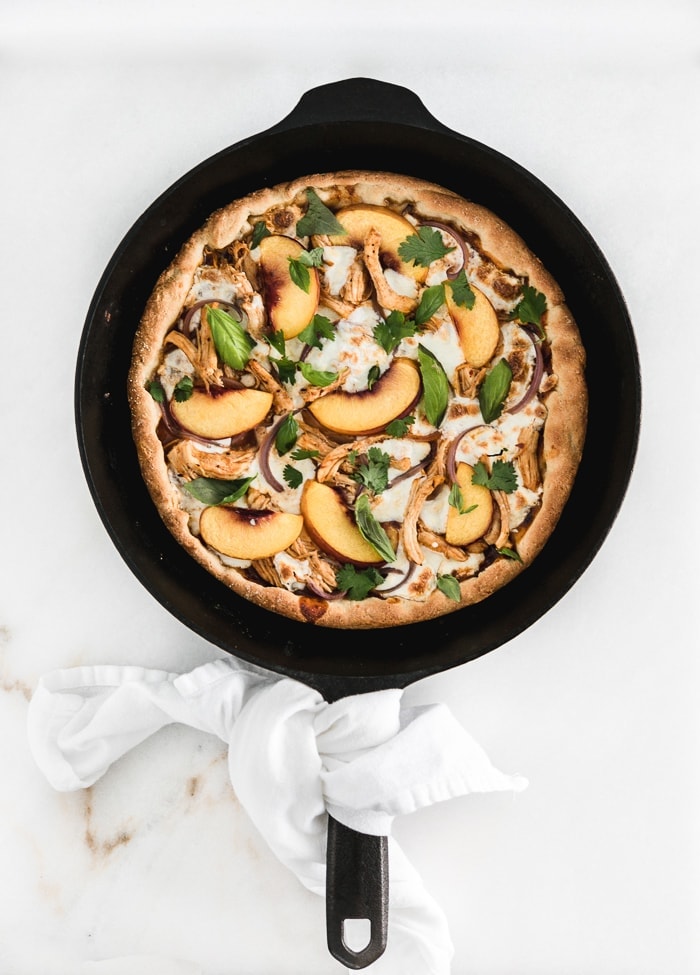 Peach BBQ Chicken Pizza
I can't resist sweet summer peaches when I walk by them, so I tend to buy too many. I used them in anything and everything this month, including this BBQ pizza, which also helped me use up some leftover cooked chicken and BBQ sauce that needed to go. I used Jamie Vespa's recipe from Dishing Out Health as inspiration for this Peach BBQ Chicken Pizza, with a few changes:
I used my homemade wheat pizza dough.
I used regular BBQ sauce that I already had in the fridge instead of making the peach version.
I added leftover cooked, shredded chicken tossed in BBQ sauce.
I didn't have burrata, so I used fresh mozzarella before baking the pizza.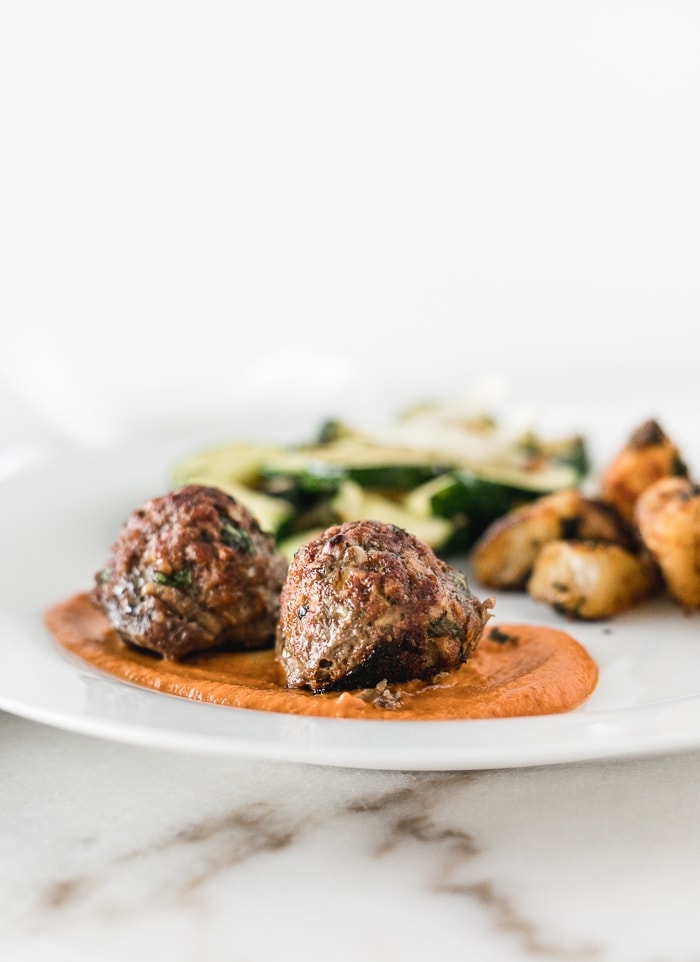 Spanish Meatballs with Romesco
I made a batch of romesco sauce (one of my absolute favorites!) for my chicken with romesco and ended up with about double what I needed. While I could eat the stuff straight up with a spoon, I decided to make a decent dinner out of the leftover sauce. I decided on meatballs with a little Spanish influence, full of herbs and smoked paprika, that went so perfectly with the sauce! I like to make breadcrumbs by toasting a whole grain slice of bread and then blending in the food processor, but regular breadcrumbs work, too.
For the meatballs, combine:
¾ lb ground beef
1 egg
2 tablespoon milk
1 slice bread, toasted and ground (or about ⅓ cup breadcrumbs)
2 tablespoon finely diced onion
4 cloves garlic, minced
Handful fresh parsley, chopped
Handful fresh oregano, chopped
Sprig fresh rosemary leaves, chopped
About ½ teaspoon smoked paprika
Salt and black pepper to taste
Mix well with your hands, then roll into meatballs, place on a lined baking sheet or in a cast iron skillet, and bake at 400°F for about 20 minutes. Top with warmed romesco.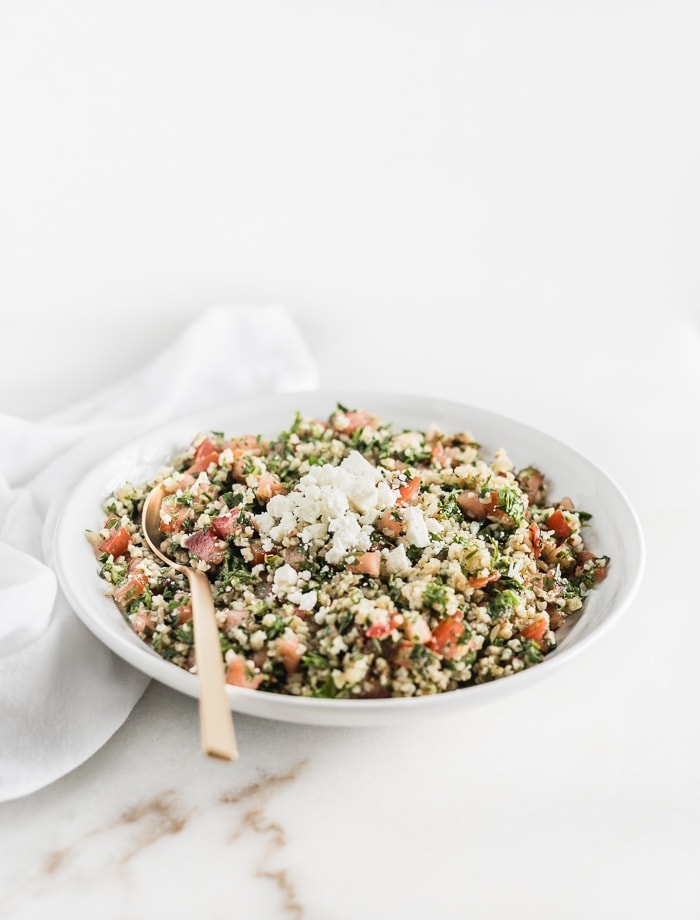 Carrot Top Tabbouleh
When you need to buy rainbow carrots for a recipe, you end up with a lot of carrot tops, which are actually edible! I hate wasting food, so I decided to use them. I wanted to get a little more creative than carrot top pesto, so I went with tabbouleh. The main ingredient in tabbouleh is usually parsley, and carrot tops have a similar flavor, though a little less pungent and more carrot-y, so they were perfect for the dish. I used freekeh instead of the traditional bulgur wheat, went a little heavier on the grain, and topped with a little feta cheese.
To make the Carrot Top Tabbouleh, combine the following in a large bowl:
1 ½ cups cooked freekeh or other whole grain of your choice
Carrot tops from 1 bunch, leaves only, very finely chopped
¼ cup fresh mint, very finely chopped
½ cup fresh parsley, very finely chopped
1 clove garlic, minced
2 green onions, chopped
1 large tomato, diced
Juice from 1 large lemon
3 tablespoon olive oil
Salt to taste
Did you do any fridge foraging this month? Tell me what you made in the comments!