In the second installment of fridge foraging, I make leftover barbacoa beef enchiladas, chocolate bread pudding for 2, homemade peanut butter, artichoke white bean soup, and roasted grape and goat cheese stuffed sweet potatoes.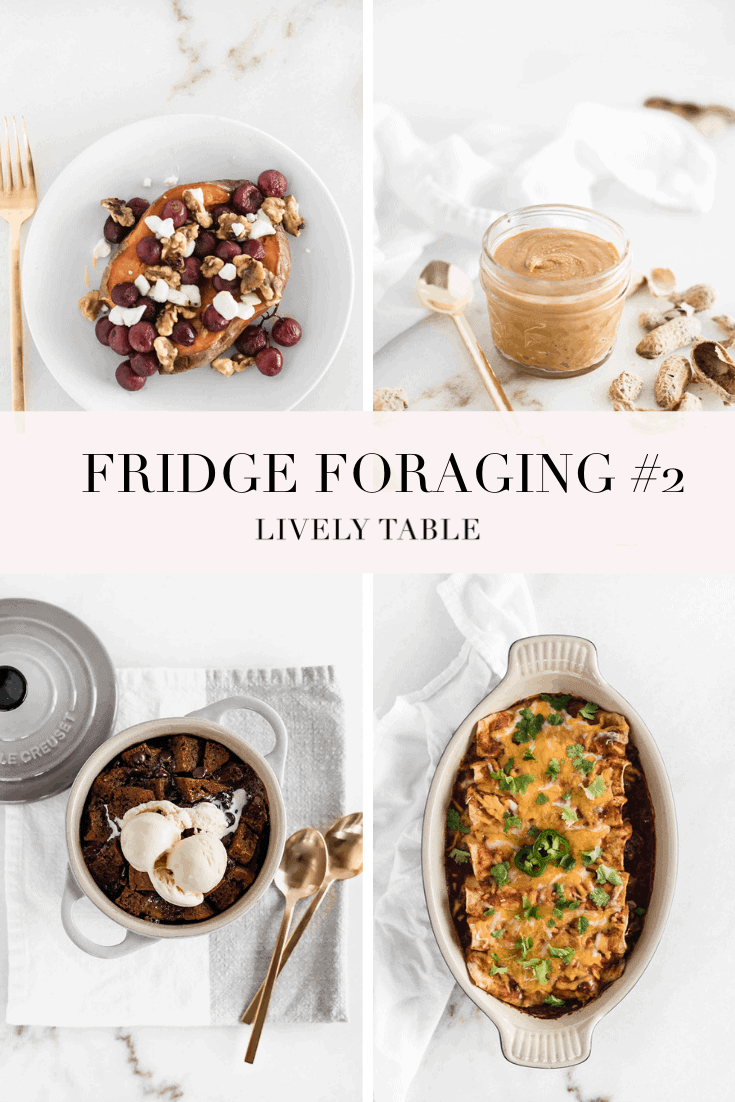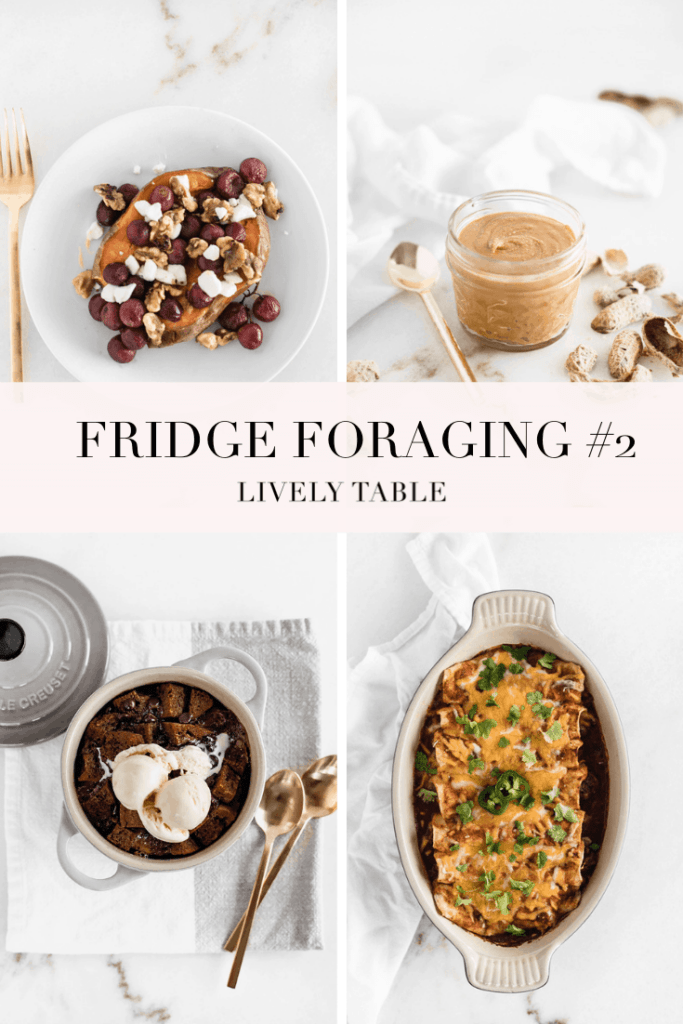 It's month number two of my Fridge Foraging series, and I really stepped up my efforts to clean out the freezer and pantry this past month.
Does anyone else get stressed out when there's too much food in the pantry/fridge/freezer? I get overwhelmed with all the food we have sometimes (even though I am mostly the one who puts it there), and then feel like I need to make all the things immediately. And I also get annoyed when things look disorganized, which is generally what happens when the freezer and pantry are too full.
My husband, on the other hand, likes to be prepared for every possible situation and loves having a large supply of nonperishables and a fully stocked freezer. I love that about him, but it also stresses me out.
(I do like to keep a good supply of some basics, though. Here are my pantry essentials that I always keep on hand.)
This past month, here are some of the things I made while Fridge Foraging:

Barbacoa Beef Enchiladas
My husband ended up with half of the beef after selling some cattle last year, so our freezer is full. Our mission this month was to use some of it up, starting with the stew meat. So I made my Instant Pot Barbacoa Beef. I used the leftover beef to make enchiladas. I threw in a half can of green chiles that were in the fridge, used a can of homemade enchilada sauce from the freezer, and combined a few different bits of cheese to come up with enough for the enchiladas. They were delicious. You can use my recipe for green chile chicken enchiladas as a guide, using beef and red sauce in place of the chicken and green sauce.

Roasted Grape and Goat Cheese Stuffed Sweet Potato
I absolutely love sweet potatoes, so I usually keep them on hand. Then I forget I have them. So I usually end up baking them all at once to eat for lunch or breakfast throughout the week. This time I had one lonely sweet potato, so I made it into a delicious stuffed sweet potato for lunch one day. To make it:
Bake a medium sweet potato wrapped in foil at 400°F for about 25 minutes, or until soft.
Roast a handful of grapes on a baking sheet lined with parchment for about 15 minutes at the same temperature.
Cut the potato in half and top with roasted grapes, crumbled goat cheese, toasted walnuts, and a drizzle of honey.

Chocolate Bread Pudding for 2
I got a new sourdough cookbook for Christmas, and I can't wait to make my first loaf from it! But first I had a whole loaf of not so good sourdough in the freezer that needed to go away. I also had a few eggs that needed to be used before they went bad (which rarely happens in our house). So I decided on bread pudding! The original pan ended up making a lot more than 2 servings, so I halved the ingredients to make it suitable for 2. If you want a bigger batch, double the recipe below.
In a large bowl, whisk together:

1 egg
2 teaspoon cocoa
2 tablespoon sugar
½ shot Kahlua
⅓ cup milk

Stir in:

2 slices of sourdough bread, cut into cubes
2 tablespoon choc chips

Let it sit at least 30 minutes. Pour into a greased baking dish, and bake at 350°F for 30-45 minutes.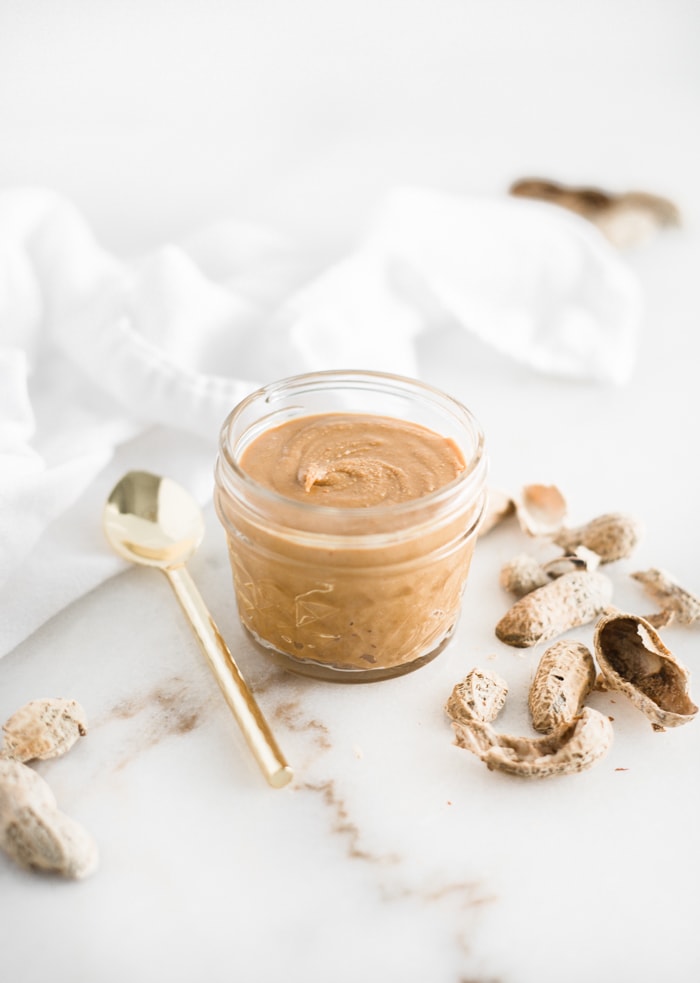 Homemade Peanut Butter
I had a very big container of peanuts in the shell (Thank you, Peanut Board!) that I knew I realistically was never going to eat that way. So I decided to turn them into something I buy all the time - peanut butter! I shelled them all (not so fun), roasted them, threw them into the food processor with a handful of pepitas that needed to be used as well, and ground them up into peanut butter! If you have peanuts that aren't roasted, you can roast them in the oven first for 5-10 minutes at 350°F. Then blend in the food processor for 5-10 minutes or until smooth to make peanut butter.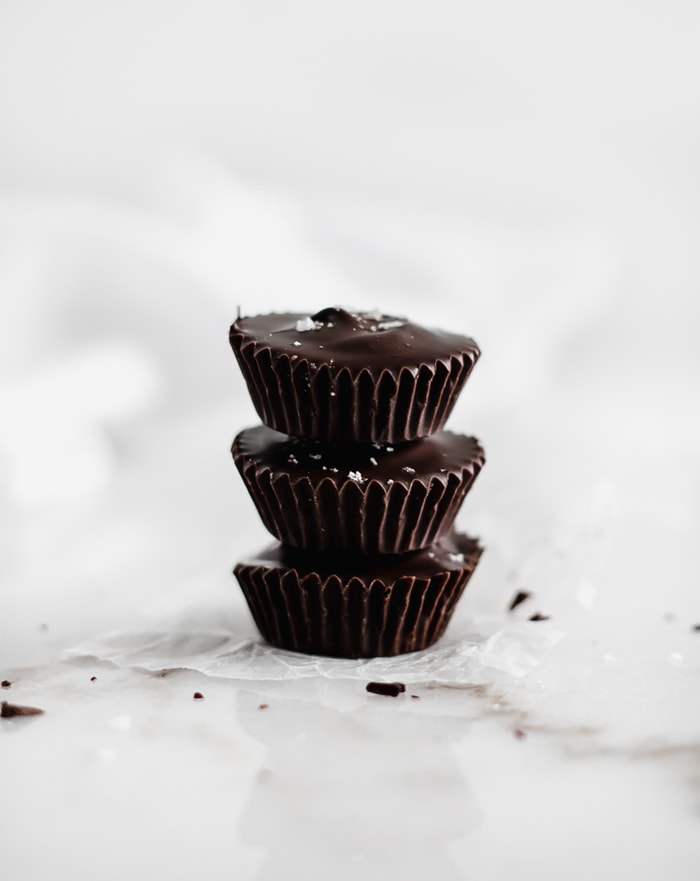 I also made the peanut butter into homemade peanut butter cups. To make them, I just melted ½ cup dark chocolate chips (I used Lily's brand) and spooned 1 teaspoon into the bottom of paper-lined mini muffin tins. Then I scooped 1 teaspoon of the homemade peanut butter into each, then topped them all off with another teaspoon of melted chocolate and a sprinkle of flaky sea salt. I will 100% be making them again very soon! Do yourself a favor and try homemade peanut butter cups. Just trust me.

Artichoke White Bean Soup
When one of your clients is an artichoke grower, you end up with a LOT of artichokes. Last time I received a shipment, I cooked most of them in the Instant Pot and froze the hearts. I had the idea to make an artichoke soup out of some of them with a half can of white beans I had in the pantry. I made a great lunch! Here's what I did:
Sauté ½ diced onion and 2 cloves minced garlic in a saucepan with 1 teaspoon oil.
Add 2 cups artichoke hearts, 1 cup canned white beans, 2 cups broth, salt, pepper, and a squeeze of lemon. Cover and simmer 10-15 minutes.
Puree with an immersion blender or in a blender loosely covered (allowing some steam to escape will prevent a huge mess!).
Pour into bowls and top with parmesan, parsley, cooked bacon pieces, or any other toppings!