Pumpkin pies, apple cider, and some fall soup recipes should all be on your bucket list for this autumn. When the leaves on trees turn brown and orange and the wind picks up a bit - it's time for some delicious fall comfort foods.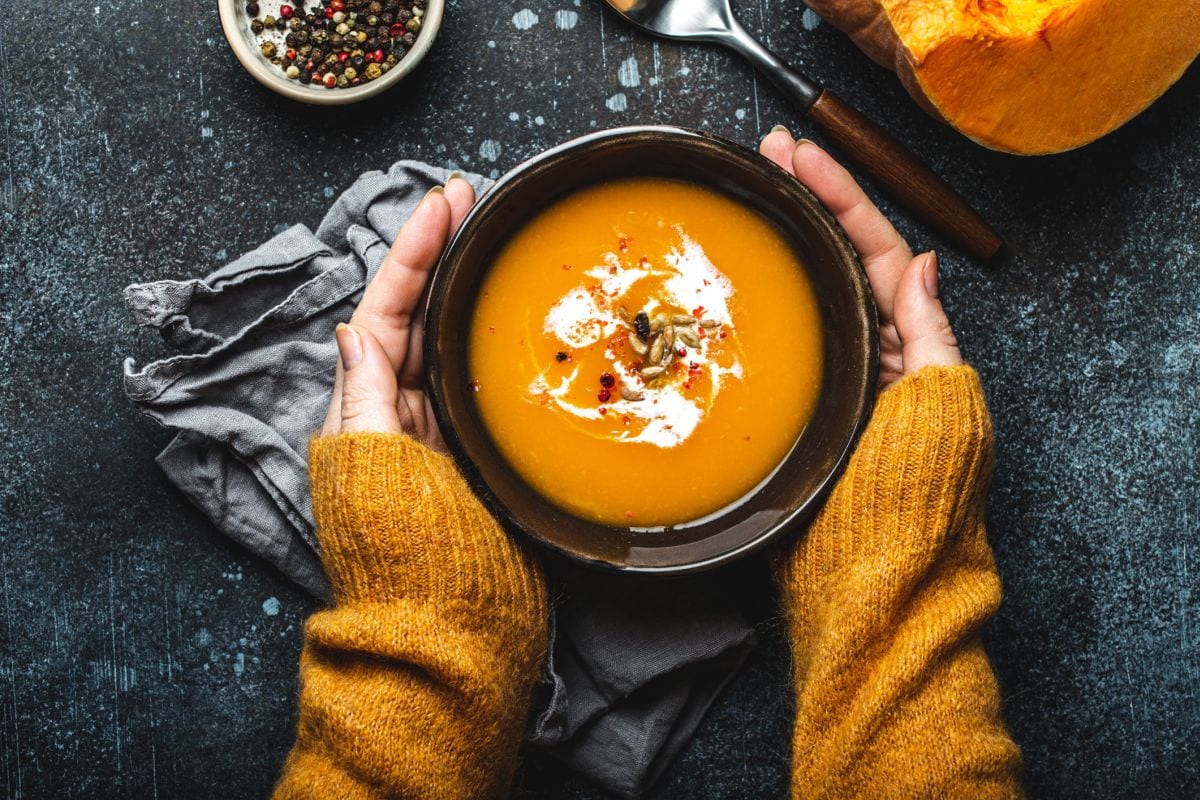 Types of Soup
Thick or Thin Soup - this is a primary classification of a soup, and it is classified by the thickness of the soup.
Clear Soups - this is usually the name given to either a broth-based soup or a Consommé which are both relatively clear compared to other soups.
Cold Soups - whilst most soups are served hot, some soups are served cold.
Puree Soup - this is usually a vegetable-based soup that is pureed after being cooked for a silky smooth finish.
Cream soups - this soup can be vegetable or meat-based and is prepared using milk, cream, or half and half as the main ingredient.
Bisque - bisques are shell-fish based soups thickened with rice and topped with cream.
Velouté - these soups are thickened using a blond roux and topped with cream.
Ways to Make Soup Taste Better
Sear or Brown the Meat
If you take the time to sear or brown the meat, you'll get a deeper and sweeter tasting meat flavor and an improved texture in your soup.
Roast the Veggies
Roasting squash or root vegetables in your soup will caramelize the sugars in them and give a smoky flavor, making for a more complex flavor in your soup.
Use Fresh or Homemade Ingredients
Using fresh herbs or homemade stock can make a world of difference in your soup.
Mix Up the Texture
Unless you're specifically making a pureed soup, try adding some different textures to keep it interesting and exciting. Garbanzo beans, chunks of seared meat, and pasta or rice are excellent ideas to add to your next soup batch.
Herbs to Add to Soups
Parsley - packed with nutrients and a mild flavor, you can add a lot of parsley to your soups during cooking and when serving to boost the nutrition of your soup.
Chives - a few chives will go a long way of providing you with a good onion-like flavor in your soup.
Rosemary - is great to add a herby flavor in any poultry-based soup.
Basil - a classic to add to your veggie soups, especially tomato soup.
What to Serve with Fall Soup Recipes
Make it a meal by adding some side dishes if you feel your soup might not be filling enough or you need some additional textures and flavors in your soup.
Grilled cheese sandwich - a classic side dish to soup, the creamy and filling sandwich goes well with any tomato-based soup.
Sweet potato fries - add a hint of savory and sweetness by serving crunchy sweet potato fries with any soup.
Flatbreads - great for dipping into a creamy soup and can be made in a few minutes while you wait for your soup to cook.
Crunchy salad - any crunchy salad with some greens and beans will go well with a soup since it will be a boost of veggies, a crunchy texture, and some extra protein, especially great if you're doing a meatless soup.
15 Fall Soup Recipes
1. Velvety Beet Soup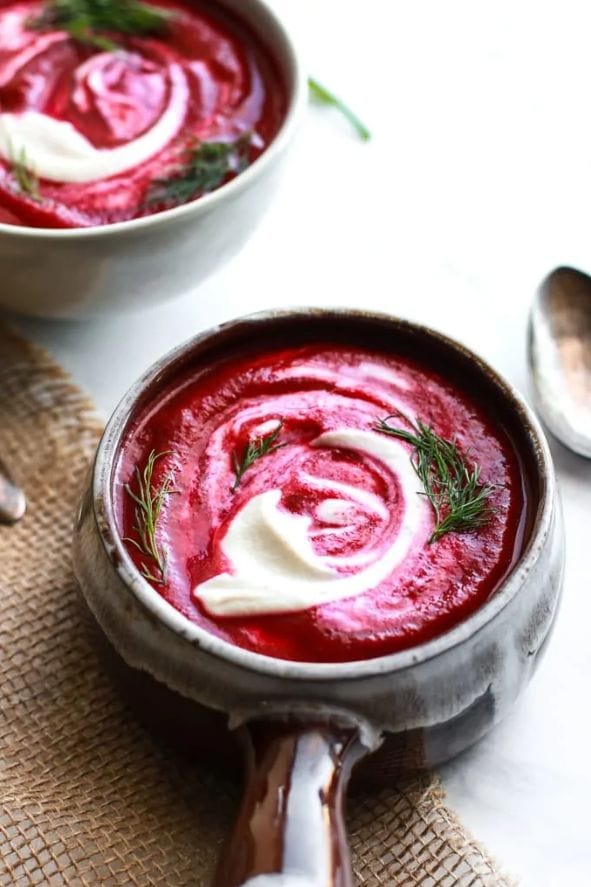 Beets are a sweet and bright fall vegetable we sometimes forget about. Nutrition in the Kitch has a simple and tasty recipe for a beet soup that'll leave you wanting more.
2. Easy Vegetable Soup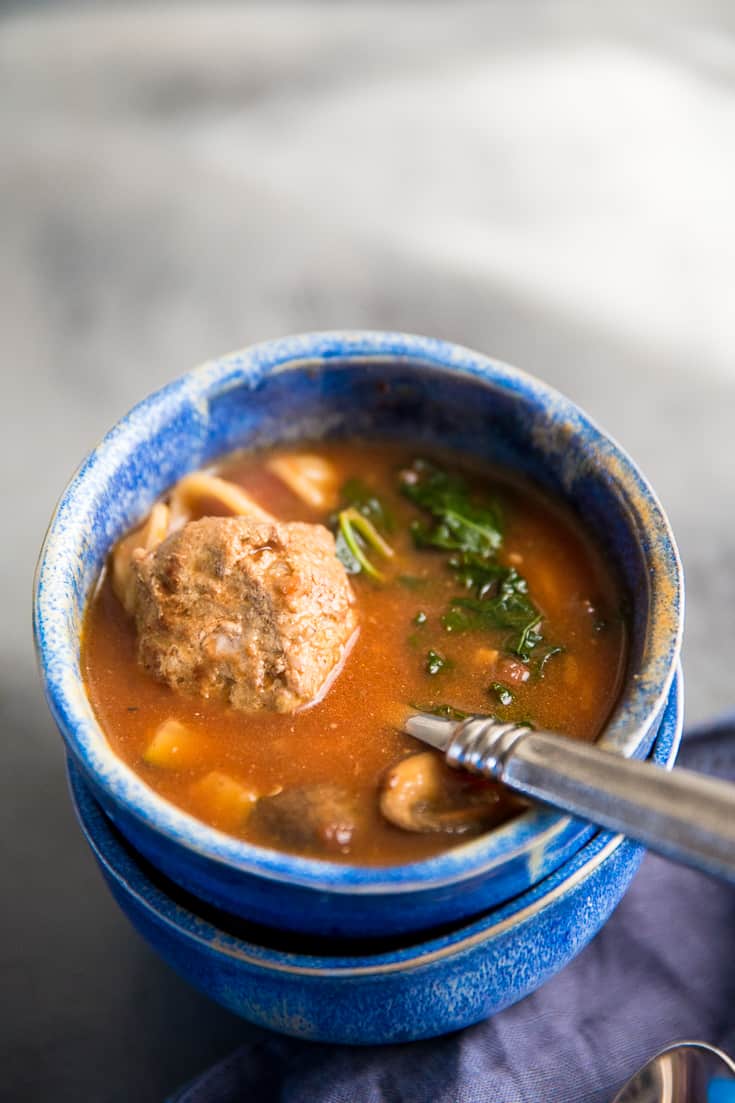 If you want a healthy portion of veggies in your day, this recipe from Lemons for Lulu for a meatball and veggie soup is ideal to make since it is made in about 20 minutes and will go over well with the whole family.
3. Instant Pot Butternut Squash Soup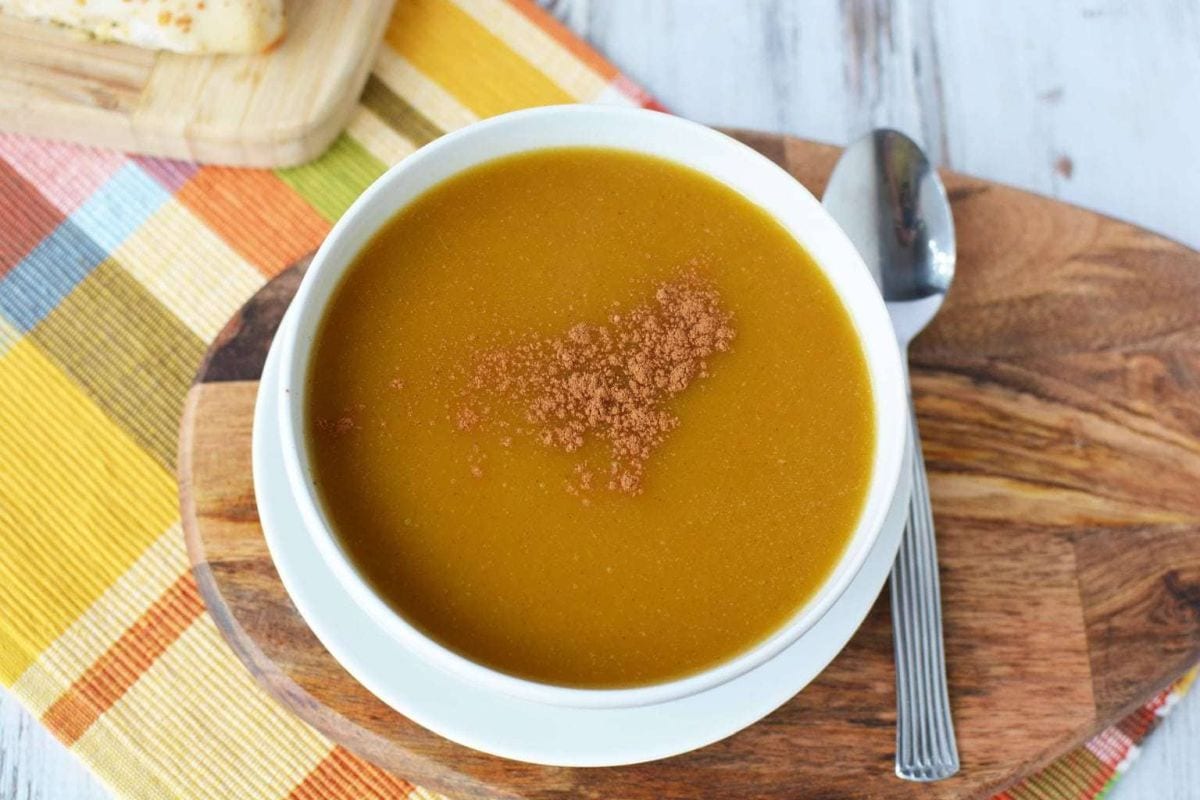 Instant pots are ideal for making soup in no time since they can cook down the toughest veggies into soft, tasty pieces ready to blend into a soup. Life Family Fun has a recipe for you to make squash soup in only 20 minutes.
4. Lemongrass and Chicken Soup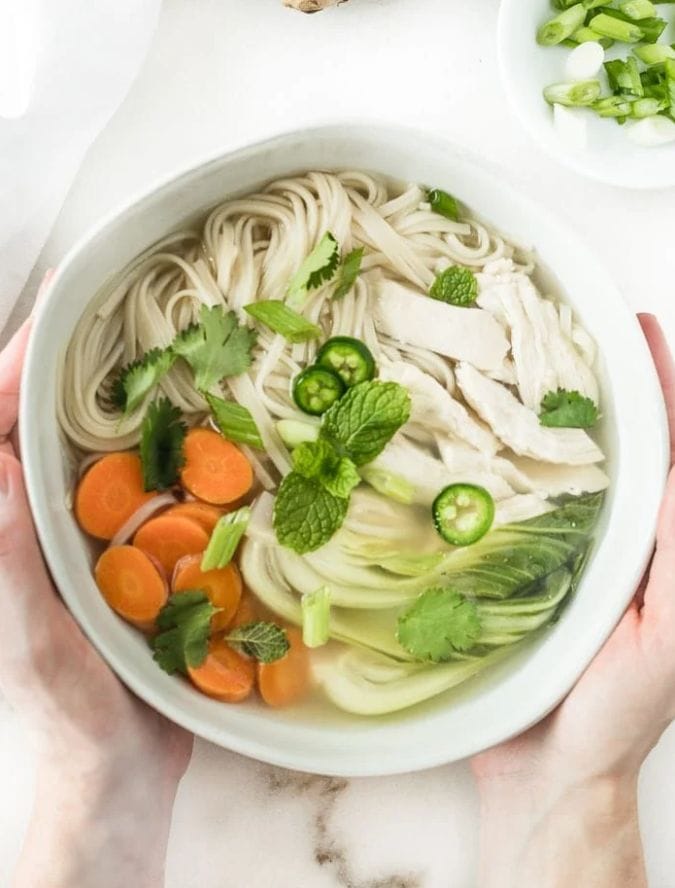 Chicken soup is a must-make classic soup in fall. Why not change it up with an even healthier version of chicken soup with a lemongrass twist? The ginger used in the recipe is also a good immune system booster for the cold winter to come.
5. Cinnamon Roasted Sweet Potato Soup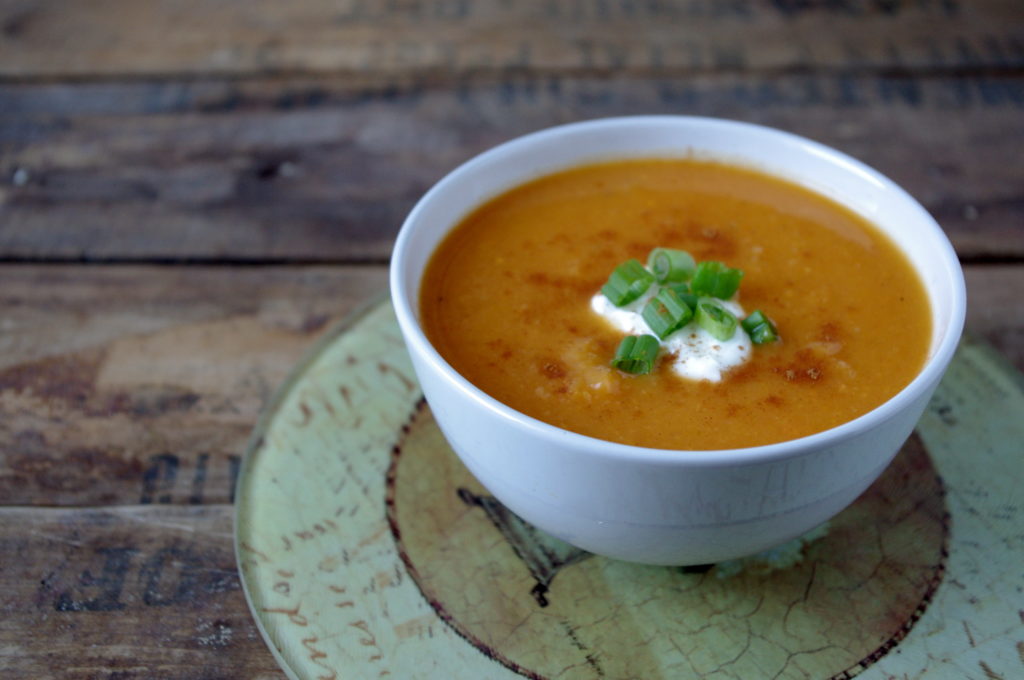 Nutrition in the Kitch has a recipe for a delicious sweet potato soup that will remind you of Thanksgiving and a cozy fall day in front of a fireplace. Children will love this soup too, so make a big batch.
6. Instant Pot Minestrone Soup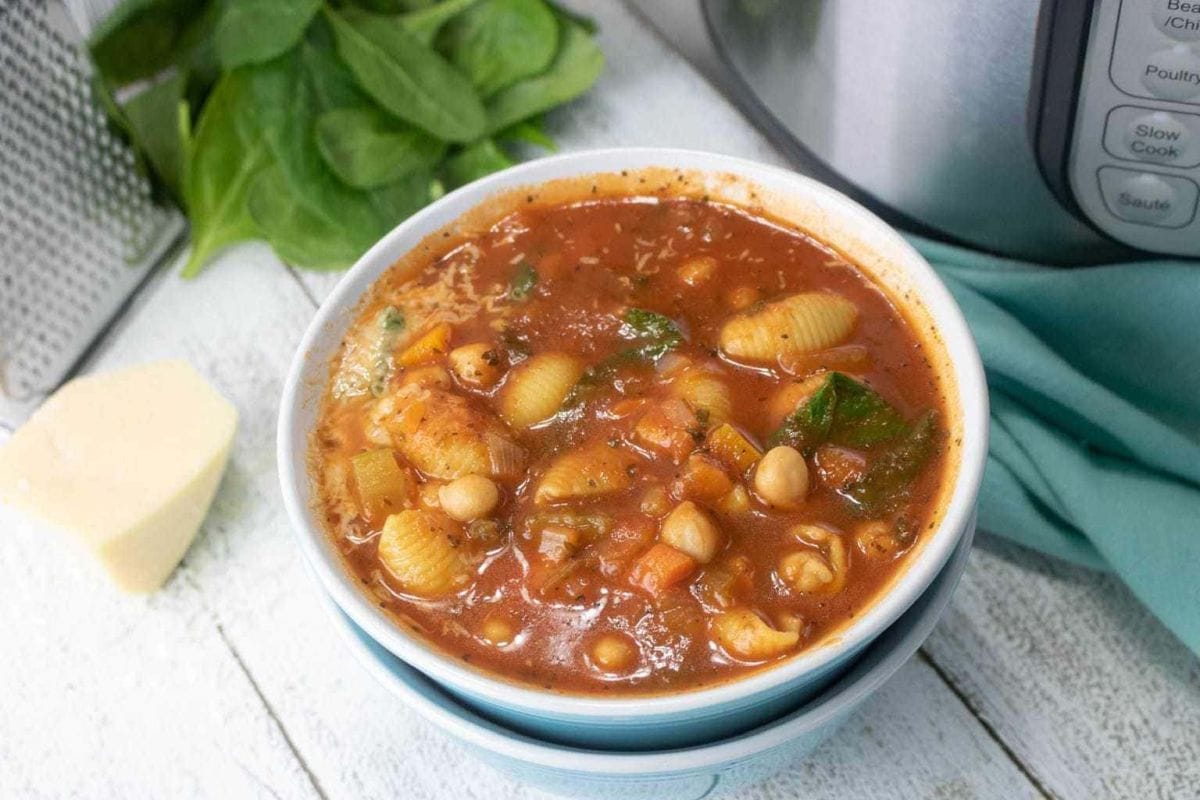 Minestrone soup is one of the best comforting soups to make, and Life Family Fun has the secret to making it in your instant pot without any hiccups or soggy pasta.
7. Roasted Pepper, Tomato and Basil Soup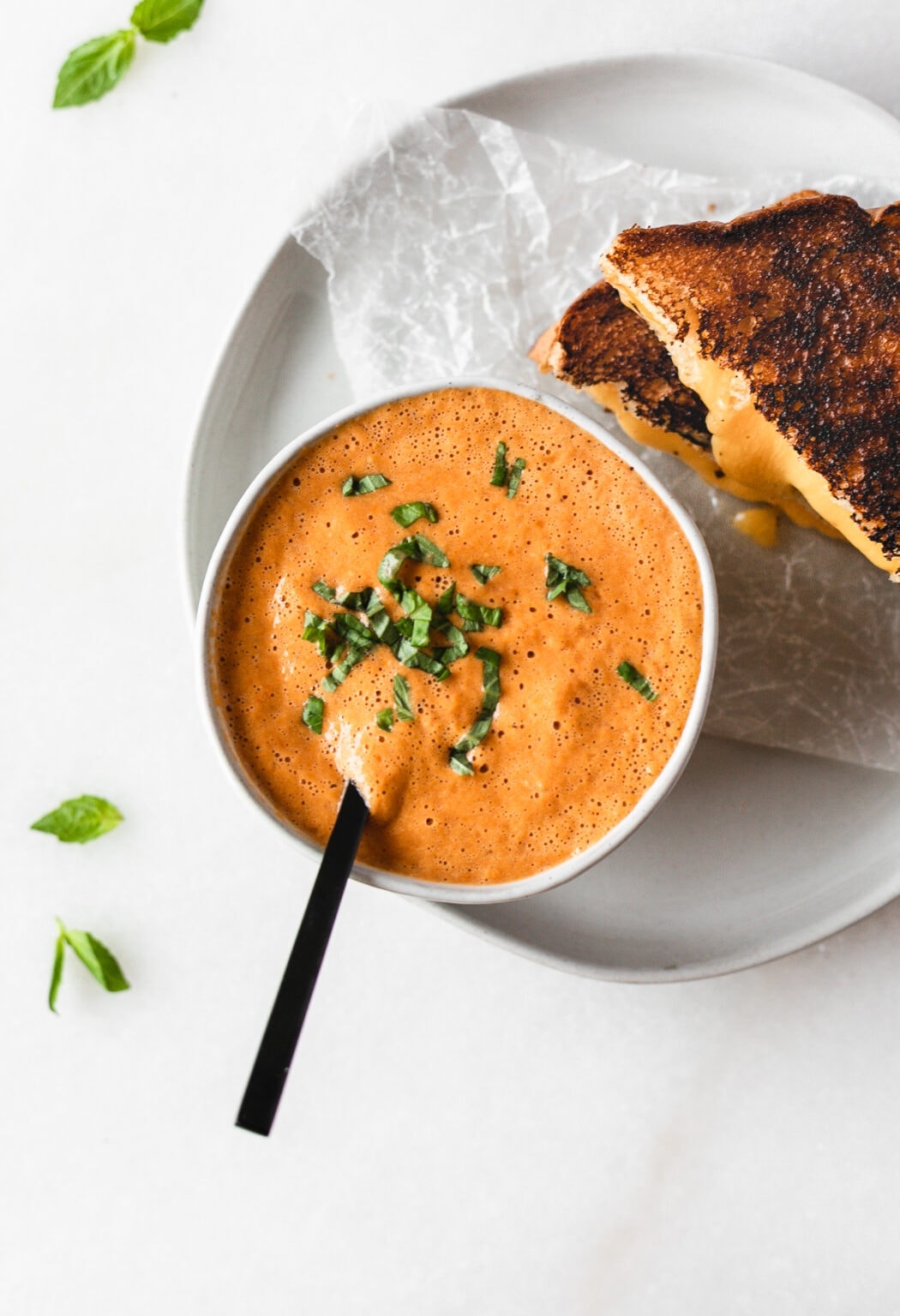 If you need an excuse for grilled cheese in fall, make this batch of delicious and warm roasted pepper, tomato, and basil soup. If you're vegan, they give you guidance on how to make it vegan-friendly.
8. Turkish Red Lentil Soup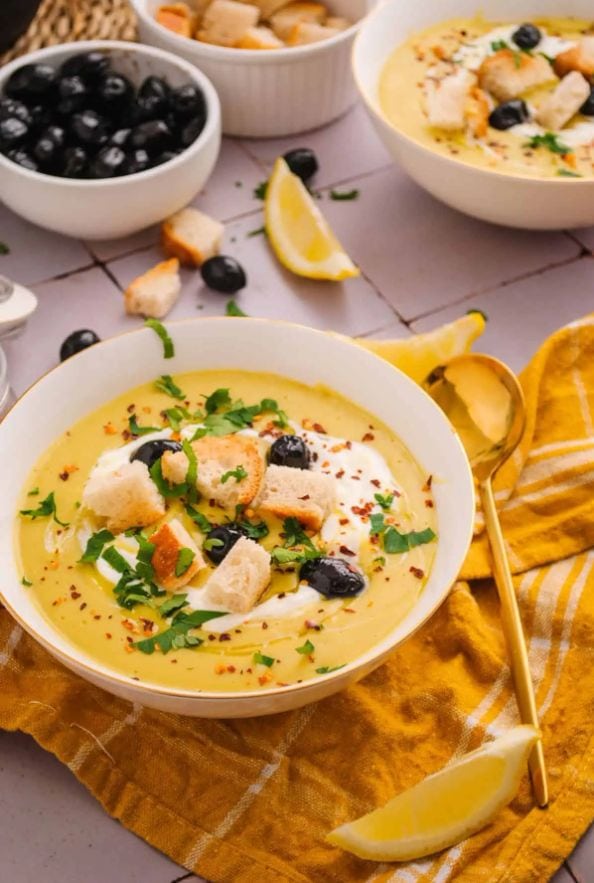 Lemons For Lulu shows us how to make this recipe for a Mercimek Corbasi or Red Lentil soup. Made in just twenty minutes, this soup will satisfy every hungry tummy. It is silky smooth and packed with healthy proteins.
9. Thai Coconut Pumpkin Curry Soup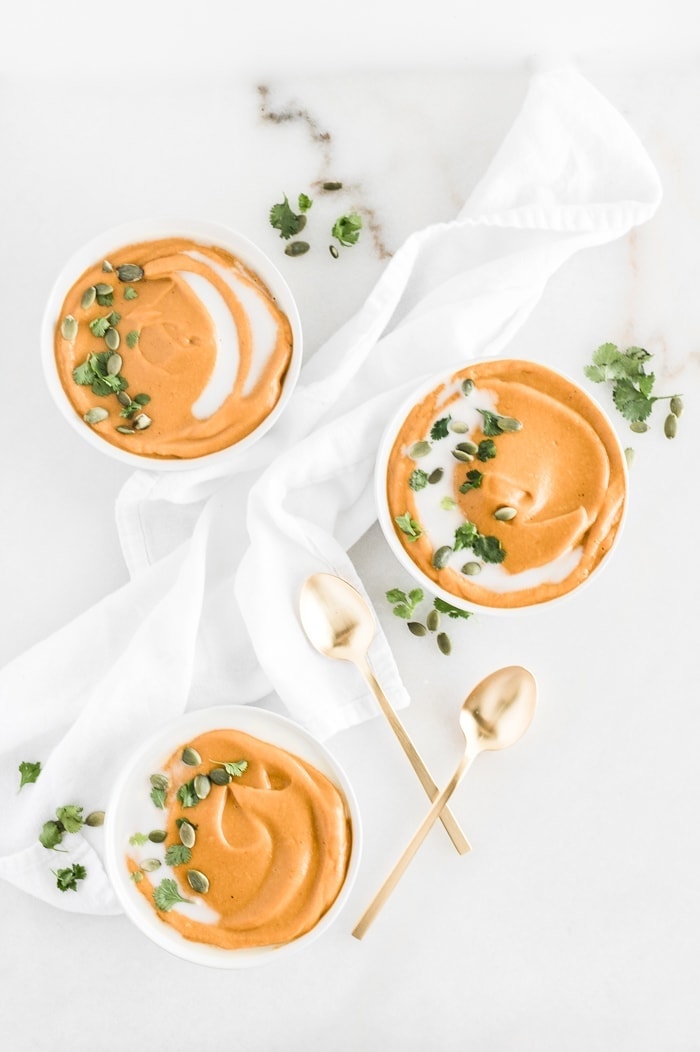 Don't let the name of this soup turn you away. The recipe is made with 7 healthy ingredients and completed in only thirty minutes. This Thai coconut, pumpkin, and curry soup is vegan-friendly and packed with good ingredients to keep you healthy and full throughout the day.
10. Smoky Roasted Butternut and Chipotle Soup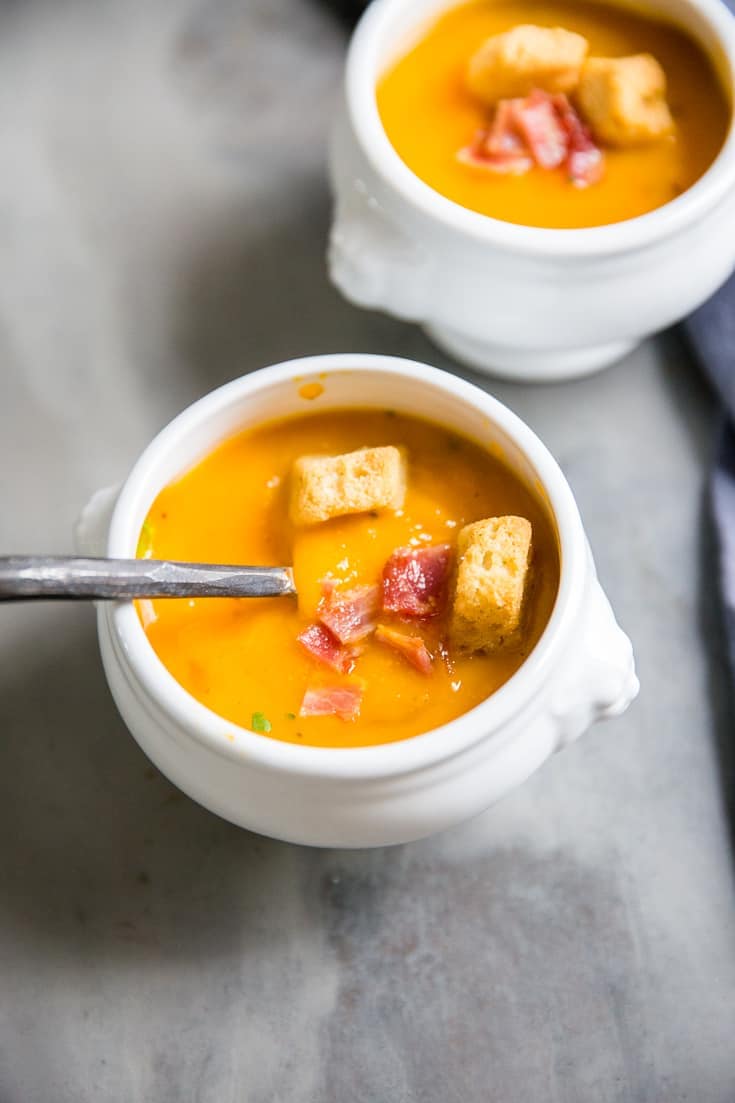 Lemons for Lulu gives you the ideal recipe if you're looking for a roasted sweet butternut soup but with a smoky twist from the Chipotle chillis. The roasting of the butternut is what takes up the most time in this recipe, but it's worth every minute.
11. Turkey And Wild Rice Soup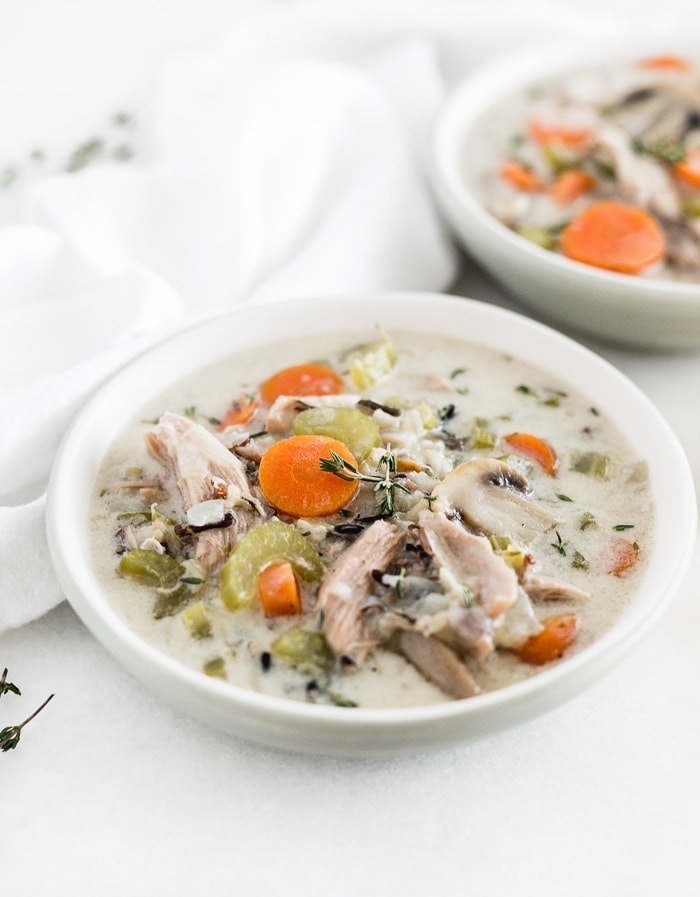 For a perfect recipe to use up that leftover turkey from Thanksgiving or a big meal, this turkey and wild rice soup is a must. You can make it with fresh turkey or even chicken if you'd like. Save some time and effort by trying this recipe next time you have leftovers.
12. Slow Cooker Beef and Barley Soup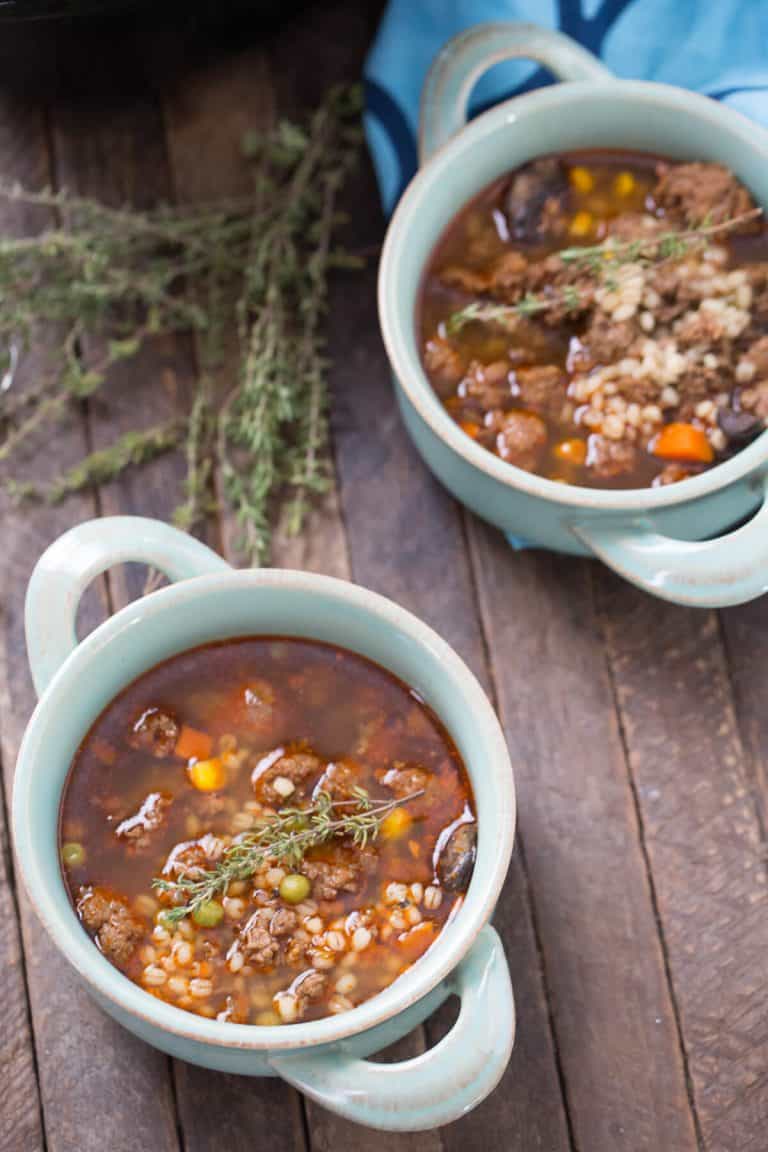 If you have a hungry family to feed or need hearty meals to prep for the week, the recipe Lemons for Lulu is guaranteed to fill the most ravenous belly. Plus, you don't have to stand in front of the stove for hours, the slow cooker does all the work for you.
13. Mexican Black Bean Soup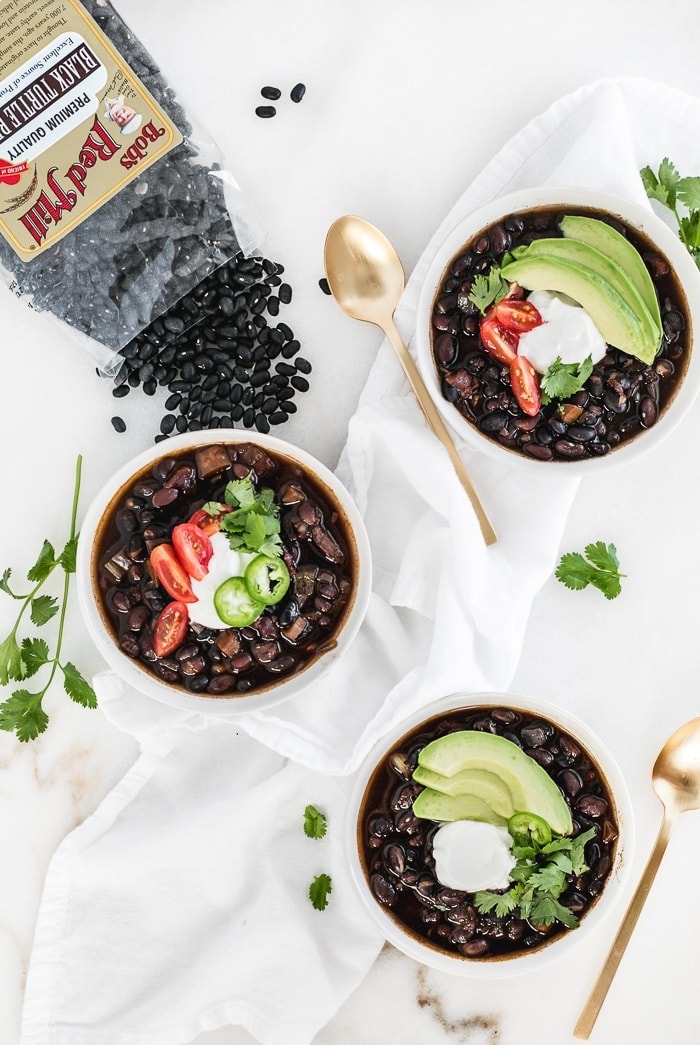 Warming and hearty, this Mexican black bean soup is healthy and easy to make. Make it under an hour and have enough to freeze for a cold day when you need something warm to eat but are too tired to make anything.
14. Cabbage Roll Soup
Hearty, filling, and delicious, you can't go wrong with the cabbage roll soup recipe from Lemons for Lulu. It's quick to prepare and cook since it can be done in under thirty minutes.
15. Cauliflower Soup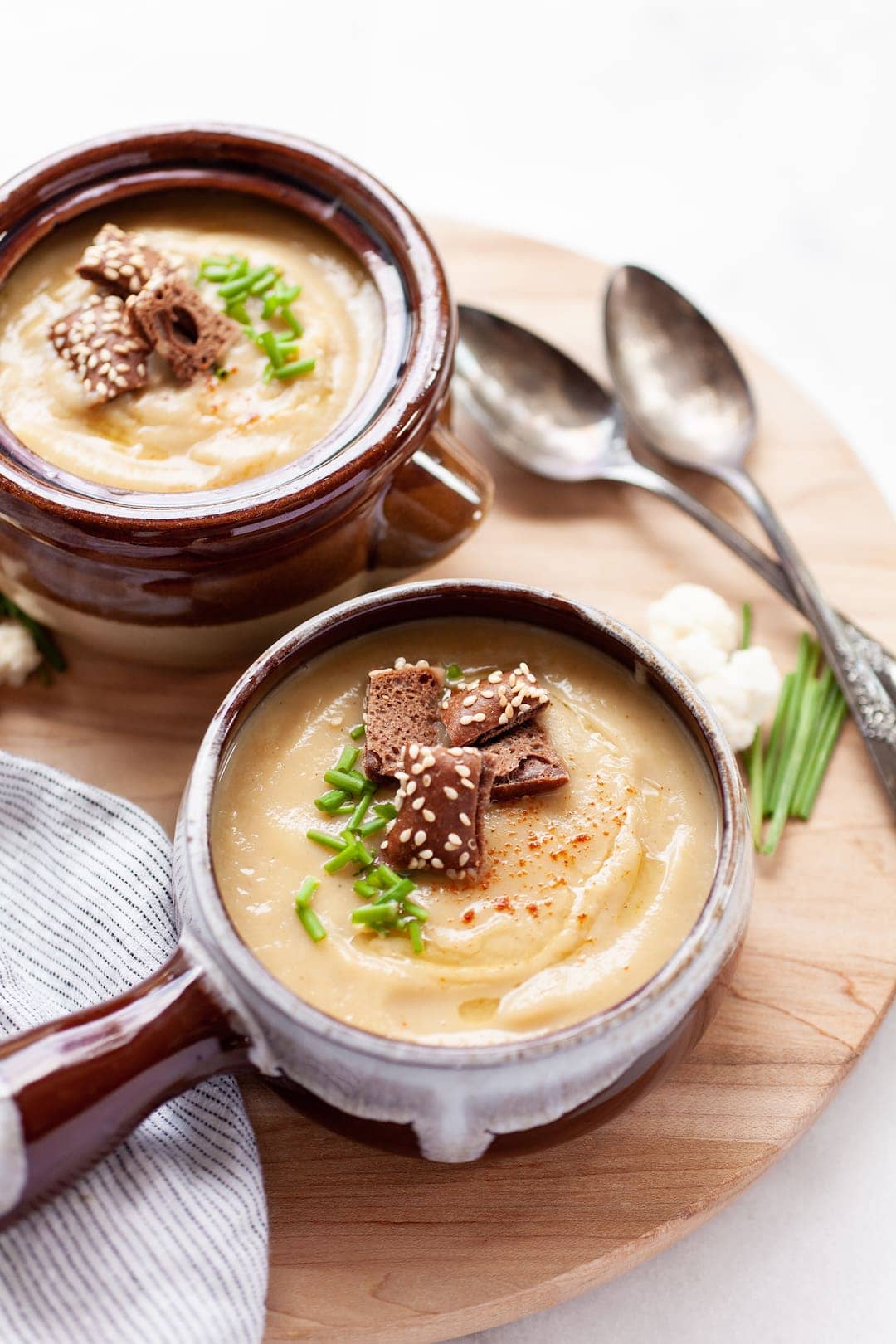 You won't believe this creamy and filling soup is completely dairy-free, in fact, this recipe from Nutrition in the Kitch is vegan-friendly. Make it in well under an hour and enjoy any time of day.
Mistakes to Avoid When Cooking Soup
Boiling your soup - you might be in a rush, but if you boil your soup instead of simmering it, you will have bland and overcooked veggies in your soup.
Adding tomatoes early - adding tomatoes too early in the cooking process keeps your veggies crunchy, which might be good. But if you want a smooth and silky pureed soup, add the tomatoes in the final 20 mins of the cooking process.
Not using enough salt - soups are packed with flavor, but they need salt. Taste as you go, and add salt when needed instead of a lot at the end when serving.
Not understanding when to add ingredients - you might need to add beans and carrots to your soup. However, both take different amounts of time to become tender. So make mental (or physical) notes when cooking your favorite soups to perfect the textures of all your veggies.
FAQ
What Is the Most Popular Kind of Soup?
The most popular kind of soup depends on where you ask this question. If you're in Italy, it will be minestrone soup, but in America, it might be squash soup or chicken noodle soup.
What Are the Healthiest Soups?
Most soups are considered healthy since they usually contain a good amount of veggies that are easy to digest and packed with nutrients. Skip the cream or cheese if you feel you need your soups to be healthier.
Does Soup Get Better the Longer You Cook It?
You need a few hours of gentle simmering to bring out the most flavors in your ingredients. However, too much simmering can ruin your soup by overcooking the ingredients.
Using a pressure cooker also means you should stop the cooking quicker than with a stovetop. It's also important to never boil your soups to avoid overcooking and drying out your ingredients.
Is Soup Better in the Slow Cooker?
Soup made in a slow cooker is not be better than any other form of cooking, except if you're making a meat-based soup since your meat will be soft and tender.
The slow cooker is a great method for cooking soup if you prefer the simplicity of dump it and leave it since cooking soup in the slow cooker is easy and requires little to no interference.
Conclusion
Fall is a season for warm and comforting food. So in order to successfully survive the weather getting colder, make sure you have your favorite fall soup recipes close by and prepare an extra batch or two to prepare for those super cold days.