If you're looking to add some new fall casserole recipes to your autumn menu, look no further. Casseroles are a fall favorite, each dish containing just the right amount of warmth, flavor, and comfort.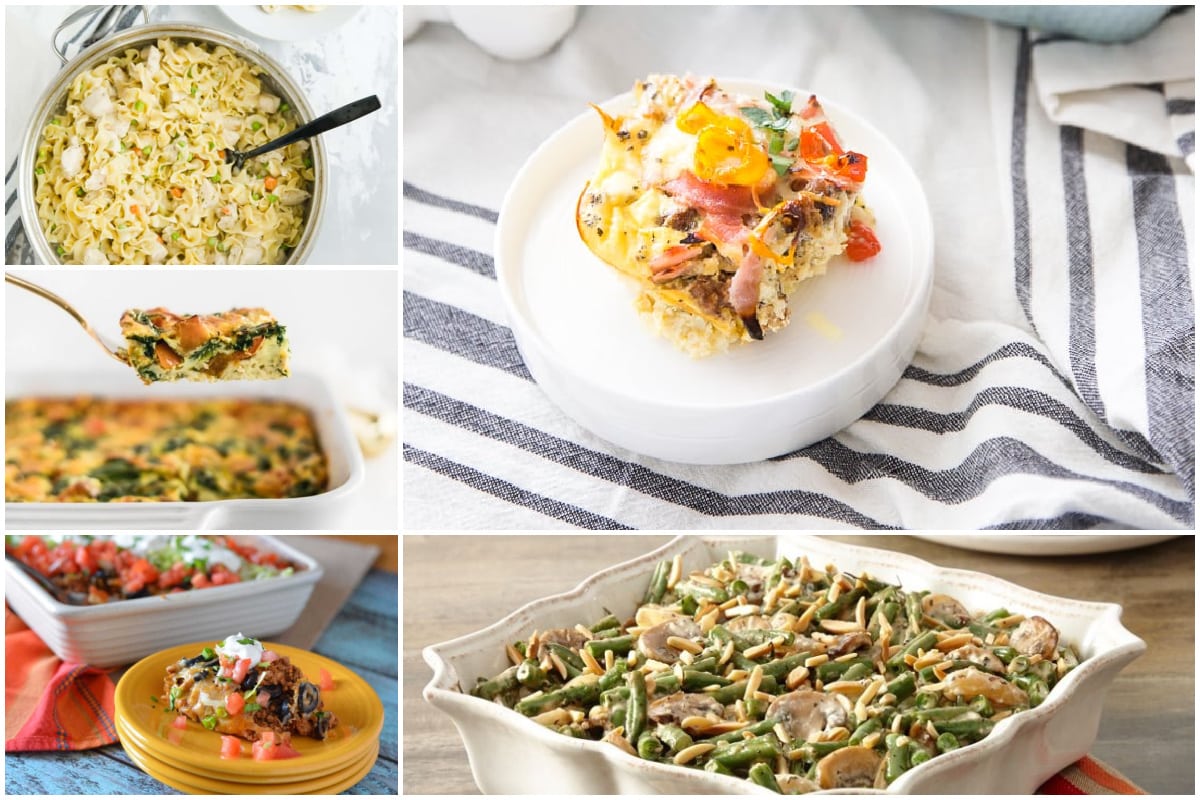 These dishes are relatively easy to cook, customizable, and can include about any vegetable, meat, or sauce. This article will find some of the best casserole recipes for the season, along with some helpful tips.
What is a Casserole?
A casserole is a dish made from a variety of ingredients that are baked together. Casseroles are typically made with meat, vegetables, and starchy ingredients such as rice or pasta.
They can be served as a main dish or side dish and are often made ahead of time and reheated before serving. There are endless possibilities when it comes to casserole recipes, so you can always find one that your family will love.
Whether you're looking for an easy weeknight meal or something special for the holidays, casseroles have you covered.
Characteristics of a Casserole
Baked - casseroles are dishes that are meant to be baked in the oven. The ingredients are meant to become fully infused into the dish, which may be difficult to do so on a stovetop.
Ingredients - while casseroles can be made from about any ingredient found in the kitchen, they're usually made of hearty, warm, comforting foods. Chicken, beef, potatoes, carrots, noodles, marinara, and squash are great choices when baking one of these dishes.
The Dish - casseroles can be baked using glass or metal bans. You can't bake a casserole on a baking sheet or in a shallow pan. You could also often serve from a rectangular pan for a circular or any pan preference. Also, a pan with a lid works great for keeping any food from splattering while your dish cooks.
5 Main Parts of a Casserole
Protein - every casserole should contain a source of protein. Fall casserole recipes will often call for chicken and beef because they pair well with other in-season vegetables.
Vegetables - the best fall casserole recipes include an assortment of in-season vegetables. These may include corn, pumpkin, squash, bell peppers, carrots, and broccoli.
Sauce - a great sauce is one of the most important components inside of a casserole. Fall sauces should be warm and savory, maybe even a little spicy. The sauce should also be thick enough to hold the ingredients together.
Starch - the starch of a casserole should pair well with the protein and vegetables. You can use your favorite starch, such as quinoa, rice, or noodles. Quinoa is a great choice for making a fall casserole.
Toppings - most casseroles will have a topping, such as cheese, breadcrumbs, or french onions, to help hold all of the ingredients together. You can use any topic you'd like and even multiple toppings within the recipe.
Types of Casseroles
Italian - almost any Italian pasta dish can be made into a casserole. Spaghetti bake is a common casserole dish. It mimics the delicious flavors of spaghetti while also consisting of a casserole texture. Tomato and alfredo sauces work best for these dishes.
Mexican - if you enjoy tacos, burritos, and enchiladas, the good news is you can turn these into a casserole. You can use tortillas as layers for your casserole or even create baked Mexican pasta. The options are unlimited.
Main Dish - Casserole is suited for being the main dish of a meal. Many casserole recipes usually incorporate different food groups. So, they're great for getting in your protein and other food requirements.
Meat - Many casseroles call for meat, which makes the dish filling and satisfying. You can use chicken, beef, pork–whatever kind of meat you desire.
Breakfast/Brunch - Casseroles can be used for more than just dinner. There are plenty of breakfast casserole recipes, usually using egg or hashbrowns as a base. These dishes are also great for brunch or an early lunch.
15 Best Fall Casserole Recipes
1. Tuna Noodle Casserole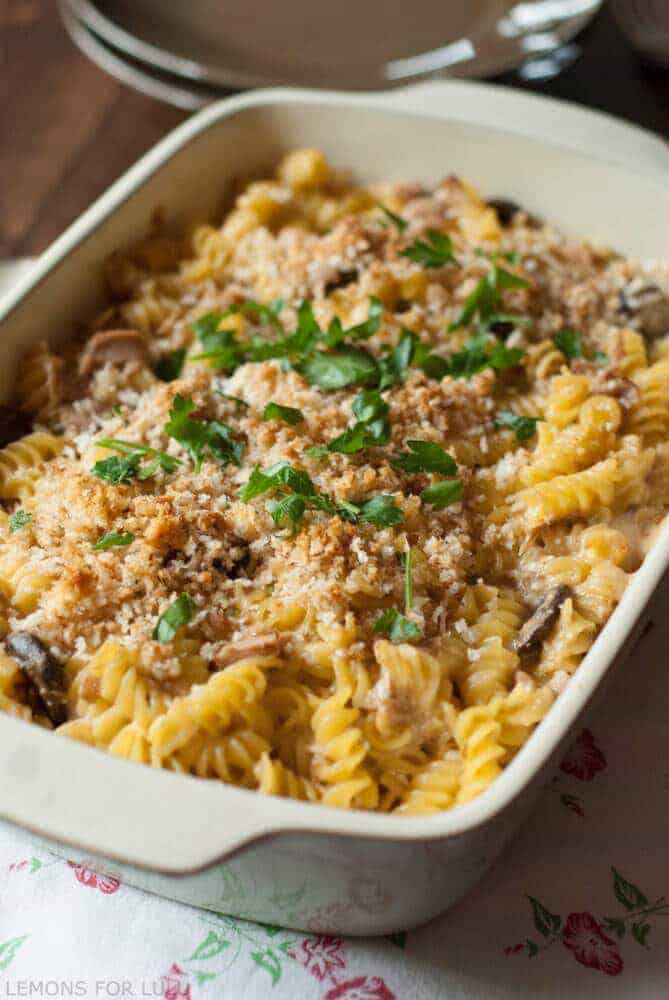 Tuna noodles are a favorite amongst casserole lovers. The ratio between the herbs, tuna, and noodles makes for a very fall-friendly dish.
Lemons for Lulu shows us how to make this tuna noodle casserole that is simple, hearty, and healthy.
2. Chicken Cordon Bleu Casserole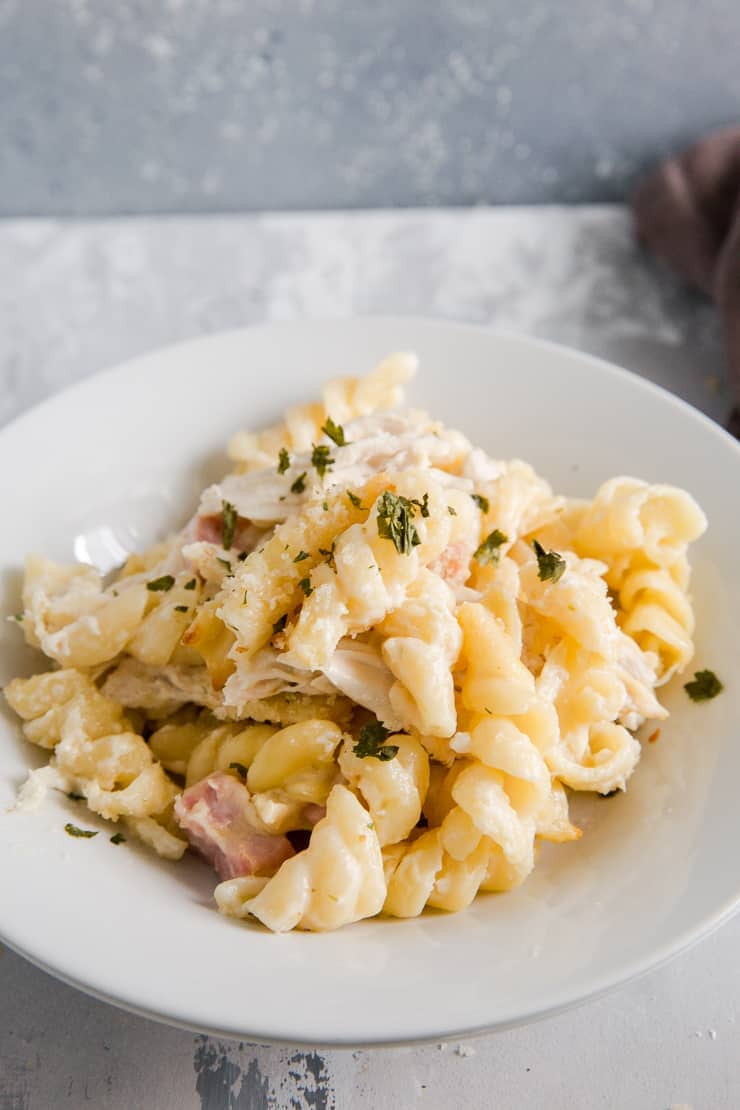 Monterey jack and chicken are the main ingredients for this chicken casserole. If you're looking for a protein-packed dish for the family, consider trying the chicken cordon bleu casserole recipe from Lemons for Lulu.
3. Dairy Free Breakfast Casserole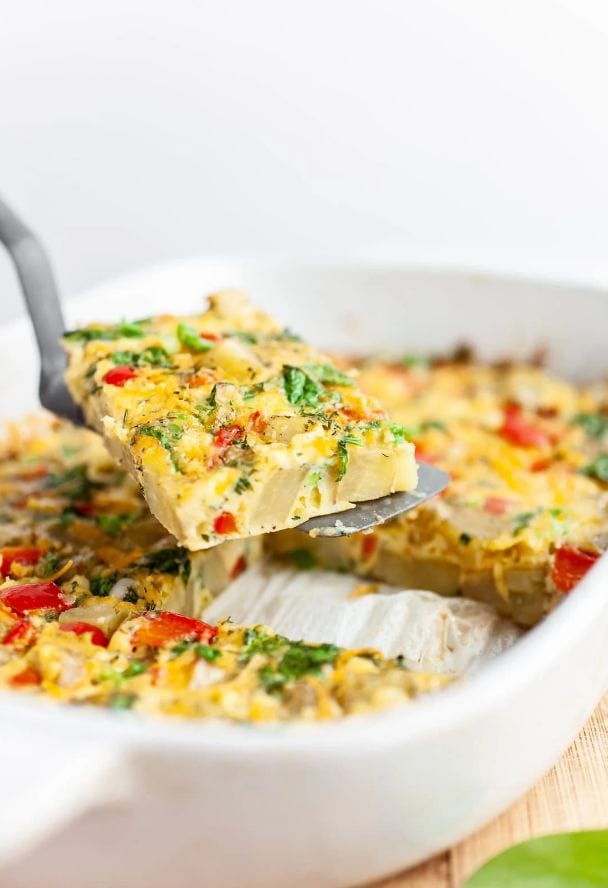 If you're lactose intolerant, you don't have to miss out on having a warm breakfast casserole in the morning. Check out Nutrition in the Kitchen's dairy-free recipe, full of eggs, potatoes, spinach, and peppers.
4. Breakfast Egg Casserole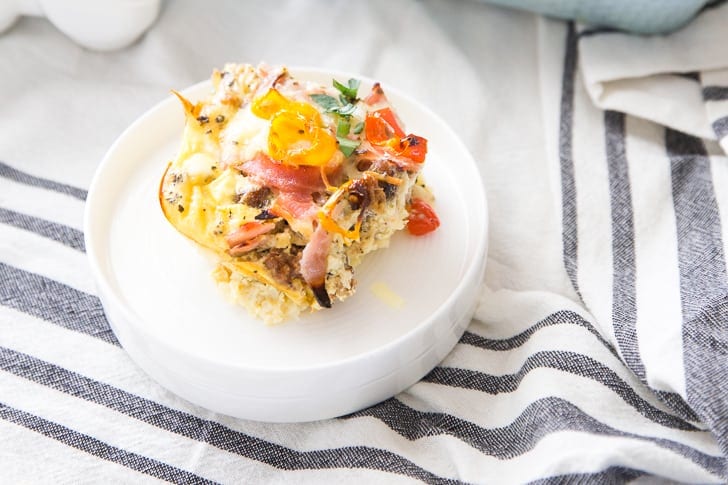 Casseroles for breakfast are a quick and easy way to make a filling breakfast for the entire family. Much more exciting than scrambled eggs or an omelet, this breakfast egg casserole recipe from Lemons for Lulu is the perfect morning fix.
5. Chicken and Veggie Quinoa Casserole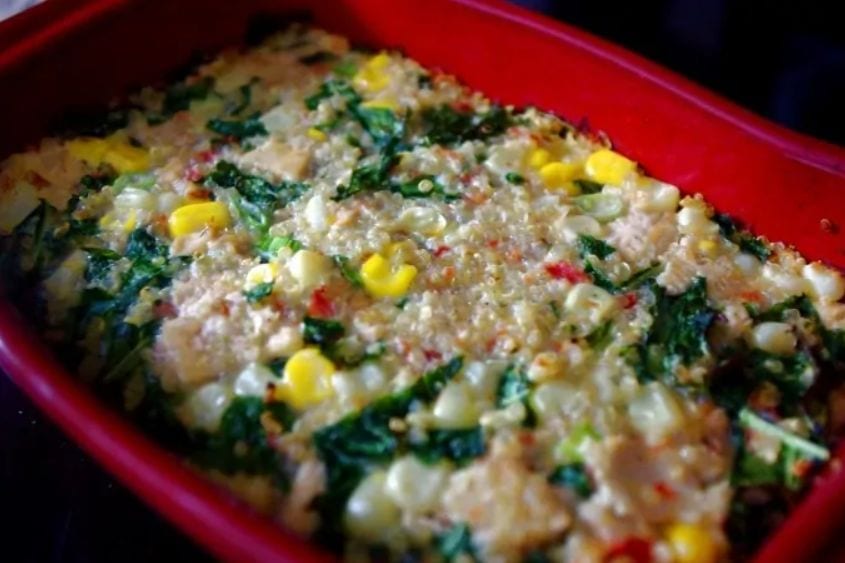 Quinoa is a healthy alternative to pasta or rice. If you're looking for a new way to incorporate quinoa into your diet, check out Nutrition in the Kitchen's chicken and veggie quinoa casserole recipe.
6. Taco Bake Casserole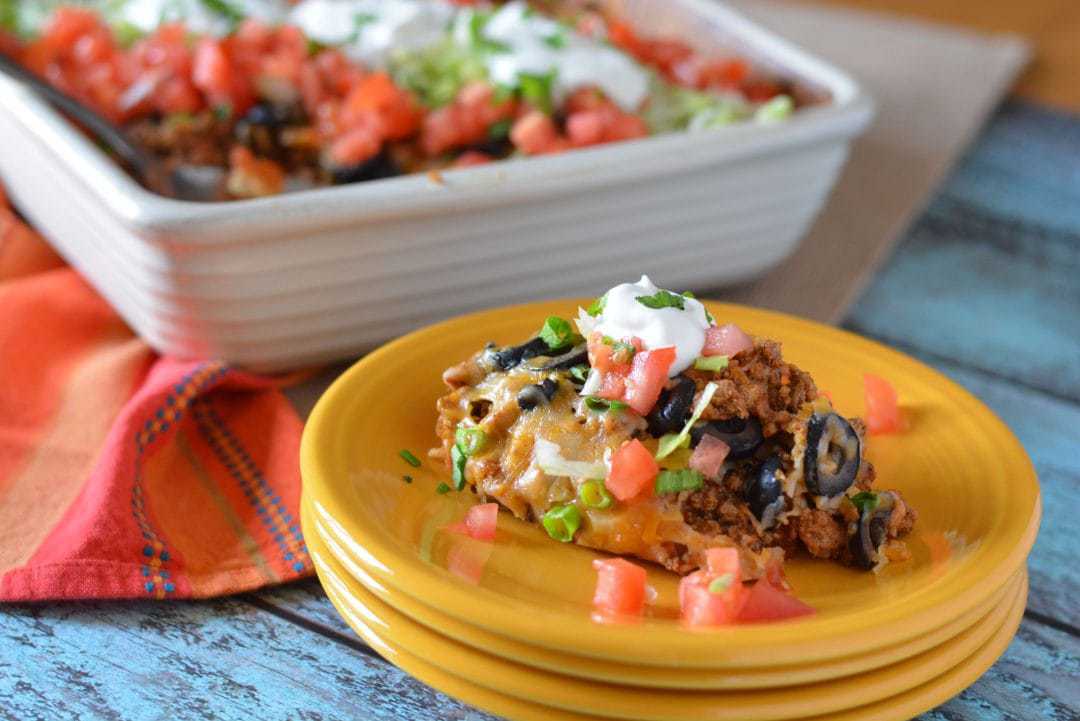 If you're looking for a new way to spice up your tacos, or need a dish to bring to a get-together, consider baking a Mexican casserole. Life Family and Fun's taco bake casserole recipe is a quick and easy way to elevate your taco Tuesday nights.
7. Veggie Sweet Potato Breakfast Casserole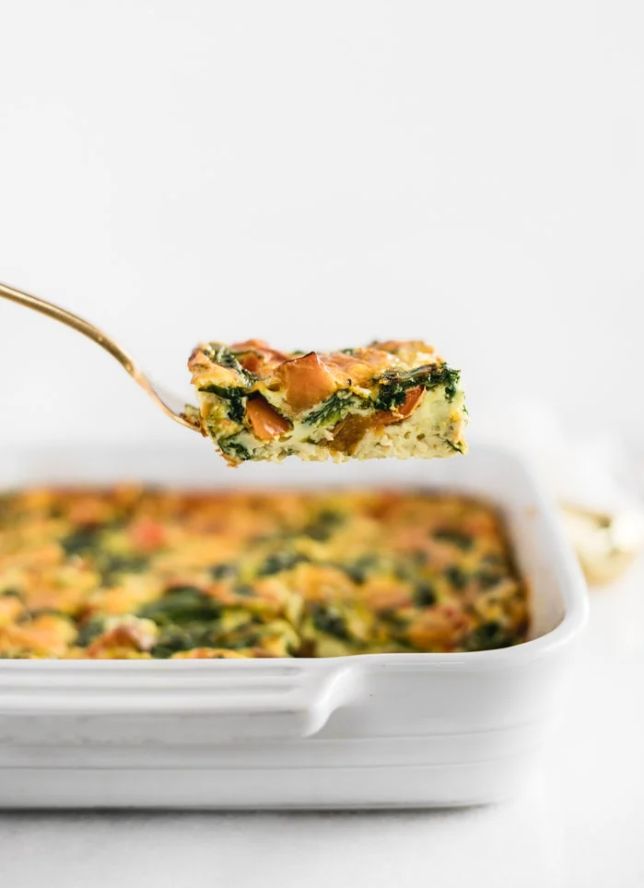 Sweet potatoes are a healthy way to kickstart your day. This veggie sweet potato breakfast casserole recipe is a well-rounded meal that will keep you full throughout the morning.
8. Chicken Noodle Casserole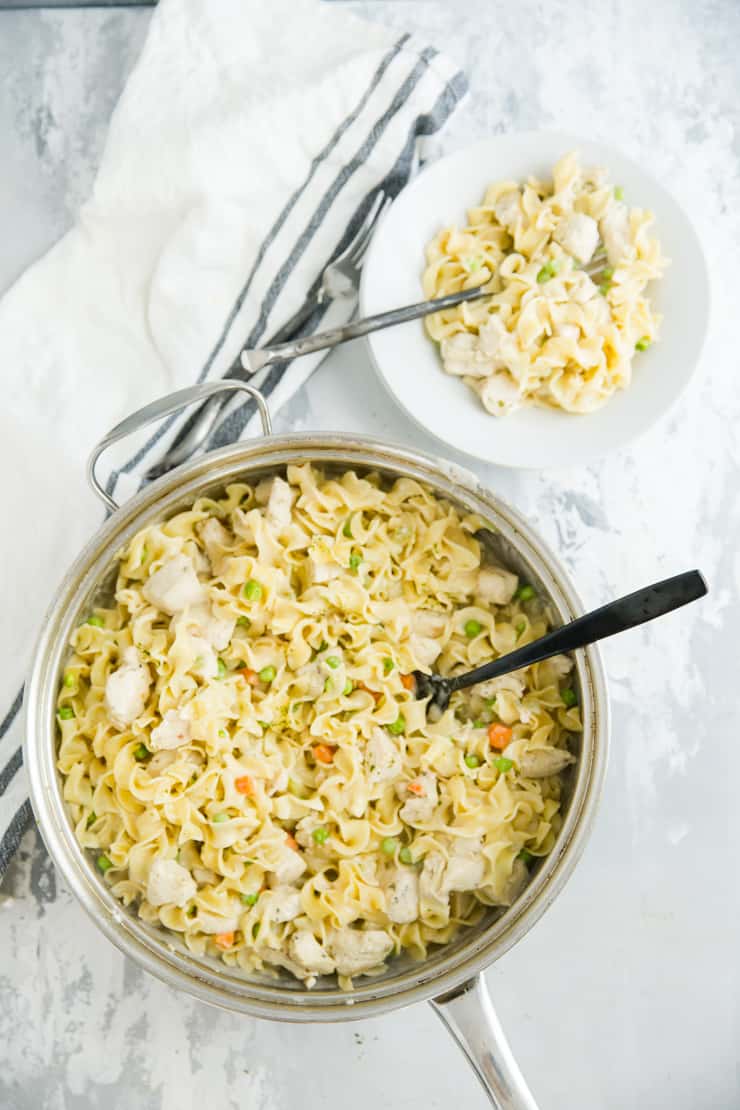 If you enjoy chicken noodle soup but sometimes feel that it's not filling enough, this recipe from Lemons for Lulu is for you. For an interesting take on traditional chicken noodle soup that will keep you satisfied, try this casserole dish.
9. Biscuits and Gravy Casserole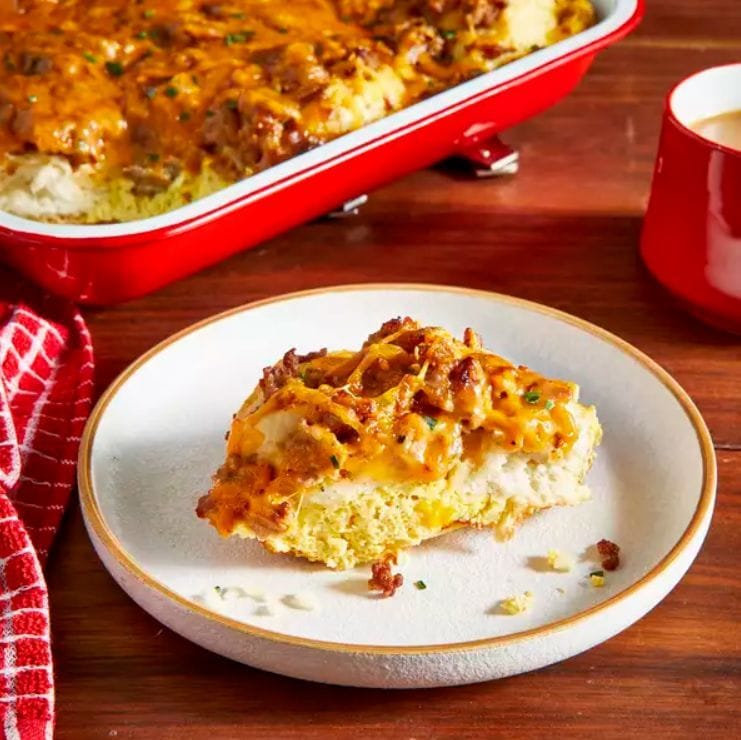 For all your biscuits and gravy lovers, this casserole recipe is for you. Filled with pork sausage, doughy biscuits, and cheddar cheese, this casserole from All Recipes is a great way to start your morning.
10. Gluten-Free Green Bean Casserole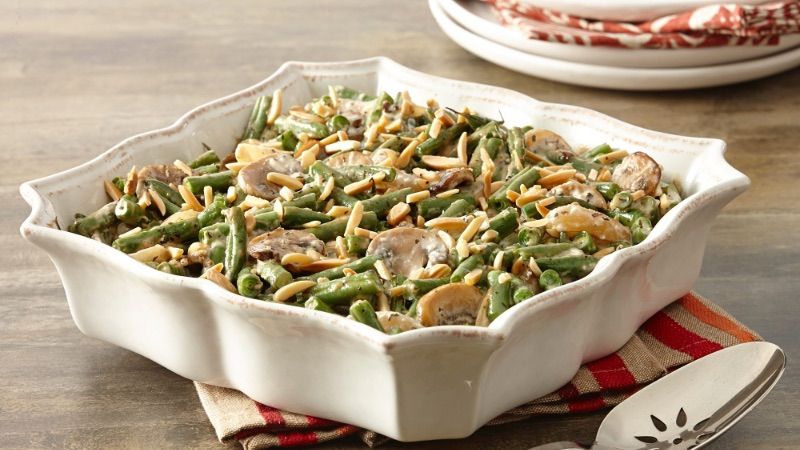 Green bean casserole is most popular during the fall and winter seasons. Even though this is usually a side dish, you could also make it the main course with this recipe from McCormick for this beloved casserole.
11. French Onion Ground Beef Casserole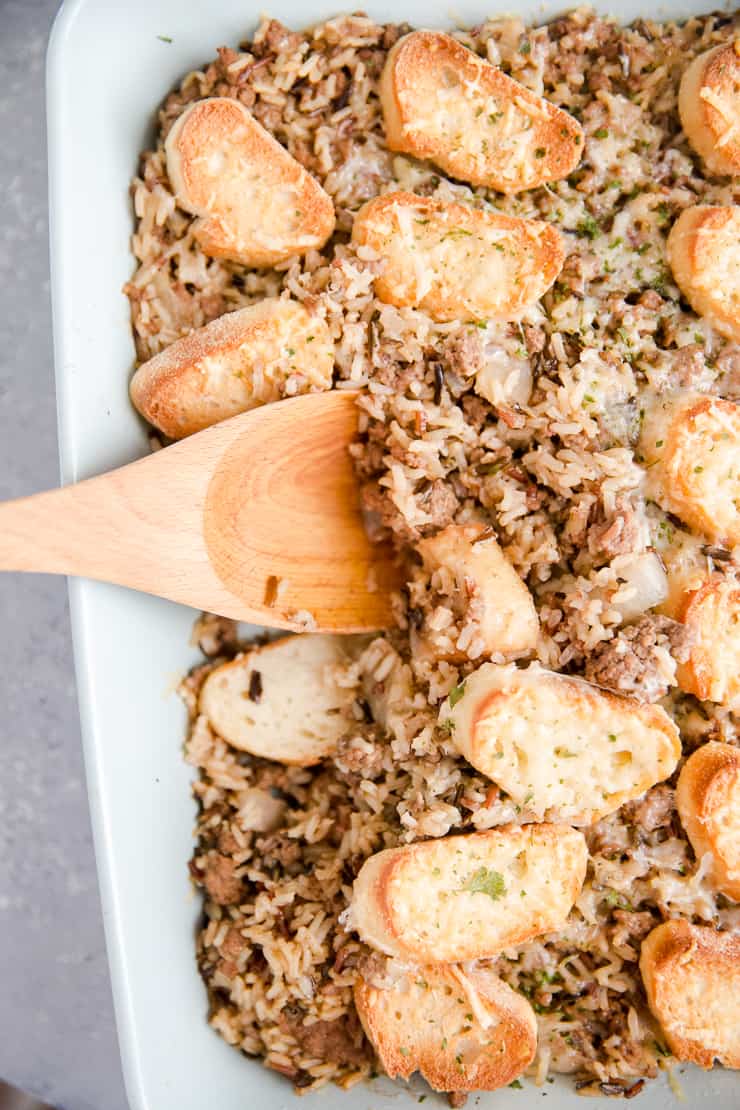 French onion soup has never looked as tasty as in this French onion ground beef casserole recipe from Lemons for Lulu.
The dish is full of herbs, wild rice, and ground beef and topped with a thinly sliced baguette. If you're a fan of this soup's flavor, consider this casserole dish.
12. Chicken Pot Pie Casserole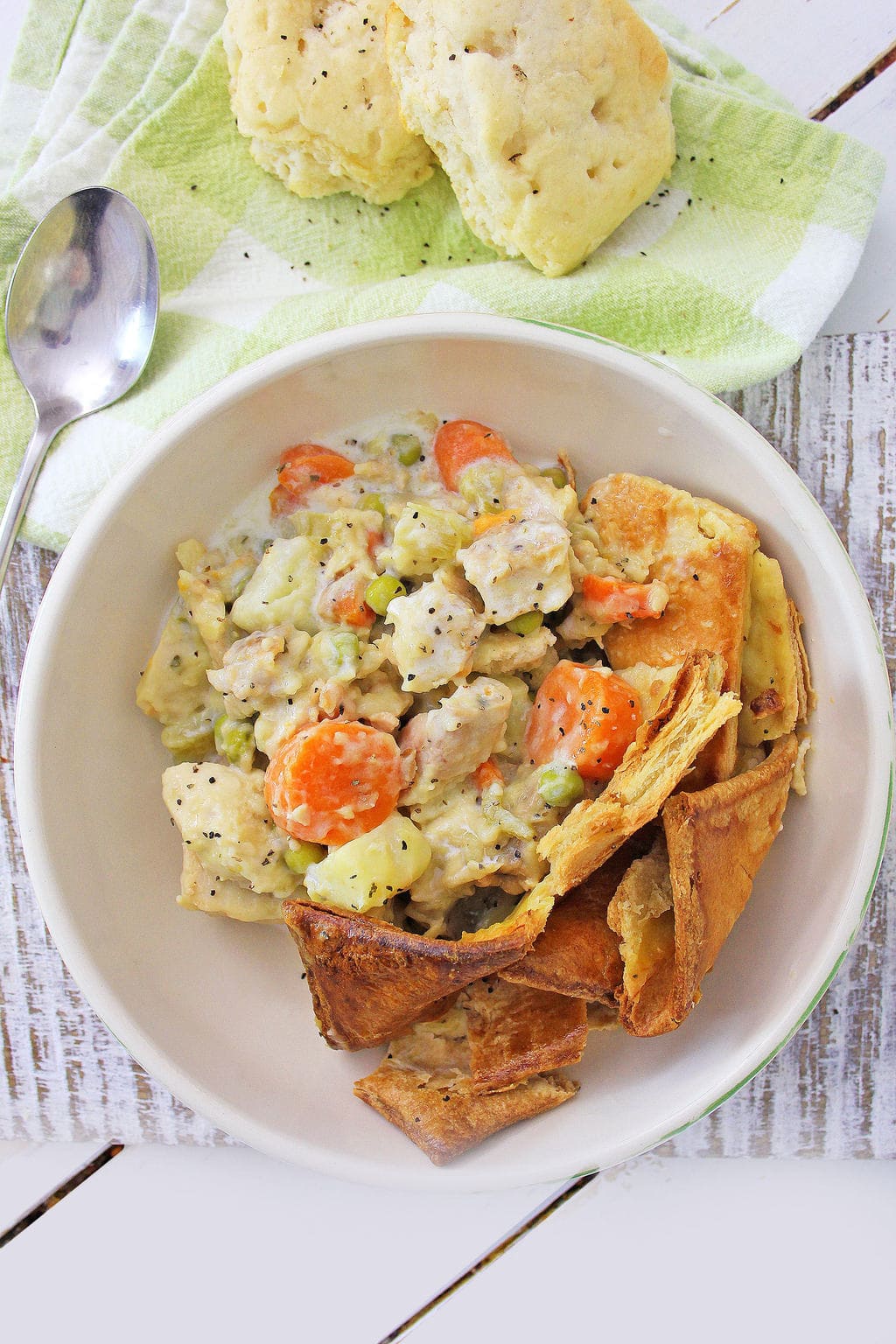 As the temperatures begin to sink during the fall months, meals like chicken pot pie are essential. Life Family and Fun offers us this casserole recipe which creates a much larger pot pie that is suitable for big families or dinner parties.
13. Southwest Creamed Corn Casserole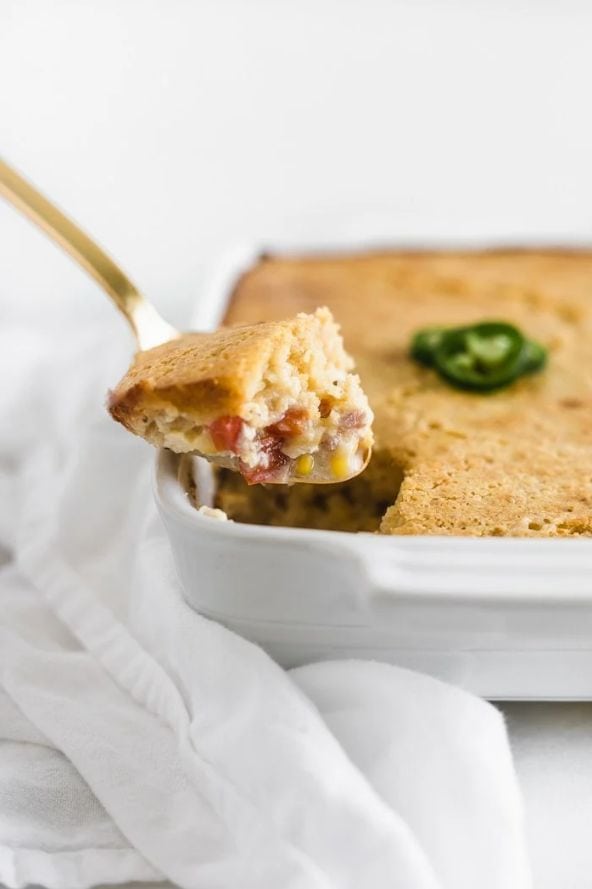 Some casseroles are great to just have as side dishes. Iif you're wanting for a dish with a little kick, this creamy recipe for Southwest creamed corn casserole topped with a crispy, flaky crust is a must-try.
14. Cheesy Chicken and Broccoli Casserole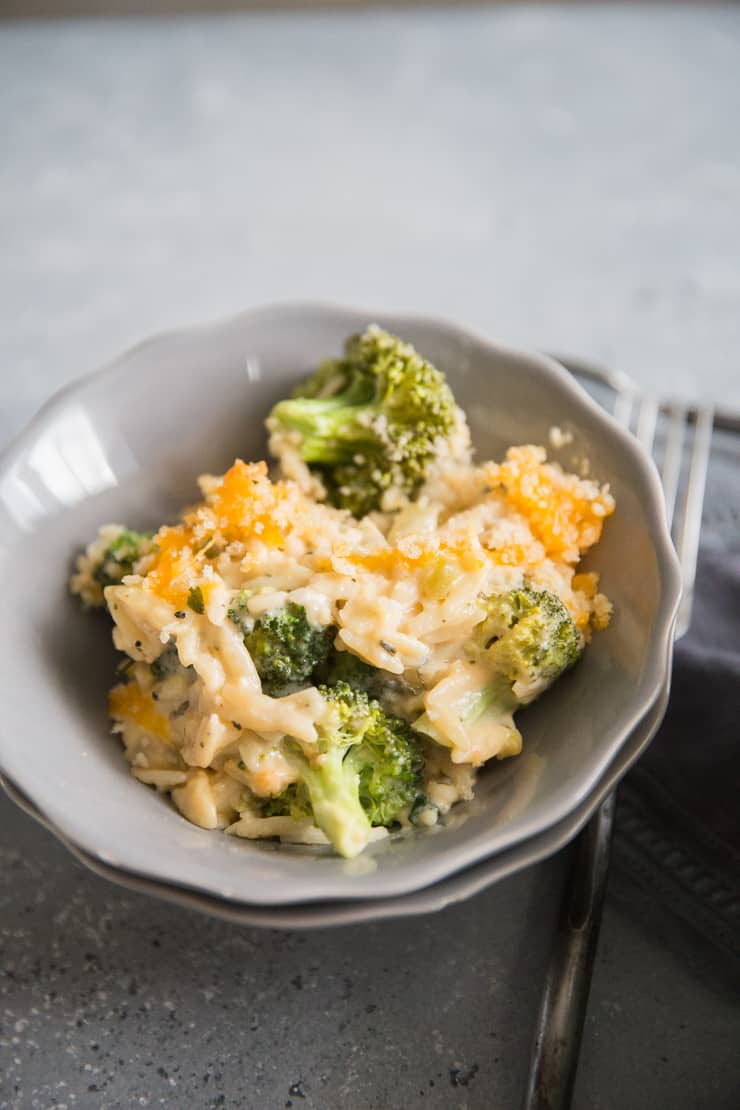 If you're looking for a hearty casserole, Lemons for Lulu shows us how to make this cheesy chicken and broccoli casserole recipe for a comfort food that is sure to be a mouth-watering crowd-pleaser.
15. Sweet Potato Pecan Casserole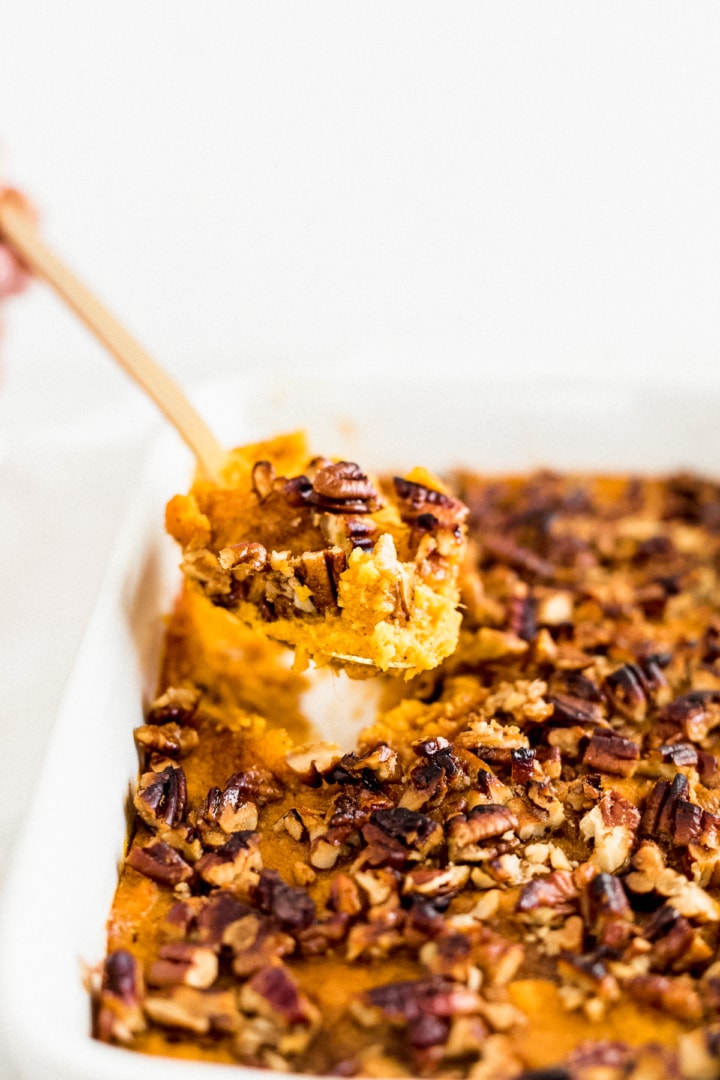 For a casserole for sweet potato lovers, try this recipe that is packed with pecans, brown sugar, and cinnamon. Everyone will be wanting seconds of this sweet and savory dish.
Key to Making the Perfect Fall Casserole
Find the Right Sauce
When choosing a sauce for your casserole, it's important to find one that pairs well with the rest of the ingredients. The sauce will be the first point of flavor, depending on the type of casserole you make.
For fall, consider trying a sauce that's spicy, squash, and pumpkin based, or even a cinnamon one for a sweet dish. Make sure to use enough sauce when baking, especially if the dish is full of starch, as these will absorb a heft portion of the sauce.
Also, make sure to pour the sauce in before adding the toppings, such as cheese or bread crumbs.
Use the Right Cheese
When choosing the right cheese for your casserole, you want to consider how it will taste with the rest of the ingredients. Some cheeses will cook better than others, and the final product of your casserole can be quite different depending on the type that you use.
There are dairy-free cheese options, which don't melt quite as well as regular cheese, and you won't want to use as much as you normally would.

Vegetables
Casseroles are meant to be baked for an extended period of time to allow all of the flavors to marinate. If your casserole is vegetable-based, make sure to use a combination of hard and soft vegetables to maintain a sense of texture.
The end result might be sloppy if you only use soft vegetables, such as celery, tomatoes, eggplants, and squash.
The Liquid Ratio
It is also important to avoid excess liquid. Certain ingredients, such as meats and canned beans, must be adequately drained before adding them to the casserole mix.
If you don't drain the excess liquid, the casserole may hold too much liquid and not bind properly, which can jeopardize your dish's flavor.
Toppings
You can consider using a topping. Breadcrumbs, cheese, and fried onions are all great topping choices to add to your casserole. You can even use pie crust as a topping if you choose.
Mistakes to Avoid When Making Fall Casserole Recipes
Flavor Combining
When you're combining flavors for your fall casserole recipe, try not to mix too many abstract flavors together. Cinnamon, pumpkin, and nutmeg are commonly used during the season.
But it's important not to mix them with ingredients like chicken, beef, or certain cheeses, as they won't mold well together.
Overcooking
Make sure to always follow your fall casserole recipe's guidance for bake times. Overcooking your casserole can cause it to dry out.
On the other hand, undercooking your casserole can be dangerous, especially if yours includes meat or eggs. Undercooking can also cause hard pasta and rice in your dish.
Have Enough Ingredients
Before starting your casserole recipe, make sure you have enough ingredients to properly fill the dish. While you can technically include any ingredients you prefer, it can be dull and bland if you don't have enough variety in your casserole.
Add Spices
You want to make sure you add enough spices to your casserole. Salt and pepper aren't enough; you want to include some specific herbs to enhance the dish's overall flavor.
These spices work best when incorporated into the sauce, but you can also include them in the toppings or when preparing the meat and vegetables beforehand.
FAQ
How Do You Make Casserole Taste Better?
Using fresh, high-quality ingredients is the best way to make a casserole taste better. If you can, use fresh herbs rather than dried ones.
Leaner cuts of meat will also enhance the dish's flavor. Always tweak a recipe to meet your own preferences; if you feel it needs a few more dashes of anything, don't be afraid to use it.
What Holds Casseroles Together?
There are many parts of a casserole that hold it together. The sauce is important because the starches will be able to absorb and bind to it, keeping the dish together properly.
The crust is also important for holding a casserole together; whether it's a thick layer of cheese or a crunch pie crust, you can use either to keep your casserole in check.
Should a Casserole Be Covered When Baking?
You can bake a casserole with or without a cover. Sometimes, a cover works best to avoid messy cleanup or potential overflow.
But, you don't have to use a cover if you don't have one. In this case, refrain from filling the casserole to the brim of the dish.
How Do You Keep a Casserole From Drying Out?
To keep your casserole from drying out, it's important to make sure to use enough liquid in your sauce. If you notice your casserole becoming too dry, add a bit of water in order to rehydrate it.
Avoid overcooking the dish, which can also cause it to dry out quickly.
Can You Make a Casserole in Advance?
Yes, casseroles are great for making in advance. They can be stored in the fridge and even in the freezer if you're planning far ahead. Simply reheat the dish in the oven when you're ready to eat.
Conclusion
Whether you're looking for a hearty breakfast for the family, need a meal-prep lunch for the work week, or want to try out a new dinner dish, check out the fall casserole recipes above. Have some fun with your cooking during the fall, and bring a new sense of flavor into your kitchen.