Intuitive eating principles call for throwing out the diets, but what if you want to eat to prevent chronic disease such as cancer? Can intuitive eating and disease prevention work together? This dietitian thinks so!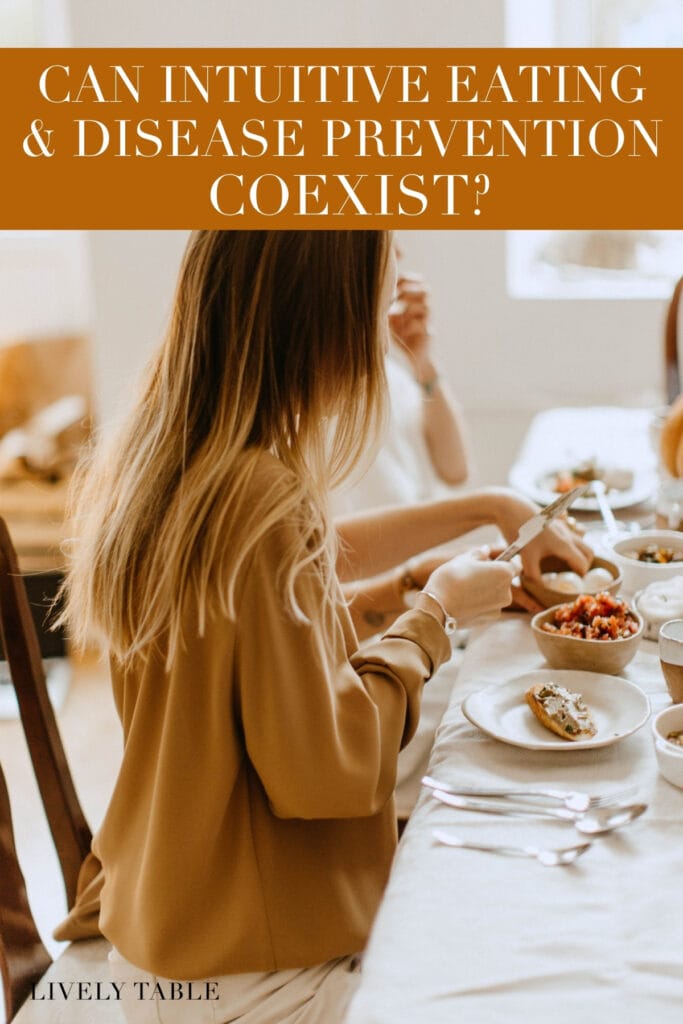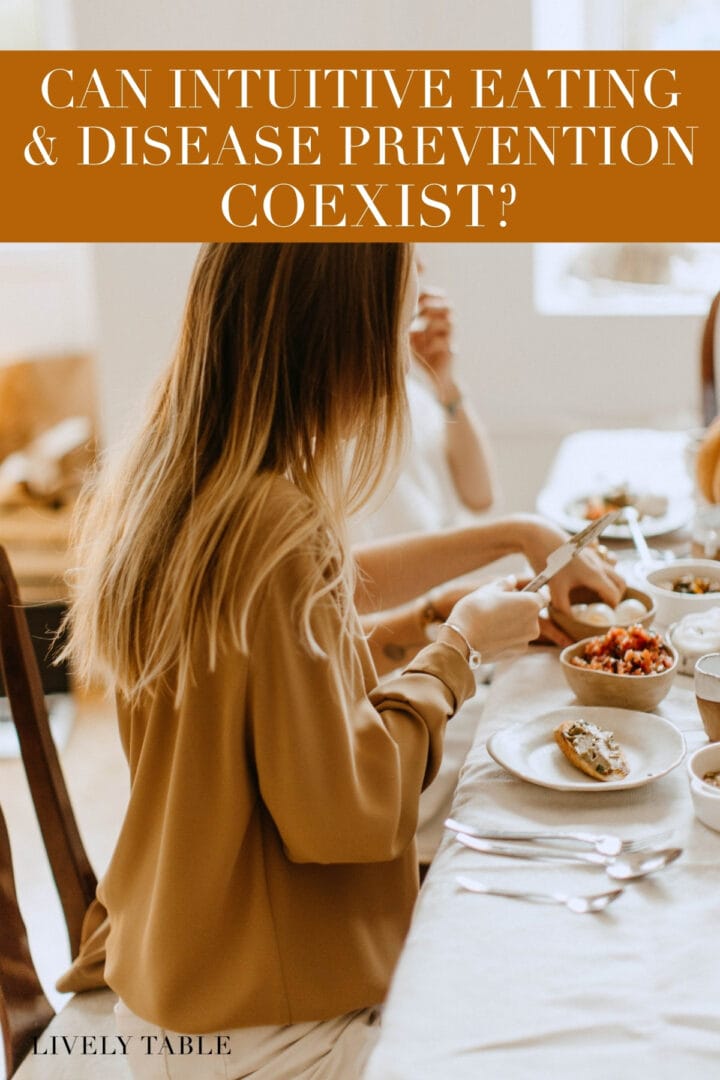 As I was recently doing research for my post on breast cancer nutrition, something kept popping up in the different studies, guides, and research papers I was reading. Almost all of them recommended maintaining a healthy weight or BMI for cancer prevention. It's also this way for many chronic diseases.
If you've been following along with me for a while, you know that I'm in the anti-diet camp. I believe that people can live healthy lives regardless of their weight and that the best way to eat is the one that makes you feel good both mentally and physically, which means ditching the restrictive diets for the sake of weight loss and employing an intuitive eating approach instead, which allows for all foods and a gentler approach to nutrition.
All of my research got me thinking about whether weight actually does matter in terms of chronic disease prevention, and if intuitive eating can fit within a lifestyle of eating to prevent disease. If chronic disease runs in your family and/or you've struggled with having a healthy relationship with food, you may be wondering the same.
Intuitive eating advocates throwing out diets, while diets are often recommended as treatment or prevention for disease. So can intuitive eating and disease prevention work together? You bet! Let me explain why.
First let's look at the term 'diet' in a couple of different ways.
'Diet' in one sense refers to a pattern of eating over a long period of time. Think of it in terms of animals or geographic location. (Herbivores consume a diet of only plants. Japan consumes a seafood-rich diet.) It's not a set of rules and it doesn't have anything to do with weight, calories, or 'macros'. It just is.
The term 'diet' as we've come to know it in our weight-obsessed culture is much different. It insinuates restricting certain types of foods, quantities of food, or eating during certain times in order to manipulate body size or shape. It is very rigid in rules and heavy on guilt.
So there is a difference in dieting for the sake of weight loss and 'diet' when used to describe an overall eating pattern. When we look at chronic disease prevention, most diets recommended are referring to long term eating patterns that fluctuate and not a rigid set of rules that focuses on numbers. For example, the Mediterranean diet comes up often as a health-promoting dietary pattern, that among other things, may be protective against cancer and cognitive decline.
But the Mediterranean diet is not a set of rules that excludes food groups, specifies amounts of foods you are 'allowed' to eat, or restricts the times of day that are acceptable to eat. IN other words, it's not a fad diet. Rather, the Mediterranean diet describes a pattern of eating that is high in fruits and vegetables, nuts, whole grains, legumes, seafood, and healthy fats such as olive oil. While it does recommend eating certain foods, like processed meats and sweets, less often, it doesn't forbid them. The point is to consume an overall pattern of health-promoting foods, with no reference to weight, measuring, or counting. It's all very fluid.
Contrast that with any number of diets for the sake of weight loss. There is almost always something (or more than one something) that is completely off-limits, the emphasis is on measuring numbers - calories, fat grams, protein, cups, ounces, weight on the scale, hours of exercise. And success is determined by weight loss and body shape, not how the individual feels. This is the type of diet that intuitive eating is against - the ones where numbers determine what you 'should' eat. And if you look closely, these types of diet are often fad diets with little to no scientific research to back them up.
See the difference?
So yes, it is completely possible to adopt a disease-prevention pattern of eating while still incorporating the principles of intuitive eating - honoring your hunger, respecting your body, moving in a joyful way, practicing gentle nutrition. You can absolutely eat an overall health-promoting dietary pattern while allowing yourself to eat the foods you love. Making an effort to include more fruits and vegetables or reduce sweets or alcohol in order to prevent disease or feel better also doesn't make you a bad intuitive eater.
What it comes down to is intent. Are you making the decisions you make around food and exercise to manipulate your weight or body shape? Or are they to promote health and happiness?
What About The Research on BMI?
To be honest, it really annoys me that all of these guides and papers still talk about weight and BMI as prevention strategies. We've seen over and over again that BMI is not a good indicator of health1. It doesn't look at the individual. Furthermore, weight loss is almost never sustainable, and weight cycling (which is almost always the result of initially trying to lose weight) has actually been shown to worsen health outcomes long term2.
It's very possible to have a healthy lifestyle that includes health-promoting foods and exercise and still have a larger body. Yet studies often don't capture that. Yes, people with a high BMI or a large body may very well not have healthy behaviors such as exercising and eating well, causing them to develop diseases, and it may also lead them to be in bigger bodies, leading researchers to make the correlation between BMI and disease (remember correlation does NOT mean causation). But thin people with the same unhealthy habits also develop diseases, and just because a person has a bigger body size does not necessarily mean that they are unhealthy. My point? It's not the size of the body that causes diseases. It's the long-term behaviors that determine health, regardless of weight.
Bottom line? It is absolutely possible to eat intuitively while also eating to prevent chronic diseases, such as cancer. It all comes down to an overall pattern of health-promoting behaviors and the intention behind your food choices.