What are collagen peptides? Should you be using them? Let's take a look at what science says about collagen and if it actually works.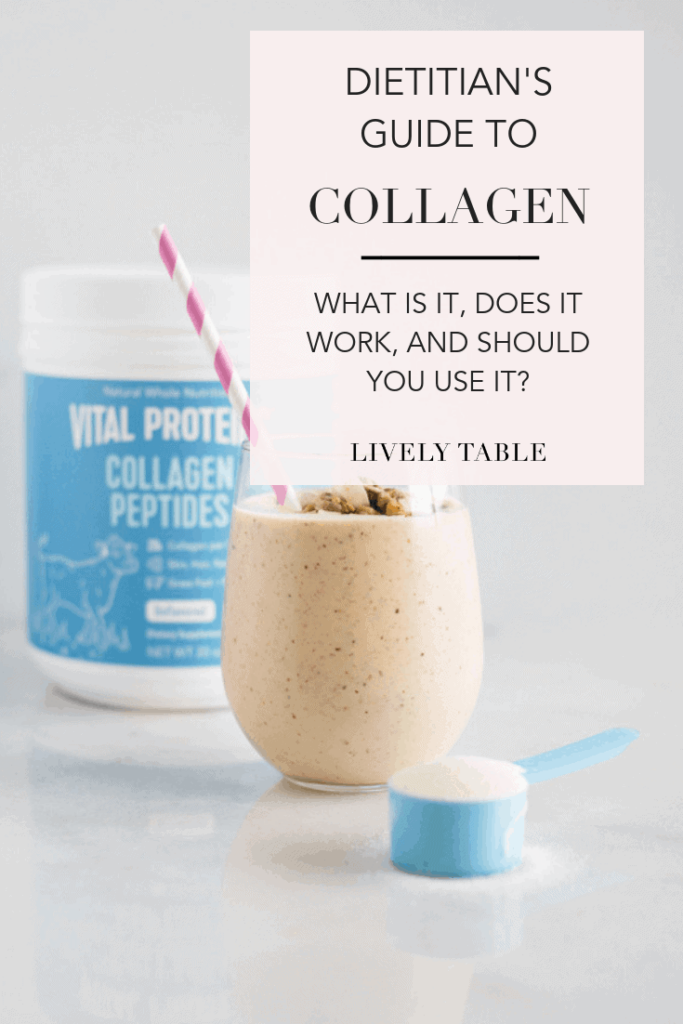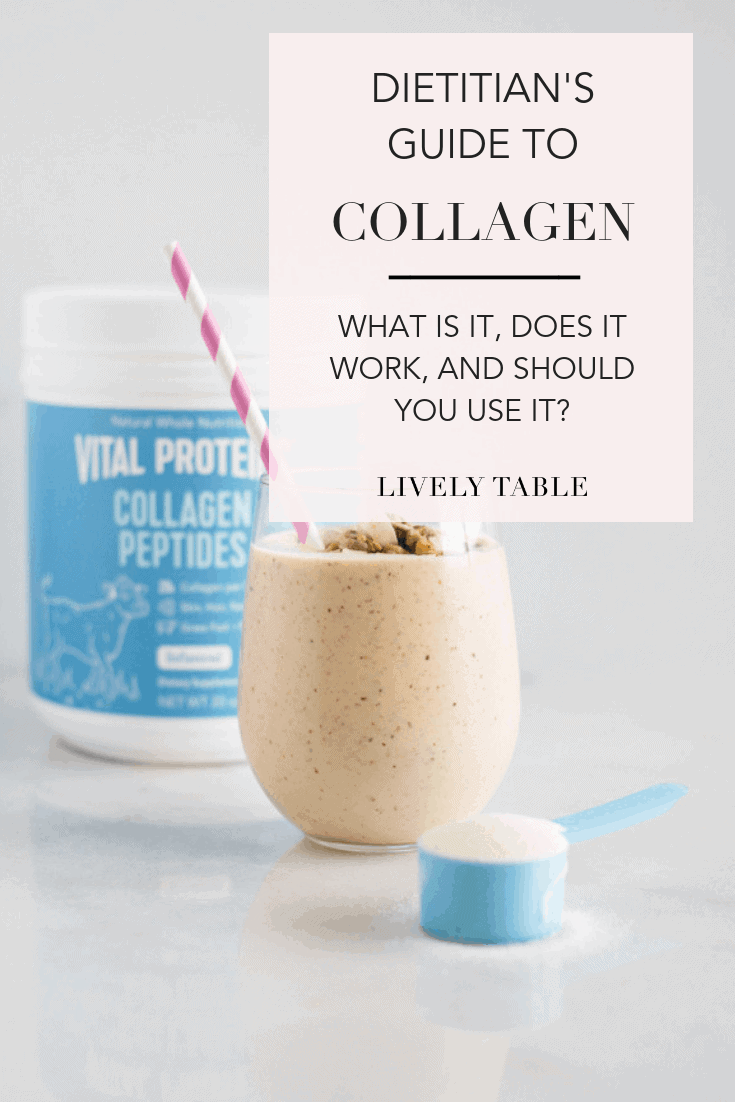 The use of collagen or collagen peptide supplements is on the rise. You may see your favorite Instagrammer or nutrition 'influencer' (I hate that word) adding collagen to her smoothies or making collagen protein bites. But what exactly are collagen peptides, what does it do, and does collagen actually work?
Let me break it down for you. I'll talk a little bit about the science and my personal experience with collagen so that you're armed with a little information and you can decide for yourself.
What Is Collagen?
First things first. Collagen is a naturally occurring protein found in your body and the bodies of animals. It's part of your skin, muscles, cartilage, ligaments, tendons, bones, eyes, and blood vessels. Collagen is made up of amino acids (aka - broken down proteins that we consume) in the body.
But consuming collagen does not necessarily mean you will automatically give your body more collagen. Just like any protein that you eat, collagen is broken down into it's individual amino acids when it is digested, so those amino acids could be used to produce more collagen in the body, or they could be used for something else. It's also important to note that even though collagen supplements come from animal sources, they are not complete proteins (which contain all the essential amino acids we need in our diet). Collagen only contains 8 of the 9 essential amino acids. Since it comes from animals, it's not vegetarian, but there are marine collagen supplements that come from fish.
What are Collagen Peptides?
A peptide is a scientific term for smaller chains of amino acids (protein building blocks). Small chains are more easily absorbed and broken down by your body than larger ones. So collagen peptides are just large chains of collagen that have been broken down a little bit into smaller amino acid chains so that your body can more easily utilize them. Collagen peptides can also be called hydrolyzed collagen or collagen hydrolysate.
What Does Collagen Do?
It's likely that you've heard a laundry list of benefits from taking collagen, from improved hair, skin and nails, to joint health and digestion improvement. Supplement companies (and health 'experts') make claims about supplements all the time, but since they aren't regulated by the FDA like medications are, there is really no way of knowing these claims are true without looking at the research. So let's do that.
First, there isn't just a whole lot of research available on collagen just yet. It takes a lot of time and money to perform good scientific studies, and collagen is a relatively new supplement, so the evidence just isn't there yet. Here is what we know from studies on collagen so far:
Collagen and Skin Health - There have been a few human clinical trials on collagen and skin health. Benefits have included improved elasticity and hydration and decreased formation of deep wrinkles after 6 weeks of supplementation with 10 grams of collagen peptides[1]. However, most studies performed so far are on animals or are anecdotal, which isn't very definitive.
Collagen and Hair and Nail Health - So far, I haven't been able to find any studies showing improvement of hair growth with collagen supplementation. There is one study showing improved nail strength with supplementation of 2.5 grams daily for 24 weeks, though it was small and an open-label, single-center trial, which means it's not the most powerful study[2]. Jury seems to be out on this one still.
Collagen and Joint Health - Some research does show that collagen is beneficial for joint pain, especially in athletes and those suffering from osteoarthritis, possibly by building up the cartilage tissue in joints. A recent randomized double-blind study on athletes showed that 10 grams of collagen peptides for 24 weeks improved joint pain[3].
Collagen and Bone Health - There have been a few studies on the effects of collagen on bone health. A daily dose of 12 grams of collagen peptides was shown to improve symptoms of osteoporosis and osteoarthritis, especially when combined with vitamin D and calcium therapy[2].
Collagen and Digestive Health - There are lots of bloggers out there that claim collagen (especially in the form of bone broth) can 'heal a leaky gut.' So far there is no research out there to support those claims. I call BS on this one. Collagen does, however, contain the amino acid glycine, which could possibly reduce GI inflammation.
Safety of Collagen - Collagen supplementation appears to be safe, with minimal side effects, although there have been some reports of digestive issues, hypercalcemia, reduced appetite, and a bad taste in the mouth following supplementation[4].
Should I Be Using Collagen?
Just because good evidence isn't available doesn't necessarily mean collagen doesn't work, it just means there's not enough data or quality studies yet to know. That's often where the grey areas of nutrition are, especially with emerging trends. Since nutrition is (or should be) an evidence-based field, it's hard to make recommendations when the evidence is non-existent. In these cases, it's often just up to you to weigh the potential risks and benefits and decide if it's worth a try.
It's also worth noting that you should take the least drastic steps first, such as making sure you're getting enough high-quality protein to begin with - from food sources like meat, poultry, fish, eggs, dairy, nuts, seeds, beans, and whole grains, before running out and dropping money on supplements. Collagen in the body is derived from protein, after all. You should also make sure you're getting enough vitamin C - found in citrus, berries, bell peppers and leafy greens - since vitamin C is essential for collagen production in the body.
You could also try adding bone broth to your diet (try my homemade version!), since it is naturally rich in collagen and protein, is much less expensive than collagen supplements, and tastes good!
How Do I Use Collagen?
If you do decide you want to try collagen supplements, I recommend buying a supplement from a reputable retailer with some kind of third-party verification that the product in the package is what it claims to be (just like with any supplement). A natural grocery or health food store, such as Whole Foods or Sprouts is always a fairly safe bet. And always check with your doctor before starting any sort of supplement.
In the studies performed, the dosage ranged from 5-12 grams of collagen peptides. That translates to about 1 scoop of most powdered supplements.
I personally like unflavored collagen peptides because I hate the taste of protein powders. These are good because you can add them to almost anything. I mix one scoop of collagen with a little bit of milk and pour it into my oatmeal in the morning for a little protein boost. You can also add a scoop or two to smoothies, coffee, and other drinks, or you can bake it into muffins, cookies, or pancakes. There are also a lot of recipes for protein balls made with collagen.
My Experience With Collagen
I've personally been supplementing with collagen (I use Vital Proteins, one scoop, once a day) for a couple of months now because (1) postpartum hair shedding is so real, and (2) ever since having Queen C, I've had a lot of joint pain, probably from having to squat instead of bend down to pick things up while holding baby, and from having to bend my wrist awkwardly to hold her. My experience has been that my joints feel better, but no improvement on the hair shedding (boo!). I haven't really noticed any skin changes, but I also haven't been looking for any.
Bottom line on collagen
We just don't know for sure whether claims about collagen are true because research is lacking. And different things work for different people. You certainly don't need to supplement with collagen, especially if you already consume enough protein and vitamin C. But if you want to try supplementing with collagen, the risks seem minimal, so you can decide for yourself if it works for you and your lifestyle!