Gluten-free Halloween treats might seem like they would be a deprivation in the holiday season, but they don't have to be. Thanks to smart flour alternatives and plenty of chocolate, gluten-free Halloween treats can be just as indulgent and delicious as Halloween treats that contain gluten.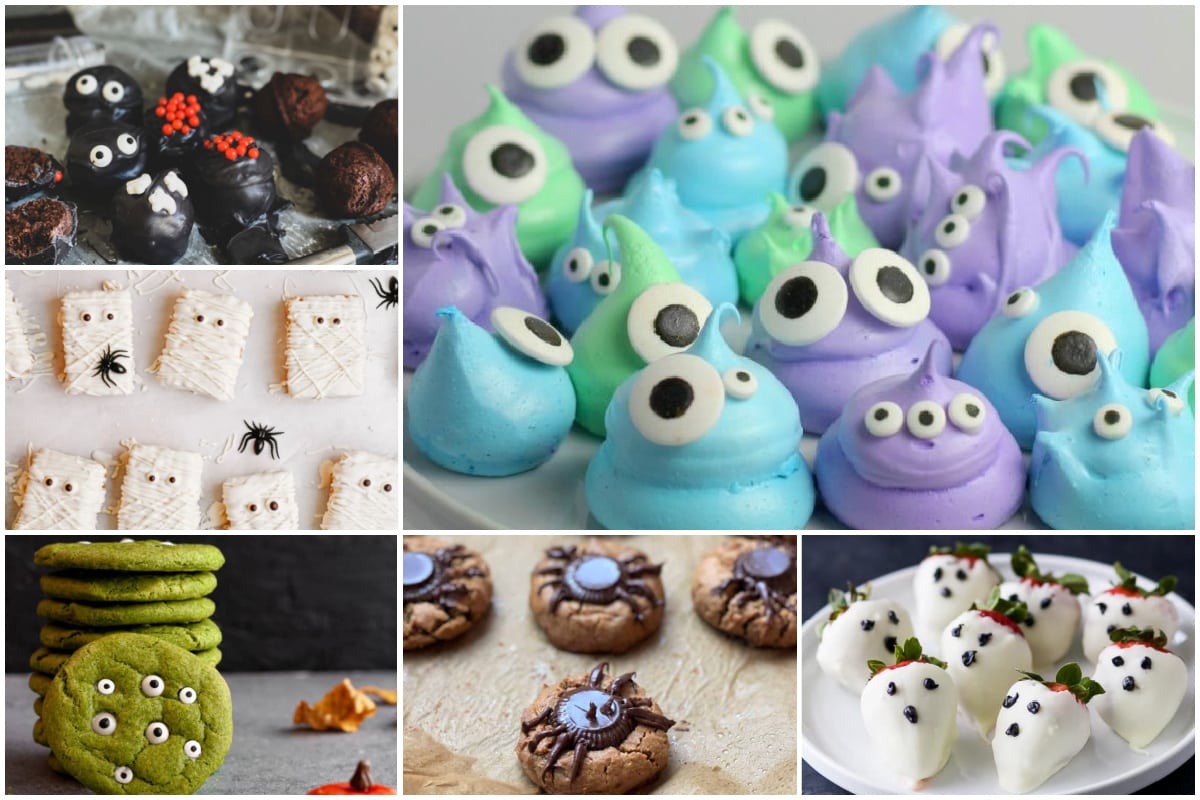 Below you'll find twenty-five of the fastest and easiest gluten-free Halloween treats you can assemble for parties or a fun snack any time. Keep reading to learn more about gluten-free Halloween treats and how to make them at home.
What Is Gluten-Free?
Gluten is a series of proteins found in grains such as wheat. Unfortunately, there are people that have a gluten allergy or intolerance.
Their bodies don't break down the gluten properly which causes digestive problems, fatigue, and other systemic problems. Luckily, there are gluten-free products to help those with an intolerance.
Foods to Avoid if You Have a Gluten Intolerance
Traditional baked goods and pastries
Gluten-containing grains (wheat, barley, rye, spelt, farro, couscous)
Breads, crackers, and wraps
Processed salad dressings and marinades
Ketchup and gravy mixes
Traditional wheat-based pasta
Processed snack foods
With processed foods like snack foods, it's a good idea to always check the ingredient list included on the product's label. Some products may have hidden sources of gluten that aren't obvious at first glance.
Does Chocolate Have Gluten?
A useful fact about trying to go gluten-free at Halloween time is that chocolate does not naturally contain gluten. This makes chocolate an important ingredient for homemade gluten-free Halloween treats.
One of the simplest gluten-free Halloween treats is to make peanut butter balls out of peanut butter and sugar before coating the balls in chocolate.
People with gluten intolerance should carefully read the label of any processed chocolate treat that they want to eat. While chocolate itself doesn't contain gluten, chocolate is often processed with ingredients that do.
Gluten-Free Candy Options You Can Add to Your Halloween Treats
Offering gluten-free candy options isn't a hassle in many places since there are plenty of gluten-free candy options available to choose from. Here are some examples of gluten-free candies that you can add to your mix of Halloween treats:
Tootsie Rolls
Dum Dums
Circus Peanuts
Welch's Fruit Snacks
Baby Ruth
Butterfinger
SKOR Toffee Bars
Reese's Cups
Peppermint Patties
Atomic Fireballs
Brach's Gummy Worms
Brach's Candy Corn
Hersey's Kisses
Smarties
Jelly Belly Jellybeans
Common Ingredients to Use in Halloween Treats That Are Gluten-Free
If you're making your own gluten-free Halloween treats, there are a few common ingredients you can use that can help you keep gluten out of your snacks. Here are the best ingredients to include for gluten-free Halloween treats:
Chocolate: Chocolate is one of the most popular ingredients to use in gluten-free Halloween candies and desserts. Milk, dark, and white chocolate can all be used in gluten-free treats.
Peanut butter: Peanut butter is useful for several purposes in candies and other Halloween treats. It can serve as a source of protein, as a binder in candies, and as a dip for vegetables or cookies.
Almond or coconut flour: The biggest switch to make in gluten-free Halloween treats ingredient-wise is to swap out traditional flour for an alternative gluten-free flour like almond or coconut flour.
Marshmallows: Marshmallows are an easy way to add sweetness to more neutral gluten-free ingredients like crispy rice or popcorn. Marshmallow fluff can also be used as a filling for cookies or as a sweet dip for fruit.
Fruits and vegetables: Fruits and vegetables might not seem as tempting as chocolate and peanut butter at Halloween, but many cute and delicious buffet dishes can be created out of cut fruit and vegetables to help balance out sweeter and richer recipes.
How to Make Gluten-Free Halloween Sugar Cookies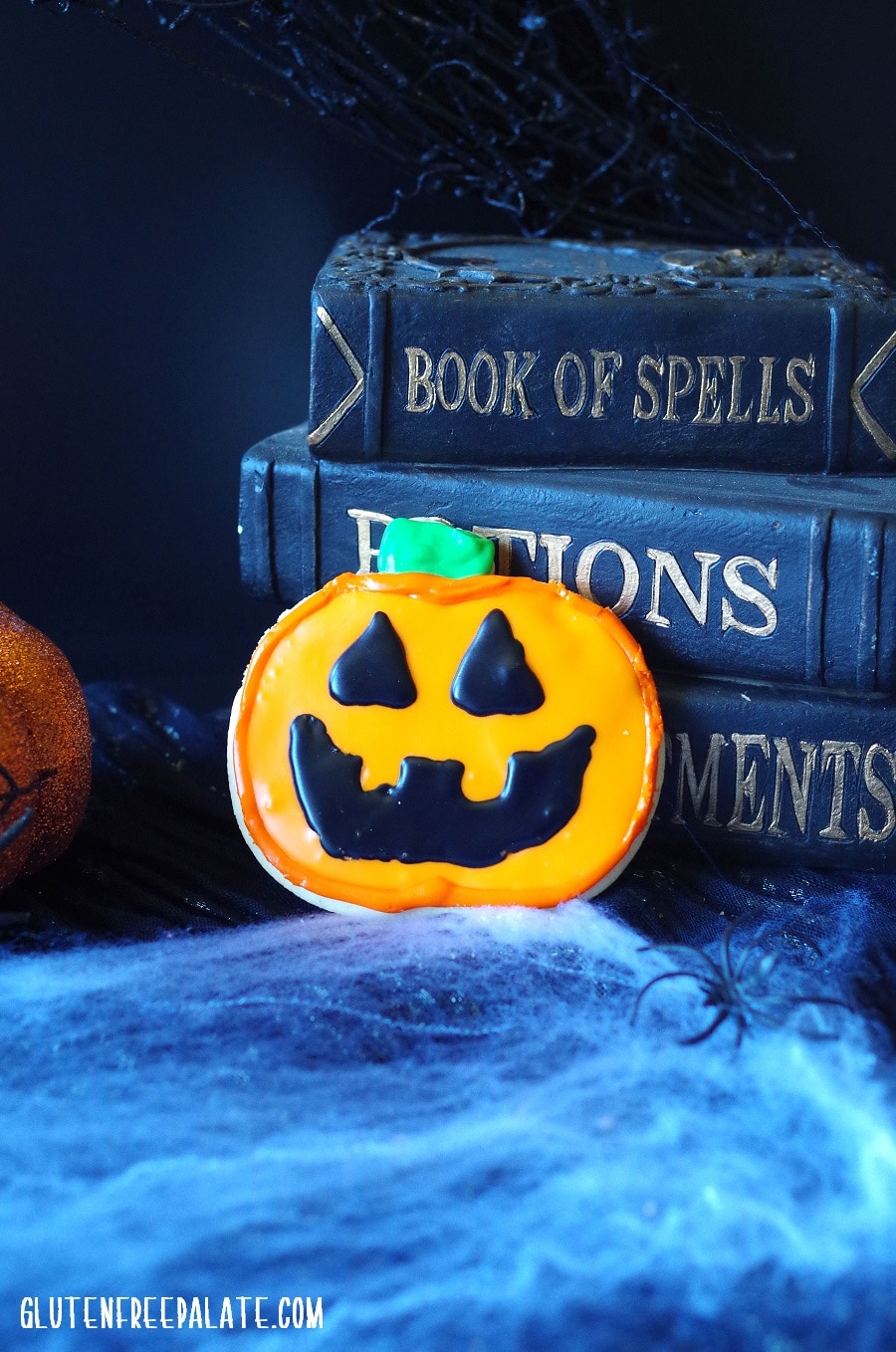 Making gluten-free Halloween sugar cookies are easy thanks to gluten-free flour mixes and the inclusion of naturally gluten-free ingredients like eggs, milk, and sugar.
Here are the supplies you need for a basic batch of gluten-free Halloween sugar cookies according to the recipe from Gluten-Free Palate:
Gluten-Free Halloween Sugar Cookies Ingredients
⅔ cup vegetable shortening
¾ cup granulated white sugar
2 teaspoons vanilla extract (gluten-free)
4 teaspoons milk
¼ teaspoon salt
1 egg
2 ¼ cups gluten-free flour
1 ½ teaspoons gluten-free baking powder
½ cup butter
1 teaspoon xantham gum
2-4 tablespoons milk
4 cups confectioner's sugar
After assembling the ingredients in the list above, perform the following steps for a batch of basic gluten-free sugar cookies:
Steps for Making Gluten-Free Halloween Sugar Cookies
Preheat the oven and prepare the baking sheet: Preheat the oven to 350 degrees Fahrenheit and line a baking sheet with parchment paper.
Prepare the wet ingredients: Mix wet ingredients together in a medium mixing bowl (vanilla, egg, sugar, and shortening).
Prepare the wet ingredients: Mix dry ingredients together in a separate mixing bowl (flour, baking powder, xantham gum, salt).
Combine the wet and dry ingredients: Add the dry mixture to the wet ingredients gradually until the two mixtures are thoroughly combined. Roll the dough out with a rolling pin until the dough is half an inch in thickness.
Cut the cookies: Using cookie cutters or the lip of a clean drinking glass, cut the cookies out into shapes and place the cookies on the lined baking sheet. Gather any extra dough and reroll it before cutting additional cookies.
Bake the cookies: Bake the cookies for 8-10 minutes or until they are set in the middle. Allow the cookies to cool completely on a wire rack before decorating with frosting or decorative candies.
This recipe is a useful base for any number of themed Halloween sugar cookies. Adding food coloring to the frosting and investing in some Halloween cookie cutters allows you to decorate the cookies any way you like.
20 Delightful and Spooky Gluten-Free Halloween Treats
1. Honey Roasted Pumpkin Seeds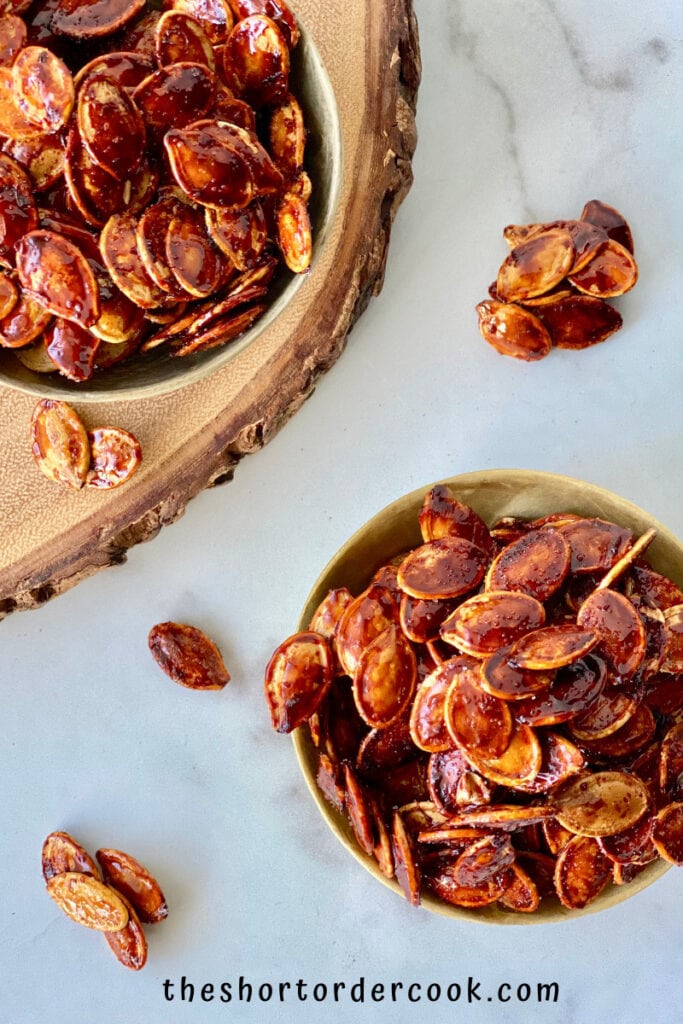 Pumpkin seeds are a gluten-free snack that is both sugary and salty. Their crunchy texture and sweet coating make them a delicious addition to any Halloween trail mix.
Raw pumpkin seeds can be purchased in the store, but you can also use the pumpkin seeds leftover from carving Halloween jack-o-lanterns. Learn how to make them at The Short Order Cook.
2. Gluten-Free Pumpkin Cookies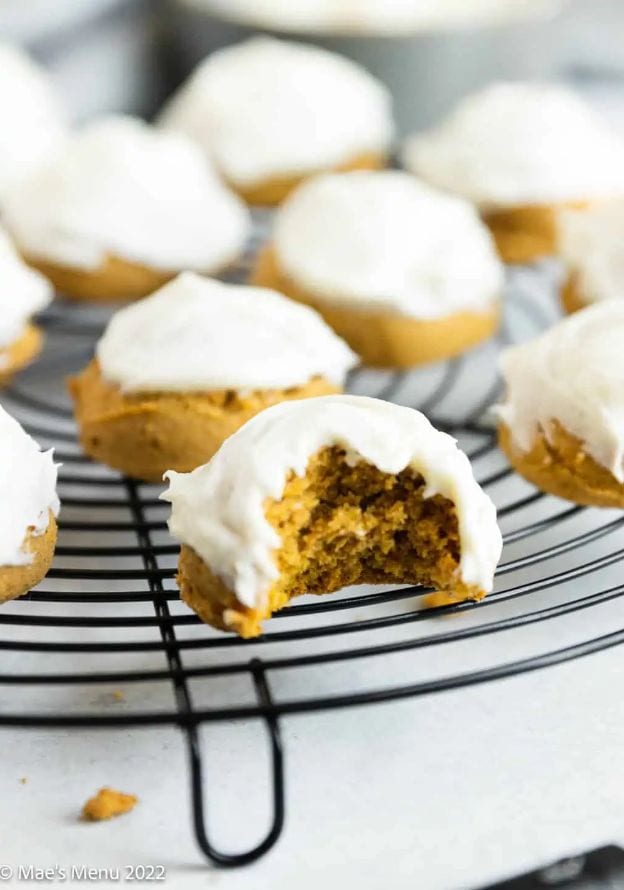 If you're looking for a soft and fluffy fall cookie to serve at your Halloween party, look no further than these gluten-free pumpkin cookies at Mae's Menu.
These cookies are flavored with pumpkin pie spices and topped off with a whipped cream cheese frosting. They're also a simple project for baking with young kids.
3. Easy Mummy Pizzas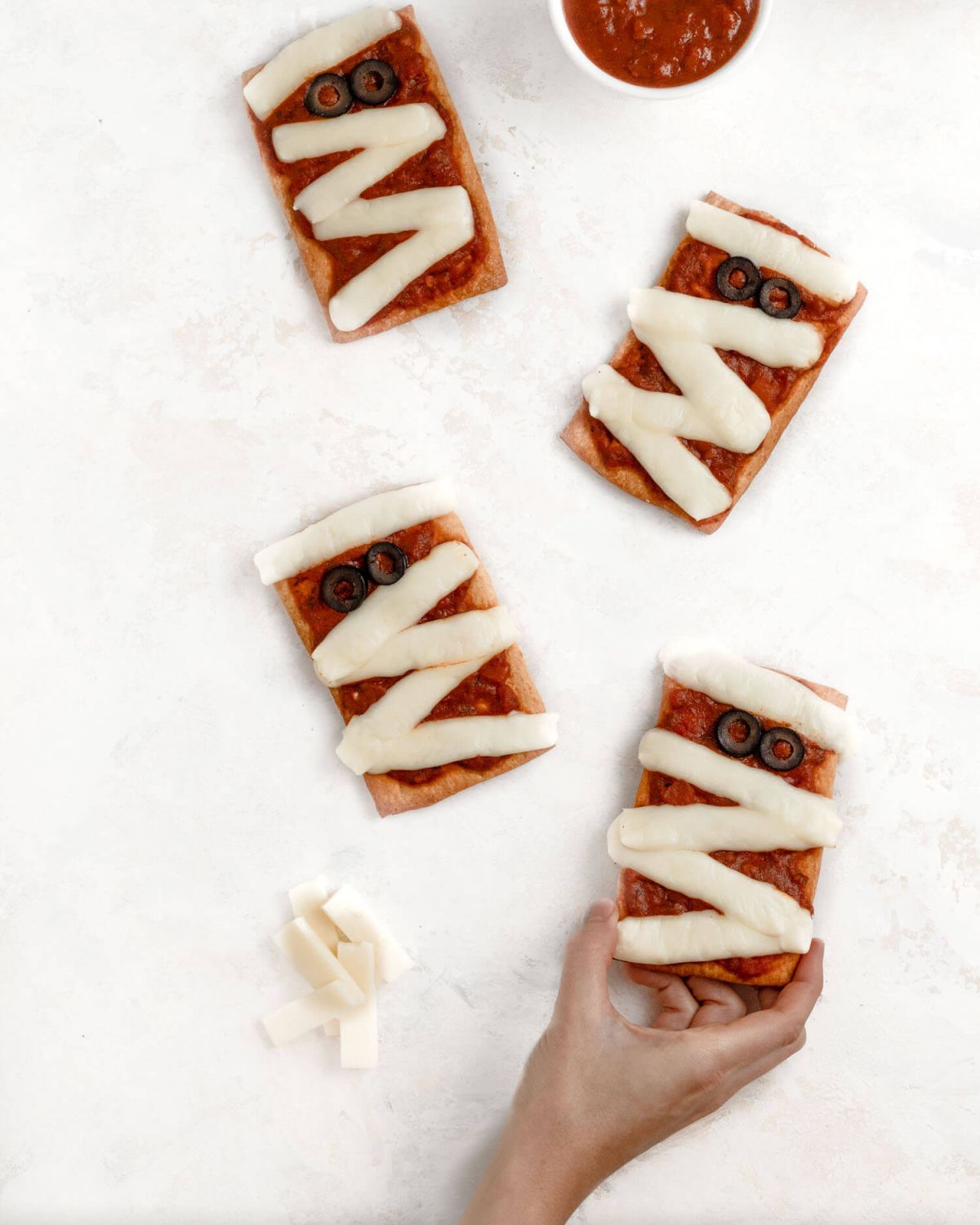 Pizza is an easy dinner to serve before trick-or-treating. These easy mummy pizzas from Donut Worry Be Healthy keep things on theme.
Use strips of mozzarella cheese for bandages and sliced black olives for eyes for cute bite-sized pizzas that will be enjoyed by kids and adults alike. This design for mummy pizzas can also be executed on French bread, toast, or bagels.
4. Halloween Cake Truffles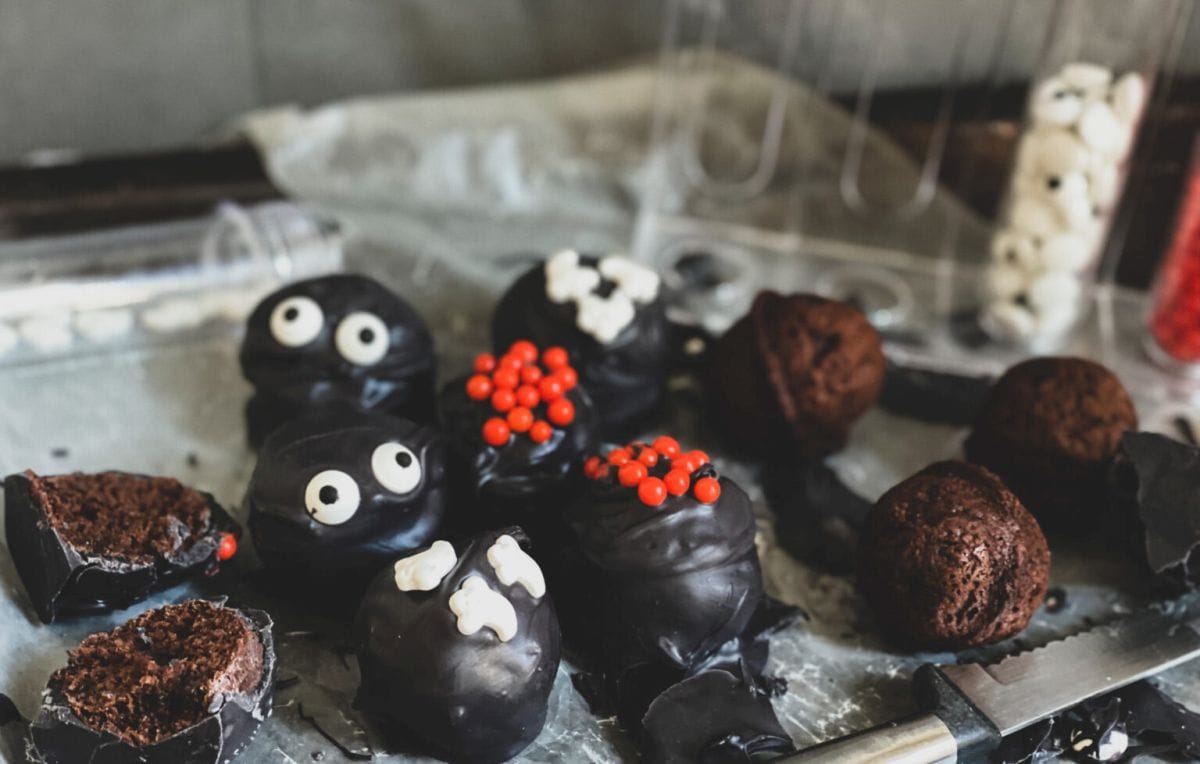 Halloween cake truffles might seem complicated to make, but this gluten-free cake truffle recipe at Burnt Apple can be made with five ingredients and in less than half an hour.
You can use a wide variety of gluten-free Halloween sprinkles and candy to decorate these truffles in any way you like, and using a cake pop mold makes the tasty baking project come together in a snap.
5. Mini Ghost Marshmallows
Marshmallow cookies are a fun gluten-free treat that forms an adorable shape for Halloween ghosts. The mini marshmallow ghosts at Braised and Deglazed are held together with gelatin and decorated using chocolate to draw faces on them.
An electric mixer with a whisk attachment is the fastest and easiest way to make this spooky dessert.
6. Ghost Cupcakes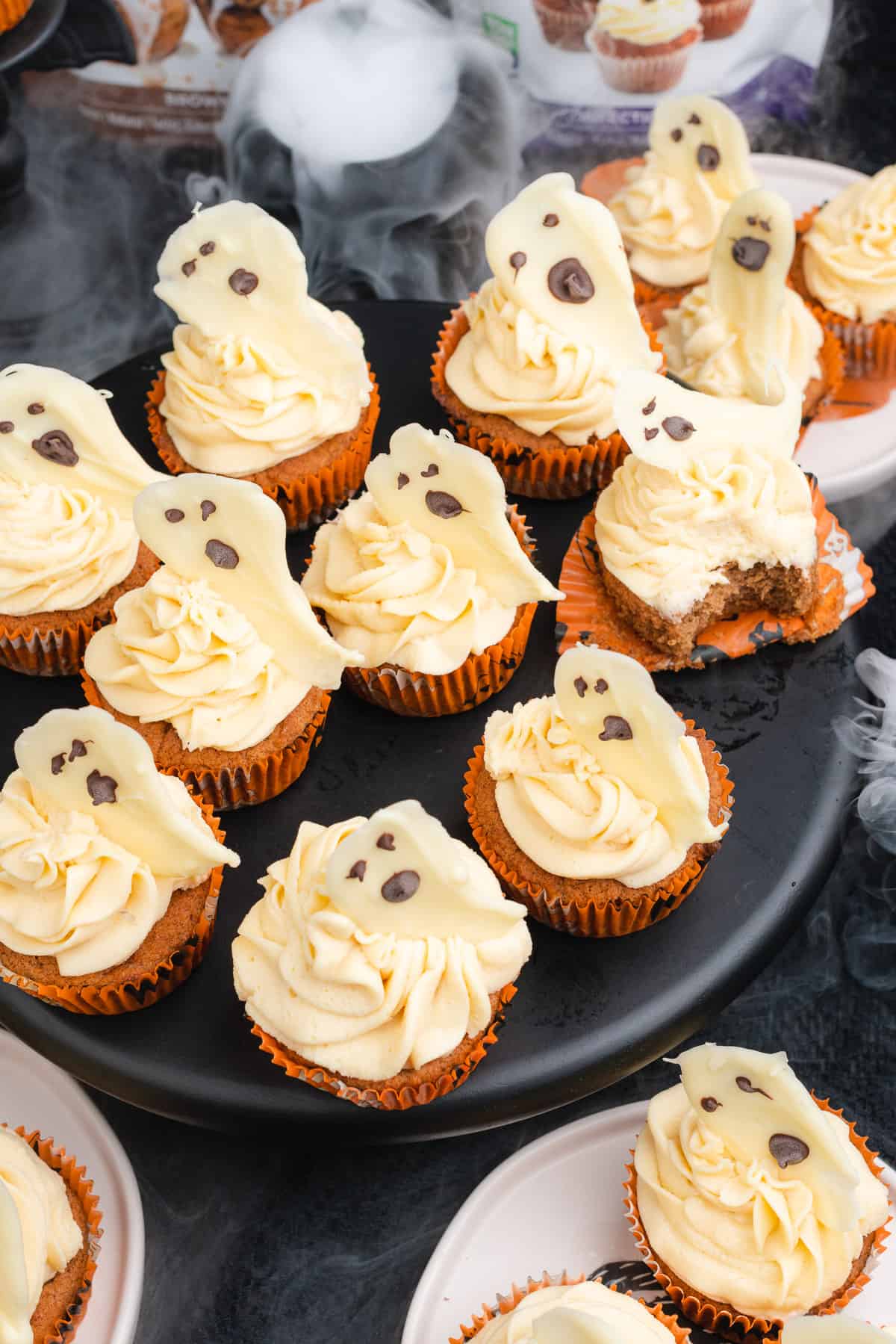 Here's another ghost-themed gluten-free sweet for your next Halloween party. Flavored with a salted brown buttercream frosting and cake with pumpkin pie spices, the cupcakes at A Full Living are low carb too.
These cupcakes will make a healthy addition to your treat table. Almond and coconut flour are used to replace traditional flour for cupcakes that are a fluffy delight.
7. Candy Corn Fruit Cups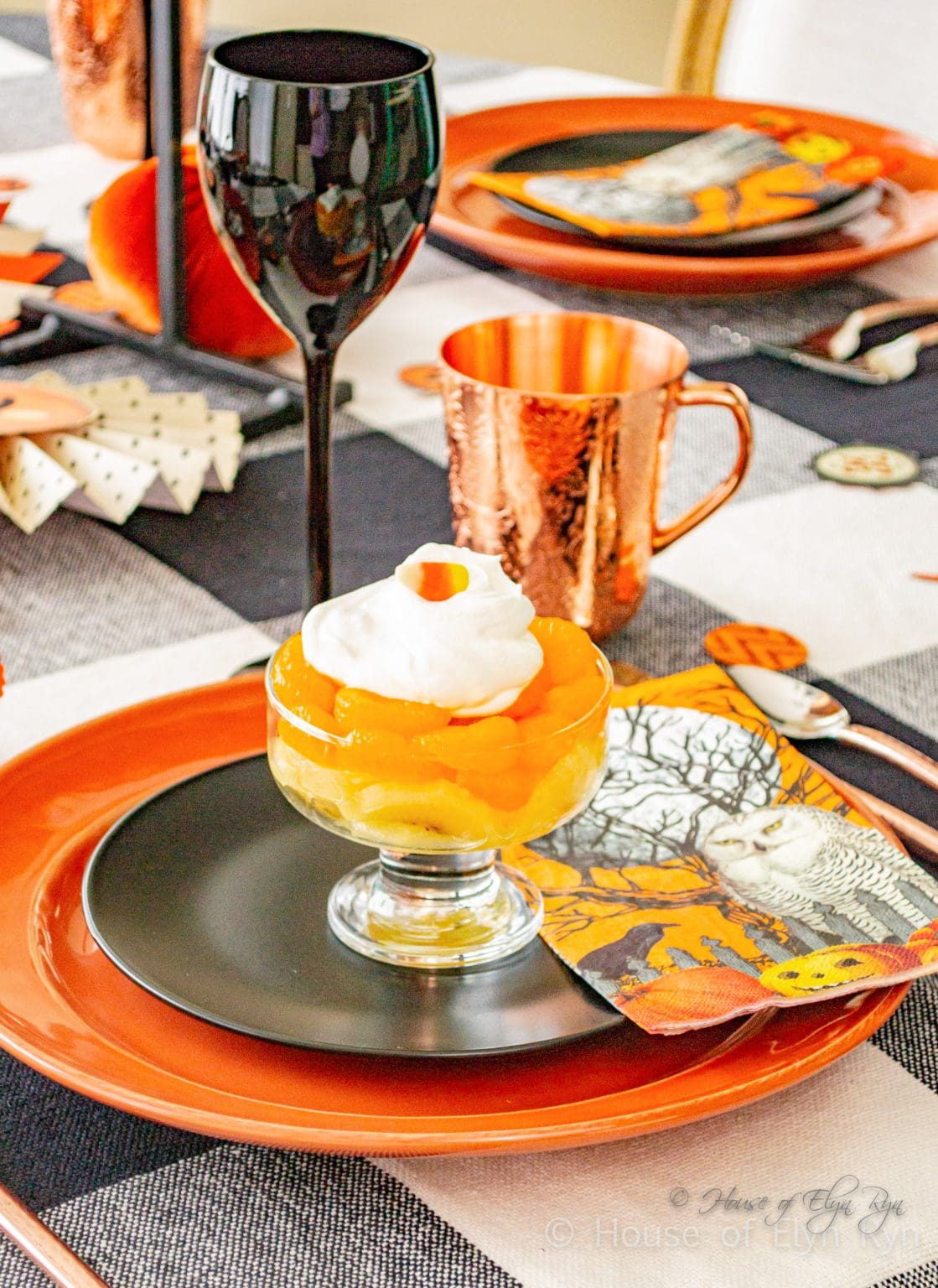 Tired of all the candy, cookies, and cupcakes floating around at Halloween? The candy corn fruit cups from The House of Elyn Ryn evoke the colors and flavors of the season without a bunch of added sugar.
This impressive-looking fruit cup is made of golden kiwis, mandarin oranges, and whipped topping for a tri-colored dessert that is sure to impress.
8. Black Velvet Cake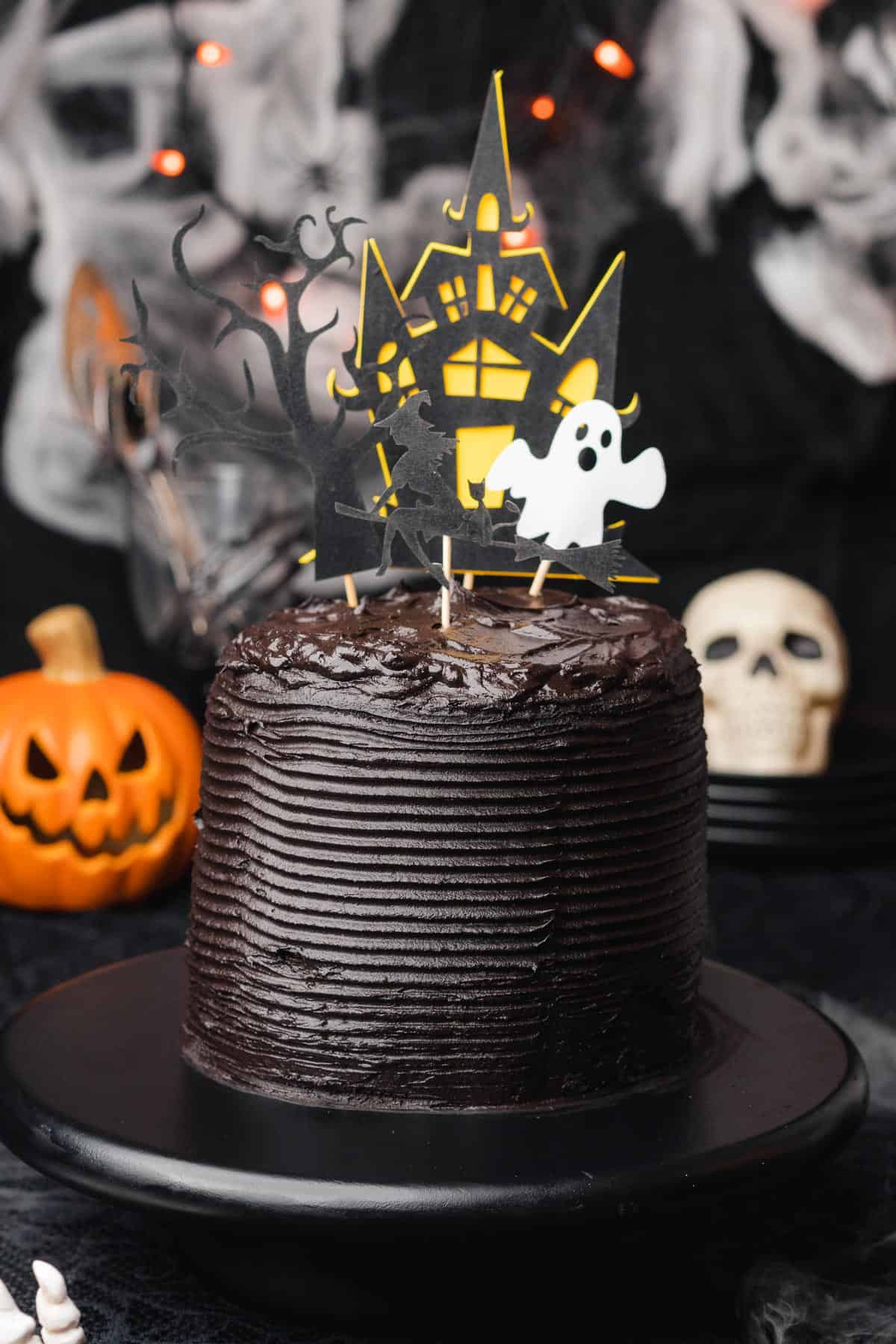 The dark black coloring in the spooky gluten-free black velvet cake at A Full Living isn't created using artificial dyes. Instead, this delicious cake owes its color and flavor to the dark cocoa powder used to make it.
Black velvet cakes are beautiful on their own, but you can also use white icing to draw skeletons, ghosts, or spiderwebs on your cake for a striking color contrast.
9. Small Batch Monster Cookies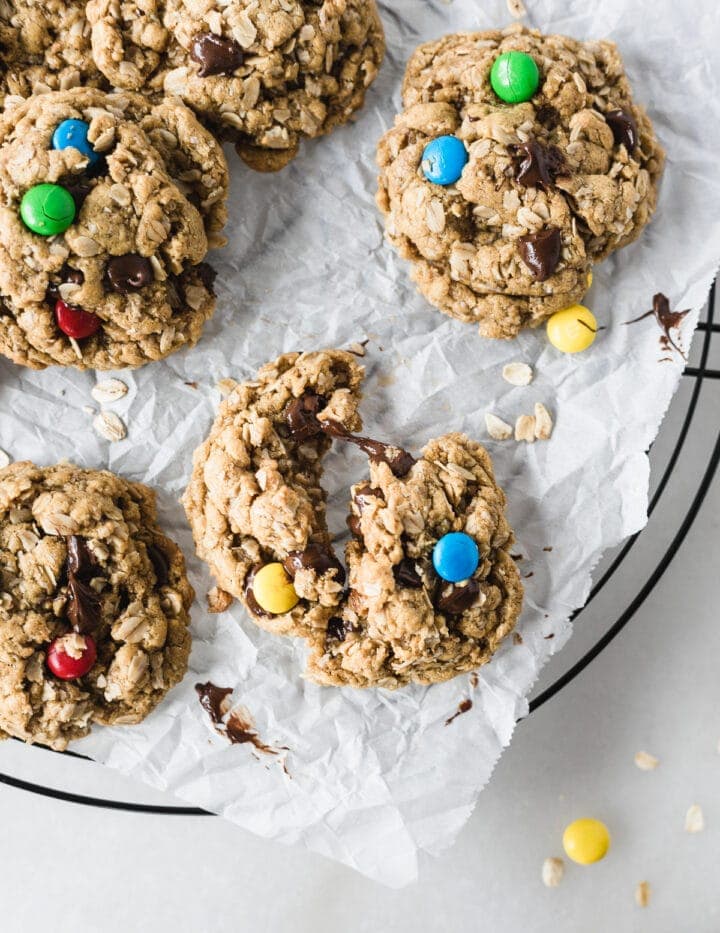 Monster cookies are a popular variation of traditional oatmeal cookies with the addition of peanut butter, chocolate chips, and M&M candies. Since they're made with whole oats, monster cookies are naturally gluten-free.
These large-and-in-charge Halloween treats from Lively Table are sure to be a hit at your next fall bake sale or get-together.
10. Black Bean Pasta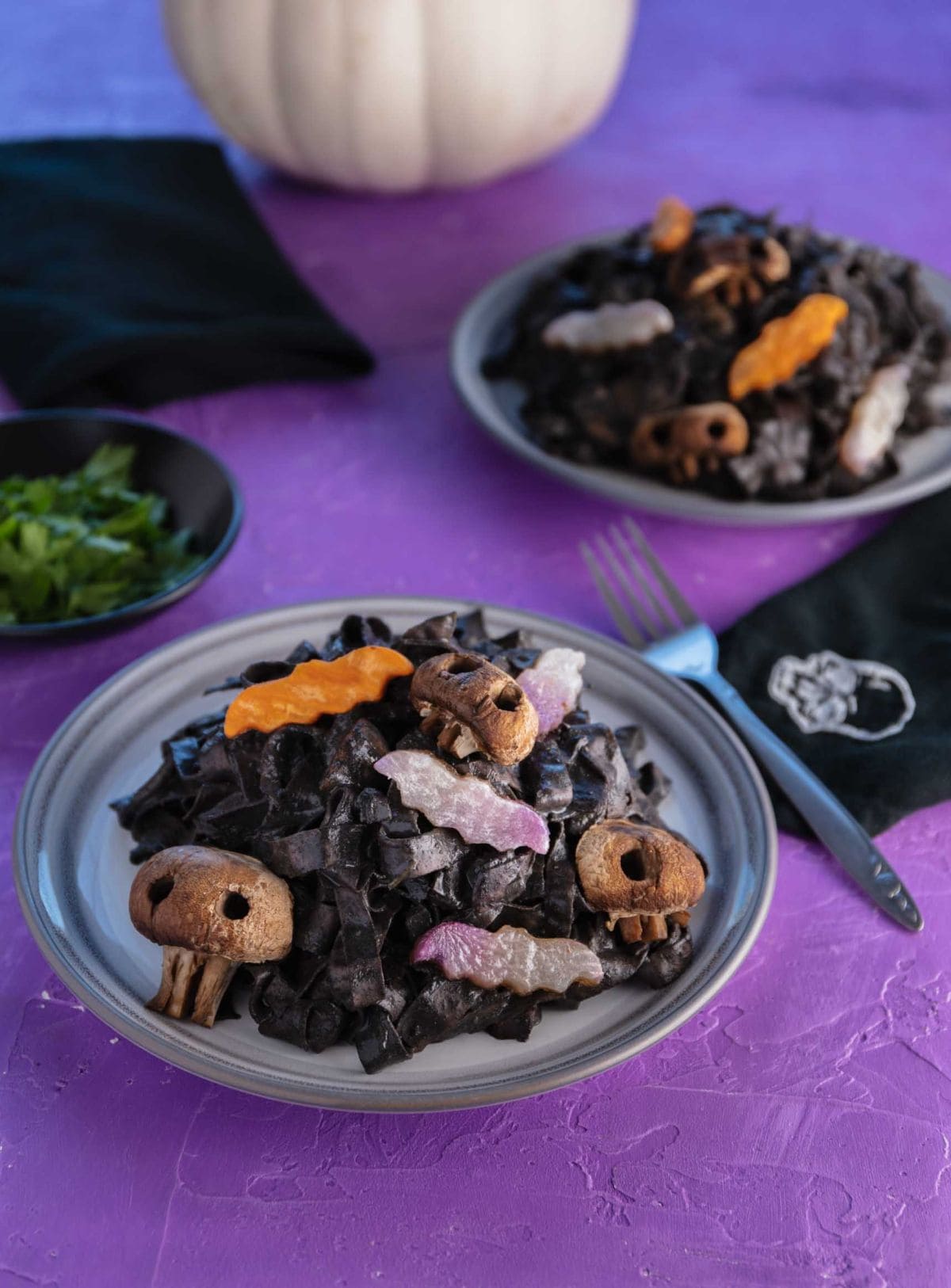 If you're looking for a spooky Halloween supper that is also healthy and delicious, check out this black bean pasta dish from Vegan Dollhouse.
Black bean pasta has a chewy texture that pairs well with mushrooms and other roasted vegetables cut into festive Halloween shapes. A tahini sauce tops everything off for a vegan pasta dish the whole family will love.
11. Gluten-Free Mummy Rice Krispy Treats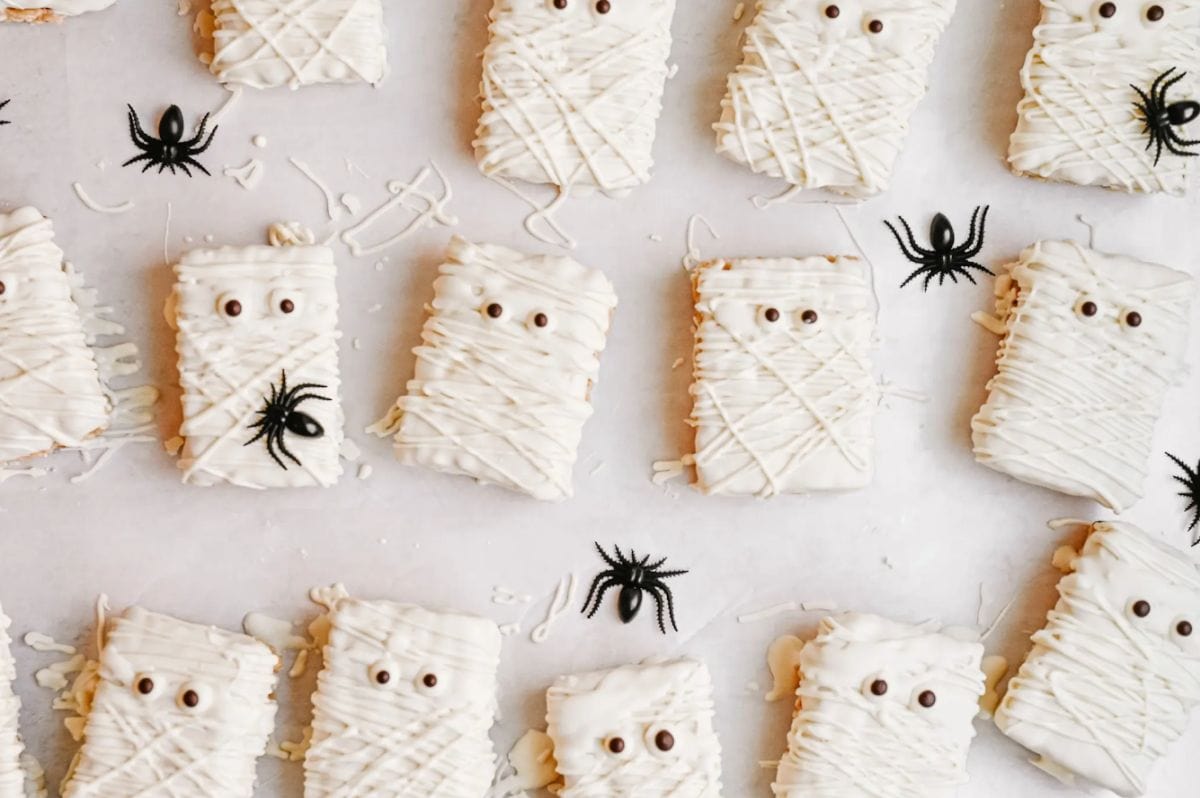 The key to making these gluten-free Rice Krispy treats from Rebecca Taig moist and flavorful is by adding browned butter to them. These bars are studded with marshmallows and coated with stripes of white chocolate to create mummy bandages.
Top the bars off with chocolate eyes for an adorable dessert that will please any party.
12. Spider Peanut Butter Cookies
Peanut butter and chocolate are a classic combination no matter what season it is. The spider design on the gluten-free spider peanut butter cookies at The Granola Diaries is created using a peanut butter cup candy for the body and melted piped chocolate for the legs.
Bakers need to work fast to create the spiders on top of these cookies before they cool.
13. Healthy Halloween Hummus Dip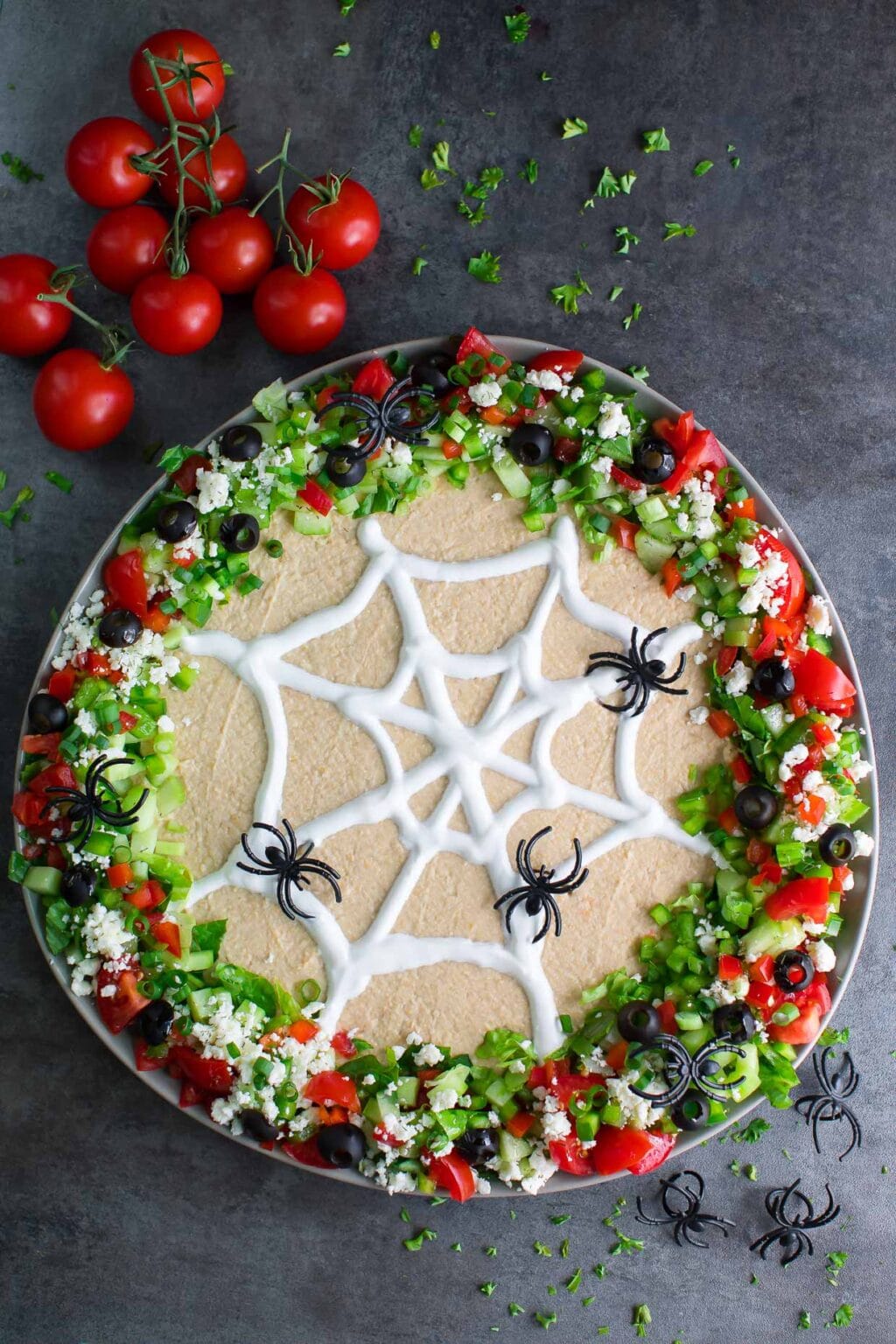 Even though it's a healthy addition to any Halloween buffet, hummus dip is still tasty enough to be one of the first appetizers to go.
This version from Peas and Crayons is dressed with colorful diced vegetables as an edging garnish and topped off with a spiderweb design made with piped Greek yogurt. Serve the dip with pita chips, cut vegetables, and gluten-free crackers.
14. Chocolate Peanut Butter Spiders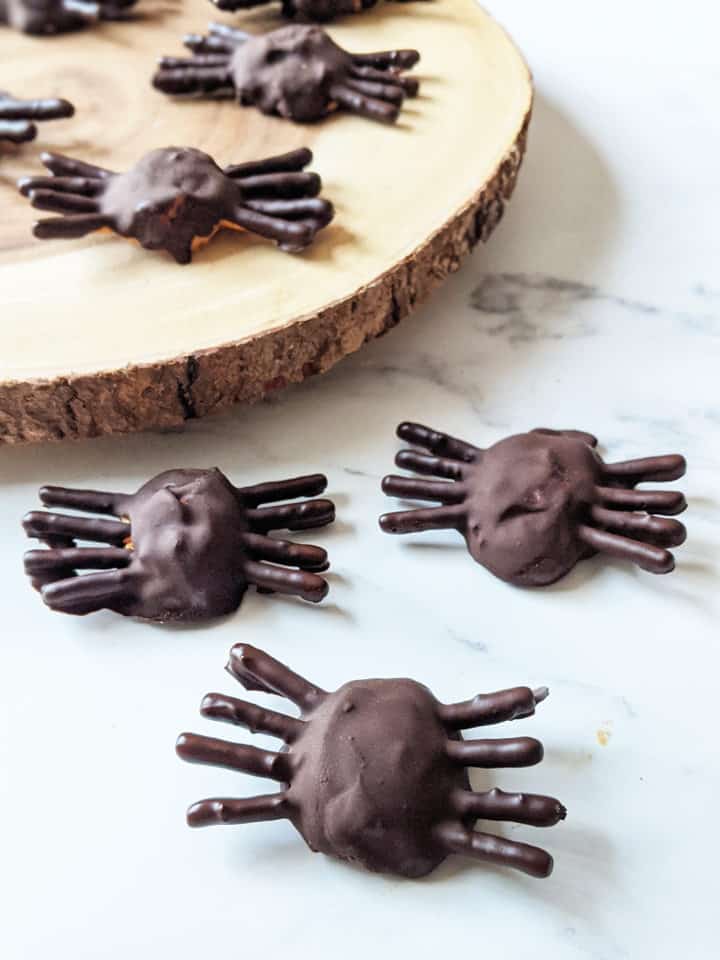 If you want a gluten-free Halloween treat that is dead simple to make, try these chocolate peanut butter spiders at Health My Lifestyle. With only three ingredients, you need less than ten minutes to put these treats together for a last-minute Halloween gathering.
The only ingredients you need for these vegan spider treats are pretzels, dark chocolate, and peanut butter.
15. Halloween Veggie Tray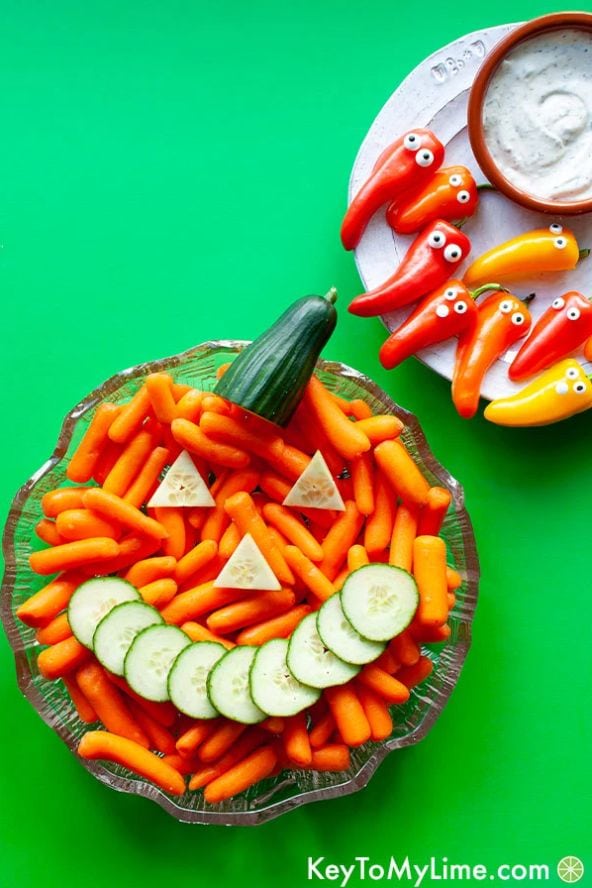 For a healthy Halloween treat that gives guests a break from the constant stream of chocolate and candy, try this Halloween-themed veggie tray from Key to My Lime.
The tray is naturally gluten-free and can be modified to include any number of different vegetables. Another advantage of this dish is that it takes only minutes to assemble.
16. Matcha Monster Cookies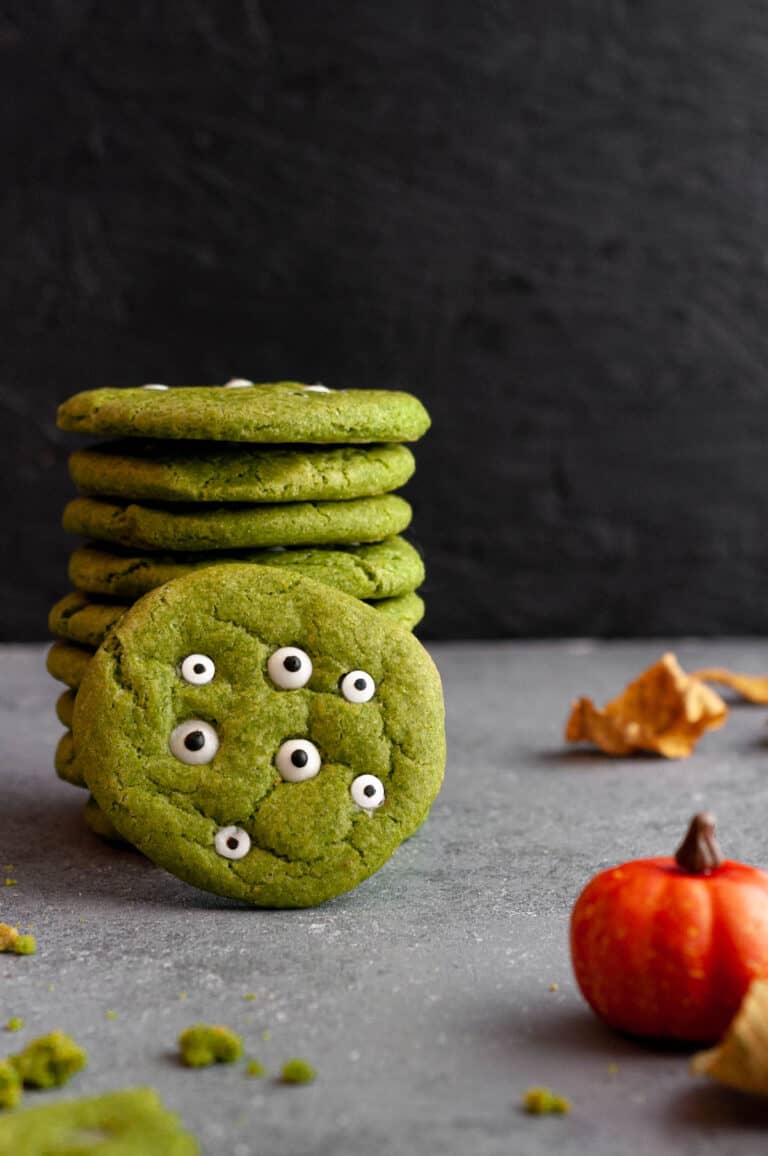 Matcha powder is a great food for dying spooky Halloween treats green. The earthy flavor of the matcha in these cookies at Fed and Nourished is a delicious pairing with the sweet buttery flavor of the sugar cookie base.
Decorating these green cookies with different-sized candy eyeballs adds a whimsical final touch.
17. Meringue Goblins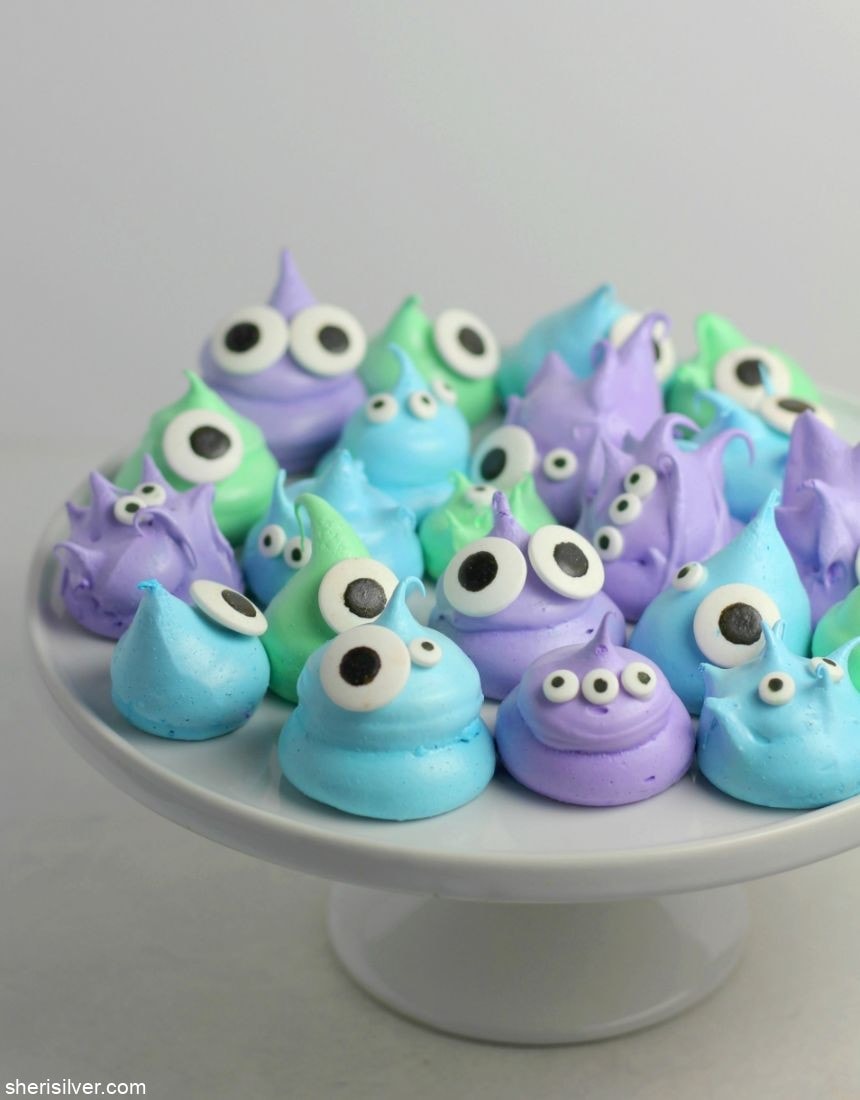 Meringues are a dessert created by whipping egg whites together with the cream of tartar and sugar until they harden and peak into a fluffy candy.
To create these gluten-free meringue goblins at Sheri Silver, add candy eyes and dye the meringues with food coloring in multiple colors. The meringues can be easily piped by cutting the corner out of a Ziploc storage bag.
18. Halloween Eyeball Deviled Eggs
For an easy and healthy savory treat for a buffet table, make some Deviled eggs. The Halloween-themed deviled eggs at Keto Diet are stained with natural food dyes like turmeric, beetroot, and activated charcoal for a scary-looking appetizer that is as delicious as it is disturbing.
Deviled eggs are also a convenient treat for parties since they can be made ahead of the previous day.
19. Halloween Chocolate Chip Protein Balls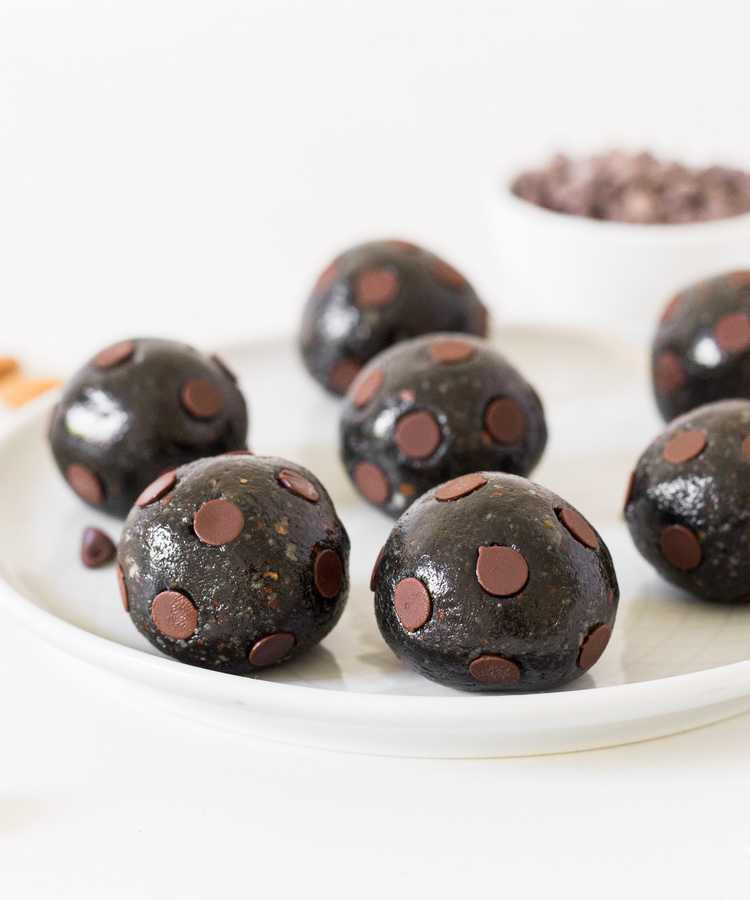 Chocolate chip protein balls might sound like health food, but these vegan Halloween treats are full of decadent chocolate and peanut butter for a quick no-bake dessert that can be thrown together in a hurry.
Protein balls can also be frozen ahead in the freezer for up to three months so you always have a tasty treat on hand. Make your own using the recipe at Blooming Nolwenn.
20. Cheesy Monster Dip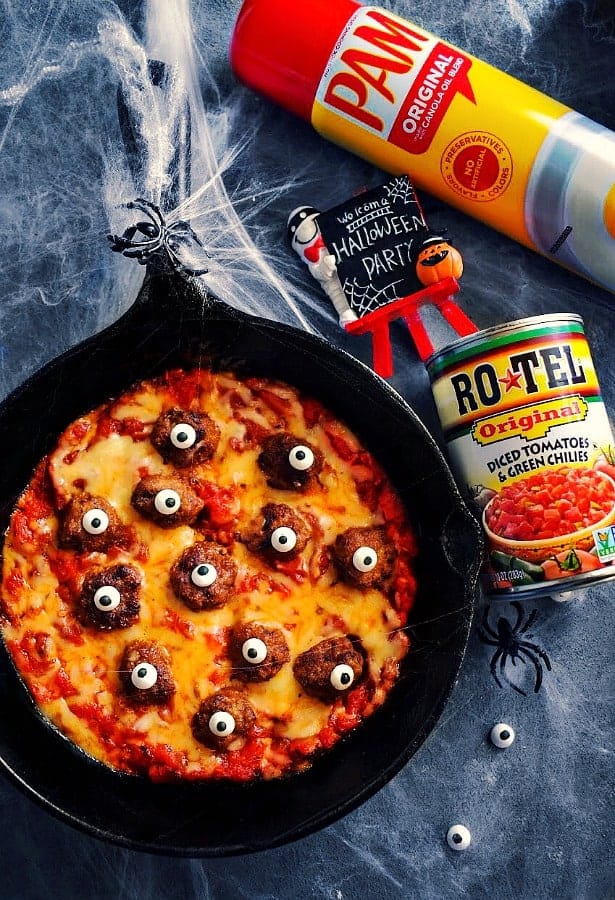 For a savory Halloween dish, it doesn't get much better than cheese and Rotel. The gluten-free cheese dip at Easy Cooking With Molly includes ground turkey meatballs that sport candy eyeballs.
The recipe calls for original Rotel diced tomatoes and green chilies, but you can get the hot variety to add more spice to the dip or the mild version to make it kid-friendly.
21. Low Carb Witch Finger Breadsticks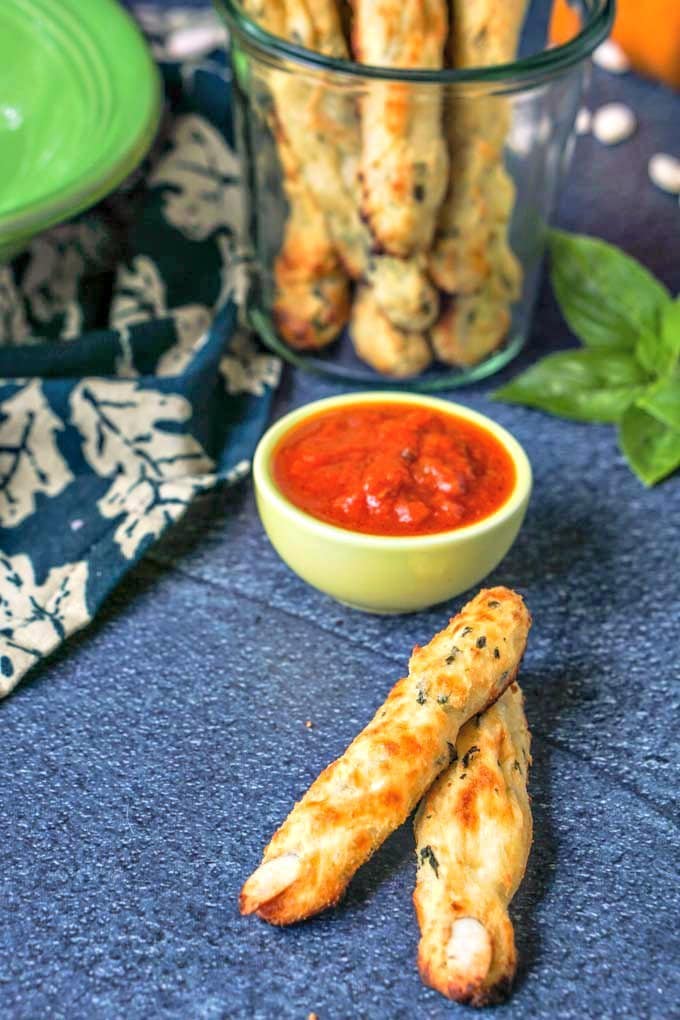 Just because you want your Halloween treats to be gluten-free doesn't mean you can't have breadsticks. These low-carb breadsticks at My Life Cookbook are shaped like spooky witch fingers and made with a gluten-free dough that is flavored with herbs and spices.
22. Chocolate Halloween Bark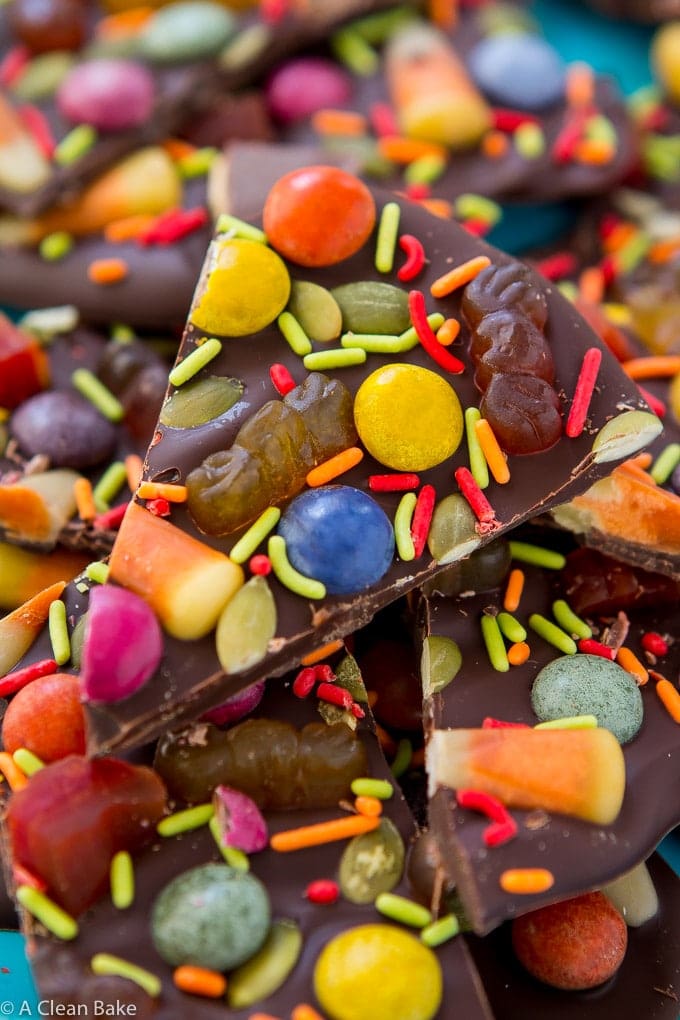 Chocolate is a practical foundation for any homemade gluten-free Halloween candy since it's naturally gluten-free. However, decorating it with a variety of colorful gluten-free treats like candy corn, sprinkles, and roasted pumpkin seeds like this chocolate bark from A Clean Bake can make it an attractive addition to any Halloween table.
23. Six Ingredient Matcha Mint Dark Chocolate Cups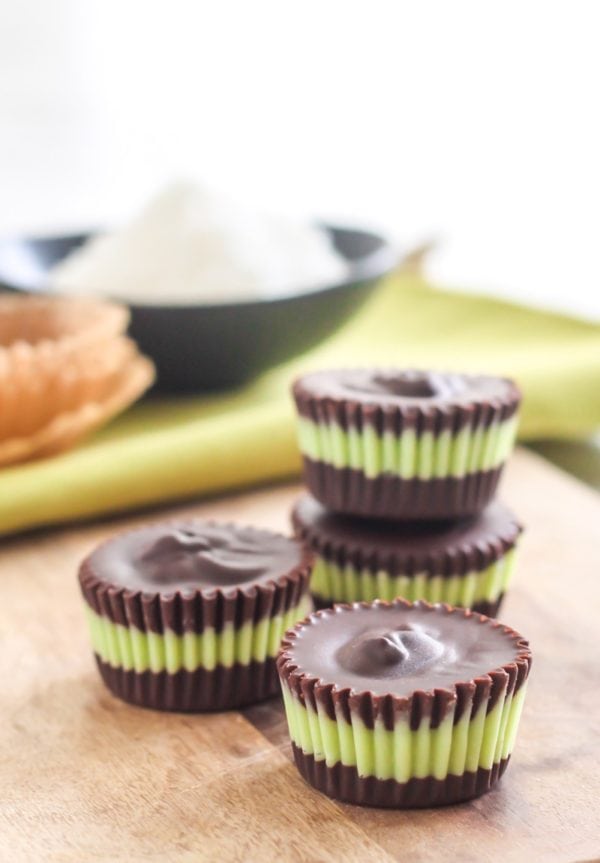 If you're tired of the typical milk chocolate and peanut butter cup combo for Halloween, consider this matcha, mint, and dark chocolate variation at My Fresh Perspective.
The vegan chocolate cups only contain six ingredients and can be whipped up in less than an hour.
24. Vegan Toffee Apples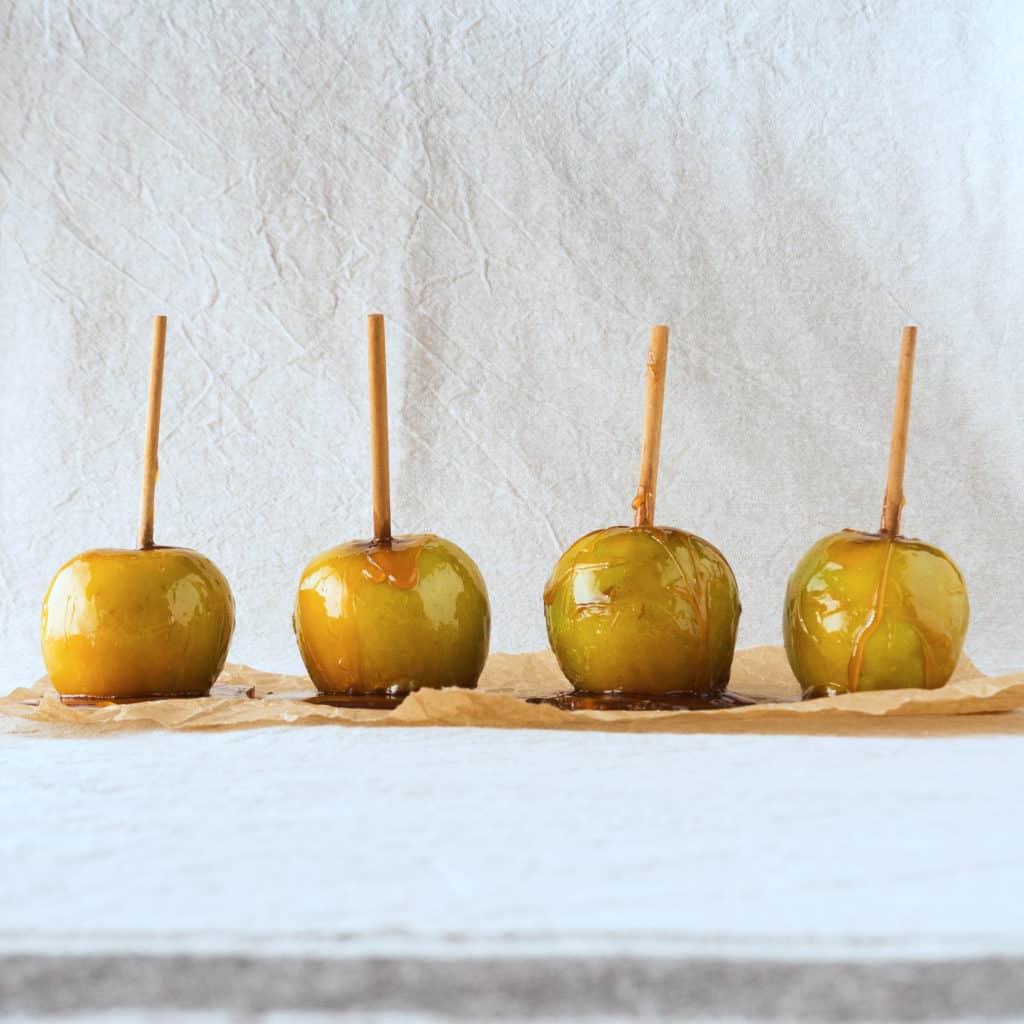 Caramel and toffee apples are traditional treats served during the Halloween season. In fact, this treat is naturally vegan and gluten-free.
Making these candied apples should be done very carefully since the sugar involved in making them is extremely hot. Use a candy thermometer and the recipe at FriFran to try this iconic Halloween treat at home.
25. Chocolate Covered Strawberry Ghosts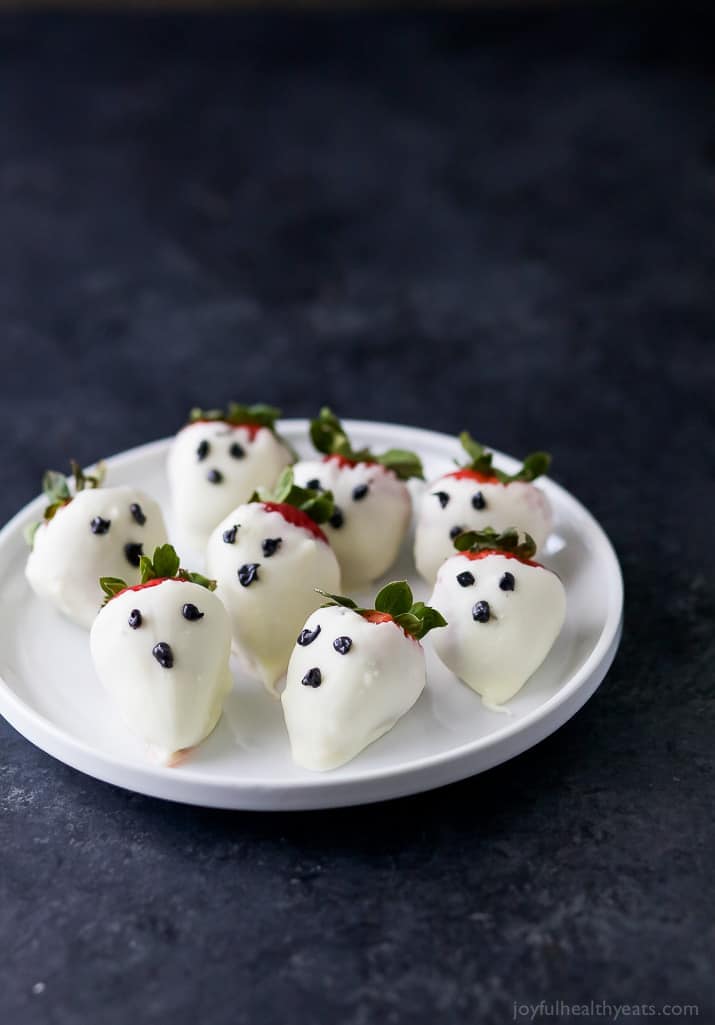 With all the candy on offer at Halloween, the more fruits and vegetables you can sneak into the proceedings, the better. The gluten-free white chocolate-covered strawberry ghosts at Joyful Healthy Eats might seem decadent, but these sweet treats contain a hidden surprise of fresh fruit with plenty of nutrients and vitamins.
Gluten-Free Halloween Treat FAQ
Where Can I Find Gluten-Free Halloween Candies?
There are several major candy companies that have gluten-free candy options available at standard grocery stores and big box stores like Walmart and Target. These are a few of the candy companies where you can find gluten-free Halloween candies:

- Gimbal's
- Hersey
- Jelly Belly
- Nestle
- See's
- Smarties
- Sour Patch
- Welch's
- Wrigley

It's important no matter which Halloween candy you buy that you carefully check the ingredient list on the product label to ensure it doesn't contain any hidden gluten.
What Are the Easiest Halloween Treats to Make?
There are an intimidating number of Halloween treat recipes available to make during the spooky season, but some recipes are easier to attempt than others. Here are some of the easiest gluten-free Halloween treats you can make:

Popcorn balls: Popcorn is naturally gluten-free and Halloween popcorn balls can be decorated with a wide variety of chocolate decorations. Popcorn balls can also be flavored with different extracts, such as vanilla or almond.

Rice Krispy treats: Rice is another grain that is naturally gluten-free that can be used to make Halloween treats. Most Rice Krispy treats are held together using melted marshmallows and can be studded with a variety of add-ins from dried berries to chocolate chips.

Sugar cookies: Gluten-free sugar cookies are a simple and quick recipe that can be decorated in all sorts of ways to reflect a Halloween theme. Replacing traditional flour in the sugar cookie recipe with a gluten-free flour blend can keep the cookies healthy while still maintaining a good flavor and mouthfeel.

Vegetable trays: Vegetable trays are always a welcome addition at Halloween buffets since they can provide a light palate-cleansing alternative to more rich and sweet foods that are offered.
Which Candy Bars Contain Gluten?
Even though there are many gluten-free candy options available, several major candy bars are likely to contain gluten and should be avoided by people who are sensitive to it. These are the candy bars that are most likely to contain gluten:

- Milky Way Bars
- Dove Milk Chocolate Cinnamon Graham
- Dove Cookies and Cream
- Crispy M&Ms
- Mars Bars
- Pretzel M&Ms

As with any candy, it's a good idea to check the ingredient list carefully before eating if you have a gluten allergy. Candy formulas and ingredient lists change all the time, so knowing exactly what you're eating every time is key to avoiding gluten when you eat processed foods.
Gluten-free Halloween Treats Conclusion
Gluten-free Halloween treats aren't hard to source during the holidays as long as you have some tried-and-true recipes to fall back on. Whether you want a dessert that is impressive and complicated or you need a last-minute addition to your Halloween buffet, the gluten-free Halloween treats in the list above have a little something for everyone.