Whether you're preparing for a Thanksgiving feast or just prepping some turkey for the week's make-ahead meals, crockpot turkey wins far above other cooking methods when it comes to time and effort.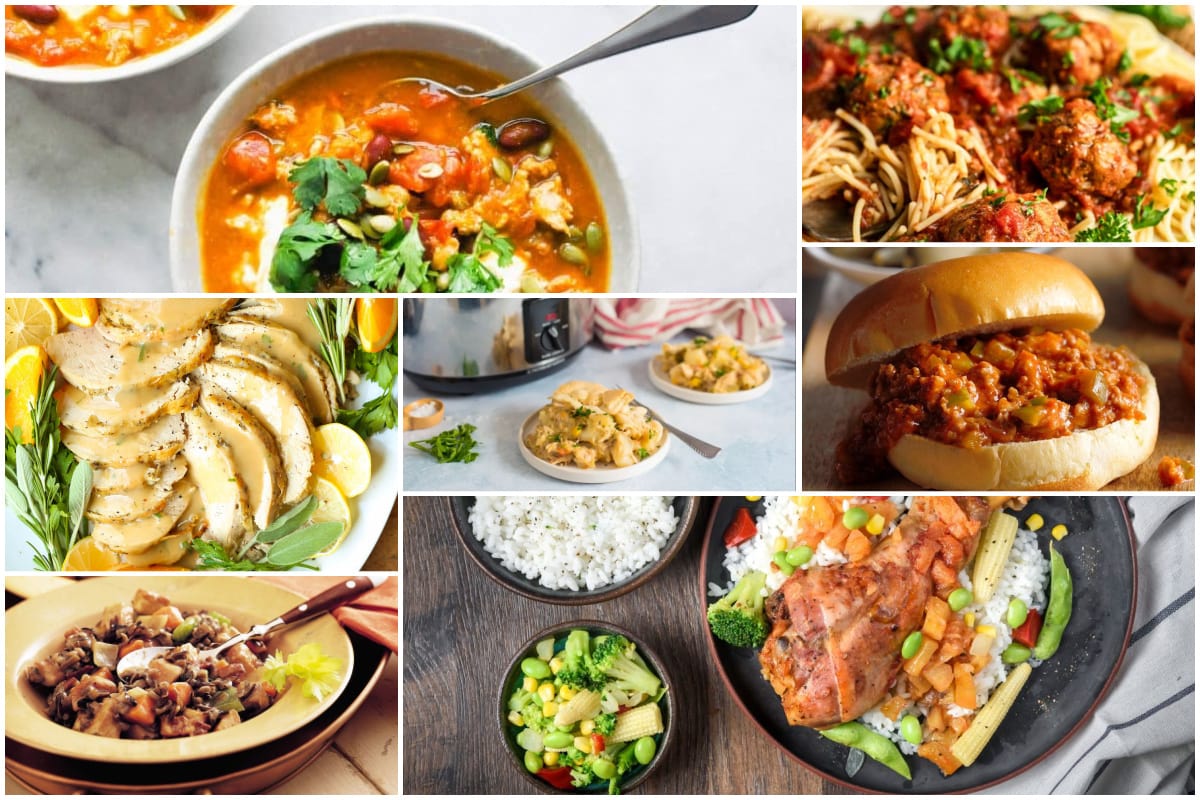 Crockpots aren't simply convenient for people with little to no time to cook. Cooking with a crockpot results in tender and flavorful meat that is actually healthier because it isn't cooked at a high heat which breaks down nutrients.
Here's how you save time and energy by utilizing your slow cooker for the best crockpot turkey.
How to Cook a Turkey Breast in the Crockpot
You can make some juicy turkey breast in your crockpot in about 5 hours. The fact that little to no overseeing is required when using your slow cooker is the best part of utilizing your crockpot.
You can start it early in the morning when you wake up, and by lunch, you have delicious crockpot turkey that you made by setting & forgetting.
Ingredients
1 bone-in turkey breast (6 to 7 pounds), skin removed
1 tablespoon olive oil
1 teaspoon dried minced garlic
1 teaspoon seasoned salt (normal salt can be used)
1 teaspoon paprika
1 teaspoon Italian seasoning
1 teaspoon pepper
½ cup water
Instructions
Make the seasoning by combining the garlic, seasoned salt, paprika, Italian seasoning, and pepper. Brush turkey with oil first, then rub spice blend over the turkey breast.
Place turkey breast into your slow cooker, and add water. Cover with the lid and cook on low for 5-6 hours until the meat is tender.
How to Keep Turkey Moist When Cooking in a Crockpot
The good news is, generally cooking turkey in a crockpot ensures moist turkey. But there are some tips to keep it from drying out during and after cooking.
Sear Your Meat
If you are using cuts of turkey, it's best to sear the meat first to create a seal, before slow cooking it. If you don't, and your cuts are too small, you'll have grainy dry meat (even if you have plenty of sauce).
Low and Slow is Key
You might be tempted to cook your turkey on high to speed things up, but try to avoid it and cook it on low for 5 - 7 hours, depending on the size of your meat pieces.
Add Stock or Water
When cooking your turkey, you always want to add water or stock to the crockpot, else the juices of the turkey will cook out and cause dry meat.
Common Sides to Serve With Crockpot Turkey Recipes
No main is complete without some side dishes to complement and round off the meal.
Gravy, home-made preferably
Roasted or mashed potatoes
Stuffing
Green bean casserole
Roasted beans or Brussel sprouts
15 Crockpot Turkey Recipes
From meal prepping to Thanksgiving dishes, there is a crockpot turkey recipe for every occasion.
1. Crispy Skin Crockpot Turkey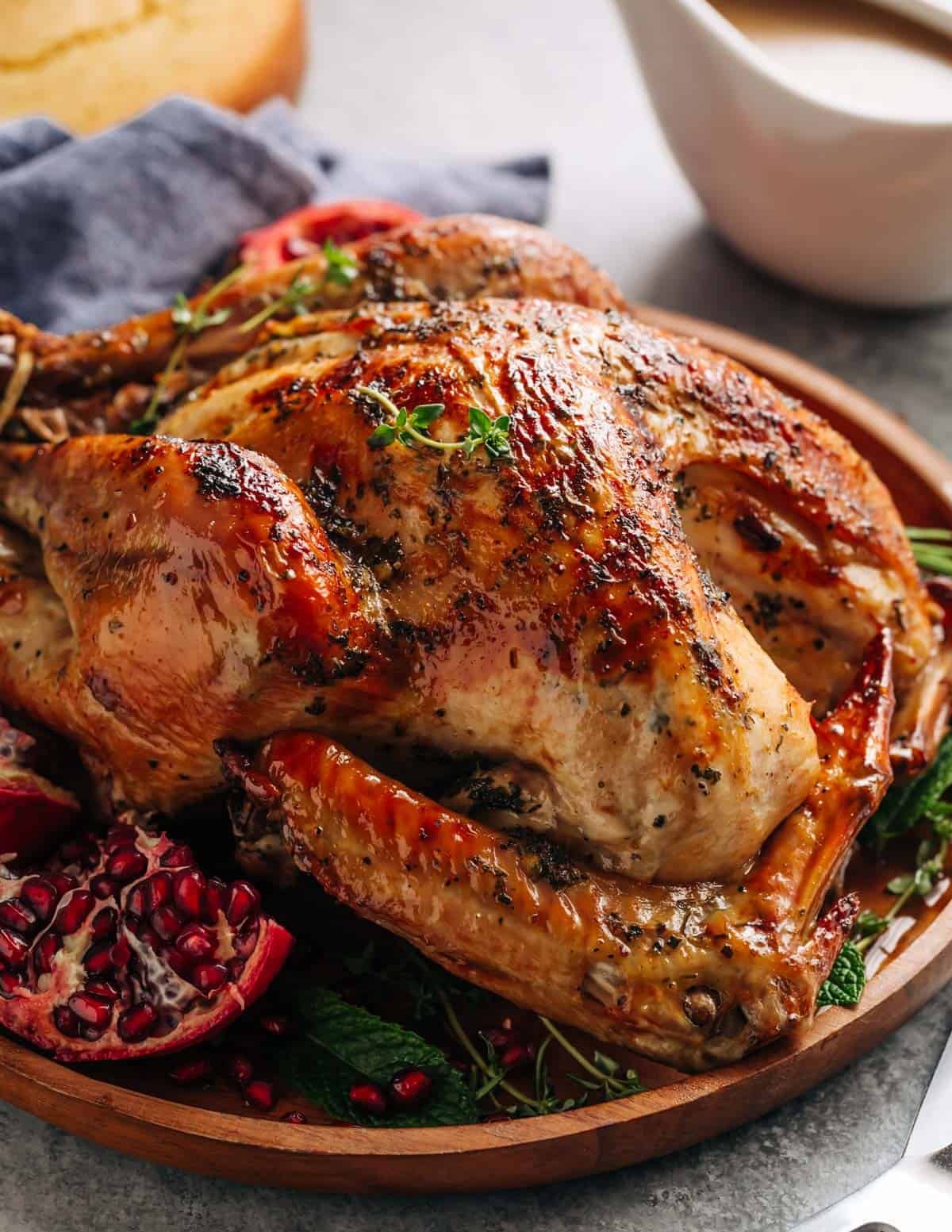 You might not think crockpots will enable you to make crispy-skinned turkey, but Cafe Delites is here to set you on the path to crispy turkey skin. They even included a gravy recipe too.
2. Vegetable & Turkey Stew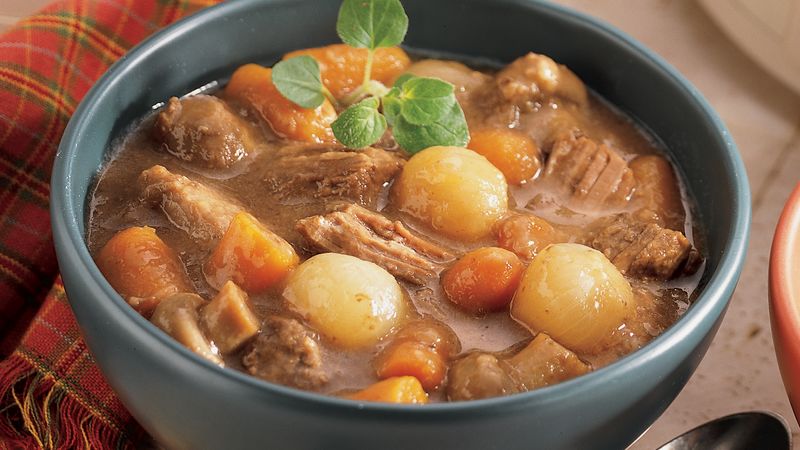 Crockpots are ideal for stews, and when you add chunky veggies in there, they'll have plenty of time to soak up some good turkey flavors. Pillsbury has a recipe you can make in just over 4 hours.
3. 3-ingredient Crockpot Turkey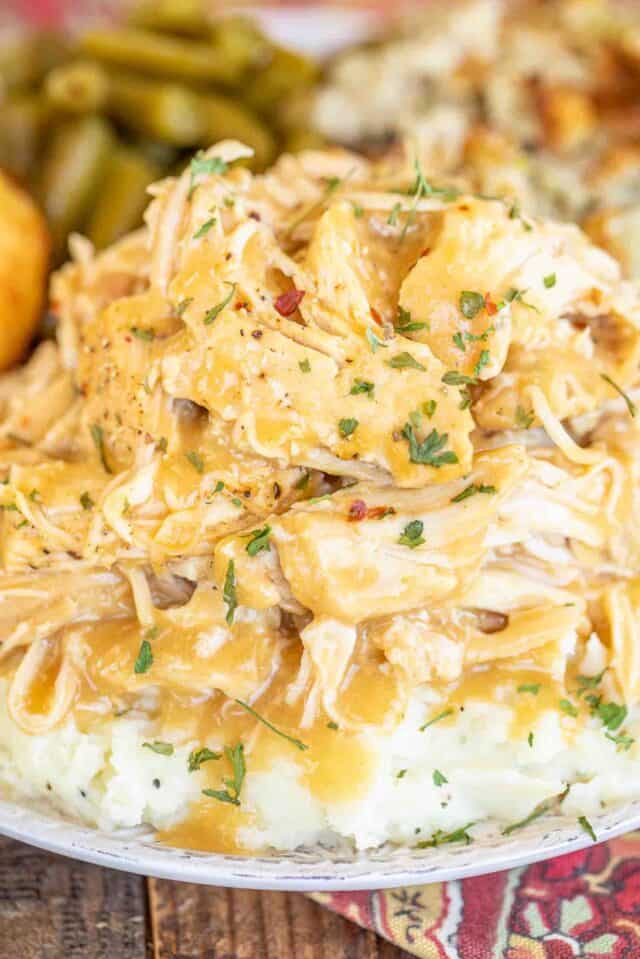 You might be wondering how it's possible to create delicious slow-cooked turkey from just three ingredients, but Plain Chicken proves that it is possible.
4. Crockpot Turkey Legs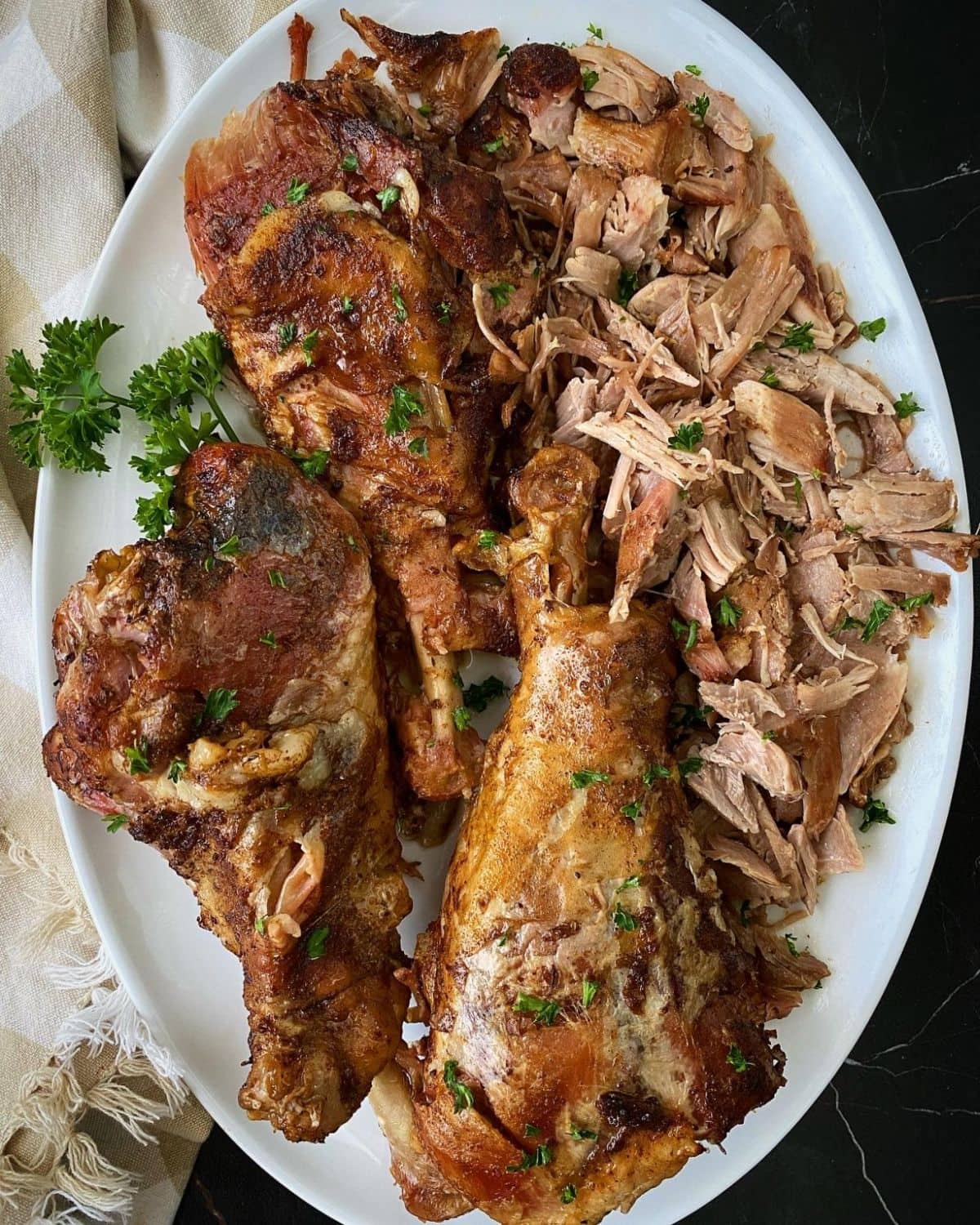 Fit Slow Cooker Queen has the easiest recipe to make turkey legs and a delicious seasoning to go with it. Turkey legs are the tougher piece of turkey, so slow cooking them is the best option.
5. Whole Turkey Crockpot Recipe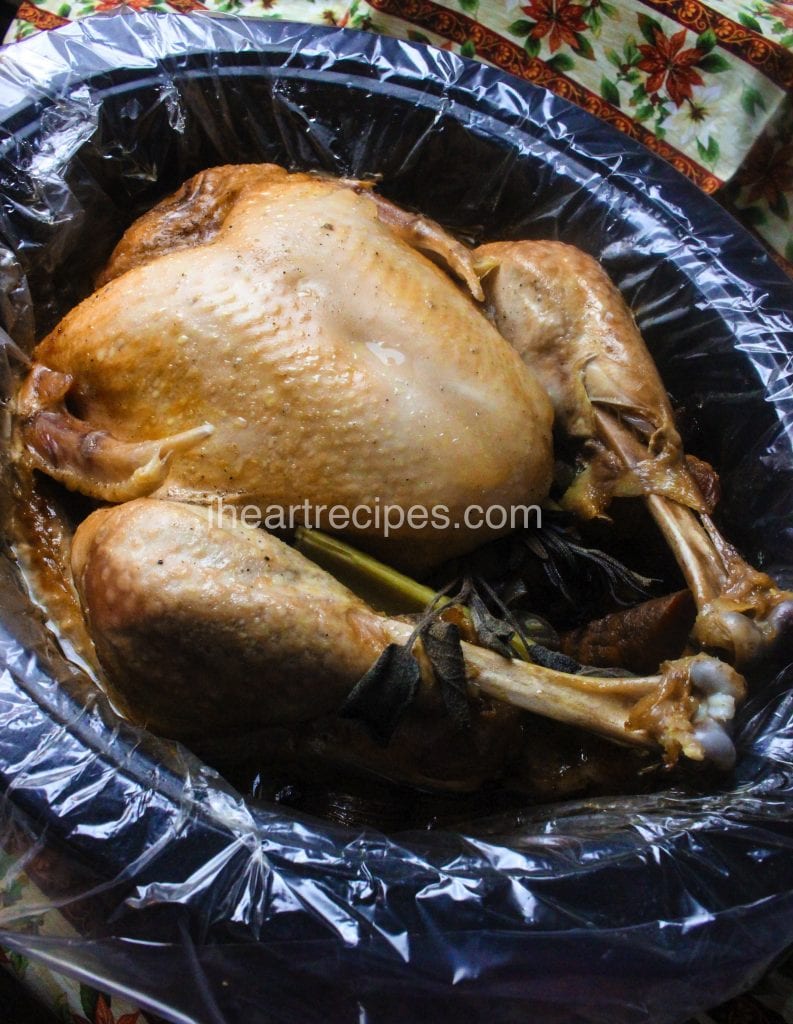 If the ritual of basting and brining is not for you, then this recipe from I Heart Recipes is the ideal method for making a whole turkey in your slow cooker.
Just be sure the turkey fits or buy a smaller one if you can.
6. Island Barbecue Turkey Legs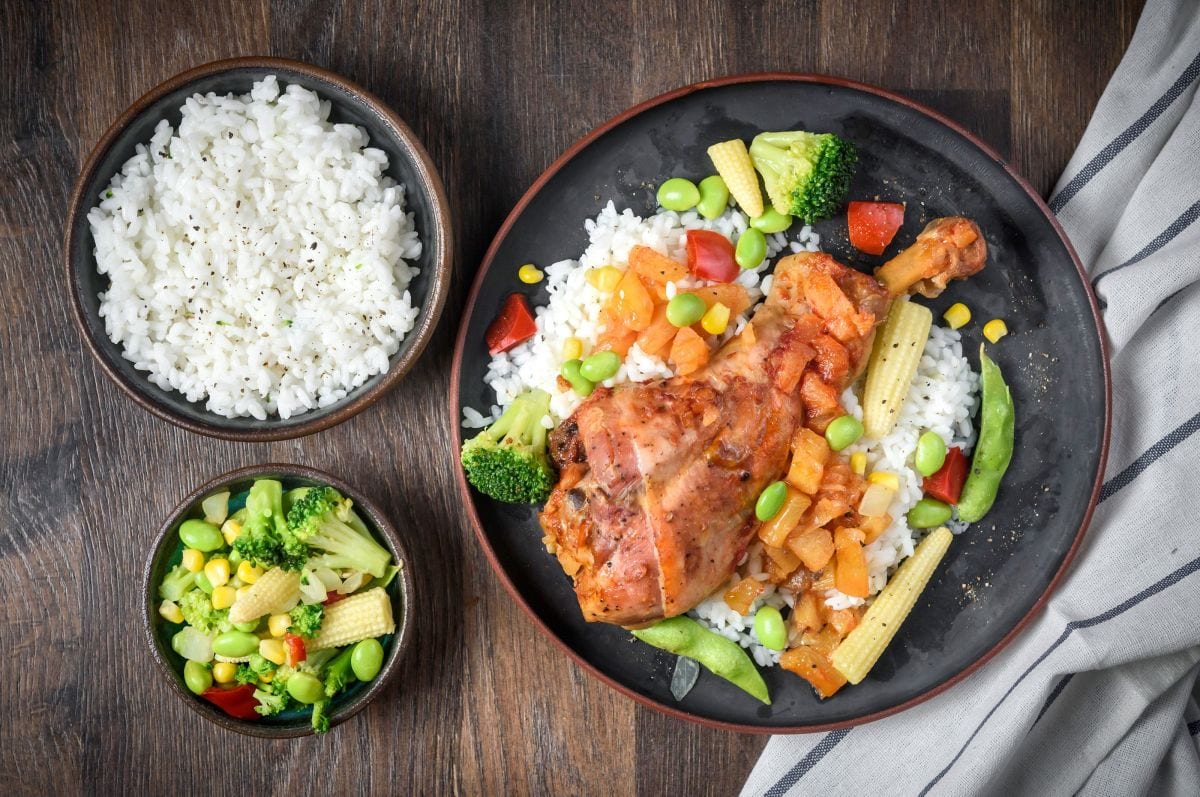 Turkey legs are easy on the budget and by making the recipe by The Spruce Eats, it's easy on the taste buds too.
Simply put the turkey legs in the crockpot and pour the flavor of pineapple and barbeque sauce all over for an enjoyable result that would be perfectly served over rice or noodles.
7. Apple Turkey Chili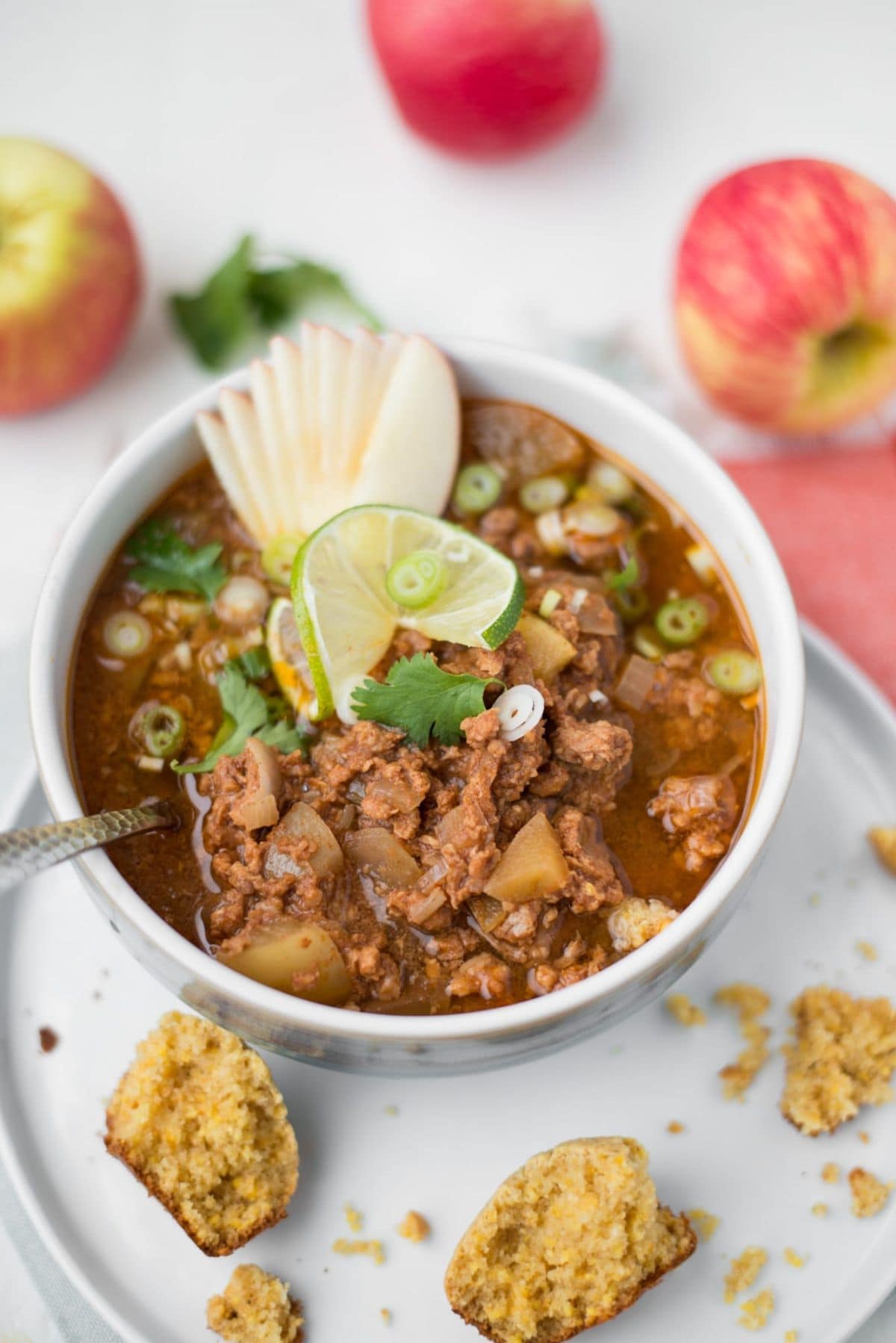 Real Food Whole Life is making chili a bit healthier by giving you a tasty chili recipe without using red meat. It is lean and ideal for meal prepping.
8. Crockpot Turkey Pie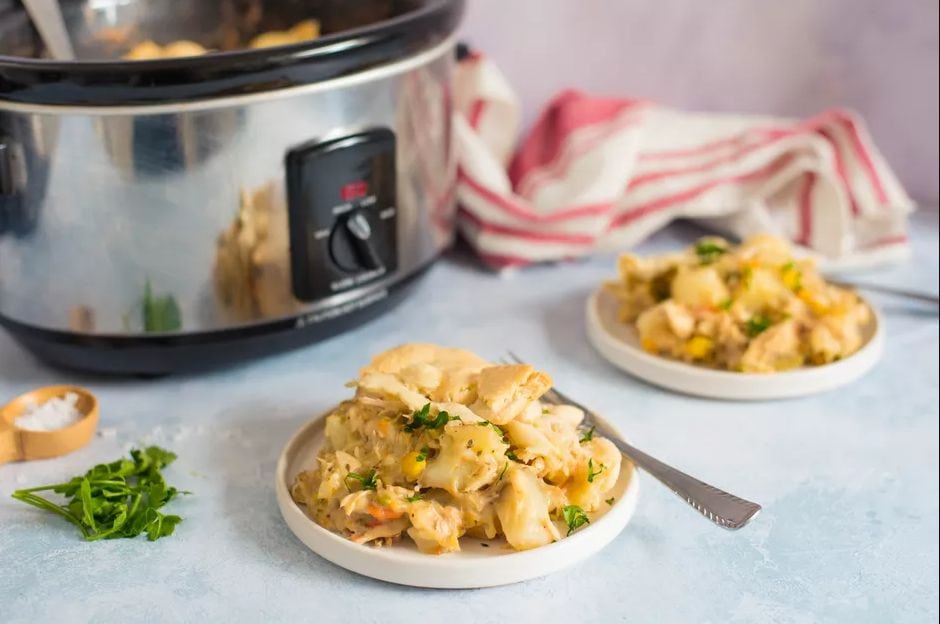 The Spruce Eats has a recipe where you can use either turkey or chicken in a crockpot to create an easy pot pie. If your crockpot allows for the liner to be removed, you can make this pie in one go by putting it in the oven after it is slow cooked.
9. Crockpot Turkey Soup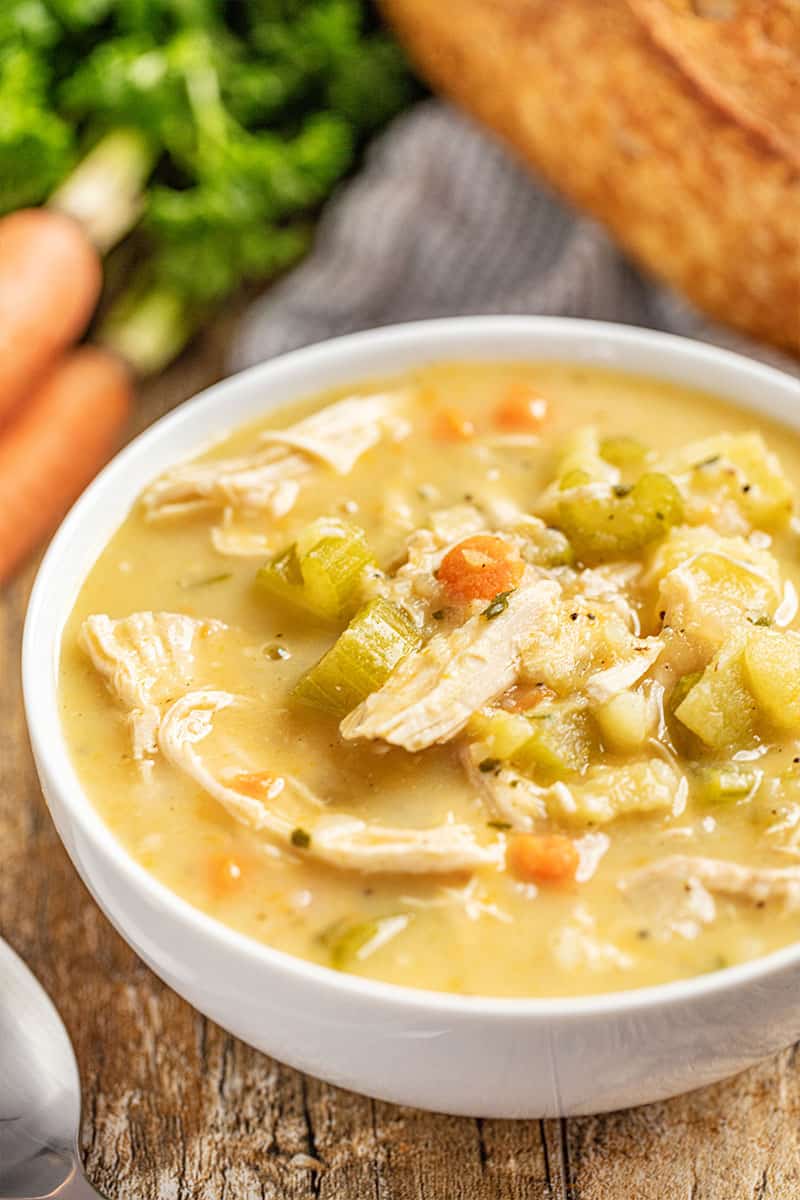 If you're trying to use up any leftover turkey from Thanksgiving or have some turkey already prepared, this crockpot turkey soup recipe from The Stay at Home Chef is ideal.
Not only is this soup healthy and hearty, but it can also be stored for up to 5 days in the refrigerator in an air-tight container.
10. Crockpot Turkey Meatballs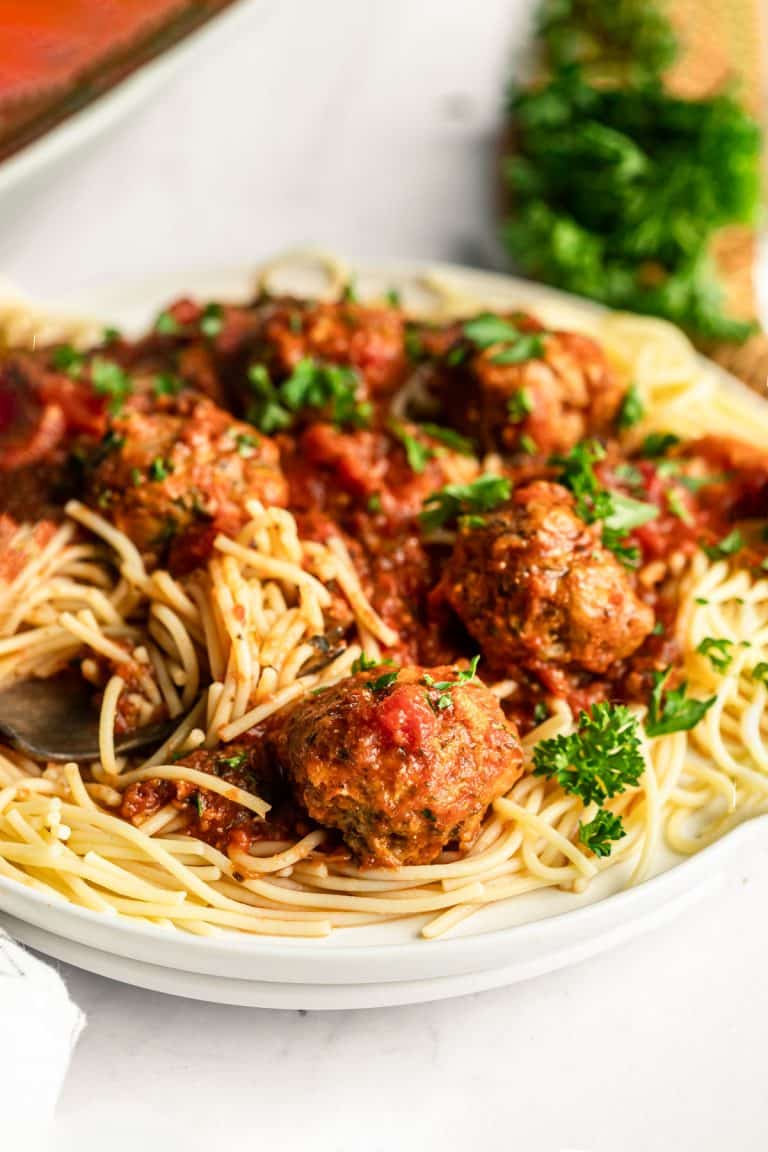 Make the most of your time during the day and create some easy turkey meatballs in marinara sauce with the recipe from The Whole Cook. They are dairy-free and gluten-free and would make a yummy appetizer or would go great served over some zoodles for a super healthy meal.
11. Turkey and Wild Rice Casserole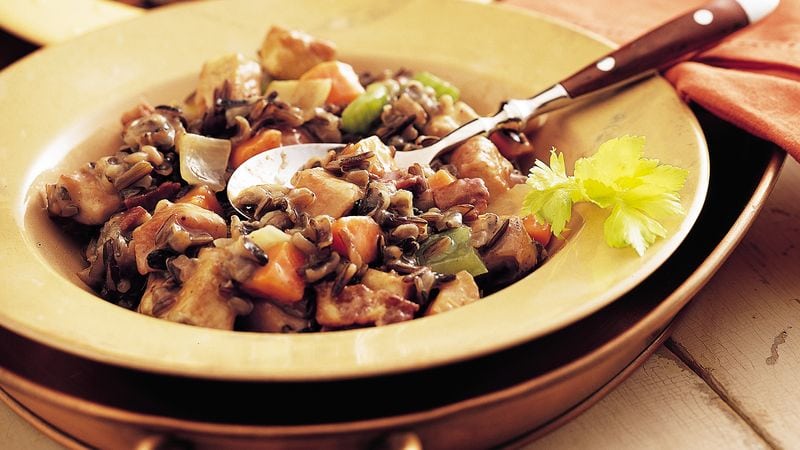 Nothing comes close to turkey dinners and casseroles. So Betty Crocker combined them together into one convenient crockpot recipe. The casserole is enough to feed 2 people, but you can adjust the quantity if you want to make this dish for the whole family.
12. Turkey Breast and Gravy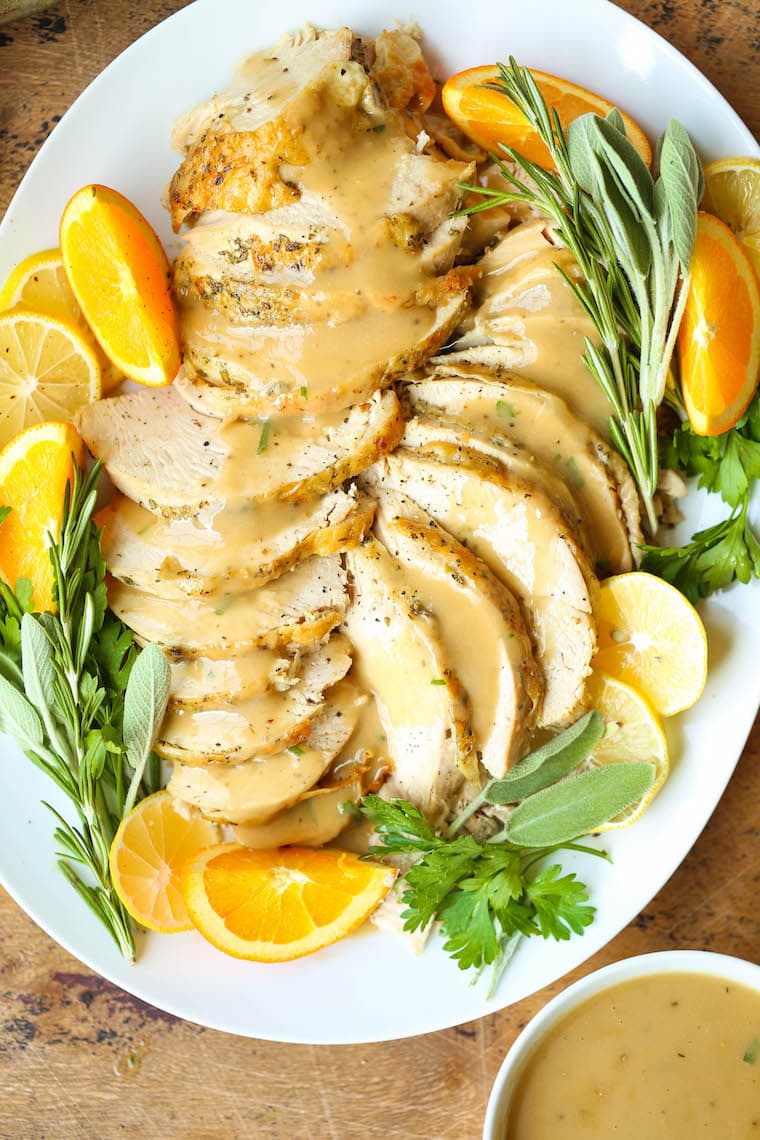 If you need juicy turkey breast and a great gravy to go along with it, try this recipe from Damn Delicious that you make in just 3-4 hours.
13. Crockpot Turkey Tacos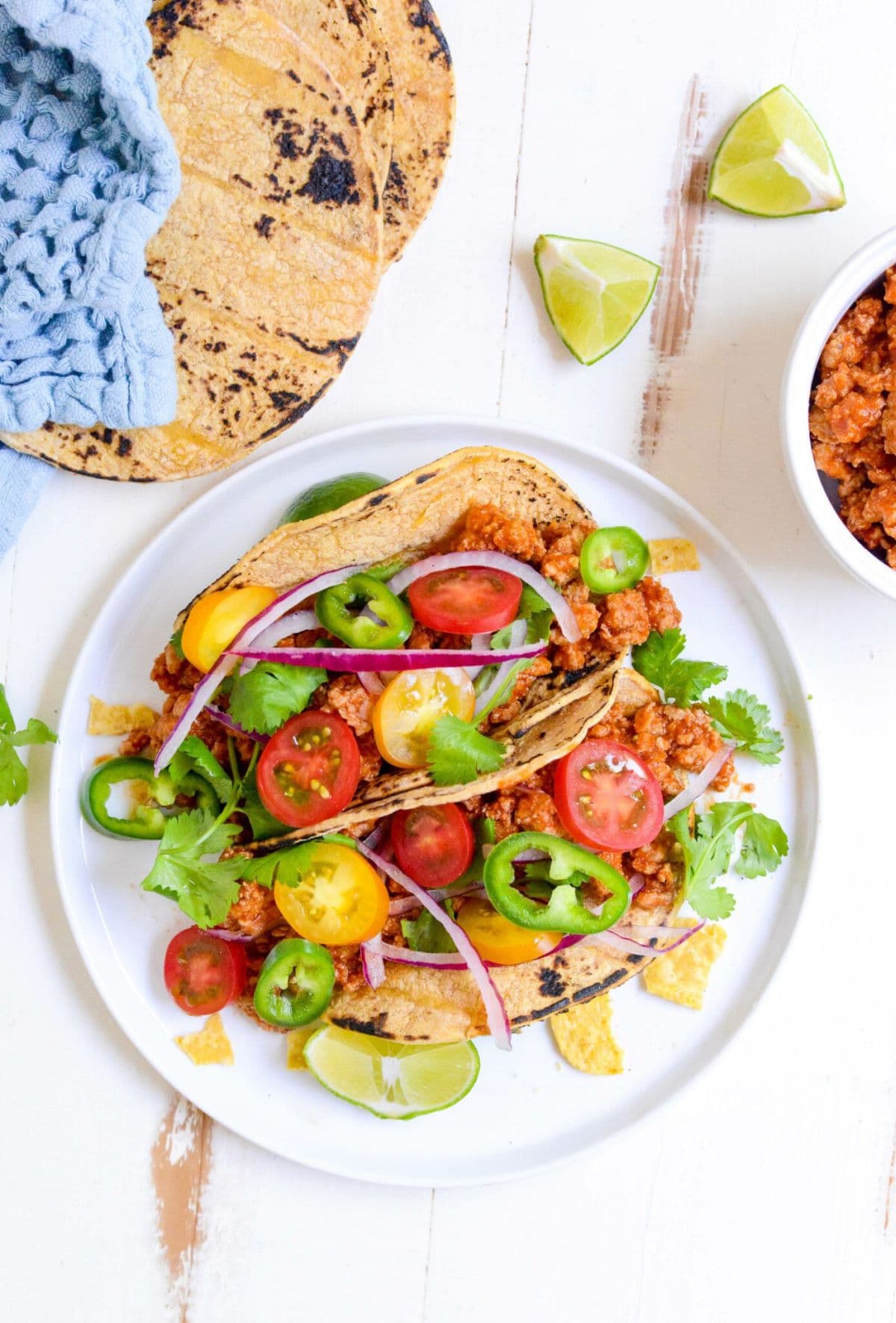 If Tuesdays are for taco night but you work all day, try out this slow cooker turkey taco recipe from Real Food Whole Life. Then all you have to prep are the toppings after your long day at work.
14. Sloppy Joe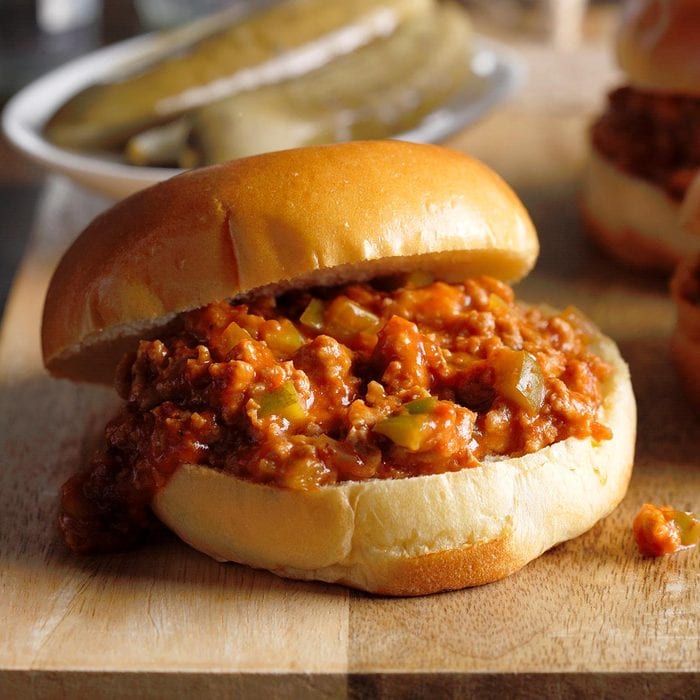 Sloppy Joes are a treat at any time of year. And if you thought they had to be made with beef, think again. You can use lean turkey too. Feed a whole family with this recipe from Taste of Home.
15. Turkey Pumpkin Chili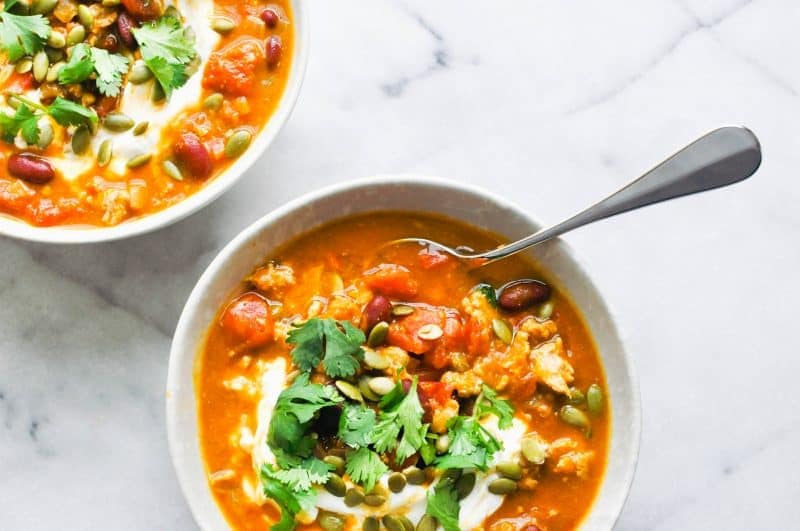 Who knew pumpkin and turkey are such a great match of flavors? Bring fall into your chili by adding the taste of pumpkin. Follow the recipe by This Healthy Table for a fall-inspired dish any time of year.
How to Store Crockpot Turkey Recipes
If you made a bit too much food or meal prepped for the week, you'll need a way to store your crockpot turkey.
Most cooked dishes can be stored for 3-4 days in the refrigerator when covered in an airtight container. Discard after 4 days.
If you would like to freeze your meals, use a freezer-safe container and try to get as much air out as possible before storing them in the freezer.
Pieces of turkey meat can be frozen in an airtight container for up to 6 months.
Turkey stock and soups can be frozen in airtight containers for 4 to 6 months.
While you can technically store turkey meals indefinitely in a freezer below freezing point, the flavor and quality reduce the longer it is frozen.
FAQ
Is Slow Cooking in a Crockpot Healthy?
Yes, slowing cooking meat and veggies in a crockpot is healthier than using other cooking methods. Slow cooking preserves more nutrients that would otherwise be destroyed by the high heat of other methods. It also limits exposure to advanced glycation end products (AGEs), which are found in grilled and broiled animal products.
Can You Cook a Frozen Turkey in the Crockpot?
It is generally not recommended to put frozen meat in a crockpot because it is a food safety issue. Doing so is actually unsafe since it takes so long for the meat to cook and bacteria will likely grow.
Therefore, while the turkey is cooked thoroughly, the meat can still make you sick ill. It is best to thawthe turkey in the fridge or water before adding it to the crockpot.
Should a Turkey Breast Be Up or Down in a Crockpot?
The best way to cook a turkey is breast side down so that all the juice accumulates in the turkey breast meat.
How Long Should a Turkey Thaw Before Cooking?
You should thaw your turkey based on weight. A good guide is to thaw it one day for every 4lbs of turkey. You can leave it thawed for 2 days in the fridge after it is completely thawed. Planning is key.
Is It Safe to Slow Cook a Turkey Overnight?
Yes, you can slow cook your turkey overnight. Make sure your cooker is out of harm's way. Ensure that all the plugs are working properly and they won't be steamed up.
Also place the crockpot in a place where there is enough ventilation in the kitchen for when you're cooking the turkey.
Can You Put a Turkey in a Crockpot to Keep It Warm?
Yes, a slow cooker is your secret weapon to keep food just warm enough until you're ready to serve it. Avoid putting in any crispy turkey pieces so it doesn't get soggy, or blast it for a few minutes in the oven before serving.
Conclusion
Whether it is to get rid of all of those Thanksgiving leftovers, or you're preparing the week's meals, it has never been easier than when you utilize some crockpot turkey recipes.
While the turkey may take some time to cook, you can set and forget your crockpot to do the hard work. That way, you can focus on other parts of your meal or even go about your day.