Frito Pie is the perfect meal. It's easy to make, full of flavor, and sure to be a hit with everyone. This Frito pie recipe is made with a rich homemade chili filled with Mexican flavors then topped with crunchy Frito corn chips and melted cheese.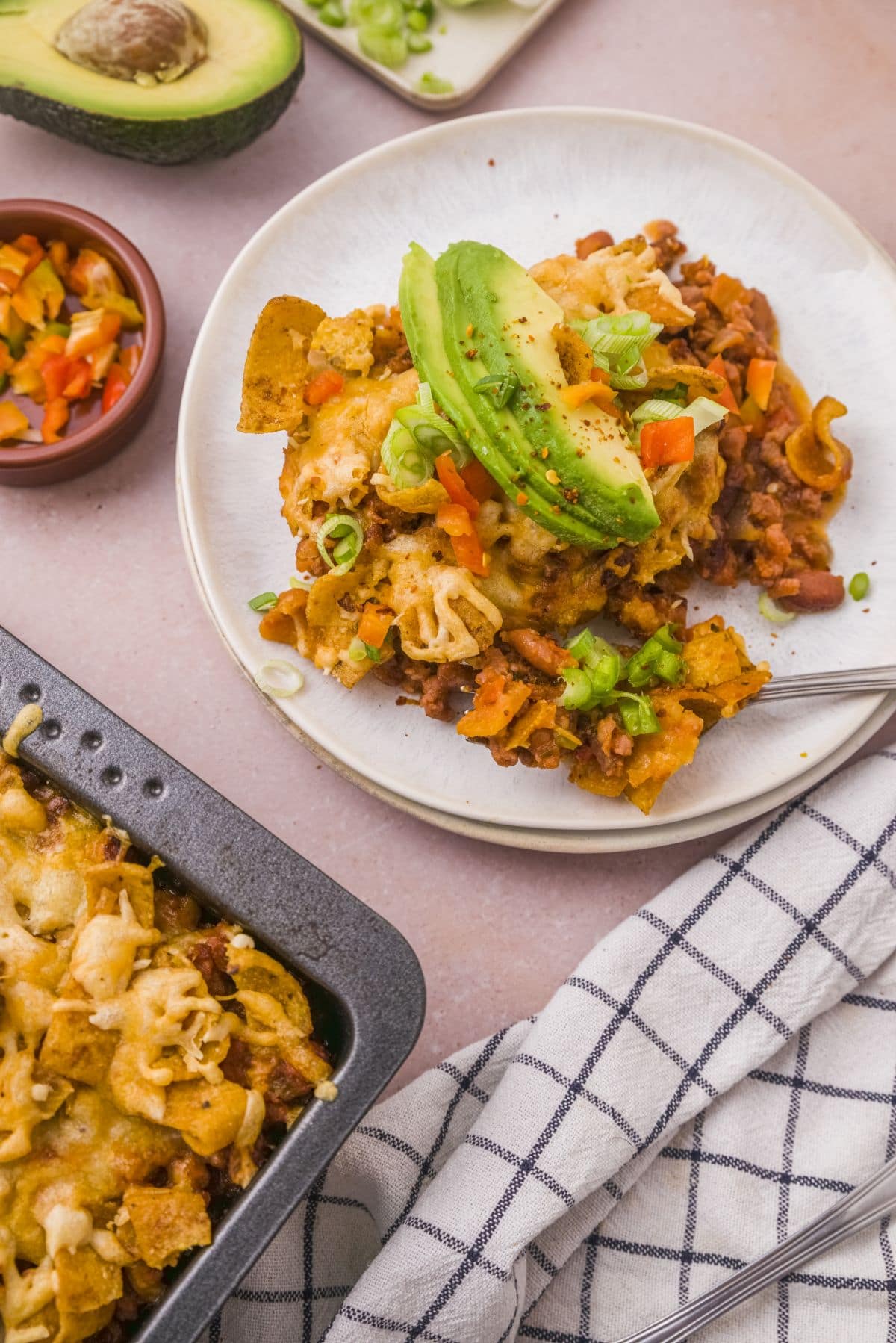 Why You'll Love Frito Pie
Frito pie is a unique dish and super easy to make. It's perfect for a family dinner or to take to a potluck or gathering. You can double or triple the recipe to feed a crowd. And this recipe offers many possibilities for customization. You can use the recipe as written for the classic version or add or subtract ingredients to make your own creation.
Is this Recipe Healthy?
While Frito corn chips are a food to enjoy in moderation, this recipe is healthy overall because it contains lean protein from the ground beef and lots of veggies. Make sure you use lean beef and opt for low-fat cheeses to reduce the fat content. Leave off the sour cream to reduce the fat even more.
The onion, red and green bell peppers, garlic, pinto or black beans, tomato puree, avocado, and cilantro provide loads of essential vitamins, minerals, and phytonutrients. The beans also offer a great source of plant-based protein, and the cheese adds calcium. All these elements combine to make a nutritious meal.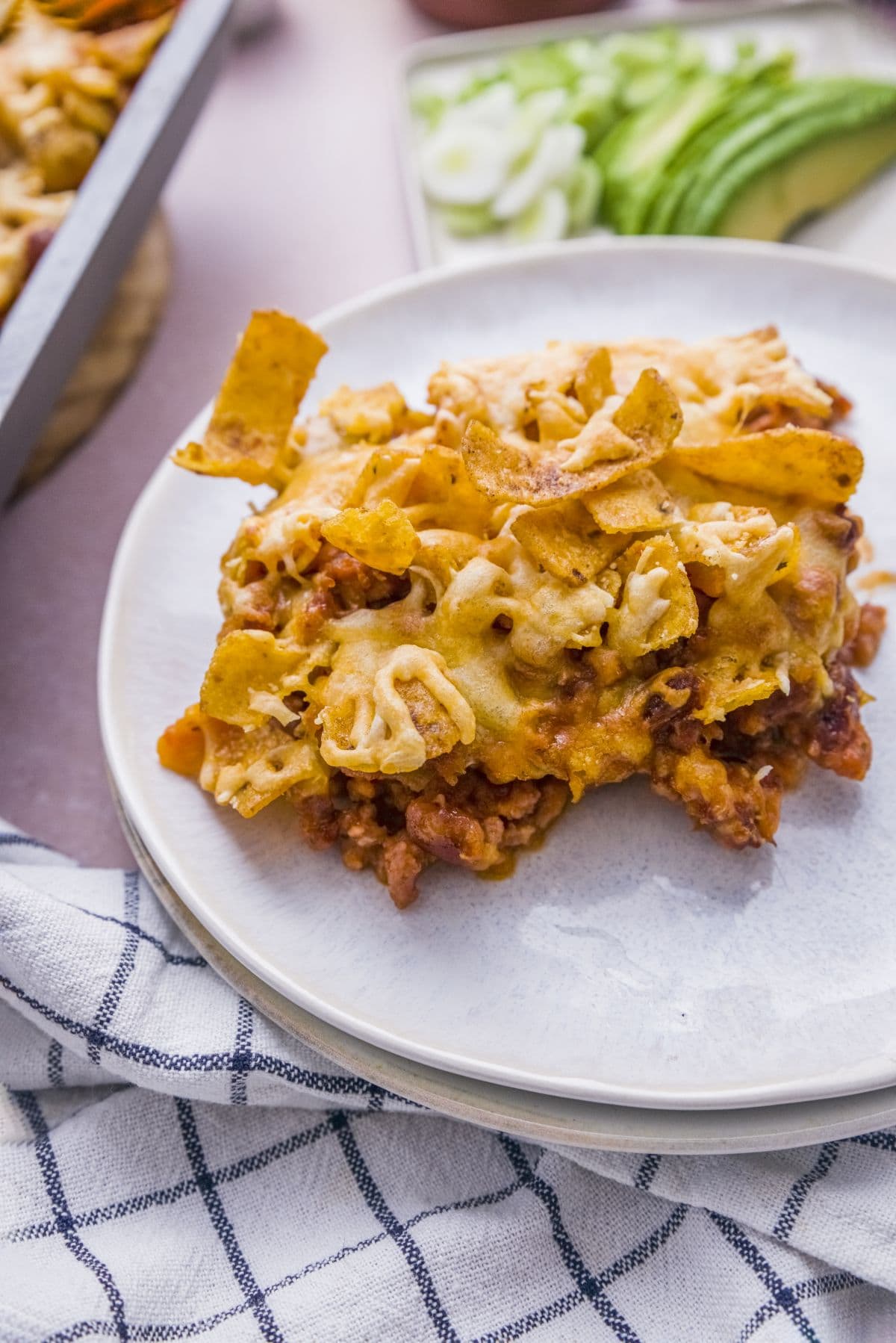 How to Make Frito Pie
Preheat your oven to 395 degrees F.
Dice the onion, red bell pepper, and green bell pepper. Mince the garlic cloves. Set aside.
Heat the olive oil in a big pan. Add the onion, garlic, and a bit of salt. Cook until golden and fragrant.
Add the red and green bell peppers and cook for an additional 5 minutes.
Add the ground beef, remaining salt, and taco seasoning. Cook until browned, making sure to break up any lumps.
Add the tomato puree and beans and mix well. Cook for 15 minutes on low.
Pour the cooked chili into the baking dish or sheet pan and spread it evenly.
Cover with a layer of Frito corn chips then a layer of shredded mozzarella and cheddar cheeses.
Bake in the preheated oven until the cheese melts, around 10 minutes.
Serve with the toppings of your choice.
Tips & Variations for Frito Pie
Here are some tips and variation ideas for making the best Frito pie possible:
Use lean ground beef to keep down the amount of saturated fat and to prevent the dish from being too greasy. You can also use ground turkey or ground chicken.
Use any type of beans that you like, such as kidney beans, white beans, or even chickpeas.
Try adding vegetables, such as mushrooms, corn, zucchini, cauliflower, olives, sliced radishes, or others to the meat mixture.
Add jalapeños or hot sauce to make the Frito pie spicier. Or sprinkle with some crushed red pepper flakes.
Top your Frito pie with many different toppings, including chopped fresh tomatoes, diced avocados, jalapenos, pico de gallo, salsa, or guacamole.
Give your Frito pie an Italian twist by substituting ground pork for the beef and adding red wine or balsamic vinegar to the sauce. Top it off with mozzarella cheese and herbs, such as oregano or basil.
Make it a southwestern-style Frito pie by adding black beans, corn, and diced green chilies to the beef mixture. Sprinkle with cheddar cheese and a dollop of sour cream.
For a vegan version, replace the ground beef with crumbled tofu or lentils. Add sautéed onions, peppers, garlic, and mushrooms for extra flavor. Top with vegan nacho cheese and diced tomatoes.
More Ground Beef Recipes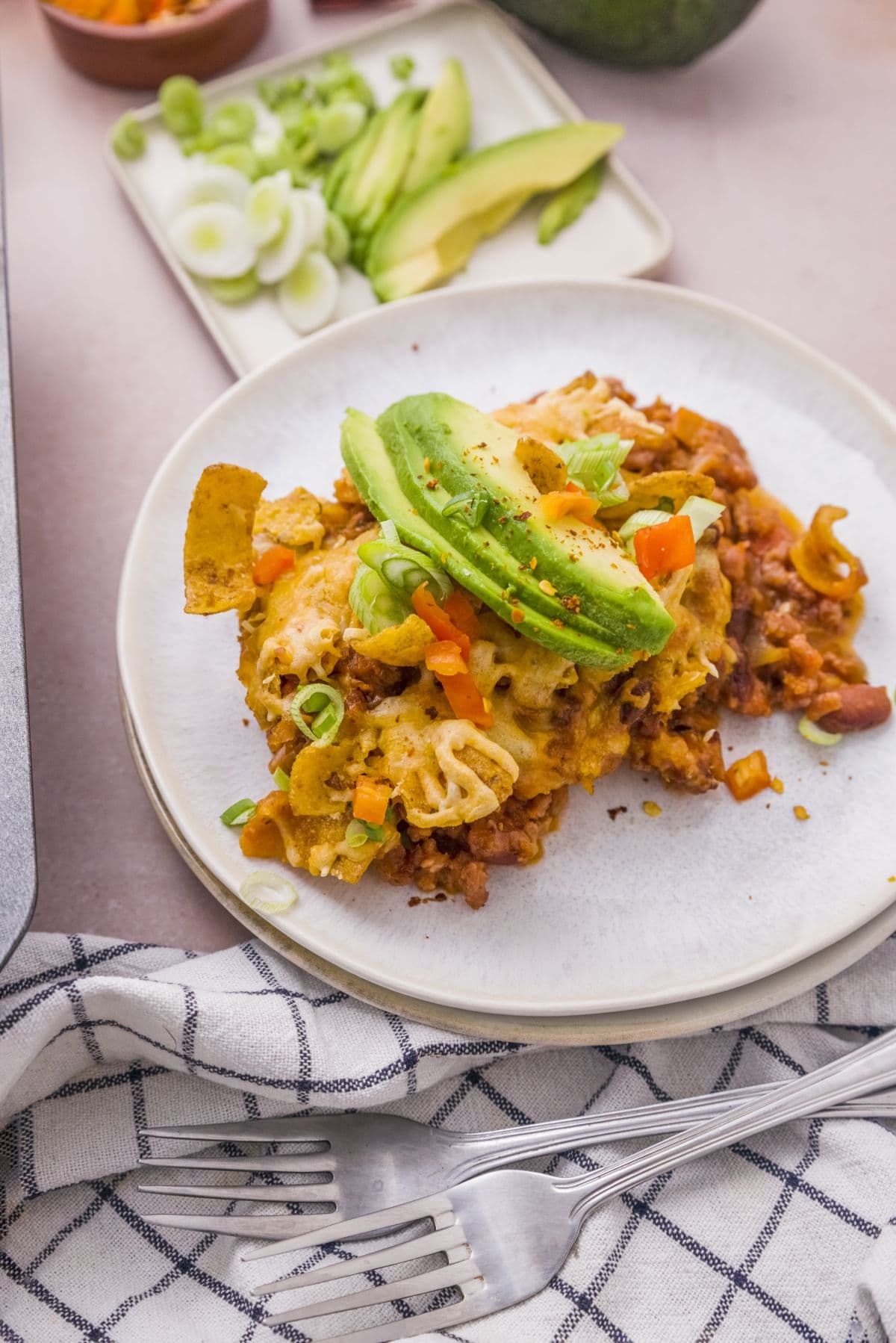 Frito Pie FAQs
What are some other dishes that are similar to Frito pie?
A popular dish similar to Frito pie is chili cheese fries. It consists of fries topped with chili and melted cheese, often including jalapenos, onions, and sour cream as toppings. Another dish similar to Frito Pie is nachos. This Tex-Mex classic consists of chips loaded up with melted cheese and other toppings of your choice, such as meat, jalapenos, tomatoes, beans, and salsa.
Can I use a can of chili instead of making it homemade?
Yes, you can use a can of chili for your Frito pie. But making the chili yourself will taste fresher and give you more control over the flavors.
How do I store leftovers of Frito pie?
It's better to eat Frito pie right after being made, but you can store leftovers in airtight containers in the fridge for up to a week.
Bottom Line
Frito pie is a complete and easy meal that is sure to please everyone. Filled with Mexican flavors, it's the perfect combination of crunchy Frito chips, chili, and melted cheese. Be sure to customize your Frito pie by adding in your favorite ingredients and toppings for a unique spin on this classic dish.
Print
Frito Pie
Super delicious and flavor-filled frito pie. Tender and flavorful chili cooked to perfection and filled with Mexican flavors topped up with crunchy frito corn chips and melted cheese.
Author: LINDSAY DELK
Prep Time:

15 minutes

Cook Time:

35 minutes

Total Time:

50 minutes

Yield:

6

servings

1

x
Category:

Main meals

Cuisine:

Tex Mex
1 pound ground beef

1 white onion

1 red bell pepper (small)

1 green bell pepper (small)

2 cups cooked pinto beans /black beans

2 cups canned tomato puree (not from concentrate)

2 tablespoons olive oil

1 teaspoon salt

1 tablespoon taco seasoning

2 garlic cloves

2 cups shredded cheddar and mozzarella cheese

2 cups frito corn chips
Toppings:
spring onion

avocado

cilantro

sour cream
Instructions
Preheat the oven to 395F.

Dice the onion and peppers thinly. Mince the garlic cloves. Set aside.

In a big pan add some of the olive oil and add the diced onion and the minced garlic to it. Season with a bit of salt and let cook until golden and fragrant.

Add the peppers to the pan and cook for additional 5 minutes.

Add the ground meat to the pan and season it with salt and taco spices. Cook until browned, making sure to break any possible lumps it might form.

Add the tomato and the beans to the pan and mix well. Let cook for 15 minutes on low.

Add the cooked chili to the baking dish or sheet pan and spread it evenly.

Cover with a layer of frito corn chips and another one of shredded mozzarella and cheddar cheese.

Bake in the oven until the cheese has melted (10 minutes)

Serve with the toppings of your choice.
Notes
This dish is perfect to bring to potlucks and family gatherings. Is very easy to make and can feel easily a lot of people.
It's better to eat right after being made, but leftovers are good for a week in the fridge in sealed containers.