Chimichurri steak is a classic Argentinian dish. The steak is cooked as you like it and topped with chimichurri sauce. The chimichurri sauce is packed with zesty herbs and bold spices that come together to create an unforgettable flavor experience.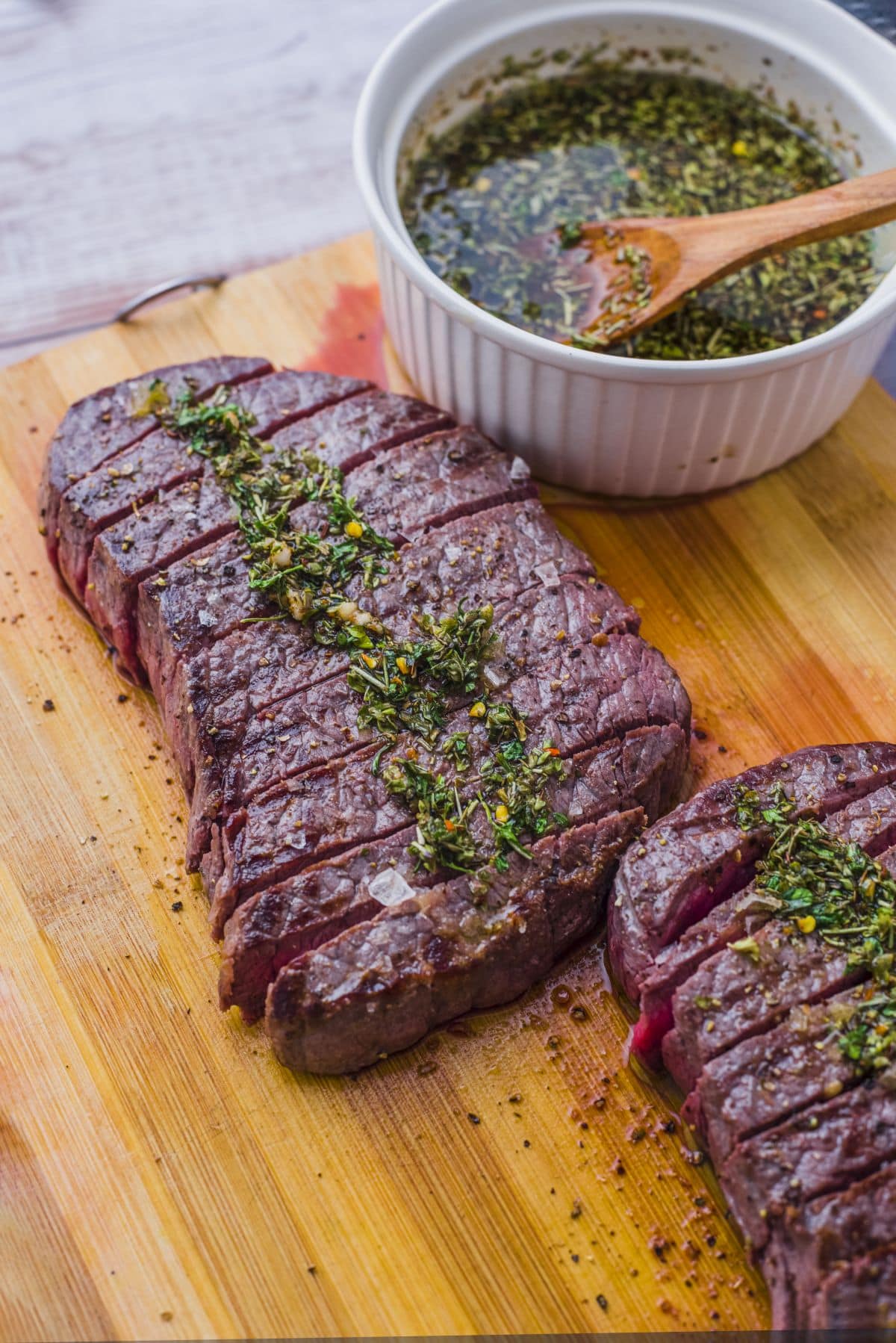 Why You'll Love this Chimichurri Steak
Chimichurri sauce originated in Argentina and is a mixture of wine vinegar, garlic, parsley, and oregano. Argentina is also known for its outstanding beef. So chimichurri steak is the best of Argentina.
This dish is perfect for an easy weeknight meal or an impressive dinner with guests. Plus, it can be made in under 30 minutes, making it even more convenient.
Is this Recipe Healthy?
Steak is a great source of protein and essential vitamins and minerals. Steak is high in vitamin B6, vitamin B12, iron, selenium, and zinc.
When it comes to choosing a steak for maximum health benefits, leaner cuts are better. Look for steaks that have the least amount of fat marbling, such as top sirloin and tenderloin. Remove and discard any visible fat. And keep your portions moderate.
Chimichurri steak adds even more health benefits by providing a rich source of herbs and spices like parsley, oregano, thyme, rosemary, and red chili flakes that are full of antioxidants that can help reduce inflammation.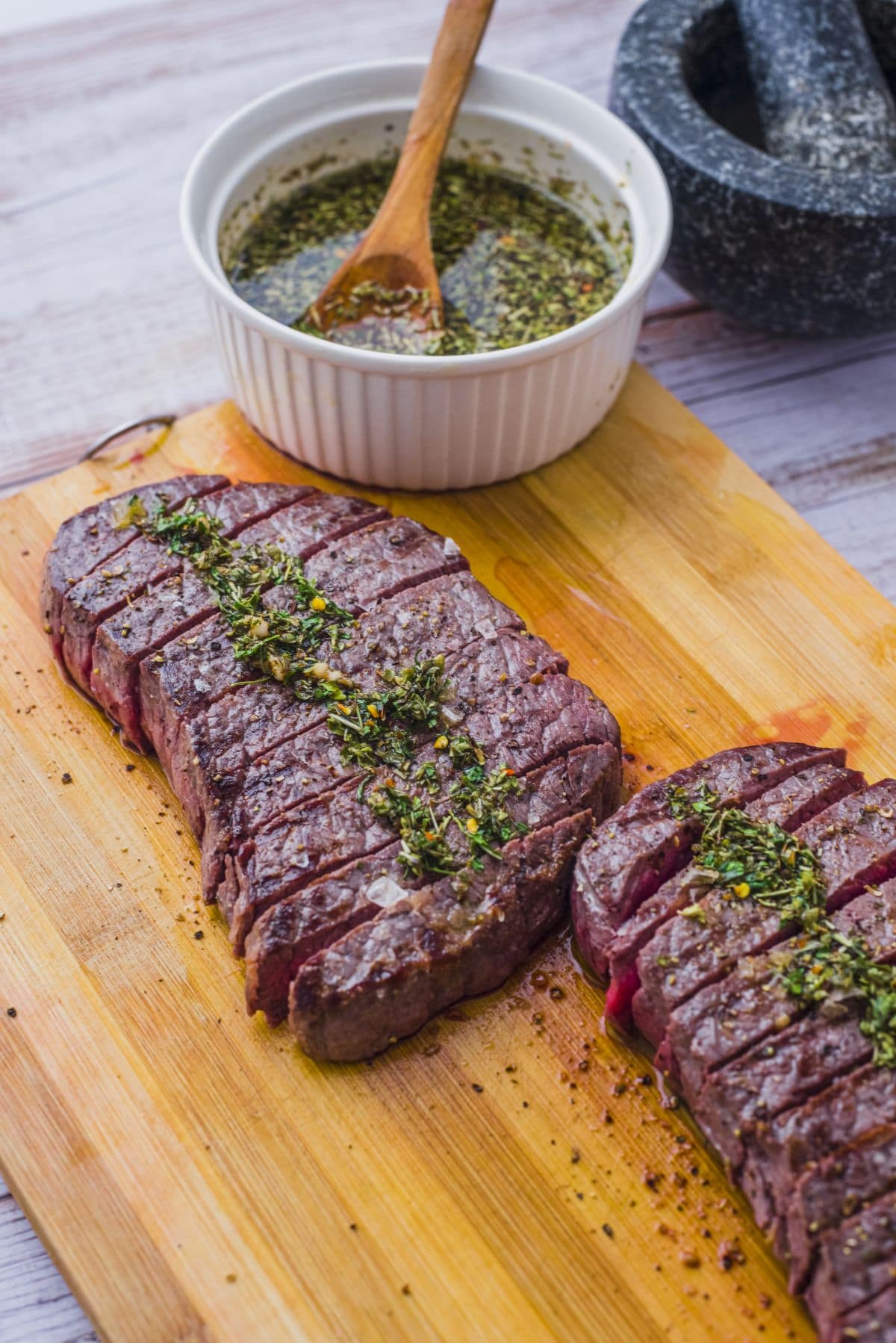 How to Make Chimichurri Steak
Cook the steak:
Take the steaks out of the fridge 1 to 2 hours before cooking to reach room temperature. This will make the fibers softer, and it will be easier to cook the steak to your liking.
Season both sides of the steaks with salt and pepper. Set aside.
Heat the grill pan on high heat.
Add the seasoned steaks and cook to your liking. For rare, cook about 1 ½ minutes per side. For medium rare, cook about 2 minutes per side. For well done, cook about 4 to 5 minutes per side. Adjust the cooking times as needed based on the thickness of the steaks.
Prepare the sauce:
Peel the garlic cloves and mince as fine as possible.
Add the minced garlic, olive oil, white wine vinegar, thyme, rosemary, oregano, parsley, salt, chili flakes, and smoked paprika powder to a bowl. Mix well and set aside.
Serve:
Serve the steaks with the chimichurri sauce on top or on the side.
Sprinkle with Maldon salt.
Tips and Variations for Chimichurri Steak
Chimichurri steak is a versatile dish, and there are many variations you can try:
Use the beef cut of your preference. The leanest steaks will be sirloin tip, top round, eye of round, and top sirloin. The fattiest steaks will be New York strip, T-bone, and rib eye.
Try marinating your steak in chimichurri sauce overnight for an even bolder taste.
Use extra chimichurri sauce with other dishes or types of meat, such as pork or chicken.
Try using apple cider vinegar instead of wine vinegar for a more pronounced flavor. Be careful not to use too much or it can overpower the rest of the ingredients.
Use rice vinegar as another perfect option.
If you're looking for more texture, add chopped tomatoes or bell peppers to the sauce.
Change up the herbs and spices in the chimichurri sauce. One option is lemon, honey, and mint.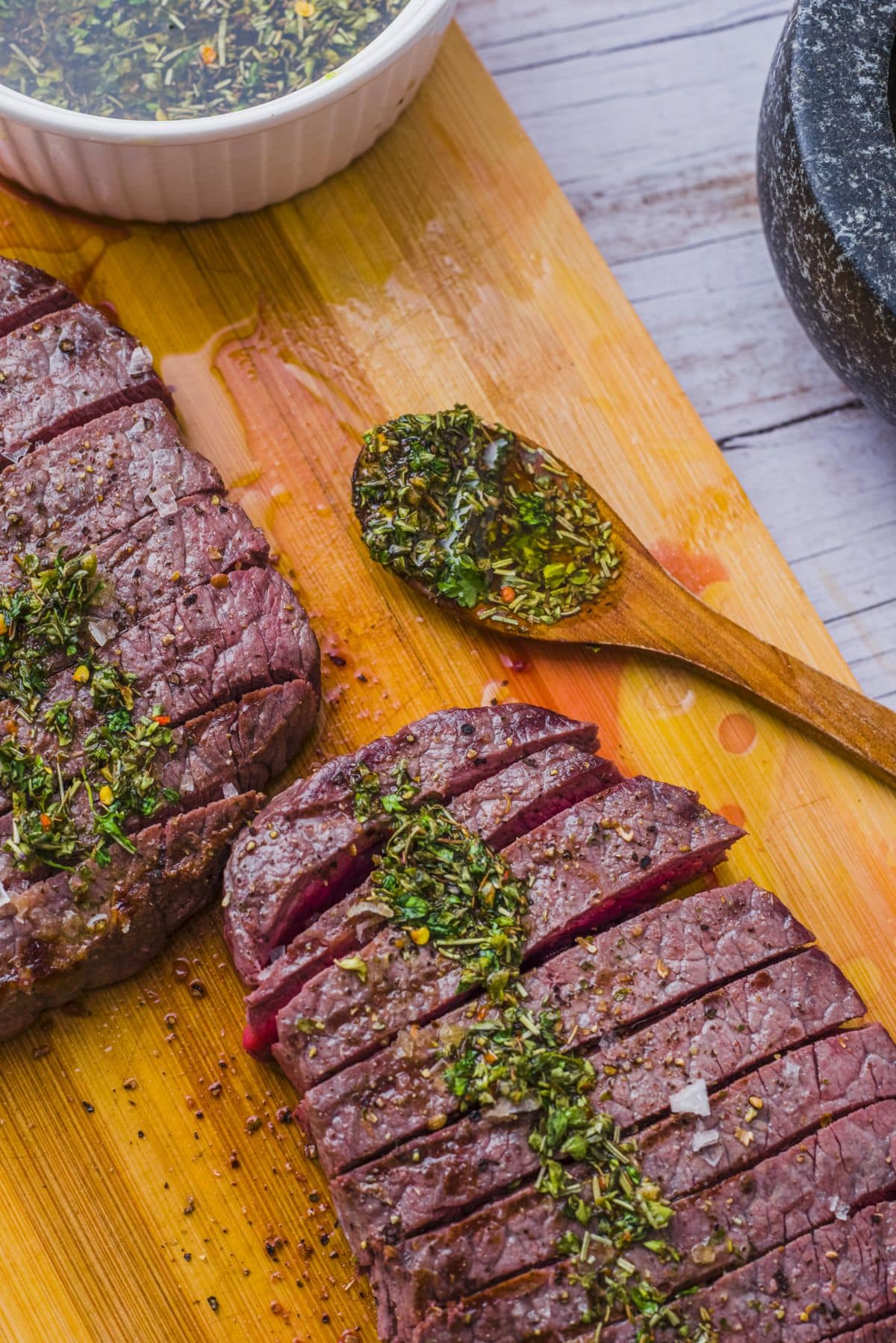 Side Suggestions
Chimichurri Steak FAQs
What if I don't have a grill pan?
There are several alternatives to using a grill pan for cooking steaks. You could use a cast iron skillet, which will provide you with searing heat and excellent browning of the steak. You can also cook steaks on a stovetop griddle or in an oven-safe skillet on your oven's broiler setting. If you have access to an outdoor grill, that is also an option for cooking steaks.
What is Maldon salt?
Maldon salt has been produced in Maldon, England since 1882. It is a popular finishing salt known for its distinctive pyramid-shaped flakes. It has a delicate texture and mild flavor. The flavor of Maldon salt adds an extra element to chimichurri steak that can't be found in regular table salt.
What is a good substitute for Maldon salt?
Good substitutes for Maldon salt are flaky sea salt, Himalayan pink salt, fleur de sel, and kosher salt. Most of these salts are similar in texture to Maldon and have a milder flavor, making them good for sprinkling on the steaks before serving. They also add some visual appeal to your steaks.
How do I store leftover chimichurri steak?
You should eat the steaks right away, but you can store any leftover chimichurri in a sealed container in the fridge for up to 7 days.
Bottom Line
Chimichurri steak is a dish that is sure to impress your guests. With its fresh herbs and spices, the chimichurri sauce adds bold flavor to any cut of steak. By using simple ingredients like garlic, vinegar, herbs, and seasonings, you can whip up this classic Argentinian dish in no time.
Print
Chimichurri steak
Super flavorful steak cooked to perfection with a delightful chimichurri sauce to die for.
Author: LINDSAY DELK
Prep Time:

15 minutes

Temper Time:

1-2 hours out of the fridge depending on your cut and type of meat.

Cook Time:

Depending on your liking and thickness of the cut: Rare 1'5 mins per side. Medium rare 2 mins per side. Well done: 4-5 mins per side.

Total Time:

2 hours

Yield:

2

servings

1

x
Category:

Beef / easy meal recipes

Cuisine:

International
1 steak per person (approx 55-66 lbs/ 250-300 gr per steak)

salt and black pepper to season the steaks (adjust to your liking)

Maldon salt crystals to finish it up once cooked.
For the chimichurri sauce:
½ cup olive oil

⅓ cup white wine vinegar

2 garlic cloves

1 tablespoon dried thyme

1 tablespoon dried rosemary

1 tablespoon dried oregano

1 tablespoon dried parsley

1 teaspoon salt

1 teaspoon chili flakes (or more depending on your liking)

1 teaspoon smoked paprika powder
Instructions
Start by taking out of the fridge the steaks and leaving them out for 1-2 hours beforehand, this way they will reach room temp so the fibers will be softer and be cooked to your liking easier.

Season the steaks with salt and pepper on each side. Set aside.

Put the grill pan into the stove on high heat.

Add the seasoned steaks and cook according to your liking.

Prep the sauce:
Peel and mince the garlic cloves as fine as possible. Remove the central germ to make the flavor less pungent.

In the bowl add the minced garlic, olive oil, white vinegar, dried herbs, and salt.

Mix well and set aside.
Serve the steaks alongside the sauce or with the sauce on top and a sprinkle of Maldon salt.
Notes
This recipe can be made with the cut of your preference. I used flank steaks.
This chimichurri sauce can be made to use in many other dishes or types of meat and is really good with sausages, pork or chicken. It can be also made with apple cider vinegar, but that vinegar has a more pronounced flavor that can overpower the rest of the ingredients, that's why white vinegar is the perfect option (rice vinegar is a perfect option for this)
The steaks should be eaten right away, but any leftover sauce can be stored for up to 7 days in the fridge in a sealed container.