You can enjoy tomatoes in many different ways. You can eat them raw, cooked, or in a sauce. When you are cooking with tomatoes, you may have to choose between tomato paste and tomato sauce. Both of these ingredients have their own unique flavors and purposes in the kitchen. Understanding the differences between tomato paste vs sauce will help you make the best choice for your next recipe.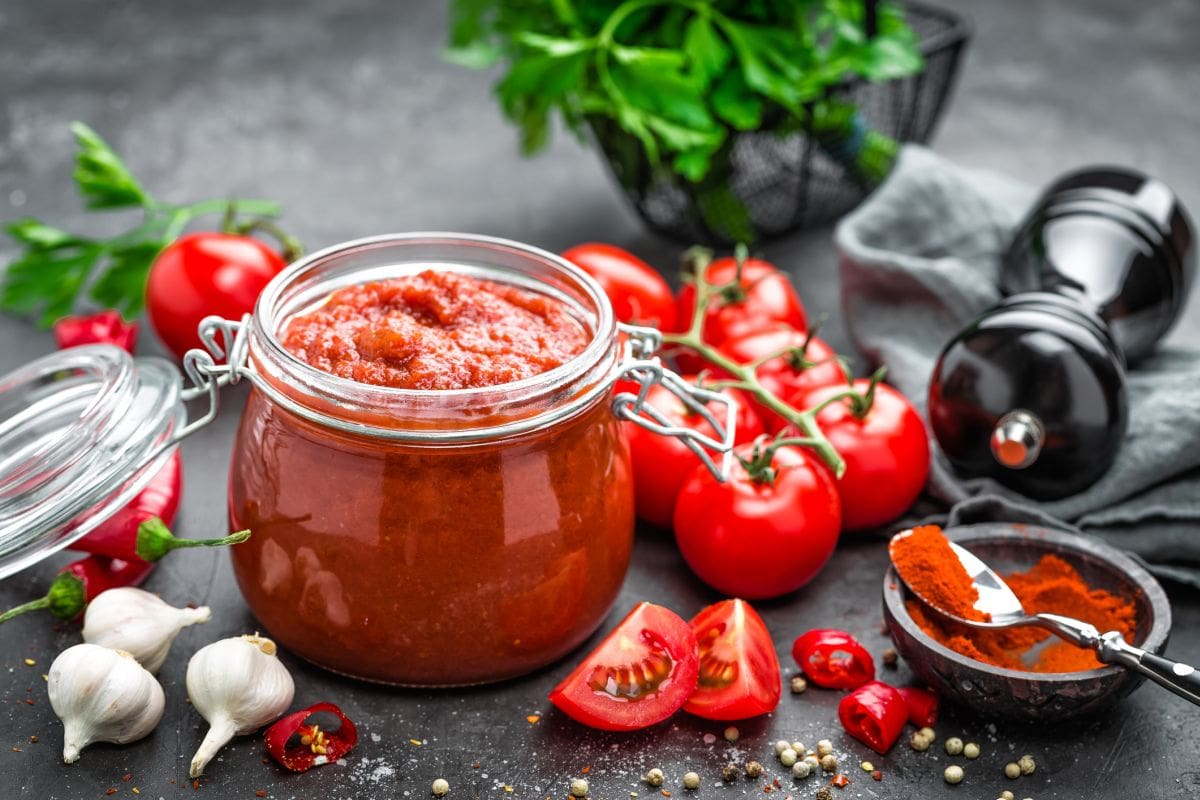 What Is Tomato Paste?
Tomato paste is a thick concentrate made from cooked and strained tomatoes. It comes in a tube or can, and you can use it as a flavoring ingredient in sauces, soups, stews, and other dishes.
Tomato paste is made by cooking tomatoes for several hours to remove moisture and then straining out the seeds and skin. The resulting thick, rich paste can be canned or packaged for future use.
When shopping for tomato paste, look for brands with minimal additives and preservatives for the best taste. Some varieties are even available in convenient squeeze tubes for easy measuring and use.
To make your own tomato paste at home, start by simmering chopped tomatoes until they have broken down and reduced in volume. Then strain the mixture through a fine mesh sieve or food mill before spreading onto a baking sheet. Roast in the oven until it reaches a thick, concentrated consistency. You can store this homemade version in the refrigerator or freezer for later use.
What Is Tomato Sauce?
Tomato sauce is a basic, traditional tomato-based sauce made with crushed or puréed tomatoes, olive oil, garlic, and herbs like basil and oregano. It can be used as a base for other sauces or as a simple topping for pasta dishes. It can also be used in casseroles or as a dipping sauce for bread or vegetables. With its versatile nature and delicious flavor, tomato sauce is a kitchen staple for many home cooks.
Canned tomato sauce is made by cooking tomatoes, straining out the chunks, and adding seasonings, such as salt, sugar, and herbs. Some manufacturers may also add other ingredients such as onions, garlic, and spices to enhance flavor.
You can make homemade tomato sauce by cooking down fresh or canned tomatoes with your desired seasonings until it has thickened a little. If you want your tomato sauce to be smooth like the canned versions, you can blend it with a blender, food processor, or immersion blender until it reaches your desired consistency.
Tomato Paste Vs Sauce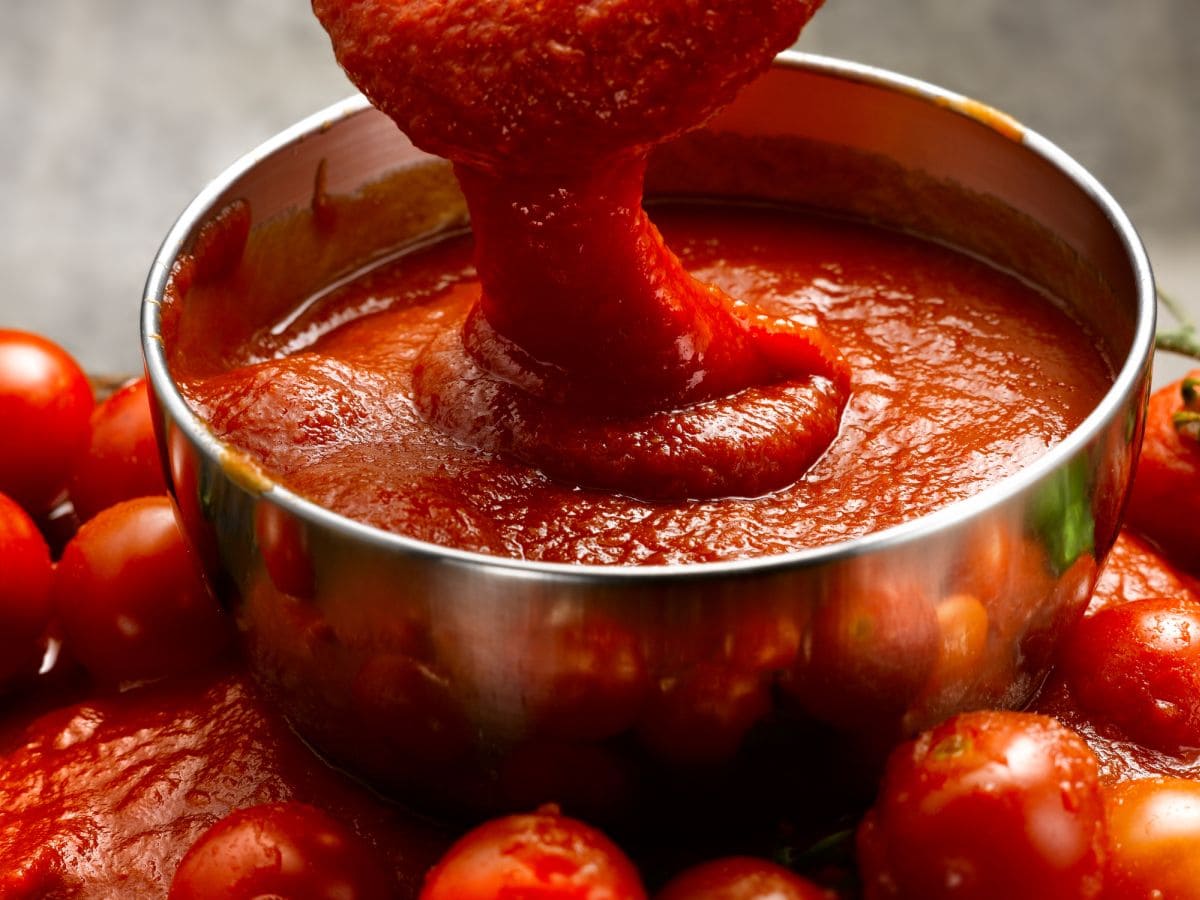 The main difference between tomato paste and tomato sauce is the concentration of tomatoes. Tomato paste is made by cooking tomatoes for several hours to reduce the water content, resulting in a thick, intense paste. But tomato sauce has a thinner consistency and often contains extra ingredients, such as onions, herbs, and spices.
Tomato sauce is often used as-is in dishes like spaghetti or lasagna. Tomato paste is used as a base or flavoring for soups and stews to add depth of flavor. It differs from tomato sauce in that it has a deeper and more intense flavor as well as a darker red color. It also tends to have a higher concentration of tomato solids.
Can You Make Tomato Sauce Out of Tomato Paste?
It is possible to substitute tomato paste for tomato sauce, but keep in mind that the texture and flavor may be a little different. You can make a simple tomato sauce out of tomato paste by diluting the paste with water or broth and cooking it with extra seasonings, such as garlic, onion, and herbs. This technique is sometimes used in Italian cuisine to create a quick and easy tomato sauce.
Keep in mind that the resulting sauce may not have the same depth of flavor as a sauce made from fresh tomatoes. And it is important to adjust the seasoning and consistency to your preference since tomato paste tends to be more concentrated in flavor and thicker in texture than traditional tomato sauce.
Experiment with different ratios of paste to liquid and taste as you go until you achieve your desired result. It will depend on your personal preference and the specific recipe you are using.
It is not recommended to substitute tomato sauce for tomato paste as it will result in a too-watery and underseasoned dish.
Is Tomato Sauce the Same as Pasta Sauce?
The simple answer is no. While tomato sauce is often used in pasta dishes, it is not the same as traditional pasta sauce. Tomato sauce contains just tomatoes, oil, and herbs, while pasta sauce can include a variety of ingredients, such as meat or vegetables. Tomato sauce is also thicker and smoother in texture, while pasta sauce tends to have a chunkier texture.
Despite the differences, the terms "tomato sauce" and "pasta sauce" are often used interchangeably. So it's important to read the ingredients before purchasing a sauce at the grocery store.
Bottom Line
Both tomato paste and tomato sauce can be valuable ingredients in your kitchen. Tomato paste is made from tomatoes that have been cooked down until they are a thick consistency. Tomato sauce is made from crushed tomatoes and has a thinner consistency than tomato paste.
Experiment with using tomato paste vs sauce in different ways in your recipes to add rich tomato flavor to your meals. The next time you're cooking up a storm in the kitchen, don't forget to add a touch of tomato paste or sauce for added depth and flavor.