What is flank steak, and what is the best flank steak substitute? There are several different flank steak substitutes that are just as delicious as the original. So whether you're looking for a cheaper alternative or you're out of flank steak, these flank steak alternatives will definitely come in handy.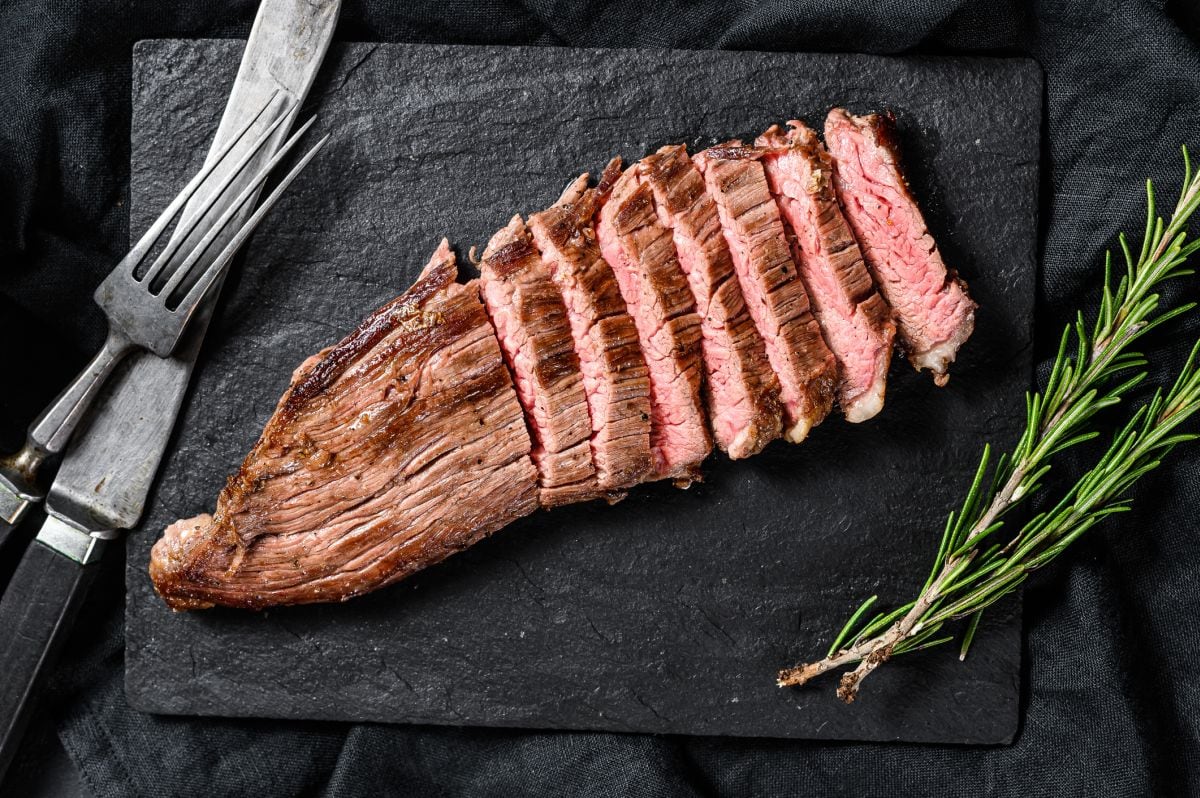 What Is Flank Steak?
Flank steak is a lean cut of beef that comes from the abdominal muscles of the cow. It has a strong flavor and is best when cooked over high heat for a short time, either grilled or broiled. When sliced against the grain, flank steak can be very tender.
Some popular ways to prepare flank steak include marinating and then grilling or slicing into thin slices for use in fajitas or stir-fries. You can also tenderize flank steak by pounding it with a meat mallet or marinating it in an acidic liquid, such as citrus juice or vinegar.
When shopping for flank steak, look for a cut that is reddish-pink in color with some visible marbling throughout. The meat should feel firm but not tough. Avoid any pieces with excess fat or gristle. You can buy flank steak at most grocery stores and butcher shops.
The Best Flank Steak Substitute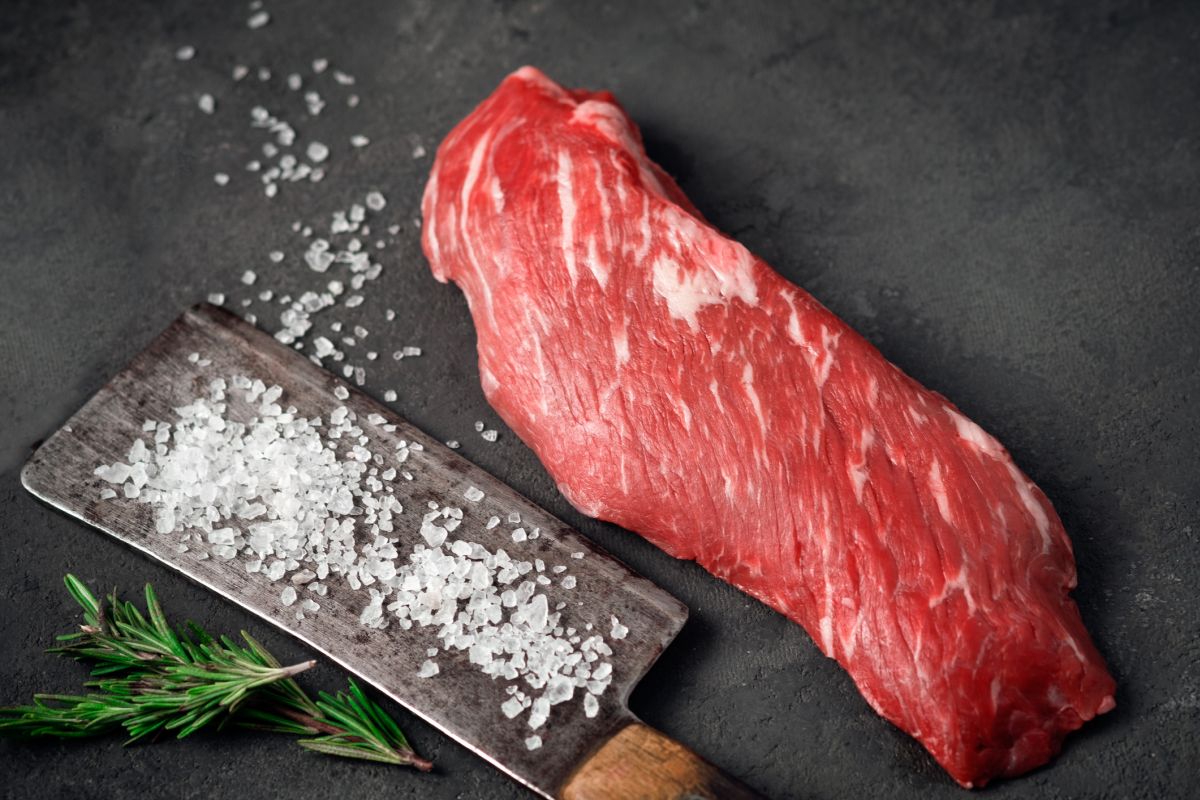 Skirt steak and hanger steak are similar cuts to flank steak. They are all best cooked over high heat, either grilled or pan-seared. You can use marinades and dry rubs to add flavor before cooking. These cuts are best served sliced against the grain for maximum tenderness. You can slice the steak and use it in dishes like fajitas or stir-fry.
The tri-tip is a cheaper alternative to flank steak. The tri-tip is cut from the bottom sirloin and has a similar flavor profile to flank steak but with more marbling.
How To Prepare Flank Steak or a Substitute
When preparing flank steak, it is important to slice it against the grain for the most tenderness. To do this, look for the lines of muscle fiber running through the meat and slice perpendicular to them.
Cook flank steak to an internal temperature of 145 degrees F for medium-rare, or 160 degrees F for medium. Let the meat rest for at least 5 minutes before slicing and serving. Store leftover flank steak in the refrigerator for up to 3 days or frozen for up to 3 months.
What Is Another Name for Flank Steak?
Flank steak is also referred to as London broil or jiffy steak. It can also be called bavette or fajita meat, particularly in French and Mexican cuisine. In British and Australian butcher shops, it may be labeled as "butcher's heart" or "outside skirt."
Is Flank Steak the Same as Skirt Steak?
Flank steak is often confused with skirt steak. But they come from different parts of the cow and have different flavors and textures. Both cuts are best when cooked for a short time over high heat, but skirt steak may benefit from longer marinating time to tenderize. Flank steak is also more expensive than skirt steak.
Flat Iron Steak Vs Flank Steak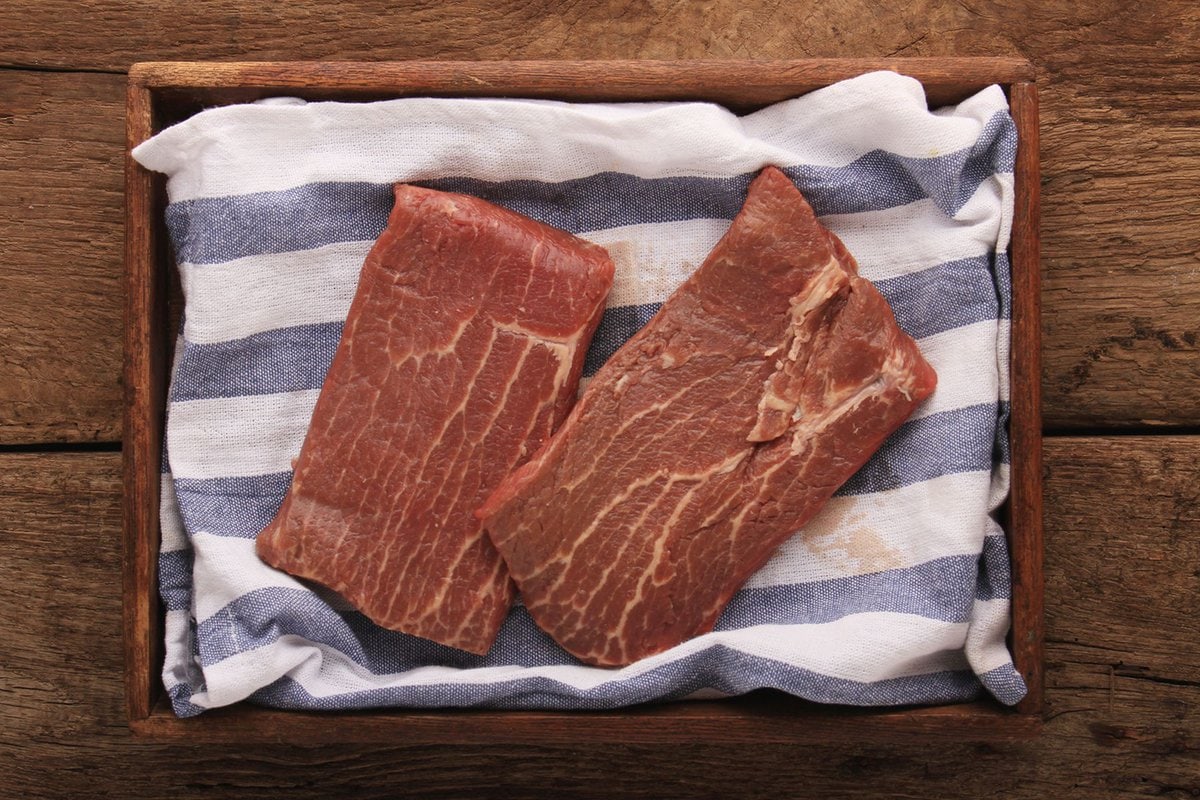 The flat iron steak, also known as top blade steak, is a newer cut of meat. It was discovered in the 1990s. It comes from the shoulder of the cow and is well-marbled with fat, resulting in a tender and juicy steak.
Flank steak comes from the abdominal muscles of the cow. It has a bolder beef flavor but can be tougher if not cooked the proper way. To ensure optimal taste and texture, flank steak should be cut in thin slices against the grain before serving.
When making your decision between these two cuts of meat, it comes down to personal preference. The flat iron steak might be a better option for those who prefer a tender and juicy steak, while the flank steak is ideal for those who enjoy bold beef flavor. Whichever one you choose, remember to slice thinly against the grain for the best results.
Is Flank Steak Lean?
Flank steak is considered a lean cut of meat because it has less than 10 grams of fat per serving. But it's important to note that the fat content can vary depending on the specific animal and how it was prepared. It is best to trim any visible fat before cooking to ensure a leaner finished dish. Flank steak is a good choice for those looking for a lean cut of meat.
Bottom Line
So what is the best flank steak substitute. Skirt steak, hanger steak, or tri-tip are great alternatives to flank steak. Try mixing up your usual steak routine by swapping in a skirt steak, hanger steak, or tri-tip the next time you fire up the grill.