What is baby led weaning and why should you choose this method of introducing solids to your little one? Learn the dietitian-approved benefits of baby led weaning and decide if it's right for you.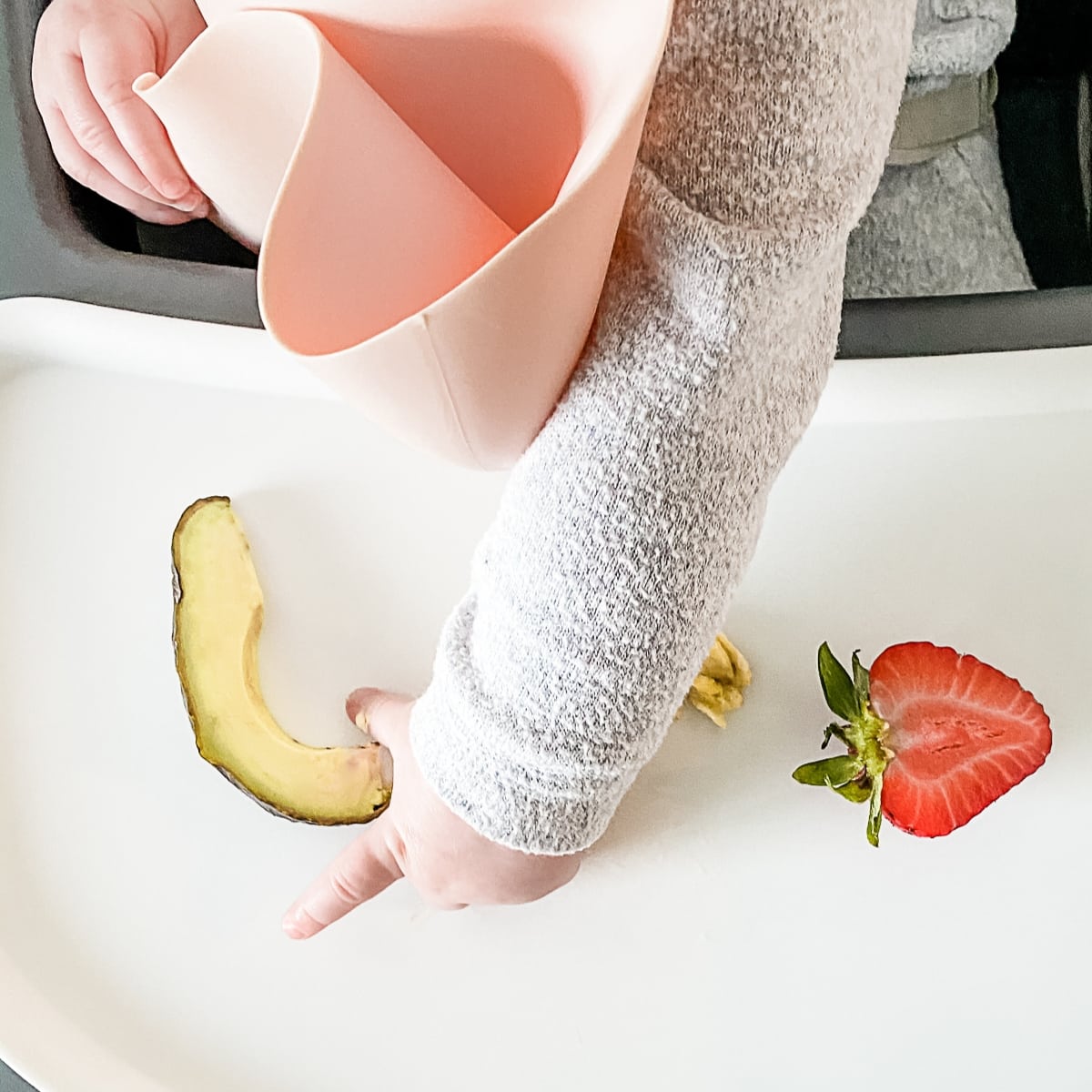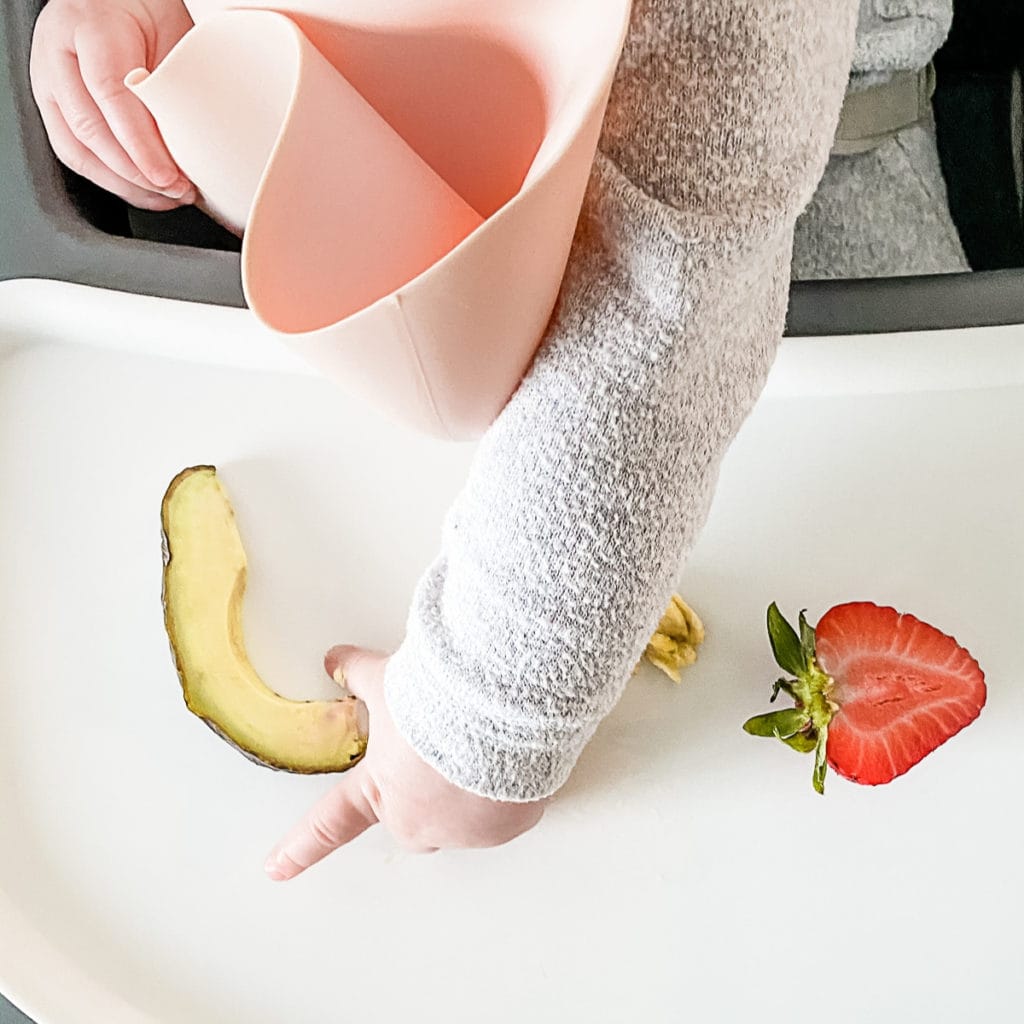 Baby led weaning is super trendy right now with new parents. If you or someone you know has an infant, it's likely you've heard the term.
But what exactly is baby led weaning?
Baby led weaning, also called self-feeding, is an approach to starting solids that skips the purees and spoon feeding altogether and goes straight to finger foods. With the baby led weaning approach, babies are guided by their own hunger and fullness cues, and use their hands to pick up appropriate foods and put them in their mouths themselves.
It may seem counterintuitive if all you've ever known is purees for baby, but if you think about it, it's not a new concept. How did babies learn to eat before the invention of rice cereal and purees? By eating soft foods that their parents ate! I'm honestly all for the self-feeding approach, as many dietitians are. We used the baby led weaning approach with Queen C and were very successful, and we've just started it with Little M as well. This post will introduce you to the benefits of baby led weaning and how to decide if it's the right method for you.
Benefits of Baby Led Weaning
Why baby led weaning over the puree method? There are many benefits of baby led weaning.
Here are a few key advantages:
Improved dexterity and oral-motor development skills
When babies are allowed to feed themselves, they start practicing their motor development skills for feeding right away. That means they get to use and refine their hand-eye coordination, pincer grasp, and even using utensils multiple times a day, as well as chewing and swallowing skills, so they develop in these areas more quickly.
Exploration and Discovery
With baby led weaning, babies get to spend a lot of time exploring different tastes and textures of foods versus single food purees with limited seasoning, which leads to…
Less Picky Eating
Because BLW babies get to experience so many different foods, flavors and textures, they are more likely to be adventurous eaters as toddlers and kids, leading to less picky eating.
Increased Nutritional Value
Baby led weaning introduces fresh, whole foods that the rest of the family is eating, which means bite for bite, baby is getting more nutrients packed into a single bite than with watered-down or shelf stable purees.
Convenience For Parents
No blending, freezing, baby food jars, or expensive pouches. Baby eats what you eat! Parents simply offer texturally and nutritionally appropriate foods from their plates to babies. Not only is it easier for parents because they don't have to prepare an extra meal, it's also less expensive.
Setting The Stage For A Positive Relationship With Food
Because babies feed themselves with BLW, they start to develop eating patterns based on appetite rather than external factors (spoons of purees being shoved in their mouths). This means they are more likely to respond to hunger and fullness cues, setting the stage for life-long habits of self-regulation and body trust. It's teaching babies to eat intuitively right from the start.
Encourages a Low Stress Meal Time
Allowing baby to participate in mealtimes as a member of the family who feeds himself is not only a better mealtimes experience for him, it's also a better experience for the parents. Parents get to enjoy their meals together with the family, rather than spoon-feeding baby while the rest of the family eats. There is no pressure for baby to eat a certain amount, and parents have their hands free to eat their own meals. BLW creates a low-pressure, more enjoyable environment for the whole family.
Is Baby Led Weaning Right for You?
If you are looking for an approach to starting solids that is easier, less stressful, and less expensive for you as a parent, and that helps your baby develop motor skills, body trust, and a wide range of food experiences, then YES, baby led weaning is right for you!
However, baby led weaning may not be right for you if baby was born extremely premature, has a severe tongue or lip tie or other facial deformity, or has developmental delays. That doesn't mean you can't do BLW, though. In these instances, it's best to seek an evaluation from a speech and feeding therapist to see if you are able to try BLW safely. It also may not be the best approach for you if parents aren't usually present at mealtimes and caregivers are uncomfortable with trying it, if both parents are not on board, or if the parent has extreme anxiety about choking (though the risk for choking is the same whether you are feeding purees or baby-appropriate finger foods).
The good news is that baby led weaning doesn't have to be an all or nothing approach! You can still teach baby to pick up and eat soft finger foods and respond to their hunger and fullness cues while feeding some purees, too. It's all about what works best for your family.
If you have further questions, feel free to ask them in the comments, and be looking for more BLW posts in the near future!
Resources
https://pubmed.ncbi.nlm.nih.gov/25623385/
https://pubmed.ncbi.nlm.nih.gov/24347496/