A negative relationship with food can lead to a lifelong struggle with body, weight, and diets. Help your kids foster an easy, healthy relationship with food with these dietitian approved tips.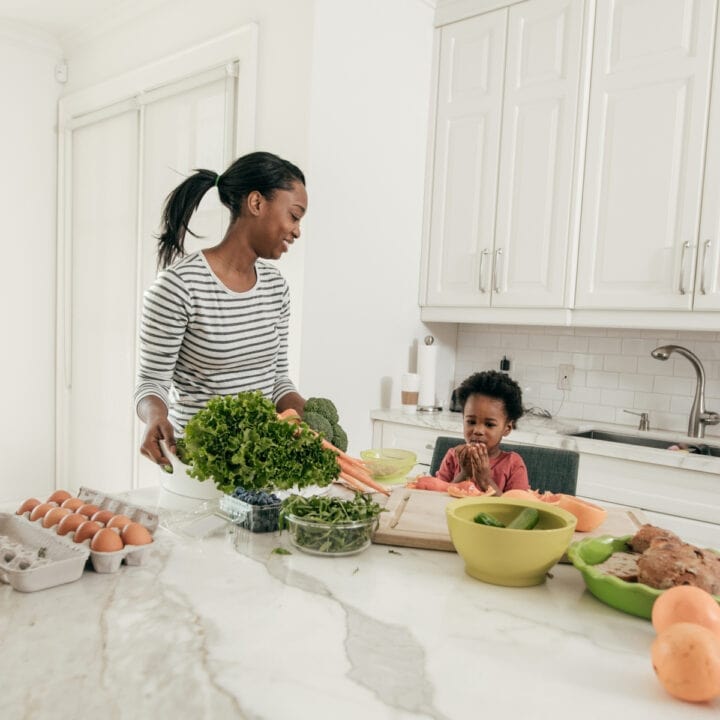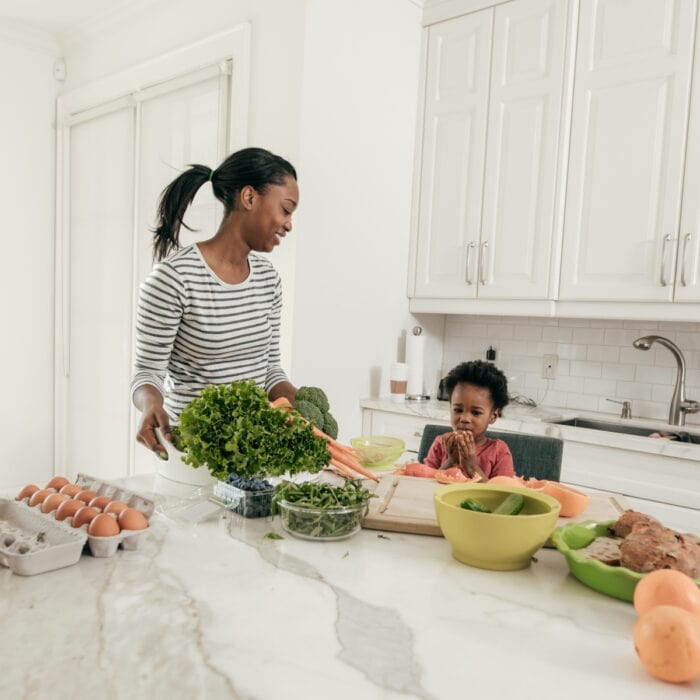 So many adults I know either have or have had a disordered relationship with food, and it's not hard to see why. Our society puts thinness on a pedestal and equates a small body with health. A preoccupation with food and body has led many of us to struggle with guilt and anxiety around food for years or even decades, and we want better for our kids. We want them to have an easy-going attitude toward food where making the choice of what to eat for lunch is just that - a simple choice that takes a split second and there is no guilt or agonizing over calories. And they can absolutely have that - after all, nobody is born with a disordered relationship with food. It's learned. As parents, we have a lot of influence over the way our kids view food and their bodies, and it's our job to help foster a healthy relationship with food from the start.
Here's how we can help our kids develop a healthy relationship with food for a lifetime of stress-free eating.
Start When They're Young
Babies are born eating intuitively, so why not capitalize on that and help them maintain that innate pattern of eating instead of having to reteach those skills? Help baby maintain trust in their bodies' hunger and fullness cues by taking a responsive feeding approach when baby starts solids. I prefer the baby led weaning approach, where babies feed themselves and don't have a spoon being forced into their mouths, but you can feed responsively if you're feeding purees, too. The main point is to watch baby's cues and stop feeding when they show signs of being full and satisfied instead of forcing them to finish their portion of food if they aren't into it.
If you want to learn more about feeding babies to be intuitive eaters, I highly recommend the book Born to Eat.
Respect Their Hunger Levels
While we mean well when we say things like, "Take one more bite," we're really overriding our children's natural hunger and fullness cues when we push food on them or don't allow them to have more food. Kids' appetites vary greatly from meal to meal and day to day, and we need to help them develop trust in their own internal hunger and fullness cues. Avoid the 'clean your plate' rule, try not to push food when kids say they're full, and allow seconds or even thirds if kids are still hungry. That doesn't mean allowing them to eat snacks freely only to ignore their dinner. Look at it like this: As parents, we decide what food to serve and when (try to include at least one food you know your child likes), and they decide how much to eat at each occasion. You'll start to notice that even if they don't eat great at a couple of meals, they'll probably make up for it at another meal soon. You can also encourage children to notice how their bellies feel when they are hungry or full. By allowing our kids to control how much they eat, we can help them feel natural hunger and fullness and practice listening to their bodies.
Don't Label Foods As 'Good' Or 'Bad'
As a dietitian, I know that preach that all foods can fit within a healthy diet. That doesn't mean I want my kid to eat m&ms for breakfast every day, but there is a time and place for all foods, and kids (and everyone else) shouldn't be made to feel guilty for enjoying a less nutrient-dense food like a donut or a cupcake, just like they aren't virtuous for eating their vegetables (although we certainly want them to!). Food has no moral value, and we want kids to know that every food can be allowed in moderation. Labeling certain foods as 'bad' or 'off limits' creates that 'forbidden fruit' complex and can lead to serious food issues like hiding food and eating in secret when taken to an extreme, or even just overeating when we do allow that food 'just this once' as many of us know all too well. Instead of saying things like "we can't eat cookies, they have too much sugar," or "you have to eat your broccoli because it's good for you," try focusing on what foods can do for our kids, for example, "eating fish makes our brains smart," and "baking cookies together is such a fun treat, isn't it?"
Avoid Using Food As Rewards
If you find yourself begging your kids to eat their vegetables, saying, "If you eat your green beans you can have some ice cream" or taking away dessert because of bad behavior, stop. Food given as a reward (or withheld as punishment) leads kids to connect certain food to emotions, seeing them as good or bad. It also lets them know that some foods are more desirable than others, and that they should expect certain foods when they do something well. This undermines the healthy relationship with food you're trying to build. Try rewarding kids with stickers or small toys, play dates with friends, quality time with you, or a fun outing they enjoy.
Set a Good Example
Kids are constantly watching and learning from us as parents, and they'll pick up on the way we speak about our bodies and other bodies. If they see mom poking and pinching her belly in the mirror, guess what they're going to do? Avoid talking negatively about your own body and about other people's bodies. Instead, actively celebrate what our bodies can do, pointing out how strong arms let you pick up your child and swing her around, or her hands help her pet her dog.
Eat Meals Together
Just like kids will pick up on our attitudes toward our bodies, they will also observe and imitate our behaviors toward food. Give your child every opportunity to see how the family enjoys a meal together without guilt or anxiety, how it is a time for conversation and enjoy each others' company. Let your kids see you enjoy nutritious foods like fruit for a snack some days, while equally enjoying a piece of cake at a birthday party. If you are relaxed around food, your child will be more relaxed around food as well.
Let Kids Participate In Food Prep
Expose your kids to a variety of foods, not just on the plate, but throughout the day. Bring them to the grocery store with you to see and pick out different foods. Let them choose part of dinner ("should we have sweet potatoes or regular potatoes tonight?") and stand at the counter and help you prepare it. Involving kids in the whole process gives them a sense of control and independence, while also learning about different foods. They'll also be more likely to eat something they helped prepare! (I love this Kitchen Helper for little ones. We've been using it daily with Queen C - she pushes it over to the counter to 'stir stir stir'.)
Fostering a good relationship with food and body in our kids is one of the most important things we can do to arm them against a culture that values thinness and eating the least over everything else. It can set a lifelong foundation for healthy habits and eating without fear or guilt. Isn't that what we all want for our kids? I know it's what I want for my two girls!