A sneak peek at what's in my hospital bag, updated for baby number 2, and suggestions for what to pack in your hospital go bag when it's time to start packing for baby's arrival!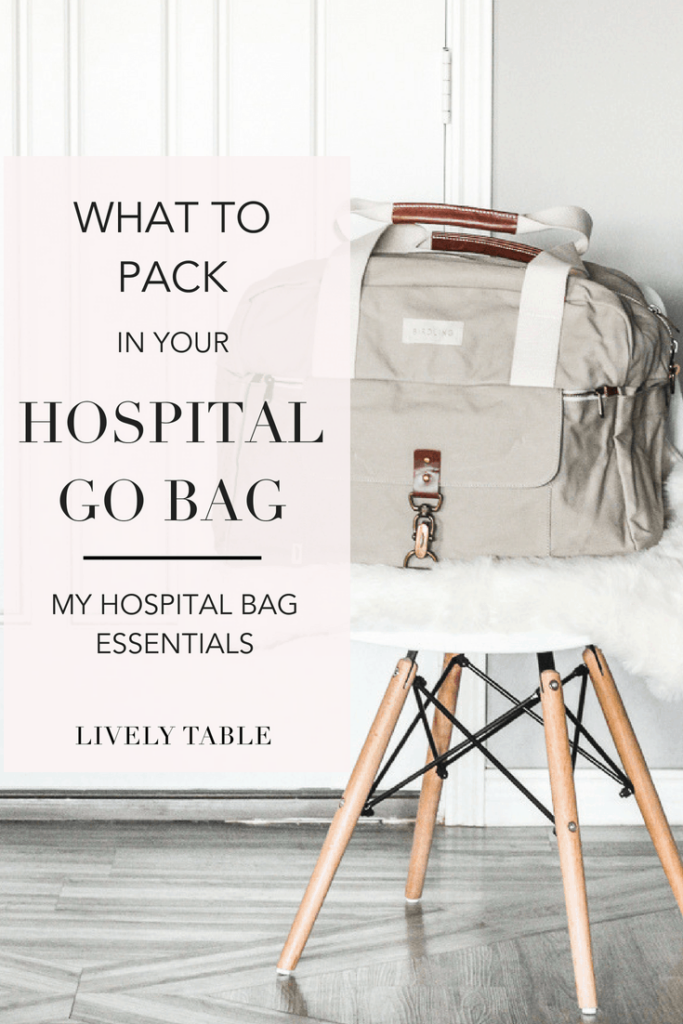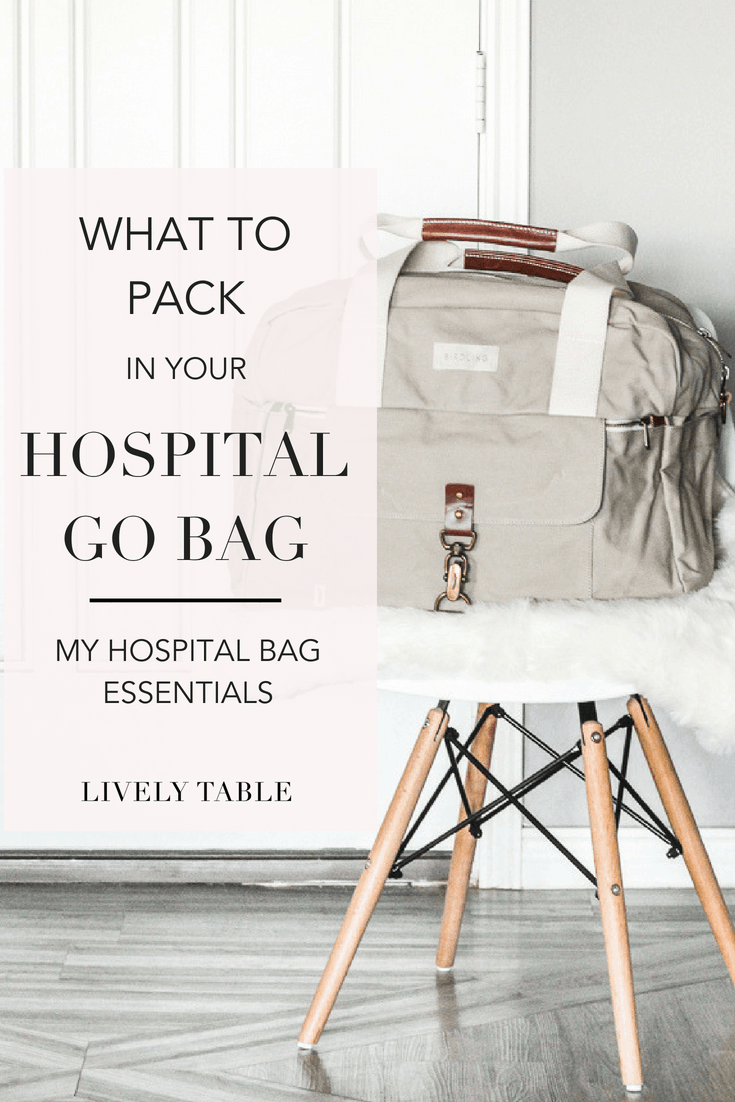 This post was originally published May 2018 and has been updated now that I actually (kind of) know what to expect at the hospital after baby number 1!
I'm a huge planner. You might have already guessed from my meal planning tendencies and just the fact that I'm a dietitian (99% of us are type-A). So it's only natural than I've been planning my hospital go-bag for months. Now that we're close to baby number 2's arrival it's time to start packing!
I'm also a bit of a minimalist. While I like having things that make me comfy, I'm a pretty light packer. Our hospital provides almost anything you need (even a diffuser and birthing balls!). So I've got the basics in my go-bag, plus a few luxuries that are essential to me. Now that I've gone through this process once, here is what I'm bringing to the hospital for the birth of baby #2.
Here's a sneak peek at what's in my hospital go bag:
The Basics:
ID and insurance card
A copy of your birth plan if you have a specific one (I didn't, so I didn't bring one)
A copy of your advance directive if you have one
Cell phone and charger
Newborn car seat for going home
Glasses
Bathroom Essentials:
The hospital will likely have toiletries for you to use, but it feels so much better having your own face wash and hair products, especially if you're into natural beauty products. These are my essentials:
Daily medications and vitamins that I take - last time around, the hospital provided my medication, but it's better to be safe.
Face wash and moisturizing oil - I'll be bringing my True Botanicals cleanser and face oil. Because they are luxurious and will make me and my skin feel more human.
Lip balm - Hospital air is so drying!
Deodorant - I love Primally Pure for a nontoxic option.
Toothbrush and toothpaste
Hair ties
Dry shampoo and hairbrush - there is no way I'm washing my hair every day while I'm at the hospital (or possibly even at all!). I'll also bring a travel size shampoo and conditioner.
Disposable underwear - Not the most glamorous, but necessary after giving birth. The mesh undies and giant pad that the hospital provide were not my favorite. I found disposable underwear (such as Depends or Always adult underwear) the easiest option. Buy them on Amazon if you want to save yourself from having to buy them in public!
Organic nipple balm - Because the first few days of breastfeeding hurt like a mother (pun intended) and the hospital only provides lanolin, which I'm not the biggest fan of. I like Earth Mama or Tubby Todd (get 10% off here with code GOODCLEANFUN10!).
Makeup - I didn't even pack my makeup bag when Queen C was born, but I will this time. It's worth it to me to feel a little more like a human by putting on a touch of makeup, especially with visitors coming and going and because I will want to take some photos, something I didn't do last time around.
Clothing:
Comfy, nursing-friendly pajamas. Something button-up and not your best PJs because they will get gross. I got ones like these from Target and they were great all throughout Queen C's first year.
A comfy nursing tank or nursing bra.
Comfy clothes or a robe to wear during the day.
An outfit for going home. I honestly didn't think about this when Queen C was born and ended up leaving the hospital in a pair of workout shorts and a t-shirt that didn't match. Not the end of the world, but some real clothes would have made me feel a little better. Your pre-maternity clothes likely won't fit just yet, so bring a comfy dress, leggings and a cute top, or some of your bigger jeans to allow yourself some room.
Socks! Hospitals are cold. I had to send Mr. Table home to get me socks because I didn't bring enough.
Nursing pads - you'll want them if your milk comes in during your stay.
A change of clothes for dad.
Food and Snacks:
Even though I brought plenty of snacks when my first was born, I was surprised by just how terrible the food was at the hospital where I gave birth. I was also STARVING the hours and days following Queen C's birth. So I will be loading up my bag with tons of healthy, filling options:
Dried fruit and nuts.
Oatmeal Cups and Quinoa Cups - portable and easy to fix with just hot water.
Snack bars- my favorite are Bob's Better Bars, RX Bars, and KIND bars.
Gum - To chew while in labor to get saliva flowing.
Things for Baby:
Now for the cute part! The hospital provides the diapers, wipes, and supplies for baby, so you don't need much, but there are a few things you'll need:
A cute blanket and hat or headband to snuggle your babe in. (I adore the Lou Lou & Co baby bundles!)
A comfy outfit for baby to wear home.
Scratch mittens and socks.
Bath time basics - if you want to use your own natural products. I like the Primally Pure baby kit.
Miscellaneous:
My own pillow - I don't sleep well on anything but my own pillow, so I will be bringing mine. You might use a non-white pillowcase so your pillow doesn't get mixed up with the hospital ones.
A thank-you gift for the nurses - Last time I brought a bag of snacks and goodies for the L&D nurses and they were so happy. Just a little something to thank them for taking care of me! I didn't realize I'd have different nurses on another floor post-delivery, so I'll bring two separate bags this time.
My letterboard - I loved having this to take baby's very first pictures with once we were safe and sound in the maternity suite.
A book or favorite magazine - We had to stay an extra day for monitoring, and I didn't have much to entertain me when my babe was sleeping, so I'll be bringing a book this time.
Any comforting things to help you relax during labor or post-birth - essential oils, a birthing ball, a portable speaker for your favorite music, slippers, etc. My hospital provides all of those things, so ask your hospital what is available to you.
What's Staying At Home This Time:
My laptop - I was working immediately after baby was born (she had to stay in the nursery for monitoring) and it was not the best idea. I plan on taking a true maternity leave this time around, so the computer is staying home!
Excessive baby outfits - Our little one was in a kimono shirt and diaper the majority of our hospital stay, so I'll probably only bring one outfit for going home.
A video camera, photographer, and extra people - I'm a conservative person and don't want anyone in the delivery room except for my husband and the doctors. We did it that way with Queen C, and it was perfect. If you want a video, or birth photos or other important people in the delivery room, go for it!
Happy packing, mamas!