A list of my top clean, nontoxic skincare, haircare, and body care products for those looking to go more natural with their beauty routines. These are the non-toxic beauty products I keep in my bathroom.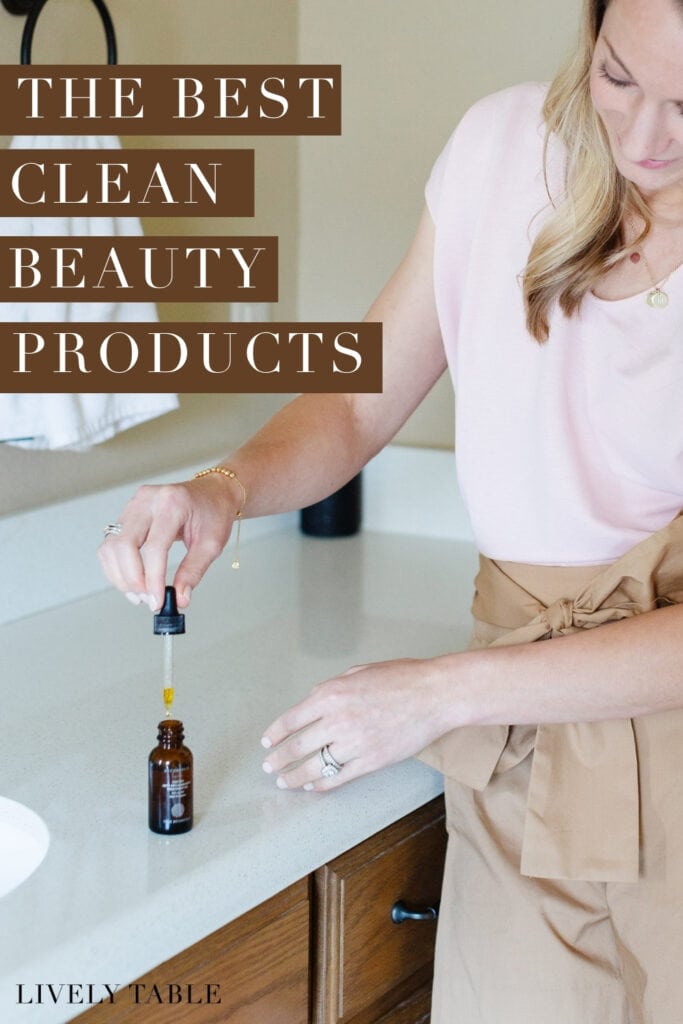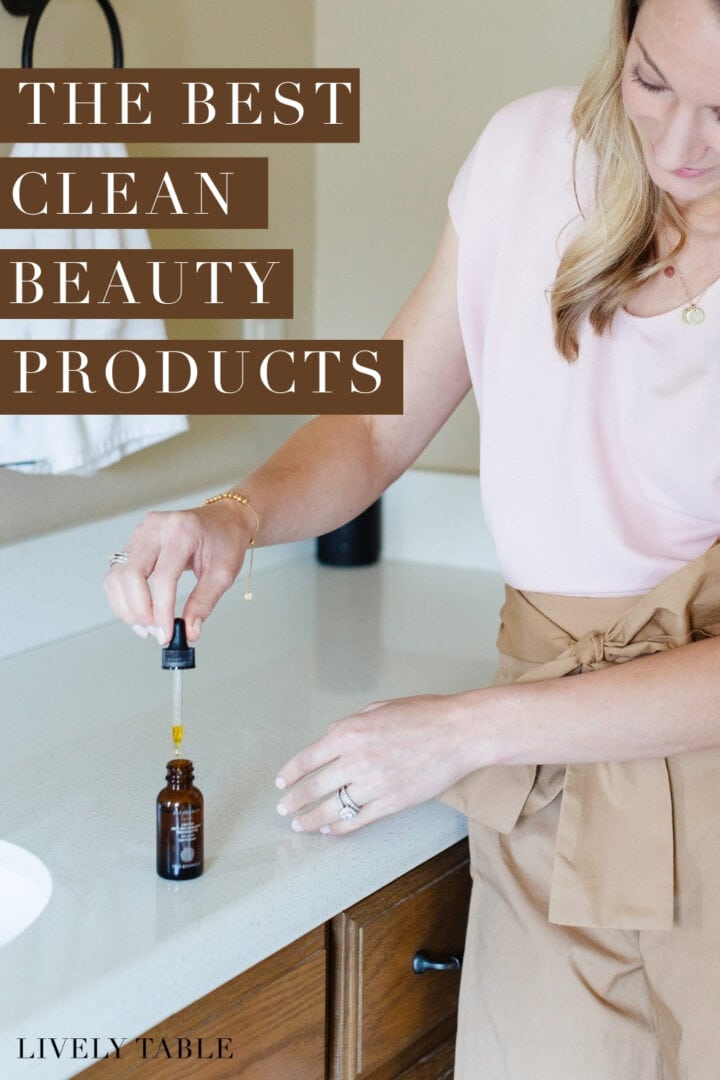 Ever since I learned about my gene mutation that leaves me at a higher risk of breast cancer, and especially now that I'm pregnant and looking for safer options for me and baby, I've been switching over my beauty products to more natural, non-toxic versions. I mean, I try to put good things into my body, why should what I put on my body be any different?
I'll admit that I thought people who bought all-natural everything were a bit silly and wasting their money for a while. I mean, when you're in college and broke, the $3 shampoo is a pretty good option, right? Shelling out money for a hippy-dippy deodorant that didn't work and left me stinky and poor was not my top priority.
But after reading the effects of some of the chemicals in everyday products like face wash and lip balm, I've come around to cleaning up my beauty routine. I don't necessarily believe everything I read - y'all know I like to have the scientific facts. But the truth is, I don't have a ton of time to find good research on every ingredient in every product I buy, and I'm sure you don't either. Between a predisposition to breast cancer (one that is easily affected by hormones) and trying to start a family, I figured it wouldn't hurt to eliminate any risks that I can control early on.
Like buying organic food, switching to clean beauty products is a personal choice and not one that may be right for everyone. It can get expensive! And sometimes your priority is just brushing your teeth, not knowing every single ingredient in your toothpaste is organic and vegan. And I totally get that. I'm not here to tell you what to buy and how to live your life. The purpose of this post is to share the top clean beauty products that I love - the ones that work for me and the ones that I use every day. I'm here to be a resource if you do choose to clean up your beauty routine, not to say mine is better than yours. So without any more chit-chat,
Here are my top clean beauty products: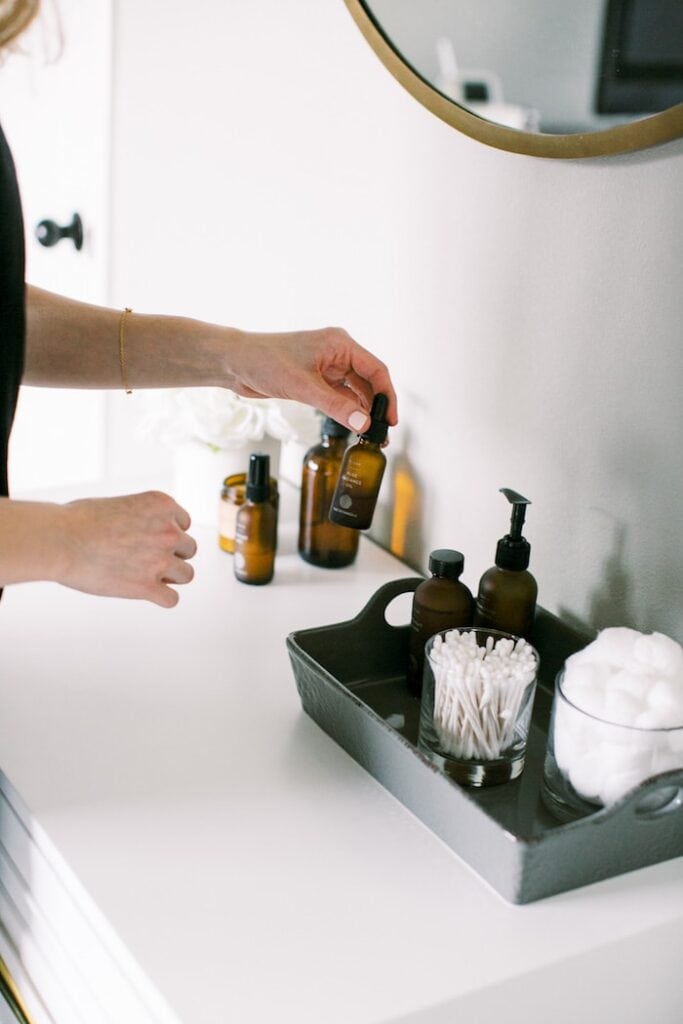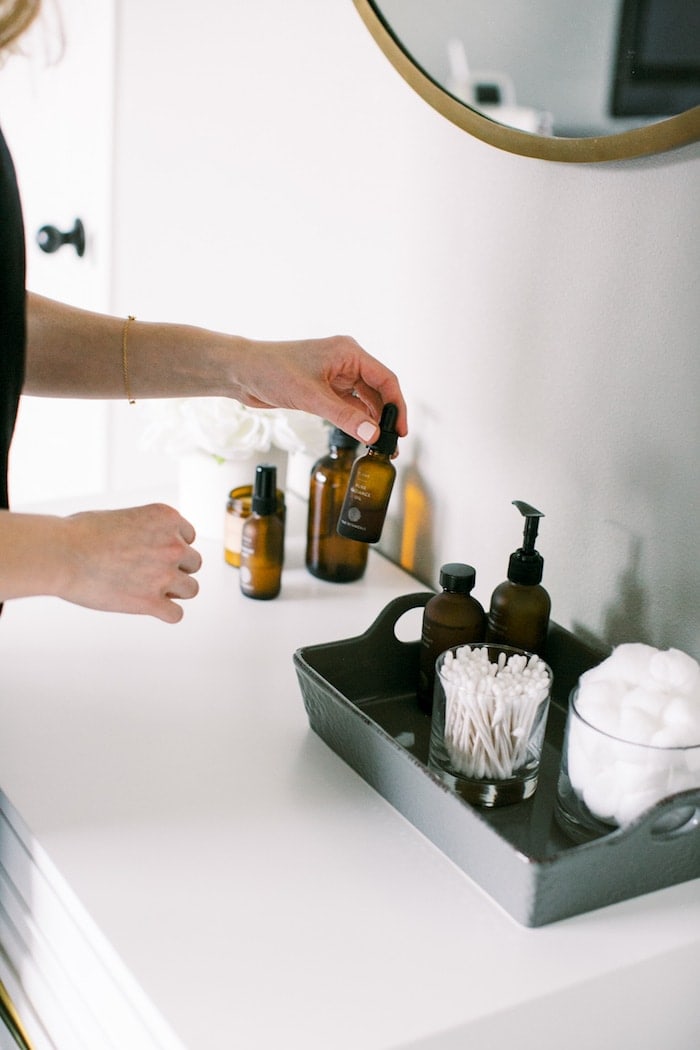 Best Nontoxic Skincare Products For Face:
True Botanicals Clear Trio Y'all. This cleanser, toner, and facial oil combination truly changed my life. I was so nervous to switch to a natural face wash because of my acne-prone skin. But this stuff truly works miracles, even on my terribly hormonal pregnancy skin. And it smells amazing. I know it's pricey, but this is the one splurge that is totally worth it to me (although I probably wouldn't buy it if I were still a grad student). If you can spring for the Chebula Immunity Serum to go with it, I highly recommend that, too. I seriously can't say enough good things about these products. They also have lines for normal and dry skin that I hear excellent things about.
True Botanicals Anti-Inflammaging Treatment Oil Now that my skin has started to become more dehydrated and preventing wrinkles is a concern, I've been looking for healthier anti-aging products that aren't super heavy. I LOVE this oil to deeply hydrate my skin and help reduce inflammation-induced skin aging. I like to use it with the Vitamin C Booster once a week to help with some discoloration from acne scars and pregnancy.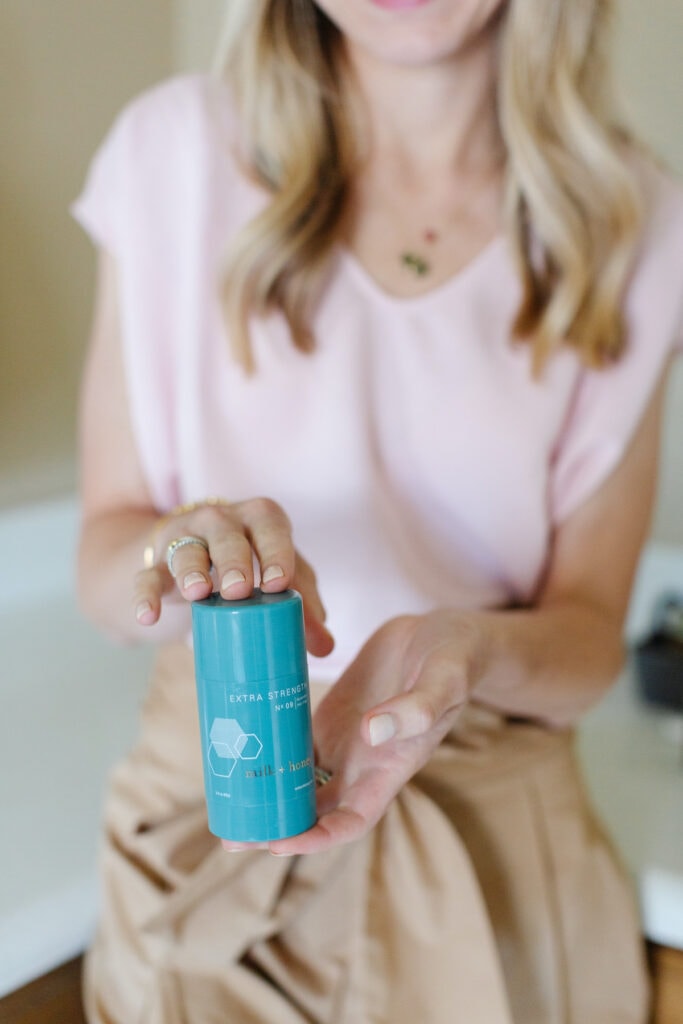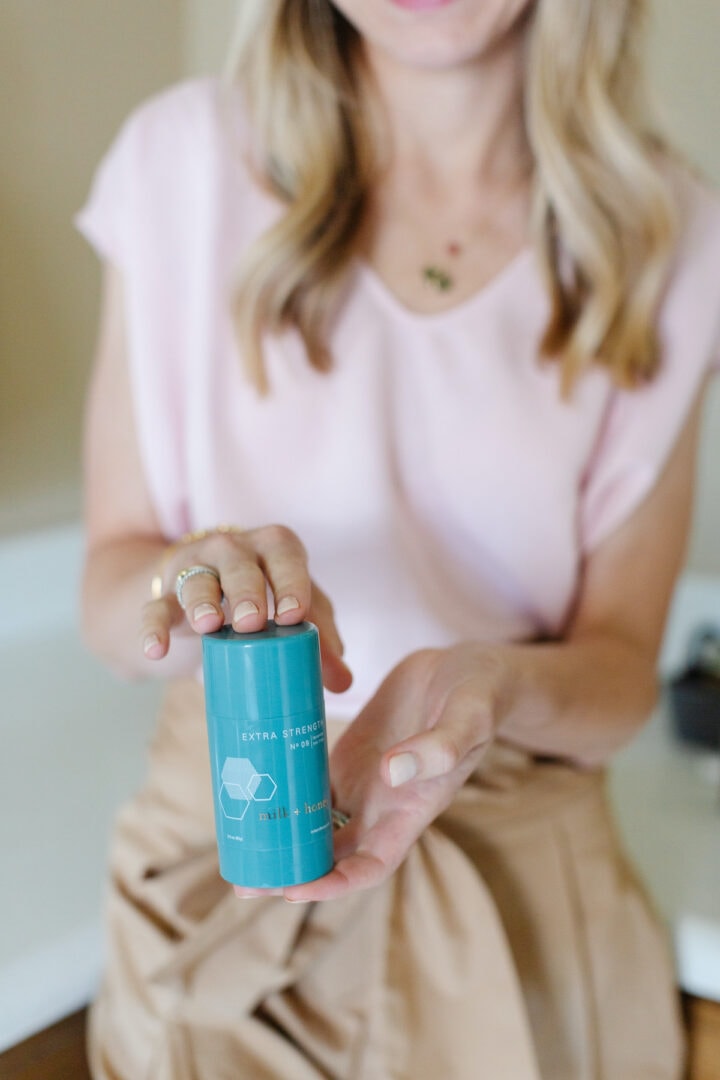 Best Nontoxic Bath/Body Products:
Milk + Honey Extra Strength Deodorant I've used a lot of natural deodorants and this one is BY FAR my favorite, replacing my previous favorite, Primally Pure deodorant! It really is the best working natural deodorant I've ever tried, and the scent is pleasant without being overbearing. If you have super sensitive skin, the brand also makes a version without baking soda.
True Botanicals Pure Radiance Body Scrub I can't get enough of the smell of this luxurious body scrub. It gently exfoliates and nourishes for soft, smooth skin with notes of orange, cedarwood and sandalwood.
Puracy Body Wash This wash smells so good without the use of artificial fragrances. It foams up beautifully. I love that all of Puracy's products are affordable and are available in refill pouches as well!
True Botanicals Pure Radiance Body Oil I absolutely love this body oil. It smells SO good in an earthy way and leaves my skin super soft but not greasy.
Herbivore Botanicals All Natural Coconut Milk Bath Soak My sister bought me this bath soak and I am seriously obsessed. Not only does it smell amazing, but it leaves my skin so soft and smooth after I use it. LOVE!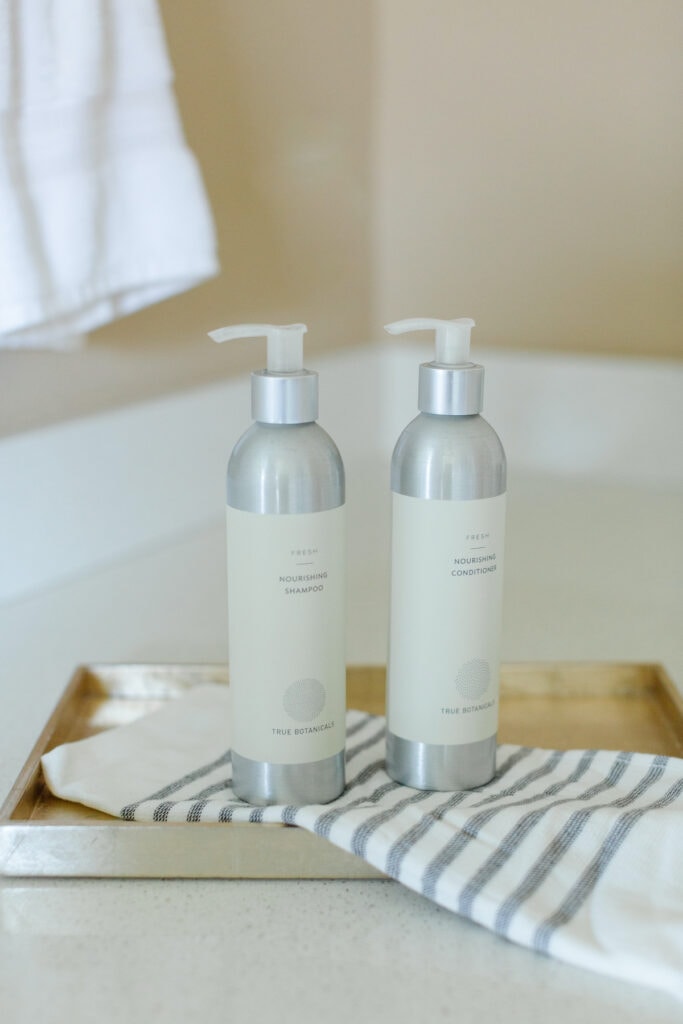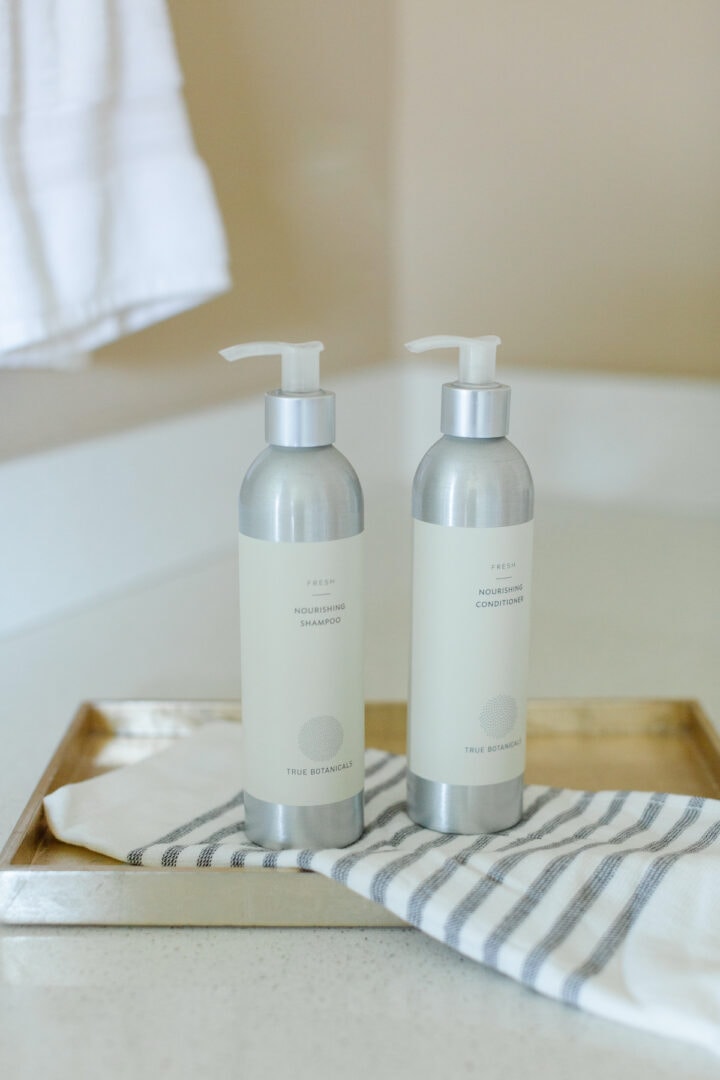 Best Nontoxic Hair Products:
True Botanicals Nourishing Shampoo & Conditioner The smell of this safe shampoo and conditioner is heavenly, and it cleanses my hair really well. I also feel like I can go longer between washes when I use it, which is a huge plus!
Meant Simply Do-All Wash Shampoo and Conditioner This is another shampoo that I feel doesn't weigh my hair down. The shampoo smells really good, and doubles as a body wash. I don't love the way the conditioner smells, but I find that common with a lot of natural conditioners.
Giovanni Organic Styling Mist Hair Spritz I figured hairspray was going to be a tough one to find that was both clean and actually worked. This one works well with a nice spray stream that's more like a mist instead of "squirty" like some organic hairspray nozzles.
Primally Pure Dry Shampoo I thought I was going to have to give up my dry shampoo when I switched to clean beauty but it turns out I don't! I live off of the stuff. This dry shampoo works great, smells nice, and actually lasts a lot longer than I thought is would, so it's a great deal.
That's it on my top clean beauty must-haves for now. I will be updating this post as I find more amazing products, and I'd love to hear what works for you! What are your top clean beauty must-haves?
This page may contain affiliate links, which means I earn a small commission at no extra cost to you. I only recommend products that I truly love and use at home!