Looking for healthy, nontoxic products for your baby? Find out the best natural baby products that I use and love with my baby!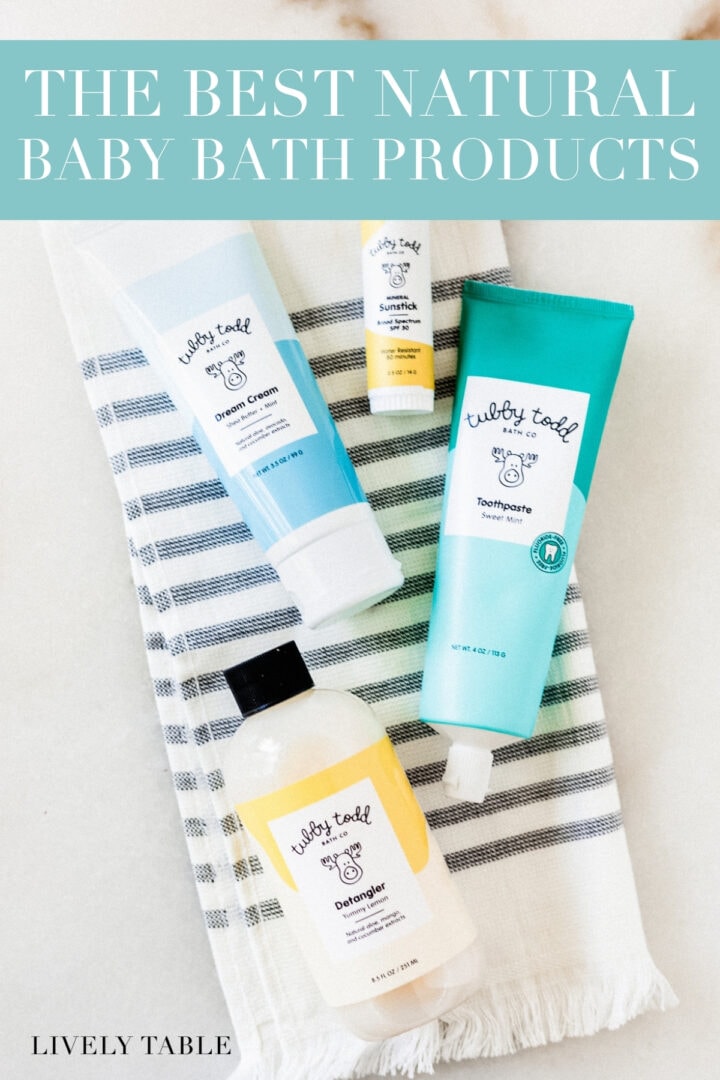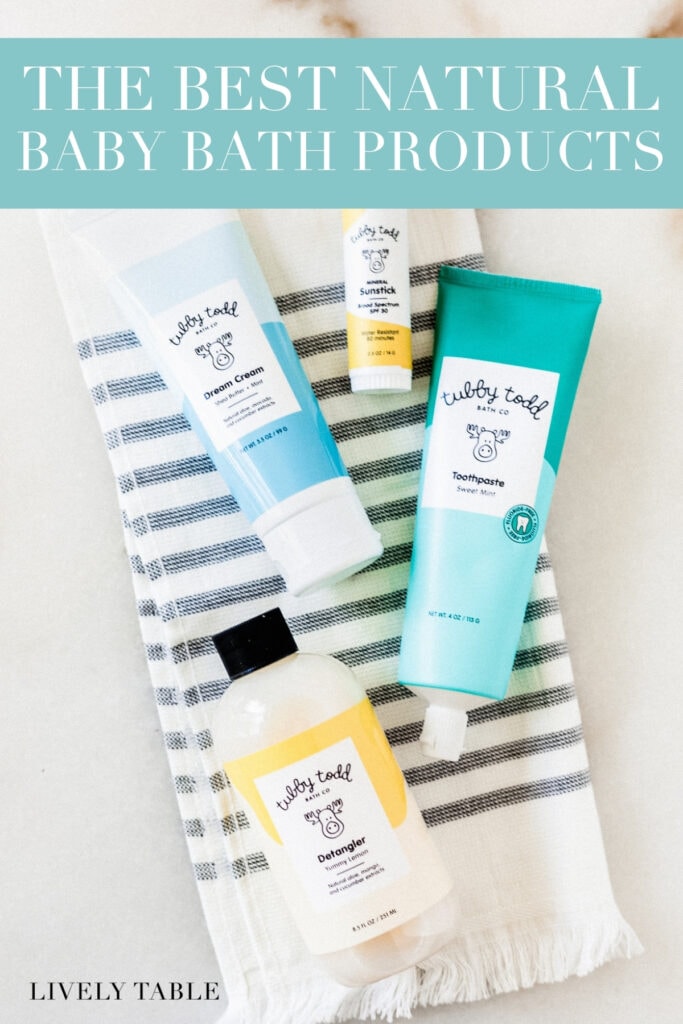 There is nothing like caring for your first precious little baby to make you rethink what you're putting on both her skin and your own. That protective mama instinct is there all the time, even when you're browsing the baby shampoo at Target. Suddenly you find yourself scouring every label and googling scary-looking ingredient names, making sure there is nothing in her bubble bath that's going to give her cancer in 50 years.
After learning about some of the effects that certain chemicals can have on the body, I knew right away that I wanted to use the most natural products I could for Queen C. 20 months and a sibling later, I'm glad I chose to do so!
Since everything ends up going straight into her mouth (hands, toes, whatever she can get her hands on), I want to make sure that my products are safe, and hers are too! Yes, I want my sweet baby to have soft, smooth skin and smell baby fresh, but I'm not willing to sacrifice her health. Luckily there's no need to sacrifice since there are some great natural baby products that actually work.
Of course, we all want the best for our babies, so I've rounded up my favorite nontoxic baby care products that I love using on Queen C and Little M!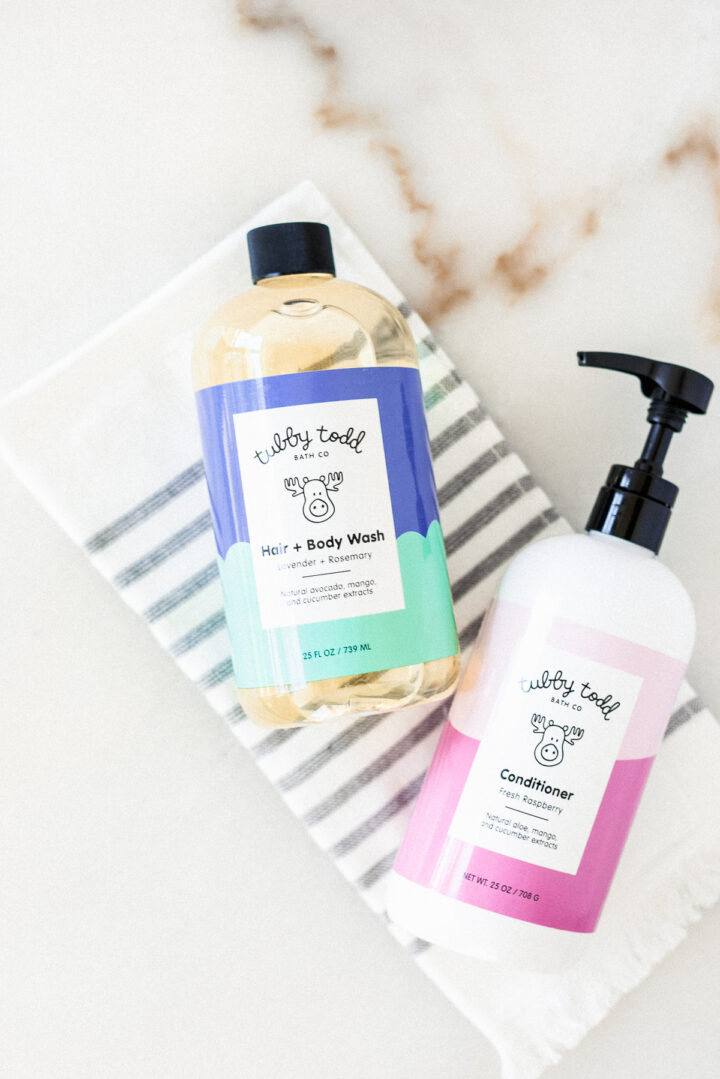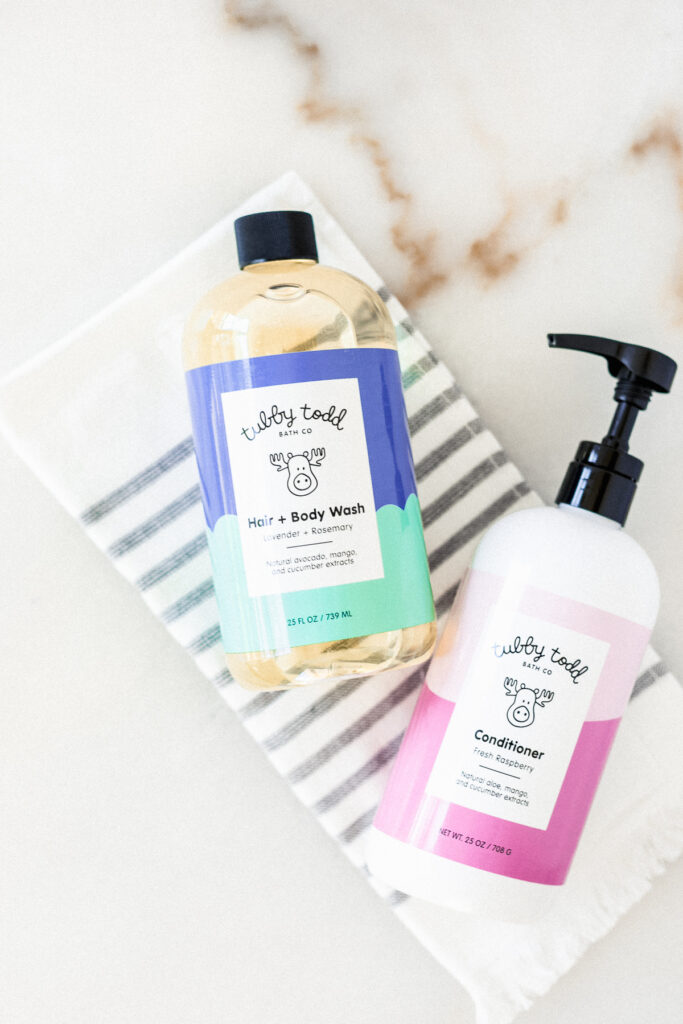 The Best Nontoxic Baby Shampoo and Baby Body Wash:
Tubby Todd Hair & Body Wash** I'm in love with the Lavender and Rosemary smell of this shampoo and body wash in one. It gets my babes squeaky clean! And I love that it's made by a family-run small business.
Primally Pure Baby Bar I love this creamy goat milk baby soap made with very few, high-quality ingredients. It's the best for giving your babies those sweet baths in the first delicate months. The Baby Bar is also great for washing your own face with something gentle!
The Best Nontoxic Baby Lotion:
Tubby Todd Everyday Lotion** I love slathering the girls with this delicious smelling lotion. It leaves their skin (and my hands!) soft and smooth, and is safe for everyday use.
The Best Nontoxic Baby Balm:
Primally Pure Baby Balm This balm is my absolute favorite. It is ultra-moisturizing for those patches of eczema or cradle cap. I use it on little M before bed when she's especially dry and rubs it on her scalp when she gets flaky patches. (Then I use the extra on my lips). You'll want to stock up on this amazing balm!
Tubby Todd All Over Ointment** - This ointment is super creamy and moisturizing. It is multipurpose just like the other balms on the list and helps clear up eczema and baby rashes.
Honest All-Purpose Balm Convenience wins again for this balm. It's super moisturizing for baby's (or mom's!) dry spots or itches. It's available on Amazon, at Target, Sprouts, and just about anywhere, which is nice in a pinch.
The Best Nontoxic Diaper Cream:
Honest Company Diaper Rash Cream We went through a phase where Queen C had a TON of dirty diapers each day and it was causing really bad chafing on her bottom. This diaper cream helped so much and has much fewer ingredients than most traditional diaper rash creams.
The Best Nontoxic Baby Powder:
Primally Pure Baby Powder After finding out the conventional baby powder may be linked to ovarian cancer, I basically banned it from my house, so I love that Primally Pure makes a talc-free nontoxic baby powder to keep baby's bottom soft and smooth and prevent chafing! It smells so good.
The Best Nontoxic Baby Sunscreen:
Babyganics Baby Sunscreen Spray SPF 50 Most sunscreens use chemicals to block the sun's rays, but those same chemicals are potentially harmful, so it's better to stick to physical, mineral-based blockers, even if they turn your baby a little white! I like this spray from Babyganics because it's a high SPF and is easy to spray on and spread.
The Best Nontoxic Diapers:
DYPER I thought about using cloth diapers because of the chemicals in traditional disposable diapers, and then of course there's the whole landfill issue, but one day of changing 3 gross dirty diapers immediately changed my mind. I finally found Dyper bamboo diapers with no chlorine, latex, alcohol, perfumes, PVC, lotions, TBT or Phthalates. They also have no prints, so there's no ink to worry about. Even better, they are delivered right to my door so I don't have to make a Target run with two kids. Have you ever tried to put a box of diapers in a cart with a carseat in it? It's not easy.
And a few other natural remedies:
Mommy's Bliss Gripe Water Gripe Water saved our new parent lives for the first 4 colicky months of Queen C's life. It helped to soothe her tummy when she got fussy after eating (and in general). If you are having a baby any time soon, do yourself a favor and stock up on Gripe Water!
Tubby Todd Chest Rub This chest rub has been a life saver for me! I've used it so many times to help Queen C sleep when she was congested since she's still not old enough for any cold medicines. I have also used it myself, since it doesn't contain any of the icky ingredients in traditional chest rubs, and it's nursing safe!
Mommy's Bliss Organic Baby Cough Syrup Baby has already had her first cold, and I wish I'd had this way sooner to help clear up her mucus and get her back to sleep at night!
These have been the best nontoxic baby products I've used so far. I'll update the list as I find more that I love!
**Use code 'GOODCLEANFUN10' to get 10% off your Tubby Todd order!