Freshen up your cleaning basics with natural, less toxic home care staples using these simple swaps for a healthier home that are affordable, effective and require minimal effort!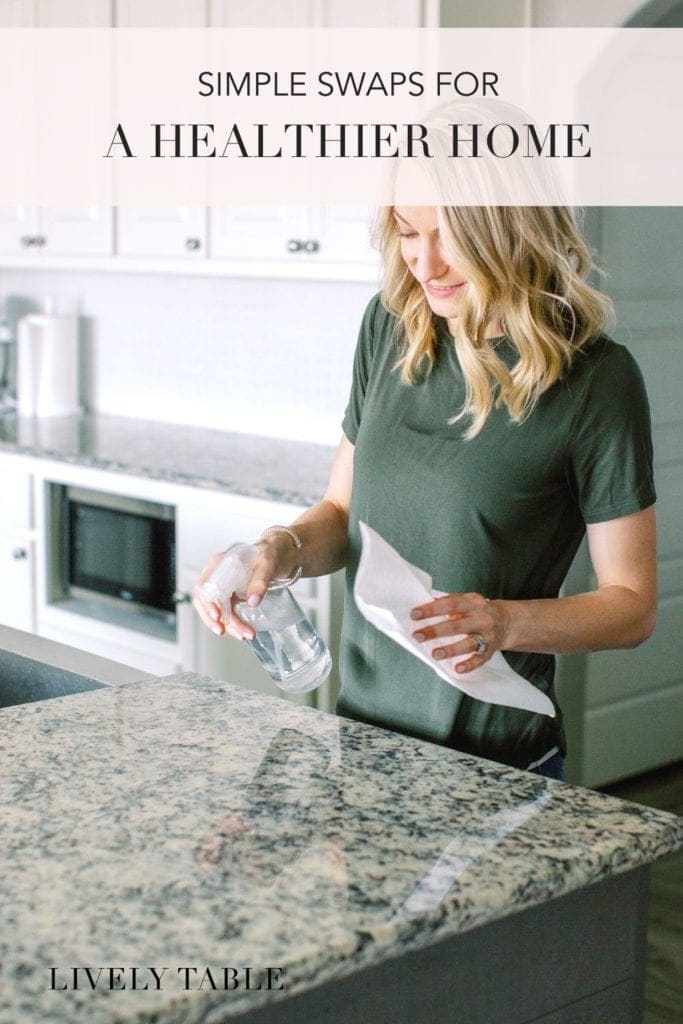 As a dietitian, I obviously care about what's going into my body. But I also know that there are so many more factors that contribute to long term health, including what goes onto my body. I've written about why I prefer to use more natural skincare and shared my favorites for both me and my babies. But getting rid of products with unhealthy or questionable ingredients extends beyond just the skincare and makeup you use.
When I started my journey of switching to healthy ingredients, I knew I needed to focus on all of my home care basics, too. Mainly laundry and cleaning supplies.
Why Switch To Natural Cleaning Supplies?
Once you start looking at the labels on products we use everyday, like laundry detergent and all-purpose cleaners, you realize just how many ingredients are in them. If you dig a little deeper, you also realize a lot of those ingredients can be harmful to human health when used frequently. So switching out everyday items like laundry soap, hand soap, and kitchen cleaners that we use and expose our family to everyday is a big step towards a healthier home environment. We all want our families to stay healthy!
Ingredients To Avoid
There is a long list of different chemicals to avoid that could be tied to asthma and allergies, skin irritation, hormonal disruption, and cancer. But if you're just starting out trying to find safer products, I'll make it easy on you. Here are a few big ones to avoid that are easy to switch out:
Fragrance: Synthetic fragrances found in everything from laundry detergent to hand soap are linked to a number of issues, including asthma, allergies, endocrine disruption, and even cancer. Unfortunately, the FDA doesn't make companies distinguish between naturally fragrances and synthetic ones, so it's best not to use products with fragrances at all, unless they are marked 100% organic or essential oils used are extracted through distillation.
Parabens: Parabens are synthetic preservatives used to prevent growth of mold in products like hand soap and moisturizer, along with lots of cosmetic products. Parabens mimic estrogen in the body and could potentially increase the risk of cancer and cause hormonal disruptions. Though 'paraben-free' on labels doesn't necessarily mean the product is safe (because it could still use other synthetic preservatives), it's a step in the right direction.
SLS: Another chemical used in hand soaps and other soaps as a foaming agent, SLS is an irritant to the skin and eyes, and could possibly be harmful to the reproductive and central nervous systems. SLS is found on labels under names like sodium dodecyl sulfate, sulfuric acid, monododecyl ester, sodium salt, sodium salt sulfuric acid, sodium dodecyl sulfate, aquarex me, or aquarex methyl.
Disinfectants: Non-alcohol based sanitizers and disinfectants often contain EPA-registered pesticides. Chlorine bleach is also classified as a pesticide and is corrosive to the skin, lungs and eyes.
Anything With Scary-Sounding Warnings: If a product has warning on the label about wearing gloves, needing ventilation, causing respiratory irritation, being flammable, or having special hazard disposal instructions, it's probably an indication that you don't want it on your skin or in your home.
Easy, Safe Alternatives For A Healthy Home
These are my top picks for healthier alternatives for your home. They are all products that I personally use and love, and are easy, effective, affordable options.

Laundry:
At the very minimum, look for a 'free and clear' laundry detergent that doesn't contain fragrance on the label. I promise you'll get used to not having the scent, and eventually you'll find it annoying and irritating when you smell it in other people's homes. Some good ones you can usually find at the store: Whole Foods 365 Everyday Value, Better Life, Seventh Generation
My laundry detergent pick: Puracy Free and Clear Detergent. I love most of the Puracy products because they are affordable, safe, and made here in Texas! I also love that the laundry detergent comes in eco-friendly refill pouches, so you can reuse the bottle after you purchase it once!
My Stain Remover/Treatment Picks: Puracy Natural Stain Remover, Puracy Baby Stain Remover , Defunkify Stain Remover. These are both good alternatives to your typical stain remover (like Shout). Branch Basics Oxygen Boost - This safer oxygen boost can be used as a stain treatment on items that can't go in the wash. I've also been experimenting with cloth diapers, and add some of this booster when I wash them. (Get $10 off your first order here!)
Pick for the dryer: Wool Dryer Balls. If you change nothing else, get rid of dryer sheets and get dryer balls! They are natural, fragrance free, and so much less wasteful! One package usually lasts about 1000 loads. I love the Clean Cult ones made of New Zealand wool using safe practices.
Laundry products I didn't love: Branch Basics Laundry Detergent. It could be because I have a top load washing machine that this detergent wasn't very effective for me. With top loaders, you're supposed to start the water, then pour the detergent in after a bit. On my machine, the water doesn't run with it open, so I almost always forget to stop and open it to add the detergent. Because #mombrain.
Dish Duty
My pick for dish soap: Puracy Dish Soap. It's safe, effective, affordable, and smells great. The end.
My pick for dishwasher detergent: Puracy Dish Packs. I was impressed with these dish packs. We have very hard water, so it's not easy to find products that work in the dishwasher. These did, without leaving water spots or residue.
I didn't love: Brandless dish packs (not as effective as the Puracy ones and left water spots), Clean Cult dish soap (similar to Castile soap, it was too thin and clogged the bottle opening easily).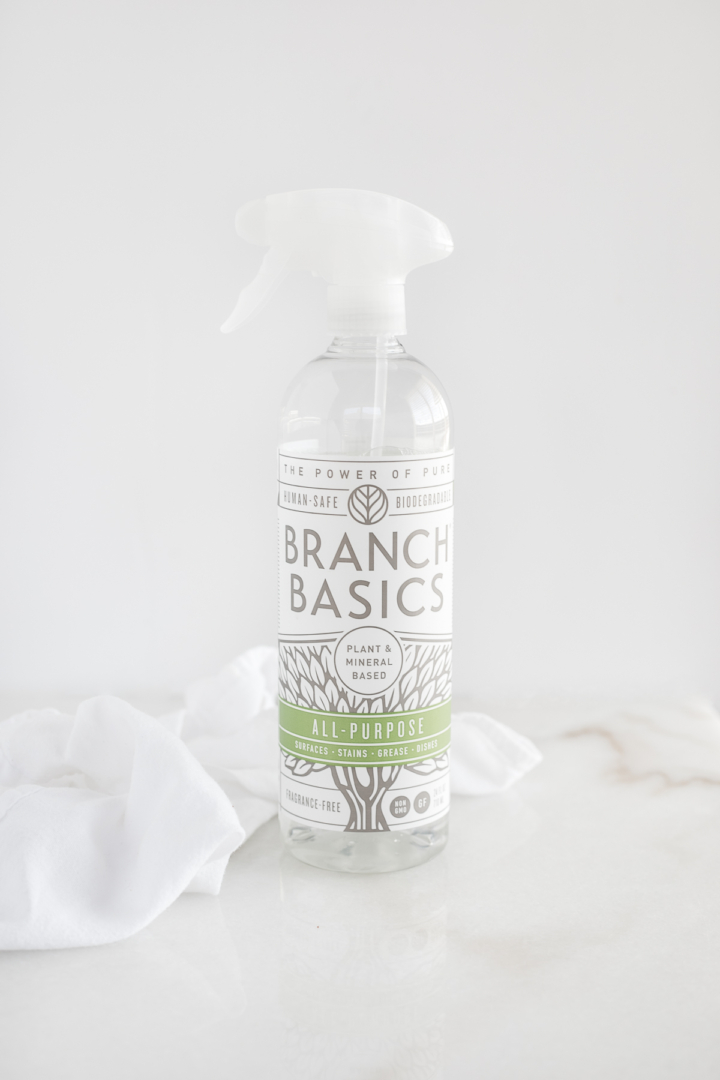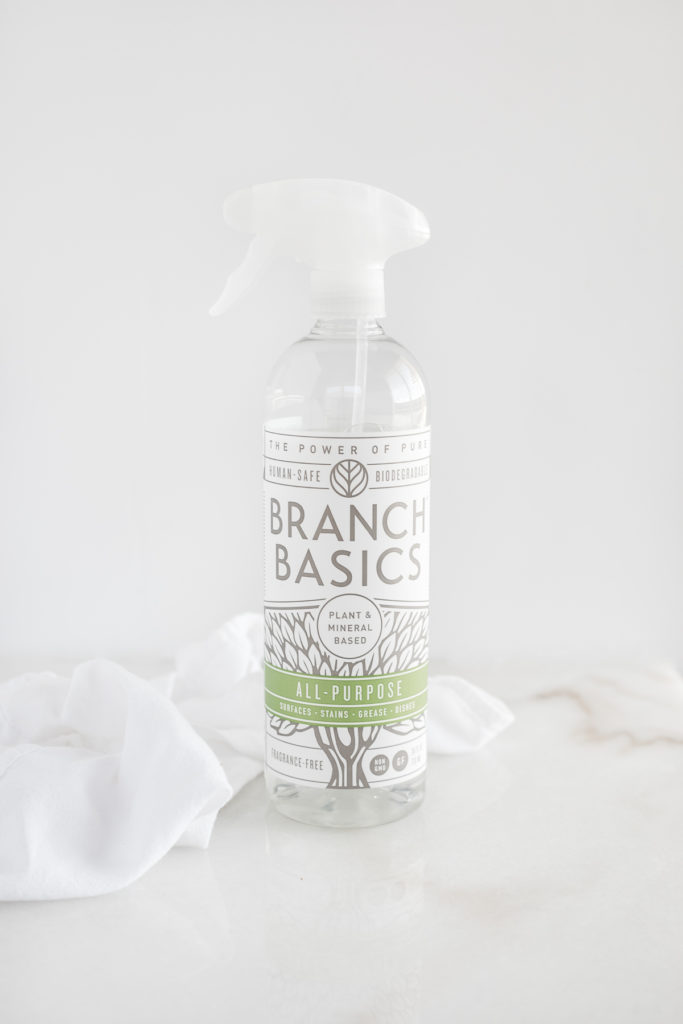 Kitchen/Home Cleaners
Pick for counter/all purpose cleaner: Branch Basics. I love that this all-purpose cleaner is made from the concentrate, so you can make several bottles from the same bottle of concentrate. (Use code LIVELYTABLE10 for 10% off your Branch Basics order OR use this link for $10 off your first order!)
Pick for toilet cleaner: Better Life This toilet cleaner has a mild scent, works, well, and can usually be found in the grocery store.
Disinfectant: I typically use a 1:1 mix of vinegar and water in a glass spray bottle. To disinfect my kitchen counters. (I buy these ones on Amazon.) It's been shown to kill bacteria related to food poisoning, however, there is no evidence that vinegar kills viruses, so (full disclosure) I do use a commercial disinfecting spray or wipes after illnesses in our house.
Hand Soap:
Picks for Hand Soap: Puracy Hand Soap and Branch Basics Foaming Hand Soap. I love the Puracy hand soaps, and they all smell amazing (I especially love the Lavender and Vanilla scent), but my husband doesn't love it. He does really like the Branch Basics hand soap, though, which is just made with their concentrate and water. (Use code LIVELYTABLE10 for 10% off your first Branch Basics order!)
I didn't love: Clean Cult. This bar soap was okay, but not my favorite. I tend to dislike bar soaps for washing hands in general because they make a mess everywhere.
As always, I'll keep this list updated as I find products I love! Drop your favorite healthier home care products in the comments!