The newborn baby essentials that have made my life as a new mama so much easier. Register for these must-have baby products, or gift them to the new mama in your life! Updated to include baby essentials for mamas of 2 under 2.
Time has never flown so fast in my life. Baby Table will already be TWO MONTHS OLD next week! I guess that makes me an expert baby mama and super qualified to recommend baby products right?
Well I might not be an expert yet, but I did want to share a few of the baby things that I have absolutely loved the past couple of months. I know, I said I wouldn't turn Lively Table into a mommy blog. But I also know that many of my readers are young women, so you might be in the market for baby things, too. If you aren't, feel free to skip this post and just browse my recipes. But if you are, read on for the products that have made my life as a new mom easier the past few weeks!
Newborn Baby Essentials For First Time Moms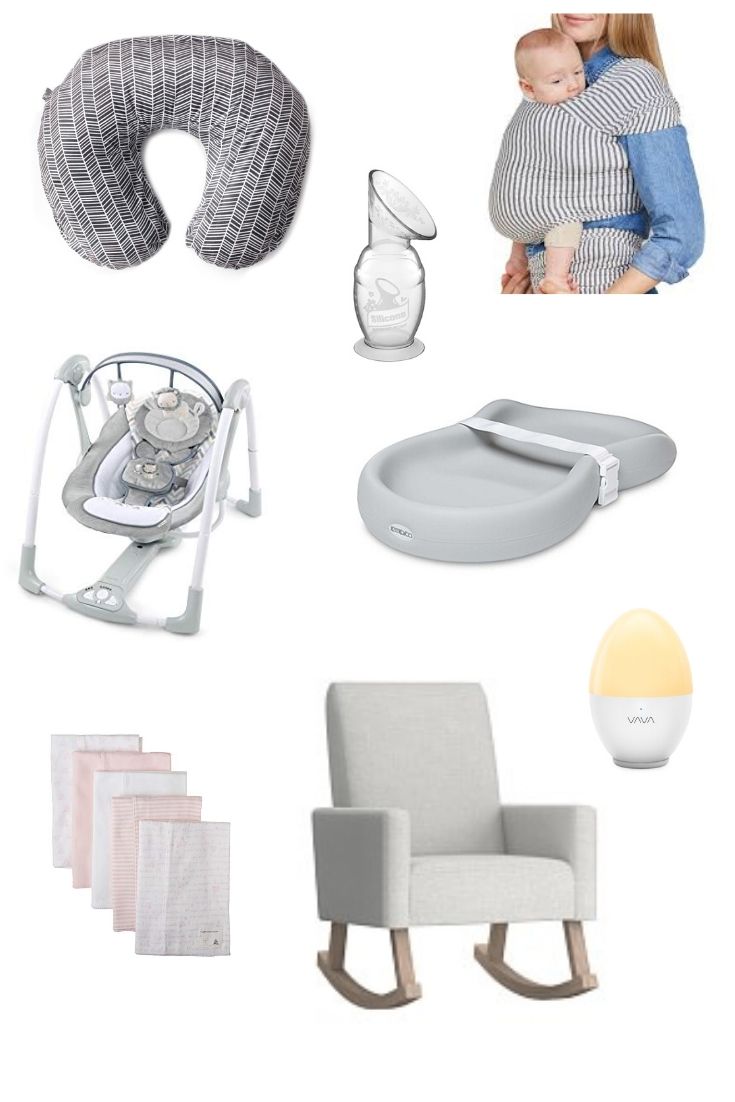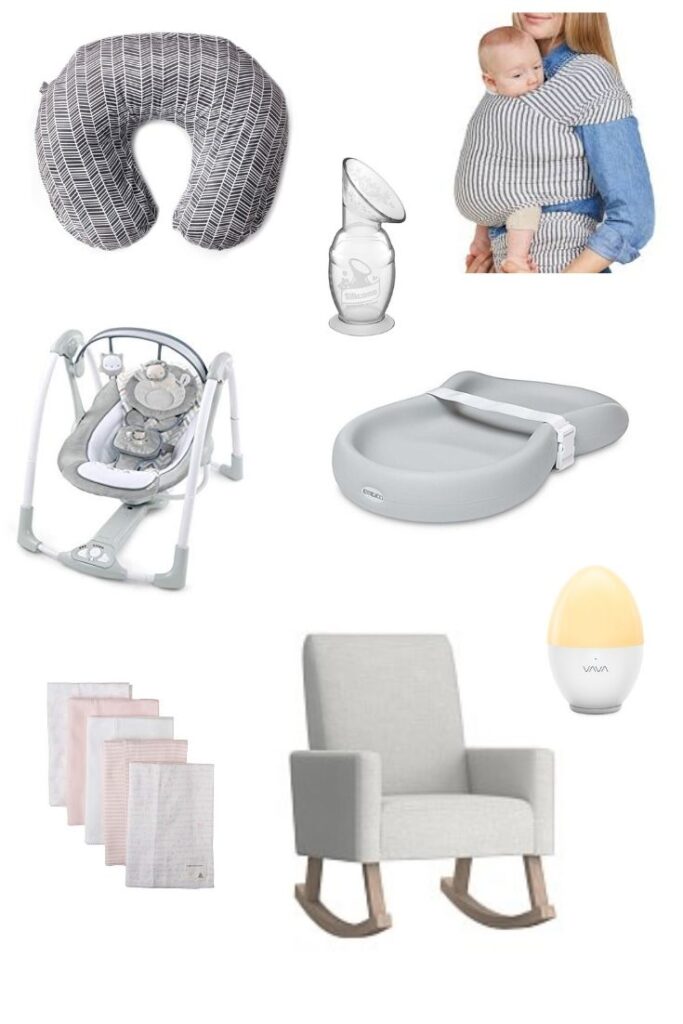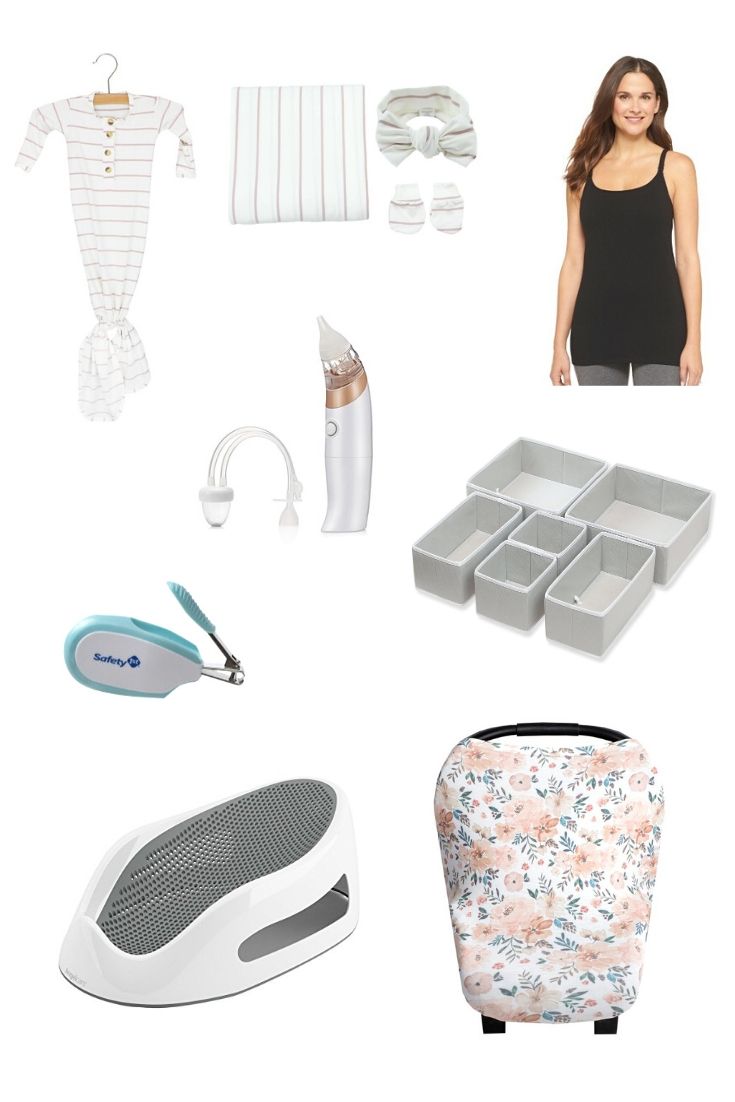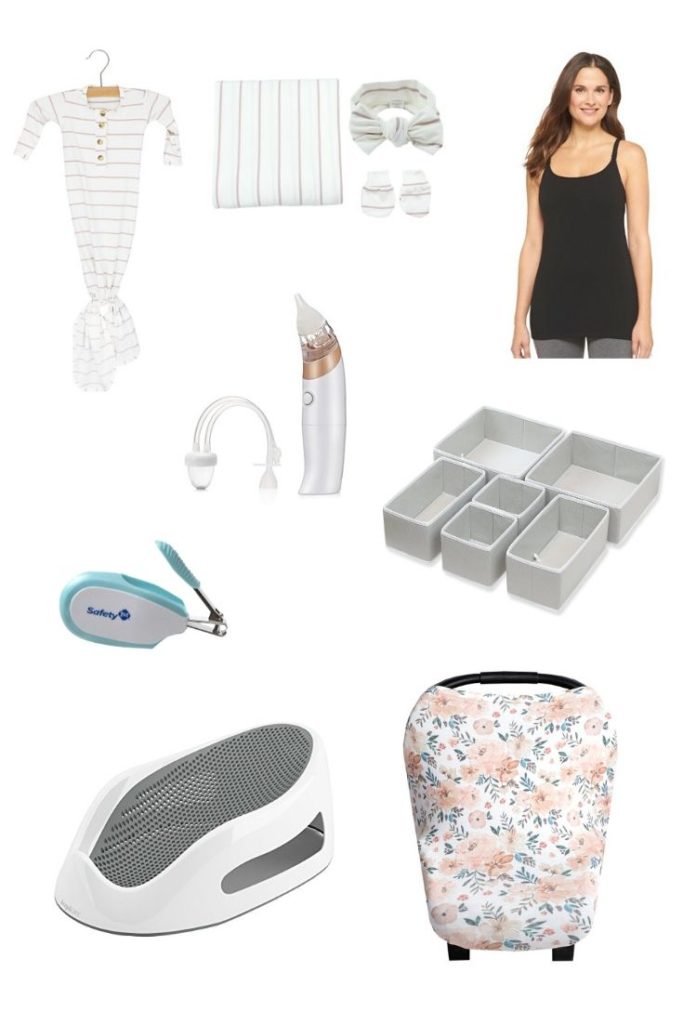 Lou Lou & Co Gown and Newborn Bundle - Oh my gosh, yall. These are the softest, cutest little baby gowns and blankets. I bought the newborn bundle to take to the hospital and still use the mittens, bow, and blanket all the time. And they're so buttery soft that I bought the adorable gown, too. Baby loves the gown because her arms are free, but she's still warm and cozy.
Nursing Tanks - Nursing tanks are what I wear 90% of the time. They are comfy and supportive and make it super easy to breastfeed (and pump) on demand. I'm so sad that Target stopped making my favorite ones, but you can find them on Amazon occasionally. I ended up buying these Motherhood Maternity ones, which are nice and long, but they don't have as much support. I also really love these nursing bras (Use code AMB-livelytable2 for $10 off) for something pretty but also functional for when I'm wearing 'real' clothes…aka not workout clothes.
Chibello Baby Nasal Aspirator - I know people sing the praises of the NoseFrida Snotsucker, but there is no way I'm sucking my child's boogers with my mouth. Bleh. If you're in the same camp as me, this battery powered nose suction device is a must. It gets stubborn snot to help your babe breathe at night, which is a lifesaver if you don't know how hard it is to get a congested baby to sleep. Don't rely on the bulb aspirators. They are meant to be disposable as they collect mold, and honestly, they don't work.
Safety 1st Baby Nail Clippers - Have you ever tried clipping a baby's nails? It's quite possibly the scariest, most frustrating thing about having a baby. A friend of mine got these nail clippers for me, and they are my favorite. They have a little light so you can see exactly what you're doing - less worrying about accidentally getting that delicate skin.
Canvas Organizing Boxes - Babies seriously need so much stuff. And like I said, I hate things that don't have a place. These kind of give all of the baby things a place. The different sizes are nice to organize things like bows, bath things, the dozens of burp rags, and pacifiers (baby loves these ones.) I keep one with diapers, wipes and burp rags in multiple rooms in our house so that I'm not constantly having to run to her room for something. If you're a type A organization freak with OCD tendencies, you'll need a lot of these.
Angel Care Baby Bathtub - Baby Table loves bath time. This bathtub makes it so easy to give her a bath in the kitchen sink by myself with the shower nozzle. Also, it's not a bright color, which I love. (Why are all baby things bright colors with goofy characters?)
Copper Pearl Car Seat Cover - If you're going to take your baby anywhere in public, a stretchy car seat cover is an absolute must. I debated getting one, but I'm so glad I did. I was checking out at Target one day without the cover and baby started crying. Some woman came up and tried to hold her pacifier in her mouth. Like, WHAT THE ACTUAL F. GET YOUR GERMY HANDS AWAY FROM MY BABY, LADY! I almost punched her, but I was civil and just gave her a mean glare and ran out of there as fast as I could. People have serious boundary issues when it comes to babies, so keep them (and their germs) away by just covering the car seat. I love this one because it's stretchy and easy to put on, and there is a little room at the top for you to peek in and see baby, but nobody else can really see them. It also functions as a cover for nursing in public, as well as a shopping cart or high chair cover for later on when baby is sitting up!
Amazon Prime - I can't tell you how many orders I placed on Amazon Prime in the first month alone, since the thought of going out to run even a quick errand with the baby was overwhelming. Prime will be your best friend with a new baby.
My Therapist - Because mental health is important. And being a new mom is hard. I've battled depression before, so I knew I'd be predisposed to postpartum depression.The anxiety that comes with a baby who cries all day long has been totally real, so keeping my regular appointments with my therapist has been important for me. Seriously, y'all, there is no shame in taking care of your mental health so that you can be the best mama.
And now that Little M has arrived (they're 17 months apart), here are a few essentials that I could not have survived without having two under two.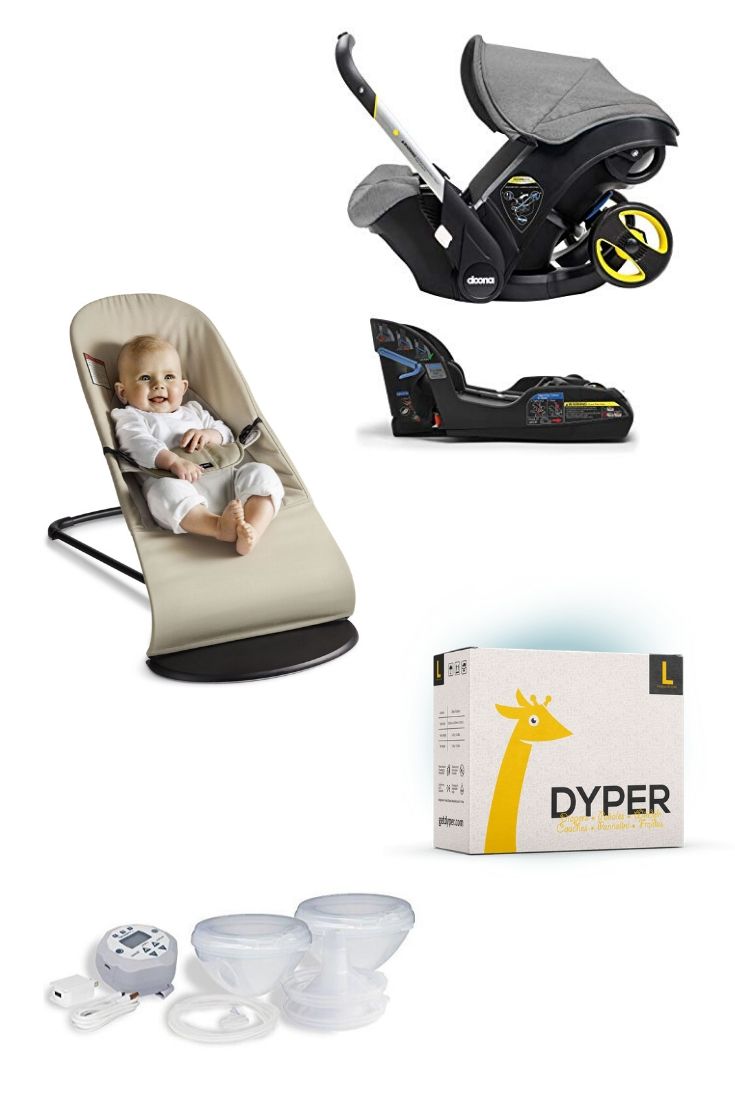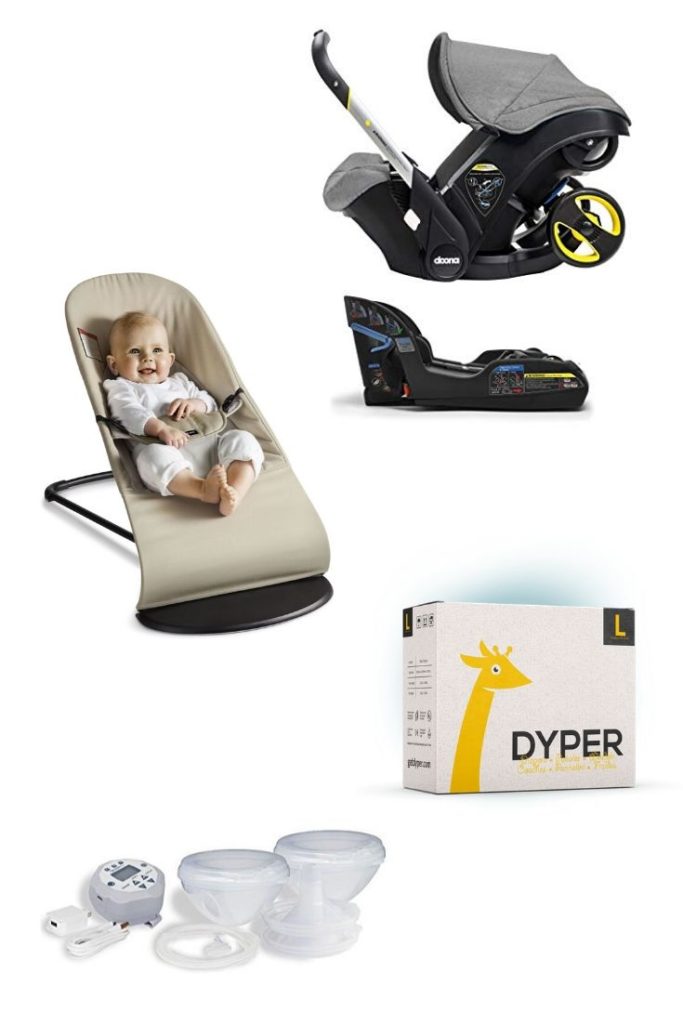 Newborn Baby Essentials For Moms of 2 (Under 2)
Doona Infant Carseat I contemplated getting one of these with my first, and ultimately decided not to because of the cost, but with her not able to walk independently out in public, there was no way I would be able to carry a toddler and a heavy carseat. So I got the Doona with baby number two and it has been a LIFESAVER. If you're not familiar, the carseat also doubles as a stroller, so the wheels just fold up and down (super easily) so that you can transition from the car to walking in anywhere in seconds. If you have two babes close together, you absolutely 100% need this. And if you are on your first but you plan on having more than one, do yourself a favor and get it now.
Baby Bjorn Bouncer Seat I bought this bouncer seat with baby number one and she didn't love it, but baby two does! She is happy to hang out in it while I bounce her with my foot as I do other things (like pump, or read to big sister, usually both). It's machine washable and super easy to put back together, which I love!
Freemie Liberty Hands-Free Pump I didn't have a hands-free pump with my first, but I knew from experience that was no way I'd be able to pump with a traditional breast pump and take care of two little ones at once, so I went with the Freemie Liberty Hands-Free Pump. The small pump clips onto your pants and the cups go directly into your bra or tank so that you can go about your business while pumping. While the output isn't as great as with the Spectra I used with baby 1, the convenience and reduced stress of pumping more than makes up for it to me. There are other similar hands-free pumps out there, but this one was the best option for the price to me.
Dyper Bamboo Diapers If you've never tried fitting a carseat, a toddler and two boxes of diapers in a Target shopping cart, it's not fun. At all. Dyper delivers nontoxic, Earth-friendly bamboo diapers right to your door. I wish I'd found it sooner!
Want to know my MUST HAVE nontoxic bath products for baby? Make sure you read this post!
Looking for not-ugly play things for baby? Read more here.
This post is not sponsored, but it does contain affiliate links. That means I earn a small commission off purchases at no extra cost to you. I only link products that I use and truly love!