Pregnancy comes with a lot of skin changes, so I'm sharing the pregnancy-safe skincare routine that I've found most effective for pregnancy acne, melasma, dullness, and stretch marks.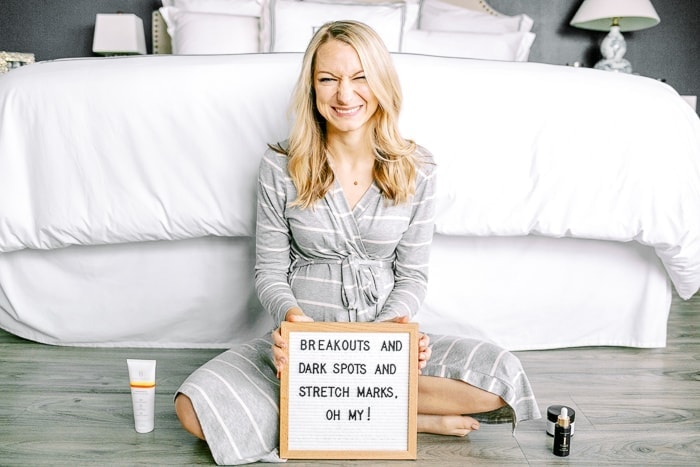 Pregnancy is such a fun time, and many mothers and mothers-to-be adore being pregnant. I am not one of those people. I don't necessarily hate being pregnant either. But there are a lot of changes that go on and unpleasant side effects. And almost all of them are caused by the crazy roller coaster of hormones going on.
Pregnancy also limits how you can treat many side effects. Not everything you'd typically use on a daily basis is safe during pregnancy. And while I try to always use safer alternatives to skincare, it's especially important to pay close attention to the products used during pregnancy.
If you're a first-time mama to be, you may be noticing some skin changes that aren't so flattering. I've put together a list of my favorite pregnancy-safe skincare products, just you need a little help finding products to help combat some of those changes. As always, they're non-toxic, so they're healthier for you and baby.
My Nontoxic Pregnancy Skincare Routine
Pregnancy Breakouts
I'm generally breakout prone whether pregnant or not, but the surge of hormones that comes especially with the first trimester causes me to breakout like crazy, especially on my back and chest. Not fun. And unfortunately, most acne products are not safe for pregnancy. Here's what I use on my skin to combat pregnancy acne:
BeautyCounter Countercontrol Clear Pore Cleanser - I use this cleanser on both my face and back/chest in the shower to help control breakouts. It has tiny exfoliating beads and soothing moisturizers so it won't leave skin dried out (which can just make breakouts worse). This cleanser does contain salicylic acid, which can be dangerous if ingested, but it's considered safe when applied topically in low concentrations (less than 2%) during pregnancy. Still, some doctors advise expecting women to avoid it, so ask your doctor first.
Countercontrol Instant Matte Toner - I use this toner after cleansing to control excess oil without leaving my skin dehydrated.
True Botanicals Pure Radiance Oil - I use this face oil to moisturize in the morning following toner. It smells luxurious and moisturizes my skin without feeling greasy or breaking my skin out. This face oil is a must-have for me!
Melasma
Darkening of the skin during pregnancy, also known as melasma or 'the pregnancy mask' (because it occurs especially around the eyes and mouth) is common for many women when they're expecting. I had some darkening with my first pregnancy, but mostly little spots of depigmentation. The second time around has been a different story! This pregnancy, the hyperpigmentation is much more noticeable, and has made my skin look dull as well. To help combat it, this is what I use:
BeautyCounter Countersun Mineral Sunscreen Lotion SPF 30

- The absolute best way to prevent melasma in the first place is to use sunscreen every day, since exposure to sun can worsen it. I use this mineral sunscreen on a daily basis - I love that it goes on easy (for a mineral sunscreen), doesn't leave a white or greasy residue, and doesn't have any unsafe chemicals.

BeautyCounter Brightening Facial Oil - I love using this oil at night! It's lightweight and has the most wonderful citrus scent, and helps with the dullness and bright spots.
True Botanicals Renew Repair Serum + Vitamin C Booster - I used this combo after my last pregnancy to brighten and even out my skin postpartum, and it's the best thing I've found so far that works to fade the melasma! The vitamin C powder booster really helps to brighten skin, and the serum is a dream for smoothing skin, plus it smells heavenly. It's pricey, so I won't use it just yet, but rather wait until postpartum again this time.
Stretch Marks
Unfortunately, stretch marks are kind of just things that happen during pregnancy. Usually genetics determine if you get them or not, but it doesn't hurt to put a little moisture on your belly, if nothing else to prevent the itchy skin! My favorite belly moisturizers:
Altogether, here is what my pregnancy skincare routine looks like:
Morning:
Belly moisturizer after I shower
Countercontrol Cleanser and Toner
True Botanicals Clear Pure Radiance Oil
Countersun Mineral Sunscreen
Evening:
Countercontrol Cleaner and Toner
Overnight Resurfacing Peel (once a week)
BeautyCounter Brightening Facial Oil
I'll add in True Botanicals Renew Repair Serum and Vitamin C Booster twice a week at night after baby arrives.
If you're interested in more clean beauty, you can see my Nontoxic Skincare Favorites (when I'm not pregnant!), Nontoxic Makeup Favorites, and Clean Baby Products.
What are your must-haves for taking care of your pregnancy skin? Tell me in the comments below!