If you're looking to clean up your makeup bag and use more natural products, but don't know which products to try, here are the best natural makeup essentials to help you get started!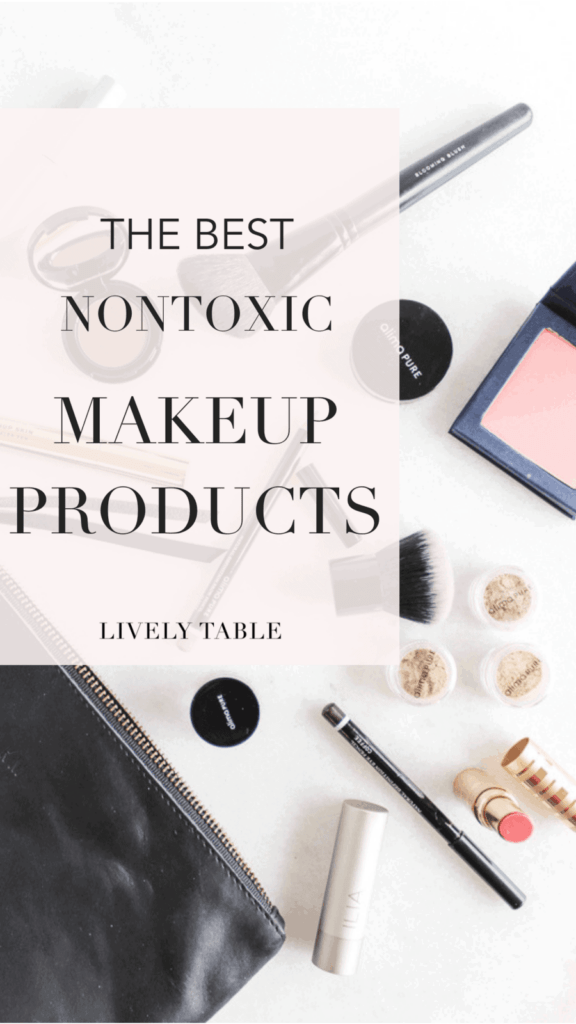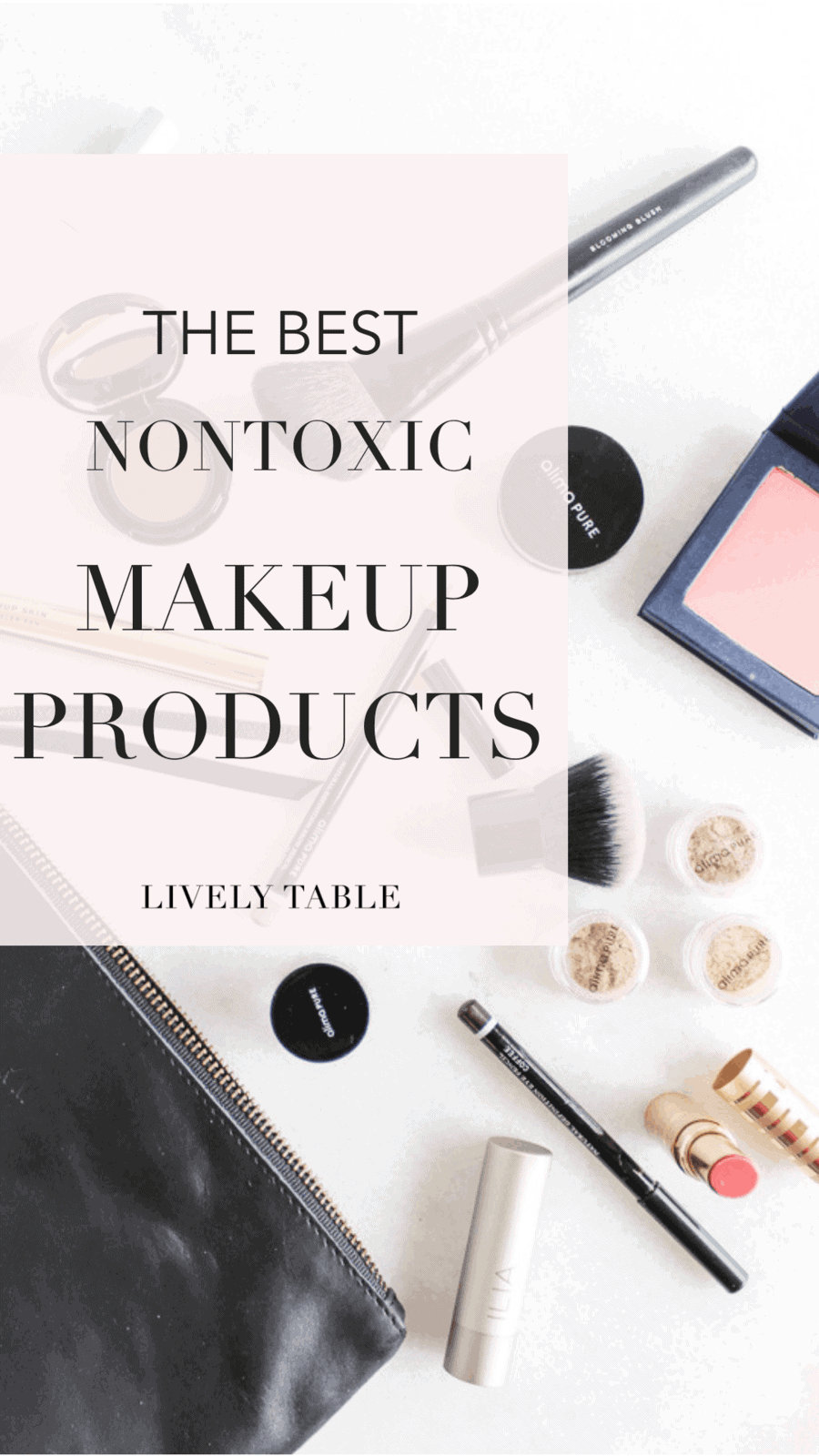 About a year and a half ago, when Queen C was just a thought in the back of our minds, I decided to start swapping out my skincare and makeup products for more natural, non-toxic versions. I knew there were a lot of chemicals in my everyday beauty products, and that some of them had questionable effects, like hormone disruption and possible carcinogenic properties, so I wanted to rid my routine of possibly toxic products. I mean, I put a lot of care and thought about what I put in my body, so I should be thinking about what I put on my body too, right?
With plans to start trying to have a baby, I had more than just my own health to think about, so I started making the switch. And I found that it was totally overwhelming trying to sift through products and retailers, reading ingredient lists and deciding what was okay and what wasn't.
My skincare and hair products were somewhat easier, so I shared my favorite clean beauty products first. Working at home, I don't wear makeup very often, so makeup wasn't my first priority. Well, I finally got around to testing clean makeup products and found some winners that I'll continue to buy over and over. If you're looking to switch your makeup over to nontoxic products, I suggest starting slow and replacing the products you have as they run out so you don't end up spending a fortune all at once. Higher quality makeup can be pricey, but it lasts a long time and it's so worth the extra money!
Quick note - These are the best nontoxic makeup products I have found so far for my skin type. I have fairly oily, breakout-prone skin. I also prefer a clean, minimalistic look, so keep that in mind with my recommendations!
Here are the best nontoxic makeup products I have found: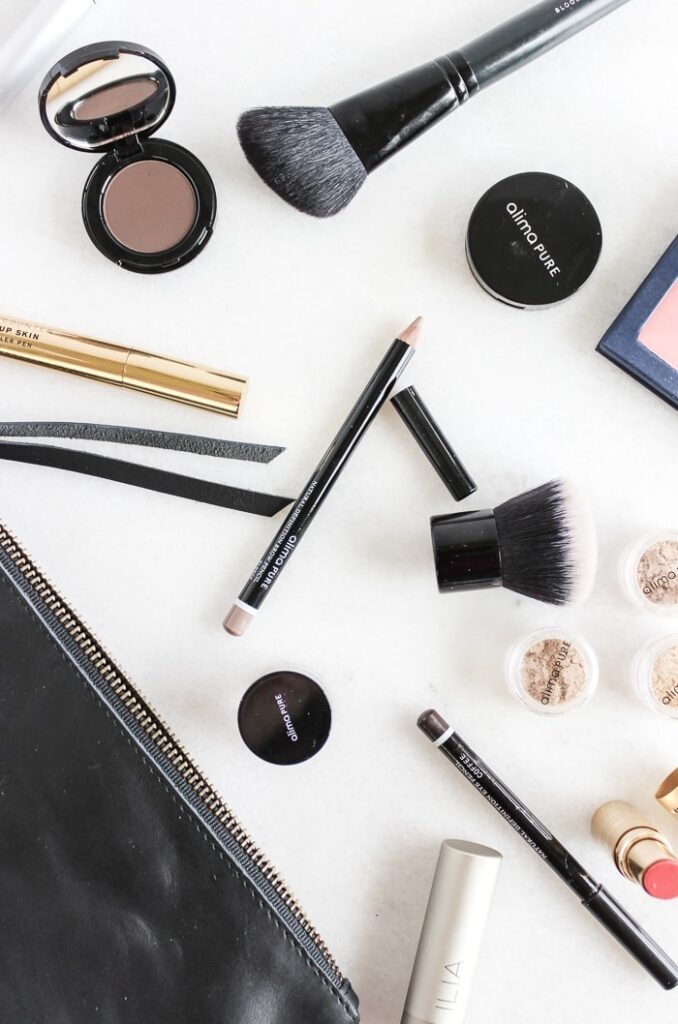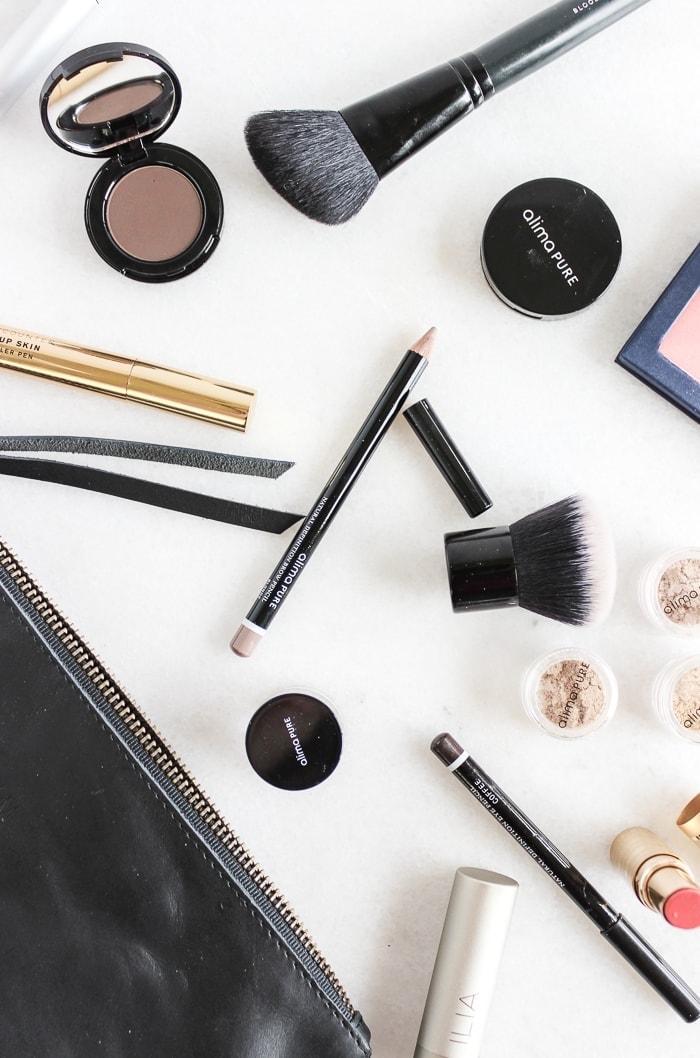 Face:
Beauty Counter Touchup Skin Concealer Pen - If you're into more creamy concealers, this one is awesome. I love the way it covers blemishes and dark spots (I have a super annoying acne scar on my cheek that simply won't go away), but it's not one bit cakey. My one complaint is that you can't see through the tube to know when to order more. I use the Fair shade.
Alima Pure Satin Matte Foundation - Anything that feels too heavy is out for me, so I pretty much don't do liquid foundations. If you like Bare Minerals, you'll love this. It stays matte for a long time, and they send you a tester kit of 10 shades (plus $10 off your next purchase) so you can pick your perfect color. I use Neutral 2.
Eyes:
Alima Pure Pressed Eyeshadow - I'll admit right now, I can't do eye makeup. At all. I stick to neutral, simple eyeshadows. I love these natural shades that go on smooth and stay for a decent amount of time. They also sell refills for the compact, so you save a little money, and they save a little plastic. I have the Ethereal for every day and Phantom for when I get dressed up!
Alima Pure Satin Matte Eyeshadow - I prefer matte eyeshadows since my skin is so oily. I don't need any more shimmer! I absolutely love these loose powder matte eyeshadows. There are a lot of colors to choose from, so it's likely you'll find a shade you like. I'm currently loving Bramble.
Ilia Essential Brow Gel - This brow gel is an absolute MUST for making me feel put together, whether I'm wearing a full face of makeup or only a dab of concealer. It looks and feels natural, and sells out quickly and often, so get one if you can! I use the blonde color.
Alima Pure Natural Definition Eye Pencil - OK I'll just say this. I HATE eyeliner. I can't apply it, I hate taking it off, and it usually runs off my eyes. But if I must wear it, this is my pick. I love how silky smooth this one is. It has decent staying power and comes off nicely. If you like Urban Decay's eye pencils, you'll love the texture of this! My favorite is Coffee shade.
Ilia Limitless Lash Mascara- After trying multiple clean mascaras, I can truly say I stinking LOVE this mascara. It never clumps, and while it won't give you Kardashian lashes, it gives you that 'I just woke up like this' naturally beautiful look and can be layered for more drama without clumping. And it stays put all day, yet comes right off when you're ready without leaving you with raccoon eyes.
Cheeks:
Ilia Multi Stick - As someone who thought I'd hate a cream blush, I'm obsessed with this multipurpose lip and cheek stick. It goes on so smooth and gives you lasting color - without breakouts (for my fellow breakout-prone friends!). If you only get one thing, make it this multitasker!
Lips:
French Girl Lip Tint- This lip tint provides just the right amount of color for every day, and it's not drying like most lip colors. I love the Ambre Rose color!
Alima Pure Velvet Lipstick - This goes on super smooth isn't at all drying. I've been loving the Lucy color for just a little everyday color.
ILIA Lipstick - I love the creamy feel of this lipstick. I have the Madam Mina color and it is a gorgeous natural looking color!
Remover
Finally, to take all that makeup off, I've been LOVING these RMS Beauty wipes. They're just coconut oil on a towelette and they take it all off while making my eyes feel super moisturized!
Have you found a nontoxic beauty product you love? Let me know in the comments below!